Important note – A fellow traveler reported in the comments below the border closes at 8 pm when going from Thailand to Laos. Please see the recent comment below. Please feel free to comment with any updated info so we can keep other fellow travelers informed!
This is a brief rundown on the Chiang Khong to Huay Xai border crossing (Thailand to Laos).
There isn't that much information out there right now on this border crossing. It's not a popular one, and there's a new bridge built, so don't expect a boat ride like most resources state. This method isn't used anymore!
So, Garrett and I started out in Chiang Rai and needed to get to the border that day since my visa was running out. Naturally, I waited until the last minute.
TIP: 12go.asia is the best way to book ferries, buses, and trains ahead of time in Laos!
The bus station in Chiang Rai is right in the middle of town, so it's super easy to just wake up and get there.
→ Psst! Here's entire guide to Laos that you can check out! Complete with a badass itinerary, what to budget, tips, and more.
Bus
Bus from Chiang Rai to Chiang Khong – 65B
Buses run very frequently, every hour. It's an older bus, don't expect much.
The ride is around two and a half hours.
Border
If you are going to Laos, which most of the foreigners on the bus are, they will drop you off in the middle of nowhere on the side of the road. They don't bring you to the border. The area they drop you off at has tuk tuk drivers waiting for you.
The border is less than 10 minutes away and the ride should cost 50B per person.
Once you're at the Thailand border, you will stamp out, super easy.
Then take the 20B bus to the Laos border. You will cross the bridge by bus, there are no boats to take.
Border hours:
According to Google: 06:00 to 22:00 daily.
According to a reader who was recently there: 08:00 to 22:00 daily.
Visa
Once you're at the Laos border, you're going to need to get the visa on arrival.
For US citizens, the cost is $35USD per visa. You may also pay in baht, but they'll charge you 1500B, which works out to be more (about $6 more at the time of writing).
Bring a passport photo, or pay 40B for them to photocopy your photo out of your passport.
You're going to fill out the arrival and departure card (ask the person at the window for it). Then you'll hand over your passport with the card to a person behind the window. Be prepared for a bit of chaos and your passport to be placed in the back haphazardly. You will temporarily be passport-less, don't freak out, this is just how they do it.
Be sure to check your passport right away as there HAVE been mix-ups. It would be an absolute nightmare if you grab your passport, get to your hotel and then realize the passport isn't yours…
When your passport is back there, it will get a nice big sticker in it, it takes up the whole page. You are also about to get two stamps (another half page). Make sure you have enough pages!
Once they call your name, you will then approach the window, pay, and get your passport back.
Proceed to border control to actually get stamped in.
Now you're on your own and in Laos! Hooray!
Getting to Town – Huay Xai
Here's where the fun begins. There's a clan of tuk tuks just waiting for fresh meat to cross into their land. They want your money. We tried haggling with them, but they wouldn't budge. They wanted 50,000Kip (about $6) to get to town. It doesn't sound like much, but I've been around this area long enough to know that's an exorbitant price. So we started walking towards town, which was a few kilometers away, but we didn't expect to walk very far… I know how to play this game.
About five minutes later, one of the tuk tuk guys drives by and offers to take us for half price- 25,000Kip (total). That's more reasonable. (We were two people for reference. You might have a harder time haggling if you're alone. Make friends at the border!)
He took us right to town, it was about a 10-minute drive. We decided to continue on with our travels as we didn't fancy exploring this area. We hopped on a bus to Luang Namtha just a few hours later.
TIP: 12go.asia is the best way to book ferries, buses, and trains ahead of time in Laos!
Where will you go after Laos?
Thailand | Malaysia | Singapore | Indonesia | Philippines | Cambodia | Vietnam
I hope this was helpful for anyone making the Chiang Khong to Huay Xai border crossing. Happy travels!
Pin this for later!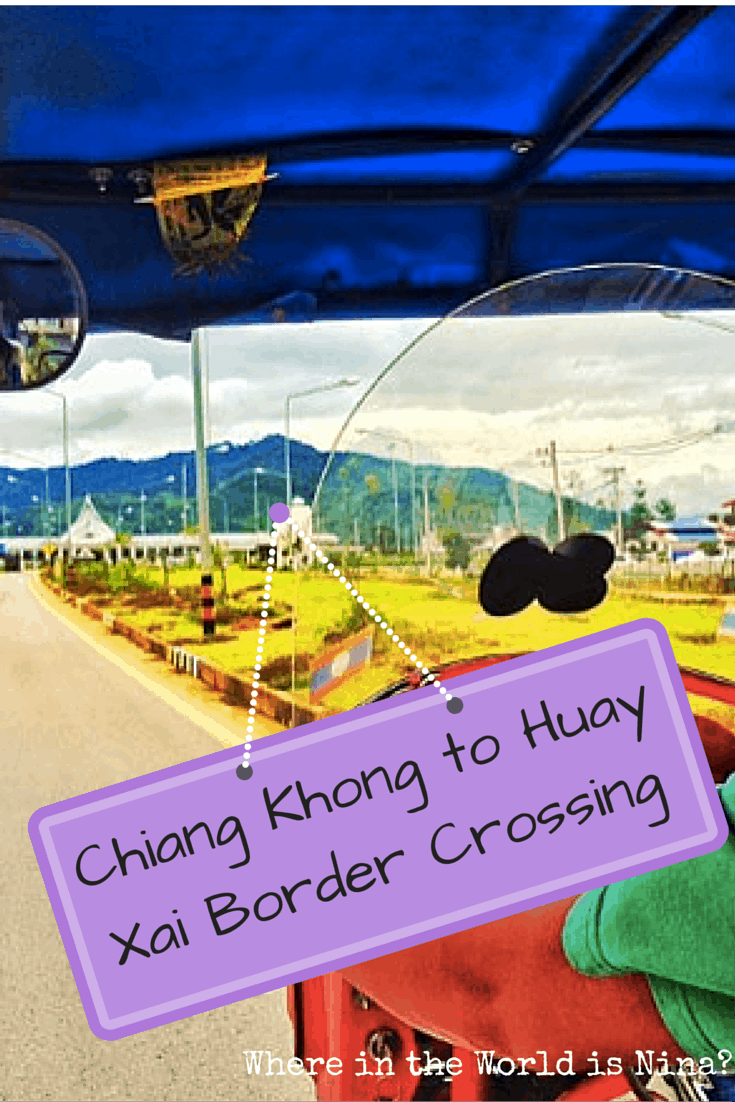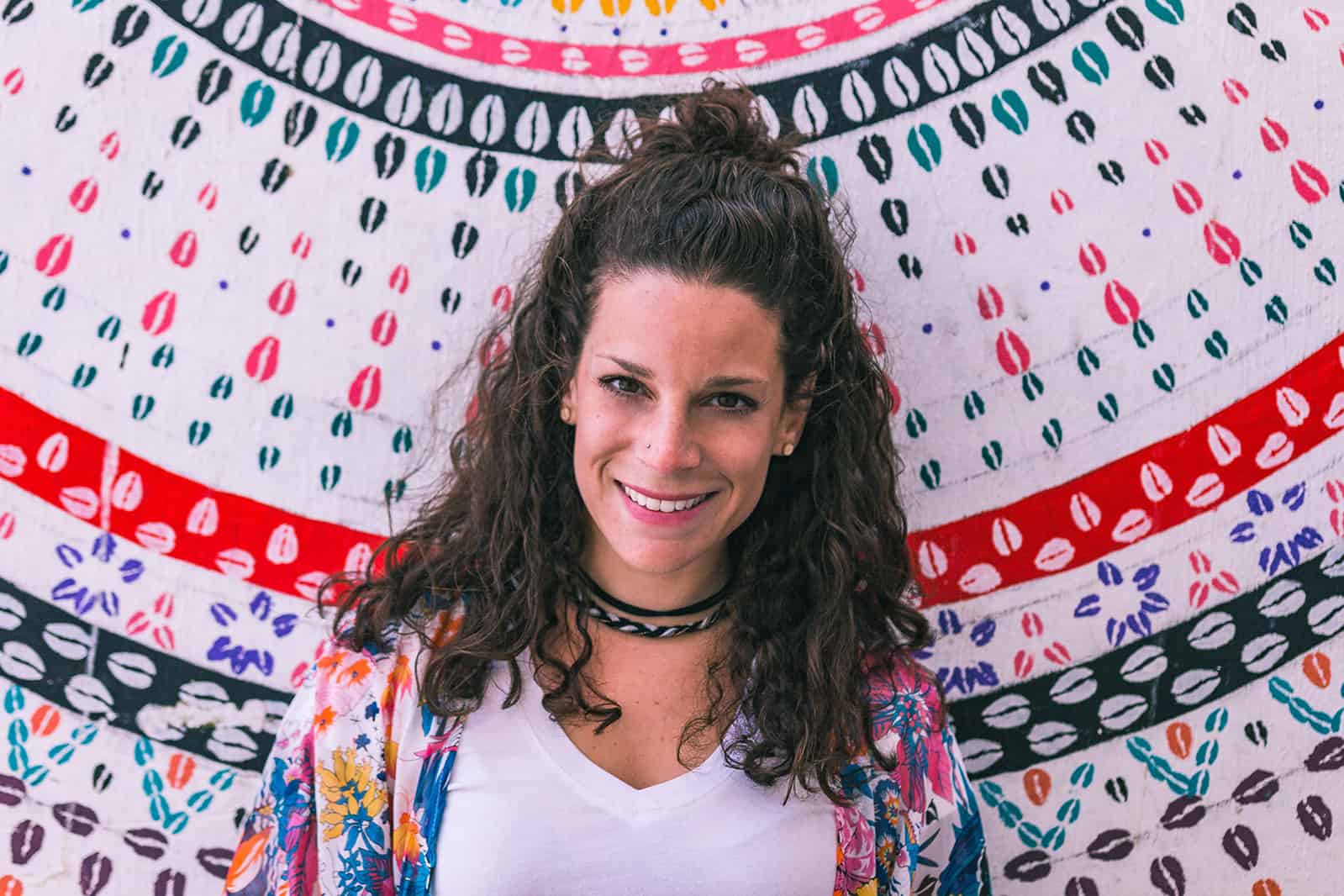 Nina Ragusa is an adventurer, messy bun master, breakfast fan, and full-time travel blogger. She's been abroad since 2011 and blogging on Where in the World is Nina? for nearly as long. Nina helps people like you move around the world while making money. She loves talking about how to work abroad and online to travel longer!