Towering karst mountains, impossibly blue water, and some of the most gorgeous beaches in the world. This is my second home—Krabi, Thailand.
How lucky am I?!
I resided in Krabi for over a year and practically lived on the Krabi beaches around me, basking under the hot sun, dipping my toes in the sand, and listening to the splashes of water lapse onshore… *sigh* Krabi is a paradise and it's easy to see why I got "stuck" here for so long.
While this post could be literally endless, with even more beautiful beaches in Krabi to add, I think this list is a good start. And if you spend an extended period of time in this region, you'll likely find some secret spots of your own to add.
READ MORE: My 1-7 Day Krabi Itinerary
Best Beaches in Mainland Krabi
---
Before we get to the fun stuff, let's talk about where (and what) Krabi is. There's Krabi, the town, and there's the Krabi province, both of which sit along southern Thailand's west coast. When we're talking beaches, we're talking about Krabi province since there are zero beaches in Krabi town.
Still with me? Great. Let's make it a little more complicated. The province also stretches to some nearby islands, which are home to some of Krabi's best beaches! This can no doubt be confusing, but as long as you're aware of where you're going, you should have no problem.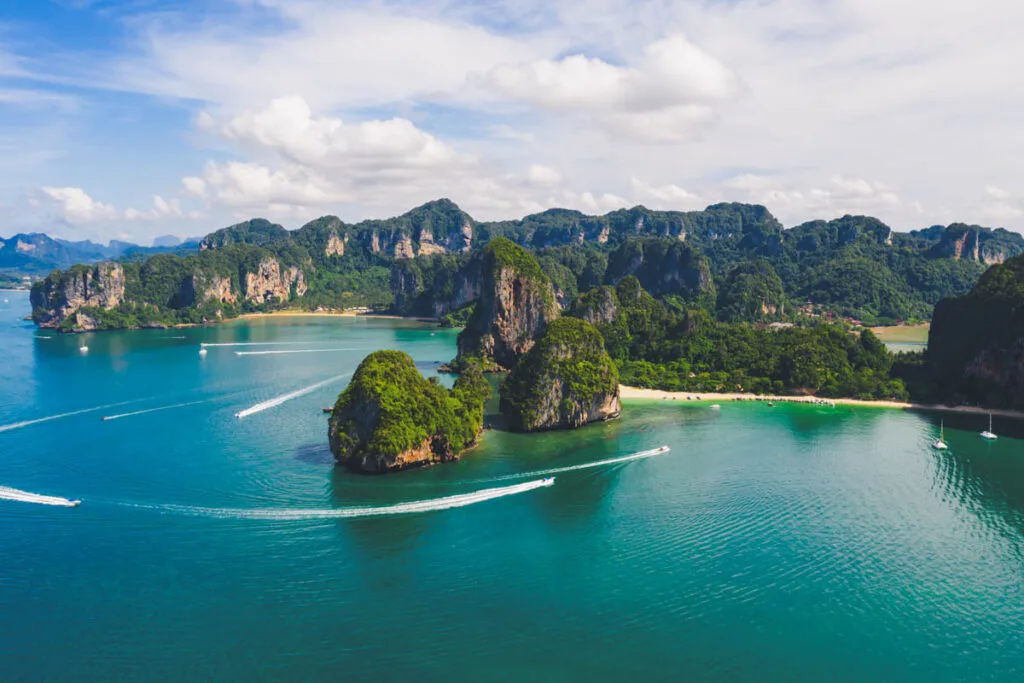 Oh, one more thing, there's also a cool town called Ao Nang in the Krabi Province which is the most popular town to stay in for its namesake beach, and because it's the jumping point to over half of the beaches, you'll want to visit.
I've separated my list into mainland beaches and island beaches to give you a leg up in terms of planning, but I definitely recommend doing a little bit of both to get the full Krabi beach experience!
Best Mainland Krabi Beach
Not to continue being confusing, but we're going to talk about mainland beaches in Krabi first, BUT just so you know, there are a few mainland beaches that are only accessible by boat. Yes, that's right, they aren't islands, but there's no road to get to them. So keep this in mind, and I'll let you know below how to get to these beaches in Krabi too.
1. Nopparat Thara Beach
Nopparat Thara Beach is as beautiful as it is convenient. This sandy spot rests right off the coastal road in Ao Nang. Eventually, the pavement turns into beach, making this pretty little cove easily accessible from Ao Nang Town town by foot or by vehicle.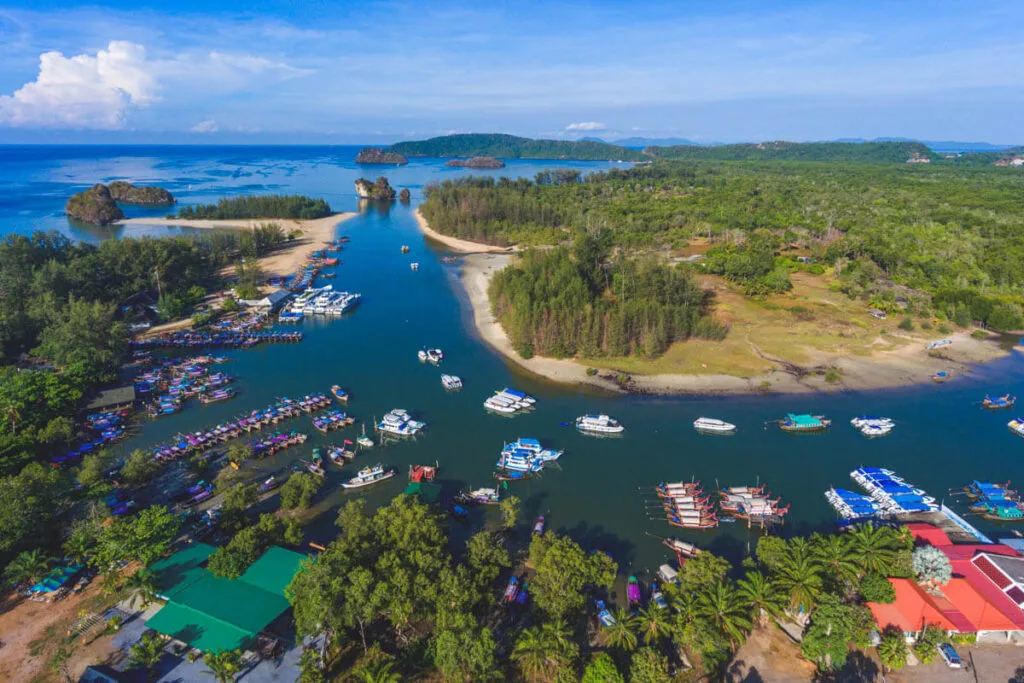 Nopparat Thara is a pretty long beach, so you'll get the best of both worlds here. If you're looking for restaurants, shops, and a lively atmosphere, stick to the east side. If you just want to chill in the quiet shade and maybe grab a swim, head to the conservation area on the beach's west end.
No matter where you end up, you'll appreciate the relatively low-key vibe of Nopparat Thara Beach (especially compared to other popular Krabi beaches).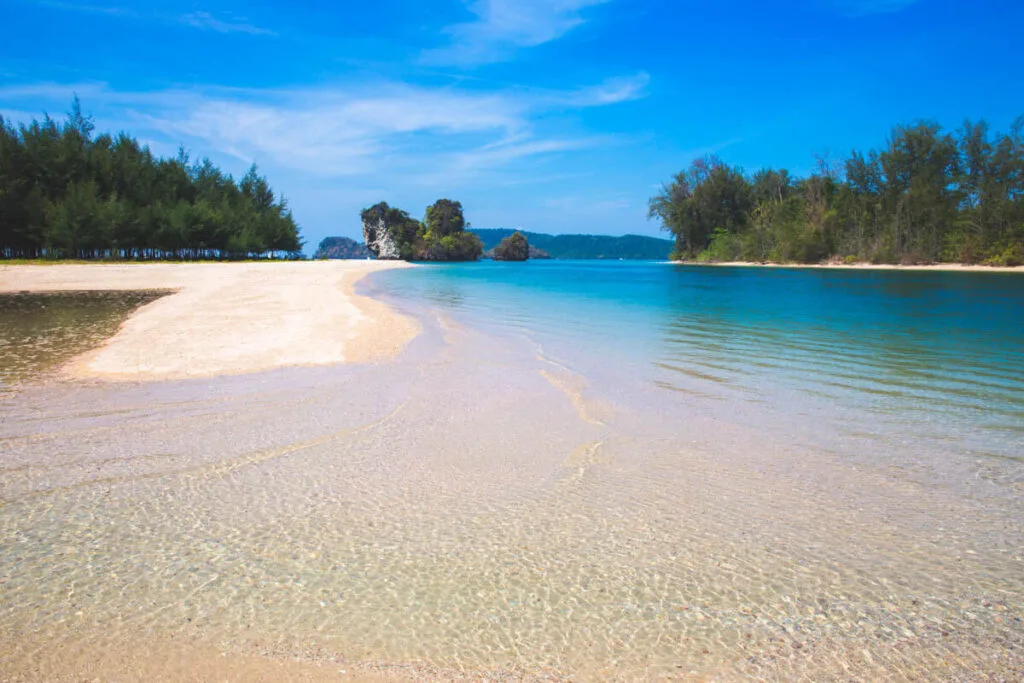 Tip: At low tide, you can walk all the way to the islands just off the coast just to the right when looking at the beach. You'll also get a chance to see an army of crabs crawling around!
How to get to this Krabi beach: From Ao Nang, you can trek over here easily by walking one mile north of Ao Nang town or beach. Alternatively, you can pay less than a $1 and take the songteaw over here too. It drives through regularly throughout the day. The bus stop is here in Ao Nang.
Where to Stay
Mild Gardens is a good budget spot with a pool, and for a bit extra, you can stay at Krabi Nature Beach Resort which also has a pool and is a bit closer to the beach.
2. Ao Nang Beach (Easiest Beach in Krabi and Where You Should Stay!)
Undoubtedly, Ao Nang is one of the most renowned beaches in Krabi, if not the entire country.
The town itself (and the beach's namesake) is a popular resort town, constantly buzzing with activity. This scene is a mix of people, young and old, tourists and locals, and it has a very active live music scene that plays well into the night.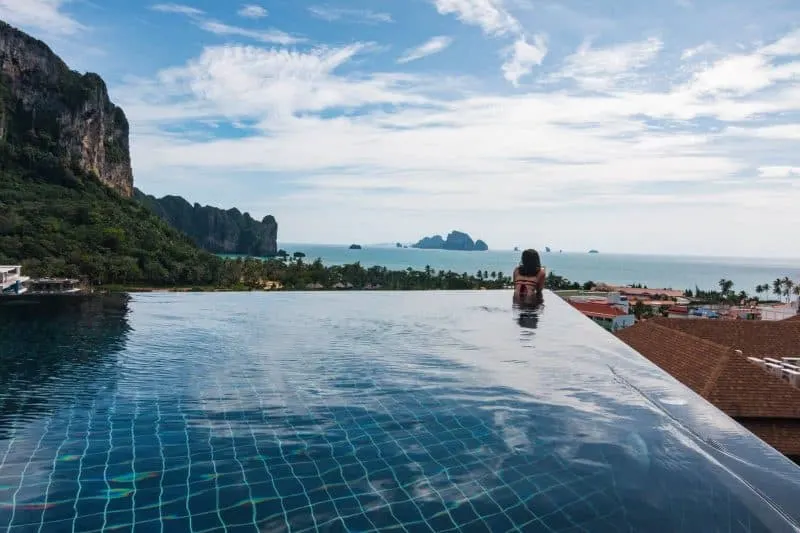 The beach itself is a good reflection of the town. This is the spot where you come hang with your friends – swimming all day, watching the sunset from the shoreline, then dancing all night.
This is likely the area you'll want to base in if you're visiting the Krabi area and don't have time to go stay on the islands. If you base here, you'll have Ao Nang Beach at your doorstep and the ability to take a day trip to some islands and other Krabi Beaches too!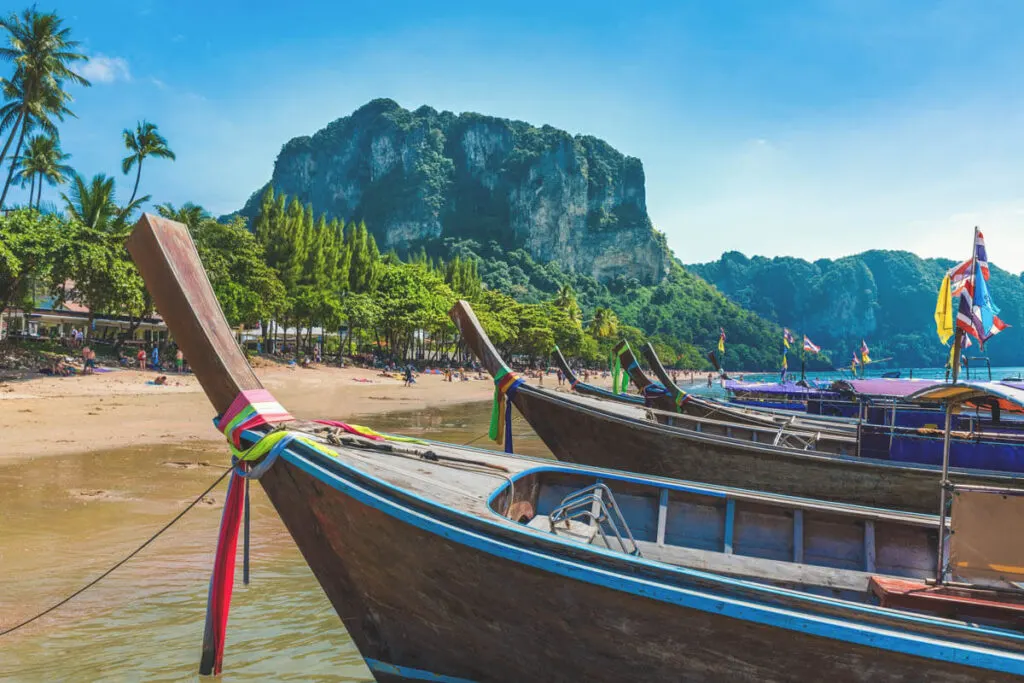 Tip: For a quieter stretch of beach, head out past the line of long-tail boats to the left to a little stretch under the limestone cliffs. You'll likely have cheeky monkeys trying to steal your stuff though, so be careful!
Where to Stay
Ao Nang Cliff Krabi Resort is a fav of mine, with an epic infinity pool with views over the town and beach, but for something a bit more budget-friendly, stay at Wake Up Ao Nang.
3. Phra Nang Beach
Phra Nang Beach is easily one of the most stunning beaches in Krabi. But if you're looking for a calm, relaxing beach day, this may not be your best bet. This beach gets busy, and while I enjoy a beach bum day as much as anybody, you may want to check out some of the other beachy activities at Phra Nang.
There's a beautiful hike that ends at a viewpoint and a lagoon! Just before you get to this beach, you'll see the steep muddy rocks with ropes hanging down—it's quite the trek up here! But at the top you'll get stunning views of Railay, and if you go a bit further, you'll end at a lagoon!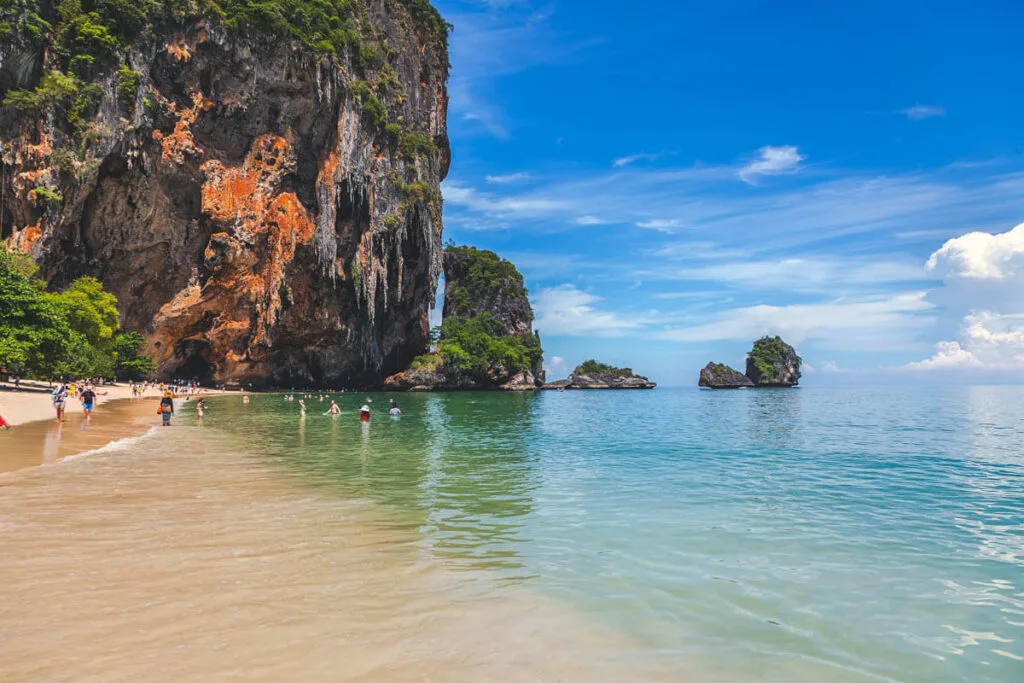 You'll also find a ton of really cool cliffs for rock climbing, literally right on this beach! Of course, I know you might be in search of a beach in Krabi for just chilling, and while you definitely can here, and it's STILL one of the prettiest beaches I've ever seen personally—you'll be sharing this relatively small beach with tons of others!
Don't bet me wrong, though, this spot is totally worth it! You won't see stalactites like this in many other places around the world. It's truly beautiful, but there's also something a bit more unique here… Check out Princess's Cave, which is a mini cave dedicated to health and fertility penises. No joke. The cave is full of phallic paraphilia! You can't miss this spot, it's practically at the entrance of this beach.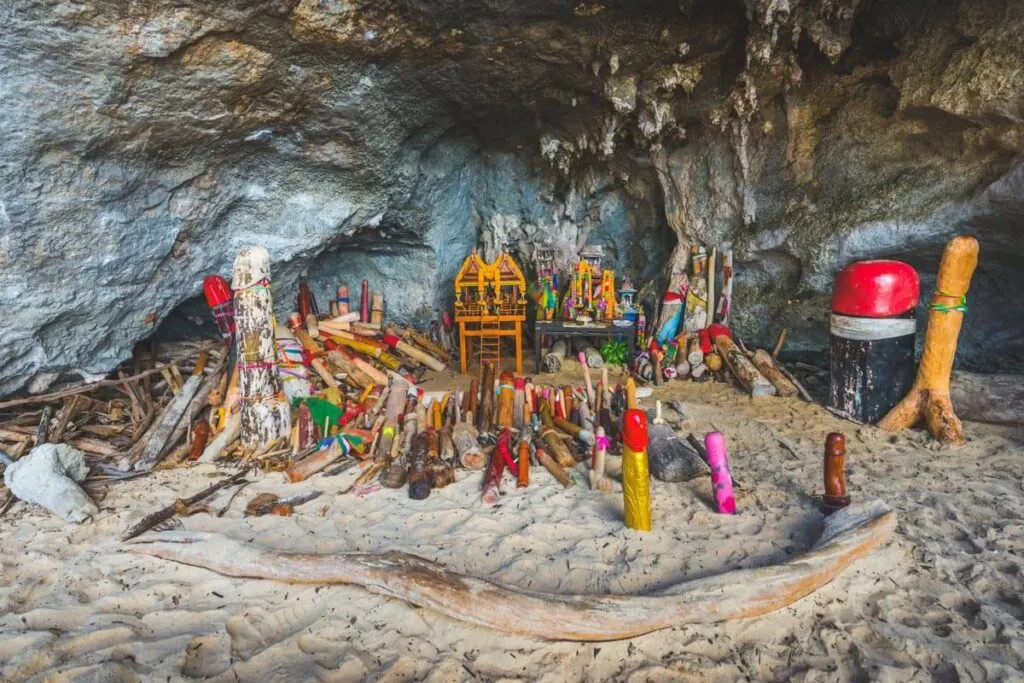 How to get to this Krabi beach: You can stay out here in Railay, where this beach is located or you can take a boat out here from Ao Nang for the day too. This is also a spot on many of Krabi's island hopping tours.
Tip: Walk to the right of the cave and popular area of the beach. You'll find a larger stretch of sand to bask on that isn't as crowded!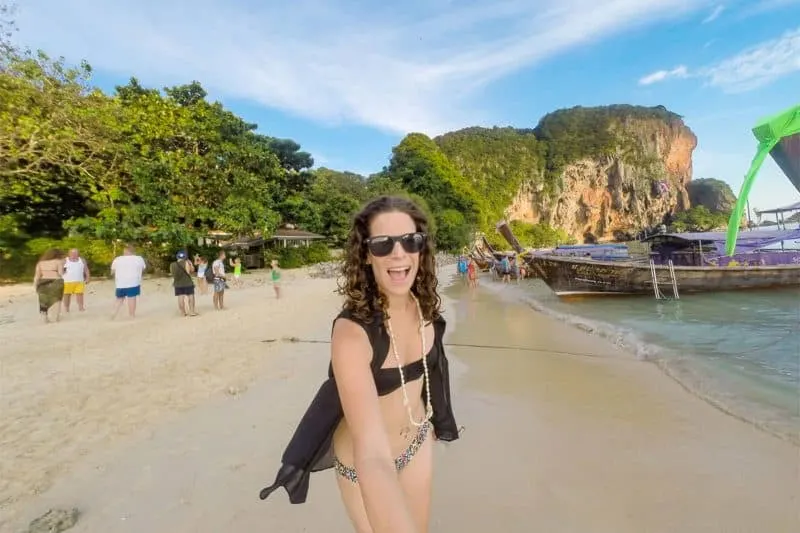 Where to Stay
Villa Macaque and Villa Languor has a high price tag and is essentially the only resort here BUT have no fear, you can stay at a nearby hotel on Railay and just want to Phra Nang Beach, more on this below!
4. Ao Nam Mao Beach (One of my Fav Krabi Beaches That Nobody Knows About-SHHH!)
Ahhhh! Sweet sweet anonymity!
With so many hustling and bustling beaches with wild parties and major bar scenes, Ao Nam Mao offers a chill pad of white sand, crystal blue water shallow enough to wade into in your sarong, and a thick forest just behind the beach for plenty of shade from the hot sun.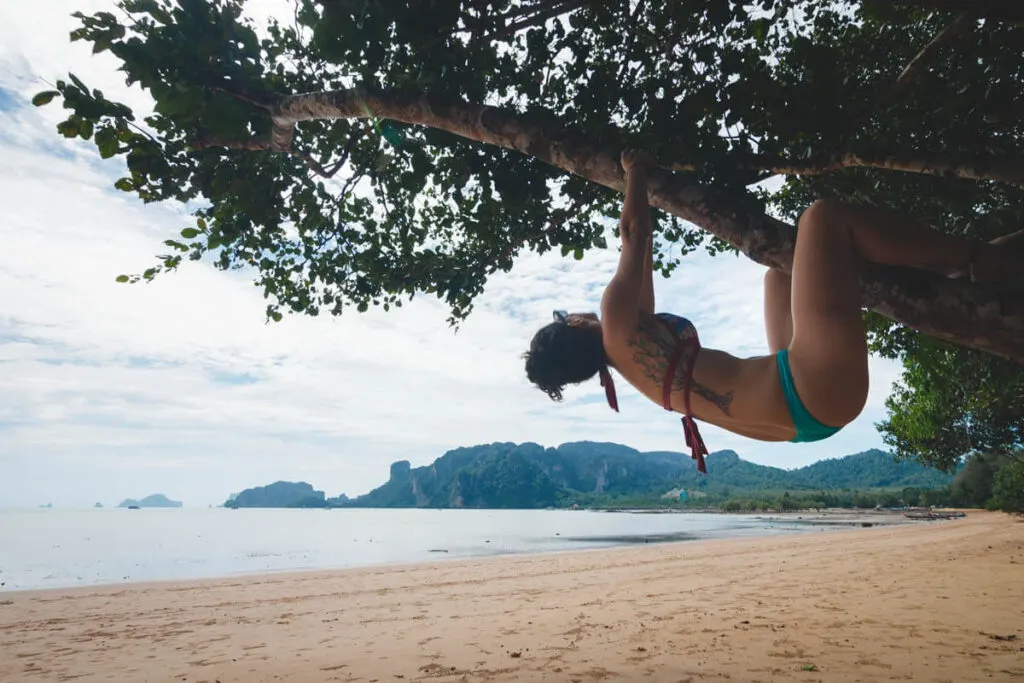 It's got a few big resorts, so if you're looking to spend tons of money, they'll take it. Otherwise, just travel down from Ao Nang for the day to escape the crazy for a bit.
How to get to this Krabi beach: Take the songtaew from Ao Nang here! You'll want to get off AFTER the pier.
Tip: Head to Dawn of Happiness and grab a fruit shake while you claim your own slice of sand. And don't tell anyone else about this place, OK? It's just between us!
Where to Stay
The Dawn of Happiness is a budget-friendly hotel to stay at or you can splash out at Amatapura Beach Villas.
5. Tonsai Beach (A Beach in Krabi I Went to Religiously!)
Rock climbers unite! If you're into grabbing and grappling cracks and crevices of millions of years old rock, Tonsai is the place to be. You can spend the entire day, hell, an entire week, climbing at Tonsai!
If you prefer to keep your feet on solid ground, the soft sand here makes for some good beach bumming, and there are also some spots to rent kayaks or sit back with a cocktail as you watch the rock climbers ascend the cliffs.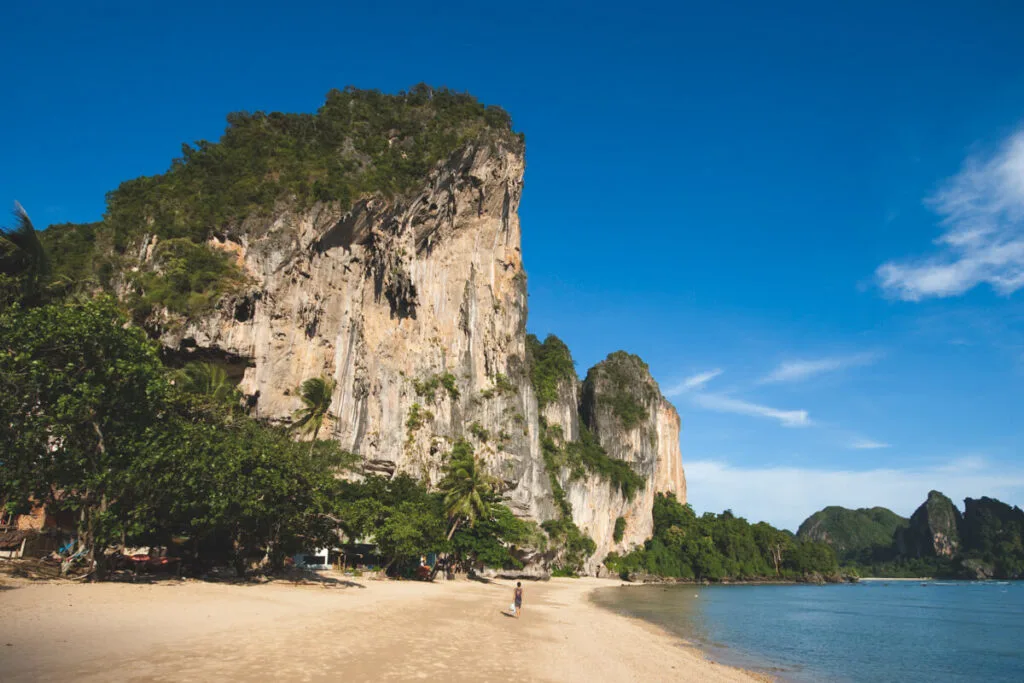 If you can, you might want to spend just a few nights here lazing on the sands, trying your hand rock climbing, and getting mesmerized by a fire dancer at night at a jungle bar.
I've had many nights on Tonsai, and it will always be some of the best nights of my life!
How to get to this Krabi beach: Note that this beach is technically part of the mainland, but it's cut off from the rest of the region by high cliffs. So, you'll either have to take a boat out here from Ao Nang or Railay, or if you're up for it, there's a trail connecting Railay to Tonsai too. Take the higher trail, especially if it's high tide out!
Tip: There may or may not be cool semi-secret bouldering caves to the left and back from the beach…
Where to Stay
Tinidee Hideaway Tonsai Beach Krabi is a stunning spot to stay on the beach even though a lot of people were mad when they came over to Tonsai 🙁 Because they took over the beach a bit, and some of the cool beach bars had to relocate, but that's OK. For a nice spot that's a bit more friendly on the pocket, head to Tonsai Bay Resort.
6. Railay West
One of the most popular beaches in Krabi is Railay West. Yes, it's still one of my favorites despite the throngs of tourists. It's that beautiful!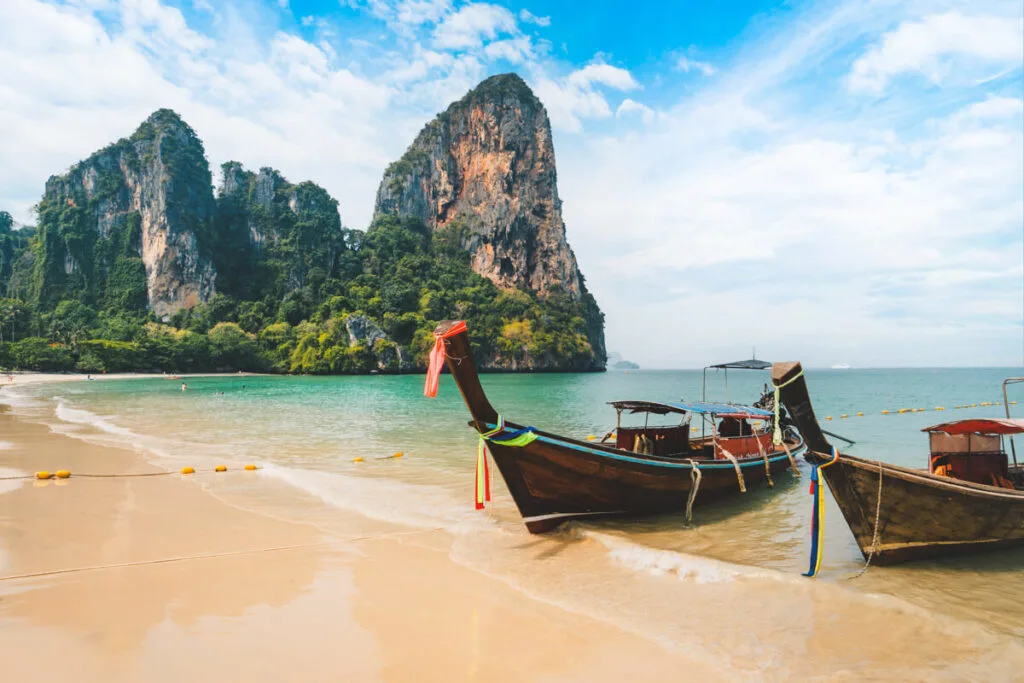 The majestic island-like slice of paradise welcomes you for about 20-30 minutes as your boat from Ao Nang Beach inches closer and closer to shore. It's a stunning vignette that will stick with you long after you leave.
Beach bars and boats line the shore, kayaks are available to rent, and a stunning long stretch of beach! Just like nearby Tonsai, Railay West offers more incredible rock climbing opportunities so you can get a birds eye view of this incredible Krabi beach from above.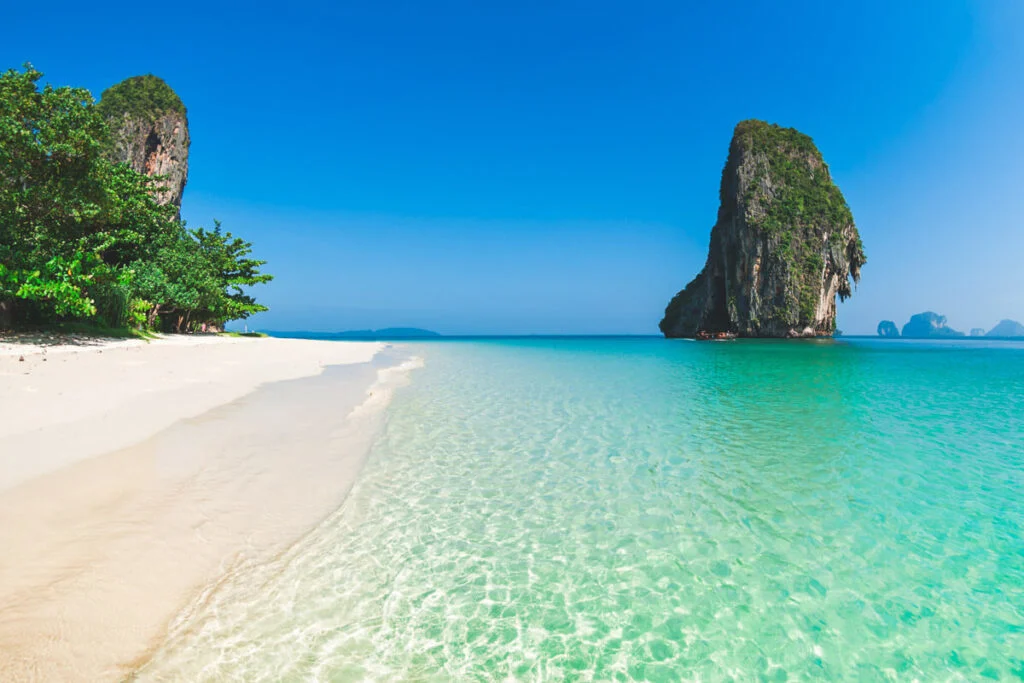 Opposite of this beach is Railay East. However, there's no beach there, just mangroves and cheaper accommodation and food spots. Play on Railay West and stay and eat on Railay East if you're on a budget!
How to get to this Krabi beach: Like some other beaches along the peninsula, you'll need a boat to get here from Ao Nang as there are no roads, but it's technically attached the mainland. Like I mentioned above, you can also take a short trail here from Tonsai too. There are NO cars on either of these beaches, you can only walk to get around.
Tip: I mentioned it above but make time to go up to Railay viewpoint and the lagoon. It's well worth it. However, be careful if it's rainy as it's a bit too slippery to visit, and ask a local if the lagoon is full or not. If it's dried up, just go to the viewpoint and head back down.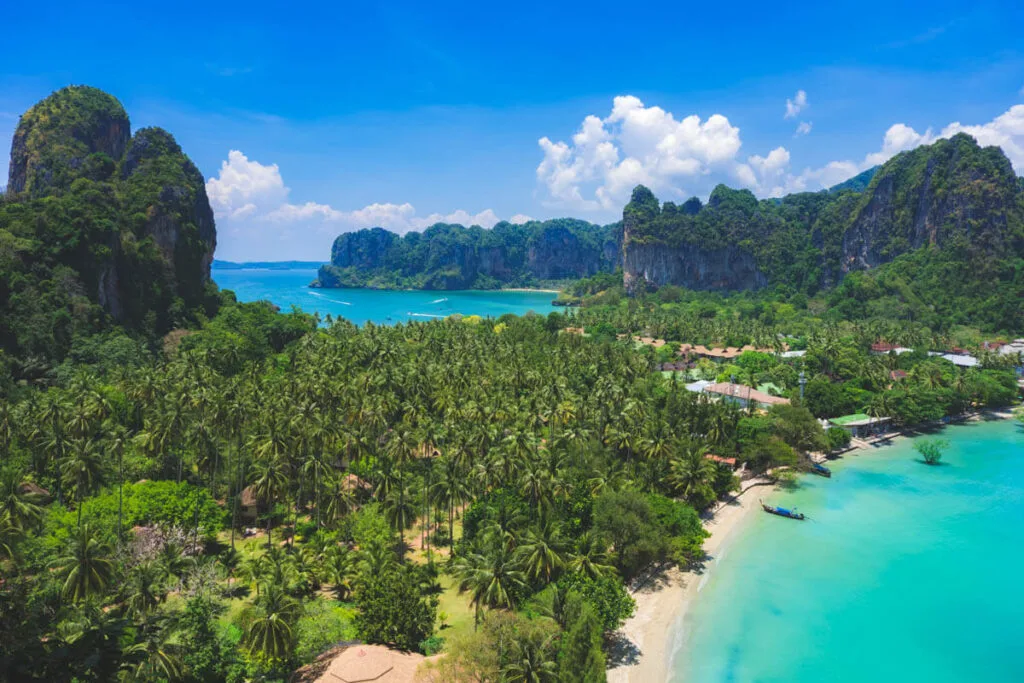 Also, don't forget you can also easily walk to Phra Nang Beach from here, so don't miss out on these two beaches in Krabi—they are true stunners and are very close to each other!
Where to Stay
Sand Sea Resort is one of the cheapest spots on Railay West, as most of the hotels here are kind of pricey. Rightfully so, they are one of the most desired and stunning beaches in Krabi! For a more budget spot, you'll need to head to Railay East and stay at Diamond Cave Resort. (The walk between East and West is easy and only about 10 minutes or less.)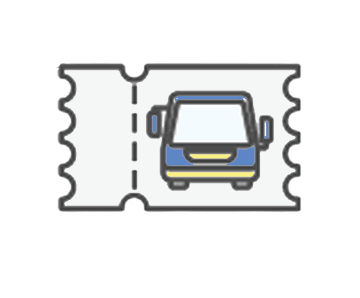 TRANSPORTATION TIP
If you're looking for bus, boat, or train tickets around Asia, you can easily book them online! Check Availability
Best Island Beaches in Krabi
---
Ready to get off the mainland? Let's head to some of Krabi's islands, as that's where even MORE beautiful Krabi beaches lie, and they are easily accessible by boat from either Krabi Town or Ao Nang!
READ MORE: 9 Krabi Island Hopping Tours That Will Make Your Jaw Drop (Thailand)
7. Koh Hong
Part of a larger group of islands, Koh Hong (or Hong Island) is a kayaker's paradise.
You'll take a speedboat or public long tail boat from around Krabi (or Phuket) out to Koh Hong and then rent a kayak from the main beach. You could also book this tour, which will get you to the island via speed boat and then let you explore via kayak.
It's honestly the better bet, as you won't save any time or money really trying to DIY this type of thing! TRUST ME!
You can circumnavigate the island, then steer your kayak through what looks like a cave entrance to get to the inner "chamber," which is "hong" in Thai. It's a gorgeous lagoon surrounded by sky-high cliffs and rock walls that is an awesome sight to behold. Here you'll find small slivers of stunning beach to enjoy.
How to get to this Krabi beach: You can take a tour from Krabi Town, Klong Muang, Ao Nang and Railay Beach. This is the easiest way to get here, and it's only a spot for a day trip, there's nowhere to stay out here.
Tip: As an alternative to kayaking, you could take a private long-tail boat tour and save yourself the sweat off your brow. This is actually what I did, and even though I'm usually all about getting in a good sweat, it was nice to just chill on a boat driven by someone else and we got to see more!
Where to Stay
None! Stay around Ao Nang and take a day trip here, as I mentioned above. If you want to stay even closer to Koh Hong and want the skinny on another beach in Krabi that's a bit of a secret, then stay at Tup Kaek Sunset Beach Resort.
Tup Keak beach is also nice, but note that you'll spend more money on transportation, as there's not much of a town or anything to do around here. But you could just stay in this spot and bask at your resort, no judgment here!
8. Koh Poda
Another quick trip from around Krabi, Koh Poda is super crowded in one concentrated spot right where all the tour boats drop people off. The rest of the island is virtually deserted.
You will not find any restaurants or resorts on Koh Poda. And that is exactly what makes it one of the best Krabi beaches.
You can wander forever on pristine, soft white sand and into untouched waters that gently lap on the shore. If you're looking for a deserted island in one of the busiest island tourist spots in the world, Koh Poda is as close as you'll get.
How to get to this Krabi beach: To get to the island, you can hop on a longtail boat or speed boat, and visit with a tour like this one. This is the only way to get out to the island and includes a few more islands too. The only other way is if you negotiate directly with a longtail boat driver and work something out where your party privately takes a boat out.
Where to Stay
None! Stay in Ao Nang and take the day trip I mentioned here.
9. Koh Jum
Koh Jum is where you go to really get away from it all.
Electricity is scarce; most resorts and establishments run on generators still. The beaches are super chill. There's no nightlife. This island has its very own rhythm. Oh, and you won't find this hidden gem on most people's lists of the best beaches in Krabi. You can thank me later.
Andaman Beach, a long strech of sand on the island, will give you potentially private sunsets with the Phi Phi cliffs in the distance. This beach is one of the best beaches in Krabi for beach bumming.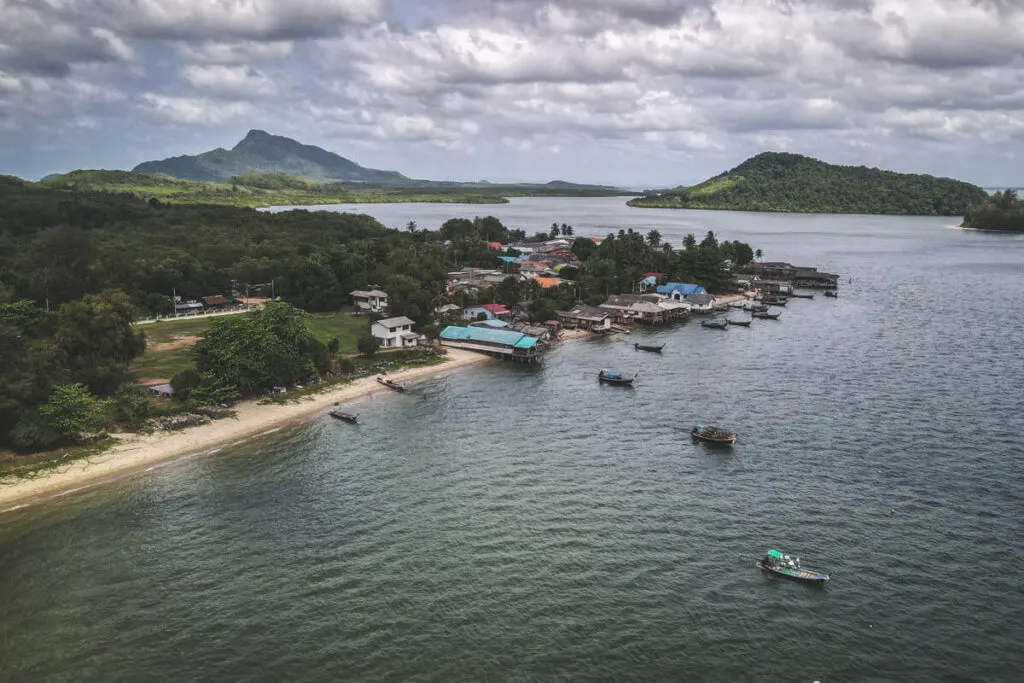 If you're desperate to break your 9 to 5 grind and unplug almost completely, come to Koh Jum.
How to get to this Krabi beach: You can easily book a boat from Ao Nang or Krabi Town to Koh Jum but you'll want to make sure you stay out on this island, it's not an island to visit on a day trip. People often come here before or after Koh Phi Phi since they are so close.
Tip: There are no banks or ATMs on the island, so stock up on cash before you come.
Where to Stay
Jungle Hill Beach Bungalow is a perfect spot but if you want to splash out a bit more, go to Koh Jum Beach Villas.
10. Koh Lanta Beaches
Koh Lanta is an island chain situated just off of Krabi's coast. It's known for the Mu Koh Lanta National Park, the jungle scenery, and of course, tons of jaw-dropping beaches. Stick to the island's west side and you'll find dozens of sandy spots, each more beautiful than the next.
Of all the beaches in Koh Lanta, though, one sticks out as my very favorite. I really wanted to gatekeep this one so it doesn't become the next hot spot before I can visit again, but here I am, spilling my secrets. With that said, people are finding out, so go go go and like, maybe don't tell anyone else…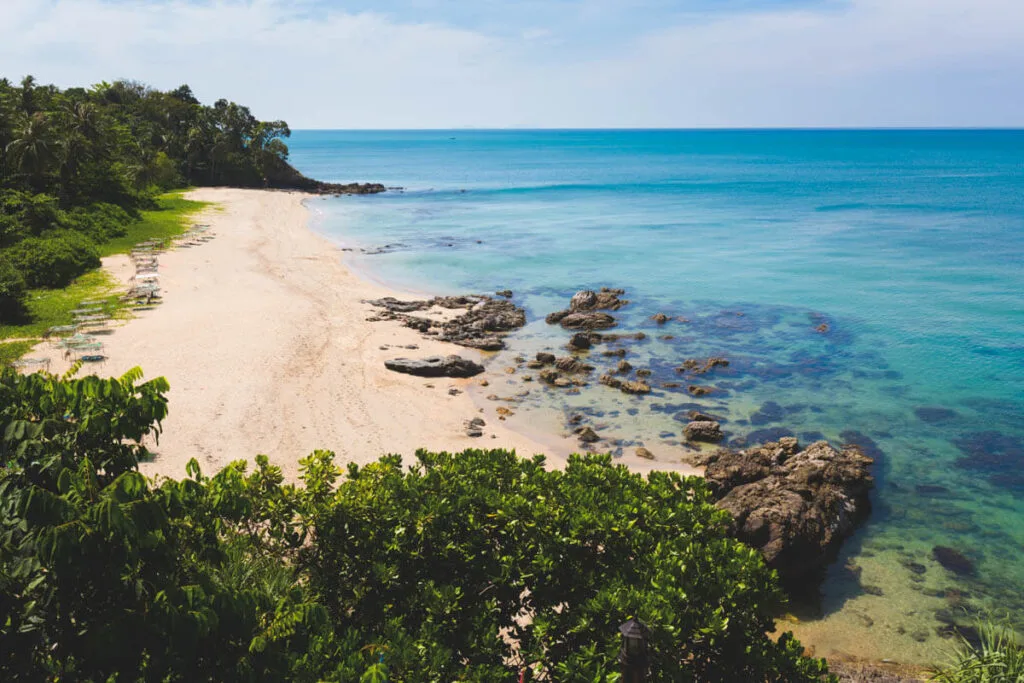 Ao Nui is a relatively untouched bay in the very south that features a single shack selling beers, and that's it. It's a quiet getaway where you'll pretty much have the beach to yourself.
This is one of the best Krabi beaches because it's not on the tourist radar, and it does take some effort to get here, but I can assure you it's worth it.
There are actually tons of things to do around Koh Lanta, and I think it's still a pretty underrated island that's worth your time. And there are, of course, tons of other beaches on the island, Phra Ae Beach being one of the main ones to head to and where some good hotels are for you to base at.
How to get to this Krabi beach: You'll need a motorbike to get to this beach or pay for a tuktuk ride.
Tip: Bring an umbrella or extra sunscreen. There are no trees or shade on this beach.
Where to Stay
Kantiang Bay View Resort is very close to this beach and a great option, but if you want to stay in the thick of it and closer to an actual town, you'll want to head to Lanta Sand Resort & Spa.
11. Laem Tong, Koh Phi Phi
The Phi Phi Islands are notorious for their nightlife, but if you're looking for a chill vibe with the same scenery, Laem Tong is the beach for you.
This serene beach requires a boat from Tonsai Bay to reach it (no, not that Tonsai, there's another Tonsai here on Phi Phi!), so it's much calmer than the party beaches in the main areas of Koh Phi Phi. As a bonus, the boat ride to Laem Tong is stunning!
There are some activities available at Laem Tong, including kayaking, snorkeling, and plenty of great bars and restaurants. Of course, if all you want to do is sit back and soak in the views, there's plenty of space to do just that!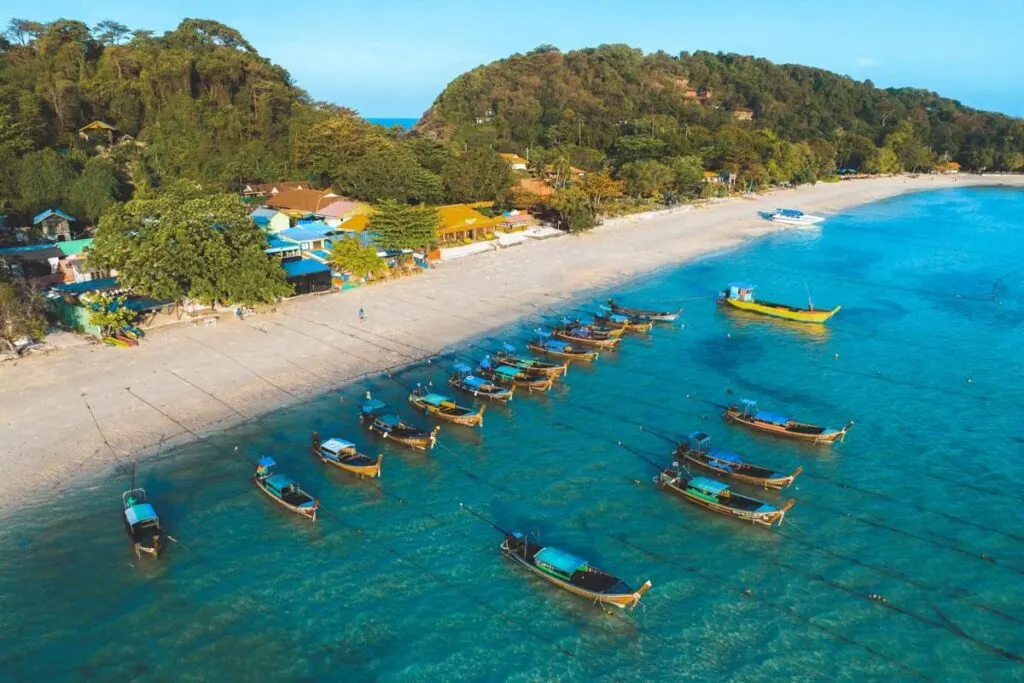 Of course, this isn't the only beach in Koh Phi Phi but the other ones are "in town" and where everyone hangs out so those will be obvious to you when stay in Koh Phi Phi. They are OK but not as nice than Laem Tong.
How to get to this Krabi beach: You'll want to stay on Phi Phi for a few nights! You can easily book a boat out here from literally anywhere around Krabi! BUT this beach specifically, Laem Tong, you'll need a boat to get here. Yes, that means a boat to Koh Phi Phi and then a boat to Laem Tong. There are resorts here too, so don't worry, you can enjoy it for longer!
Tip: It's really easy to take snorkel tours from here to Maya Bay (yes, that famous place from the movies), Bamboo and Mosquito Island, and the marine life beneath your feet is magical!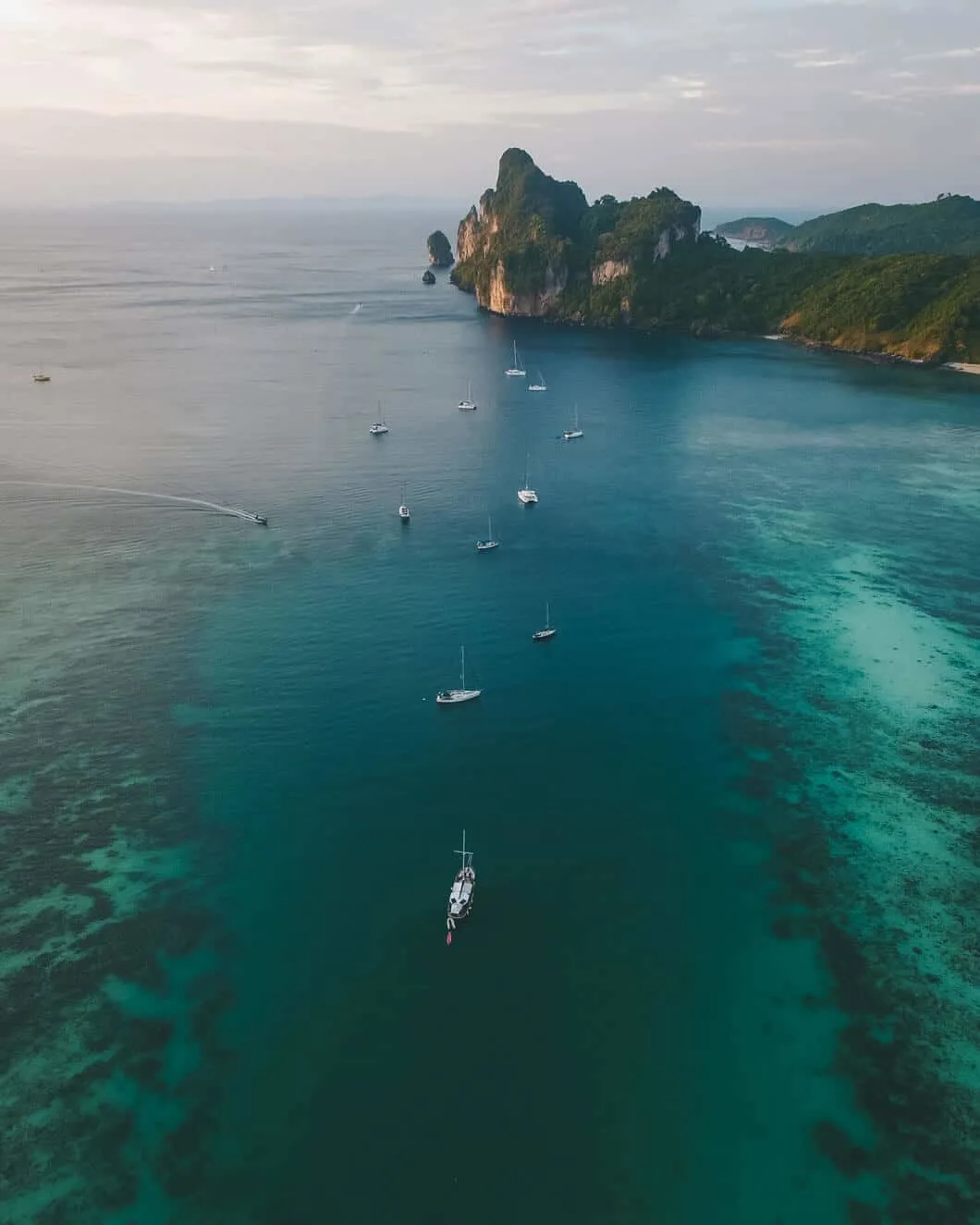 Where to Stay
P. P. Erawan Palms Resort is one of the more budget spots on this side of the island, but for a special stay, you'll want to head to Zeavola Resort!
The Surprise Krabi Beaches
---
What is this? There are more? Like, literally hundreds more, you guys! The best way to find them is to get lost. Grab yourself a motorbike and ride around, stopping at the most random spots only to discover a beach that's all to yourself.
Other gorgeous beaches are found taking the island tours, which are worth it, in my opinion. They are pretty cheap, so you can't go wrong! They usually take you around 3-5 islands – some are just for snorkeling, while some are for basking on an island all day.
Tips for Booking Your Trip:
---
---
---
---
Sooo… What's The Best Krabi Beach to Base At?!
You might be a bit confused about where you should stay in Krabi, so let me help you… Ao Nang is probably your best bet! This is where most people base and stay and explore the neighboring islands on day trips.
The only exception really is if you want to stay in Phi Phi, then you should definitely do that! That's not really a place you want to do a day trip to, but you COULD if you wanted to. It's just a bit far and a long day on the boat. This one would be your best bet.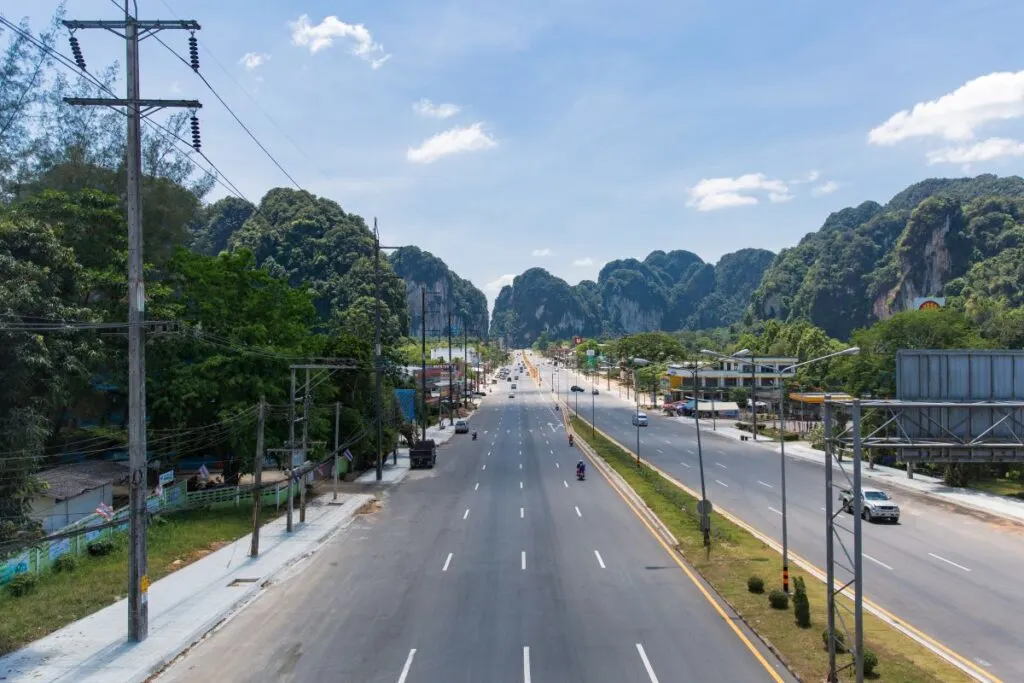 If you want to be a bit more removed, staying on Tonsai and Railay is a great option too, but just note things are slightly more expensive here because, remember, they are not connected by a road, and you need to take a boat here (which means all the supplies and food etc also come by boat hence the slight price increase.)
Koh Jum is, of course, another spot you can stay, but note that the only place that's close to this island really is Koh Phi Phi, not as many island boat trips start here, and if they do, the day on the boat is longer as you're further away (this also makes it a bit more expensive too).
If you wanted, you could stay in Krabi Town, this is where the airport is located, BUT there are no beaches here, and you'd need to take public transport or ride a motorbike to and from Ao Nang. However, there are boats to Tonsai, Railay, and island trips from here too! So Krabi Town is not a bad spot to base if you need to, this is where I lived, too, since it's the cheapest.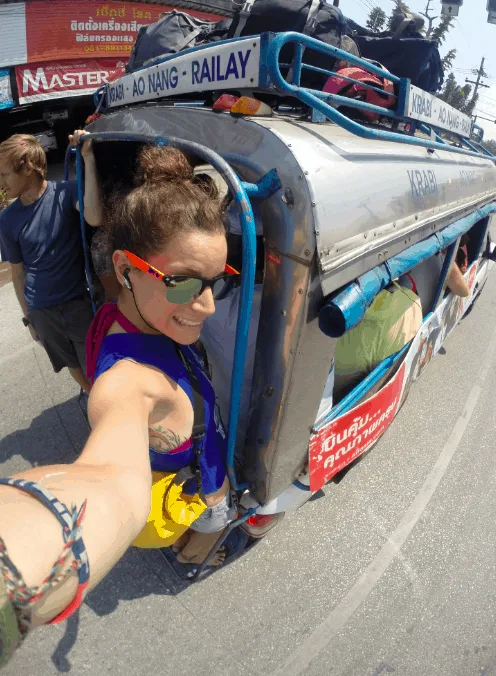 All and all, Ao Nang is probably the most common place to stay for most people visiting Krabi! And just a side note, you might be wondering why I haven't mentioned Phuket in this article, and that's because it's commonly mixed up, but Phuket is not in the Krabi province, but it is close!
So if you're in Phuket and want to get into Krabi, hop on down, buses are under $10!
I hope this helped you plan your trip to Krabi's beaches!
Where will you go after Thailand?
Laos | Malaysia | Singapore | Indonesia | Philippines | Cambodia | Vietnam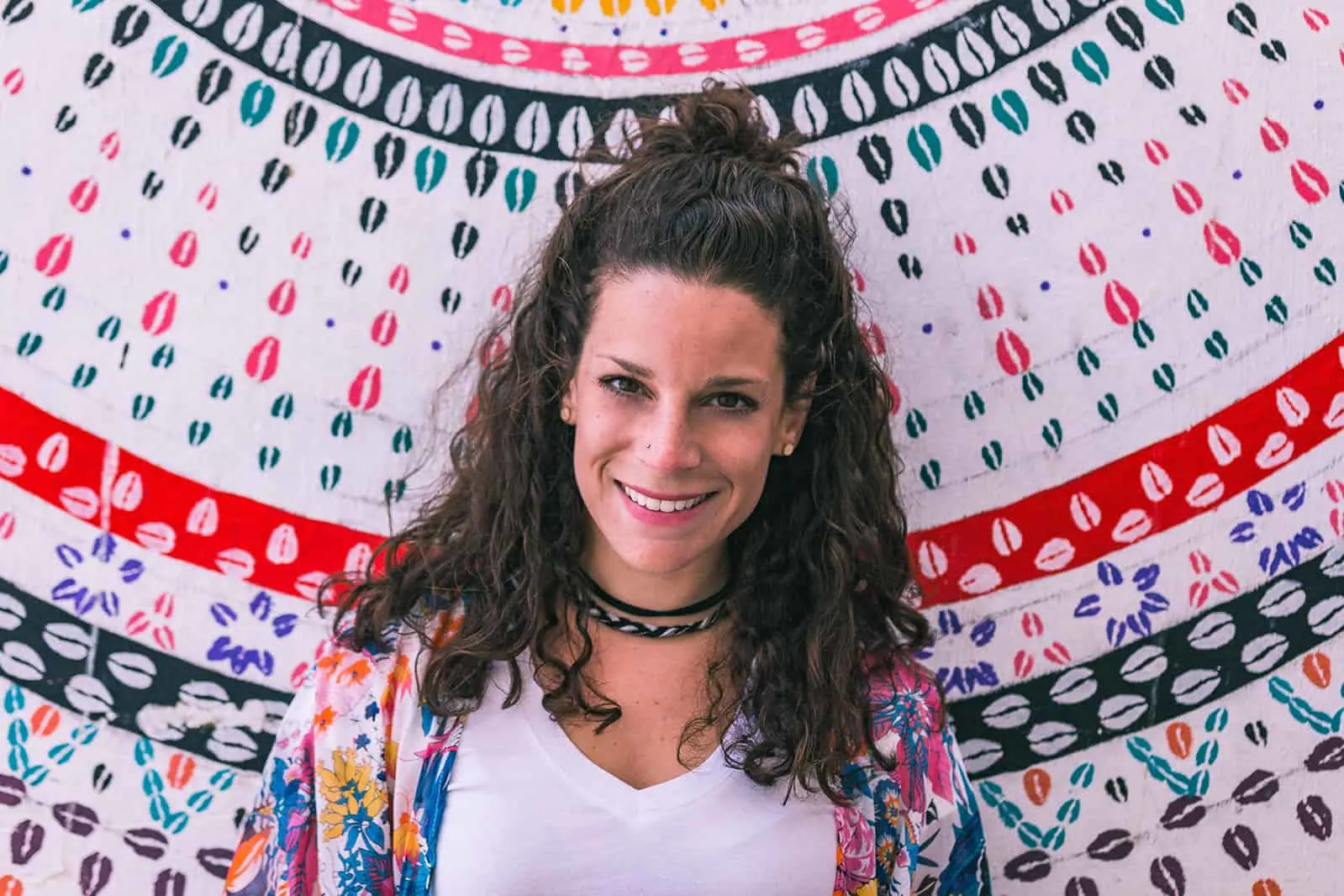 Nina Ragusa is an adventurer, messy bun master, breakfast fan, and full-time travel blogger. She's been abroad since 2011 and blogging on Where in the World is Nina? for nearly as long. Nina helps people like you move around the world while making money. She loves talking about how to work abroad and online to travel longer!