Towering karst mountains and impossibly blue water, this is my second home… Krabi, Thailand.
How lucky am I to have this as a place that's I've called home?
I lived in Krabi for over a year and practically lived on the Krabi beaches around me, basking under the hot sun, dipping my toes in the sand, and listening to the splashes of water lapse on shore… Krabi is a paradise, it's easy to see why I got stuck here for so long.
While this post could be longer with even more beaches in Krabi to add, I think this list will start you off quite well!
READ MORE: My 1-7 Day Krabi Itinerary
Busy? Click the picture to Pin this for later
21 of the Best Krabi Beaches
---
1. Koh Hong
Part of a larger group of islands referred to as The Hong Island, Koh Hong, or Hong Island, is a kayaker's paradise.
You'll take a speedboat out to Koh Hong and then rent a kayak from the main beach. From there, you can circumnavigate the island. Trust me, you want this tour; it's magnificent to behold from the ocean.
Then you'll steer your kayak through what looks like a cave entrance to get to the inner "chamber," which is "hong" in Thai. It's a gorgeous lagoon surrounded by sky-high cliffs and rock walls that is an awesome sight to behold.
Tip: As an alternative to kayaking, you could take a private long tail boat tour and save yourself the sweat off your brow. This is actually what I did, and even though I'm usually all about getting in a good sweat, it was nice to just chill on a boat driven by someone else.
2. Nopparat Thara Beach
Nopparat Thara Beach rest on a pretty little cove on Ao Nang, which means you can get there by land.
It's right off the coastal road, where the pavement turns into beach. It's the best of both worlds.
If you're looking for restaurants and shops on the beach that aren't super crowded, this is one of the best Krabi beaches for it.
If you just want to chill in the quiet shade and maybe grab a swim, you're in the right place. Because this beach is so long and still a part of the mainland, you really can have it all.
Tip: At low tide, you can walk all the way to the islands just off the coast.
3. Koh Pak Bia
From Ao Nang, you can hop a tour over to Koh Pak Bia, a small island just behind Koh Hong, where an entrance to an almost full circle cove grants you access to emerald green waters that shimmer in the sunlight.
Come here for one of the best beaches in Krabi for snorkeling.
Thousands of tropical fish fill these waters under the visage of steep limestone cliffs. You can rent a long tail boat and come here alone, or join one of the many tours that will take you island hopping to the best beaches in Krabi.
Tip: Want to avoid the crowd? Everyone comes here during low tide for the sand bar. You can beat them all by coming during high tide and enjoying a sunset on the beach like you've never seen.
4. Ao Thalane
What is great about the beach on Ao Thalane is that no one comes here for the beach!
It is a magnificent display of serenity on water. You can even rent a luxury bungalow for the night.
The one bummer? You can't swim in the ocean here during low tide because it basically turns into a giant mud flat. But who cares?
As far as seclusion goes, this is one of the best beaches in Krabi. Add to that the fact that this spot has amazing kayaking that takes you into the island and down channels surrounded by limestone and wildlife, and you're set!
Tip: Plan to spend at least two days here, one for kayaking and one for beach bumming.
5. Koh Poda
Another quick trip from Ao Nang, Koh Poda is super crowded in one concentrated spot right where all the tour boats drop people off for a half an hour. The rest of the island is virtually deserted.
You will not get a restaurant or a resort on Koh Poda. And that is just what makes it one of the best Krabi beaches.
You can wander forever on pristine, soft white sand and into untouched waters that gently lap on the shore. If you're looking for a deserted island in one of the busiest island tourist spots in the world, Koh Poda is as close as its gonna get.
Tip: Wander inland a bit and you'll stumble upon some maybe legal maybe not legal overnight campgrounds. Might inspire you to put down a tent for a night.
6. Ko Si Boya
At the far southern tip of the Krabi peninsula, you'll find this not so gorgeous beach.
Not so gorgeous!? Then why am I telling you about it?
Because it's quiet, it's quaint, and its filled to the brim with real people living real lives, villagers and monitor lizards living in harmony.
You want to spend some quality time among real Thai people? Stay in Ko Si Boya for a couple days in one of their lovely bungalows, take a dip in clear water, and water in and out of mangrove trees. It is a huge break from everything else you'll see in these parts.
Tip: Go at low tide so you can check out the hundreds of pink crabs scrambling for cover as the water rushes off the sand. It's a sight to remember.
7. Ao Nang Beach
This scene is a mix of people, young and old, tourists and local, and it has a very active live music scene that plays well into the night.
This is the beach you hang with your friends at, swimming all day and dancing all night.
Tip: For a quieter stretch of beach, head out past the line of long tail boats to a little stretch under the limestone cliffs.
8. Ao Silanto
More anonymity! This one really is practically undiscovered.
You can swim out into crystal clear blue waters and potentially have the whole beach to yourself while you just enjoy the view of beach, water, and mangrove trees.
The word most often used to describe this beach? Pretty. And sometimes, among all the glitz and glamour, the stunning and the bold, "pretty" can be a breath of fresh air.
Tip: You will not be shopping here! So if you're in the mood to buy, anything at all, get it before you head to Ao Silanto Beach in Krabi.
9. Phra Nang
I enjoy a beach bum day as much as anybody, but when given the chance to chase adventure, my jean shorts and flips flops are on in a flash and I'm in my kayak ready to paddle.
There's a cave to explore here, plus a ton of really cool rock formations to check out while you're padding or wandering in and out of deep dark tunnels.
Tip: Check out Princess's Cave, which is a mini cave of penises. No joke.
10. Klong Muang Beach (One of my Fav Krabi Beaches)
Ahhhh! Sweet sweet anonymity!
With so many hustling and bustling beaches with wild parties and major bar scenes, Klong Muang offers a chill pad of white sand, crystal blue water shallow enough to wade into in your sarong, and thick forest just behind the beach, for plenty of shade from the hot sun.
It's got a few big monster resorts, so if you're looking to spend tons of money, they'll take it. Otherwise, just travel down from Ao Nang for the day to escape the crazy for a bit.
Tip: There's a little estuary to the north at Thalane, so rent a kayak from one of the resorts and paddle up if you're looking to get out of your lounge chair. But head right back and grab a cocktail at one of the little beach bars to catch the sunset.
11. Koh Jum
Koh Jum is where you go to really get away from it all.
Electricity is scarce; most resorts and establishments run on generators still. The beaches are super chill. There's no nightlife. This island has its very own rhythm.
Andaman Beach, the longest on the island, will give you sunsets over the Phi Phi cliffs like you've never seen a sunset before. This beach is one of the best beaches in Krabi for beach bumming galore.
If you're desperate to break your 9 to 5 grind and unplug almost completely, come to Koh Jum.
Tip: There are no banks or ATMs on the island, so stock up on cash before you come.
12. Klong Nin, Koh Lanta
Koh Lanta is super laid back for being a much busier and more populated island.
It's a fairly big island too, so it's got quite a few lovely beaches to choose from. Klong Nin beach is great because it offers you a taste of everything on this island.
You can swim or sunbathe, check out a nice restaurant or coffee shop. Then you can sit your butt down on a rock or in the sand, and witness a stunning sunset.
Tip: Stay in one of the beach bungalows and you can watch the sunset right before you fall asleep.
13. Klong Dao, Koh Lanta
More Koh Lanta, and more shopping on the beach!
A far cry from the more secluded Khlong Nin, Klong Dao is populated and raucous. If you're looking to mix and mingle with tourists and locals, and yet still somehow feel like you have room to roam, Klong Dao is one of the best Krabi beaches for it.
You can walk along the shoreline for miles, grabbing a drink at a beach bar, picking up some cute items from a shop, and catching some sunshine all the while.
Tip: Stay for the awesome sunset on the horizon. The colors are amazing.
14. Tubkaek Beach
Tubkaek is about a 40-minute drive from Krabi Town and a 30-minute drive from Ao Nang.
So you don't even have to spend an hour in a boat, unless you want to. You can take tours from Tubkaek or just chill on the beach. It's super chill and laid back for a day of beach bumming.
Or! You could choose adventure and hike 3 hours up and down Dragon Crest Mountain (Tup Keak Mountain) for epic views of the coast.
Tip: This beach is one of the best Krabi beaches for giving you stark contrast. Choose seclusion and find a lonely spot on the beach, or stick with a resort and get every modern convenience at your fingertips. And the crowds that come with it.
15. Tonsai Beach (A Beach in Krabi I Went to Religiously!)
Rock climbers unite! If you're into grabbing and grappling cracks and crevices of millions of years old rock, Tonsai is the place to be. You can spend the entire day, hell, an entire week, climbing at Tonsai.
The Railay Peninsula is cut off from the rest of the mainland by high cliffs, so you'll have to take a boat.
Tip: If you're up for real adventure, check out the hour-long jungle route that leads between Tonsai and the other Railay beaches.
16. Had Yao Beach
Just south of Krabi Town, Had Yao is awesome for laying out your towel, opening your book, and catching a legitimate Thailand tan. There's really not much else to do here.
Tip: There's usually a small beach market here on Wednesdays, so if you like to shop and browse, plan accordingly.
17. Railay West
One of the most popular yes still one of my favorite beaches in Krabi, Railay West. The majestic island-like slice of paradise welcomes you for about 30 minutes as your boat from Ao Nang Beach inches closer and closer to shore…
You need a boat to get here as there are no roads, but it's technically on the mainland.
Beach bars and boats line the shore, kayaks are available to rent, and long stretch of beach that leads you to Tonsai is all here for taking.
Opposite of this beach is Railay East however there's no beach there, just mangroves and cheaper accommodation and food spots. Play on Railay West and stay and eat on Railay East if you're on a budget
Tip: Make time to go up to Railay viewpoint and the lagoon, it's well worth it. However, be careful if it's rainy as it's a bit too slipper to visit and ask a local if the lagoon is full or not. If it's dried up, just go to the viewpoint and head back down.
18. Laem Tong, Koh Phi Phi
Laem Tong requires a boat from Tonsai Bay to reach it, therefore this beach is much calmer than the party beaches in the main areas of Koh Phi Phi.
If the raging parties aren't your thing, there are a few resorts in this area that will keep you away from the revelers.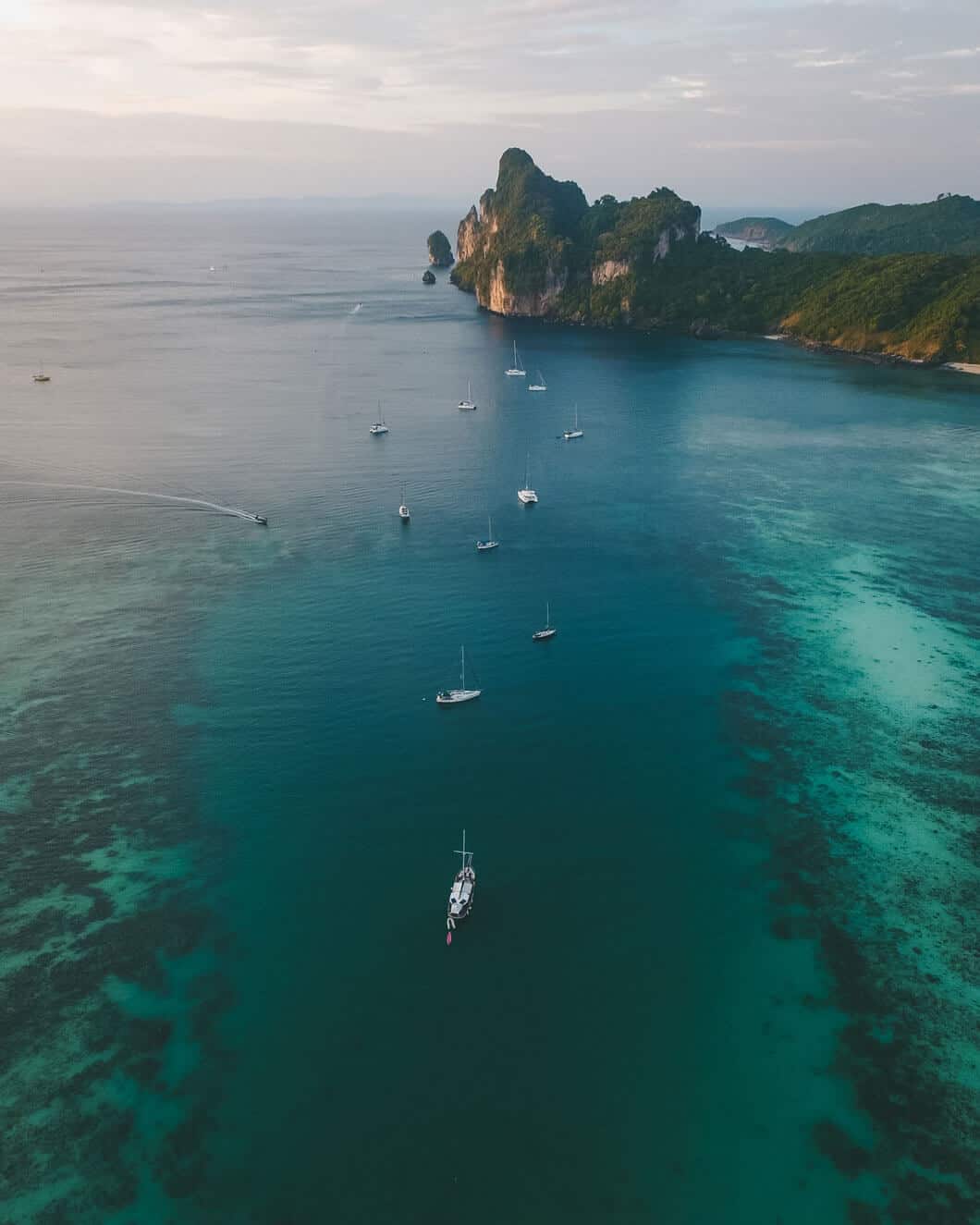 Tip: It's really easy to take snorkel tours from here to Bamboo and Mosquito island, the marine life beneath your feet is magical!
19. Koh Pai (Bamboo Island)
Shaped like a tear drop, with a ring of gorgeous white sand running all the way around its outer rim, Bamboo Island is stunning in it simplicity.
It rests at the northeastern tip of the Phi Phi Archipelago, which is in the Southern Krabi Province, and it is also part of a national park, so you have to pay an entrance fee to hang on the island.
Perhaps that is what keeps it from getting too overcrowded.
You could simply wander the island, exploring among the bamboo trees and other vegetation on the island and dipping your toes into the turquoise water, or you could choose adventure! And snorkel the hundreds of feet of coral reef just off the coast.
Tip: If you're up for an overnight adventure, rent a tent and camp on the beach. Now that's gotta be one hell of an experience!
20. Ao Nui, Koh Lanta (One of My Fav Secret Krabi Beaches! Shhh)
I can't believe I'm letting you in on my little secret. While it's been growing in popularity the relatively untouched bay that you'll find here features a single shake selling beers and that's it. It's a quiet getaway where you'll pretty much have the beach to yourself.
I've put off mentioning this beach for years but I think it's time, this is one of the best Krabi beaches because it's not on the tourist radar and it does take some effort to get here but I can assure you it's worth it. With that said—People are finding out so go go go and like, maybe don't tell anyone else…
There are actually tons of things to do around Koh Lanta and I think it's still a pretty underrated island that's worth your time.
Tip: Bring an umbrella or extra sunscreen. There are no trees or shade on this beach.
21. The Surprise Krabi Beaches
What is this? There are more? Like, literally hundreds more, you guys! The best way to find them is to get lost. Grab yourself a motorbike and ride around, stopping at the most random spots only to discover a beach that's all to yourself.
Other gorgeous beaches are found taking the island tours, which are worth it. They are pretty cheap, so you can't go wrong! They usually take you around 3-5 islands, some are just for snorkeling, some are for basking on an island all day.
Where will you go after Thailand?
Laos | Malaysia | Singapore | Indonesia | Philippines | Cambodia | Vietnam
Which of these Krabi beaches has you booking your trip NOW? Let us know in the comments!
---
---
>>> EVEN MORE AROUND THAILAND<<<
"One Night in Bangkok … and the World's your Oyster"
Work & Live in Thailand: How To Do It? Cost of Living? And More!
27 Things to Do in Pai, Thailand + Where to Eat and Sleep
Where to Stay in Pai, Thailand: Pai's Hostels, Hotels and Resorts
9 Krabi Island Hopping Tours That Will Make Your Jaw Drop (Thailand)
Photo and Video Blog- Ao Luk, Krabi, Thailand
Krabi Itinerary: What To Do In Krabi, Thailand for 1-7 Days & When To Visit
First Timers: Rock Climbing Krabi, Tonsai and Railay, Thailand
Where To Stay In Krabi, Thailand For Any Budget
Where to Eat in Krabi Town: Night Markets and Restaurants
Krabi's Beauties: Railay Beach and Tonsai Beach, Thailand
A Thailand Visa Run Gone Wrong
The Low-Down: Thailand Tourist Visa and More
Thailand's New Year, Songkran, Is the World's Largest Water Fight
7 Unusual Things To Do in Chiang Mai
Photo Blog: Doi Inthanon, a Day Trip from Chiang Mai
Chiang Mai to Pai and Back! The Best Ways to Get Around (Thailand)
4 Lesser-Known Spots Around Mae Hong Son To Go To
Chiang Khong to Huay Xai Border Crossing (Thailand to Laos)
Chiang Rai Itinerary: 10 Things To Do In Chiang Rai That You Can't Miss
Thai Vegetarian Food That You'll Want in Your Mouth
7 Reasons Why Eating Thai Street Food Is The BEST & How To Avoid Getting Sick
Transportation Info and Tips for Thailand
Play it Cool: Thailand's Do's and Don'ts
Photo Blog: Kanchanaburi – Bridge on the River Kwai and Erawan Falls
OMG, My Holiday is Coming Up! Is it Safe to Travel to Thailand?
---
---
Don't lose this post! Click the picture and pin it to Pinterest!