Chiang Rai is a quaint little town with a laid-back atmosphere; which is kind of the theme in North Thailand if you ask me!
Small villages dotted about, stunning temples of various architectural styles, a cheap night bazaar to fill your tummy, and breathtaking mountain views. That's what you'll get!
On this list of the most important Chiang Rai attractions, you'll learn about some of the most stunning and interesting locations. You'll fill up your Chiang Rai itinerary in no time with tons of things to do…
Don't lose this! Click to pin it now.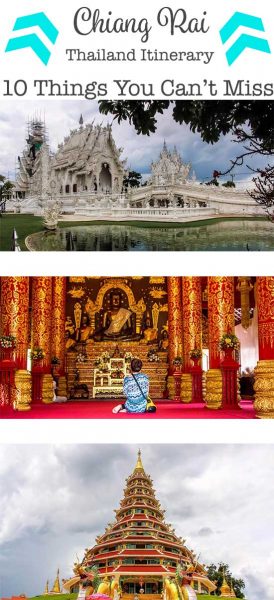 10 Things To Do In Chiang Rai In 2-3 Days
You can really squeeze almost everything on this list if you stay in Chiang Rai for about two days, however, three days would be less rushed.
The easiest way to get everything on this list done with about 2-3 days in Chiang Rai would be rent your own motorbike. If you don't want to rent a motorbike, it might be best make friends with a taxi who can drive you around all day or you may have to chop a few things off the list!
Transportation Tip for Thailand:
While you can simply book at the pier, bus or train station, you may want to book ahead for certain legs of your journey to guarantee that you get a seat on the day you need to travel. 12go.asia is the best way to do this. Book your next trip ahead of time so you have one less thing to worry about.
If you only have a day and don't want to rent a motorbike, I have only the highlights for your day trip at the end of the post.
1. Chiang Rai Beach
"Nina, what are you on? There isn't a beach for literally hundreds of miles from here."
Hey, I didn't name it. But it's as close to the beach as you'll get in the area. Get some food, have a few beers and sit riverside in your own private little hut. If you're looking for a chill thing to do in Chiang Rai, this is your spot!
Directions to Chiang Rai Beach:
Coming from the city- Right on Pakanw soi 4. Big brown sign over the road in Thai. Right on Pangio road.
2. Clock Tower
Here's a quick and nice Chiang Rai attraction. Make sure to go at 7, 8, or 9pm. That's when there's a light show. It's worth a walk by, most of the other stuff to do is outside the town!
3. Night Bazaar
Food. Period.
There are plenty of stalls to eat at until you pop, with hot pots being the main theme. Other Thai food is offered for cheap prices, and there's some entertainment on two different stages. The Night Bazaar is a great place to enjoy the local fare and a must visit Chiang Rai attraction, I mean, you got to eat, right?!
You'll see typical stalls selling souvenirs that are on display, as well as a few authentic shops selling indigo, homemade natural soaps, and handmade t-shirts with some hipster graphics on it.
4. Singha Park
If you're looking for things to do in Chiang Rai that involve beer, you'd think there would be plenty at a place called "Singha Park" (Singha is a popular beer in SE Asia) but not so much. Prepare to stick with just tea, because this Chiang Rai attraction doesn't have Singha!
Ride around tea plantations, nicely manicured gardens, rice fields, visit a few viewpoints and drink tea. If you're feeling fancy, there are a few nice restaurants here too. After you're all sweaty, take a load off with a bubble tea. I got the Boon Rawd Farm Tea Milk. Yum!
5. Doi In Cee
So apparently this stellar spot isn't really known.
Like, even my guesthouse lady has never been here. Get up in the mountains and enjoy the epic views of Chiang Rai and the two large Buddhas on the mountain. This Chiang Rai attraction will have you stunned because of the scenic views. When we went, we were the only tourists. We hung around for about 45 minutes without another soul in sight unless you count the peacocks and the cats.
If you're looking for things to do in Chiang Rai that are more laid back, less known, and outside, this should be on your priority list.
6. Huay Pla Kung
This 9-story Chinese temple has another opportunity for beautiful views at the top, although it's the temple itself that's stunning! Wooden Buddhas, Chinese lanterns adorning the inside, and the dramatic view of the temple from the outside make this Chiang Rai attraction worth the visit.
BONUS: As we were leaving, we met a lovely Thai man who travels the world! He speaks several languages but is from Chiang Rai. He invited us to the back of the temple and showed us a small mess hall. This area has free food. Yes, free food. It's run by ex-prisoners and is for the benefit of the community that is less fortunate, although many come here to eat and leave a donation to keep it running. Definitely should be on your list when planning what to do in Chiang Rai.
7. Black House – Baan Dam
Bones, animal skins, skulls, and horns. Are you into it?
Then go to the Black House you morbid little freak!
This was my favorite thing on my Chiang Rai itinerary. Enter the massive intricately detailed doors of the Black House and look up at the artist looming above you. He passed away in September 2014 and is now cremated and on a pedestal in the middle of a room full of alligator skins strewn on tables and chairs made of bones, skulls, and horns. This freak show house and park is all thanks to the national artist, Thawan Duchanee. Despite the darkness of it all, it's oddly beautiful and surreal.
8. Wat Rong Khun – White Temple
In your mind, the White Temple and Chiang Rai are probably synonymous. This is the iconic symbol of the region.
Of all the things to do in Chiang Rai, you'll regret missing out on this place if you skip it.
The White Temple and all of its sparkliness and glamour is, in fact, as pretty as you think. Perhaps I'm a bit morbid myself, but I really loved the beauty of the temple with the stark contrast of the "helpless hands reaching for heaven" and the dark message that the national artist, Chalermchai Kositpipat, is trying to portray with his mural inside of the temple. No photos allowed inside! So you have to come see for yourself.
9. Other Temples
Wat Phra Kaew and Wat Jedyod are two other temples in town to visit. These are two of the easiest things to do and see in Chiang Rai as you can walk to both of them.
10. Ride Around Chiang Rai
If you're not sure what to do in Chiang Rai after visiting all these beautiful locations, just take a ride! Tatupu (Buddha on a rock), and a Buddha cave that's near the river (both on Towirat soi 5). There are a few small waterfalls, a national park, and plenty of mountain vistas and temples strewn about. Renting a motorbike is 150-200Baht ($5-6. We rented from ST motorbike rentals).
A One Day Chiang Rai Itinerary If You're Low on Time
Convenient, cheap and worth it if you're low on time!
Perhaps you don't have the time to make your way up to Chiang Rai to explore everything it has to offer. It's a common traveler problem! Too many places, not enough time. Plus many of the "main" things to do in Chiang Rai do take a bit of time. There are all sorts of Chiang Rai day trip options but the main two attractions are the Black House and the White Temple.
These tours are the best for your one day in Chiang Rai:
Where To Stay In Chiang Rai:
Number One Hotel
We stayed at Number One Hotel. I don't think it gets any cheaper than this place. The mattress is on the floor, but everything is clean. Shared bathroom. It's walking distance from all the things to do in Chiang Rai that's in town.
Getting the 100B add-on for breakfast for two would be wise, in my opinion. We ate breakfast out a few times and it was OK, but she provided the same breakfast for about half price! (Not available on the internet, walk-in only)
A few other places to stay in Chiang Rai:
B2 Chiang Rai
B2 Chiang Rai is centrally located and one of the most affordable and comfortable hotels in the city of Chiang Rai.
Check Prices: AGODA l BOOKING.COM
A Residence
At A residence, one can experience high-quality room facilities. They provide luggage storage, Wi-Fi in public areas, car park, restaurant, and tours.
Check Prices: AGODA l BOOKING.COM
Banlomnow Hotel
The Banlomnow Hotel is the perfect venue for an exhilarating and exciting getaway. This 3-star hotel commands an excellent location and provides access to the city's biggest attractions.
Check Prices: AGODA l BOOKING.COM
This beautiful place can surprise many if they think the White Temple is all that's there. Chiang Rai was a great little getaway. If you're not sure what to do in Chiang Rai, I hope this list helped you plan your travels in this gorgeous northern Thailand city.
Read More About Thailand…
Where will you go after Thailand?
Laos | Malaysia | Singapore | Indonesia | Philippines | Cambodia | Vietnam
What's the most interesting Chiang Rai attraction you'd want to see from this list?
---
Pin This By Clicking the Pics!