OK so technically it was three nights, but when in Bangkok, the days just blur.
This is the half way point of my friend Julia's visit to Thailand and things have been going fabulously. We made it from Suhkothai to Bangkok in one piece and we were ready to let loose! Julia booked a room "behind my back " and it just so happened to be at the Lebua State Tower. You know this hotel even if you don't know you know. Yes, the hotel from Hangover II. The place is pretty sweet! Especially since I'm a poor, old, scruffy, dirty ass backpacker… I certainly didn't belong.
I strutted in this place with my dirty hippy pants and my 80B tank top and was welcomed by a BELL BOY who opened the door for my taxi and the door to the hotel, and then I received some orange juice as we checked in. What the hell is this?! Is this ss..sseerr….service? Real customer service? In a real place? With real workers?! Who will even press the button for my elevator?! OMG. I was freaking out. I seriously had forgotten what "nice" was. Nice places, nice service, nice rooms, nice…everything. It was so weird. And so cool.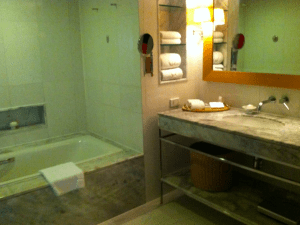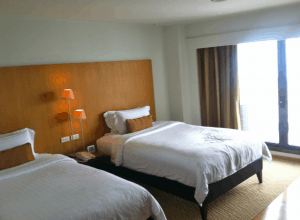 So the we get to the room and while Julia was happy, it was noting to special for her. For me? I wanted to jump on the beds. There was a living area, a kitchenette, a beautiful bathroom, and a balcony overlooking Bangkok from the 54th floor. I'm used to a room with a deteriorating mattress and toilet, possibly shared toilet. I was like a kid in a candy store, or like Pretty Woman minus the hooker part, or …. I don't know! But really.. I have been living so simply for the past three years. I didn't know what to do with myself.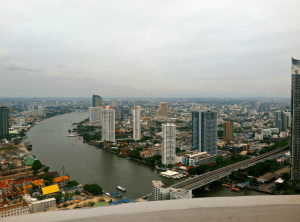 Obviously while we were here we did tons of shopping. Correction: Julia did tons of shopping, I did a fair amount. I couldn't help myself. For some reason, my obsession was crop tops at this time. I couldn't stop buying them! Julia's main mission for her holiday here seemed to be shopping, so Bangkok was obviously a gold mine. We, I mean she, couldn't stop herself. We scoured quite literally every shop in the Siam Square market.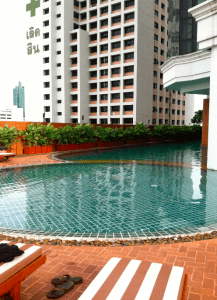 We happen to be in Thailand when the protests were still happening, but stayed far away. It didn't stop us from having fun! We happen to be there during the week and because of the protests as well, the nightlife wasn't as pumping as it usually is, in my opinion. We went to the backpackers ghetto of Khaosarn Rd and randomly partied in the streets. Like there was a makeshift DJ…in the street. Dance party anywhere! We made our way around the roads of Silom and Sukhumvit, had a few drinks at Cheap Charlie's and even had a stroll down Soi Cowboy, one of the seedy streets in the area.
The Skybar at the Lebua was fantastic. Expensive as hell. But fantastic. Like… The pictures don't do it justice. I was holding a fancy cocktail, OK, a mojito, but a damn good one, and was wearing a nice dress (and by nice, I mean a maxi dress…this is "nice" for me. I even bought it just for this occasion…Oh! And some real shoes too! No flip flops allowed!).
I would recommend getting to the Skybar before sunset. This way you get all your day time pictures of the city and as you SLOWLY sip on that cocktail, and I mean really slowly… You get to watch the entire night light up! I loved it so much, I went back the next night with my new French friend I met earlier in Chiang Mai before Julia got in town. This was my second skybar in Bangkok, Vertigo being my first, and both are fabulous! Long live skybars.
Where will you go after Thailand?
Laos | Malaysia | Singapore | Indonesia | Philippines | Cambodia | Vietnam
---
---
>>> EVEN MORE AROUND THAILAND<<<
27 Things to Do in Pai, Thailand + Where to Eat and Sleep
Where to Stay in Pai, Thailand: Pai's Hostels, Hotels and Resorts
21 Krabi Beaches That'll Make You Book Your Trip Today (Thailand)
9 Krabi Island Hopping Tours That Will Make Your Jaw Drop (Thailand)
Photo and Video Blog- Ao Luk, Krabi, Thailand
Krabi Itinerary: What To Do In Krabi, Thailand for 1-7 Days & When To Visit
First Timers: Rock Climbing Krabi, Tonsai and Railay, Thailand
Where To Stay In Krabi, Thailand For Any Budget
Where to Eat in Krabi Town: Night Markets and Restaurants
Krabi's Beauties: Railay Beach and Tonsai Beach, Thailand
The Low-Down: Thailand Tourist Visa and More
Thailand's New Year, Songkran, Is the World's Largest Water Fight
7 Unusual Things To Do in Chiang Mai
Photo Blog: Doi Inthanon, a Day Trip from Chiang Mai
Chiang Mai to Pai and Back! The Best Ways to Get Around (Thailand)
4 Lesser-Known Spots Around Mae Hong Son To Go To
Chiang Khong to Huay Xai Border Crossing (Thailand to Laos)
Chiang Rai Itinerary: 10 Things To Do In Chiang Rai That You Can't Miss
Thai Vegetarian Food That You'll Want in Your Mouth
7 Reasons Why Eating Thai Street Food Is The BEST & How To Avoid Getting Sick
Transportation Info and Tips for Thailand
Play it Cool: Thailand's Do's and Don'ts
Photo Blog: Kanchanaburi – Bridge on the River Kwai and Erawan Falls
OMG, My Holiday is Coming Up! Is it Safe to Travel to Thailand?
---
---