The following 3-day Bangkok itinerary is authored by Kate and Kris
Bangkok is our favorite city in the world.
It was the first place we landed in when we first left the UK back in 2006 and it's never left our hearts.
It's such a huge city that there is so much to see and do. We've lived there twice and there's still more for us to see.
However, if you only have 3 days in Bangkok, we have some places we'd recommend you see.
Our Bangkok itinerary will show you some of Bangkok's key sights, but we also want to show you some more off-the-beaten-track things to do there.
So expect some of the typical suggestions mixed together with some more unusual ones.
Don't lose this! Click to pin it now.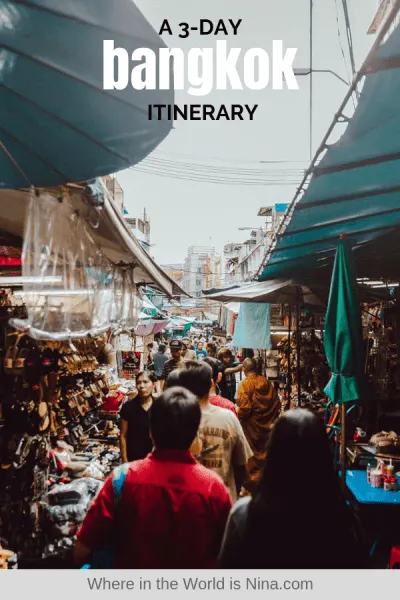 How to Spend 3 Days in Bangkok
---
We always wish for more time in a place but sometimes it's just not an option. Here's everything we think you can squeeze in with only 3 days in Bangkok. If you have more time, you could spread these things out a bit more, or take on on some of our add on suggestions below.
Bangkok Itinerary: Day One
On your first day in Bangkok, you should see the main temples to get yourself started.
Get up and out early because it's going to be really hot and the white walls of the Grand Palace attract the heat and it's like an oven! The main historic sites in Bangkok are all situated on Rattanakosin Island, which is less an island than a bend in the Chao Praya river.
These are all walking distance to the Banglampu area of the city if you are staying near Khao San Road, but you'll need to take a riverboat or taxi if you are coming from Sukhumvit or Silom.
The Grand Palace
The Grand Palace used to be the official residence of the Kings of Siam. Although the recent Kings haven't lived there, it is still used for official functions by the Royal Family and there are working royal offices in the grounds.
It's made up of various buildings set in gardens, with the centerpiece being the Temple of the Emerald Buddha, one of the most important Buddhist symbols.
The Emerald Buddha is a small, green statue of a seated Buddha and only the King of Thailand is allowed to touch it. Three times a year, when the seasons change, the King changes the Buddha's clothes in a ceremony.
Depending on where you are staying, you can travel to the Grand Palace by riverboat, on foot, by tuk tuk or by taxi. If you go by riverboat, get off at Tha Chang pier. From there, it's an easy walk to the Grand Palace entrance.
Entrance costs 500 baht and this also includes entrance to Vimanmek Palace and Abhisek Dusit Throne Hall. You will be approached by various people offering you a guided tour.
Kate's parents took one of them up on their offer and had a very interesting tour. Just agree on the price you are prepared to pay before they begin the tour.
Grand Palace Dress Code
The Grand Palace is a holy site, and so there is a strict dress code. Signs on the way to the palace and outside will tell you how you should dress.
Women must cover their shoulders and their legs with no revealing clothing. Men have to wear long trousers and a long sleeved shirt. Basically, cover up.
Read this Southeast Asia packing list for more info on how to pack for your trip.
As a woman, we'd recommend a maxi dress or long skirt, with a t-shirt or sleeved light cardigan over your shoulders. For men, lightweight trousers and a t-shirt. If you arrive at the Grand Palace and you are incorrectly dressed, you can rent something to cover yourself up at the entrance.
Don't try and push the dress code. It's a matter of respect to dress properly for such an important sight.
WARNING: Grand Palace Scam
While you are approaching the Grand Palace, you may be accosted by a Thai person who tells you that the Grand Palace is closed today.

It might be because of a Buddhist festival, or we were once told, "because the King is cleaning". Now, the Grand Palace does close sometimes for official business BUT–Check with your hotel before you leave. The Palace is rarely actually closed.

Generally, this friendly person will tell you that there are other temples to see and that you should go and see the Lucky Buddha temple, that is only open today. See below in the section on tuk tuk scams to find out how this pans out but the main point to know is, don't trust them and move about your day.
Wat Po
Close to the Grand Palace is Wat Po, the temple of the reclining Buddha, one of the oldest temples in Bangkok.
The reclining Buddha is a nearly 50m long image of Buddha in his reclining stage, shortly before he entered Nirvana. It's a really impressive statue. The sheer size is incredible, it's really hard to get a photo of the whole thing because it's so long.
Check out the feet. These are huge and decorated with Buddhist symbols.
Around the statue are 108 bowls. You'll see Thais putting a coin into each bowl as they walk around. This is one way to make 'merit' – to secure a high-quality next life on the road to enlightenment.
The grounds of Wat Po serve as a training center for Thai massage, and it's a good place to experience one.
A 30-minute full body massage or a foot massage is less than 300 baht ($10 USD). You can even do a training course on how to give various types of Thai massages, but you only have three days in Bangkok, so you'll have to save this for another time.
Entrance to Wat Po costs 200 baht. As a Thai temple, you still need to cover up to visit this temple, but you'll be dressed in clothes suitable for the Grand Palace, so you should be ok.
Wat Arun
The third of the 'must see' temples on your Bangkok itinerary is the Temple of the Dawn, Wat Arun. This consists of a nearly 80m high central tower, decorated with ceramic pieces, with four smaller towers around the edge.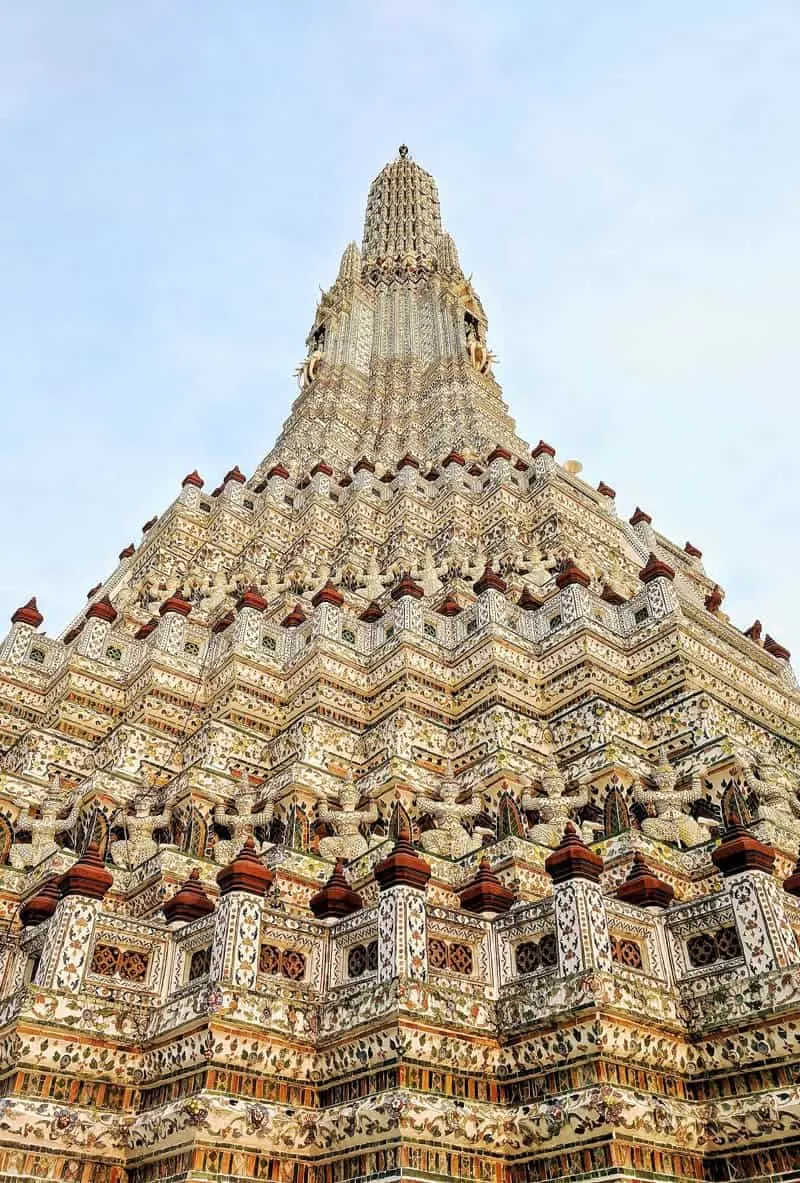 From Wat Po, head to Tha Tien Pier. From there, you can take a small ferry across the river to the temple. Entry costs about 50 baht.
Bangkok National Museum
After visiting those three temples, it's probably getting near the middle of the day and hot, hot, hot. To duck out of the heat for a while, the National Museum is a good option.
This museum houses all kinds of interesting Thai artifacts, including weapons, musical instruments, clothes, and statues.
There's also an exhibition of funeral chariots used in royal cremations, and a house that used to be lived in by one of the Thai princes.
When we last went to the National Museum, it was shortly after the last King had passed away and we saw craftsmen preparing the funeral chariots for his cremation.
The National Museum doesn't open on Mondays or Tuesdays, so if two of your three days in Bangkok fall on these days, you'll want to plan around it.
Bangkok Klong (Canal) Tour
Jump back on the riverboat and head to Saphan Taksin pier. You'll find lots of people touting their tours of the canals of Bangkok by long-tailed boat.
A boat can seat 4-6 people and will cost around 1,500-2000 baht for 1-2 hours. There are different tours exploring different areas.We'd recommend the canals at Thonburi and the Royal Barges Museum.
The boat will take you away from the main river and down the narrow canals. Either side you'll see local Thai houses on stilts, temples, schools and other local buildings. Children will be playing beside the river, people will be rowing boats beside you, men will be fishing.
There are large monitor lizards that live in the canals so if you are lucky, you'll spot one swimming past or basking on the banks. It's a lovely snapshot of local life.
The Royal Barges Museum houses several ornate longboats that are used in the river processions on special Thai ceremonies. We've never actually seen the Royal Barges procession, but we'd love to.
The main barges have huge carved figureheads depicting characters from Thai mythology such as dragons and giants. They are covered in gold leaf and painted in bright colors.
They are impressive, even out of the water. Imagine how amazing they look when being rowed by up to 50 oarsmen in traditional dress.
Khao San Road (The Typical Spot for Your Bangkok Itinerary!)
As evening draws in, find your way to the Banglampoo area of the city, to the (im)famous Khao San Road. You can go by riverboat to Pier 13 – Phra Athit and walk from there.
Have you seen the film The Beach? The place where Leonardo di Caprio's character stays when he first arrives and where he finds the map to the Beach is Khao San Road. It's not the backpacker dive that it was when that book was written.
The cheap flophouses with thin walls have been replaced by rather nice hotels and guesthouses, with several 7-11 convenience stores in between.
Some regular visitors to Bangkok will tell you to avoid Khao San Road because it isn't authentically Thai, or because it's full of westerners, or scams, or for some other reason.
All these are probably true. However, we'd recommend you experience it. It's a fun place to hang out in the evening, and the atmosphere is great. If you go there on a Saturday, you'll see lots of young Thais partying as well.
Take some time just to walk up and down Khao San Road, and the parallel street, Soi Rambuttri ('soi' means narrow street in Thai). Soi Rambuttri continues to the other side of the main road. On this side, it snakes around a temple and you can actually walk all the way around, up some stairs, through a guesthouse lobby and back onto the main road.
We used to do that route a lot when we were stuck in Bangkok during the 2008 protests, on the way to our teaching job in Vietnam.
Along the streets are stalls selling t-shirts, elephant print trousers (a good buy if you need long trousers for the Grand Palace, and they will keep you cool, but everyone else will be wearing the same clothes), carved wooden ornaments, jewelry, second-hand books, bags, paintings and artwork and a huge range of other stuff. It's good to do a bit of souvenir shopping.
The buildings house bars and restaurants, travel agents, massage parlors, guesthouses, and tattoo shops. If you want a tattoo as a souvenir from your Bangkok trip, we recommend Bangkok Ink, at the bottom of Khao San Road next to Burger King. Kris has had two tattoos there and was very happy with the artists.
Where to Eat and Drink
Other stalls sell pad thai, spring rolls, smoothies and other Thai street food.
It's not the best area for street food in Bangkok by any means – for that we'd recommend street food in Silom, where we used to work, Chinatown, or one of the many night markets in Bangkok.
If you do want street food there, there is a group of stalls opposite Gecko Bar on Soi Rambuttri that cook some tasty curries and stir-fries If you haven't tried it yet, order some Thai fried rice. It's our absolute favorite Thai dish.
It isn't a side dish, it's a meal in itself. Ask for 'nam pla' to go with it. It's fish sauce with chopped chili. Yes, I know. Fish sauce stinks like something died. It did. The fish did before it was laid out to dry in the sun. However, mixed into the fried rice, it's delicious.
Find a good spot overlooking the street, grab a Thai beer – we'd recommend Singha as Chang tends to have a stronger taste and is generally stronger alcohol content, and watch the world go by.
Some good places for people watching are Gecko Bar on Soi Rambuttri, which has plastic seats outside, or any of the small places on Khao San Road, BEFORE about 7 pm. At this point it gets LOUD! Fine if you want to party, but don't expect to be able to hold a conversation.
Another option for exploring this area is to have a 'walking beer'. You can buy a beer from any of the 7-11 convenience stores in the area, who will open it for you. You can wander around, drinking your beer and looking at all there is to see.
Where to Stay in Banglampu
We recommend staying in the Banglampu area as you're very close to all the action without being right in the middle of it because you know, sleep is nice and all. If you stay ON Khao San Road, don't expect a wink of sleep.
Recommended tours:
Bangkok Itinerary: Day Two
Yesterday was a busy and rather hot day, so today let's stay a bit cooler. Bangkok isn't just history, it's also modern. On day 2 of our Bangkok itinerary, we're going to see some of the more modern areas.
You might not think that shopping centers are somewhere you want to explore if you only have 3 days in Bangkok, but trust us, Bangkok shopping centers are something else.
Terminal 21
Take a Skytrain to Asok, or the metro to Sukhumvit. This is where the metro and Skytrain lines meet.
Our first shopping center of the day is Terminal 21. As the name suggests, this has an airport theme. Each floor represents a different city: London, Istanbul, Tokyo, San Francisco, Paris…..There are statues of sumo wrestlers, a London bus, a model of the Golden Gate Bridge and lots more cool things to Instagram.
If you are hungry, the food court Pier 21 on the 5th floor has some tasty, cheap Thai dishes to try. Like many food courts, you need to buy a card loaded with money, and then use this card for whatever dishes you want.
You can get any leftover money refunded. You could get some pad thai, but honestly, what's the deal with pad thai? Why do people love it so much?
How about something different? Try pad siew – wide flat rice noodles with kale, egg and chicken, or rad na – the same noddles in gravy.
EmQuartier
Coming out of Terminal 21 and walking towards Soi 33, you'll come to EmQuartier shopping center. This is full of swish designer shops, so you might not want to shop.
It's a bit of a maze, but look for the Water Garden, which is really pretty, has great views over Bangkok, and has a strange helix shaped restaurant area, where you walk up in a spiral.
Siam
Jump on the Skytrain Silom line and get off at Siam. In this area, there are several different shopping centers to explore. The Siam Discovery Centre has recently undergone renovation and now brands itself as an 'exploratorium' with each floor called a 'lab' with a different theme. The floors have an interesting selection of modern statue-type artwork and installations.
Siam Paragon is another upmarket mall full of designer shops, while Siam Centre seems to have been designed for teenagers, with lots of bright colors, and modern artwork.
MBK is the place to go if you want technology as there are rows of camera stalls, mobile phone shops, and computer games, as well as clothes and luggage.
Bangkok Art and Cultural Centre
After you've had your fill of the shopping centers, Bangkok Art and Cultural Centre is next to MBK.
It's an art gallery of Thai art, mainly contemporary art, with changing exhibitions and small booths where local artists display their own art. It's free to get in and well worth wandering around. There is also some cool street art on the walls overlooking the skybridge.
Jim Thompson's House
On the same side of the road as the Bangkok Art and Cultural Centre, walk along the road to Soi Kasem San 2. At the end of this alley, you'll find Jim Thompson's House, a beautiful teak building full of Thai art.
Jim Thompson was an American expat who set up a silk textile production business in Thailand, exporting the silk internationally.
He built his house based on local Thai architectural designs and it's really stunning. It's situated next to one of Bangkok's many klongs (canals) and has calm gardens.
What's interesting about Jim Thompson is the mystery regarding his disappearance. Back in the 1960s, he vanished during a hike in the Cameron Highlands in Malaysia and despite significant efforts, he, nor his body, were never found. We've both read the book Jim Thompson: The Unsolved Mystery, which, although the title is quite the spoiler, is very interesting.
Another interesting take on this mystery is the blog of fellow bloggers, Bob and Linda. Bob went to school in the Cameron Highlands and was part of the search party.
His stories of growing up in Southeast Asia in the 1950s and 60s are fascinating, and I'd really recommend reading his post about searching for Jim Thompson.
To see Jim Thompson's House, you have to do a guided tour. You'll get a tour time when you buy the ticket, and then the guide will show you around and explain the history of the house and more about the art there.
Sundowners in a Rooftop Bar
This evening you need to check out one, or several, of Bangkok's rooftop bars.
The views from them are incredible and sipping a cocktail while watching sunset over Bangkok and the lights come on across the fantastic cityscape is not to be missed. When we lived in Bangkok, we had a 19th floor apartment with city views and never got tired of looking at it.
Unfortunately, all the rooftop places we tried when we last lived in Bangkok have since closed (I'm sure it's nothing we did…..).
However, we've heard good things about Sky Bar at The Lebua on Silom Road – the one that is in The Hangover 2 film. It's not cheap though, by any means, and a cocktail is going to set you back at least 500 baht.
→ Editors Note: I've been to The Lebua numerous times and even stayed a few nights in the hotel, I can confirm, it's 100% worth it! Even if you order the cheapest thing on the menu (tea or coffee) just get up there before sunrise to get a decent spot and to see the city turn from day to night.
If you are in the Asok area, friends recommend Above 11 on Soi 11. Cocktails here are oddly Peruvian or Japanese themed, and a bit cheaper than Sky Bar, at about 350 baht each. Soi 11 has some other cool places to drink as well, so you can easily move on from there.
Our favorite bar, Hemingways, closed down several years ago to make way for another hotel or shopping center. They have rebuilt it on Soi 11, so we'd recommend trying that out when it opens. The food was always excellent.
If you prefer beer to cocktails, Brewski is also recommended by friends. It's a craft beer pub on the 30th floor of the Raddison Blu hotel on Sukhumvit road near to Terminal 21.
There are generally dress codes for these rooftop bars, so don't try to get in with flipflops or shorts on. These are some of the most photogenic spots in Bangkok so dress up a bit!
Where to Stay in Sukhumvit
Recommended tours:
Bangkok Itinerary: Day 3
You've had a busy three days in Bangkok for far so here are just two great things to do today, do both or just choose one.
Bang Krachao – Bangkok's Green Lung
It's time to get out of the city completely. Bang Krachao is a patch of green space in the bend of the Chao Praya river. There are only a few roads, with elevated concrete paths taking you above plants and trees, what's basically a jungle.
There's a country park with a lake in the center, a floating market at the weekend, and local houses built on stilts. The Siamese fighting fish museum is a strange exhibition of different fighting fish in bowls.
To get to Bang Krachao, you need to find Wat Klong Toey, where you can get a long-tailed boat over to the other side of the river.
Once there, you'll find a stand renting out bikes, so you can ride around and explore, although we prefer to walk. The women on the stand will give you a map of the area so you can find what to see.
Spend the day exploring the area, either on foot or by bike. If you are feeling very energetic, the Tree House is an eco-friendly hotel and restaurant on the other side of the area, where you can have lunch and/or a beer looking over the river.
Ratchada Train Market
People who come as tourists always put Chatuchak Weekend Market on their Bangkok itinerary. If you want to go, fair enough, but it's quite far out of the city and very, very busy.
Our favorite market in Bangkok is the Ratchada Train Market. It's close to the city, at the Thai Cultural Centre Metro stop, and it's far more popular with Thais than with tourists so you can see how Thais 'do' night markets.
Ratchada Train Market is a night market, so you are going to head here after the sun has gone down for some food, drink and exploration. The market has rows of stalls, as well as booths in old buildings and in old shipping crates.
Stalls sell clothes, shoes, and jewelry, others sell vintage and handmade goods. Bars pump out loud music, while others have live bands performing or DJs. You can get a hipster haircut, pick up an old record and buy a cocktail from the back of a VDub camper van.
There's a wide variety of food on offer, from Thai bbq seafood and hotpots, spicy salads and noodle dishes, to pizza and grilled cheese. Some of our favorites are nuggets filled with cheese, ham, fish and other things.
You can buy food from several different stalls and take it to eat in any bar. Beer can be bought by the bottle and by the bucket for a discount. Like Khao San Road, you can buy a walking beer from a stall and wander around, checking out what to buy, and then settle down in whichever bar you fancy
ADD ON—Bangkok Itinerary: Day 4
I know this is a three day Bangkok itinerary, but I'm going to cheat a little and make a suggestion for if you might be able to squeeze in an extra day to your Bangkok itinerary.
You can go whale and dolphin watching from Bangkok. Not what you'd expect, right?
In the Gulf of Thailand, there are Bryde's Whales as well as Irrawaddy dolphins. Wild Encounter Thailand takes groups out on a boat to see them from Bangkok. It's an excellent experience if you have time.
We wrote more about it in our post Whale and Dolphin Watching from Bangkok.
Not sure what else to do in Thailand? I have you covered! Read my guide to Backpacking Thailand.
How to Get Around Bangkok
Bangkok has an extensive public transport system, made up of the Skytrain, the Metro, and the river boats. There are buses, but the traffic is awful and they are quite cramped and uncomfortable, so we wouldn't recommend them.
Bangkok Skytrain and Metro
The modern parts of the city are served by the Skytrain and Metro system. The Skytrain, also known as the BTS, has two lines – the Sukhumvit line from Mo Chit in the north, to Samut Prakarn in the east.
The metro runs from Hualampung railway station in Chinatown to Bang Sue, where you can join the purple line and beyond. You are unlikely to need to take the purple line. Tokens for both can be bought in stations and the price depends on the number of stations that you are traveling. The machines are in English and it's all very easy.
The interchange stations are Siam for the two Skytrain lines, and Asok/Sukhumvit and Silom/Sala Daeng to change from the metro to the Skytrain or visa versa.
Tuk Tuks and Taxis
As well as this, there are tuk tuks and taxis. Travel by tuk tuk is something you should definitely experience once during your three days in Bangkok, but bear in mind that they are loud, hot and you are going to breathe in a lot of pollution. To take a tuk tuk, you need to negotiate a price with the driver before you get in.
Taxis
Taxis are brightly colored and drive around the streets. To stop one, stick out your arm and wave it up and down.
The driver will stop and you tell him where you want to go. If he wants to take you, then he'll agree and you get in. Sometimes you are going too far out of their way, or they are close to finishing their shift so they will refuse.
Bangkok taxis all have a meter and the driver should use it.
In tourist areas, like around Asok on Sukhumvit, and Khao San Road, the driver will refuse to take you on the meter, but negotiate a price with you. If you are happy to do this, then go ahead, or just close the door and find a different taxi.
Note that negotiating with them will often result in a higher price than the meter however, finding a taxi in these areas to take you while using their meter may eat up some time! Sometimes you'll have to ask five taxis before one will agree to use their meter.
To negotiate, decide how much you are prepared to pay. This is much easier if you have already taken a taxi on the meter and you know the price. You can also ask at your hotel or guesthouse how much a taxi to your destination should be. At busy times, try doubling your offer so they will take you.
Tuk Tuk Scams
Very often when you are walking around the temple area of Bangkok, a smart-looking Thai guy will approach you and engage you in conversation. He'll then recommend you see a special temple that's only open today. Today is a special Buddhist holiday, he will tell you, and you should go and see it. It's generally the Lucky Buddha that you need to see.
Just as he's telling you this, a tuk tuk will drive past and slow down. The friendly Thai man will suggest that you take this tuk tuk to see the temple. On the way to the temple, you will probably also be taken to at least one tailor, where the tuk tuk driver gets a commission for taking you.
He may also take you to an alleged 'TAT' office (Tourist Authority of Thailand) where they will suggest you book your onward travel. Bear in mind that TAT doesn't actually have any tourist offices, and places pretending to be are not to be trusted.
At the temple, you will be told that there are some Thai gems that are being sold very cheaply today only…
We've heard that sometimes there's a western person there too, who'll tell you that they've got a real bargain and that they've already made money selling these gems on at home.
You can buy these gems cheaply in Thailand, and then sell them when you get back home. It's going to be a great way to earn money (they tell you).
If you do fall for this and pay for the gems, they'll either offer to post them to your address at home, or they'll give you the actual gems. This goes one of two ways.
Either they never arrive at your house, or the gems you have bought turn out to just be cheap glass. This might seem like something no one would fall for, but we've met at least two people who've had this happen to them.
Taxi Scam
Around many tourist spots, there will be taxis parked up. Don't take these ones. They will want to charge you far more than the meter price. Stop a taxi that is driving around and a bit further away from the tourist spot.
How to Get From the Airport to Bangkok
Airport Link
Bangkok's Suvarnabhumi Airport (the 'i' at the end is silent) is connected to the Metro and SkyTrain by the Airport Link. To join the Skytrain, go to the end at Phaya Thai. For the metro, get off at Makkasan. The fare is 35 or 45 baht.
Taxi
To take a taxi, go to the ground floor of the airport. Ignore anyone offering you a taxi in the airport building and the limousine services. Take a ticket from the machine. On it will be a booth number. Go to the booth and that's your taxi. They should take you on the meter. If not, there's a number to call on your ticket.
Don Muang Airport
It's best to be aware that there are actually two airports in Bangkok. Suvarnabhumi is the new airport. The original airport, Don Muang houses many of the budget airline flights, so your onward flight may go from there.
Unfortunately, there isn't an Airport Link to this airport. You need to either take a taxi or a bus. Buses go to Morchit BTS Station, Victory Monument, Lumpini Park and Khao San Road and cost 150 baht.
Tip: If you're a bit wary about transportation in Bangkok or anywhere else in Southeast Asia, you can easily book many routes through 12go.asia. You can purchase online, with zero negotiating, no chance of getting scammed, and without having to find a reliable place in town to purchase a ticket from! It's pretty easy, just search here.
Where will you go after Thailand?
Laos | Malaysia | Singapore | Indonesia | Philippines | Cambodia | Vietnam
Hopefully, we've given you some good ideas for your three days in Bangkok. We've tried to suggest some different activities that we loved to do when we lived in Bangkok. Actually, it's made me miss Bangkok quite a lot and if you are going there now, I'm a bit jealous! Have a great time, and eat ALL the food!
So what are you most excited to do on your Bangkok itinerary? Let us know in the comments!
---
---
>>> EVEN MORE AROUND THAILAND<<<
"One Night in Bangkok … and the World's your Oyster"
Work & Live in Thailand: How To Do It? Cost of Living? And More!
27 Things to Do in Pai, Thailand + Where to Eat and Sleep
Where to Stay in Pai, Thailand: Pai's Hostels, Hotels and Resorts
21 Krabi Beaches That'll Make You Book Your Trip Today (Thailand)
9 Krabi Island Hopping Tours That Will Make Your Jaw Drop (Thailand)
Photo and Video Blog- Ao Luk, Krabi, Thailand
Krabi Itinerary: What To Do In Krabi, Thailand for 1-7 Days & When To Visit
First Timers: Rock Climbing Krabi, Tonsai and Railay, Thailand
Where To Stay In Krabi, Thailand For Any Budget
Where to Eat in Krabi Town: Night Markets and Restaurants
Krabi's Beauties: Railay Beach and Tonsai Beach, Thailand
A Thailand Visa Run Gone Wrong
The Low-Down: Thailand Tourist Visa and More
Thailand's New Year, Songkran, Is the World's Largest Water Fight
7 Unusual Things To Do in Chiang Mai
Photo Blog: Doi Inthanon, a Day Trip from Chiang Mai
Chiang Mai to Pai and Back! The Best Ways to Get Around (Thailand)
4 Lesser-Known Spots Around Mae Hong Son To Go To
Chiang Khong to Huay Xai Border Crossing (Thailand to Laos)
Chiang Rai Itinerary: 10 Things To Do In Chiang Rai That You Can't Miss
Thai Vegetarian Food That You'll Want in Your Mouth
7 Reasons Why Eating Thai Street Food Is The BEST & How To Avoid Getting Sick
Play it Cool: Thailand's Do's and Don'ts
Photo Blog: Kanchanaburi – Bridge on the River Kwai and Erawan Falls
OMG, My Holiday is Coming Up! Is it Safe to Travel to Thailand?
---
---
>>> Bio
Kate and Kris, from What Kate and Kris Did, are English teachers working around the world. They have taught in Thailand twice, as well as Vietnam, China, Spain and now, Ukraine. They blog about living and working abroad, their travels and give advice to people thinking of teaching English.
---
Busy? Click the picture to Pin this for later!