The following article on budget travel tips for Thailand is authored by Bradley.
Southeast Asia is famous for being one of the best regions to visit for budget backpackers. And Thailand is no exception to the rule. You can travel through the country on as little as $USD15 or $USD20 a day — all while living in relative comfort, eating well and experiencing all of the great experiences that each area has to offer.
How is this possible? You can do so by following a few simple tricks and tips for Thailand that we've picked up on our travels. These also apply to the rest of Southeast Asia.
Here are our top tips for Thailand that will help you stay on track for your budget and help you travel better.
Budget Travel Tips for Thailand
---
1. Indulge in the Street Food
My number one money-saving tip for Thailand is to make use of the local street food. Thailand is famous for its street food and night market food vendors. Not only is it incredibly cheap, but it's also very tasty!
Pad Thai is perhaps the most famous dish on offer: a dish made up of rice noodles as well as some sort of meat or tofu accompaniment. It tastes great wherever you buy it and usually costs between 20-40 Thai Baht (about a $1 USD!).
However, you need to be aware of two things when buying street food in Thailand. First, portion sizes can be relatively small. If you're a big eater, you might need to have two or even three dishes in order to be full. Secondly, getting sick from street food can happen.
Just be careful to check the cleanliness of the station before you order something and make sure their food is being prepared fresh. These are the best tips for eating in Thailand to ensure you reduce the risk of getting sick.
2. Withdraw Cash in Larger Amounts Unless You Have the Right Card
One thing that really annoyed me about Thailand is the ridiculous ATM fees they charge when you withdraw money. These are usually 200 Baht, across the board, regardless of which bank you use to withdraw.
We were unable to find a single bank that didn't charge fees, and it seems that this is still the case after digging around online. Further, this fee is fixed regardless of how much you withdraw.
As such, I recommend taking out as much cash as possible whenever you do a withdrawal so you can prevent these fees. Another way to help minimize the effect of these charges is to make sure you are getting the best exchange rate possible.
For us, this means always using a Monzo or Revolut travel card which gives us the best possible rate and charges zero fees. As of writing, I'm pretty sure these are only available to UK customers, but you should be able to find a travel card from your home country offering similarly good rates.
Editors note: For Americans, you don't have to worry too much about this if you get a Charles Schwab account before heading off on your travels. You can use the ATM as many times as you need and you won't be charged anything. They will even reimburse your ATM fees at the end of the month!

It would also be wise to look into getting an anti-theft bag or purse to protect your gear and cash.
3. Rent a Moped Where Possible
Another tip for Thailand is to rent a moped when possible. When you're out and about for the day, exploring new cities or islands, the best way of getting around is with your own moped. These are really cheap to rent for the day and they give you complete freedom over everywhere you visit.
They are also a LOT of fun to drive! In fact, many of my favorite memories from our time in Thailand come from venturing way out of town into the countryside and seeing the incredible scenery on offer.
The benefit is that they allow you to see much more for much less than if you were paying for taxis, tuk-tuks or tours for the day. To rent a moped, you'll usually need to leave behind your passport for the day as a deposit. You'll also need an international driver's permit which you pick up from your home country before flying to Thailand.
As an idea of price, we paid 200 Thai Baht per day when exploring Chiang Mai, but it's possible to get it even cheaper if you're hiring it for multiple days at a time. Just be sure to test all elements of the bike before you take it out. In addition, make sure they give you and your passenger (if you have one) a good helmet.
Lastly, it's worth noting that driving mopeds are a bit dangerous and the rules of the road are definitely going to be different here. Make sure to be a confident and competent driver.
RELATED: Backpacking Thailand: The Only Guide You Need to Prep for Your Trip
4. Steer Clear of Touristy Areas
The great thing about backpacking Thailand on a budget is that it is naturally an incredibly cheap place to live. Wages in Thailand are extremely low by Western standards. As a result, people living in rural towns and villages are surviving on a low income.
If you really want to save money and experience Thailand to the max, you should escape the busier cities like Bangkok and instead venture to the much less touristy areas. In the south, one of the most popular things to do is to island-hop across islands like Koh Samui, Koh Pangnan and Phi Phi.
However, in recent years, the prices here have increased as more and more tourists visit every year. Instead, speak to locals and find out which islands are a little more off the tourist trail and head there. Not only will it be cheaper, but you'll also find that the beaches and other scenic spots are far more unspoiled.
RELATED: 21 Krabi Beaches That'll Make You Book Your Trip Today (Thailand)
5. Book Locally for Tours
One of the best budget tips for Thailand is to book locally for tours. Generally speaking, we book the majority of our tours online via sites like Klook and GetYourGuide. This is because we like to be prepared and to check out reviews. However, to get the best deals in Thailand, you may be better off booking when on the ground.
There are "old-fashioned" tour agencies located in all major cities that offer cheaper rates than what you'd find online. You'll get an even better bang for your buck if you band together with other travelers and book in large groups.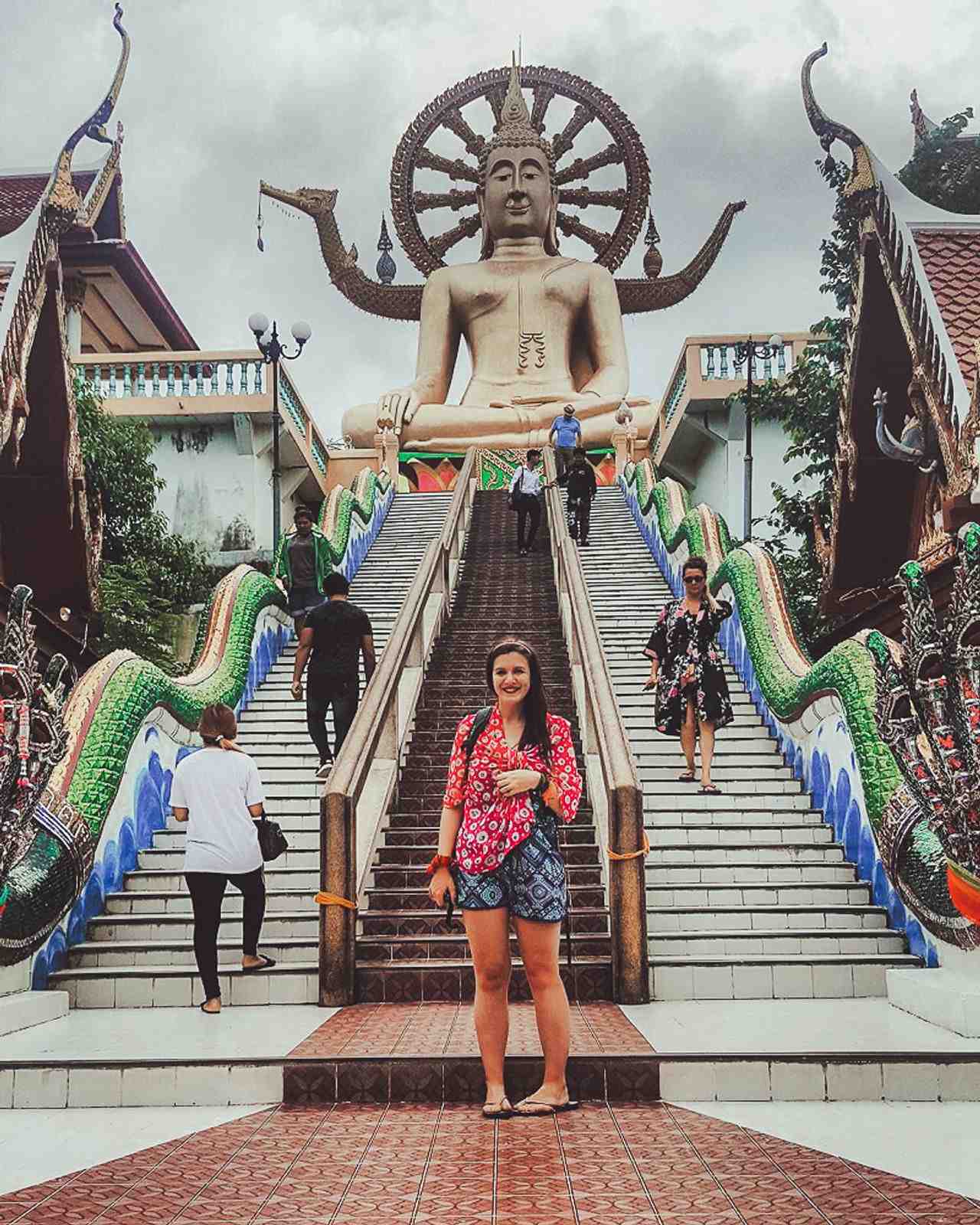 You're typically better off booking directly with the operator even when catching boats and transfers. Online booking services like 12GoAsia will take a cut of the ticket price and sometimes be more expensive. But, by booking directly, you cut out the middleman.
That being said, there is one important caveat to consider: there's a good chance that tours and transfers might be sold out in advance if you are visiting during peak tourist months. Keep in mind that if you do plan on booking in person, you may need to wait around for a few extra days.
NOTE: Never purchase tours or tickets from people who come up to you, this is a scam. It's also important to note that super touristy areas, like Khao San Road, are not the best spots to purchase things from as they often charge much less but also deliver a poorer product.
You should never purchase bus tickets from touristy spots either, they are best purchased from 12GoAsia or the bus station directly.
Editors Note: I lived in Thailand for years and the only time I ever got anything stolen from me was when I purchased a bus ticket off Khao San road! Luckily they didn't make away with anything important. If it's a big bus of tourists, it's more likely to have issues. If there are more locals, you should be golden.
6. Get Ready to Barter
Be ready to barter when visiting Thailand. It's actually one of the most essential budget hacks and tips for Thailand. I have a fond memory from the floating markets outside Bangkok, which we visited with our friends who had flown over from England just the day before.
Unaccustomed to local routines, he asked how much a wicker hat was from one of the local women. She replied with a ridiculous price (amounting to around $20) and my friend just politely nodded, thought about it, and declined.
I had to quickly make him aware that she expected him to counter. If he just accepted the first price given to him, then he wouldn't buy a single thing his whole time in Thailand! Haggling and bartering are EXPECTED in Thailand and local vendors are very good at it.
If you want to save money, you'll need to barter on basically everything, including souvenirs, tours, transport, clothes, and sometimes even food. It's a fun game that requires a certain degree of patience and good humor. As a general rule of thumb, I would reduce as much as 50-75% of the asking price and then aim to settle somewhere in that region.
The only time bartering isn't really needed is when the price is clearly posted.
7. Head to 7-Eleven
When you're backpacking Thailand, you'll quickly realize that 7-Eleven is your new best friend! We've since discovered 7-Eleven chains in a number of other Asian countries, as well as America of course. However, Thailand has to be the cheapest and the best we've found.
You can get toasties here for around 25 Thai Baht, and they are actually pretty darn good! They toast them there and then so they are fresh and hot, and they offer all kinds of different flavors.
They also serve microwaveable meals, coffee, soft drinks, ice creams, alcohol and all other kinds of snacks. No matter the item, prices are very cheap and it'll soon become your go-to place for getting quick and cheap food and drinks when you're on the go. Consider this one of the many pro tips for Thailand.
For what it's worth, it's also a great spot to get some relief from the heat. They blast the aircon, so go in, grab a snack and cool off a bit.
8. Avoid Drinking in Restaurants
Next on the list of pro tips for Thailand is to avoid buying alcohol in restaurants. Though not expensive by Western standards, beers and spirits are a lot more expensive when someone serves it to you in a nice glass.
Instead, local supermarkets like 7-Eleven are your best option and you can then take it back to your hostel or hotel for some pre-drinks. If you are heading out for the night, the cheapest way to get alcohol is from smaller local stalls and vendors in the streets or on the beach.
For example, on the infamous Khao San Road in Bangkok, drinks prices on the main street in an outside bar are perhaps half the price of what you'll find in the clubs and nicer sit-down bars. What's more is they still have the same atmosphere, and it's all a part of the crazy experience of partying in Thailand.
If you plan on visiting the Full Moon Party in Koh Phangan, you can get ridiculously cheap drinks right on the beach where they serve you BUCKETS of alcohol! That's right — they literally tip a 50cl bottle of booze into a bucket and top it up with an equal measure of soft drink.
RELATED: An Adventurous Thailand Itinerary: 2 Weeks – 2 Months
9. Visit During Off-Peak Times
Like most destinations in Asia, one of the cheapest ways to save a lot of money in Thailand is to visit off-peak. These dates can vary slightly depending on which part of the country you plan on visiting. Monsoons rip through different parts of Thailand at different times of the year.
That being said, there are "shoulder periods" in Thailand in which these months see the fewest amount of backpackers, but in which the weather is still typically very nice. November to March are the busiest months in most places with higher chances of wind and rain falling outside of this time.
However, it's all a pot-luck really as bad weather seems to be becoming increasingly erratic all around the world due to global warming. When we were in Phi Phi in August, the weather was incredible one day. We climbed to the top of the island during the day and we partied pretty late that night.
The next morning, the whole island was flooded and we had to wade through the streets in order to catch an incredibly choppy boat ride to the next island. So, yes, you will have to put up with some possibly rougher weather, but you'll also be able to save a lot on accommodation and tours.
10. Book Accommodation in Advance
One of the best money-saving tips for Thailand is to book your accommodation as far in advance as possible — especially if you are visiting during the busier months. I know this can be tricky as travel plans and routes can easily change. However, the cheapest and best accommodation in popular areas can sell out weeks in advance and you could be left somewhere really horrible.
This happened to us in Koh Samui, where not only did I get food poisoning, but I also had to spend the whole day in our stinking room that felt like a prison cell! You're best off booking ahead of time to get the best deal. Hostelworld and Booking.com are our go-to choices for the cheapest accommodation in Thailand and Agoda is great for Asia in general.
Alternatively, you can check out Couchsurfing where it's possible to secure free accommodation by staying with friendly locals. With that said, if it's not high season or a mega touristy spot, you could rock up the day of and still find a deal if you're spontaneous and flexible enough.
RELATED: 11 Ways to Get Free Accommodation While Traveling The World!
11. Avoid Scams
Well, that's obvious, isn't it? You'd be surprised! Many jet off without taking a look at popular scams in the country. A simple search and read could help you spot a scam before it happens! It's not always easy but it certainly doesn't hurt to make yourself aware of some of them before heading out.
One of the most important tips for Thailand that anyone could give would be to simply be aware. Some scams will cost you a few bucks and others could cost you hundreds or more. There are tons more tips and a list of scams in this backpacking Thailand guide.
Hopefully, you can see that backpacking Thailand on a budget is very much possible. In fact, I'd say it's one of the most budget-friendly locations we've ever been to. Overall, it's all about being frugal and being prepared to do as the locals do. Have an amazing time and feel free to be creative and come up with your own money-saving tips!
Let me know in the comments if you have any other money-saving tips for Thailand to add to this list!
---
---
>>> EVEN MORE AROUND THAILAND<<<
Work & Live in Thailand: How To Do It? Cost of Living? And More!
"One Night in Bangkok … and the World's your Oyster"
27 Things to Do in Pai, Thailand + Where to Eat and Sleep
Where to Stay in Pai, Thailand: Pai's Hostels, Hotels and Resorts
21 Krabi Beaches That'll Make You Book Your Trip Today (Thailand)
9 Krabi Island Hopping Tours That Will Make Your Jaw Drop (Thailand)
Photo and Video Blog- Ao Luk, Krabi, Thailand
Krabi Itinerary: What To Do In Krabi, Thailand for 1-7 Days & When To Visit
First Timers: Rock Climbing Krabi, Tonsai and Railay, Thailand
Where To Stay In Krabi, Thailand For Any Budget
Where to Eat in Krabi Town: Night Markets and Restaurants
Krabi's Beauties: Railay Beach and Tonsai Beach, Thailand
A Thailand Visa Run Gone Wrong
The Low-Down: Thailand Tourist Visa and More
Thailand's New Year, Songkran, Is the World's Largest Water Fight
7 Unusual Things To Do in Chiang Mai
Photo Blog: Doi Inthanon, a Day Trip from Chiang Mai
Chiang Mai to Pai and Back! The Best Ways to Get Around (Thailand)
4 Lesser-Known Spots Around Mae Hong Son To Go To
Chiang Khong to Huay Xai Border Crossing (Thailand to Laos)
Chiang Rai Itinerary: 10 Things To Do In Chiang Rai That You Can't Miss
Thai Vegetarian Food That You'll Want in Your Mouth
7 Reasons Why Eating Thai Street Food Is The BEST & How To Avoid Getting Sick
Play it Cool: Thailand's Do's and Don'ts
Photo Blog: Kanchanaburi – Bridge on the River Kwai and Erawan Falls
OMG, My Holiday is Coming Up! Is it Safe to Travel to Thailand?
---
---
>>> BIO
Bradley blogs over at Dream Big, Travel Far. Since graduating from university in 2015, he and his girlfriend, Cazzy, have now visited almost a dozen countries in Asia. They've fallen in love with the people, the scenery and, perhaps most of all, the chance to get so much more for their money than back home in the UK!