I could give you 100 reasons to go backpacking in Southeast Asia. But here are just a few: First, and maybe even most importantly, it's mind-blowingly beautiful!
If you're from the States, as many of my readers are, this is a 180-degree knock-you-down-drag-you-out world away from California beaches or Florida Everglades beauty.
This is deep green jungle vines dripping into a crystal blue sea type of stunning.
It's also mind-boggling affordable. You could spend a year going through a Southeast Asia itinerary on what it would cost you to spend a month or two in Europe or the United States.
Each country you visit here – Myanmar, Thailand, Cambodia, Vietnam, Laos, Indonesia, Malaysia, Philippines, and Singapore – is friendly! Like welcome, you in for tea and treat you like an honored guest friendly.
It's also adventurous on so many levels: food, fun, nightlife, and physical activities abound in this landscape so foreign to us Westerners…
Oh, and the weather! Can you say year-round bathing suit? Seriously, even during the rainy season, you're still in a tropical paradise. Although the humidity can get a bit wild, but I'm pretty used to it as a Floridian.
If you're not quite sure where to start in this stunning region, the guide below will get you up to date on all things Southeast Asia. Southeast Asia backpacking routes, costs for each country, what to do, tips, and more—I got you!
Spoiler Alert: This is my favorite region in the world so be prepared for me to gush!
Why Go Backpacking in Southeast Asia?
Backpacking in Southeast Asia is a journey unlike any other. With its vibrant cultures, delicious food, stunning scenery, and endless adventures, this region of the world has become a mecca for travelers seeking an unforgettable experience.
This was my first backpacking trip EVER, in my life, and it forever altered my brain chemistry. Seriously! I ended up living in Southeast Asia for over four years, mostly basing in Thailand. So yeah… I love it here, in case you haven't guessed that! So why go backpacking in Southeast Asia?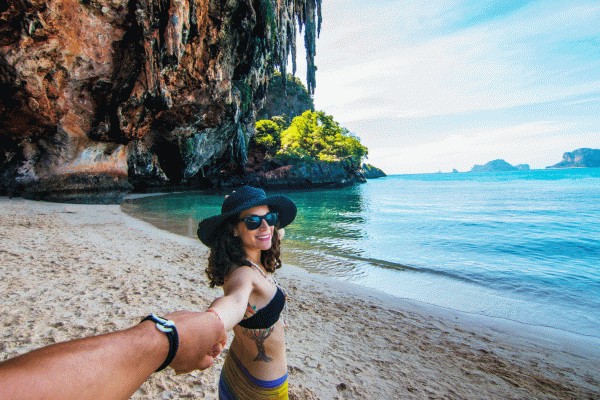 Do you mean aside from the epic scenery, the mouth-watering food, cool adventures, insane culture, once-in-a-lifetime experiences, wallet-friendly prices, and overall legendary vibes? Yeah… This area of the world sure is special!
Backpacking in Southeast Asia is also an opportunity to connect with locals and other travelers from all over the world. Whether it's chatting with a friendly tuk-tuk driver in Bangkok or bonding over a beer with fellow backpackers in a hostel in Kuala Lumper, the sense of community and camaraderie is a big part of what makes backpacking in Southeast Asia so unforgettable.
It's what kept me here, it's what grounded me, and brought me joy, and I can confidently say my years here were, and always will be, one of the best times of my life!
Where to Go Backpacking in Southeast Asia
Southeast Asia is a backpacker's paradise, with so many incredible destinations to explore. Whether you're looking for a laid-back beach getaway or an adventurous trek through the mountains, this region has it all!
Thailand is often the first stop for many backpackers in Southeast Asia, and for good reason. From the bustling streets of Bangkok to the turquoise waters of the islands in the south, Thailand is a must-visit destination. Don't miss out on the stunning temples of Chiang Mai or the delicious street food of Bangkok. (This was my first stop!)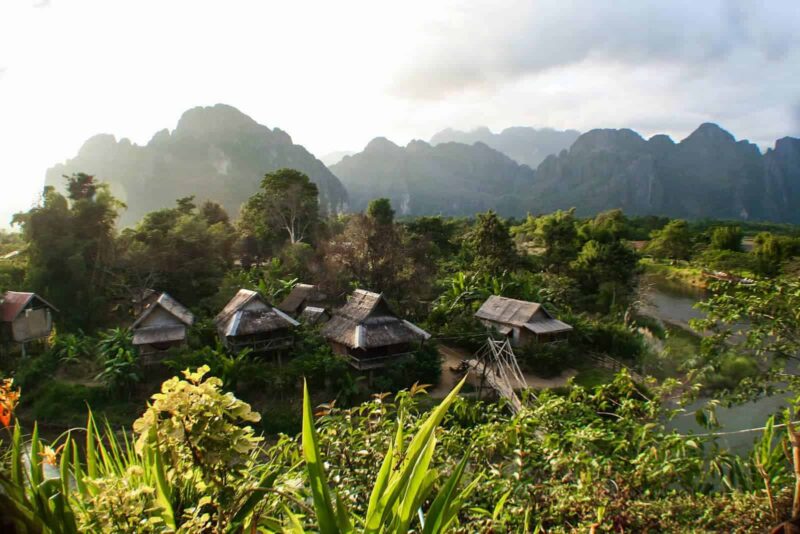 If you're looking for a more off-the-beaten-path adventure, consider heading to Laos. This landlocked country is home to some of the most breathtaking natural scenery in the region, including the stunning Kuang Si Falls and the Mekong River. Plus, the slow pace of life in Laos makes it the perfect place to unwind and relax.
For the adventurous, Vietnam is the place to be! From hiking to the top of Fansipan, the highest peak in Indochina, to motorbiking through the winding roads of Ha Giang, Vietnam offers endless opportunities for thrill-seekers. And don't forget to indulge in mouth-watering street food and explore the vibrant cities of Hanoi and Ho Chi Minh City!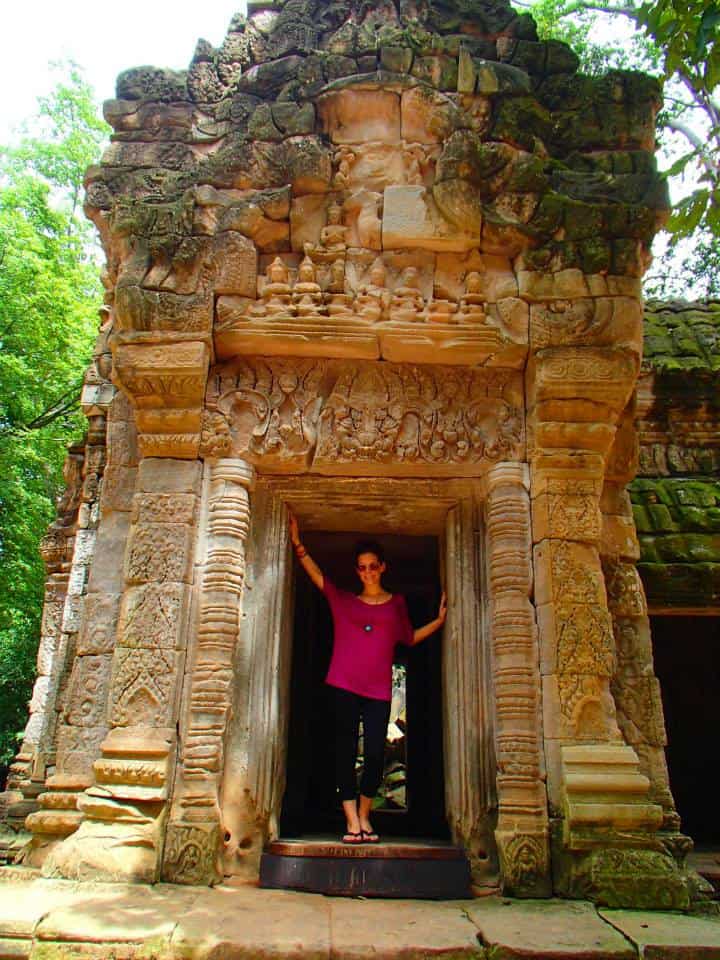 Cambodia is another destination that should be on every backpacker's list. Of course, you can't miss the awe-inspiring temples of Angkor Wat, but there's so much more to see in this country. From the charming city of Kampot to the idyllic beaches of Koh Rong, don't skip Cambodia.
And finally, if you're looking for a tropical paradise, head to Indonesia. With over 17,000 islands to experience, Indonesia has some of the most stunning beaches and jungles to explore in the world. It's not JUST Bali here!
Of course, there's also Malaysia, the Philippines, Singapore… Oh my! So, where should you go? How do you decide which countries? What to do once there? So many questions! Let's go…
Backpacking Thailand
I could go on and on… and on about Thailand. It is my home away from home.
In fact, out of all the countries I've visited, I've explored Thailand the most. Essentially every single backpacker will "touch" Thailand eventually. It's the most common hub, with the best flights, and it's the "intro" country for most backpackers. And rightfully so, because it truly is the best place to get your feet wet.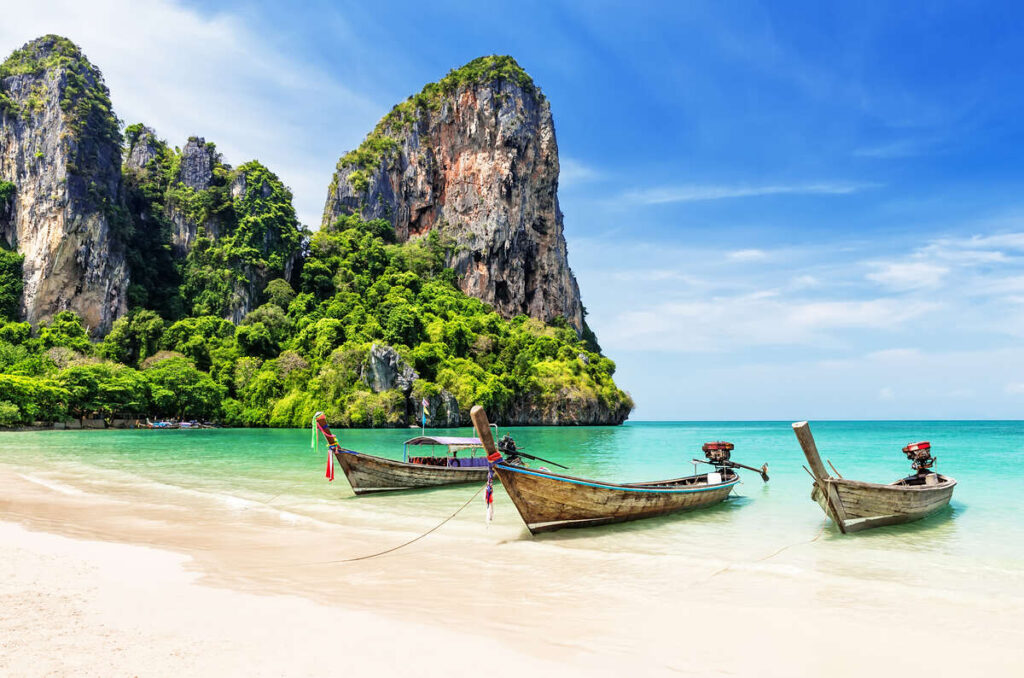 If you're backpacking Southeast Asia, you must backpack the Andaman coast and explore the beautiful Krabi region (I lived here for about a year alone!). I'm also going to advise you to get lost in Pai, in Northern Thailand. You'll be surrounded by pure nature and warm and welcoming people.
And Bangkok is likely to be on your itinerary if not your landing ground when you first arrive and start your trip.
READ MORE: What to Wear in Thailand: Your Thailand Packing List
Quick Info on Thailand
Language: Thai
Currency: Thai Baht (THB)
Electrical socket + Voltage: 230V supply voltage and 50Hz. Plug types include Types A, B, and C
Visa: Likely no visa required for stays under 30 days.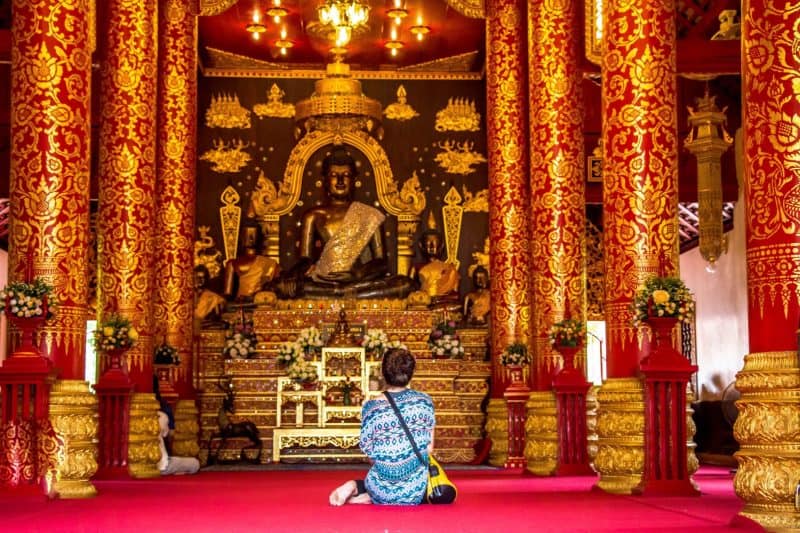 Top Things to Do in Thailand
Visit the Golden Triangle: Rent a motorbike for as little as $15 a day or take a tour and journey to the Golden Triangle, where Myanmar, Laos, and Thailand meet in a convergence of rivers. It's a sight to behold in addition to the markets and restaurants where you can get your shop on.
Island Hop in Krabi: Krabi is a province in southern Thailand that's known for its stunning limestone cliffs and crystal-clear waters—this place is crazy gorgeous! Take a boat tour (around $30-40) to explore the surrounding islands, including Phi Phi Islands and Railay Beach.
Get Lost in Pai: Pai is a small town nestled in the mountains of northern Thailand. Rent a motorbike and explore the surrounding countryside and find hot springs, waterfalls, and rice paddies!
Visit Koh Chang: Koh Chang is a beautiful island in eastern Thailand that's less touristy than some of the more popular islands in the south. Relax on the beach, go snorkeling, or motorbike to the southern beaches.
Explore the Old City in Chiang Mai: The Old City is surrounded by ancient walls and a moat and is home to many of the city's most beautiful temples. Take a cooking class and wander the markets. The vibes, nightlife, markets—everything, makes this one of my favorite cities in the world.
Backpack Bangkok – Did you even go backpacking in Southeast Asia without going to Bangkok!? JK, but seriously, this is the epicenter of backpackers around Southeast Asia! The city is a must. Take a day trip to Kanchanaburi to chase waterfalls or to Ayutthaya to visit the Old City (I used to live here too!)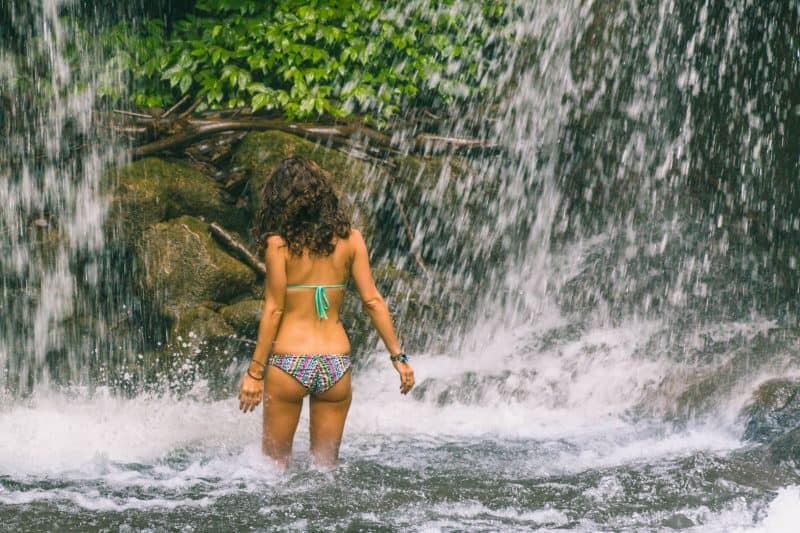 What to Eat in Thailand
Pad Thai – It's basically illegal to go to Thailand and not try Pad Thai. Okay, not really, but this stuff is hard to beat – and it's cheap!
Som Tam – A spicy salad with green papaya, palm sugar, peanuts and lime. To die for.
Tom Yam – A classic Thai comfort food with a broth of ginger and lemongrass, plus big shrimp swimming around the spicy soup.
Khao Soi – Literally my favorite dish in the world, it's a popular dish in Northern Thailand that's known for its rich, creamy curry and crispy egg noodles. The dish is made with a mixture of spices and coconut milk, and it's incredible!
Best Time to Visit Thailand
I have lived here year-round, and I gotta say in all honesty, there really is no bad time to put this on your Southeast Asia itinerary. But, if you're looking to avoid rain, come anytime from November to April.

Rough Budget for Visiting Thailand
Hostel-Hotel: $10-$30
Meal: $3-$7
Transportation: $.2-$4
Entertainment: $0-$30
Total daily budget: $25-$45
READ MORE: Backpacking Thailand: The Only Guide You Need to Prep for Your Trip
Backpacking Cambodia
This gorgeous little country has been through hell in the last century. From the Vietnam War to the Khmer Rouge, it's been rough, to say the least.
But what the country lacks in peaceful history, it more than makes up for with beauty and magic.
I insist you head to see the sunrise or sunset over the ancient city of Angkor Wat while backpacking Cambodia. Take a trip on over to the Angkor archeological park and wander through temple after temple… after temple.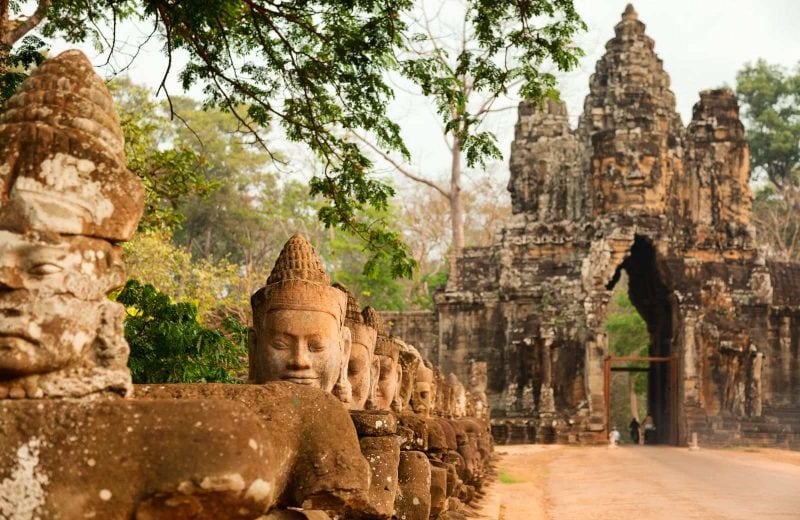 Next you'll need to head down to the beach to watch the glow-in-the-dark plankton swim at Koh Rong. It is supremely enchanting.
Remember that brutal history I referred to? Yeah, you've got to pay homage while you're in Cambodia at The Killing Fields, the cemetery to one of the largest genocides in history.
While you're in the area, visit the S21 museum and learn in-depth about the experiences Cambodians had during the bloodiest part of their past.
Quick info on Cambodia
Language: Khmer
Currency: Cambodian Riel (KHR) – However USD is primarily used and accepted.
Electrical socket + Voltage: 230V supply voltage and 50Hz. Plug types include A, C, and G.
Visa: Tourist visa required – can be filed online (Tourist E-Visa) and is valid for 30 days in a 90-day period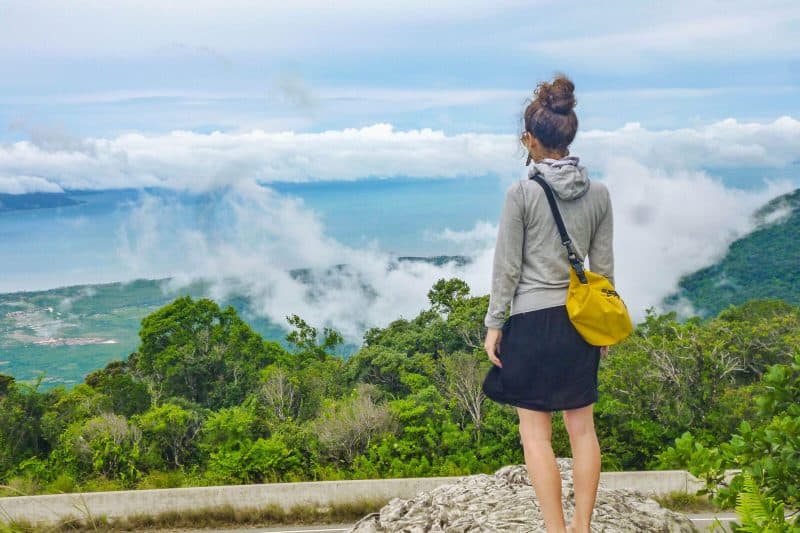 Top Things to Do in Cambodia
Angkor Wat: Watch the sunset/sunrise at Angkor Wat while you're in Siem Reap. It's free! See? I told you it was affordable to backpack Southeast Asia. Of course, you will have to pay to get IN-$37 but it's worth it, as is doing a tour!
Explore Phnom Penh: Cambodia's capital city is full of history and culture. Visit the Royal Palace and Silver Pagoda, take a stroll along the Mekong River, and learn about Cambodia's tragic past at the Killing Fields and S-21 Museum (truly a depressing day but a must-do while you're here to better understand the country.)
Don't Skip Kampot: Kampot is a small town located in Southern Cambodia that's known for its picturesque countryside, colonial architecture, and delicious pepper. It's a super cute town to lay low and chill for a few days.
Island hopping in Koh Rong: Koh Rong is a stunning island with blue water, white sandy beaches, and a laid-back atmosphere. Island hop, snorkel, swim, and sunbathe to your heart's content!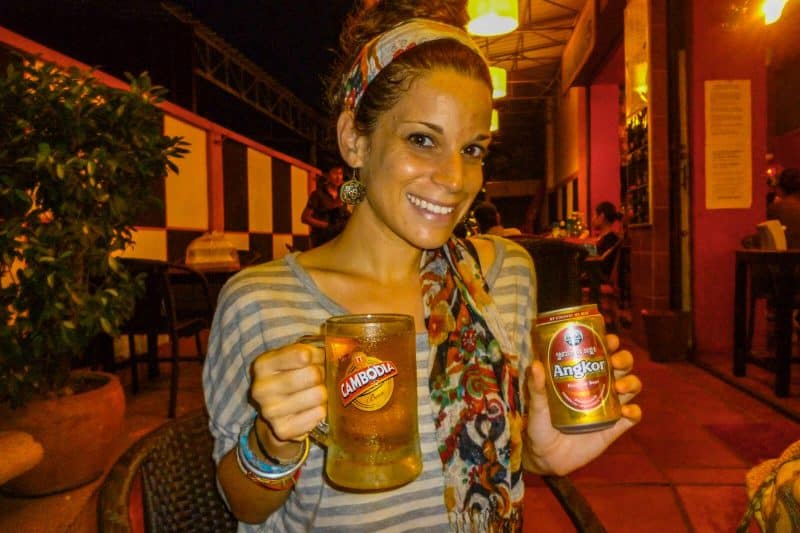 What to Eat Cambodia
Red Tree Ant with Beef – exactly what it sounds like. But don't knock it til' you try it!
Crab and Pepper – a local favorite featuring fresh crab and Kampot pepper.
Green Mango Salad – crunchy, a little spicy, and super fresh!
Best Time to Visit Cambodia
As with much of Southeast Asia, November to March is going to be the driest, warmest season. Just note that May to October will likely see less tourism and lower pricing.

Rough budget for visiting Cambodia
Hostel/Hotel: $7-$30
Meal: $3.50
Transportation: $.25-$5
Entertainment: $0-$40
Total daily budget: $20-$40
Backpacking Vietnam
As much as the rest of the world talks about Vietnam, you really have no idea what you're in for until you set foot on this gorgeous, culturally rich, and diverse landscape.
You have to check out Hanoi, the capital, of course. It's the hub of the country.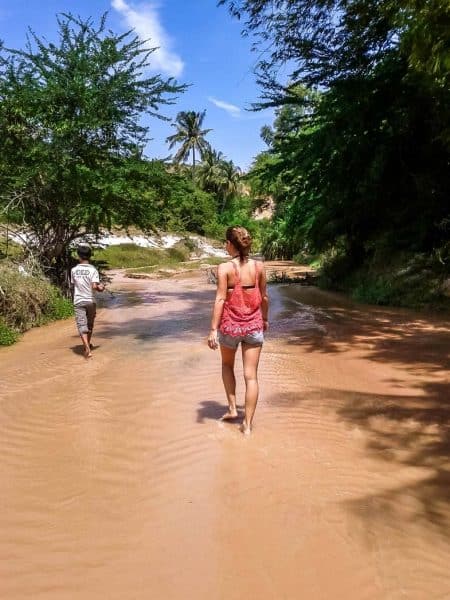 Next up on this part of your Southeast Asia itinerary is Halong Bay—super touristy but super worth it. This is home to the beautiful beach scene that photographers dream of.
Take more pictures on your way to the underwater caves in Ninh Binh, hang with what's left of the hippies sitting in white sand in Nha Trang, and then finish your trip in Ho Chi Minh City.
Quick info on Vietnam
Language: Vietnamese
Currency: Vietnamese Dong (VND)
Electrical socket + Voltage: 220V supply voltage and 50Hz. Plug types include A, C, and F.
Visa: Tourist visa required – can be filed online (Tourist E-Visa) and is valid for 30 days.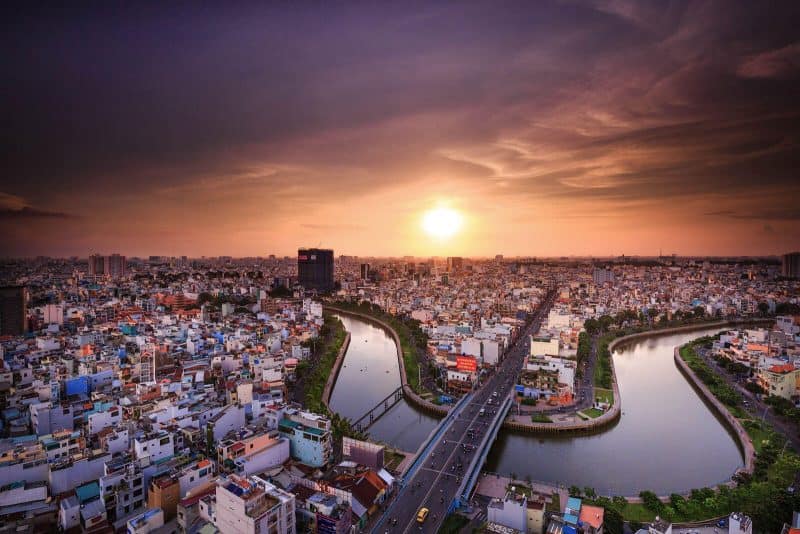 Top Things to Do in Vietnam
Boat Around Halong Bay: Take an afternoon cruise around jaw-dropping limestone cliffs in Halong Bay for as little as $30 and as expensive as $400 for an overnight cruise. It's a tourist attraction for a good reason.
Beach Bum in Mui Ne: Mui Ne Beach is a beautiful stretch of coastline located in Southern Vietnam, known for its stunning sand dunes and excellent conditions for kitesurfing and windsurfing!
Say Hi to Hoi An: Hoi An is a charming town in Central Vietnam that's known for its well-preserved ancient architecture, colorful lanterns, and delicious food. Take a stroll through the Old Town, explore the local markets, or visit one of the many temples and pagodas. There are even more beaches too!
Motorcycling the Hai Van Pass: The Hai Van Pass is a scenic mountain road that connects the cities of Da Nang and Hue in Central Vietnam. Rent a motorbike and take a thrilling ride along the winding road, stopping to take in the stunning views of the coastline and mountains along the way.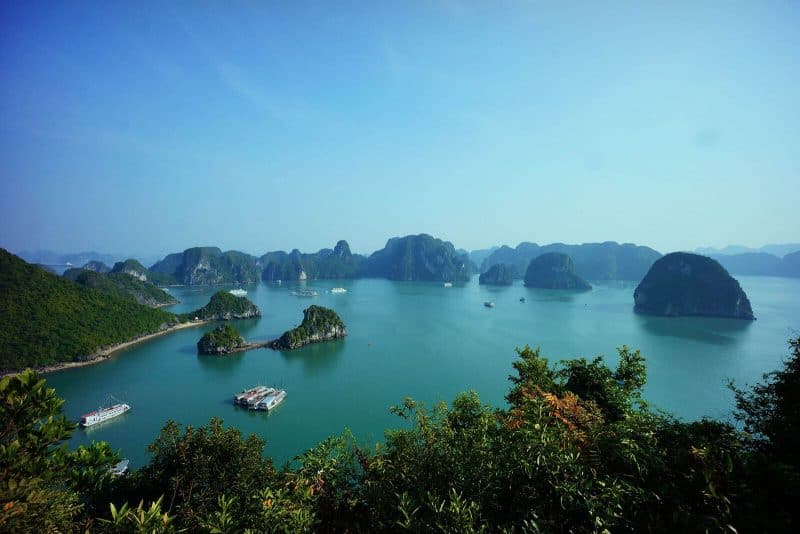 What to Eat in Vietnam
Pho – A traditional Vietnamese noodle soup made with rice noodles, beef or chicken broth, and various herbs and spices.
Banh Mi – A French-inspired sandwich that is widely popular in Vietnam.
Goi Cuon – Also known as Vietnamese spring rolls, these fresh rice paper rolls are filled with rice noodles, shrimp, pork, fresh herbs, and vegetables, served with a peanut dipping sauce.
Best time to backpack Vietnam
For ideal weather, visit during either spring or autumn, so February to April or August to October. You'll catch lovely temperatures and minimal rainfall.

Rough budget for visiting Vietnam
Hostel/Hotel: $10-$50
Meal: $2-$5
Transportation: $0.50-$5
Entertainment: $0-$20
Total daily budget: $20-$40
READ MORE: A Two Week Vietnam Itinerary: Beautiful Bays to Epic Mountain Tops
Backpacking Laos
Lovely little Laos will take your breath away. It is the last survivor of pure, untouched, serenity in nature. From the craggy limestone cliffs in Vang Vieng to the scenic Mekong River in Si Phan Don and everywhere in between, Laos does not disappoint.
Start in Luang Namtha and Muang Sing for a cascading waterfall and a lively river to frolic through if you want to get really off beat.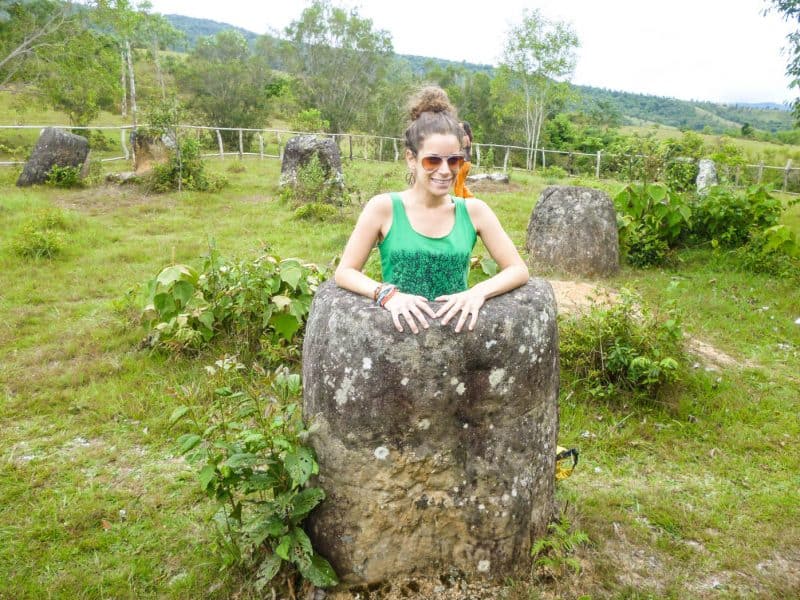 Next you can head to Nong Khiaw for intense cave explorations. You have to go to Luang Prabang for the night market that fills and lights up the streets, but only after you've spent some time just outside of town in the pretty perfect Kuang Si waterfall.
You'll also want to visit the Plain of Jars in Phonsavan before you dedicate a chunk to the Bolaven Plateau just outside of Pakse. Why? Two words: waterfall paradise.
Quick Info on Laos
Language: Lao
Currency: Laotian Kip (LAK)
Electrical socket + Voltage: 230V supply voltage and 50Hz. Plug types include A, B, C, E, and F.
Visa: Tourist visa required – can be filed online (Tourist E-Visa) and is valid for 30 days.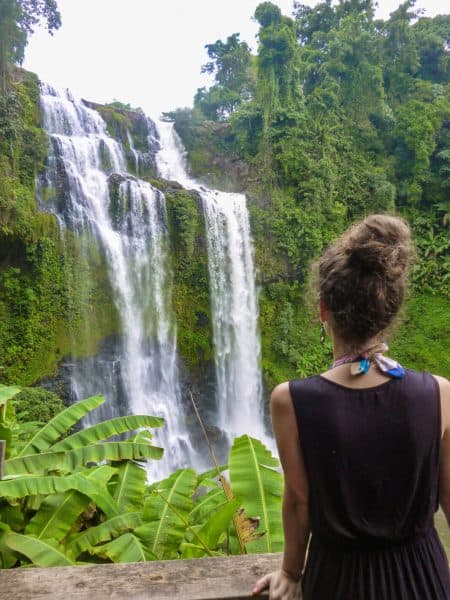 Top Things to Do in Laos
Go Underground: Explore the underground river caves on the Xe Bang Fai River. You can rent an inflatable kayak from a local (Prices vary based on season and which local you happen to encounter. Also, your ability to haggle.) and have the experience of a lifetime. If you prefer to let someone else take care of the logistics, there are plenty of great tours in Laos too!
Float in Vang Vieng: Vang Vieng is a town located in central Laos that's known for its stunning natural scenery and laid-back vibe. Rent a tube and float down the Nam Song River, stopping at riverside bars and taking in the stunning limestone cliffs then trek in the lush green jungles.
Wander the Plain of Jars: The Plain of Jars is an ancient archaeological site located in central Laos that's shrouded in mystery and intrigue. Explore the vast fields of giant stone jars, learn about the area's fascinating history, and take in the stunning scenery of this unique destination. Stay on trail. Not all of it is clear of land mines! (yes, really!)
Chase Kuang Si Waterfall: Kuang Si Waterfall is a stunning cascade located just outside of Luang Prabang in northern Laos. Take a dip in the cool, turquoise pools at the base of the waterfall, hike through the lush jungle surrounding the falls, and enjoy the peaceful tranquility. This is a must-do!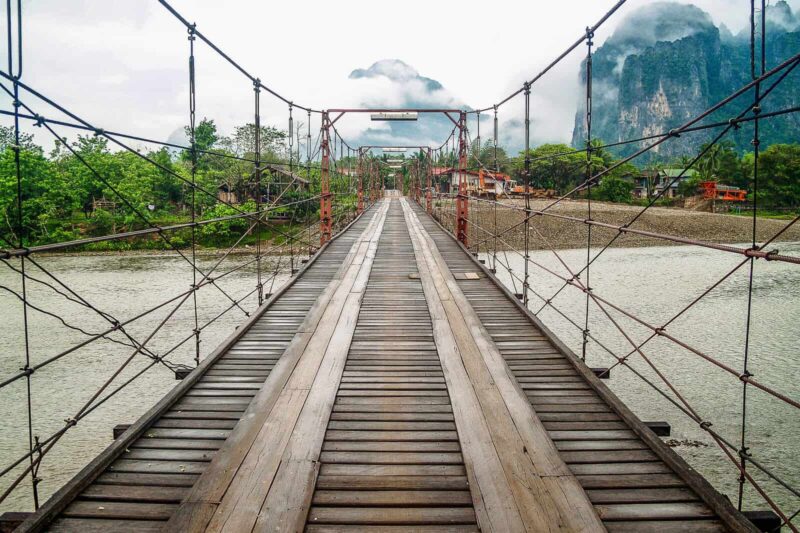 What to Eat in Laos
Larb – minced meat salad and the official dish of Laos (I'm obsessed with this! Yes, they can do it with tofu btw!)
Sticky Rice – some say it's the best sticky rice in the world!
Khao Piak Sen – noodle soup and the ultimate comfort food
Jeaw – Essentially just "sauce," but they have all types of flavors like spicy, sweet, peanut buttery… And they dip veggies in them, and it's AMAZING!
Best Time to Visit Laos
"The green season" is from May to October. The rivers are full, and the waterfalls are roaring from November to January.
BUT! If you don't want to get rained on as much as you might during these months and you don't mind crazy heat, you can always go after January when things start to really heat up before the rains return.

Rough Budget for Visiting Laos
Hostel/Hotel: $5/$35
Meal: $2.50-$5
Transportation: $0.50-$5.50
Activities: $0-$20
Total daily budget: $20-40
READ MORE: Backpacking Laos: A 3-Week Itinerary—Where to Go, Costs, and Tips
Backpacking Indonesia
Such wide open spaces and so many places to go. Don't you dare limit yourself to Bali!
Bali is but a mere blip on the radar of the glory of Indonesia. A wealth of beaches lies along this chain of islands, from the bustling to the super chill.
Java is action-packed with wild nightlife and enough stimulation on its city streets to keep you entertained for days on end.
Hike into a sulfur-filled crater to see fire at Kawah Ijen. Go read the writing on the wall, literally, in Borobudur and Prambanan. And yes, I'll let you spend a couple of days in Bali.
Indonesia is unique in so many ways, not the least of which is its status as the largest island country in the world, its unity among its people from such diverse backgrounds, and its religious pluralism. Of all the places you go while backpacking Southeast Asia, Indonesia is a must.
Quick Info for Indonesia
Language: Indonesian (Bahasa Indonesian), Javanese, Sudanese, and more.
Currency: Rupia (IDR)
Electrical socket + Voltage: 230V supply voltage and 50Hz. Plug types include Types C and F.
Visa: Single entry visa required – can be filed online or upon arrival and is valid for 60 days.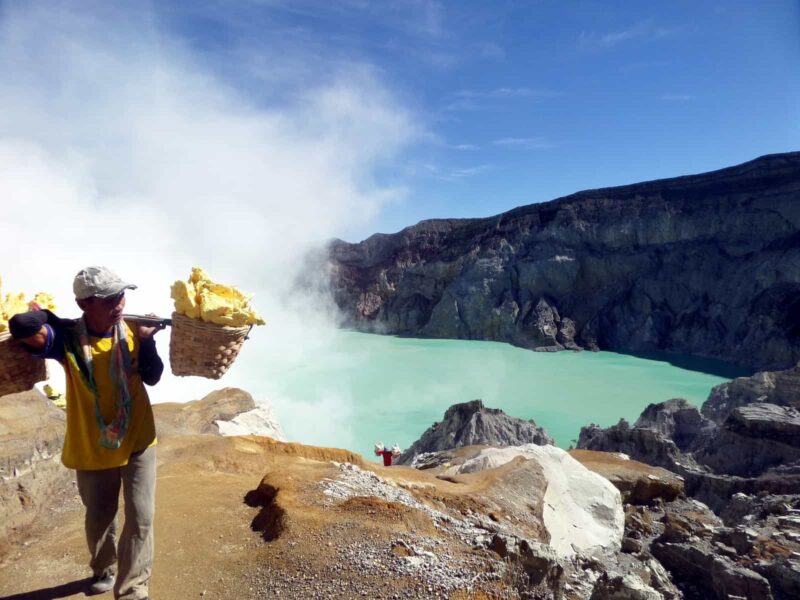 Top Things to Do in Indonesia
Surf Lombok: You don't have to be a seasoned surfer to ride the waves in Lombok! This stunning island features tons of gorgeous beaches, most of which offer up epic surfing conditions for beginners and experts alike. Lombok is right next to Bali, and if you want to avoid crowds and high prices, this is a perfect alternative.
Get Blown Away at Kawah Ijen: Kawah Ijen is a stunning volcanic crater that's mined for its sulfur located on the island of Java. Trek to the crater and witness the otherworldly blue flames that can be seen at night, or hike up to the crater rim for stunning views of the turquoise lake below. To this day, this is one of the craziest places I've EVER trekked!
Conquer Mount Bromo: Mount Bromo is an active volcano located in East Java that's known for its otherworldly landscape and stunning sunrises. Trek to the top of the volcano, where you can peep your head INTO the crater and watch the sunrise over the rugged landscape below! Do both of the above on this tour—1000% worth it!
Trek in Sumatra: Sumatra is an island in western Indonesia that's known for its lush rainforests, stunning waterfalls, and diverse wildlife. Trek through the jungle to spot orangutans (!), explore the stunning Lake Toba, and take in the stunning natural scenery of this beautiful island.
Venture to Komodo Island: Komodo Island is a remote island in eastern Indonesia that's home to the world's largest lizard – the Komodo dragon. Trek through the rugged terrain to spot these giant reptiles in their natural habitat, or take a boat tour around the island to explore the stunning coastline and crystal-clear waters.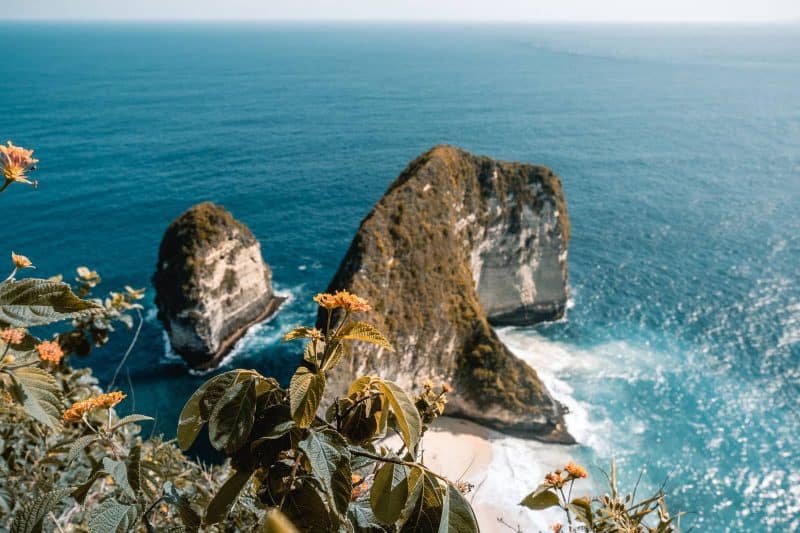 What to Eat in Indonesia
Satay – juicy meat skewers drizzled in peanut sauce
Nasi/Mi Goreng (Indonesian fried rice/noodle) – self-explanatory and delicious, just add some sambal and eat!
Ikan Bakar – simple grilled fish, which is a must when you're island hopping!
Best Time to Visit Indonesia
Visit from May to September. You'll be having fun in the sun, splashing in tepid surf on dry days, and dancing in the streets on warm nights.

Rough Budget for Visiting Indonesia
Hostel/Hotel: $10-$50
Meal: $2.50
Transportation: $0.25-$3.50
Entertainment: $0-$15
Total daily budget: $25-$30
READ MORE: A Guide to Backpacking Indonesia: Itinerary, Costs + Tips
Backpacking Malaysia
Search for wildlife in the rainforest, drink a fruit shake on the beach, and visit the rich and vibrant Kuala Lumpur, with exciting nightlife and British colonial-era landmarks. Backpackers often miss Malaysia, and I'm here to help you avoid that grave mistake.
Climb up the Petronas Towers in Kuala Lumpur. They're the tallest twin towers in Asia, and you can cross over the bridge hundreds of feet in the air!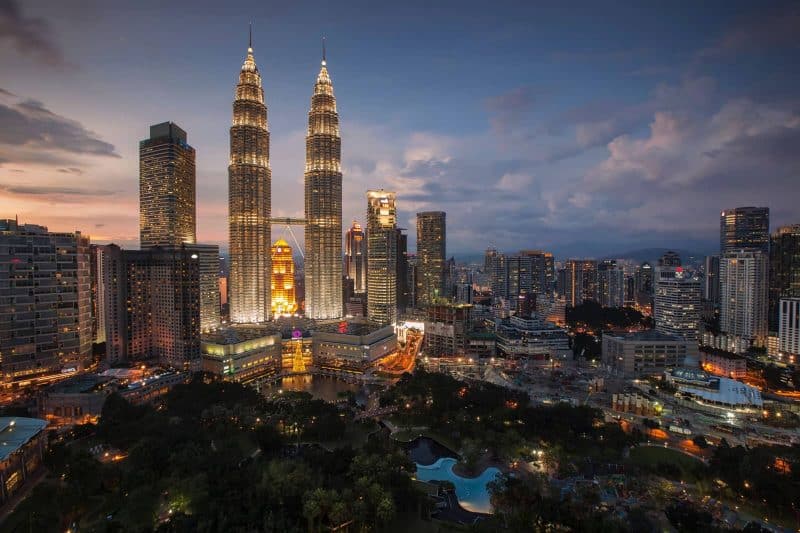 Head outside the city for the Batu Caves where you'll be greeted by a gigantic statue of a lord of war. Visit the Perhentian Islands for a little slice of island paradise, one to party, the other to wade into the calmest clear turquoise waters you'll find in the region.
And a must-do on your Southeast Asia itinerary is a stay in Langkawi, an archipelago full of fun and adventure. Don't miss the 2.200-meter-high cable car ride over the bay. Visiting Penang and gorging on the amazing food and history and snorkeling with sharks on the Perhentian Islands or in Pulau Payar Marine Park are also must-dos!
One of the BEST things about Malaysia is its mixture of cultures. There are Indian, Chinese, and Malay residing here, which makes for an incredible blend. I must say, after Thailand, the food scene here is the best in all of Southeast Asia.
Quick Info for Malaysia
Language: Malay
Currency: Malaysian Ringgit (RM)
Electrical socket + Voltage: 240V supply voltage and 50Hz. Plug types include C and G.
Visa: Likely no visa required for stays under 90 days.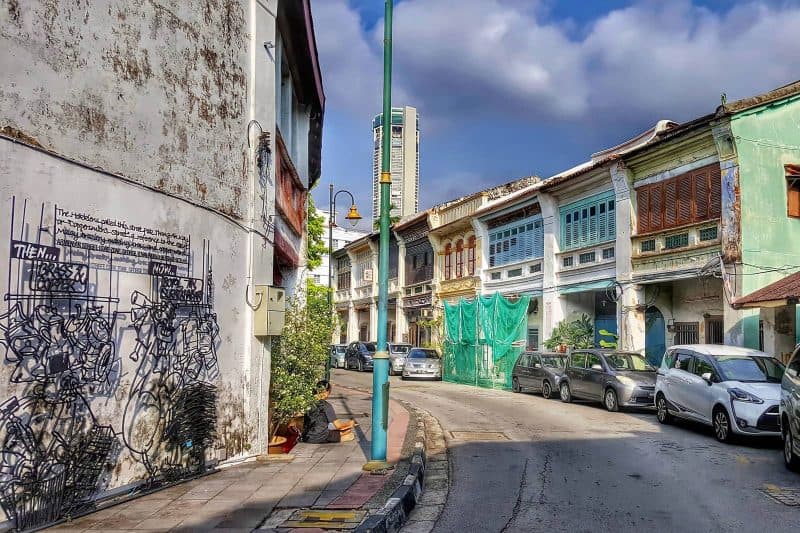 Top Things to Do in Malaysia:
Make Fish Friends: Swim and snorkel with sharks at the Pulau Payar Marine Park for as low as $30. This little island sits just 45 minutes south of the main island, the marine park allows visitors to dive into a vibrant underwater world where they can swim with sharks, tropical fish, and colorful coral.
Tour Kuala Lumpur: Kuala Lumpur is the vibrant capital city of Malaysia, and there's no shortage of things to see and do here. Take in the city's iconic skyline at the Petronas Twin Towers, explore the bustling street markets in Chinatown, and visit the stunning Batu Caves. For a taste of the city's diverse food scene, head to Jalan Alor, a street food paradise filled with delicious dishes from across Malaysia and beyond.
Stuff your face in Penang: Penang is known as Malaysia's food capital, and it's easy to see why. The food markets here are top-notch! Be sure to try the famous Penang laksa, a spicy and sour noodle soup, and the iconic char kway teow, a stir-fried noodle dish. For something sweet, don't miss the chance to try Penang's famous cendol, a dessert made with shaved ice, coconut milk, and palm sugar.
Trek the Cameron Highlands: The Cameron Highlands is a lush region of Malaysia known for its tea plantations, strawberry farms, and cool climate. Trek through the beautiful hills and valleys and take in the stunning views of the surrounding countryside. Be sure to visit the tea plantations and learn about the history of tea production in Malaysia. I even picked my own strawberries here!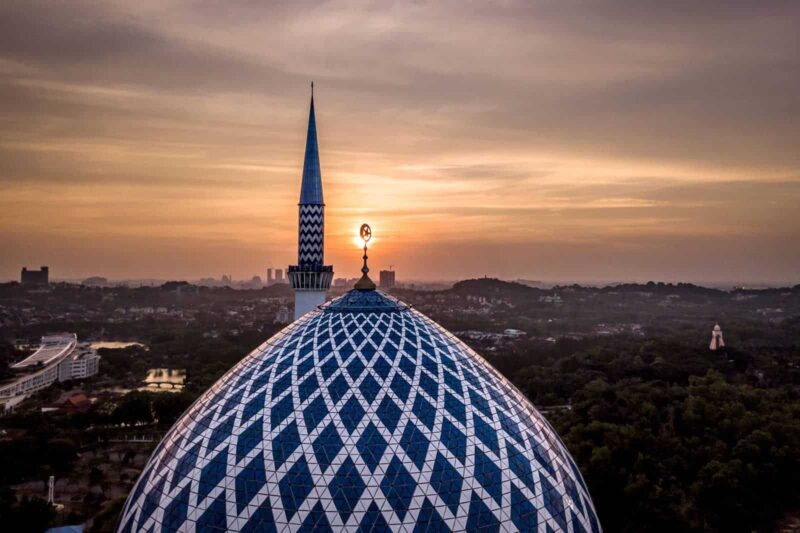 What to Eat in Malaysia
Nasi Lema – this translates to "fat rice", so you know it's gonna be good. Made with coconut rice, prawn sambal, fried anchovies, peanuts, cucumber slices, and Ayam rending.
Bak Kut Teh – Ak Kut Teh is a pork rib stew with a salty broth that comes in a large pot and bowls of rice. Eat your heart out on this hearty dish.
Soupy Lou Shu Fan: Mouse tail noodle soup. Don't worry. It's not made with mouse tails. It's just called that because of the shape of the noodles. This meal is delicious, super fresh, and low in spice.
Roti Canai – Roti canai is a type of flatbread and is typically served with a spicy curry dipping sauce and can be eaten for breakfast, lunch, or dinner. YUM!
Best Time to Visit Malaysia
To stay out of the rain, travel in November, February, and March. This way, you'll also stay out of the way of all the tourists traveling for Christmas, the New Year, and the Chinese New Year.

Rough Budget for Visiting Malaysia
Hostel/Hotel: $10-$35
Meal: $2.50-$8
Transportation: $0.50-$2.5
Entertainment: $0-$30
Total daily budget: $30-$45
READ MORE: A Guide to Backpacking Malaysia: Itinerary, Tips, + Costs
Backpacking Philippines
Island hopping is the absolute thing to do while backpacking Southeast Asia in the Philippines! I mean, you kind of have no choice. That's what the entire country is made of!
The island of Palawan is probably the most famous of them all, home to Coron and El Nido, two areas where backpackers around Southeast Asia flock to for their dose of incredible snorkeling and beaches.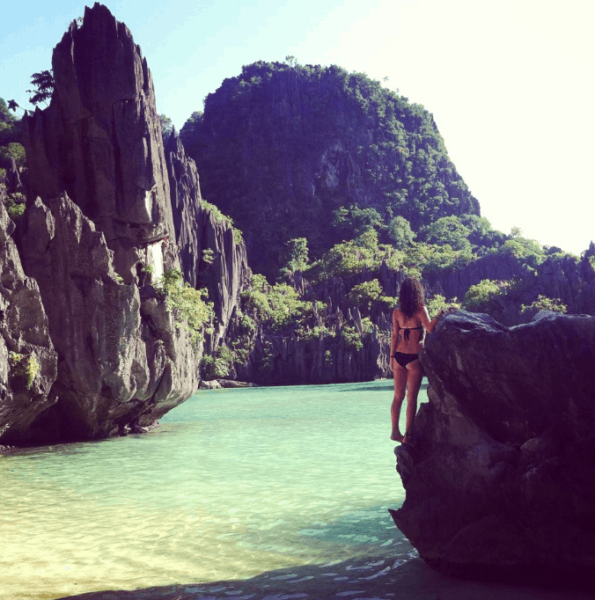 Once you've had your fill of the sandy shorelines, head up into the mountains for your own rainforest adventure in North Luzon. Put your jacket and boots on and hike through the centuries-old rice terraces of Batad.
Then throw your flip flops and a tank on and swim and trek through the caves of Sagada. Talk about getting your heart pumping!
And yes, of course, you can also hang out, and spend money, in Manila, the busy capital of the Philippines. You can also explore sandbars at Kalanggaman Island, and so so much more.
If you were thinking of skipping the Philippines on your Southeast Asia itinerary, don't.
Quick Info on The Philippines
Language: Tagalog and English
Currency: Phillippine Peso (PHE)
Electrical socket + Voltage : 220 V supply voltage and 60 Hz. Plug types include A, B, and C.
Visa: Likely no visa required for stays under 30 days.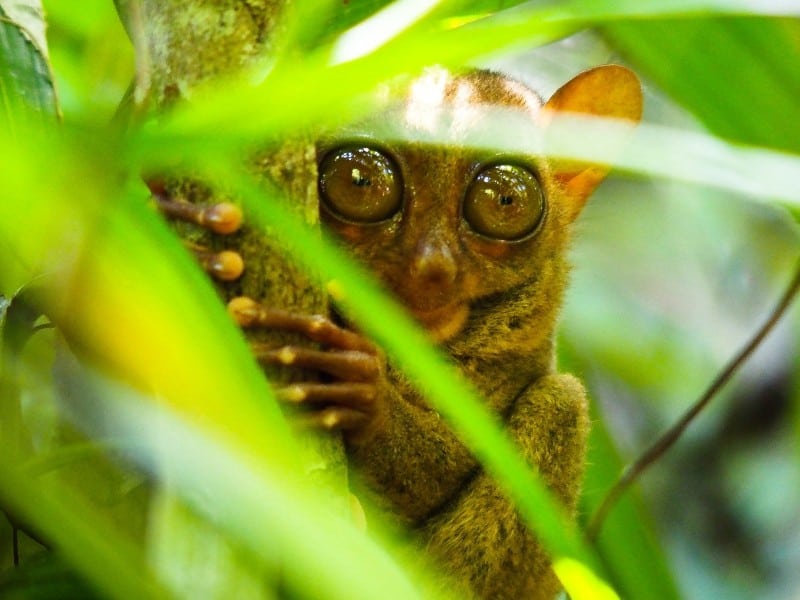 Top Things to Do in the Philippines
Underground River: For $40 you can book an all day tour through the underground river near Puerto Princesa. It is not only a Unesco World Heritage Site, but it is now also one of the new 7 wonders of the world. Totally worth it.
Island Hop El Nido: Explore the beauty of El Nido, one of the most breathtaking destinations in the Philippines. With plenty of opportunities for snorkeling, diving, or just soaking up the sun on the beach, this stunning location with crystal-clear waters and limestone cliffs is a must!
Wander Through Stunning Rice Terraces: Head to Batad to experience the beauty and culture of the Philippines. Stay in traditional Ifugao huts, and immerse yourself in a unique and authentic way of life.
Discover the Creepy and Fascinating Sagada: Visit Sagada to check out the hanging coffins and other unique burial practices of the indigenous people. Also, the town is beautiful!
Roam Through The Chocolate Hills: Explore the Chocolate Hills in Bohol, a breathtaking landscape with over 1,000 hills that turn "chocolate brown" (kinda not really) during the dry season. This is a natural wonder you got to check out, along with spotting some tarsiers!
Get Lost in The Waves: Head to Siargao, the surfing capital of the Philippines. With world-class waves and a laid-back vibe, this is the perfect place to catch some waves, meet new people, and enjoy the island life.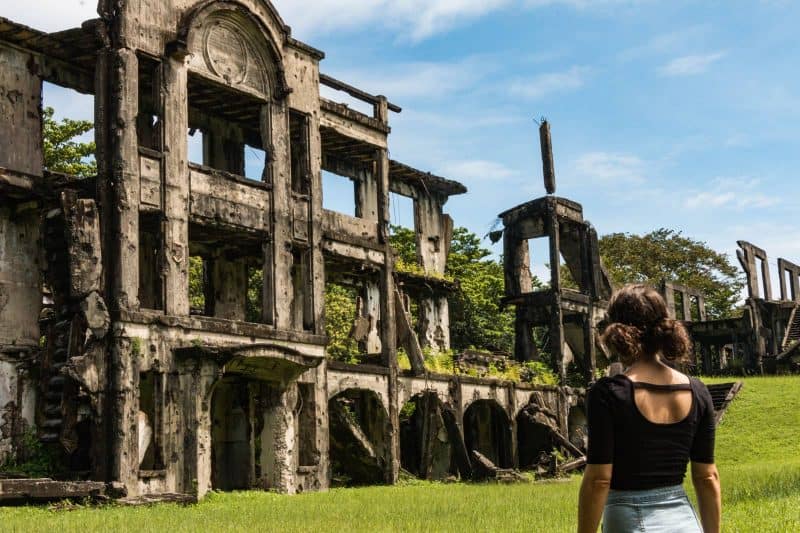 What to Eat in The Philippines
Adobo – slow-cooked meat in a rich, dark sauce
Sinanglay – Tilapia, spiced up, simmered in coconut milk, and wrapped in pechay leaves. This dish is a classic Filipino staple.
Lechon – Stuffed, roasted pig! For my pork eaters out there, this is a classic dish reminiscent of the apple in the mouth whole pig over a fire deal.
Best Time to Visit The Philippines
The dry times are between November and April, so that's when everything will be accessible, but also super busy. To try to avoid the crazy hot months, go from December to February.

Rough budget for visiting the Philippines
Hostel/Hotel: $10-$40
Meal: $3-$10
Transportation: $0.50-$10
Entertainment: $0-$20
Total daily budget: $30-$50
READ MORE: A Guide to Backpacking the Philippines: Itinerary, Costs, Tips + More
Backpacking Myanmar
*Check current safety conditions before traveling to Myanmar.
Myanmar, once upon a time known as Burma, is a perfect central location to become exposed to culture.
Situated between India, China, and the rest of Southeast Asia, backpacking Myanmar is a great introduction to this part of the world.
Start by renting a motorbike and zooming your way around and outside of Mandalay, the second-largest city in Myanmar and the last royal capital. While you're in Mandalay, jump on a ferry and go see Inwa, the ancient ruins of a once great and long-abandoned city.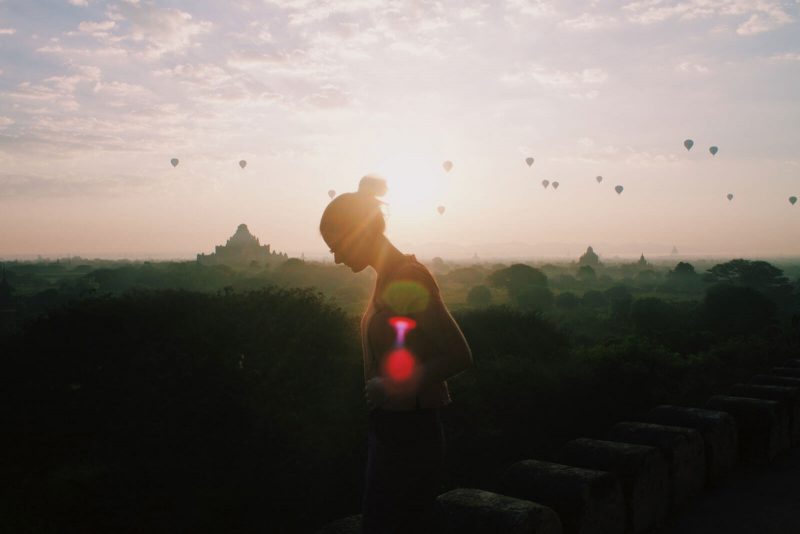 Escape nearby to the gorgeous waterfalls where the post-colonial Brits used to vacation. Dat Taw Gyaint is the main attraction as a giant towering fall that crashes into waters perfect for a swim.
If you have a little extra time in Myanmar, Bagan is another excellent spot for exploring ancient temples, indulging in local cuisine, and enjoying the Burmese countryside.
As you make your way to the Thai border, and before wrapping up this part of your Southeast Asia itinerary, stop in Hpa An, a series of caves under a mountain that you can literally walk under.
Quick Info on Myanmar
Language: Burmese
Currency: Myanmar Kyat (MMK)
Electrical socket + Voltage: 230V supply voltage and 50Hz. Plug types include C, D, F and G.
Visa: Tourist visa required – can be filed online (Tourist E-Visa) and is valid for 28 days in a 90-day period.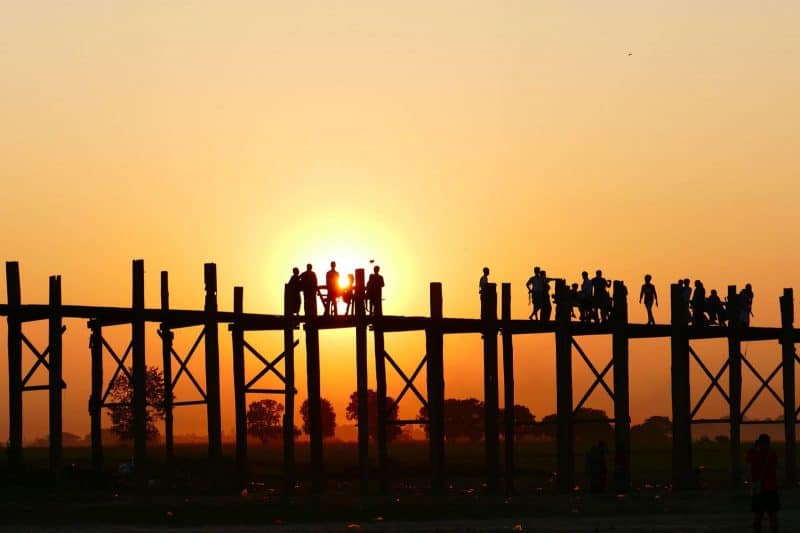 Top Things to Do in Myanmar
Explore the Buddhist Temples of Bagan: The bike rental will cost you a few dollars (8,400-12,600 MMK or $4-6 USD), and you can ride around the plains all day.
Trek to Inle Lake: Inle Lake is a freshwater lake located in the Shan State of Myanmar. It is home to several ethnic groups and a unique way of life. One of the best ways to experience the culture and natural beauty of the area is by taking a trek from Kalaw to Inle Lake. The trek takes three days and passes through local villages and beautiful scenery.
Visit the Shwedagon Pagoda: The Shwedagon Pagoda is the most sacred Buddhist pagoda in Myanmar. It is located in Yangon and is covered in gold leaf and jewels. The pagoda is over 2,500 years old and is an important pilgrimage site for Buddhists around the world. Make sure to visit at night when the pagoda is beautifully lit up!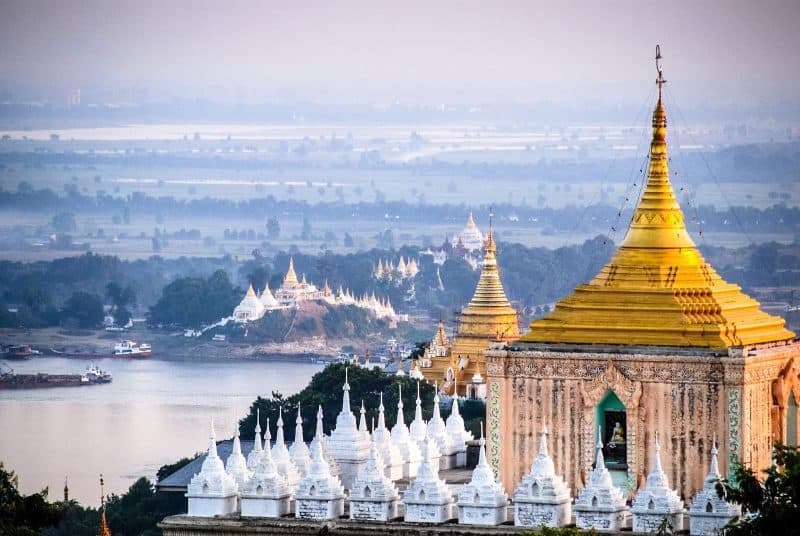 What to Eat in Myanmar
Mohinga (or mohinka) – a fish-based broth loaded with other tasty ingredients and the national dish of Myanmar.
Shan-style Noodles – wet or dry noodles typically served with chicken or pork. A fav in Myanmar!
Burmese Green Tea Leaf Salad (laphet thoke) – fermented green tea leaves with sesame seeds, dried shrimp, and fried garlic and peas.
Best time to visit Myanmar
If you're an outdoor adventurer like me, you're probably not looking for excessive rainy days, which means you should visit from November to February. You'll meet with little rain and not too much heat.

Rough budget for visiting Myanmar
Hostel/Hotel: $10/ $60
Meals: $2
Transportation: $0.15-$5
Entertainment: $0-$20
Total daily budget: $25-$40
READ MORE: Backpacking Myanmar: Itinerary, Travel Tips, and Costs
Backpacking Singapore
Singapore is the quintessential cosmopolitan center of Southeast Asia.
Of all the places on your Southeast Asia itinerary, Singapore will definitely wear you out and find you ready to go after a few days.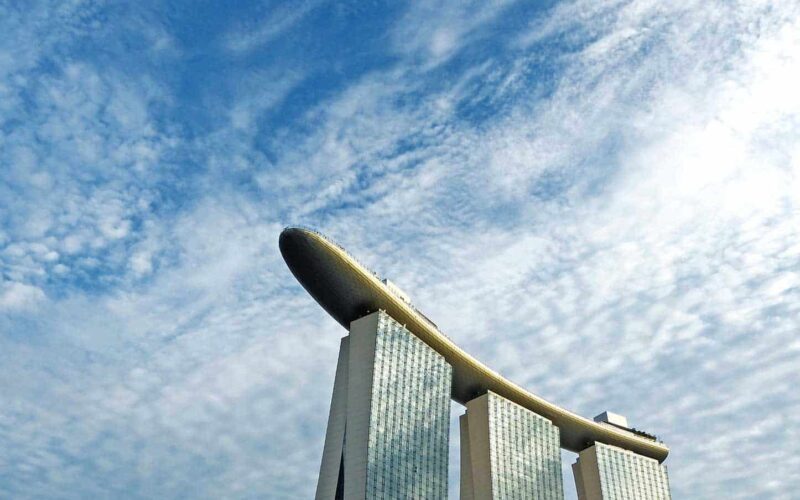 There's only so much you can do in a big busy city before you exhaust yourself and need a freaking hike in the mountains. So I'm not going to insist you stay for two weeks. It's also not nearly as budget-friendly as its neighbors, in fact, it's expensive!
Check out China Town and the temples. Wander through the Civic Centre. And spend a day in Little India.
Quick Info for Singapore
Language: Mandarine Chinese, Malay, English, and Tamil
Currency: Singapore Dollar (SGD)
Electrical socket + Voltage: 230V supply voltage and 50Hz. Plug types include Type C, G, and M.
Visa: Likely no visa required for stays under 90 days.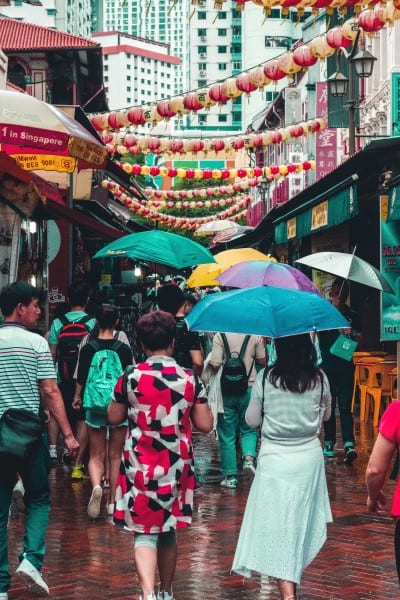 Top Things to Do in Singapore
Go High: $25 will get you aboard the 42-story tall Ferris wheel, the tallest in Asia. Not sure why, but there's just something magical about gigantic ferris wheels overlooking the water.
Explore Gardens by the Bay: This stunning futuristic park is a must-visit attraction in Singapore. Wander around the Supertree Grove, visit the Flower Dome and Cloud Forest conservatories, and catch the nightly Garden Rhapsody light and sound show.
Walk through Chinatown: This historic district is full of temples, shops, and street vendors selling all kinds of goods. Be sure to check out the Sri Mariamman Temple and the Buddha Tooth Relic Temple.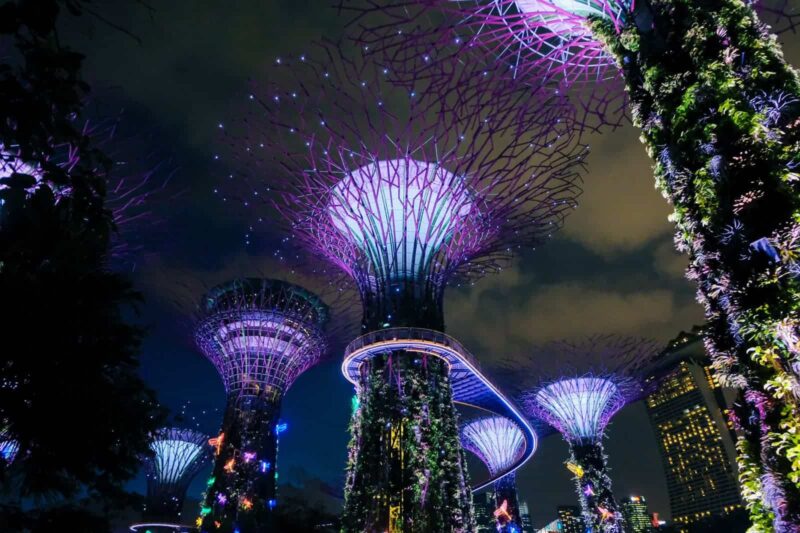 What to Eat in Singapore
Laksa – A spicy coconut curry noodle soup that typically contains shrimp, fish cakes, tofu, and bean sprouts.
Roti prata – A crispy, flaky Indian flatbread that's typically served with a savory curry dip. It can be filled with various ingredients such as cheese, eggs, or minced meat.
Hainanese chicken rice – This dish consists of tender poached chicken served on fragrant rice cooked in chicken broth and pandan leaves. It's often accompanied by chili sauce, soy sauce, and cucumber slices.
Best Time to Visit Singapore
The best time to visit Singapore is during the drier months from February to April and from July to September.
However, keep in mind that these months are also the peak tourist season, so expect higher prices for accommodations and activities. The period from November to January can also be a good time to visit, as the weather is cooler and there are festive events such as Christmas and New Year's Eve.

Rough Budget for Visiting Singapore
Hostel/Hotel: $20/$100
Meal: $5-$15
Transportation: $1.20-$10
Entertainment: $10-$70
Total daily budget: $50-$100
READ MORE: Four Days in Singapore Itinerary
Make Sure You're Covered Abroad!
Travel insurance can save your @$$ abroad and it doesn't have to be expensive! Safety Wing is what I use because it's affordable, perfect for long or short term travelers and covers the important stuff (including COVID-19).
Where to Begin and End Backpacking Southeast Asia
This one is gonna have to do with the easiest ports of entry and then the best ending point of various different routes.
The ideal places to start if you want to do a loop of sorts would be either Kuala Lumpur or Bangkok based on location on the map in relation to all the other places you'll visit and accessibility. Having said that, if you're an Aussie or a Kiwi, you're likely gonna want to head in from Indonesia (Jakarta or Bali).
Alternatively, if you're considering visiting the Philippines at all (and I highly recommend that you do), you'll want to either start or end there, as it is way out on the map and therefore not ideal for "hopping on over" in the middle of backpacking Southeast Asia.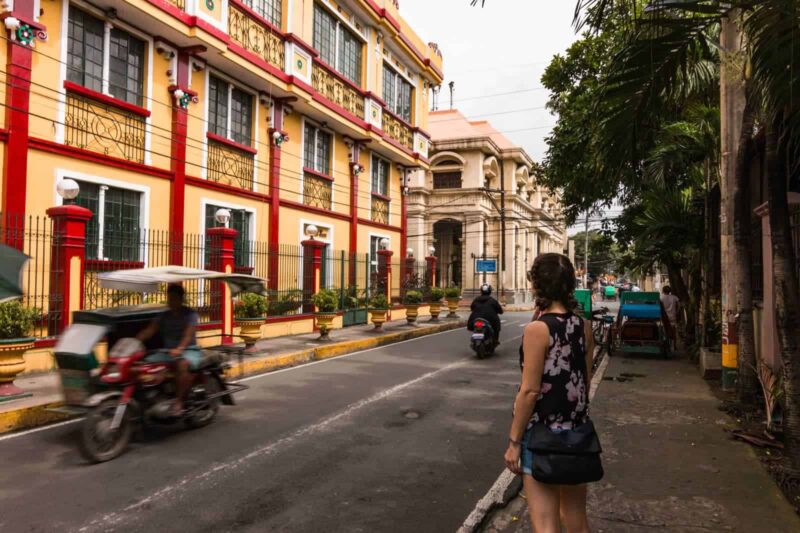 You can totally cram each country into a week if you want to drive yourself crazy and not fully enjoy yourself. But where's the fun in that?
Generally speaking, plan for about two weeks in each location at the least. BUT we all know not everyone has weeks on end, so I know some of you want to cram three countries into three weeks, I get it! I'll give you some sample itineraries that you can mix and match.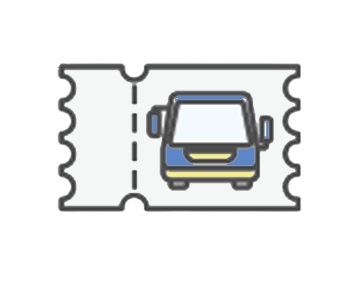 TRANSPORTATION TIP
If you're looking for bus, boat, or train tickets around Asia, you can easily book them online! Check Availability
Southeast Asia Backpacking Route
Planning a Southeast Asia backpacking route can be both exciting and overwhelming. With so many incredible destinations to choose from, it can be difficult to decide where to go and in what order. But fear not, fellow backpackers—we've got you covered!
One classic backpacking route is the "Banana Pancake Trail," which typically starts in Thailand. This route takes you through some of the most popular backpacker destinations in the region, including Bangkok, Chiang Mai, Pai, Luang Prabang, Vang Vieng, Hanoi, Halong Bay, Ho Chi Minh City, and Siem Reap.
This trail can take anywhere from 3-4 weeks, to 3-4 months, depending how in-depth you're going at each place!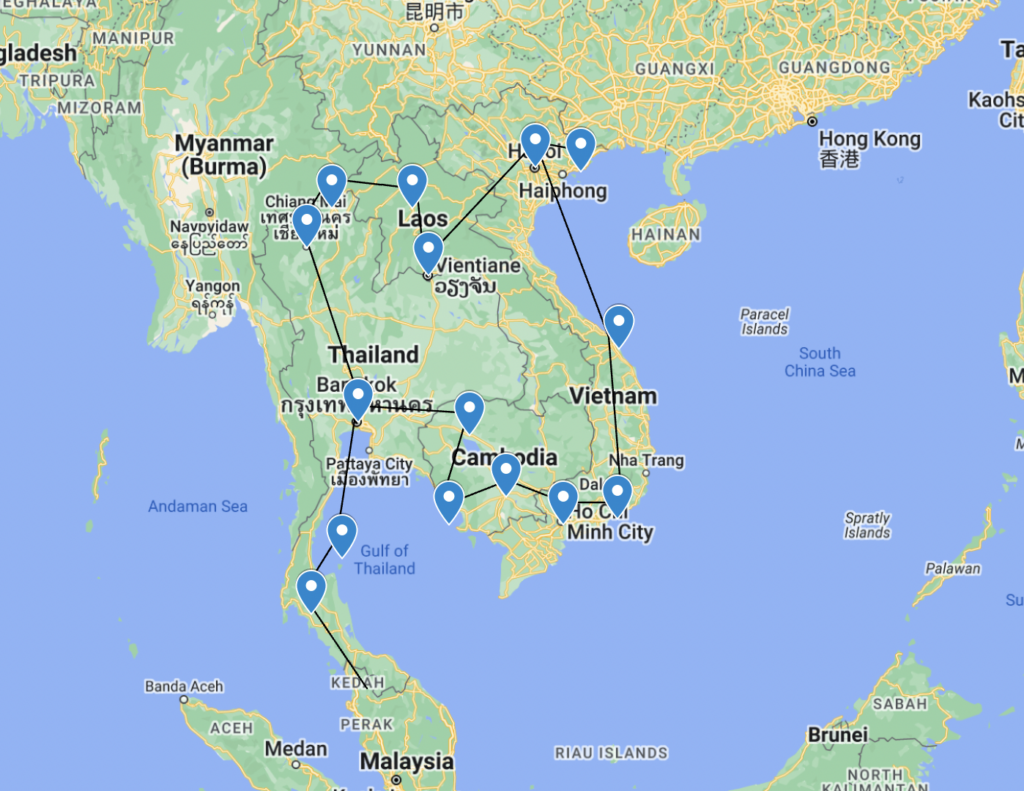 For those looking for a more off-the-beaten-path adventure, consider the "Northern Thailand and Laos Loop". This route takes you through the northern parts of Thailand and Laos, including Chiang Mai, Pai, Luang Namtha, Luang Prabang, and Vientiane. This route offers incredible scenery, including stunning waterfalls, lush jungles, and remote villages.
Of course, there are many other routes and destinations to consider, depending on your interests and travel style. Whether you want to explore the beaches of Bali, the mountains of Myanmar, or the bustling cities of Singapore and Kuala Lumpur, there's a backpacking route for everyone.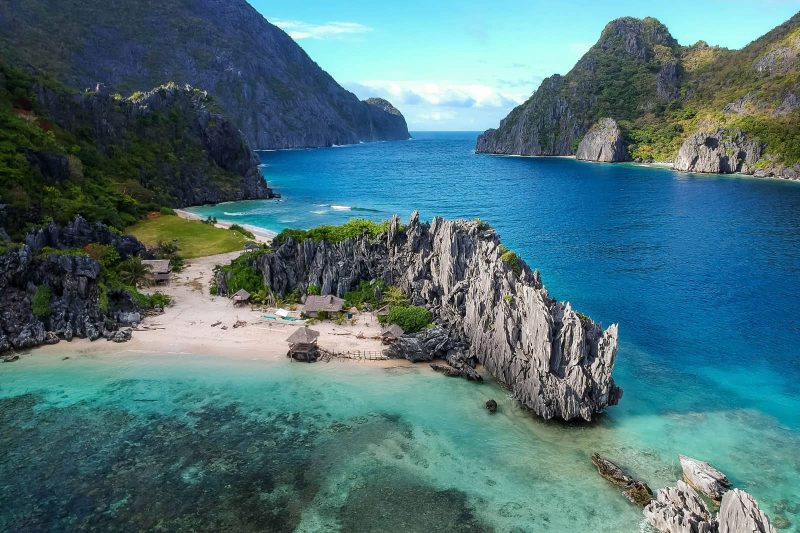 The best way to choose your Southeast Asia backpacking route is to first decide how many weeks you have THEN you can determine more of your route, how long you can spend in place etc.
The beauty of backpacking in Southeast Asia is that there's no right or wrong way to do it. Just pack your bags, follow your heart (and the recommendations of fellow backpackers), and get ready for the adventure of a lifetime!
Southeast Asia Backpacking Route Itinerary Examples
So we have some rough sample itineraries for you below. No, don't follow these to the tee, it will totally depend on what you really want to do. Maybe you hate the beach? Or perhaps you're not into snorkeling… Whatever it may be, you can get an idea from these itineraries, but no need to follow them religiously.
It's just an idea of how you can manage your time between all these countries.
Just a tip to keep in mind, the more you move around, the more money you're spending, so for someone on a backpacker budget, more countries is amazing! But will cost ya.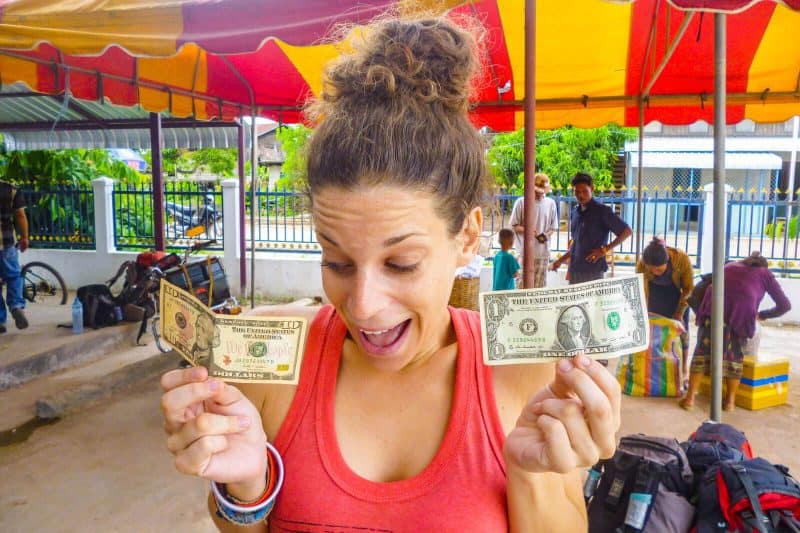 These routes also depend on the connectivity of countries. Laos and Cambodia have airports, obviously, but backpackers usually cross over via land borders. Depending on where you're coming from, starting in Thailand might not work for you, maybe Indonesia or Vietnam is an easier starting point or where you're finding flight deals.
Another thing to think about is, are you buying a round trip or flying into one country and then flying home from another?
Either way, remember, these are flexible and just quick itinerary ideas. They also don't include all the sites you may want to see, just the main hubs, and what you do from there is up to you. Happy planning…
Southeast Asia Backpacking Route 3 Weeks:
Start in Bangkok, Thailand, and explore the city's temples, street food, and markets
Take a bus or train to Siem Reap, Cambodia, to explore Angkor Wat and the surrounding temples
From there, head to Vietnam and visit one of the cities and a few beaches
Take a quick flight to Thailand's south islands and spend some time relaxing on the beach and snorkeling then head back up to Bangkok to fly out.
Southeast Asia Backpacking Route 4-5 Weeks:
Start in Bangkok, Thailand, and spend some time exploring the city
Visit Thailand's north and get lost in Pai and party in Chiang Mai
Take a flight to Siem Reap, Cambodia to explore Angkor Wat
Hop over the border to Laos and chase waterfalls in the Boloven Plateau and Luang Prabang
From there, head to Vietnam and visit Ho Chi Minh City and Halong Bay
Finally, head to the beautiful island of Palawan in the Philippines and spend some time island hopping in El Nido and Coron, snorkeling and exploring the area's stunning beaches and lagoons
Southeast Asia Backpacking Route 6-7 Weeks:
Start in Bangkok, Thailand then head to Koh Chang for some island life
Take a flight to Siem Reap, Cambodia to explore the temples of Angkor Wat
Head north to Vientiane, Laos so you can hop over to the mountain town of Vang Vieng
From there, head to Luang Prabang and explore the city's historic temples and beautiful waterfalls
Head to Vietnam and take time to explore the country's markets, and historic sites and do some trekking in the mountains
Maybe you can squeeze in some time in Indonesia, perhaps visit Yogyakarta and explore East Java.
Finally, head to the Philippines and spend some time island hopping in El Nido
Southeast Asia Backpacking Route 7-8 Weeks:
Start in Bangkok, Thailand and visit the ancient City of Ayutthaya just an hour north
Head to Thailand's mountain towns, Chiang Mai and Pai
Take a bus or train to Laos and spend some time exploring the highlights
Maybe cross the border to Cambodia for Angkor Wat and a break in Kampot
Beeline for Thailand's islands after that and go on snorkel tours, party, and lounge on Krabi's beaches
Explore Penang and Kuala Lumper before you…
Take a flight down into Singapore for a few days, then into Indonesia. Decide which islands you have time for (Sumatra, Java, Bali, Lombok… So many options!)
From there, head to Vietnam and squeeze in a week or so along the coast or in the mountains
Finally, head to the Philippines and spend some time island hopping
Where to Stay in Southeast Asia?
So what's your budget? We have your typical backpackers spots (usually hostels of very simple guesthouses), flashpackers (generally private rooms, at decent guesthouses), or the fancier crowd who don't mind throwing down a few extra bucks to get some really sweet digs!
Check out some of the best places to stay in each country…
Budget Tips For Southeast Asia
Eat like a local: Street food is a great way to save money and try delicious local food. Look for places that are busy with locals, and you'll know it's good. Markets are the best, I ate at them almost every day for years!
Bargain wisely: Haggling is common in Southeast Asia, but make sure to do so respectfully and with a smile. Research prices beforehand and aim to pay a fair price.
Use public transportation: Taxis and private transportation can be expensive, so opt for local buses, trains, songtaews, and tuk-tuks instead. You'll save money and have a more authentic experience!
Stay in budget accommodations: Hostels, guesthouses, and homestays are affordable options for accommodation. Consider staying outside of popular tourist areas for even more savings, but this is usually only smart if you plan on renting a scooter so you can get places.
Travel during shoulder/low season: Prices for flights, accommodation, and activities can be significantly lower during the low season. Plus, you'll avoid the crowds. I lived here year-round, there's not really a bad time to visit.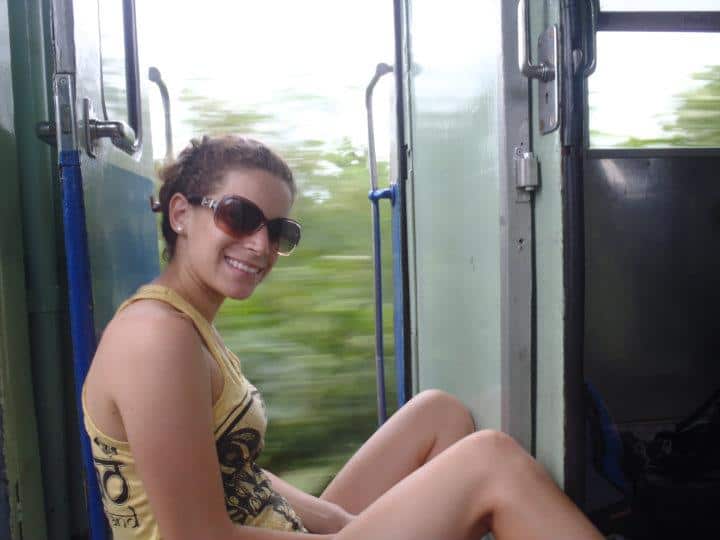 Take advantage of free activities: Many destinations in Southeast Asia offer free or low-cost activities like visiting temples, hiking, and exploring local markets. Just walking around is a thing to do!
Drink local beverages: Skip the expensive and imported drinks and opt for local beers, teas, and coffees.
Carry cash: Many places in Southeast Asia don't accept credit cards, so make sure to carry enough cash with you. Don't forget to read more about the best travel cards.
Avoid scams: Be aware of common scams such as overpriced taxis, fake tour operators, and counterfeit money. Research beforehand and ask for recommendations from locals or fellow travelers. Joining Facebook groups for advice on specific areas can be helpful.
Be flexible: Traveling with a flexible itinerary can save you money on transportation and accommodation (OK really, everything!). Be open to changing your plans based on new opportunities and recommendations. It WILL happen while you backpack Southeast Asia, I can guarantee it!
Do a Work Exchange for FREE Accommodation
Want to REALLY save money while backpacking Southeast Asia? I can't recommend Worldpackers enough!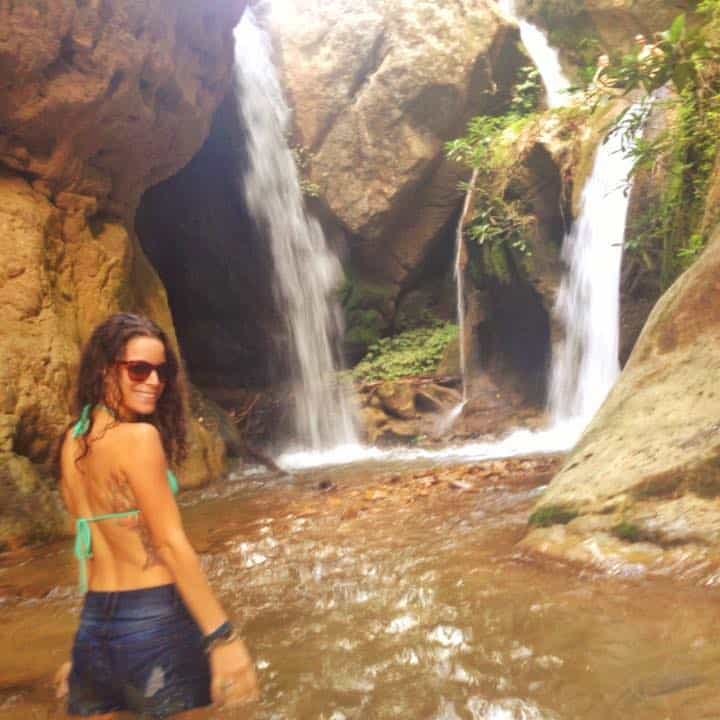 This is a network that connects you with locals who need some help doing things such as English tutoring, gardening, painting, website help, and an assortment of other positions. You can trade your time and skills by helping them, and in return, you get local friends, a FREE place to sleep, and sometimes even food and tours!
I got to live in the mountains of Pai, Thailand, because I helped someone pack salt for their business. I had my own apartment and everything—for FREE! (this was one of my many travel jobs that kept me on the road!)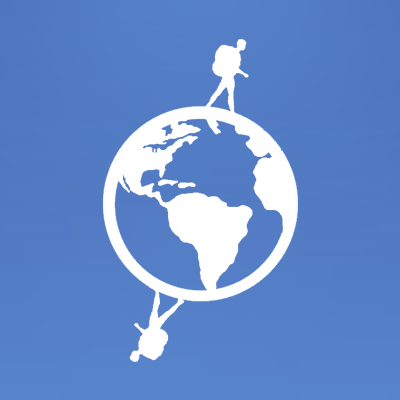 FREE ACCOMMODATION!
This isn't a trick, really—you can get free accommodation across Southeast Asia (and the world) with Worldpackers!
Trade some of your time and skills, and you'll get a free room and sometimes food and tours too. It's a win-win!
Don't pay full price for signing up though, grab a discount at this link:
Transportation in Southeast Asia
How do you move through your Southeast Asia itinerary when you're trekking longer distances?
Flights: Looking to get where you're going quick and painlessly? Fly! AirAsia has the best deals, especially if you book well in advance.
Buses: Take public over tourist. Realize that tourist buses are magnets for theft and even just jacking up prices. These are the buses you see advertised in the main tourist streets and even at some hostels. Take a public bus like the locals and save a ton. You can even book it online for ease.
Grab and Gojek: This is the like the Uber of Southeast Asia but note sometimes it's a motorbike, not a car!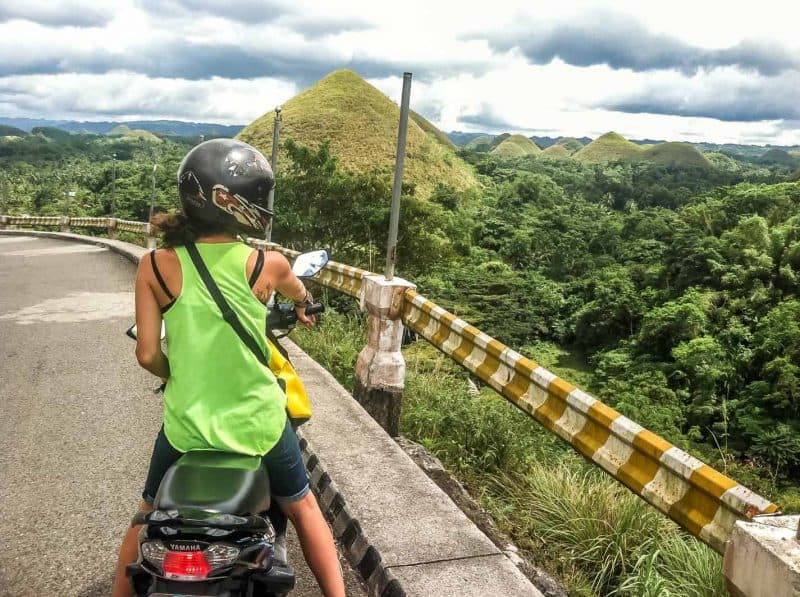 Motorbikes: Investigate this a bit before you go so you know the basics of motorbike rentals/ purchases, etc. But you can typically rent a cheap motorbike for around $10 a day and upgrade from there, with better deals the longer you plan to rent. After that, just be safe. Don't drink and drive, pay attention to the road, and don't be a douchebag tourist on a bike. Just some wisdom from your friendly western world traveler. Driving here is a whole other ballgame, use this mode of transport CAREFULLY!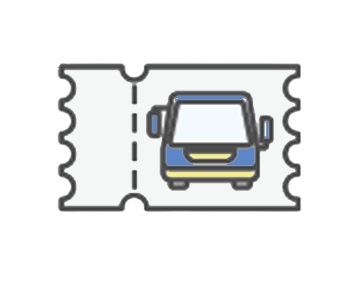 TRANSPORTATION TIP
If you're looking for bus, boat, or train tickets around Asia, you can easily book them online! Check Availability
What to Pack For Southeast Asia
No matter where you are in Southeast Asia,the packing list is going to remain pretty similar.
First of all, remember that it gets HOT. So light, airy clothing is going to be your staple here. That being said, you should definitely bring layers for cool evenings and some more modest options for visiting holy sites and temples—a lightweight scarf works wonders!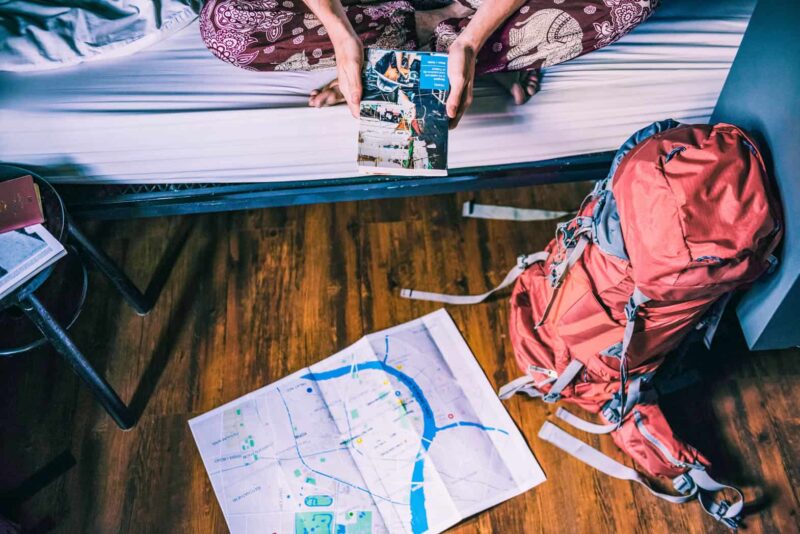 Other than clothes, you'll probably need to pack some flip-flops, a reusable water bottle, and of course, a high-quality backpack for lugging all your stuff.
You will want a couple of warm items if you're going to be in the mountains of Thailand or Vietnam, for example.
I have a much more detailed packing guide for Southeast Asia that goes over every last thing I recommend, so check it out before you depart!
Safety Tips for Southeast Asia
This region of the world is generally safe, but of course, like anywhere, you do need to be aware and watch out for certain things. Below are the most commonly needed safety tips, but I have a massive article for safety tips that you can use for almost anywhere in the world too!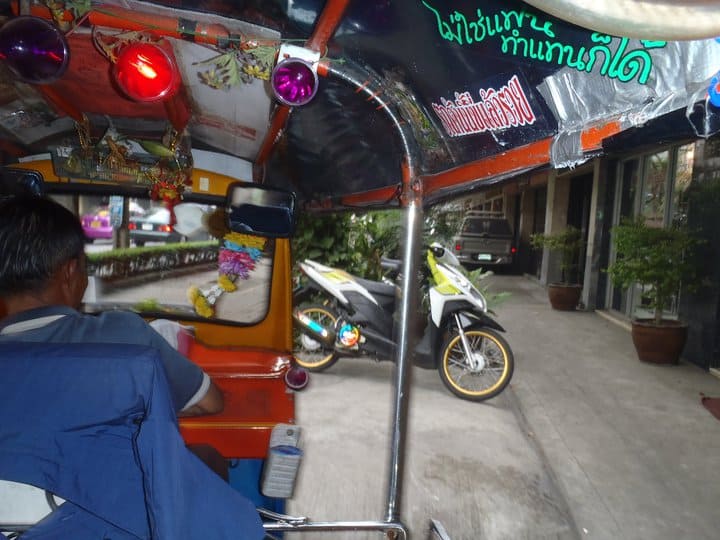 Be aware of common scams such as "gem scams" and "tuk-tuk scams" where drivers or vendors will try to overcharge or trick you, sometimes lure you with a free ride… Always negotiate prices beforehand and sniff out suspicious unsolicited offers.
Be mindful of your belongings, especially in crowded areas or tourist hotspots where pickpocketing and theft can occur. Keep your valuables close and consider using an anti-theft backpack or purse.
Avoid walking alone at night, especially in areas that are unfamiliar or have a reputation for crime. Instead, opt for well-lit and busy streets or take a taxi or ride-sharing service (they use Grab in Southeast Asia, it's like Uber)
Be cautious when using ATMs as skimming devices and counterfeit money are prevalent in some countries. Use ATMs in well-lit and busy areas, preferably at a bank. You shouldn't use currency converters if you can avoid it, they are rife with scams. Read more about the best travel cards.
Research local customs and laws before traveling to avoid any unintentional cultural faux pas or legal trouble. For example, in some countries, it is disrespectful to wear revealing clothing in religious sites or point your feet at someone (speaking from experience, oops!)
Use common sense when consuming food and drinks. Stick to bottled water (or better yet, use a water bottle filter), and avoid street food that looks undercooked, has been sitting out for too long, or doesn't get reheated.
Be mindful of your online activity and use caution when using public Wi-Fi networks. Avoid accessing sensitive information or logging into financial accounts while connected to some random wifi network at a cafe. Use a VPN! (Good for watching shows abroad too)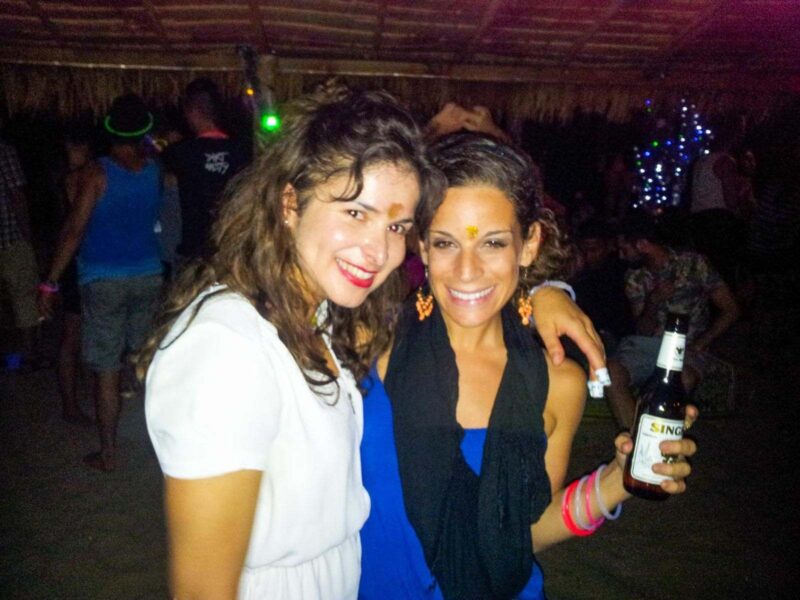 Be cautious when hiring transportation services, especially motorbikes or scooters. Always wear a helmet and make sure the vehicle is in good condition before renting.
Many people are scared of the ice, but you'd be missing out if you didn't try fruit shakes while traveling around Southeast Asia. Don't worry, the ice at restaurants and even most food carts will be with filtered water.
Keep copies of important documents such as your passport, visa, and travel itinerary in a safe and separate location from your physical documents. You should upload them to a Google drive and email them to your mom too, in case of loss or theft.
Working in Southeast Asia
If you're looking for a way to extend your stay in Southeast Asia and earn some money while you're at it—I've been there and done that! Because I lived and worked in the region for years I have some suggestions should you be interested in staying a bit longer (can't blame ya!)
Teach English in Southeast Asia
Teaching English is a great way to immerse yourself in the local culture while also gaining teaching experience and a way to stay longer. Many countries in Southeast Asia, such as Thailand, Vietnam, and Cambodia, are in high demand for English teachers.
You don't need a specific teaching degree or experience, but if you have a 4-year degree in anything and a TEFL certification—You're practically hired already! I taught English in Thailand, and it was my gateway to continuing my life abroad, and I'm forever grateful!
Here's some further reading on how to teach English abroad, how to teach English in Thailand, and your guide to choosing an online TEFL, plus some discount codes and tips on not getting scammed like I almost did!
Digital Nomading in Southeast Asia
Being a digital nomad is another popular option for those looking to work remotely while traveling and backpacking around Southeast Asia.
With a laptop and a reliable internet connection, you can work from anywhere in the world! Many coworking spaces have popped up in popular destinations throughout Southeast Asia, such as Bali, Chiang Mai, and Ho Chi Minh City, making it easy to find a comfortable workspace and connect with other like-minded professionals.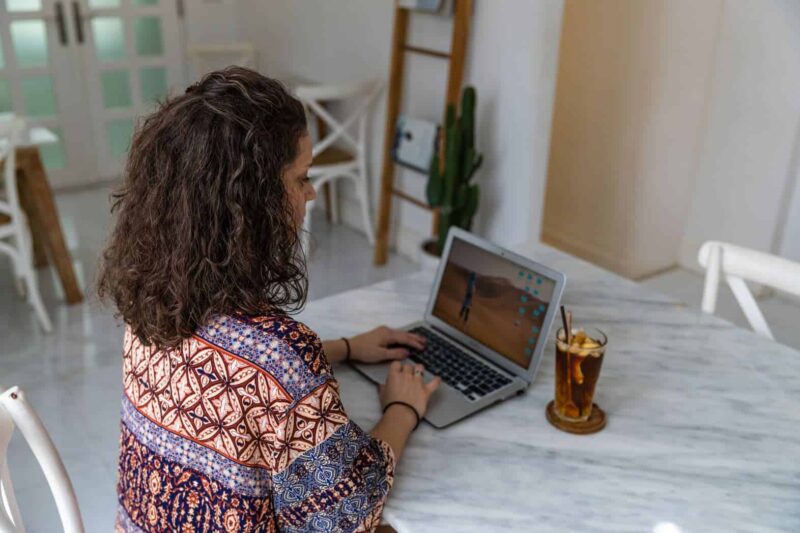 Plus, with the lower cost of living in Southeast Asia, you can stretch your budget further while still enjoying all the region has to offer (woo!).
Now, you may be saying, "Uhm, OK, but how does one just "become" a digital nomad," and you're not wrong… You can't just start being one tomorrow. It takes work, it takes finding the right digital nomad job(s), it takes discipline, hard work, and sometimes working just to get work!
I've been there! But the good news is, I did it when there were almost no resources out there, and opportunities weren't as prevalent. Nowadays, it's BOOMING! I can't get into all of this here but click the links above and consider signing up for my free guide on choosing a travel job to travel longer!
Oh, and yes, the wifi in Southeast Asia is generally decent. Some islands and, really, most of the Philippines and Indonesia aren't the best. But otherwise, depending on your type of work, you'll have no issues working remotely here!
Phew! OK, I think that's it. I probably could keep going though. I hope this helped you plan your backpacking trip around Southeast Asia!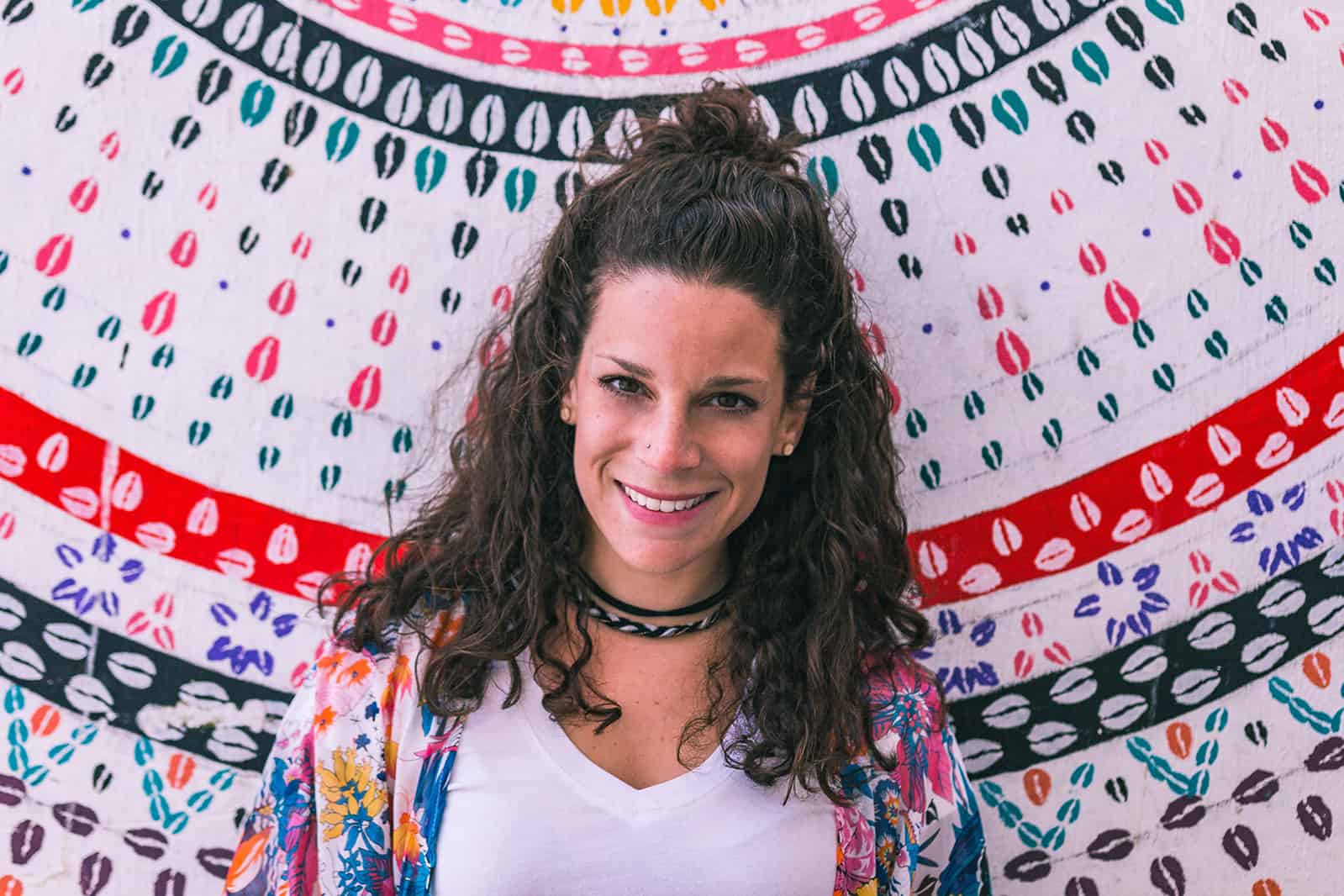 Nina Ragusa is an adventurer, messy bun master, breakfast fan, and full-time travel blogger. She's been abroad since 2011 and blogging on Where in the World is Nina? for nearly as long. Nina helps people like you move around the world while making money. She loves talking about how to work abroad and online to travel longer!