Puerto Princesa is touted as the cleanest and greenest city in the Philippines, making it an eco-tourists' dream, it's home to a UNESCO must-see underground river; it offers some of the most adventurous and gorgeous island hopping in the world; and it is an excellent stopover before heading off to El Nido.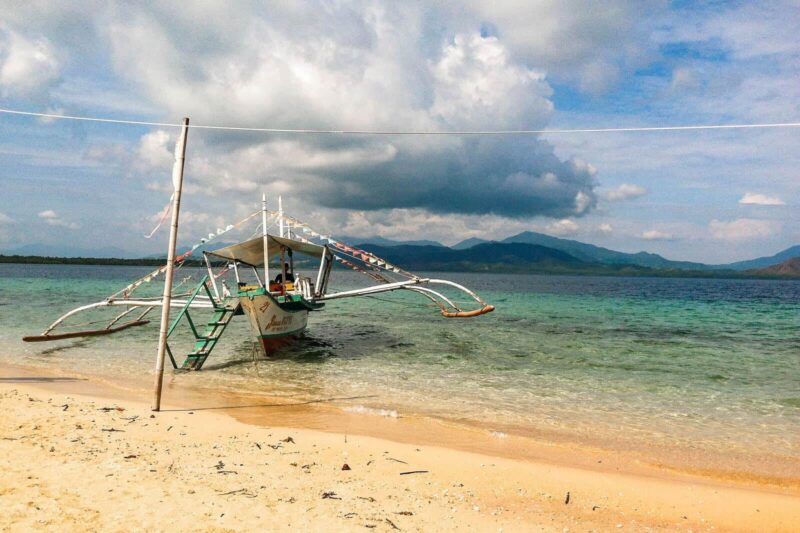 So yes, I will urge you to visit this beach town, at least for a couple of days, and discover all of the things to do in Puerto Princesa.
While you're there, be sure to enjoy a few of the Puerto Princesa tours the city has to offer.
Things to Do in Puerto Princesa
---
1. Puerto Princesa City Tour
You probably thought you'd come to Puerto Princesa to island hop, to go to the underground river, or just to head out to El Nido but don't be so quick to leave…
The city itself has a few little delights to serve you, and when you take this tour, you'll get a taste of them all.
You'll be picked up at your hotel and driven to the Roman Catholic Immaculate Conception Cathedral. You'll visit the Wildlife Rescue, and then you'll see a couple of the local spots, basket weaving and candy making included. A panoramic view of Palawan is also part of the package.
It is these kinds of day tours that make you feel like you've really dug into a city you're visiting.
2. Underground River Tour from Puerto Princesa
So this is where I would normally be jaded.
Yes, of course, I have been to a gazillion caves.
So this many years into my globe-trotting, I'm over here like "hey cave. How's life?" But there's so much more to this trip than just the cave; the beach you take off from, Sabang beach, is stunning.
It is one of the world's most beautiful beaches, and for a reason. The sand is clean and soft, the waters are inviting, and the scenery is awe inspiring. And the rest of the underground river tour is quite remarkable as well.
It doesn't hurt that it's a UNESCO World Heritage Site.
The opening to the underground river is narrow, which makes it a bit unsettling, but once you get inside this cave the whole room opens up.
My tour guide paddled at the back of the boat while pointing out various stalactites and stalagmites, calling out "angel!" and "penis!" as we passed by the differently shaped formations. It was pretty entertaining.
Know that some people actually even stay in the town of Sabang itself and launch to the Underground River tour from there. There's even an adventure package for adrenaline junkies. If you do this, you can avoid the two-hour drive from Puerto Princesa.
3. Bacungan Waterfall Puerto Princesa Tour
As much as I enjoy exploring caves, hunting for waterfalls is even more fun.
I don't know what it is about a great waterfall that makes me just want to lose myself and jump in. This waterfall definitely inspires that urge. It's a quick jaunt through some lowland forest before you arrive at Bacungan to explore.
These falls are those awesome stepping stone rock kind of falls, where the water races down at varying levels over giant boulders that form a sort of stairway.
You can (carefully) walk across them and cool off from the typical hot, humid weather so typical of the Philippines. It's only a half day tour, so you'll be back by lunch.
4. Honda Bay Tour (My Fav Puerto Princesa Tour)
Island hopping!
For an adrenaline junkie like me, always looking to pack as much punch into my travels as possible, island hopping is at the top of the list of things to do in Puerto Princesa, or anywhere really.
This Honda Bay tour will take you to four different islands:
Pandan,
Cowrie,
Starfish, and
Luli.
The tour linked above is private, so you may get an island to yourself and your friends, but it is a bit pricey. For a more budget-friendly, non-private tour, you can book here.
Yes! I got to see starfish.
I love starfish, and I had only gotten to see one once before in all my travels. Here, on Starfish Island, I got to stand in water and look down at a veritable zoo of starfish just chillin in the clear blue sea.
Note: you will be pushed into renting protective water shoes. My tour had me watch a whole video that terrified me into renting them. Apparently, there's a stone fish on Luli Island that can infect your foot if you step on it. It's buried in the sand and resembles a stone, so obviously you could miss it with your eyes and hit it with your foot.
Then, horror of horrors, you end up with "black foot" a condition so serious it can kill you. Yeah, I rented the shoes. I never actually saw the stone fish. It's a bit of a scare tactic but these fish do exist… Your choice to bring some, rent, or not.
5. Firefly Watching
There is something purely magical about fireflies, and this tour reveals that magic to you.
You get to float down a river for 4 hours riding through a natural wildlife habitat. You'll watch as the sky darkens and the fireflies come out, glowing in all of their luminescent glory.
It is a deeply romantic and surreal experience, and you can enjoy a moonlit dinner on the water afterward to reflect on it all.
After a day, or days, of travel and hustle and bustle, of ziplining and zipping off to islands, there is something to be said for an intimate journey over water through a natural wonder. Of all the things to do in Puerto Princesa, this one is easily the most relaxing and magical.
Where to Stay in Puerto Princesa
---
Green House
If I ever find myself in Puerto Princesa again, I'm not sure I could bring myself to stay elsewhere other than Green House. The owners are some of the loveliest people I've ever met. They live on the property and provide you a delicious homemade breakfast each morning. The only downside is they are a bit out of town but it was well worth the dollar taxi ride into town.
Dad's Bayview Pension
For something closer to town, try Dad's Bayview Pension. They have a great location and are near the water. Most things to do in Puerto Princesa are within walking distance and the price is very reasonable.
Book Dad's Bayview Pension Here
Canvas Boutique Hotel
For something in town and a bit more modern and comfortable, the Canvas Boutique Hotel is a good choice. Funky and fresh decor, ideal location, clean, and even included airport transfers, this hotel is a great deal.
Book Canvas Boutique Hotel Here
You won't be sorry you took a few Puerto Princesa tours. There is plenty to love here, plenty to write home about, and plenty to explore. See this as more than a simple stopping point on the way to El Nido.
Think of it instead as a beautiful gateway to even greater sights and experiences. You really can't lose.
Off to El Nido next, I presume? Check out these guides:
Which of these things to do in Puerta Princesa are you most stoked about? Let us know in the comments.
---
---
>>> Read More! <<<
A Two-Week Philippines Itinerary—Beaches to Mountains
The Ultimate Philippines Travel Packing Checklist
13+ Day Trips and Tours to Take in Manila, Philippines
Essential Advice and Tips For The Philippines
A Complete Guide to El Nido, Palawan
A Guide to Island Hopping in El Nido
---
---
Click the picture and pin this for later!