The following article on backpacking Myanmar is authored by Mimi McFadden
When most people think of backpacking Southeast Asia, they usually skip straight to Thailand, Indonesia, Cambodia, or Vietnam and give a passing glance to the rest of the surrounding countries.
It's easy to give in to this temptation, given how popular and talked about these countries are in Southeast Asia (it's hard to break out of the backpacker trail sometimes!), but I'm here to tell you that backpacking Myanmar is definitely worth it if you want to experience an Asian country that has not been overrun by tourism.
I spontaneously headed off to Myanmar after receiving a confirmation for my Myanmar E-visa while I was in Hong Kong, but that's not to say I didn't do my due diligence with research before I arrived.
After all, if you choose to venture outside the cities of Yangon, Bagan, or Mandalay, there's a good chance that accommodation, food, or transportation will fall short of expectations due to the tourism industry not being as advanced as other Asian countries.
But, if you're willing to throw yourself into experiencing Burmese culture firsthand, the stunning vistas of Myanmar and the friendliness and welcoming nature of locals are worth every challenge you might face while backpacking through the country.
Don't lose this! Click to pin it now.
RELATED: Backpacking Southeast Asia: Itinerary, Costs, And Tips!
What You Need to Know Before Backpacking Myanmar
Myanmar (otherwise known as Burma until 1989) is a country that has dealt with tumultuous politics and military rule for the past few decades.
However, with an increasingly democratic government (according to those in power, at least), Myanmar finally opened its borders to tourism in 2011. Now, tourists have one more country in Southeast Asia to explore.
While most people equate backpacking in Southeast Asia with island hopping, Myanmar offers a different flavor of adventure. If you're into hiking, there are plenty of trekking tours available that will take you through the hills and local villages in the countryside.
The natural highlights of Myanmar are easily the vast lakes and parks, dotted with Buddhist pagodas and relics.
But before you start applying for your E-visa, here are a few things to note about Myanmar.
Home to as many as 135 ethnic groups, Myanmar is heavily influenced by India and Bangladesh to the west, Thailand, and Laos to the east, and China to the north. Thus, many different languages are spoken, but the primary languages belong to the Sino-Tibetan family. Think Burmese or Chinese (Hokkien).
Some regions are off-limits due to the civil war that is still going on between ethnic groups in the north, but there are plenty of other areas to visit as a tourist.
Ultimately, Myanmar has a complicated past and present. However, if you are willing to navigate the cultural nuances and understand how history has led to its current state, Myanmar can be a wonderful place for you to develop a genuine bond with the locals and country.
A 3 Week Backpacking Myanmar Itinerary
---
Over three weeks, you can easily cover a lot of ground (literally, since most bus rides are at least a couple hours long).
Backpacking this country might not always be a total 'trip in the park', but if you're willing to brave the elements, inconsistencies of Burmese culture, and the chance of stomach issues while in the country, this itinerary will soon have you raving about Myanmar.
Yangon Itinerary—2 Days
Alright, you've landed in Yangon Airport, and you're ready to explore the big city! After you catch an auto taxi or bus from the airport to the city center, find your lodgings, check in, and get out and explore.
The top of the list of must-sees in Yangon is the Shwedagon Pagoda, a gleaming golden beacon of Buddhism. In fact, I would recommend saving Day 2 for the pagoda because watching the sun rise over this golden temple is nothing short of a bucket list item.
After you watch the sunrise, you might as well dedicate the day to pagodas. Sule Pagoda, Botataung Pagoda, and Kaba Aye Pagoda all belong on this list, so be prepared to be wowed by people's devotion to architecture and ritual.
You should devote your other day to exploring local life in Yangon. Not only is there a bustling Chinatown and street food stalls aplenty (loaded with samosas, fish broth, and skewers), but popular community hotspots like the Yangon River, the Yangon Train Station, and Kandawgyi Park make it perfect for scenic people-watching.
If you genuinely want to be immersed in local everyday culture, I'd recommend hopping on the three-hour Yangon Circle Train. It's easiest to board from the downtown train stations near Pansodan and Bogyoke Aung San Roads.
And if you don't want to devote the whole three hours to people watching on a rickety train, there are plenty of stops that you can get off at and take a taxi back from. It's worth experiencing though, even partially.
If you have time, immerse yourself further in Burmese culture by purchasing and wearing a longyi.
A longyi is a cylindrical piece of cloth that you wear like a long skirt, and many Burmese people are happy to see visitors wear their traditional clothing. It's a great conversation started.
Locals also wear traditional makeup called thanaka, made from ground up bark, roots, and wood of the Murraya or Livonia acidissima tree. It is popularly worn as a moisturizer, sunblock, anti-fungal, and healthy skin aid. It has a cooling effect but might feel a little uncomfortable after it dries up.
Pick up some local thanaka at one of the many markets in Yangon to wear while you're backpacking Myanmar; it will get at least a smile from most locals you pass by.
Recommended Yangon tours:
Ngapali Beach Itinerary—3 Days
Get ready to marvel at the beauty of the Gulf of Bengal with Ngapali Beach. Since the trip to Ngapali Beach can take a while (12-14 hours by bus, 8 hours by private car, or an expensive 1-hour flight), allow yourself three days to enjoy this new destination.
So what's there to do in Ngapali Beach? Besides enjoying miles of pristine sand, turquoise waters, and palm trees, there is a wide range of water-based activities such as snorkeling, kayaking, and diving.
You can also go cycling and hiking to nearby villages and check out the locals drying their catch of the day.
This is a great spot to relax after hectic Yangon and to take a break from the sometimes full-on nature of Myanmar before tackling the rest of your itinerary.
Recommended Ngapali tours:
Bagan Itinerary—4 Days
Make your way up north from Ngapali Beach to Bagan, an ancient city southwest of Mandalay. In the old days, Bagan was the capital of the former Pagan Kingdom, with devout leaders and subjects building thousands of stupas across the city.
Now, Bagan is home to temples that rival the beautiful Angkor Wat in Cambodia or Machu Picchu in Peru.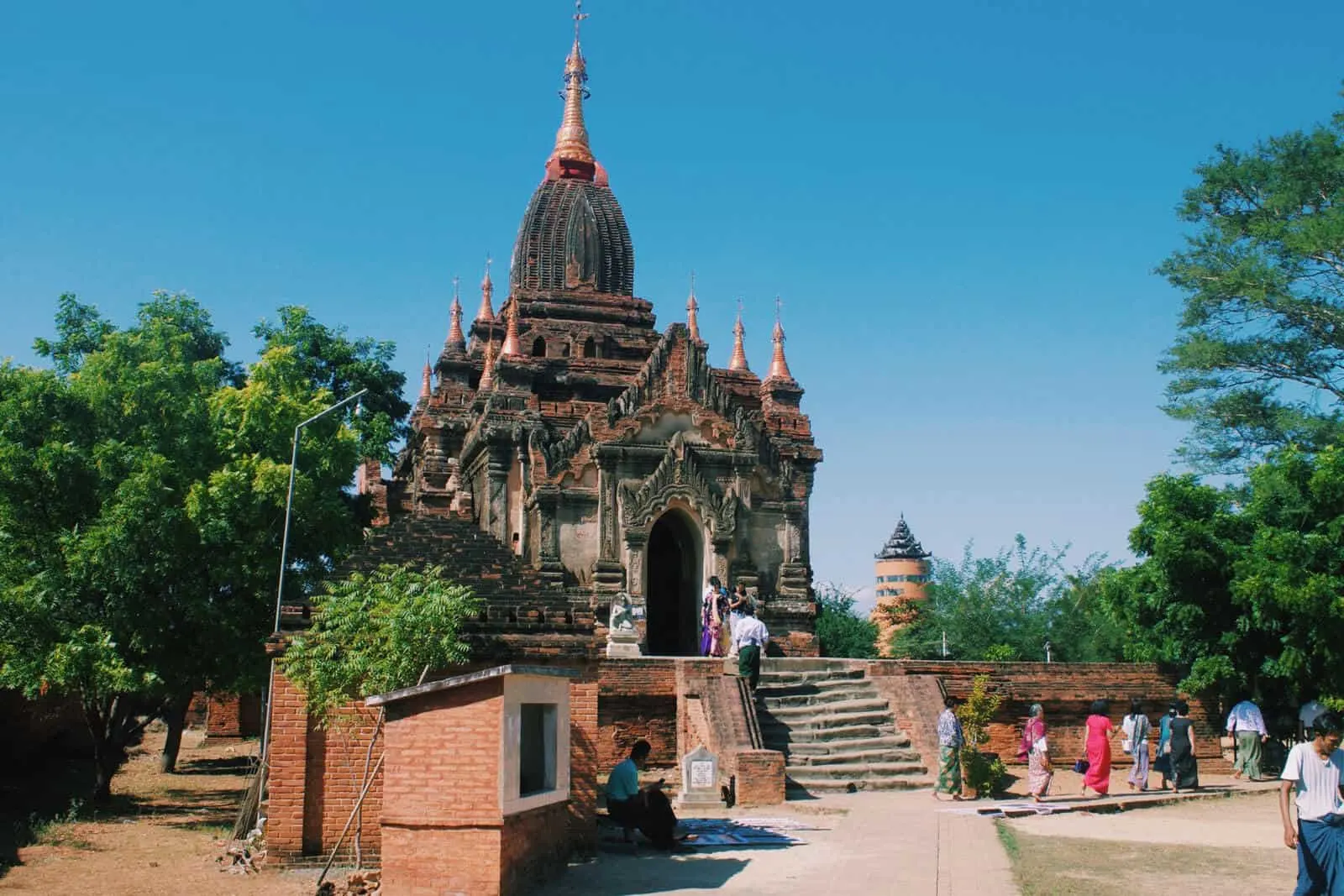 Visit the Temple Plain to see the beauty of these places of worship firsthand. Just keep in mind that since they are still active, visitors must pay proper respect (i.e., remove footwear and wear modest clothing – this is where the longyi comes in handy!).
If you have money to spend, flying above Bagan in a hot air balloon would be a great (but pricey) option. However, you can still enjoy the sunset over the Irrawaddy River if you climb to the upper decks of approved Bagan temples.
The local markets are always a huge hit for foodies, but Bagan's domestic production of unique lacquerware will surely attract antique lovers. Bring back home the bright colors of Bagan's lacquerware, especially since these colors brighten over time.
Read more about things to do in Bagan + tips, costs, and where to stay
Recommended Bagan tours:
Mandalay Itinerary—2 Days
Further up north of Bagan is Mandalay, the second-largest city and another former capital of Myanmar. Since it's considered the cultural capital of Myanmar, you can expect a lot of temples and religious sites in Mandalay.
Even if you've already become 'templed out' from Bagan', there are particular standouts. The incomplete Mingun Pahtodawgyi is home to what would have been the largest stupa in the world.
Contrasting the gilded beauty of Shwedagon Pagoda, the Hsinbyume Pagoda is a stunning vision of intricate all-white architecture.
Another must-visit is Kuthodaw Pagoda, also known as the "world's largest book." Why is that? This pagoda has 729 stupas that each contain a slab of Buddhist scripture, all of which would take over a year to finish reading if you devoted 8 hours a day to the task.
If you don't want to visit any temples, you can walk 1.2 km along the oldest and longest teakwood bridge in the world — the U Bein Bridge. You can then take the ferry to the ancient city of Inwa and visit the Mandalay Palace.
Recommended Mandalay tours:
Hsipaw Itinerary—2 Days
Once you're done exploring Mandalay, head up to Pyin Oo Lwin to take the famous train ride over to Hsipaw. This train ride is renowned because it takes you through the Gokteik Viaduct, a shambling bridge built almost 100 meters above a gorge. In other words, it's stunning. It might not be the best option if you're afraid of heights, but the views from the left side of the train are most definitely worth vertigo.
Once you're in Hsipaw, you'll officially be in Shan State, which means you should help yourself to a big, heaping bowl of Shan-style noodles before you hit the town and explore Little Bagan (not as impressive as the original Bagan, but with plenty of leaf-laden payas to explore).
Since Hsipaw is out of the way for most tourists, this is the perfect opportunity to get to know the locals and go on some guided treks. These treks will take you through the fields, waterfalls, and even some natural hot springs.
Kalaw Itinerary—1 Night
Take an overnight bus from Hsipaw to Kalaw, a small hill town that will give you a much-needed reprieve from the heat. While there isn't much to see in Kalaw in terms of blockbuster attractions, just taking a day stroll and admiring the wildflowers and remnants of British colonial architecture is pleasant enough.
Outside of Kalaw is the Green Hill Valley Elephant Camp, home to elephants that are disabled or too old to work. This is a family-run business that doesn't allow elephant riding, but you can help plant a tree or help take care of the elephants.
Kalaw to Inle Lake Trek—3 Days
Once you've had time to rest in Kalaw, now's the time to make the trek to Inle Lake. While you don't have to be a long-distance runner to handle these treks, being somewhat active will go a long way in making this it a fun experience.
Your guide will take you through the hills where you'll meet friendly travelers and locals. You can explore plenty of abandoned monasteries, rain-soaked scenery, and pagoda fields. You'll also get the chance to interact with some of the hill tribes living in the area, providing an in-depth glimpse into their daily lives.
WARNING: This was by far the muddiest experience of my trip (read: life). Check the weather ahead of time to make sure that it's not raining for the majority of the trek, especially since it's so easy to book a trekking tour on the fly. Additionally, bring a pair of shoes that you don't mind getting destroyed.
Inle Lake Itinerary—2 Days
At the end of your 3-day trek, you should arrive at Inle Lake safe and sound. Reeds surround the entire perimeter of the stunning lake, an iconic destination of Myanmar.
Stilt houses and temples hover above the water's surface, so taking a boat ride is necessary to visit any of these places.
From the water, you can witness the famous Inle Lake paddling technique. Boatmen and fishermen row by wrapping one of their legs around the paddle and dipping it into the water, leaving their hands free for other tasks like raising fishing nets.
Take a boat down the river to Indein, a Myanmar village that houses hundreds of stupas in the hills. Or you can hop off the ship and take a car round-trip to Kakku, where over 2,000 stupas are lined up neatly and majestically.
If you happen to be in Inle Lake during the Phaung Daw Oo Pagoda Festival, you're in for a treat. Myanmar's most significant festival features boat races where teams of 20-30 "leg-rowers" paddle as fast as they can across the lake.
Recommended Inle lake tours:
Hpa-an Itinerary—2 Days
Once your adventures are over at Inle Lake, it's time to make your way back south down to Hpa-an. The bus ride can be quite long (almost all day), so be sure to account for that into your travel time.
However, once you arrive in Hpa-an, let your fatigue fade away in this beautiful town surrounded by gentle fields and rice paddies.
The best way to explore Hpa-an is by bike or scooter, so you can leisurely make your way throughout the town and check out the Sadaar Caves, the Golden Rock (Kyaiktiyo Pagoda), or even the local markets.
To cap off your adventures in Myanmar, you can hike to the top of Mount Zwe Ka Bin. The hike will take you a total of 2-3 hours, but you're surrounded by gorgeous views of the forest, Myanmar, and some cheeky monkeys the entire time.
Once you're at the top, you have the option to spend the night at the monastery for a small donation and watch the sunset with the monks. However, there have been recent reports that this is no longer allowed so be sure to check in with the locals before you plan an overnight trip.
Back to Yangon—1 day
It's time to wrap your rapid-fire three weeks in Myanmar by heading back to Yangon! You can take a 4-6 hour bus ride from Hpa-an to Yangon and make it back with plenty of time before your flight.
However, if you want to skip the plane and head directly to Thailand next, it's possible to cross borders overland from Hpa-an via a minibus or shared taxi. Just be sure to plan ahead in case your visa expires soon, or you're trying to catch a flight out of Thailand.
If you're looking to shorten this itinerary from three weeks to two weeks, you can skip the trip to Ngapali Beach and Hsipaw. You can also shorten your journey to Inle Lake to one day, three days in Bagan, and no more than two days in Yangon.
How to Get to Myanmar
Although Myanmar might have quite a few neighboring countries, there are only a few spots where independent travelers can cross land borders. If you're willing to brave overland travel, there are four border crossings available in Thailand that you can use.
Just make sure to do your research because the rules are always changing at border crossings in Myanmar, and you might need a special permit or clearance to cross certain spots. Most visitors have to fly into either the Yangon or Mandalay airport to enter and exit the country.
The cheapest city to fly into is usually Yangon, and one-way tickets from the United States or Europe will typically cost you $400-500. However, there are some great round-trip deals that cost as little as $550 if you're flying from the West Coast of the U.S.
If you're coming from other parts of Asia, flying to Myanmar will be considerably cheaper depending on where you are. Flying one-way from China, Japan, and Korea usually costs around $150-250 USD, but you can pay as little as $40 to hop over from Bangkok to Yangon.
How to Get Around Backpacking Myanmar
You have plenty of ways to get around Myanmar – taxis, buses, trains, boats, and even horse-drawn carriages! While Myanmar's transportation is not always the most comfortable or reliable, you definitely can't beat the prices.
Public Buses
Want to get through Yangon like a true local? Take the bus. It's cheap and easy (if you can get over the hurdle of non-English bus signs).
Overnight Sleeper Buses
If you don't want to lose time in the day while backpacking from one place to the other, overnight sleeper buses are a great option to explore.
Not only do you get to arrive in a new location somewhat wide-eyed and bushy-tailed (if you're a pro at sleeping on speeding buses, that is), you can also do it at a bargain price and save a buck on accommodation for the night.
Auto taxis
Auto taxis are par for the course when it comes to bustling cities. If you're trying to head somewhere in the city where public buses can't readily access it, then it's relatively easy to flag down an auto taxi.
Just note that there are plenty of scams and overcharging when it comes to the auto taxis. Unlike Thailand, where you should always make sure the meter is running, in Myanmar no taxi drivers use meters.
Research what the local price should be ahead of time, usually by asking the host of your accommodation, and haggle with the driver before the ride starts. If it's within city limits, prices typically range from $1-$4 depending on how long your ride is.
Long-Distance boats
The only way to tour famous lakes like Inle Lake is by boat tour. Thankfully, there are plenty of boat tours that will take you up close to where the fishermen actually paddle with their feet!
While you're unfortunately held to the boat's itinerary, traveling by boat is still a breathtaking journey.
Trains
While the idea of taking a train through the scenic countryside sounds sublime, train rides in Myanmar are rocky and slow at best and very uncomfortable at worst (especially if you have to sit on wooden benches). Trains are also notorious for breaking down, so it's not the most reliable means of transportation.
That being said, taking the train from Pyin Oo Lwin to Hsipaw will let you cross the famous train bridge overlooking the Gokteik viaduct. Likewise, taking the Circle Line in Yangon allows you to ride through the city's history at an enjoyable, lazy pace.
Flights
While it is possible to fly from Yangon to Mandalay in less than an hour, I only recommend this option if you have some serious cash to burn but limited time. One-way tickets usually average between $100-200, and Burmese airlines are known to be pretty sketchy in terms of safety standards.
Food to Try in Myanmar
Since most of Myanmar is heavily threaded with rivers and coastal cities, the local cuisine is heavily influenced by the ocean. Expect lots of seafood to make an appearance as well as that beautiful ngapi (fermented fish/shrimp paste). In terms of carbs, rice or htamin dominates most dishes along with other plant-based foods.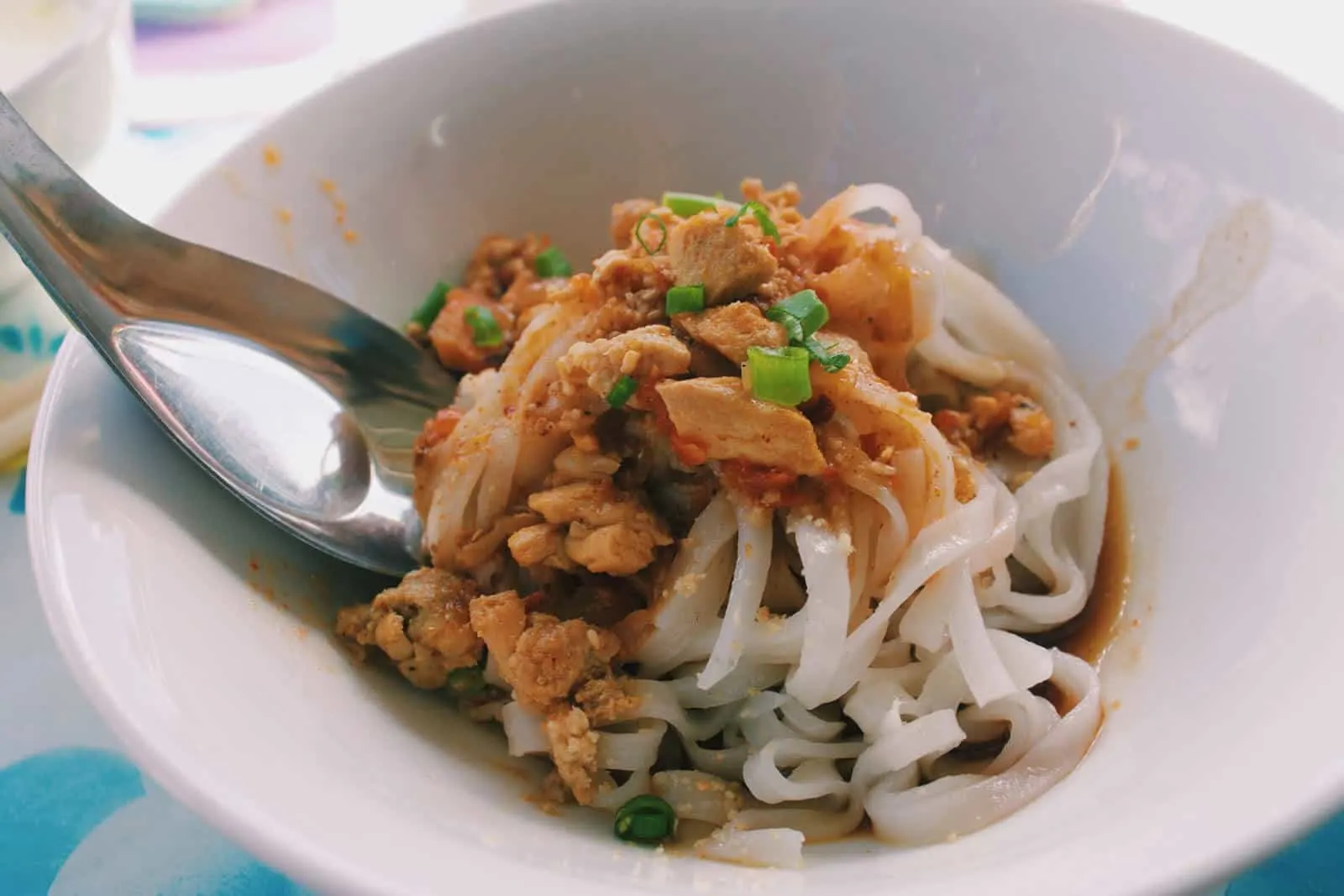 Since there are so many tribes in Myanmar, regional cuisine can be best described as either Lower Myanmar (the delta and Yangon) and Upper Myanmar (Mandalay). Due to the proximity of the water, Lower Myanmar cuisine features more seafood-influences while Upper Myanmar has more plants in their food.
It might lack the punchy spice of Thai dishes, but Burmese dishes make up for it in the sheer variety and admittedly healthier options.
Traditional Burmese curry with rice – The easiest way to experience Myanmar cuisine is to go to a restaurant, order curry, and enjoy the endless parade of side dishes. This can include a tart salad of shredded cabbage and pickled tea leaves, rice, soup, and vegetables that can be eaten with a fish sauce or dry dip.
Mohinga (or mohinka) – The national dish of Myanmar, mohinga consists of a fish-based broth loaded with onions, garlic, rice vermicelli, and lemongrass. This soup is graced by boiled eggs, fritters, and banana blossom.
Burmese Green Tea Leaf Salad – Otherwise known as laphet thoke, these fermented green tea leaves make for a tasty salad when they're mixed with sesame seeds, fried garlic and peas, and dried shrimp.
Shan-style Noodles – A delicious entree featuring thin rice noodles and chicken or pork, either served wet in a lightly spiced broth or dry. This regional dish is especially prevalent in the Shan state and Mandalay. This was probably my favorite dish that I tried in Myanmar.
"Warm Tofu" – Also known as hto-hpu nwe, warm tofu is a thick chickpea flour porridge. This dish is associated with the Shan tribe in Upper Myanmar and can be combined with salad garnishes or crispy fritters.
Baik kut kyee kaik – A fried noodle dish associated with the coastal town of Myeik near Yangon, kut kyee kaik is a delicious blend of wide flat rice noodles, squid slices, prawns, bean sprouts, and topped off with dark soy sauce. "Kut kyee kaik" actually means "scissor-bitten," referring to when chefs cut the noodles in half with a scissor while they're still being fried in the wok.
Best Time to Go Backpacking in Myanmar
As with all Southeast Asian countries, weather in Myanmar is warm and humid all day long. If you don't want to feel like you have to take a shower every time you step outside, the best time to visit the country is between November and April. The weather will be drier, making for better hiking conditions, and is still damp enough for you to enjoy the lush greenery.
Monsoon season takes place from June to September, so you will want to steer clear of the trekking tours if you don't want to deal with mud.
Essential holidays and festivals in Myanmar fall in these months:
March: The Tabaung Pwè Pagoda Festivals – held on the full moon day of Tabaung, or the final month of the Myanmar lunar calendar. The biggest festival is the Shwedagon Pagoda Festival in Yangon, where you can walk around the temple stupas barefoot and observe Buddhist rituals.
April: Burmese New Year – Thingyan, or the "water festival," celebrates the new year with dowsing everyone in water to "wash away their sins." Ever dreamed of joining a massive water gun fight? This is your chance for it to become a reality.
September/October: Every year in the fall, "leg-rowers" commandeer a gilded barge for Inle Lake's Boat Festival. This barge makes its way through the stilt-houses and contains Buddhist imagery. Plus, you get to see these leg-rowers race each other!
Costs for Backpacking Myanmar
Can you travel in Myanmar on a budget? The answer is a resounding yes, but certain costs might be a toss-up.
For example, while most transportation costs are reasonably affordable, accommodation tends to be on the pricey side.
Likewise, food is cheap, but western style coffee and alcoholic drinks at bars are relatively expensive (although cheap if you pick them up from local liquor stores).
The currency in Myanmar is the Myanmar Kyat, and the conversion rate (in 2019) comes to about $1 US = 1530 kyat. While ATMs are readily available and can spit kyat out on command – assuming you're not from a country where there's currently an embargo on Myanmar – it's always good to carry some USD on you in case of an emergency.
American banks like Chase or USAA may have an embargo on Myanmar, so be sure to check with your bank before arriving in the country to make sure you can get out cash from local ATMs and plan accordingly.
Plane Tickets
The cheapest city to fly into is Yangon, and one-way tickets from the United States or Europe will typically cost you $400-500. However, I've seen some great round trip deals that cost as little as $550.
If you're coming from other parts of Asia, flying to Myanmar will be considerably cheaper depending on where you are. Flying one-way from China, Japan, and Korea usually costs around $150-250, but you can pay as little as $40 to hop over from Bangkok to Yangon.
Accommodation
Compared to other Southeast Asian countries, accommodation in Myanmar is relatively more expensive than Thailand or Vietnam. This is primarily due to Myanmar's infrastructure still not being well-suited for tourism, so there is limited space to stay.
That said, you can easily find 3-star hotels for as little as $30 per night. Even the ritzier options will set you back as low as $60 per night, but if you're looking to travel on a budget, hostels, dorms, or guesthouses are the way to go.
A plethora of hostels offer rates at $10-20 per night, and guest houses generally cost $20-30 for a double room. If you're traveling with another person, think about taking the guest house route since it's cheaper per person and you get more privacy versus staying in a dorm.
Transportation
Transportation in Myanmar isn't the most comfortable, but the cheap costs make up for the long trips.
Public Buses – cost less than $1 USD.
Overnight Buses – cost between $10-15 USD, but usually includes free bottled water and a rest stop with restrooms and a restaurant.
Auto Taxis – $5 – $10, but you can drive the costs down if you share a taxi with fellow travelers. Taxis don't use meters, so agree to a fixed rate at the beginning and stick to it.
Boats – $10 – 15, but this typically comes with a tour.
Trains – Depending on how much you want to pay for more comfortable accommodation and distance, tickets can go as cheap as $1 for an inner-city ride or as high as $5 for an upper-class seat for a long-distance trip.
Flights – A one-way ticket from Yangon to Mandalay will set you back $100-200.
Food
If you love getting your bang for the buck when it comes to a meal, you'll love dining in Myanmar. The street food scene is bustling, and you can comfortably dine on $1.50-$2.00 per meal if you buy from a vendor stall or an open-air eatery.
Beverages
Since Myanmar is known for getting famously hot and humid, it's important to keep cool and hydrated. Thankfully, there's no shortage of beverages that you can enjoy sipping in the country.
Coffee – Since WIFI is a precious commodity in Myanmar, you may have to stick around expensive hotel cafes if you need to check emails or stay in contact with friends and family back home on the Internet. Hotel coffees can be as much as $5 per cup.
Fresh orange, coconut, and carrot juice – All of this good stuff is readily available at $4 per cup. Kind of like your equivalent of an afternoon Starbucks.
Alcohol – Insanely cheap if you buy from liquor stores as opposed to hotel restaurants, where a handle of rum is actually less expensive than a 6-pack of beer. Perhaps this is a result of a smaller drinking culture in Myanmar so they can't afford to place a premium on alcohol.
Water – Out of all the SE Asian countries I've been to, water is the cheapest in Myanmar. With 1000 mL bottles for less than a dollar each, you can keep yourself well-hydrated throughout your trip.
Traveling to the neighbors? Here's a budget breakdown for other Southeast Asian countries
Accommodation Prices in Myanmar
Here are accommodation prices for the most popular areas in Myanmar. Agoda is Asia's most popular accommodation booking site hence why I linked to them for you to check out. They are the best site for pre-booking your accommodation.
Scams to Avoid + Travel Tips for Backpacking Myanmar
Although I booked most things in advance, especially accommodation, it didn't allow for much flexibility in my schedule. If I could go back, I would've only booked accommodation ahead of time in Bagan because of how touristy it is, everywhere else I could've easily chosen a place to stay on arrival.
If you want to be a bit more spontaneous in your itinerary, you can easily book everything you need as late as 1-2 days in advance on arrival.
When booking flights for Myanmar, assume that you'll spend a fair amount of your time outdoors. Either book for the dry season or check the weather ahead of time. If you see rain, be prepared to get drenched (with both water and mud). The rain in Myanmar can be relentless once it starts.
On top of a raincoat, bring a rain poncho and a dry bag for any electronics. Like any water ride at an amusement park, there's a definite chance that you will get wet.
Always be on guard when someone you're unfamiliar with approaches you and promises something. If it sounds too good to be true, it's probably a scam. Whether this is a guided tour, cheaper tickets, no cover fees, don't hand over anything (and especially not your money) unless you're 110% sure that this person isn't a scammer.
For example, while I was in Yangon, my friend was approached by a guy who wanted to show us around the village across the river and take us to a snake temple.
Even though he did show us around, every place he took us to was a scam. At one point he took us to a poor village of children and then to a fake 'UNICEF' sponsored market right after to buy a bag of rice for those same children.
He told us the bag of rice would cost us $60 USD. When we refused, he started getting more and more aggressive and stopped talking to us all together towards the end of the tour.
Eventually, he led us back to the boat that would take us back to Yangon, but I've heard from other travelers worse experiences with the same scam – with these 'tour guides' basically threatening violence if you don't pay all the high fees throughout the tour.
Likewise, auto taxi scams are popular, especially since auto taxis in Myanmar don't have a meter. This will involve a fair bit of haggling/negotiation, but if you're aware of what average rates are, you should be able to avoid being overcharged by taxi drivers.
Keep copies of your ID on you, but keep relevant travel documents like your passport safe and secure in your hotel.
If you're not a fan of crowds or walking the touristy trail, research different trekking options in the area or even areas that aren't necessarily known for trekking. It might be worth spending a little more for a smaller or private tour out in the hills.
When making a cash transaction in Myanmar, never hand over money with your left hand. The left hand is seen as the "toilet hand," so it's considered disrespectful to use it when handling money. Instead, hand over money with your right hand, and lightly touch your right elbow with your left hand during the transaction to show respect.
If you're trekking, bring toilet paper! There's nothing worse than not being able to wipe while out on the trail after three days of sweat, rain, and dirt.
Where will you go after Myanmar?
Thailand | Malaysia | Singapore | Indonesia | Philippines | Cambodia | Vietnam | Laos
So when are you backpacking Myanmar? Let us know in the comments what you're most excited for!
---
>>> Bio
Mimi McFadden is a travel blogger and freelance writer. Originally from California, she has been slow traveling the world since 2013. When she's not writing, you can probably find her sipping on a pint of craft beer, chasing waterfalls, or planning her next adventure in a foreign land.
After living abroad for five years in Australia, New Zealand, Thailand, Greece, and Portugal, she has finally found a home in San Francisco, California. You can find her on Instagram, Facebook, and her blog, The Atlas Heart
---
Busy? Click the picture to Pin this for later