What to do in Sagada? Don't know yet? I'm absolutely obsessed with this sleepy little town in the middle of nowhere, and if I were pressed to recommend one place (ah! so hard!) to visit in North Luzon, Philippines, this is it.
While there, I experienced such a mix of crazy bizarre adventures and super chill vibes that I just had to share it all with you. So I'm metaphorically handing you my Sagada itinerary with all the things to do in Sagada if you only have two days to spare. I'm also including some handy dandy options to add on if you end up simply unable to leave, a scenario that really isn't that farfetched.
What to Do in Sagada: Take in the Charm
A charming village virtually untouched by Spanish colonization, Sagada sits up high in the rolling green hills of North Luzon. Because of its relative removal from major metropolitan areas or transportation, it only has one small road. Sure, it may seem boring and ordinary if you're not in the know, but once you are, you'll recognize Sagada as a place you will never be able to experience anywhere else.
The primary thing you will be doing as you go through the list of things to do in Sagada is enjoying the charm. There are viewpoints that feel mystical, people who feel like your best friends after the first hello, and depths of eeriness that make you feel like you're having an otherworldly experience.
Sagada's charm nearly lured me in for much longer, but I had a flight to catch. When I do return to the Philippines, Sagada is high up on my repeat list!
So without further ado, here's what to do in Sagada with your two days.
1. Get Lost: The Perfect Way to Start Your Sagada Itinerary
The people! The people are super chill. Sagada gives off an airiness and freshness that is revitalizing, and most of all, it's welcoming.
I wandered the streets with free roaming cows, said hello to everyone that passed me (that's what everyone does!), and got a serious workout walking up and down the hills.
There's not a whole lot around the town but that's the beauty of it. It's quiet, quaint, and has everything about a small town that makes you want to fall in love and never leave.
Friendly locals, opportunities to make friends easily, fab views, and that small community feel. I got as lost as I could in the humble town and met friends right away, two of my favorite things to do while traveling solo!
2. Things To Do In Sagada: Hanging Coffins in Echo Valley
Echo Valley is a nice walk through a gorgeous, lush green valley that will lead you to a spot where you can shout out and hear your own echo come back to you. But that's not all.
As you hike through Echo Valley, you might not even realize that you're actually walking past one of the most surreal pit-stops along the way…
The ever so creepy Hanging Coffins. Yep, you read that right. Hanging coffins.
Coffins dangle off huge rock formations at the end of the valley. On our first hike out, we only saw them from up top. We somehow missed the trail that led down to them. We found it the next day and got an up-close view.
Note: you do not need a guide to hike this trail, don't let anyone tell you differently. It's totally DIY.
The hanging coffins are an ancient tradition and seen as an honor for the tribe and locals that inhabit Sagada. A person can actually still be hung here among the others. However, there are specific requirements that need to be met in order to be hung here. You must be:
A native of Sagada.
Old. Old is defined as having grandchildren.
A good person.
You make a request to be hung, and if you meet the requirements, the townspeople get together to make the challenging hike through a forest with a coffin in tow, and then somehow (magically?) mount it to a rock.
If you notice, some of the coffins are super small. Crazy right? The first people buried here 200-250 years ago were just that small!
The Hanging Coffins certainly will be the weirdest thing to do on your Sagada itinerary.
3. Things To Do In Sagada: Sumaguing Cave Connection
While the hanging coffins may not qualify as a "fun" activity, it is interesting as hell. If you're up for something a bit more adventurous now, then you've got to add Sumaguing Cave to your Sagada itinerary.
If you're bold enough to tackle the cave connection between the Sumaguing caves and Lumiang caves, you won't regret it. It's one of the coolest experiences I've had in the Philippines.
The cave entrance is surrounded by haunting (haunted?) stacked coffins. Beware that in some cases you might be able to see the bones that have fallen out of the coffins after years of disrepair.
To add creepy to eerie, as you keep pushing forward through the cave, and the pelvic and elbow bones start disappearing, you become encompassed by the blackness of the cave. Soon you can only see the faint single oil lantern your guide holds.
Your guide will take you through pathways that you would never think to wiggle through. We were squeezing through holes I've had nightmares of getting stuck in!
Sometimes along your path, you have to step on the guide's shoulder to climb up to the next rock because it is so tall.
Other times you have to traverse through narrow walkways and then use a rope to climb up. We even swam through parts of the pathway. The water is simply amazing and refreshing. How many times in your life will you get to swim in a cave lake?!
At some points, we were trekking through slippery spots that involved mud and bat poop.
If you plan to add this excursion to your Sagada itinerary, just know that this will challenge you in ways you never thought possible.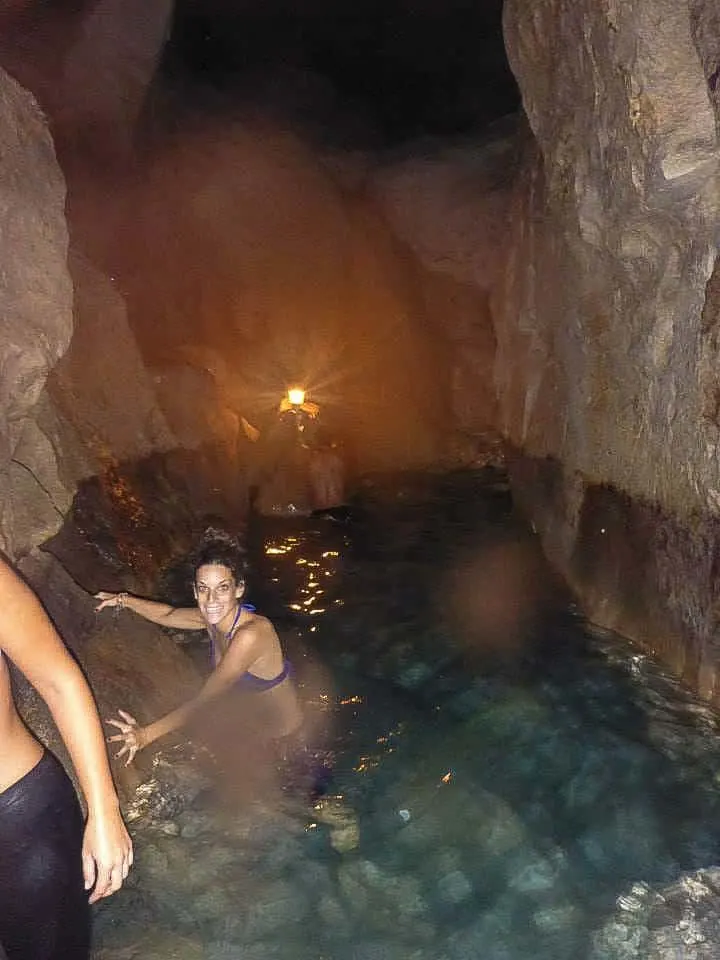 Finishing the cave course will give you an experience that will leave you with a sense of accomplishment.
The long cave system is challenging, heart-pumping, and adventurous. Just know that if you decide to add this experience to your Sagada itinerary, when you visit the caves in high season, the cave will be more crowded, which wouldn't be as serene compared to going in the off-season like I did (we saw people once while caving).
Sumaguing Cave Connection: Choose The Right Cave!
This cave connection takes about 4-5 hours and is known as the "long cave". Make sure you don't go on the shorter cave tour as it's not very adventurous and you'll end up feeling a bit bummed because a guide will take you through a relatively easy route that you could have done yourself.
With that said, when you do the long cave connection, make sure you have a guide! Trust me, there's nothing easy about finding your way around this cave. You will get lost in a pitch black nightmare. Not the good kind of lost.
How to Explore the Sumaguing Cave Connection
The caving was 400 pesos each (3 people). We went with Saggas for our tour company, not the tours from the tourist office which were pricer. The guys are super chill and cool, not pushy or greedy. I would recommend them. I asked them tons of questions throughout my time there and they were super nice and informative.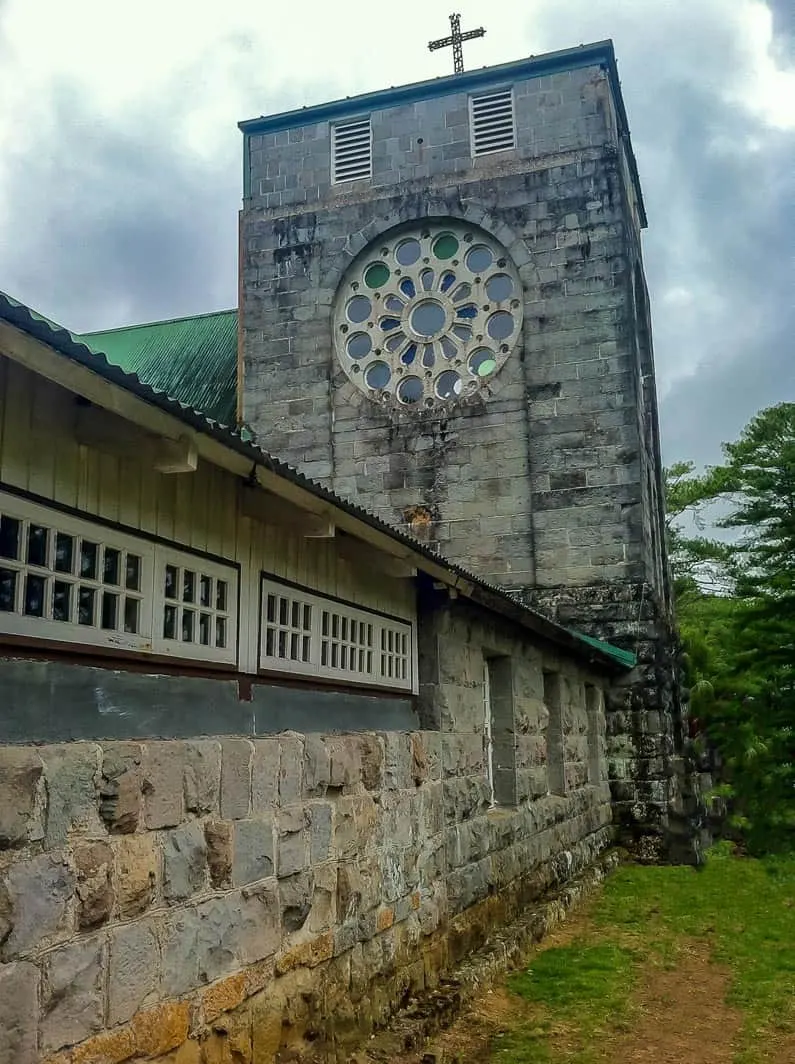 Add on Adventures to Your Sagada Itinerary
Here's what to do in Sagada if you have more time…
Kiltepan Viewpoint
While this viewpoint is epic either way, it's best at sunrise if you can crawl out of bed early enough.
Bomod-ok Falls
Straight after a sunrise at the viewpoint, you can hop over the Bomod-ok Falls. This won't be a walk in the park. You'll have the earn it through the tiring hike, but it will be worth it. The saving grace is being able to take a dip in the cool water.
Pongas Falls
Who doesn't love waterfalls? If you want to add another one to your list, this one also comes with a hike.
Where to Eat and Drink In Sagada:
Kimichi
There's a lovely unexpected reggae bar in town called Kimichi. It's a cool and chill spot, and it has to be squeezed into the Sagada itinerary if reggae music, drinks, and super friendly people are your thing.
Yoghurt House
I ate here both days, it was SO good. The quality is top touch regardless if you order their breakfasts or their local lunch dishes.
Nab yourself a seat at the top balcony and bring a book! I was super happy to have some fresh food that involved vegetables, considering I had been deprived of them during my time in the Philippines. This stop is a must, it's one of the most popular places to eat in town.
Where to Stay in Sagada:
George's Guesthouse
Loved this spot. Super nice staff and a clean and comfy room. I got my own room and bathroom with hot water. What else could I possibly ask for? The guest house was surrounded by that same mountain air, just like in Banaue and Batad. Around the home were beautiful rice terraces, rolling hills, and small cafes.
Agape Log Cabin and Restaurant
Private room, private bathroom, rustic feel, and fabulous breakfast. Do I really need to say more? This place gets top ranking among all its visitors. It's a great little stopping point in between all of your things to do in Sagada, like cave spelunking and waterfall hiking.
Kanip-aw Pines Lodge
On a super duper budget? Stay at Kanip-aw. It's basically a big cozy house to share with other travelers. You'll get a clean space, comfy beds, and a kitchen to cook up your own food. You can make this your base camp before you head off to swim under a waterfall or after you scream into echo valley at all the hanging coffins.
Tips for Visiting Sagada
Pay the tourist fee. Due to the high volume of tourists to the area and the impact that amount of traffic can have on a natural environment, Sagada collects a tourism or environmental fee of about 35.00PHP as of this publication. Pay it, because you'll need to show your receipt for certain adventures.
Have good shoes. Yes, your feet are going to be soooo sore if you're an adventurous hiker/spelunker/wanderer like me. So bring comfy shoes, hiking sandals, hiking boots, whatever great shoes fit your style.
Respect local life. Even if you are in town for only two days, respect the local people, food, culture. Don't touch the coffins or bones or ruin the serene atmosphere with drunk yelling at night.
The chill vibes here are in full force, so if they take over, don't feel guilty! It happened to me a bit too, but I found doing the few activities along with chilling was a good mix for me.
Transportation Tip for the Phillippines:

While you can simply book at the pier, bus or train station, you may want to book ahead for certain legs of your journey to guarantee that you get a seat on the day you need to travel. 12go.asia is the best way to do this. Book your next trip ahead of time so you have one less thing to worry about.
More Around The Philippines
Where will you go after the Philippines?
Laos | Malaysia | Singapore | Indonesia | Thailand | Cambodia | Vietnam
So what things to do in Sagada are you definitely doing? Let me know in the comments!
---
---
>>> EVEN MORE ABOUT THE PHILIPPINES <<<
How to Get to El Nido From Puerto Princesa (Palawan, Philippines)
Where to Stay in El Nido: Hostels, Hotels and Resorts
Guide to Backpacking Philippines
Things to Do in El Nido: A Guide to 3-5 Days in the Philippine Paradise
13+ Day Trips and Tours to Take in Manila, Philippines
Your Intro to Palawan, Philippines: 9 Things to Do in Puerto Princesa
Years After a Super Typhoon: What Traveling Leyte and Samar Are Like Now (Philippines)
A Guide to Kalanggaman Island: Basking on One of the Best Sandbars in the Philippines
Exploring the Rice Terraces of Banaue and Batad
Siquijor Island: Crazy Bike Rides and a Witch Hunt
A One Day Bohol Itinerary – Jungle Huts, Tiny Monkeys, and Chocolate Hills
Cebu City- Boo / Neverland Manila Festival- Yay!
Welcome to the Philippines! Not
---
---
Pin this by clicking these pics!
**A special thanks to my friend Kate for taking all the caving photos! I would have zero pics if it wasn't for her and her camera!**