The craggy limestone cliffs peeking out of the verdant and white splashed rocks that tower above you when you enter Vang Vieng is unlike anything you've ever seen. The Nam Song river carves it's way through the town and the mountains and this type of natural beauty is gobsmacking.
Vang Vieng is, after all my travels, still one of the most beautiful places I've been. But what's beautiful on the outside sometimes comes with a darker history.
Vang Vieng was the sloppy party girl of the backpacker towns that litter Laos… And it wasn't a pretty look. Here's a bit more about the messy past and the things you can do in Vang Vieng now, that doesn't involve being heedless…
→ Psst! Here's entire guide to Laos that you can check out! Complete with a badass itinerary, what to budget, tips, and more.
A Reckless Ride
Before the Vietnam War, no one really knew about Vang Vieng.
But once the US placed an Air Force Base smack dab in the center of the town, the west woke up to the beauty, and the relative lawlessness, of the area. For years after the war ended, wild and crazy young tourists flocked to Vang Vieng not only for its beauty but also for its reckless lifestyle.
Inner tubing down the river gripping bucketfuls of vodka became the thing to do in Vang Vieng.
Bars along the river offered unlimited alcohol to go with dangerous zip lines and waterslides. Western kids, many from nearby Australia, got drunk AF, and dozens lost their lives.
The Laos government, responding to international outrage, cracked down on Vang Vieng, closing down many bars, tearing down the waterslide, and effectively ending the "good old days."
Enter Vang Vieng Now
And thank Buddha for that! Now, Vang Vieng has the chance to show off its beauty.
Repositioning itself as a hot spot for eco-tourists, this city has found a picturesque and adventurous middle ground between austere sobriety and falling down drunk.
Wondering what to do in Vang Vieng?
The city is surrounded by limestone mountains to climb, caves to explore, that lazy river to float down or zip line over, and so much more. So sit, back, hit "pause" on that rerun episode of Friends, and scope out this list of things to do in Vang Vieng, perfect for any itinerary.
13 Things to Do in Vang Vieng
---
1. Make Friends and Watch Friends
Sorry not sorry. This one just had to be first. For some inexplicable reason, you can chill out in a comfy armchair in any one of several bars, surrounded by fellow tourists, and watch endless episodes of the television show Friends.
This show hooked so many generations through syndication that you are hard-pressed to find anyone under the age of 50 (60?) who wouldn't simply adore sipping a whiskey or beer and enjoying a Friends marathon.
*Me included*
Perhaps not the most adventurous thing to do in Vang Vieng by any means but sometimes a trip down memory lane with new friends and laughing at Friends can be just as great.
Resources for Your Trip:
2. Kaeng Nyui
The Kaeng Nyui Waterfall is a must see. Just 30 minutes outside of town, this watering hole is even swimmable! Which is a must considering how hot it gets.
3. Pha Ngeun Viewpoint
Hike up into this testament to the beauty of nature for a kick-ass workout and an awe-inspiring view.
Countless trails to hike and crisscross for those looking for things to do in Vang Vieng, but one of the most remarkable is actually quite simple. Just a 45-minute walk (or less on bike or moped) from the town is the beginning of the trek up to the Pha Ngeun viewpoint.
Tip: Wear real shoes. No flip-flops. This hike is legit. There are plenty of railings and footholds to help you get to the top, but you're still gonna get your ass kicked along the way. Seriously, wear real shoes.
4. Tham Chang Cave
A cave and a view! Take a leisurely thirty-minute stroll through lush greenery and over a big red suspension bridge to this cave with modern luxuries like pavement and lighting.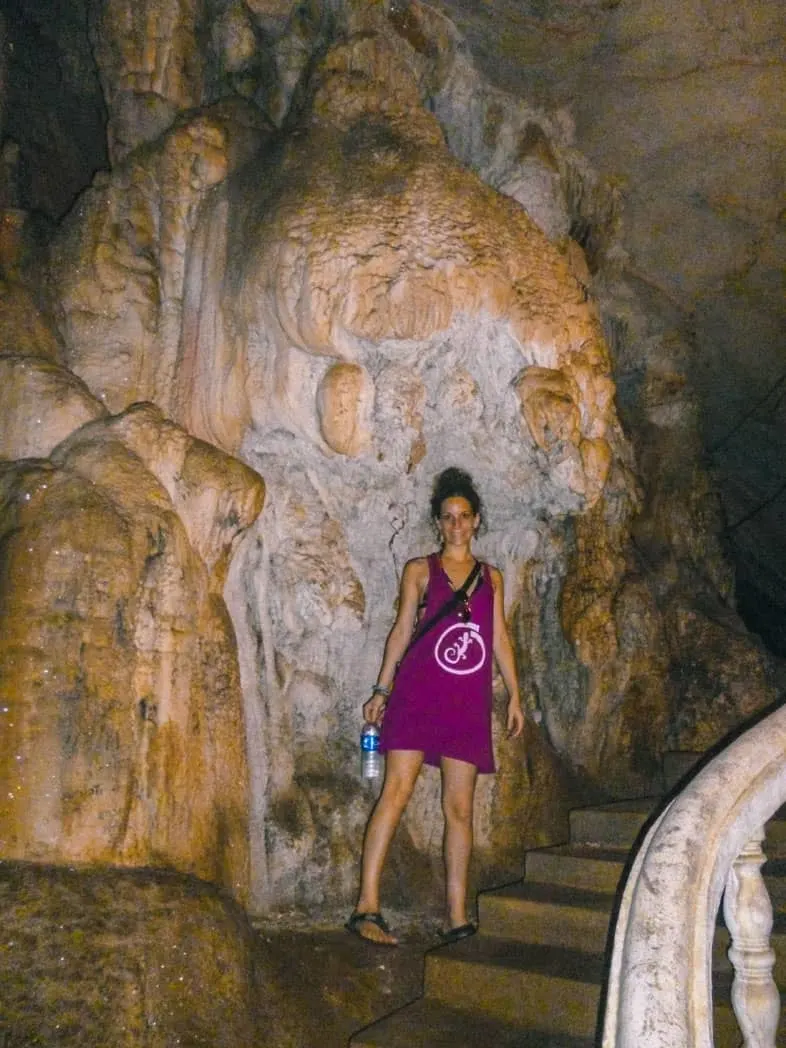 The cave itself isn't the big thing to do in Vang Vieng, but as part of the overall experience, it's pretty cool. And the view from the cave out over the town is spectacular.
Tip: If you don't want to pay the toll to get over the bridge or into the cave, you can always just enjoy the walk over and then take a swim in the little lagoon.
5. Tham Phu Kham Cave and Blue Lagoon
Lots of tourists hit the Phu Kham Cave because it's right on the Blue Lagoon. One of the classic things to do in Vang Vieng is spending a day swimming in lagoon and exploring this cave. You won't regret it.
6. Tham Jang Cave
Backpackers looking to avoid crazy crowds and searching for an opportunity to flow with the locals head a bit outta the way. Hop on a bike, ride 10 minutes out of town, and explore the Tham Jang Cave.
Because of all the action going on at Than Phu Kham, you may get this one all to yourself, and you can still swim in a blue lagoon, a much less crowded one. Score!
7. Tham Nam Cave
This cave combines the best of both worlds; stay on your inner tube while you explore the cave.
What?! Yes, it's true.
You'll sit in an inner tube and cross through the cave guided by a line of rope that is suspended over your head.
Once you get into the cave you will be surrounded by complete darkness. Don't worry. You can rent a head torch so you can see what you've gotten yourself into.
8. Pha Daeng Mountain – Rock Climbing
When you don't know what to do in Vang Vien for a workout, rock climbing is always an option!
One of the glories of limestone mountains is all of the karst rocks with crags and crack and crannies for rock climbing. There are tons of different locations to climb in Vang Vieng, but Pha Daeng is pretty much the only one that has dry trails and spots to climb even during the rainy season. It's also just across the river from town, so yay for easy access.
Tip: Don't want to climb without guidance? Check out Green Discovery. The company has been around for ages and is a big name in eco-tourism.
9. Zip Line
Now for a big adventure, just outside of Vang Vieng, on your way to a mountain zip lining excursion. There's a legit tour that'll take you floating across the river and marching across the local rice paddies. You'll kayak down rapids and zip line through trees as you hike ever higher into the mountains. You can book here.
10. Lap of Laotian Luxury
Out of all the things to do in Vang Vieng, sometimes you just want to be spoiled…
Head up to this glorious tribute to natural beauty and get massaged and manicured and spa'd to your blissful content. The Riverside Boutique Hotel is one of the shmanciest of all the great spots. You get views, a sick pool, and great food. You're gonna pay for it of course, but even for those on tight budgets like me, sometimes you just gotta treat yo' self.
Oh, and you get TONS of value for your money for a place like this. Outside of Southeast Asia, it would cost at least double…
11. Yoga
Of course. What to do in Vang Vieng, a laid-back, eco-tourist mountain town in the South Pacific? Yoga. There's a great studio that offers yoga outdoors in the afternoons. So after all your hiking, biking, and strolling, you can unwind with a great asana session led by some really well-reviewed instructors.
12. Tubin' Down the River
Still just wanna tube down the river? Guess what? You don't need to be trashed to do it! Revolutionary, right?
You can also just tube down the river, and maybe stop for none, one or two beers at the bars along the way.
Even stone cold sober (ok fine, a bit tipsy is cool too), this long and lazy river is gorgeous, and the ride is a once in a lifetime kinda deal. Rent a tube and hop in a truck to get to the starting point. Tube down the river, stop at a bar or two, and get picked up and driven back to the office. Cheap, chill, fun.
Where to rent your tube:
Google map yourself to Halley's Coffee and rent from the yellow sign that says "tubing."
Cost: 60,000 kip (+ another 60,000 kip for a returnable deposit)
TIPS:
The price only includes your ride to the start. Be sure to save about 20,000 kip for your ride back to town.
Don't lose your tube, otherwise, that deposit is gone.
Bring a COPY of your passport or memorize the number as you must write the number down to rent a tube.
Beers are about 20,000 kip each along the river. Bring enough money for beer and a ride back.
Start earlier to avoid the super douchey drunks (like 11am or so), they usually come out around noon or 1.
13. Hot Air Balloon
This has got to be your grand-finale-cross-it-off-the-bucket-list-thing-to-do in Vang Vieng.
At currently under $100 a ride, this has got to be one of the cheapest hot air balloon rides in the world, with some of the greatest views.
Do this on your last day so you can look out at all you have already explored. Here's the company that operates hot air balloons.
Where to Stay in Vang Vieng
---
1. Nana Backpacker Hostel
At just a few bucks night this is by far the cheapest place to stay. It has a pool where you can cool yourself down, and sometimes there are pool parties! The bus stop and the bamboo bridge are close, so you won't miss out all those amazing things do to in Vang Vieng.
2. Centralpark Hotel
This hotel is located in the center of Vang Vieng and is surrounded by restaurants, bars, shops and close to the night market; this makes it convenient, but can get noisy in the evenings. Staff is friendly and speaks English really well. The breakfast is delicious and the pool is really good for a relaxing swim.
3. Inthira Vang Vieng
You can look at this hotel, or you can take a look from this hotel, and they are both amazing! The modern architecture and the view from the rooms are very scenic in their own respective ways. It also has a pool where you can relax, and a great restaurant. It's more pricey than the rest, but the value for money is there for sure!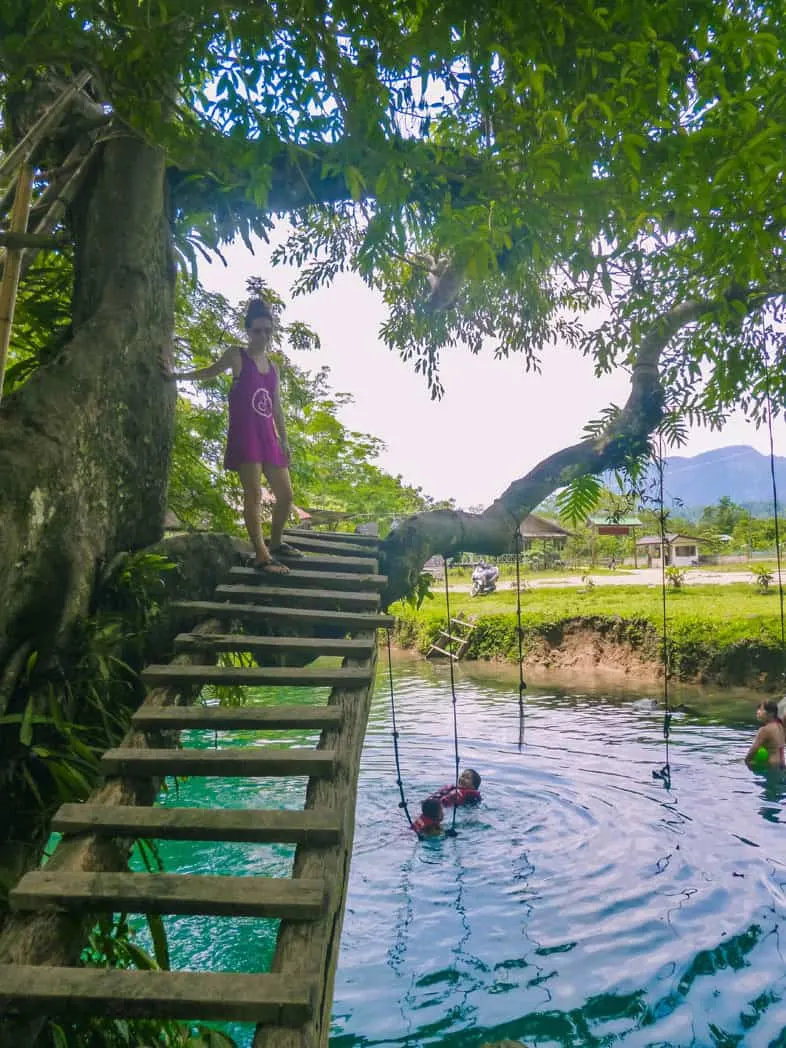 4. Maylay Guesthouse
The beauty of this place lies in its simplicity. Clean rooms, friendly staff, good wifi, pleasant bathrooms and laundry too. It has a great location while the price is fairly cheap.
5. Amari Vang Vieng
If you want a true hotel experience, this is where you should book your stay. The view is simply amazing, the rooms are clean and very pleasant. This is one of the more modern places to stay in Vang Vieng.
If you want to become part of the crowd that comes to Vang Vieng to appreciate the beauty, hike, zip line, cave dwell, and then have a beer or two at the end of a satisfying day, these are all the things to do in Vang Vieng. Whether you do it from a super cheap but cute hostel or a gorgeous boutique hotel, you're in for a thrilling experience.
As you can see, there are SO many things to do in Vang Vieng when you look beyond the beer bottle. Don't come to Vang Vieng to get smashed, come to explore the beautiful nature and chill out.
TIP: 12go.asia is the best way to book ferries, buses, and trains ahead of time in Laos!
Where will you go after Laos?
Thailand | Malaysia | Singapore | Indonesia | Philippines | Cambodia | Vietnam
What are you most stoked to experience in Vang Vieng? Let us know in the comments!
Don't lose this post! Click the picture and pin it for later!