There are plenty of things to do in the Bolaven Plateau in Laos but it's no doubt it's known for its waterfalls.
The Bolaven Plateau is teeming with flourishing jungles, coffee and tea plantations, pepper farms, quaint villages, and tons of waterfalls just waiting for you to discover.
Here's everything you'll need to plan a trip and hit up all of the amazing things to do in the Bolaven Plateau.
→ Psst! Here's entire guide to Laos that you can check out! Complete with a badass itinerary, what to budget, tips, and more.
The Bolaven Plateau: A Bit of History
This lush and verdant jungle landscape fell under the control of the French over one hundred years ago, and the colonizers recognized prime coffee real estate right away. After Ho Chi Minh helped win Indochina's independence, most French fled, but the Laos coffee growing remained.
Then, after the Vietnam War placed Laos on the map, and the Bolaven Plateau became a strategic stronghold for both sides, this beautiful dreamscape fell into a nightmare, becoming one of the most heavily bombed territories in the world.
Today, wanderers into the area still have to take caution not to wander off the path for fear of exploding an unexploded bomb.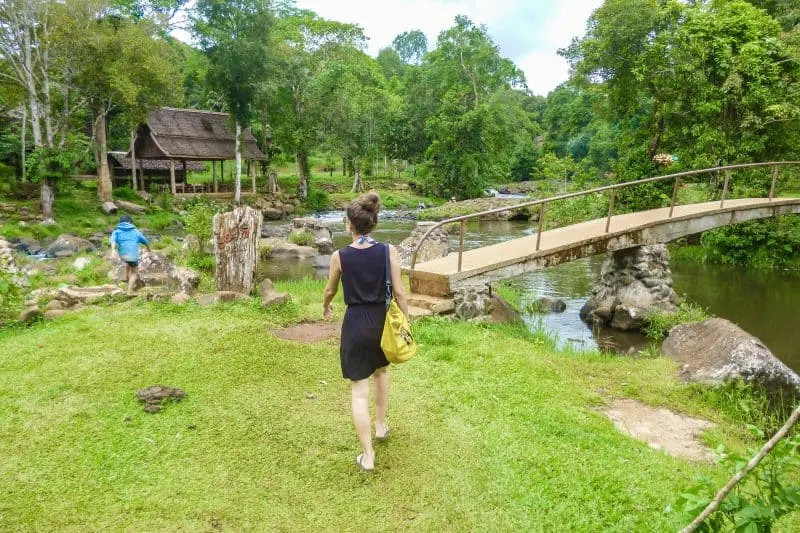 So what we have here is a vast expanse of gorgeous eye candy virtually ticking like a time bomb. Now tell me, what world adventurer wouldn't jump at the chance to check it out?
Things to Do in the Bolaven Plateau and Beyond
Pakse has been called the gateway, or the launchpad, of the Bolaven Plateau, and honestly, that's how I saw it. In terms of things to do Pakse, the actual town, there's not much. I stayed there overnight while bouncing around to check out the surrounding sights and sounds of the Bolaven Plateau during the day.
But wander just a few kilometers in any direction, and you're in paradise.
Coffee plantations to the left, waterfalls to the right, dense jungle creeping in on you along winding roads that lead to magnificent cascades pouring over monolithic boulders.
If you've got even a smidgeon of adventure and romance in your spirit, you're gonna love all the things to do in Bolaven Plateau.
First things first, Definitely visit the waterfalls.
This is THE thing to do in Bolaven Plateau. The route most tourists and waterfall wanderers take is over to Tat Lo, and then along Route 16; you can take a whole week just exploring waterfalls and nearby towns.
Here are a few of the best ones to see…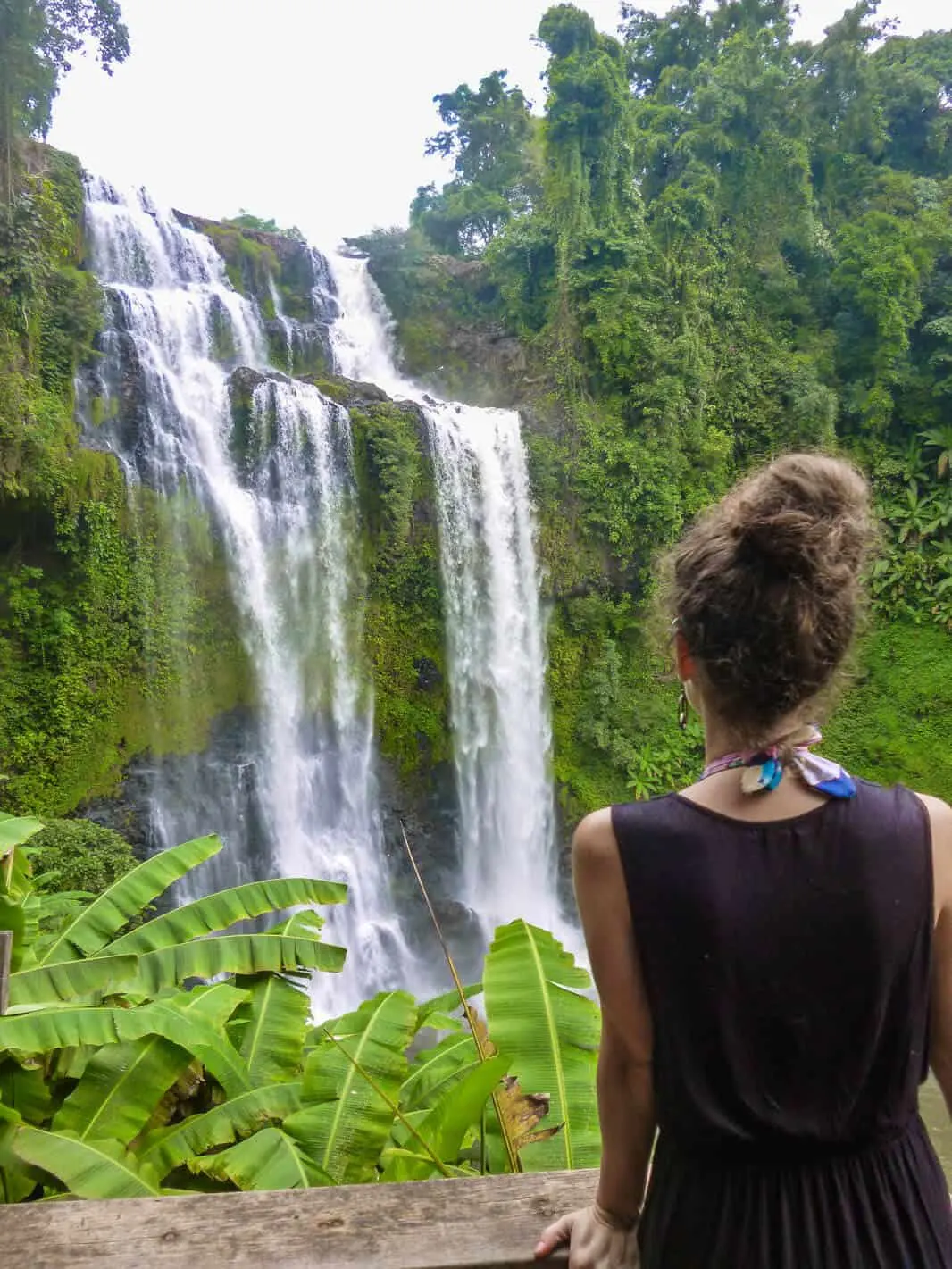 Tad Lo Waterfalls
Tad Lo is about 85 km from Pakse and a great jumping off point for waterfall hunts. From here, you can explore three very different waterfalls, all lovely in their own way.
The Tad Suong is the largest, fullest, and tallest. It fills up to the brim during rainy season and tumbles into a deep gorge terrifyingly far below. You can climb to the top of this waterfall and get vertigo looking over at the steep drop.
Tad Hang is the closest waterfall to Tat Lo, and it's the mildest. The pools at the top of this little fall are where many adventurers stop for a swim.
You can also swim in the pool at the base of the Tat Lo waterfall, which is a bit further out from the town, but the pool is a bit rougher because the fall of water over a sheer, steep granite wall is much heavier.
Pha Suam
Pha Suam waterfall is very close to Pakse, and it may be your first stop. It lies inside of the Uttayan Bajiang nature resort. These falls are incredibly popular as it is a mesmerizing experience of a twenty-foot high horseshoe waterfall that crashes into a pool of fish.
You can stand at the base of the falls and feed bread to the fish then grab a bite and a drink at the restaurant that overlooks the falls.
Tad Alang
Tad Alang is a steep waterfall that crashes down in sheets from a canyon cliff. It's a hidden spot in the clearing of a gorgeous jungle. Situated in the province of Tayicseua, Tad Alang is accompanied by Tad Tayicseua, a waterfall that shares the name of the town, and another five waterfalls, each one stunning to behold.
They are set apart from each other, so if you have time, you may want to just set up camp or find other lodging in Tayicseua for a day or two and plan to explore them.
Tad Fane
Set in a lush jungle but very easily reached, is Tad Fane showcasing a gorgeous set of twin falls that plummet further down than you can see from the viewing platform. If you were to pick one thing to do in the Bolaven Plateau, this might it considering it's beauty and ease to reach.
Tad Katamtok
Last but not least is the biggest, most stunning waterfall in Laos, Tad Katamtok. You have to take a very precarious road out toward Paksong from Tayicseua to find this isolated behemoth. You won't encounter vendors or restaurants, nor bathrooms or bungalows to stay in.
You're on your own out here. Which means stark beauty, a reward at the end of a wild adventure. Do keep in mind this waterfall is quite isolated and you should take care adventuring here. Be sure to ask locals in the area if it's safe to go depending on when you're visiting.
Wat Phou
No waterfalls here but something worth venturing out to. And incredible temple and complex that spans 10km and is over 1000 years old lies here and is open for you to wander. The Khmer architecture and Hindu symbols make this temple quite unique.
Laos Coffee!
There is something oddly fascinating about coffee plantations. Maybe it's just me? I definitely love me some coffee.
They are just an awesome sight to see and of course, frolic around. Until you've looked out across fields of natural verdant beauty in a tropical zone, you would never imagine that those brown happy beans came from an environment like this. Make sure you take time to visit.
If you are taking your time exploring the things to do in the Bolaven Plateau, stop in Paksong on your way back from your waterfall hunt and meet up with Koffie, a Dutch coffee shop owner in Paksong.
Paksong could potentially be your last stop on the loop of the Bolaven Plateau, and you could plan to stay a night or two here.
See below for hotel recommendations. Located just 38 km from Pakse, Koffie will give you a tour of his plantation and even offer a cup of Laos coffee as part of the deal!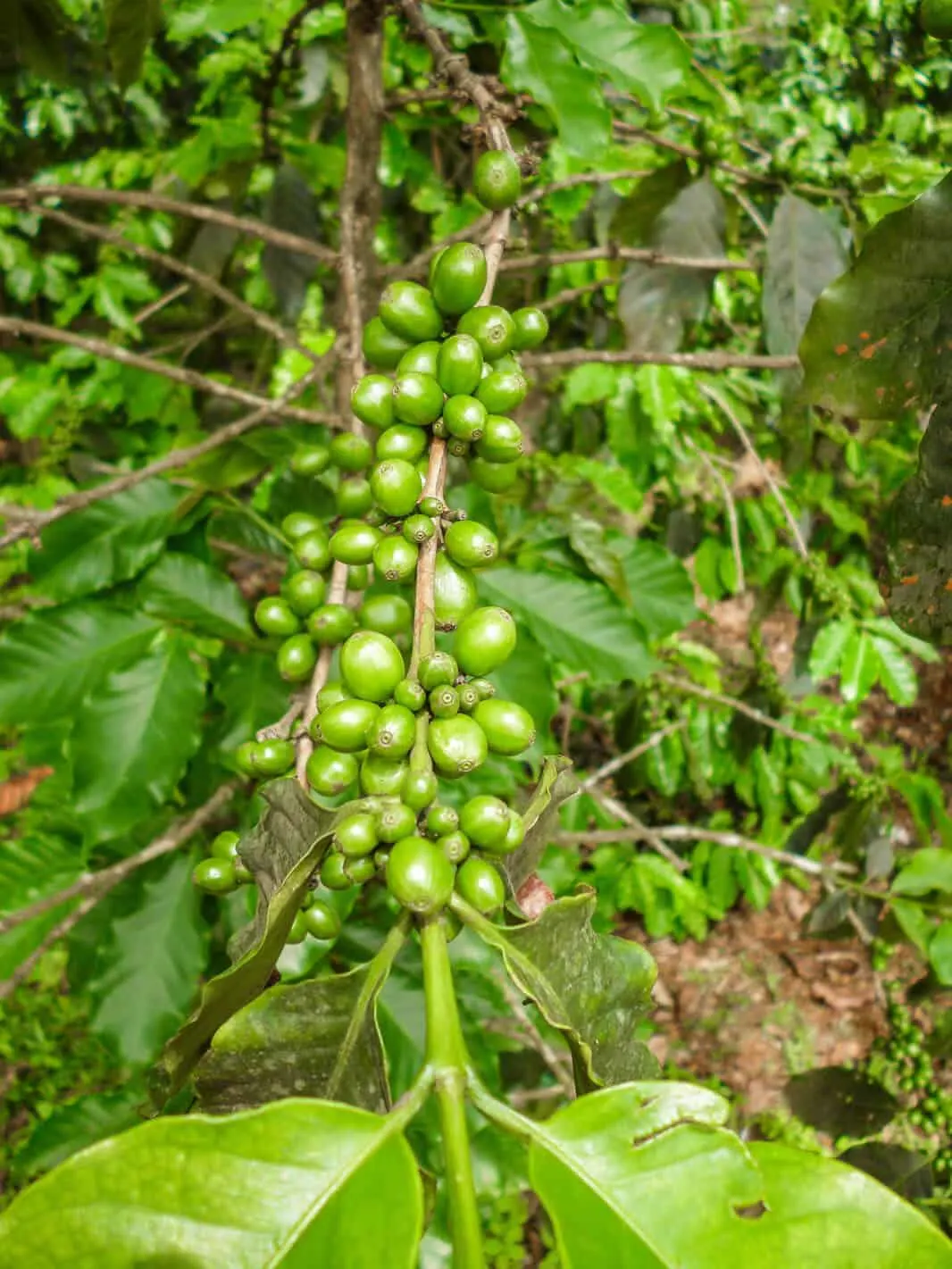 How to See the Things to Do in the Bolaven Plateau
Now that you know what to see, you just have to figure out how.
Transportation Tip for Laos:

While you can simply book at the pier, bus or train station, you may want to book ahead for certain legs of your journey to guarantee that you get a seat on the day you need to travel. 12go.asia is the best way to do this. Book your next trip ahead of time so you have one less thing to worry about.
It doesn't take much to get around to the things to do in the Bolaven Plateau, so it really comes down to how long you want to stay.
If you plan just a day or two, rent a motorbike from Pakse, ride out halfway up the loop, stop in Sekong for the night, and right back the next day. You can plan to hit one or two waterfalls one day and another couple the next day.
If you're planning just two days, make sure you hit Tayicseua for sure, because you can kill a lot of falls with one stone there.
If you're planning a much longer stay, however, say four to seven days, you can rent a motorbike for a week and really take your time. The waterfall to coffee plantation loop is ideal on a motorbike.
Within the city, you're pretty set with just your two feet. That's how small it is. To get around the surrounding region, many explorers jump on motorbikes, scooters, or even an actual bicycle. Just know you're in for a workout if you're planning on pedaling.
Not into riding around on a motorbike? I hear you! I was with a friend who didn't like riding and taking a tour is totally fine too.
Here are some great Bolavan Plateau tour options:
Where to Stay in the Bolaven Plateau
You can stay in Pakse since it is a jumping off point. But you don't have to. You can arrive in Pakse first thing in the morning, and take off. Then you can stay in towns along your trip.
Fortunately, each of the waterfalls you need to see on the loop around the plateau is situated relatively close to nearby provinces. In each location, Tayicseua, Sekong, and Paksong are the big three, you can get accommodations for the night, camping or staying in bungalows.
Pakse
Say you're exhausted and just want to stay the night before heading out. You can find great accommodation in town, and while there may not be a ton of things to do in Pakse, an extra day will give you the opportunity to shop for a motorbike or moped to rent, or even find a great taxi driver. Hey, it worked for me. While I was in Pakse, I grabbed a guide and used them to see all the things to do in the Bolaven Plateau that I wanted to visit.
Pakse Hotel
Here's a classic French colonial hotel. You get the basics for a stay in Pakse. You don't need to stay here long, maybe just one night to get your bearings. You get a comfy room with air conditioning and hot water. There's a rooftop restaurant and free breakfast, and it's only a couple miles from the airport. Perfect for a jumping off point.
Le Jardin
Step it up a bit for some luxury after a long flight. Still close to the airport, Le Jardin offers you a few extras – flat screen TV, seating areas, and garden or pool views. Of course, you still get your breakfast included, and as a bonus, you can hire a car direct from the hotel, so no wandering around looking for a driver.
Tayicseua
If you head southeast from Pakse, Tayicseua will be your first major province to hit. It purports to be "the waterfall capital of Laos" because of the seven waterfalls that fall within its region. In terms of accommodation, there's good news and bad news.
The good news is that you can find plenty of "guest houses" in the area to hang for a night or two, for super cheap. The bad news is, they are all so new and so small, that it's tough to find a history of good reviews online.
You can, of course, book ahead online through Booking.com or Agoda.com, my two faves, but you can also just find a spot once you get into town.
Sekong
As you head north and being to loop back west, you'll run into Sekong. Once an isolated location and a mere blip on the plateau, Sekong now offers more accommodation for adventuring tourists, but like the spots in Tayicseua, it can be tough to find a place with a reputable online history. Sekong sits on a splendid river that glistens in the sunlight, which alone makes it worth the stop, and if you are looking for the full fancy deal, you can check out the coffee resort.
Coffee Resort
It's a coffee resort; do I really have to sell you on this place? Located in the Sekong province, this 3-star resort offers terraces off every room, a seating area, free toiletries in the bathroom, and a restaurant on site. Add to that the gorgeous land the resort rests on, and you won't miss the extra cash this place will set you back.
Paksong
Katamtok and coffee. That's it. That's all you need to know. You gotta venture out to the gigantic waterfall on your way to Paksong from Sekong, and you must visit Koffie and tour the Laos coffee plantations in Paksong.
Falls View Resort
This resort just outside of Paksong comes with its own waterfall! Bungalows line Tad E-Tu as it runs down along rocks and hills. Super affordable, with organic veggies served with each meal on site, and a pretty little waterfall as your backdrop? You may never check out.
Sabaidee Valley Resort
This little resort full of cozy bungalows is in Paksong, right along your Bolaven Plateau loop. You get a nice room, breakfast, a hot tub, and of course, a great view. Pretty freaking awesome for the price.
Where will you go after Laos?
Thailand | Malaysia | Singapore | Indonesia | Philippines | Cambodia | Vietnam
Which of the things to do in the Bolaven Plateau are most looking forward to? When do you go to Laos? Let us know in the comments!
Click the picture and pin it for later!