TEFL (Teaching English as a Foreign Language) is a fantastic paid job to support yourself while traveling abroad. In fact, it may be the most popular way for English-speaking travelers to start their journey.
Teaching English supported me when I booked my one-way ticket to Thailand and lived in Southeast Asia. I still highly recommend doing an online TEFL course for anyone eager to travel and who wants a paid teaching job to support themselves.
Before you book that flight, which are the best TEFL courses to take? There's a high demand for certified TEFL teachers, and that means a competitive market. You want to stand out amongst the crowd and getting a certificate helps (and is often necessary!)
Even if you don't have a job lined up, a TEFL certification in your back pocket goes a long way.
PS – Stick with me! I have some discount codes for you too!
Why Do You Need a TEFL Course?
A good TEFL course trains you to teach English to anyone hoping to use it as a second language. With the course, you'll learn how to develop proper lesson plans and organize a structured curriculum.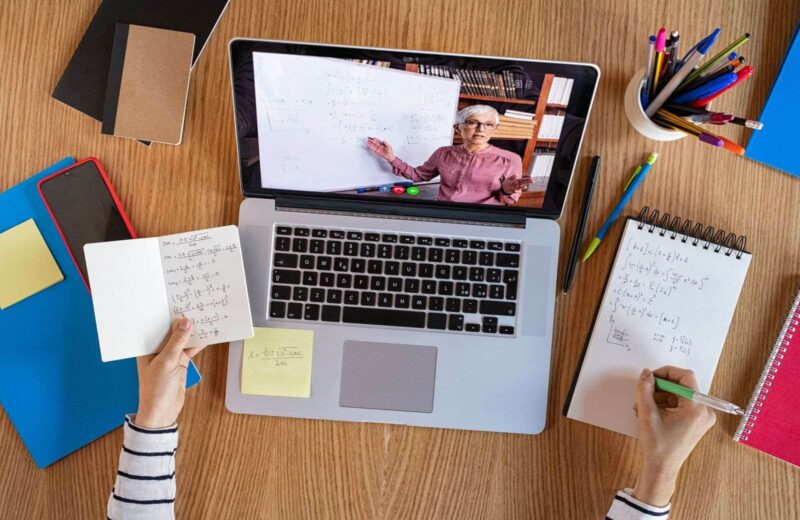 If you're trying to get a paid job, obtaining a TEFL certificate is essential. While it's possible to find work without taking a TEFL course, don't expect decent pay.
120-hour TEFL courses are the norm and it takes around 10-12 weeks to earn your certificate. This is the standard that most places abroad look for when hiring their TEFL teachers. I wouldn't recommend getting courses any shorter than 120 hours, since they won't help you find work abroad.
In fact, you won't be able to get a work permit without a 120-hour course. And it's super important to ensure your online TEFL course is accredited. If your course isn't accredited by an external body, you likely won't be hired.
RELATED: How To Teach Abroad – The Guide to English Teaching Anywhere.
What is TESOL?
What is TESOL, and how does it compare to TEFL? I get this question many times, but the two are basically the same. TESOL stands for 'Teaching English to Speakers of Other Languages.'
The main distinction between them is that TEFL is more specifically for countries where English is a foreign language. But TESOL also includes teaching English as a second language where it's the predominant language.
Despite the slight distinction, both courses prepare you to teach English to non-English speaking individuals. As long as you take an accredited course of 120+ hours, one isn't necessarily better than the other. And companies will accept your online TEFL certificate, regardless of the acronym.
Best Cheap Online TEFL Courses
If you're itching for a TEFL teaching job but don't have tons of cash to splash, I got you covered. There are thousands of TEFL courses out there, and prices vary by a wide range.
You can find online TEFL courses for around $100-$200 or well over $1,000. It's tough finding the right balance of cost vs. quality, but I've ranked the top 7 online TEFL courses.
HINT: You DON'T need to spend tons of money on the best TEFL course!
Follow this guide to obtain a TEFL certificate from a legit company without going bankrupt. When you find the right online TEFL course, you're a few months from a paid travel job.
Quick List of Best TEFL Courses:
1. myTEFL – Online TEFL Course
myTEFL is the online TEFL course I recommend the most and has tremendous value for aspiring TEFL teachers. The 120-hour course has all the needed course materials and 24/7 tutor support to answer your questions.
You'll have three months to complete the course, so it keeps you on a steady pace to learn the material. And when you finish the curriculum, myTEFL provides a letter of recommendation to help you find a job.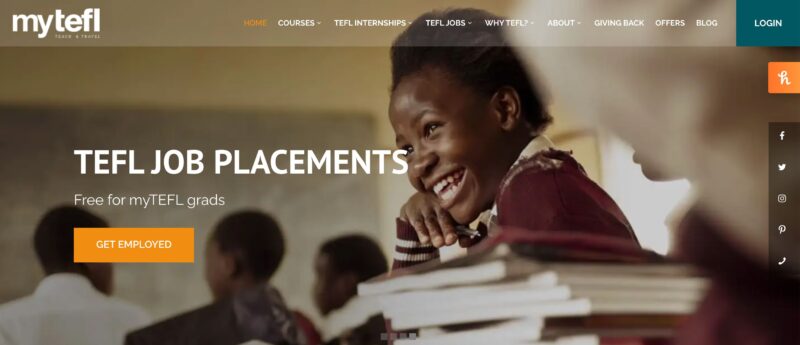 If you need help organizing your lessons after graduation, myTEFL gives you six months of access to their resources. myTEFL support is always available whenever you require assistance finding employment.
The course helps you with lesson planning and offers tips on different teaching techniques for all skill levels. For a quality price, myTEFL is among the best online TEFL courses on the market.
Pros:
Job placement assistance
Course content is available for six months after completion
Virtual tutor support
Detailed course modules
You can finish the course quicker if you have the time to
Cons:
Lacks teaching practice and in-class instructional videos
Price: $299 for a 120-hour TEFL Course.
$195 when you use code nina35 for a 35% discount.
RELATED: How To Teach English Online From Home + 29 Schools To Apply To.
2. i-to-i – Online TEFL Course
i-to-i scores high marks for their extensive certificates and diplomas for those wishing to teach English. Start earning quickly with their 120-hour course, it is a definite bang for your buck.

The program typically costs $299, but discounts frequently bring down the overall cost. Their accessible material lets you work on the computer or from your phone.
With their detailed tutor feedback, i-to-i helps guide you through the English-teaching basics you'll need for success. It's among the best online TEFL courses for newbies to start with who want to earn their certificate in 6 weeks. But you can work at your desired pace with help from your online tutor.
Pros:
Detailed tutor feedback
Great budget-choice for beginners
Extensive resource materials
Easy to interpret lessons
Cons:
Lacks customer support
Some students report lessons being too easy
Price: $180 for 120-hour TEFL Course (discounted price)
3. Premier TEFL – Online TEFL Course
Premier TEFL has a global reputation with graduates in 89 countries worldwide. Their 120-hour Advanced TEFL course puts you on the fast track to become certified to teach English.
The course takes 3-6 weeks to complete and comes at a budget-friendly price for consumers. With lessons divided into small learning blocks, the 10 modules are easy to interpret.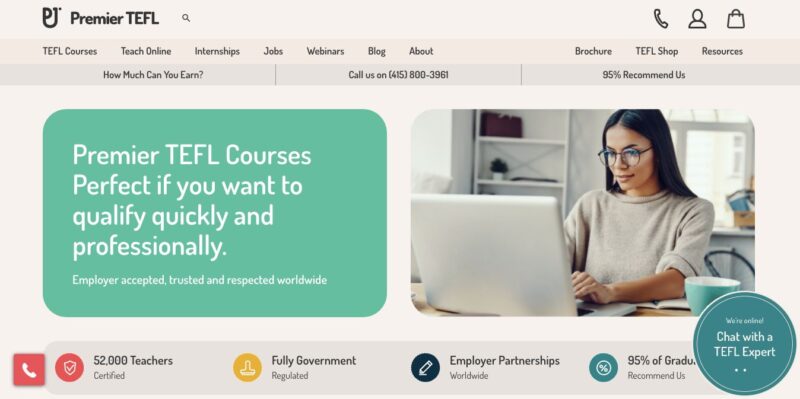 Course materials teach the key aspects of teaching language, grammar, reading, speaking, and writing to students of all levels. When you complete the course, Premier TEFL provides a letter of reference for potential employers. And their staff assists you with landing a job or paid TEFL internship upon course completion.
Pros:
Modules come with end-of-lesson video and assessment
Mobile app to access lessons
Course material available for six months
Offers paid TEFL internships
Cons:
Customer support could use improvement
No in-class teaching practicum
Price: $199 for a 120-hour TEFL Course
4. UNI-Prep Institute – Online TEFL Course
UNI-Prep Institute offers two online TESOL programs that help you teach English just about anywhere. Their 120-hour TESOL Certificate comes with tutor support, video lessons, and job support upon completion.
Past participants rave about the time flexibility to complete the course and its teaching methods. Those eager to get their certificate and get to work can complete the course in 2-4 weeks.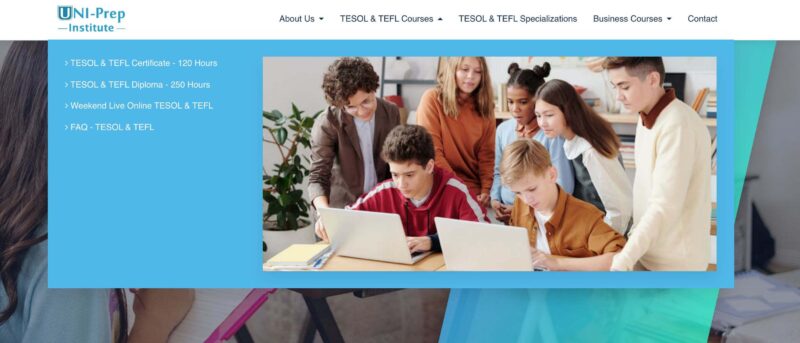 The video lessons are easy to follow and teach you master strategies to use in the classroom. Their specialty modules help you instruct a wide range of students either online or in-person. And UNI-Prep Institute is among the most affordable online TEFL courses to make an incredible value for customers.
Pros:
Tutor & job support
Time flexibility
TESOL specialization courses available
Good value
Cons:
High demand causes lower feedback
Specialty modules contain lots of info to absorb
Price: $300 for a 120-hour course (this link discounts it to $195!)
RELATED: Can You Teach English Online/Abroad Without a Degree?.
5. International TEFL and TESOL Training (ITTT) – Online TEFL Course
ITTT has been a leader in online TEFL courses for over 20 years and offers a wide range of classes. With 120,000+ graduates worldwide, they're pros at getting you ready to teach English abroad.
ITTT works alongside recruitment agencies and prestigious schools to provide graduates many job placement opportunities. Their online and in-person courses have tutor support with qualified instructors.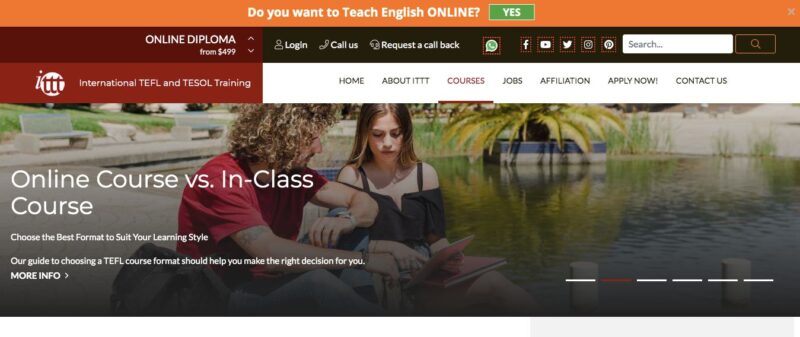 The 120-hour course has all the needed materials and gives you plenty of time flexibility. Half the curriculum focuses on teaching skills imperative to teach your future students.
With 20 distinct units, the course doesn't bombard you with too much info at once. Upon graduation, ITTT provides teaching materials and assistance to land a job for your entire TEFL career.
Pros:
Job placement assistance
20+ years of experience teaching students
Advanced courses available
Tutor support from highly-trained teachers
Cons:
Some lesson plans lack feedback
More teaching practice would be helpful
Price: $249 for 120-hour certification (10% discount applied!)
6. TEFLPros – Online TEFL Course
TEFLPros gives students maximum flexibility to complete their accredited online TEFL course. Most students complete the course within 6 weeks, but you can work through lessons at your desired pace. TEFLPros does a fantastic job teaching practical skills you need in the classroom.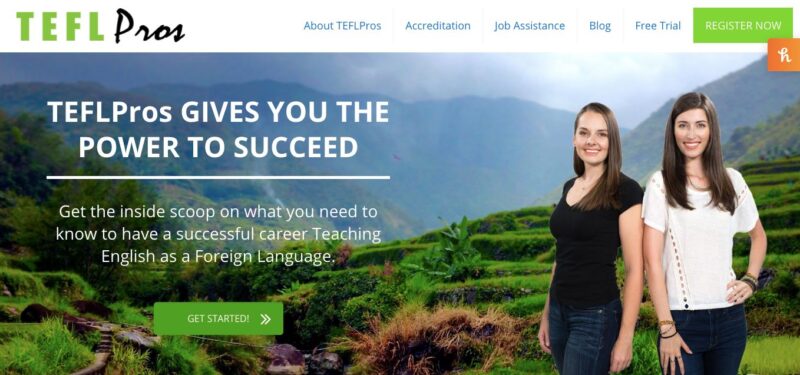 The amount of in-class and instructional videos is second to none. The 120-hour class is slightly pricier than others, but they do an excellent job preparing future teachers.
Another cool feature is TEFLPros lets you do a trial run before you're ready to commit to the course. Give the module a try and see if teaching English is the right job for you. When you finish the course, TEFLPros provide resources for your job search.
Pros:
In-class observation videos
Free trial run
Includes teacher portfolio to receive feedback
Extensive resource materials
Cons:
Lacks job placement services
Costlier
Price: $349 for 120-hour course
RELATED: 19 of the Best Countries To Teach English Abroad: Salary vs Cost of Living.
7. The TEFL Academy – Online TEFL Course
The TEFL Academy is committed to ensuring TEFL instructors have all the needed resources to work after graduation. And with their Online Level 5 TEFL Course, you'll receive 168 hours of training.
That's well over the 120-hour threshold required by most companies to secure employment. And if you ever want real class experience, the TEFL Academy has tons of in-class locations before you jet off.
Their online course is on par with the CELTA and Trinity CertTESOL qualifications, so you'll stand out amongst the competition. Expect 4-6 weeks minimum to complete the course, but the resources are available for 6 months.
The course consists of 10 units with exams to assess your capabilities after each unit. And with tutor support and job placement assistance, it's a top-notch online TEFL course for the price.
Pros:
Tutor support
Job placement assistance
In-person locations for teaching practice
6 months access to course material
Level 5 TEFL Certificate
Cons:
Some students report slow customer service
Lots of info that can potentially overwhelm some students
Pricier if not on sale
Price: Currently $250 for 168-hour TEFL course (Discounted to Half Price!)
What About an In-Person TEFL Course?
While it's certainly possible to find an in-person TEFL course, they're usually unnecessary. Online TEFL courses give you more flexibility to complete lessons without disrupting your current job.
If you're already traveling, you can finish your TEFL course on your terms. And in most cases, in-person courses are the most expensive. If you're looking to save, online TEFL courses are a more economical route.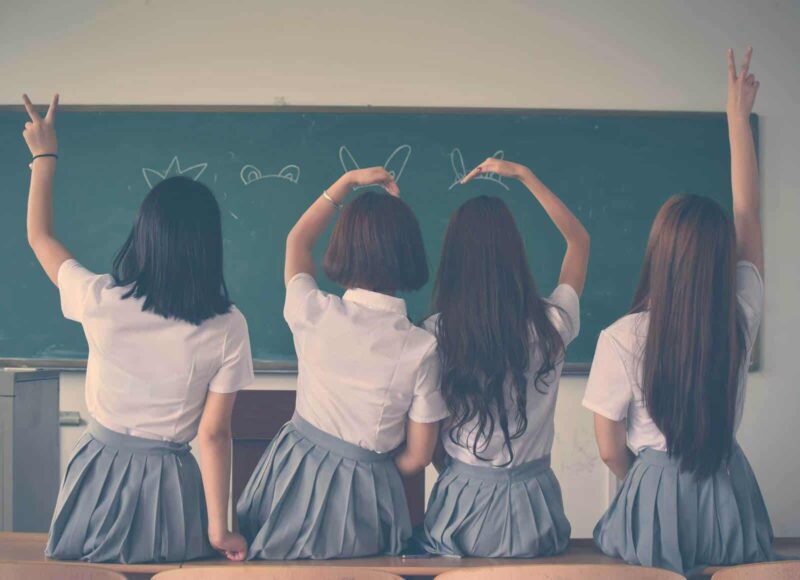 However, in-person TEFL courses are great for meeting new people and networking with others. And your instruction is more hands-on since teachers are there to guide you. Despite those benefits, I still vote for online TEFL courses due to more accessibility.
Pros:
Have support from in-person instructors
Can network with other aspiring TEFL teachers
Cons:
More expensive
Require more time commitment
Stricter deadlines
Confined to one location
RELATED: How to Teach English Abroad in Thailand – Live and Work in Thailand!
Why Avoid Cheap Online TEFL Courses from Groupon?
It's not uncommon to run across advertisements claiming to sell the cheapest TEFL courses on the web. Groupon is one such website that always promotes these deals.
But should you trust the fine print of these wicked cheap deals? My advice is to steer clear at all costs. It will only cause you future headaches when trying to land a solid English teaching job.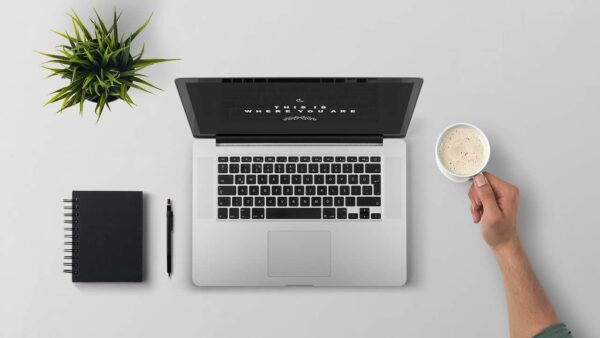 I've literally seen Groupon offer 120-hour TEFL courses for $30 or $40, but your antennas should go up with those prices. It's awesome to save money, but purchase a TEFL course too cheap, and you'll sacrifice quality.
And you want an accredited online TEFL course that makes you competitive in the market. Here are the problems you'll run into with a Groupon TEFL course and why you should avoid these.
Lack of accreditation – If your TEFL course lacks accreditation, you won't get hired.
No quality – You get what you pay for and these courses trade quality for price. If buyers complete the course in a few days, major red flag.
Limited support – Once you purchase the course, good luck finding help for your questions or job search support afterward.
Hidden Costs – These courses often sneakily slip in extra fees that don't save you much money in the first place. So, you'll receive a bunk course and cough up more change. A double whammy!
Of course, people HAVE gotten jobs just using one of these cheap TEFL courses from Groupon before. It's just a matter of certain schools that may not accept this type of course and then you lose out on an opportunity because you didn't spend a few extra bucks on a legit course.
So Which is the Best TEFL Course?!
If you really want my opinion, I'd say myTEFL just because they are mega-popular, have extensive resources, and already have a slew of teachers abroad successfully working as English teachers while using their online TEFL course certification. (Don't forget they are offering my readers a discount with code: Nina35!)
BUT you honestly can't go wrong with any of these courses listed. Which do you feel you'd benefit from the most from? Which best fits our budget?
Don't forget, the other discount codes and links above are for you to take advantage of! Just grab one and roll with it, they all will get you where you need to go 🙂
Happy teaching abroad and or online!
More English Teacher Jobs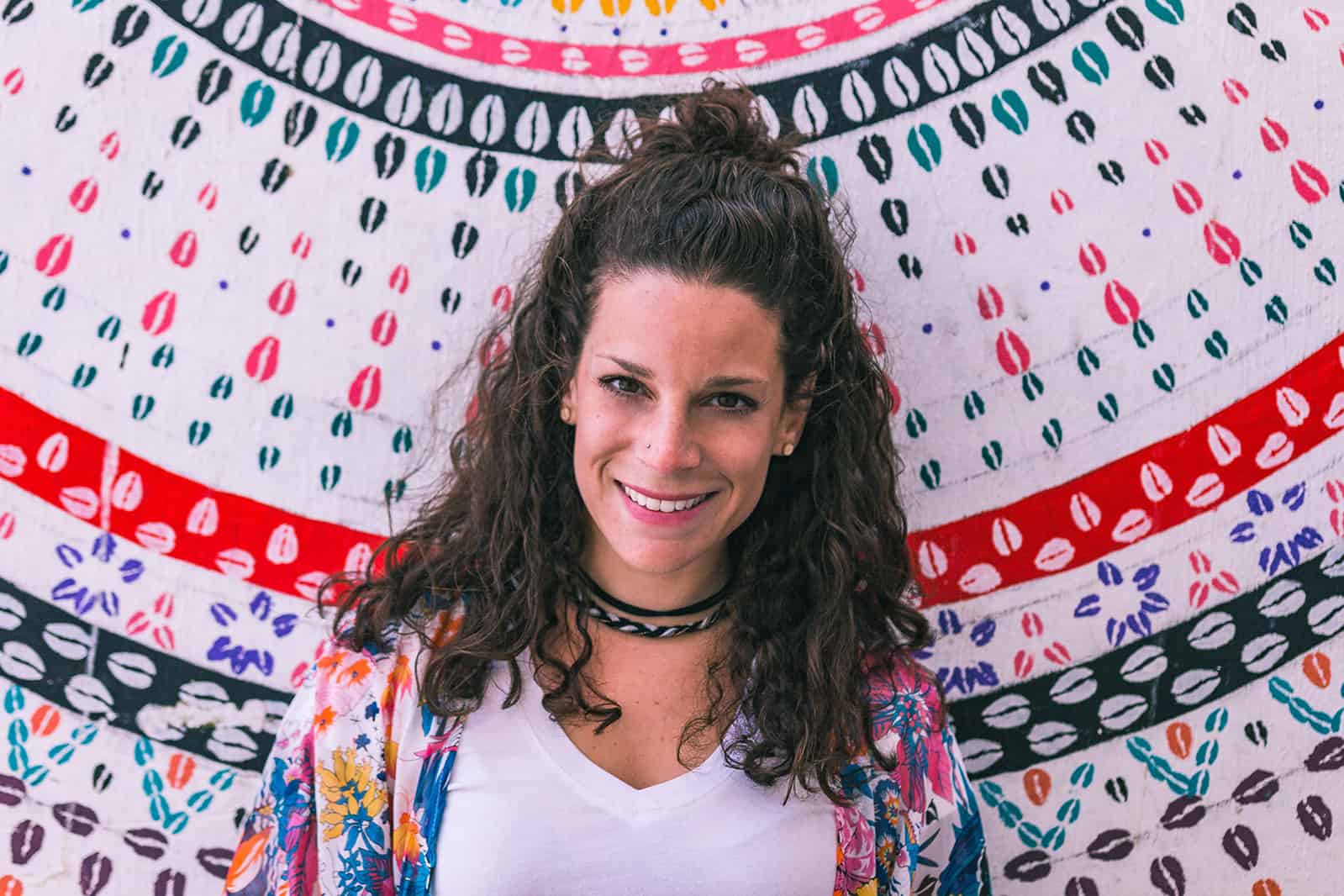 Nina Ragusa is an adventurer, messy bun master, breakfast fan, and full-time travel blogger. She's been abroad since 2011 and blogging on Where in the World is Nina? for nearly as long. Nina helps people like you move around the world while making money. She loves talking about how to work abroad and online to travel longer!