The following article on Bagan is authored by Aurelia Teslaru
Once upon a time, there were over 10,000 temples in Bagan.
Just try and imagine 10,000 structures, similar in architecture, all crammed in a 13 by 8 kilometers area.
It must have been the most picturesque scenery on earth. Nowadays, there are only about 2,000 temples left but the sights over Bagan are still jaw-dropping.
If you are planning a trip to Myanmar, you should definitely add Bagan to your itinerary. Walking among thousands of temples is a once in a lifetime experience!
In this article I'll take you step by step through everything you need to know when planning a trip to this incredible place. I've included information about how to get to there, things to do in Bagan, how to dress and much more! Are you excited yet?
Don't lose this! Click to pin it now.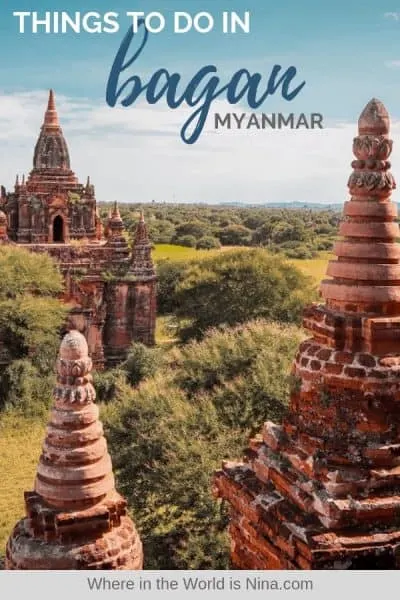 Things to Do in Bagan
---
Apart from visiting the majestic temples, there are plenty of things to do in Bagan. Be prepared to experience incredible views, be amazed at every step and fall in love with this place forever…
1. Explore the Temples
There are over 2,000 temples in Bagan and you'll probably need a few months to explore them all. If you only want to see the best, below you can find the most beautiful temples.
Dhammayan Gyi Temple
The legend says that the Dammayan Gyi Temple was supposed to be the tallest temple in Bagan but unfortunately it was never finished.
The temple is one of the biggest ones around and definitely worth a visit. For those who want to explore it even more, you can enter inside and find a few shrines and statues.
Shwesandaw Pagoda
One thing is sure – climbing on this temple is impossible since it is guarded by a few locals.
However, Shwesandaw Pagoda is pretty impressive from the outside. With a beautiful golden decoration on top, this temple should be on your list of things to do in Bagan.
Myauk Guni Temple
This is not a popular place among tourists but in my opinion, it is one of the most beautiful temples.
It is extremely well preserved, it offers some incredible views towards surrounding temples and inside you can find a beautiful Buddha statue. It's one of those places which will leave you speechless.
Ananda Temple
With incredible details and its marble plated exterior, Ananda Temple is heaven for photographers. You can find some beautiful statues inside but in order to see the most spectacular part, you'll have to head outside. Bring all the camera gear to this spot to capture it!
Kya Zin Hpaya Temple
This is one of the off-the-beaten-path temples.
Almost nobody visits it despite its incredible beauty. The good part is that most probably you'll have the entire temple for yourself and you will be able to admire it in peace.
Recommended tour:
2. Take a Hot Air Balloon Ride
An experience to add to your bucket list is admiring the beautiful Bagan from above, from a hot air balloon.
There are many tour companies wich organize such trips and you can even find many options on the internet. Riding a hot air balloon over Bagan might not be cheap but it surely is one of those things that you will never forget.
Good to know: If you want to experience this, keep in mind that during the rainy season there are no hot air balloon tours.
Recommended tour:
3. Try the Local Food
Apart from being dirt-cheap, Burmese food is absolutely delicious. Don't expect to find McDonalds or KFC in Bagan or any western dishes for that matter. Be prepared to eat local. You'll love it, trust me!
A meal costs around 2$ and you will be served with more food than you can eat. My favorite was the chicken curry but you should certainly be adventurous when ordering out. Try everything once!
4. Experience a Magical Sunset
You can't leave Bagan without seeing one of the most beautiful sunsets in the world. Head to the top of a temple (Sunset Temple is very popular) or choose a good viewpoint and watch how the sun hides behind hundreds of temples.
It's no wonder why so many professional photographers come to Bagan to shoot the sunset. The views are mesmerizing. You'll only wish for the sunset to last longer.
How to Get to Bagan
Bagan is easily accessible by bus from all the major cities around Myanmar such as Mandalay or Yangon. All you have to do is go to your hotel's reception and ask for buses to Bagan. They should be able to help you book your ride. If you're feeling more adventurous, you can go straight to the bus station but there is no guarantee that you'll find empty seats.
Buses are really cheap all around Myanmar and they are pretty comfortable too. Actually, the most luxurious bus I have ever traveled with in my one year trip around Asia was in Myanmar.
It had TV (movies, music, TV series), super-comfortable chairs, food & water included. The roads to Bagan might be a little bumpy but nothing to worry about.
The bus station in Bagan is situated at about 15 kilometers away but you can find taxis for around 7000 Kyat that will take you straight to your hotel.
Things You Need to Know When Planning Your Bagan Itinerary
There are a few things you need to know when planning your trip to Bagan. Keep in mind all the things below and you will have an awesome time exploring this beautiful area in Myanmar.
Bagan Entrance Fee
When entering Bagan, you will have to pay an entrance fee of 25,000 Kyat per person. Make sure to keep the ticket as you will have to show it when entering some of the temples. The ticket is valid for 3 days only. If you want to stay more, you'll have to buy another one.
The Best Time to Visit Bagan
I would avoid visiting Bagan during the rainy season. The best time to visit it is starting with October and ending with May. Although the rainy season doesn't affect Bagan that much, it's better to stay safe—AKA make sure you can actually enjoy the area rather than hide away from the rain in your hotel!
How to Dress in Bagan
There are a few strict rules when visiting temples in Myanmar (read more about what to wear in Myanmar). Although you might not feel comfortable following them, it's a sign of respect to the local culture to do what the locals do. Please keep in mind the following things when visiting Bagan:
Always take your shoes off (even the socks) when entering the gate of a temple
Make sure to cover your knees and shoulders when entering a temple (I always had a scarf with me to tie it around my waist as a long skirt)
Don't be loud or interrupt the locals who are praying
Climbing Temples in Bagan
Seeing the sunset from the top of a temple might be something you want to do. Starting with the beginning of 2018, the Burmese government banned climbing on temples in Bagan for safety reasons.
Although 95% of the temples are now closed, there is a small chance to still find opened temples.
Here is what you can do: check each temple to see if you can access the stairs to the top, ask the locals to take you directly to the opened ones (this will cost you somewhere around 5000-10000 Kyat).
How to Explore Bagan
I will start by saying that Bagan is BIG. There is no way you can explore it by foot. Depending on your budget and preferences, you will have to choose one of the options below.
1. Rent an e-bike (recommended) – Renting an e-bike is the most comfortable alternative. It's cheap (6,000 Kyat per day), relatively fast and convenient. To rent one, make sure to ask at your hotel's reception and they will guide you. If you've ridden a motorbike before, you don't have to worry. You'll do just fine with an e-bike. If it's your first time riding a motorbike/ e-bike, I recommend getting used to driving one on an empty street.
Recommended tour:
2. Rent a bicycle – Another option is to explore Bagan by bicycle. However, I don't recommend it! Why? Temperatures in Bagan can be pretty overwhelming, especially during mid-day and bicycles are not very fast. Also, the roads between the temples are not that good and definitely not comfortable to be explored by bicycle.
Where to Stay in Bagan
Probably the best hotel in the area is the Heritage Bagan Hotel. It has a large pool and a lush garden setting and is within easy reach of the temples.
If you are on a budget, I recommend trying the Bagan Central Hotel or Bagan Thande Hotel.
I hope this mini guide on things to do in Bagan helped you plan your trip!
Where will you go after Myanmar?
Thailand | Malaysia | Singapore | Indonesia | Philippines | Cambodia | Vietnam | Laos
What's the one thing you're most excited about visiting in Bagan or Myanmar? Let us know in the comments!
---
>>> Bio
Aurelia Teslaru is a travel addict who decided to leave everything behind and step into the unknown, leaving her advertising career in pursuit of a meaningful life, full of adventure and travel. You can follow her adventures at the Daily Travel Pill.
---
---
Busy? Click the picture to Pin this for later