The following article on Siargao itinerary is authored by Krasen Jelyazkov
People from all over the world dream of visiting a tropical paradise.
These places can be seen on postcards, advertisements of travel companies, in favorite Instagram images, and even on packaging…
White sand, crystal clear water, a deep blue sky with small puffy clouds, and of course, coconuts and palm trees.
These images of a tropical paradise can become a reality in the Philippines, the island of Siargao in particular. Siargao is a stunningly beautiful island on the eastern part of the Philippine archipelago, facing the wide Pacific Ocean.
Want to visit? Thought so, here's everything you need to know…
Intro to Siargao Island
Siargao Island is located in Surigao del Norte Province in the Philippines, belonging to the southern part of the country.
Due to its small size of about 440 km2, it can be circumnavigated by motorbike within one day. One of the many things that makes it so special is the fact that it is surrounded by coral reefs, with crystal clear waters simply teeming with marine life.
As soon as you step on to Siargao, you'll first notice the beautiful palm trees. When the Spaniards discovered the island in 1543, they called it Isla de Las Palmas (the Palm Island) for a reason. You'll struggle to find many other large islands in the Philippines (or the world), which are completely covered by a coconut palm tree forest.
Another thing that makes Siargao famous is its surfing spots, offering some of the best surfing opportunities in the world. It is no wonder that Siargao has gained the title of "the surfing capital".
The most prominent surfing spot on the island is Cloud 9. The number "9", according to the locals, has two meanings. First, because the giant breaking waves in the area are often shaped like "9". Second, the best season for the "9" shape is the 9th month of the year, September.
But this is not all that Siargao has to offer. When you start exploring the island, it won't be long before you come across pristine beaches, rock pools, a beautiful waterfall, rivers in the coconut forest, tranquil villages, lagoons, caves, and small islets. And at night the fun doesn't stop, there are incredible beach parties at the resorts.
Related posts:
A Guide to Backpacking the Philippines: Itinerary, Costs, Tips + More
A Two-Week Philippines Itinerary—Beaches to Mountains
Essential Advice and Tips For The Philippines
Things to Do in Siargao: A 5 Day Itinerary
---
Once you've arrived at paradise, what would you like to do first?
Locals claim you can explore the best places in only 2 days. Although this is possible, you won't be giving yourself time to see the beauty of the island. I'd recommend staying longer.
I think 5 days in Siargao is a perfect amount of time, but if you have even more time, feel free to stay longer and enjoy paradise.
Below is my 5-day Siargao itinerary that you can follow. Just be aware you have to wake up early in the morning if you want to pack everything in.
Siargao Itinerary Day 1
If you arrive at Dapa in Siargao by a morning boat from Surigao at around 8:00 am, the first thing you should do is to take a tricycle to General Luna and your accommodation. This should take around an hour. Once settled in your room, you are ready to go and pick up your motorcycle.
Cloud 9
Cloud 9 is the most famous surfing spot, top thing to do in Siargao and is the first destination of your itinerary.
It is well known as the place where the Siargao Surfing Cup is held each September. It's worth a visit even if you're not a surfer to simply watch the waves and the surfers.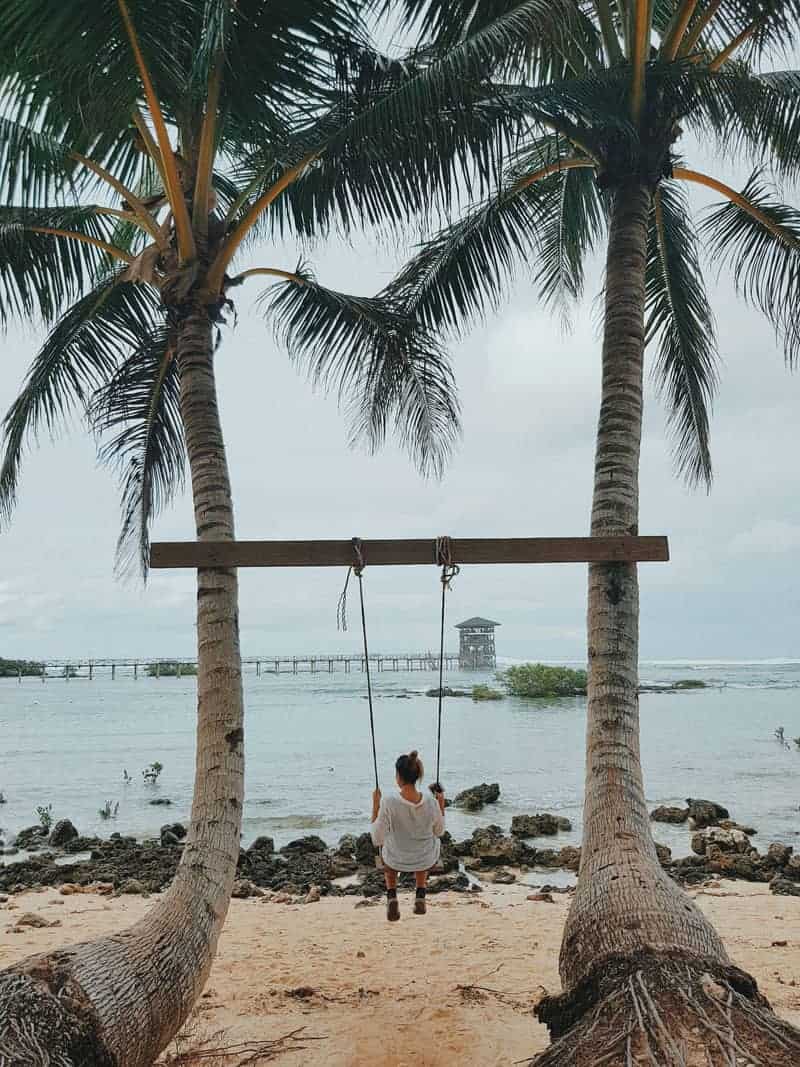 The surf does depend on the season though. If you come to Cloud 9 in September, you will see beautiful giant waves, but also crowds of people. At other times of the year the crowds are smaller, but so are the waves.
There is a three-floor hut on the water which is specifically used for surfer watching for just a small fee.
"The Top of the Road"
From Cloud 9 you can head back to General Luna by taking the road to Dapa, then turning right on the road to Magpupungko.
This is a really scenic road, full of views. One of the best is called "The Top of the Road" and is well worth a stop. You'll witness a stunning bird's eye view of coconut trees stretching out before you.
Maasin River and the Bent Palm Tree
Carry on along the road and after just a few minutes you will arrive at a red bridge offering beautiful views of the river. You will see some boats and a palm tree, which is well known for its distinctive bent shape.
You can climb on it, or swing on the rope above the river. Another great activity here is to go on a boat for about 150 PHP and float on the river. This is one of the best ways to see the palm rainforest.
Tayangban Cave Pools
Following the road further, you'll come across a small karst area, hidden in the rainforest. As the name suggests, this is a system of caves filled with running water, forming beautiful blue pools.
This is an excellent place for a jungle adventure as you can swim and dive in the pools. You should be able to find the caves easily as there is a sign on the road pointing you in the right direction. The entrance fee is 70 PHP which is well worth it, as the experience is unforgettable.
Magpupungko Rock Pools
Magpupungko Rock Pools is the most spectacular spot on this route, made up of rock and coral formations- a shoal in front of a sandy beach and the neighboring coastal slope. On the rocky shoal, there is a large pool, with a few smaller pools which reach more than 3 m depth.
During low tide, the shoal is almost exposed above the sea water and is the best time to visit Magpupungko. During high tide, the rocky floor is hidden in the water and you are not permitted to enter the pools. Entrance fee: 50 PHP.
For information about the tides see here.
Siargao Itinerary Day 2
Today you'll continue to use your motorbike to explore Siargao Island, this time to proceeding further north. Start by driving again on the same road, but this time starting your journey earlier, with no stops (unless you want to capture some stunning photos of the coconut palm forest during sunrise).
Pacifico Beach
After passing Magpupungko you'll enter new territories, the northern part of Siargao Island. The next spot on your route is Pacifico Beach.
Here you can enjoy surfing again, but that's not all that Pacifico Beach can offer. It is a long and narrow tropical paradise with white sands, crystal clear water and again, endless lines of coconut palms.
If you are looking for more picture-postcard beaches, you can proceed further north to the next one…
Alegria Beach
This may be the best sandy beach in Siargao and again another eden. This beach particularly stands out because the sandy sea floor extends out into deeper water, making it an ideal swimming spot.
Yes, there are rocks and corals too, but generally, more sand than the other average beaches on the island. Since it is quite far from the touristy General Luna it is still wild and pristine, and you are much more likely to have a patch of beach to yourself.
Taktak Waterfalls
What is a tropical island without a waterfall in the jungle? Taktak Waterfall is the only waterfall in Siargao Island, and although it isn't particularly spectacular in comparison to other waterfalls of the world, it is still beautiful and worth to visit. Entrance fee: 25 PHP
After Taktak Waterfalls it should be about time to turn around and head back to your accommodation. You'll have around 1.5 hours to back to General Luna.
If you fancy trying out a different route and see a few more sights along the way, you can try going through Santa Monica, Del Carmen, and Dapa, on the western side of the island. Another option is to have dinner in Santa Monica first before heading back to GL in the darkness, which is a different experience in itself.
Nighttime Tip for Siargao:
Since Siargao is so far from any industrial and air polluting source, there is very little light pollution.
So, choose a wild place on the road, far from villages and any sign of civilization, stop your motorcycle and turn off the lights. You will see a pitch black sky, completely filled with billions of twinkling stars.

You will also see a lot of flashing lights, these are fireflies. With only some natural jungle sounds, it really is a magical *natural* light show!
Siargao Itinerary Day 3
Sugba Lagoon is one of the more popular places to visit on Siargao Island, and it is advisable to dedicate one whole day of your Siargao itinerary for it.
Sugba Lagoon
Sugba Lagoon is a stunningly beautiful lagoon with crystal clear water and a labyrinth of isles and sea canals covered by lush tropical jungle. There is a pontoon in the lagoon where you can relax, have lunch (for 400 PHP), play on a raft, jump from cliffs or just swim around.
There are two options for visiting Sugba Lagoon.
The first option is to arrange a boat from General Luna (which is normally 1500 PHP, including the entrance fee) and sail 1.5 hours to the lagoon, then another 1,5 hours to back to GL.
The other option is to use your bike to travel to the Mangrove Wharf near Del Carmen and arrange a cheaper boat from there to Sugba Lagoon.
The second option, in my opinion, is much more exciting (and cheaper), but you have to arrange it a day in advance. So, on Day 2, on your way back from Taktak Waterfalls in the evening, stop in Del Carmen or the Mangrove Wharf and look for boats. You can bargain for a cheaper price, but remember you'll still have to pay the entrance fee of 100 PHP.
Secret Beach
Once you have had enough of the beautiful water of Sugba Lagoon, and if you have come by your motorcycle to Del Carmen (the 2nd option), you can travel back through Dapa, stopping between Dapa and Union Village.
You will see a place with many parked motorbikes. Park up with them and walk for about 10-15 minutes through the coconut jungle until you reach another stunning beach. This is Guyan Beach, known also as the "Secret Beach".
It is a small beach, but well known by the surfers because it is another good surfing spot. It is likely that most of the people there will be surfers. But the wild "Robinson Crusoe" feeling in the area makes it worth a quick stop.
After your packed day, it is time to return your motorcycle. You won't need it for the rest of the trip.
Siargao Itinerary Day 4
During the first 3 days, you covered the eastern, northern and western side of the island. Throughout the 5 days, you'll make your way around the whole of the island.
Now is time to explore the southwest. Today you'll visit the second largest island of the Siargao Archipelago- Bucas Grande Island, which is yet again another gorgeous oasis.
Bucas Grande Island and Sohoton Cove Park
The most popular way to make a Sohoton trip is by boat from General Luna. Normally, the price from the GL pier tourist center is 3500 PHP per boat (this price is for a small boat which can fit around 5 people).
Advice: if you haven't arranged your trip on the previous day, it is better to go to the tourist office no later than 6:00 am. Since this tour is quite expensive, this is the best time to find other travelers and share the price.
The trip to Sohoton is around 2.5-3 hours by boat, plenty of time to relax and enjoy the ocean views. Once you have arrived you'll fully be able to appreciate the natural beauty that surrounds you.
Before stepping into the park you'll have to pay a few fees: Entrance fee- 150 PHP (for foreigners), Environmental fee: 50 PHP, and Docking fee for a boat (sharing)- 100 PHP. After that, your adventure can start.
Titikan (Blue) Lagoon
This is one of the most popular things to do in Siargao, and the place you will likely spend the most time. The area is a little like Sugba Lagoon, but there are a few features that set it apart, like the hidden Titikan Lake. Here you can play on the boat, jump from cliffs or just swim in the crystal water.
The Caves
There are three main caves in the Sohoton Cave system. You can visit them one by one, and the experience is really unforgettable. To visit the caves you follow your guide from the boat.
This cave is quite long and it has some branch tunnels which are very narrow. Beware of stalagmites and bats!
This cave is really amazing. It is known for its bioluminescent in the water which can be seen by splashing the water. The options to get into the cave is either by boat or swimming around 30 meter in the water inside the cave.
This is another incredible cave. You can enter by swimming, then climbing up the rocks inside the cave until you feel ready to jump back into the water. It is great fun, just be sure to be careful on the sharp, slippery rocks.
Tajoman Jellyfish Sanctuary
The Jellyfish Sanctuary is another cool attraction that Sohoton is known for. There is a specific location in the sea where hundreds, or even thousands of jellyfish gather, making diving in the area quite otherworldly. The jellyfish are harmless, so you don't have to be worried about stings.
EDITORS NOTE: It appears this sanctuary allows you to touch the jellyfish. I highly recommend avoiding any and all attractions that condone touching and handling of animals!
Siargao Itinerary Day 5
The last must do experience in your Siargao itinerary is to see the island's southeast side, where you witness firsthand the endlessness of the Pacific Ocean and the vastness of Polynesia.
Your island hopping starts again from General Luna pier and its tourist office. A small boat for 5 persons is 1500 PHP which can be picked up from the pier. In addition to the cost of the boat, there are another two fees- for Guyam Island- 70 PHP and for Daku Island- 100 PHP, which you pay when you arrive.
Guyam Island
You'll be able to see Guyam Island from the GL pier- a tiny piece of land with a few coconut palms. It is uninhabited, but there is a house on the island which offers lunch and serves as a local office.
The whole island is nothing more than a spec. You'll be able to walk all the way around it in just a few minutes. It has a beautiful beach, a hammock and is surrounded by crystal clear water, what more could you want? You'll spend around 2-3 hours here.
Daku Island
This is the largest island of the three. There's a local village and another stunning beach backed by coconut forest.
Choose one of the small paths from the village and dive into the palms to cross the island. Then head back to your boat on the coast.
You can rent some of the cottages (for 150 to 300 PHP, depending on the cottage size) on the beach and have lunch there.
Naked Island
This is your last spot in your Siargao itinerary. Naked Island is a high sandbar, with almost nothing on it but sand. It is small, but a little larger than Guyam Island. Again, you can relax on its sand, swim in the crystal blue waters around or walk on the coral shoal, watching the distant breaking waves on the coral reef around Siargao.
Finally, your Siargao itinerary is over. There are ferries to Surigao the next day until noon (not later than 1:00 pm), and flights to Manila, Cebu, Clark, and Davao.
A Shortened Siargao Itinerary
The whole itinerary is for 5 days. But if you don't have 5 days to stay in Siargao, it doesn't mean that you have to skip it! If you only have 2-3 days, you can just choose some these destinations and experiences.
My advice is don't try to cram as much in as possible if you only have a short time, as I said in the beginning- it is much better to relax and enjoy your surroundings.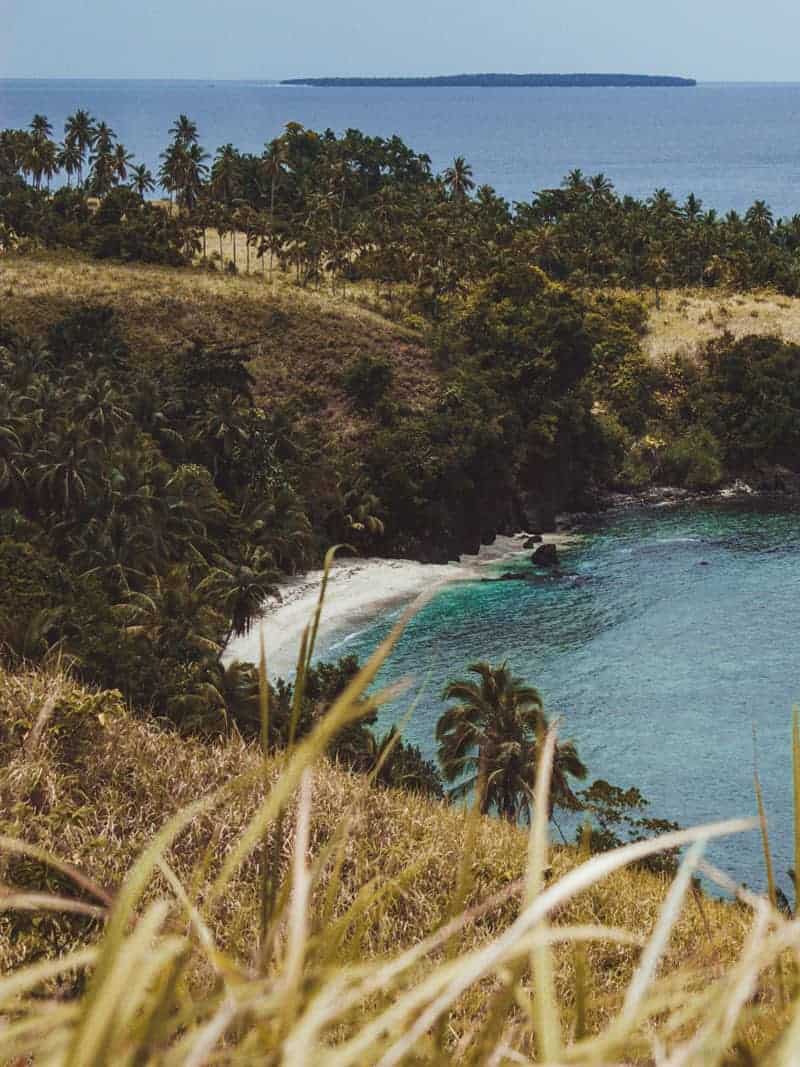 Here is what I recommend:
4 days: I would advise two options—unite Day 1 and Day 2 and skip some of the places like Tayangban Cave Pools and Pacifico Beach. Don't miss Cloud 9, Magpupungko Rock Pools and Taktak waterfall. Option 2: Skip Sugba Lagoon, because the experience in Sohoton Cove Park (particularly in Titikan Lagoon) is a little similar.
3 days: Unite Day 1 and Day 2, and skip Sugba Lagoon. Focus on Magpupungko, Taktak Waterfalls, Cloud 9, Sohoton Cove Park and the Three Islands hopping.
2 days: Now is when it gets a little difficult. You could explore Sohoton Cove Park and do the three Island hopping.
How to Get to Siargao
There are two ways to reach Siargao Island, by plane and by ferry.
By Plane
There is a small airport in Siargao, called Sayak Airport.
It is located on the western side of the island, near Del Carmen. Three airlines arrange flights to Siargao-
Cebu Pacific (Sebago),
Philippine Airlines and
Sky Jet.
They connect Siargao with Manila, Cebu, Clark, and Davao. The planes arrive at the island a few times during the day.
And the prices are:
from Manila- 4500 PHP and above
from Cebu- 2500 PHP and above.
By Ferry
The main port, connecting Siargao with the rest of the world by sea is Surigao, on the northernmost point of Mindanao Island.
There are few speed boats, running from Surigao to Dapa (Siargao), normally taking a little more than 2 hours.
Two boats depart from Surigao at 5:30 and 6:00 am, and the price is around 290 PHP.
There are few more speed boats departing from Surigao to Siargao, but all are in the morning. There are no ferries in the afternoon or evening.
If you are coming from Cebu by ship (as we did), you can take the evening ferry to Surigao (departing from Cebu at 8:00 pm), sleep in the ferry and arrive at Surigao around 4:00-4:30 am, then just take the boat to Dapa.
Your Accommodation
Your accommodation spot is important because it will be your starting point for most of the things to do in Siargao. Usually, the most popular place for accommodation is General Luna, a small town on the southeast coast of the island, now turned into an attractive sea resort.
The prices here can be a little expensive, especially during the high season, but if you choose another town on the island for your accommodation, you will have to arrange transport to General Luna (GL), since many activities start from there. But if you sleep in GL, you will save time making the trip and money on getting to GL.
During high season, it's better to arrange your accommodation in advance, because they tend to get booked up pretty quickly.
Here are some recommended hotels in the area:
Your Transport
One of the first things that you have to prepare for your Siargao itinerary is your transport.
There are no buses and no jeepneys in Siargao. The only public transport is by tricycle. However, they are not always convenient as there are many places that you won't find tricycles available unless you are lucky to flag an empty one down from the road.
The best form of transport in Siargao is a motorbike. Almost every hotel, hostel or guesthouse on the island offer motorbikes. Normally the price is 400-500 PHP per day, but if you rent it for two or more days, they usually agree to give you a small discount.
What I can promise from your time in Siargao is: you really won't want to leave! And you will want to visit again. Even for those who don't repeat places which they have already visited, Siargao would remain an exception. You'll want to come back.
More Around The Philippines
Where will you go after the Philippines?
Laos | Malaysia | Singapore | Indonesia | Thailand | Cambodia | Vietnam
Which of these things to do in Siargao are you most stoked to do? Let us know in the comments!
---
---
>>> EVEN MORE ABOUT THE PHILIPPINES <<<
Guide to Backpacking Philippines
How to Get to El Nido From Puerto Princesa (Palawan, Philippines)
Where to Stay in El Nido: Hostels, Hotels and Resorts
Things to Do in El Nido: A Guide to 3-5 Days in the Philippine Paradise
13+ Day Trips and Tours to Take in Manila, Philippines
Your Intro to Palawan, Philippines: 9 Things to Do in Puerto Princesa
Years After a Super Typhoon: What Traveling Leyte and Samar Are Like Now (Philippines)
A Guide to Kalanggaman Island: Basking on One of the Best Sandbars in the Philippines
2-Day Sagada Itinerary in a Blissful Sleepy Town in the Mountains of the Philippines
Exploring the Rice Terraces of Banaue and Batad
Siquijor Island: Crazy Bike Rides and a Witch Hunt
A One Day Bohol Itinerary – Jungle Huts, Tiny Monkeys, and Chocolate Hills
Cebu City- Boo / Neverland Manila Festival- Yay!
Welcome to the Philippines! Not
---
---
>>> Bio
Krasen Jelyazkov is a travel blogger from Bulgaria, currently residing in China. With his wife and travel mate Ying Ying he manages their blog, called Journey Beyond the Horizon. They have traveled mainly around Southeast Europe and many places in Asia, with plans to explore more of the continents, focusing on the off the beaten track destinations, and sharing it in their blog.
---