UPDATED 12/2017
What should you do on your Bohol itinerary with just a day?
After reading this guide you'll have a better grasp on what Bohol has to offer to any traveler with just a day to spare.
Within my series of Philippines adventures, I ended up staying in Bohol for a simple two nights and one day.
If you're like me and are too anxious to see more of the Philippines or you ended up on Bohol by accident like I did (oops!)… Here's a Bohol itinerary for that one day and how to make the most of it!
Where To Stay In Bohol
: Into The Jungle
If you're up for the challenge and the unique experience, you could choose to stay in the jungle!
We took our chances arriving at Bohol at night and we thought it would be fine since we would wake up where we really wanted to be, in nature. While I wouldn't advise traveling at night, we felt like we would be perfectly fine because we had each other. At least we knew where to stay in Bohol, it was just a matter of getting there.
We hired a driver for 540 pesos! A bus would have been cheaper but it was too late. We made our way to the interior of the island and he drops us off on the side of the road after a 30-40 minute ride.
We had heard Nuts Huts, our guesthouse, was in the jungle but didn't really know what to expect.
He said he couldn't drive any further because of the road, and we only had to walk about 70 meters. It's safe to say now, that 70 meters was a total lie. We finally made it, around 20 minutes later after walking through the jungle on a dirt path at 10 pm. When we woke up, we realized it was totally worth it!
Nuts Huts is the place to stay in Bohol
The experience of waking up by a lovely flowing river, the mountains in the distance, and the loud sound of insects roaring all around you, it's something you would never forget.
While the guesthouse dorm rooms are a bit worn, especially if you're used to hotels, it's manageable. The bathrooms might take a bit of getting used to as well, but it's only a few nights.
Nuts Huts is a great place that I would personally recommend. It has a cool setting, amazing food, and their overall experience of sleeping in the jungle is pretty awesome!
But it's not a place you will find yourself more than once, because of how out of your element it seems for any extended amount of time.
The meals at Nuts Huts were fantastic, fresh, and made the experience that much better. They went out of their way to create culturally rich dishes that were full of flavor. There's nothing really around here so it's good they had this restaurant.
If you're wondering where to stay in Bohol, you could opt to rough it in the jungle, for an experience that will never be forgotten.
Just be sure you understand it's a bit of a trek through a jungle on a dirt path to get to. Keep this in mind if you arrive at night.
What To See On Your Bohol Itinerary
---
Grab a motorbike and head to these three spots…
See The Chocolate Hills By Motorbike
One sight you won't want to miss is the Chocolate Hills.
You'll want to start your day off early by heading to the nearest bike rental location. From there you can make your way to the Hills. The people at Nuts Huts organized our motorbike rental, just ask them for some help.
Chocolate Hills is a wonderful landmark and one of the most famous of the Bohol attractions. The setting is nice, the mountains were looming in the distance, and the view was stunning.
Compared to attractions in the Philippines, the Chocolate Hills might be a tad underwhelming, but it's a staple in the Bohol landscape and still worth a visit.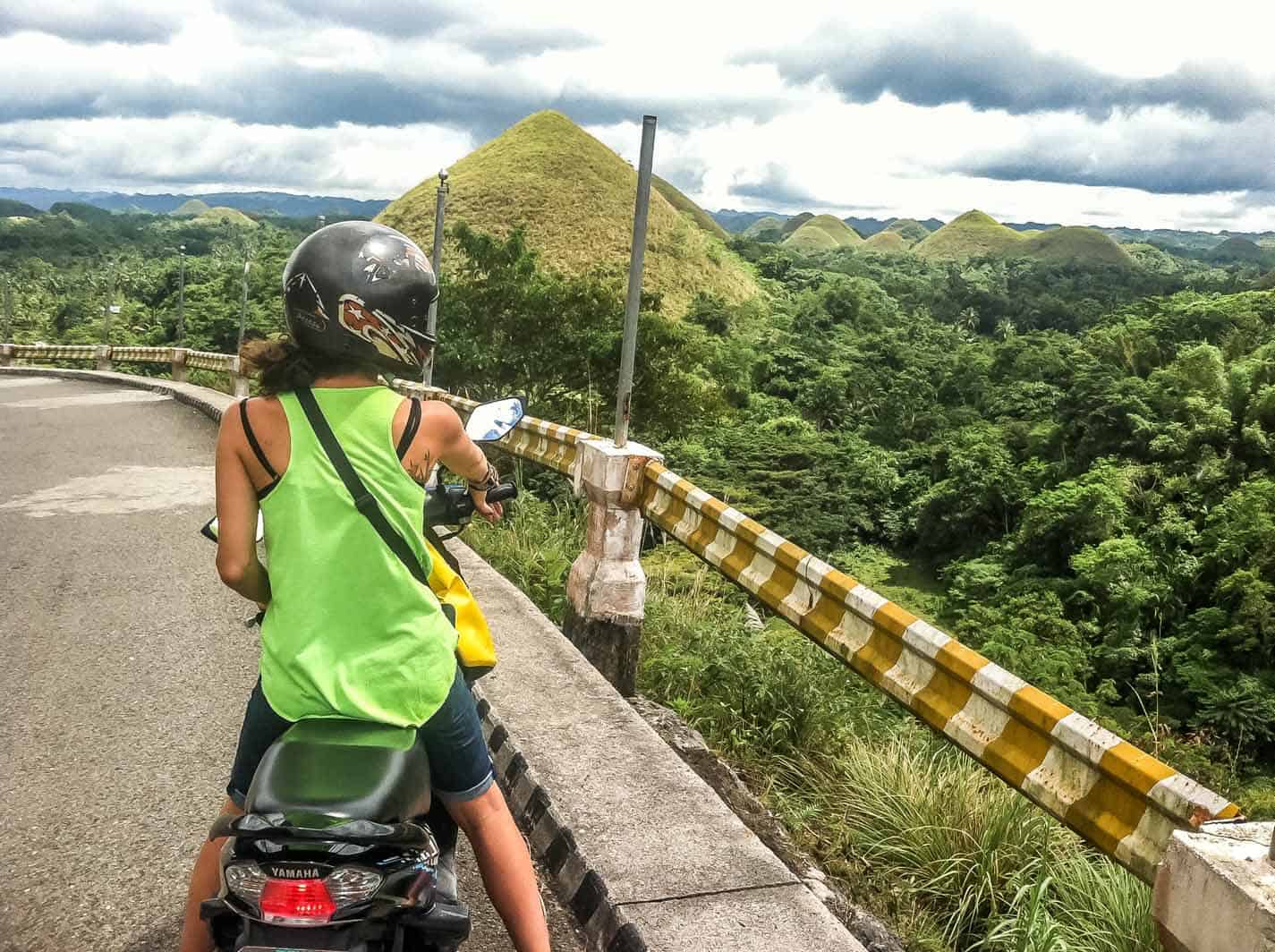 If you want to see these hills in their full glory, make sure you visit them when it's not rainy season, or they will be more green than usual. This is what to do in Bohol though as it's the main attraction. So if you're here, definitely go.

Chocolate Hills- 50 pesos entry
Spot A Tarsier
After you spend some time viewing the beautiful Chocolate Hills, visit one of the local Tarsier sanctuaries. There are a few tarsier sanctuaries, but only take advantage of the chance to see these amazing animals living a happy life outside of cruel cages and viewing areas.
The Tarsier Sanctuary in Corella doesn't cage the tarsiers.
They are the smallest primates in the world but they are so adorable!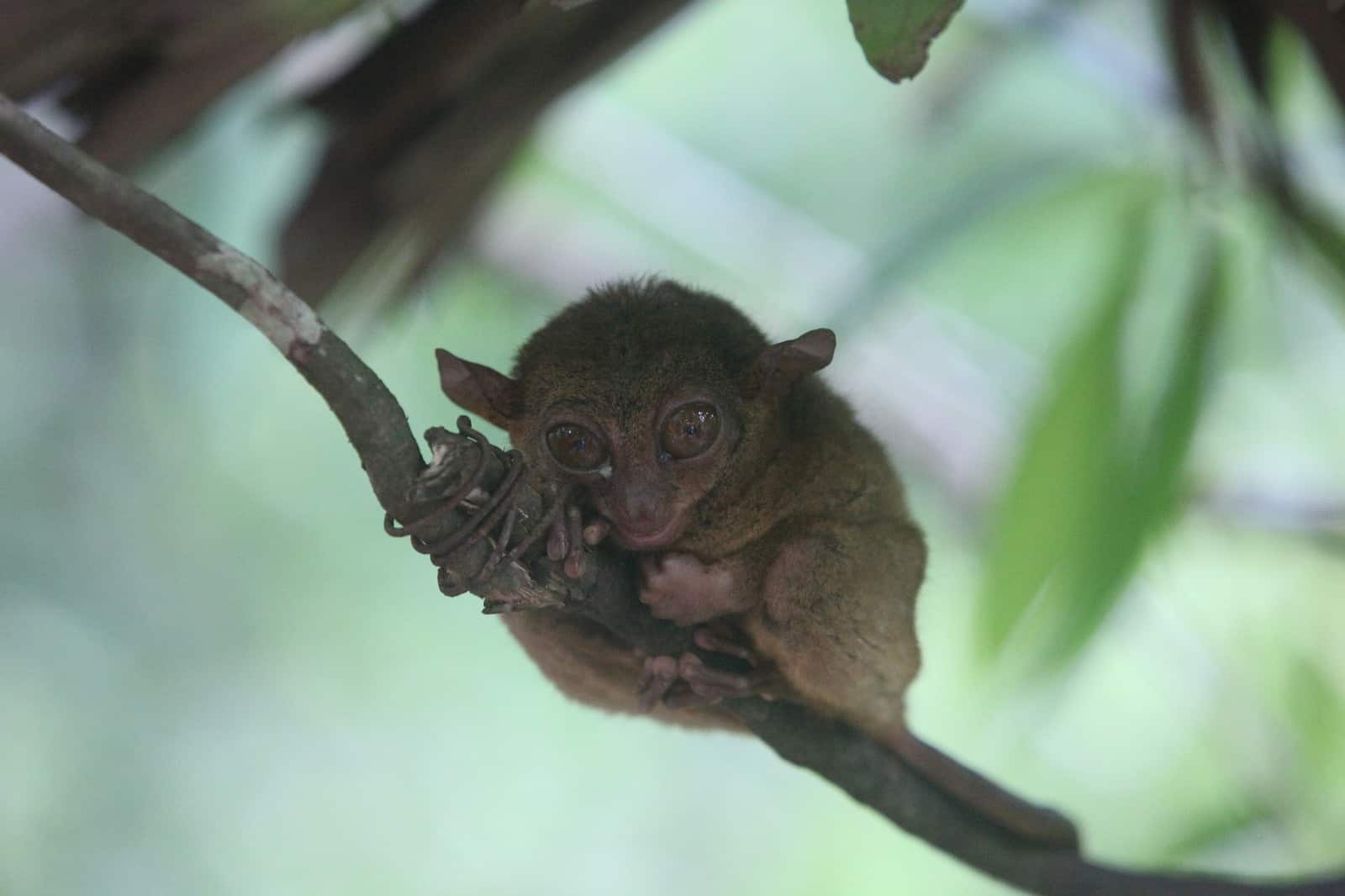 If you're in the area and limited on time, this is the perfect spot to sightsee. It doesn't require a ton of time or dedication and it's something you can't see anywhere else!
Tarsier Monkey Sanctuary – 60 pesos
Hang Out On The Bridge
After spending time with those tiny monkeys, one of the last and most spectacular places you must make a quick stop at would be the two hanging bridges. While they may not be heaps of fun, they offer a nice view and make a fun photo.
When you walk across the bridge you get asked to buy some bananas or a souvenir T-shirt, then you walk back across.
It's a simple experience, but a nice detour. And since you're on a quick one day Bohol itinerary and rented a motorbike, you have the freedom to stop anywhere.
Hanging twin bridges – 20 pesos
When you travel to Bohol, you'll find the trip to be relaxed and easy going.
Bohol will probably be one of the more simple adventures on your itinerary where you can relax and enjoy the nature the island offers.
Running out of time? Book a Tour to Bohol Instead!
Full Day Bohol Tour
Running out of time? Not sure you want to deal with organizing a trip here yourself? Try a tour from Get Your Guide.
→ Book a Bohol Full Day Tour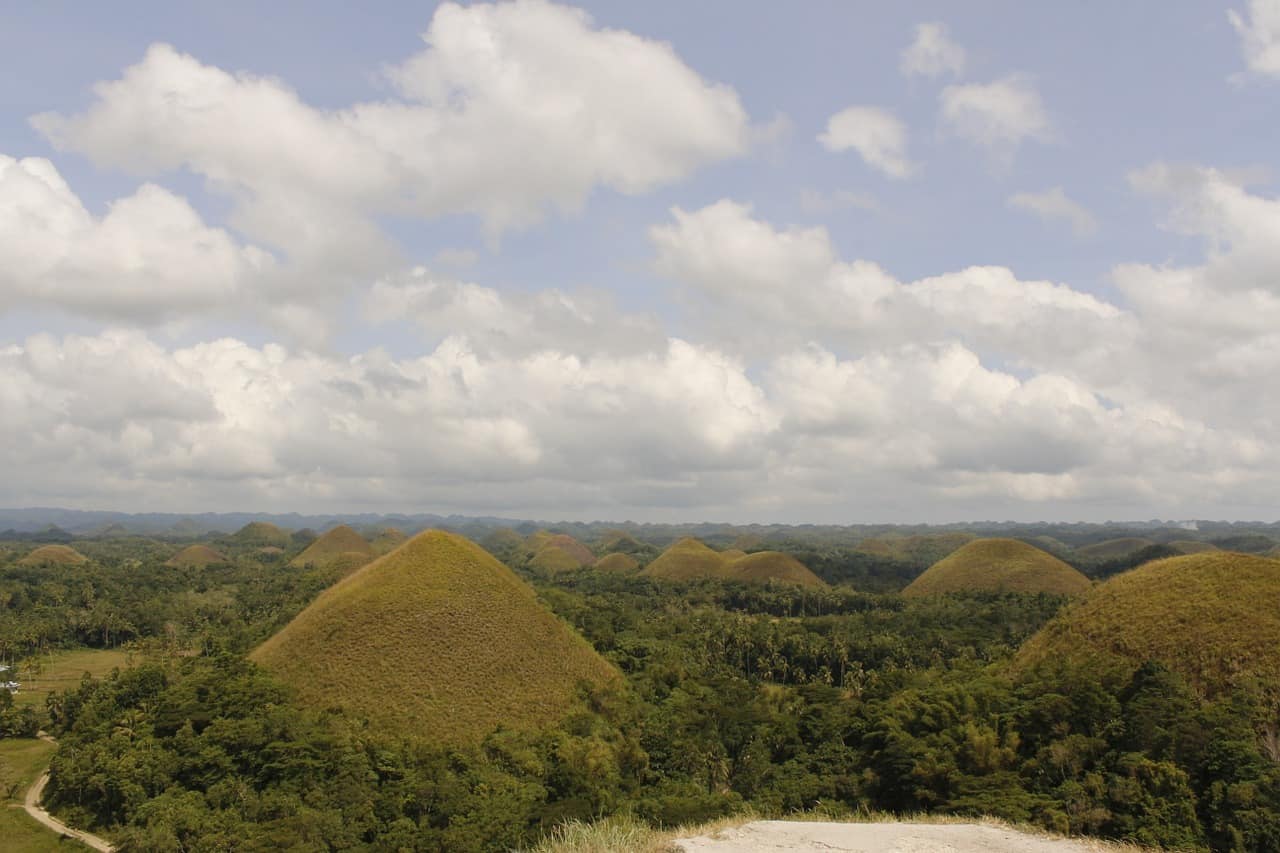 Full Day Bohol Tour From Cebu
You can grab an easy day trip tour to Bohol's top attractions, including a river cruise with lunch.
→ Book a Bohol Tour from Cebu
More Around The Philippines
Where will you go after the Philippines?
Laos | Malaysia | Singapore | Indonesia | Thailand | Cambodia | Vietnam
Have more time on your Bohol itinerary? Check out the beautiful beaches and snorkel with the marine life.
---
---
>>> EVEN MORE ABOUT THE PHILIPPINES <<<
How to Get to El Nido From Puerto Princesa (Palawan, Philippines)
Guide to Backpacking Philippines
Where to Stay in El Nido: Hostels, Hotels and Resorts
Things to Do in El Nido: A Guide to 3-5 Days in the Philippine Paradise
13+ Day Trips and Tours to Take in Manila, Philippines
Your Intro to Palawan, Philippines: 9 Things to Do in Puerto Princesa
Years After a Super Typhoon: What Traveling Leyte and Samar Are Like Now (Philippines)
A Guide to Kalanggaman Island: Basking on One of the Best Sandbars in the Philippines
2-Day Sagada Itinerary in a Blissful Sleepy Town in the Mountains of the Philippines
Exploring the Rice Terraces of Banaue and Batad
Siquijor Island: Crazy Bike Rides and a Witch Hunt
Cebu City- Boo / Neverland Manila Festival- Yay!
Welcome to the Philippines! Not
---
---
Click the pics to PIN it!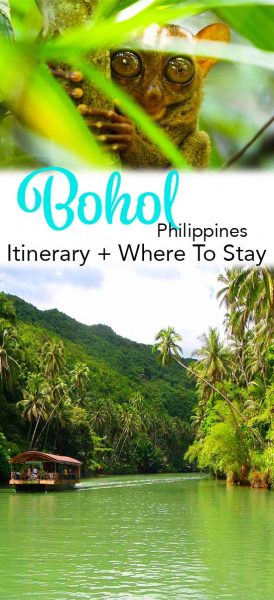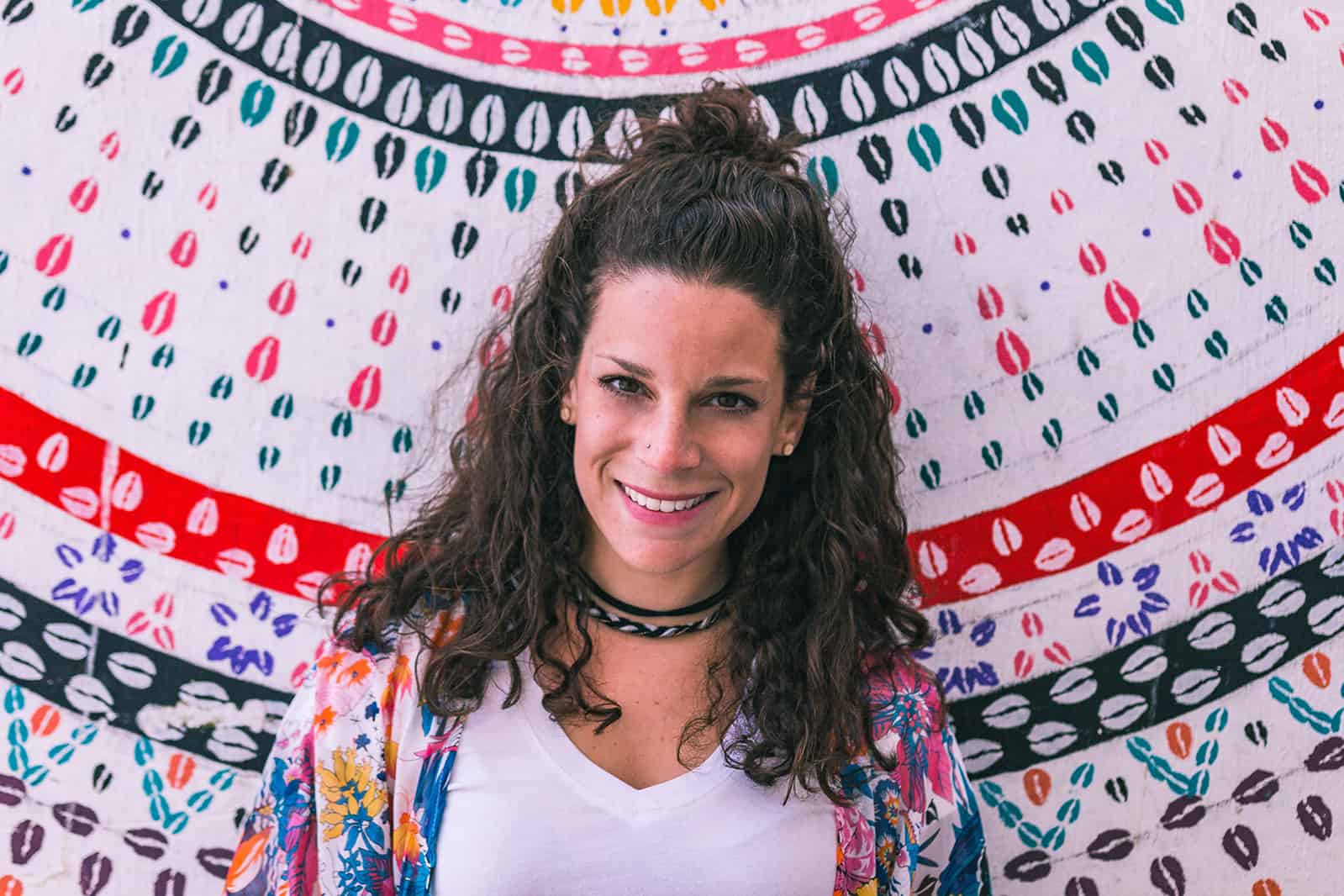 Nina Ragusa is an adventurer, messy bun master, breakfast fan, and full-time travel blogger. She's been abroad since 2011 and blogging on Where in the World is Nina? for nearly as long. Nina helps people like you move around the world while making money. She loves talking about how to work abroad and online to travel longer!