There's a place in Indonesia full of beauty, a magical and massive lake and a jungle to roam where you'll meet our orange-haired ancestors.
It's called Sumatra.
Sumatra is just one of the many islands that's totally underrated in Indonesia. Millions flock to Bali and don't even give the other islands a second glance. Surely an archipelago with Bali as its "hub" has other beauties too, right? I mean, there's 17,000+ island after all…
Here's a bit about Sumatra and its prized locations, Lake Toba and Bukit Lawang. I'll tell you a bit about taking a tour here or about how you can see it on your own depending on your travel plans.
Bukit Lawang and Lake Toba Tours
---
Taking a Bukit Lawang and Lake Toba tour may be the best option for you because, let me tell you, getting here and wandering around can be a bit of a pain. The logistics and efforts may not be worth it for those with less time or a strict vacation schedule.
Here are some great combo options so you can get the most out of your time during your visit to Sumatra.
Sumatra is a wonderful island full of adventure, but infrastructure, connectivity, and overall basic needs are not as easy to come by as its sister island, Bali. Many people find taking a Sumatra tour is a bit more comfortable to take out the planning headaches.
Taking a Bukit Lawang and Lake Toba tour will be the best option for you if that's your situation.
Adding on extra days and time to your vacation will be needed if you try figuring this out all on your own. While it's possible, and I talk more about that below, if this is not feasible, check out these tours…
Recommend Bukit Lawang and Lake Toba Tours:
Want even more? Sumatra has so much more to offer, including the above, take 14-days to explore even more of Sumatra to the nearby islands and beaches, and even cave expeditions.
As you'll read below, getting around Sumatra and even just out of Medan can be a headache.
If you're not the type of traveler, who doesn't mind very bumpy rides on a public bus, with torn seats, no a/c, and potential livestock coming on board… I'd say to book yourself a tour.
Getting on a Bukit Lawang and Lake Toba tour will ensure you're on private transport most if not all the time and everything can be prepared for you in advanced.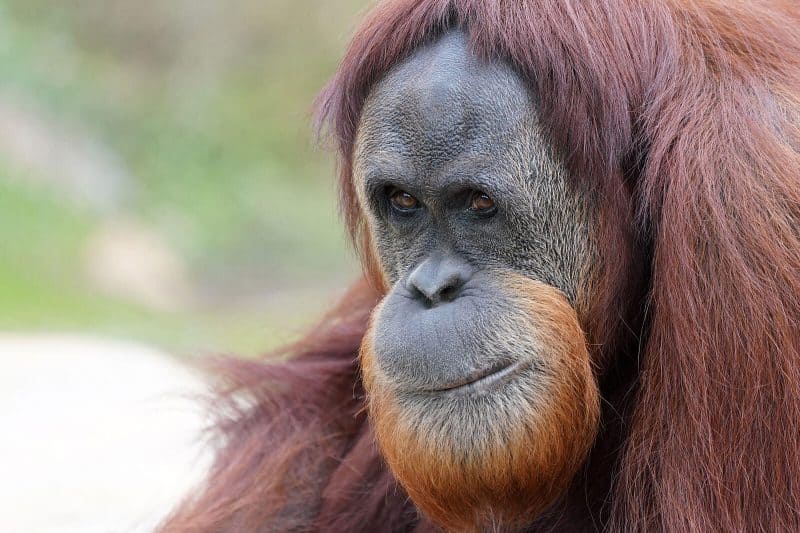 Getting touted for tours, taking crazy transport, and doing all the homework involved when going trekking (as you'll see below) is not everyone's thing and I respect that.
That's what tours are for if that's what makes you most comfortable.
Visiting Bukit Lawang
---
As a small village in North Sumatra, Bukit Lawang has a lot to offer.
It's a hot spot for those wanting to immerse themselves in the lush green jungle of the surrounding area.
People come from miles around to enjoy the peaceful, laid-back town, and you shouldn't be surprised if a cheeky monkey runs across your roof in the morning, or the sound of singing cicadas sends you to sleep.
The surrounding rainforest is a part of the Gunung Leuser National Park, and is a popular hiking spot, with the mighty orangutan being the most famous resident. Hiking here is incredible, and you're likely to see a vast array of wildlife on your journey.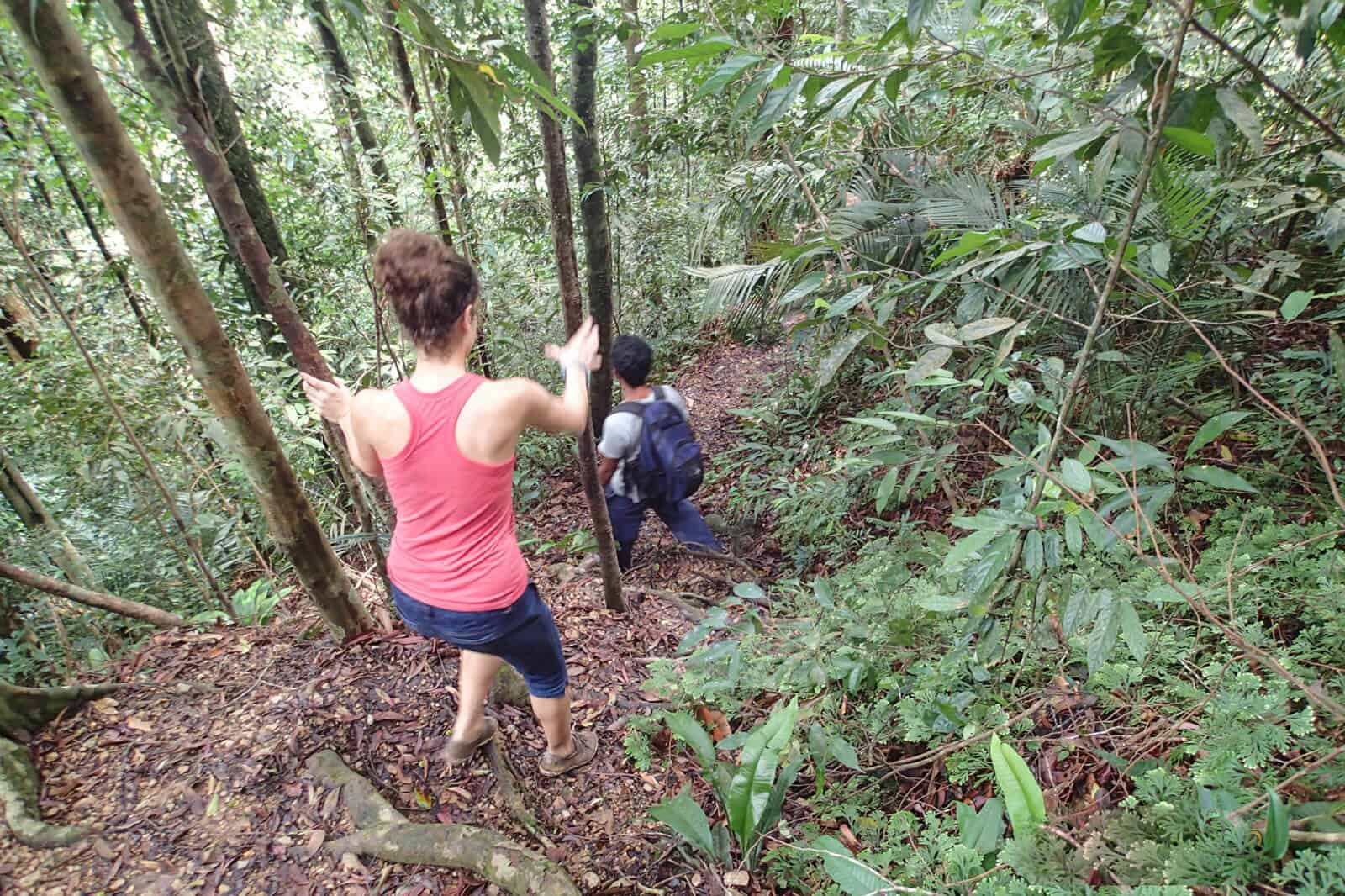 I will never forget my first sighting: a mother and her baby. The mother swung to the next branch as she patiently waited for her baby to come along.
The baby stopped every two seconds to grab another piece of fruit and casually sit there munching. Mom came over to nudge the baby along, only for the baby to stop again shortly after for another bite to eat.
We spotted Mina, the well-known queen of the forest who is known for being a bit aggressive because of her captive past. Our guide ushered us along to the next area where Mina usually doesn't wander, only for us to look up and see yet another mom and her baby!
The hike was like an adventurers tale that you don't think would happen to you. Only lucky trekkers who have been searching for days get this type of experience, right? People who study the orangutans, those who camp out and wake up early or perhaps those work at the rehabilitation center get this rare and rewarding sighting.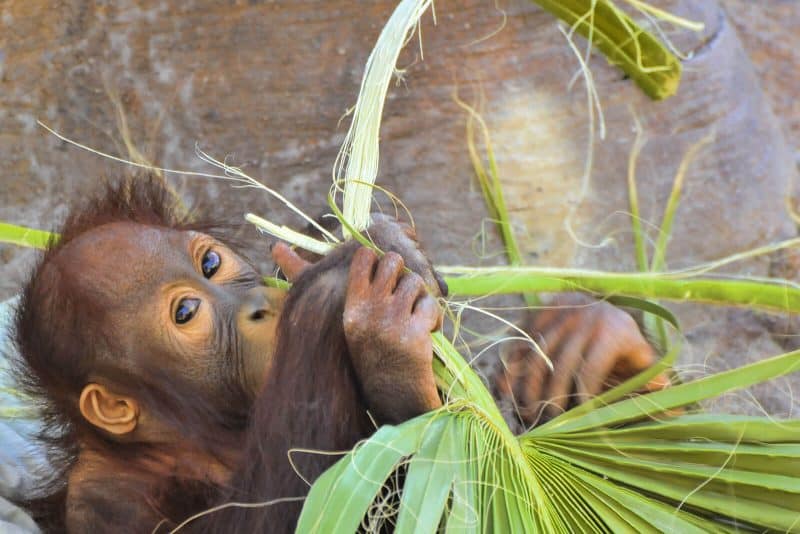 But no. I got to witness these beautiful creatures with a full day trek in the thick of the Bukit Lawang forest… It was magical!
Choosing a Bukit Lawang Tour
If I could, I'd recommend the guide we went with. However, this was a few years ago now. The guide that took me and my friend, was 100% respectful of the animals, didn't feed them, and always notified us when we needed to stop talking because we were entering their "hang out" area.
Make sure to ask a lot of questions before booking these type of treks. The popularity of Bukit Lawang has grown, so it's up to you to make sure you're choosing the right trekking guide.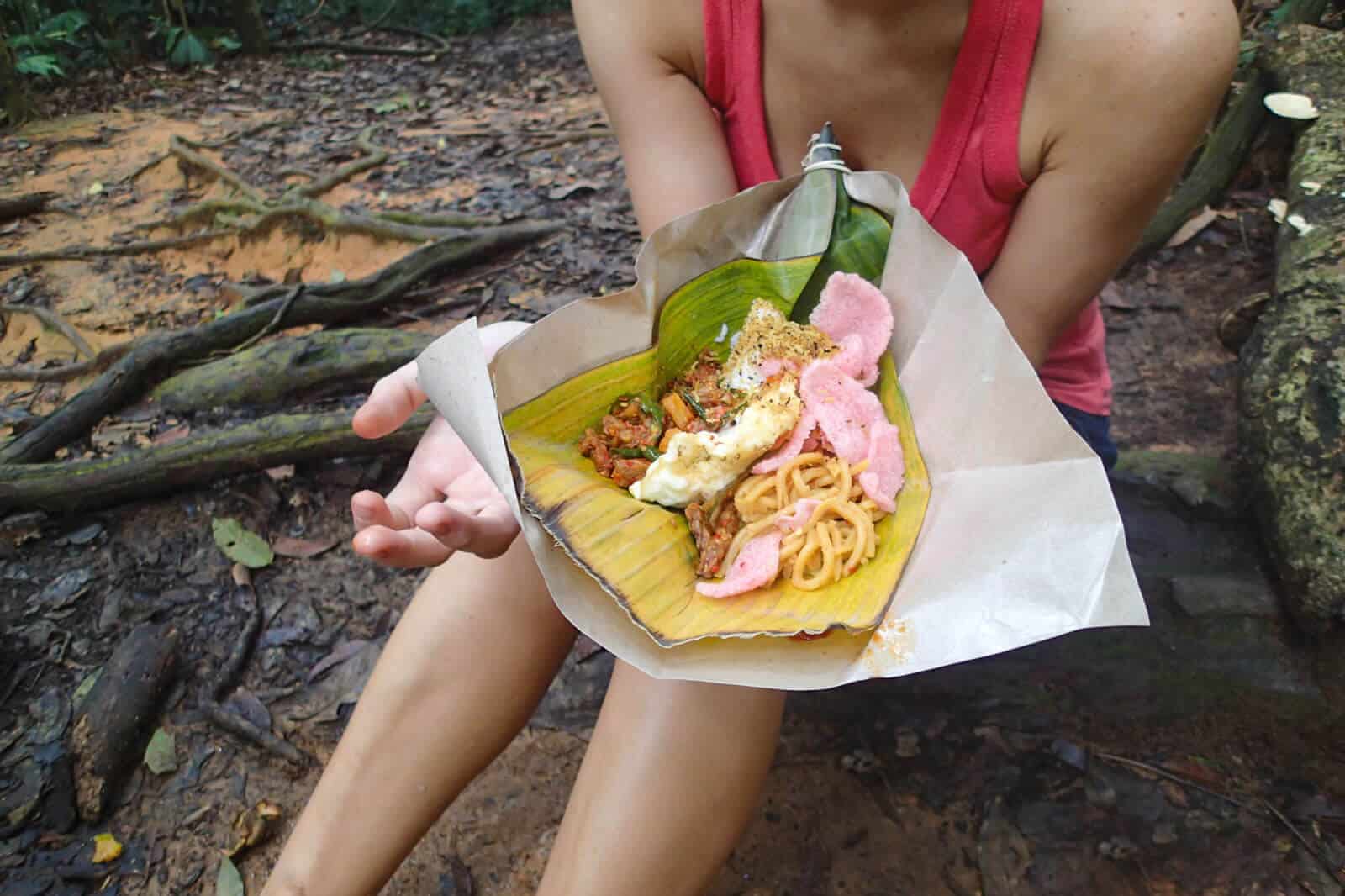 These beautiful creatures are the last of the Sumatran orangutan and are quickly dying off with every day that passed due to their home, the jungle, getting destroyed for palm oil. It's imperative that we don't do any further damage when visiting their homes.
Since I can't recommend the guide I had (I didn't keep his details), I researched for you, and if you don't want a combo tour like I offered above, for a Bukit Lawang tour, I'd choose Sumatra Adventure Holiday or TrekSumatra.
They both seem to have the best reviews and avidly avoid any unethical habits like feeding animals and leaving rubbish.
Do your due diligence though and always double check and vet places before booking with them to ensure they are still following the same ethical practices.
What to Know Before You Go on a Bukit Lawang Tour:
Don't use a guide that draws orangutans out with food. Not only is this dangerous, but it is also bad for the health of the animals. It also increases the risk of passing diseases and infections from humans to orangutans.
Be sure to pick a guide that is appropriately certified. As it is illegal to hike without a guide, chose one who genuinely cares for the survival of the species.
Take sturdy hiking boots with soles that have a good grip as you will be climbing through some challenging terrain.
It is advisable that only those that are in good shape try the trek, as the ground is uneven and wet, and can be quite a challenge for some.
Avoid tour agencies who claim you can get close and can touch the orangutans. Not only is dangerous for you but for the animals as well.
Only trek with a guide which allows small group on the trek. Having large groups creates a lot of noise which scares and disturbs the animals. Again, this is bad for the animals and also decreases your chances of seeing them.
Where to Stay in Bukit Lawang
Rain Forest Guest House
Located in Timbanglawang, a stay in Rain Forest Guest House offers a truly authentic experience. With dark wood interior and stunning views over the river and the encircling forest make you feel like you're in your very own jungle hut… because you are!
The common area provides comfy hammocks and delicious home cooked food.
This is where I stayed, and I couldn't have been happier. The staff are sweet, the food is some of the best food I've had in my travels, and although the bungalows are very basic, I did feel at home!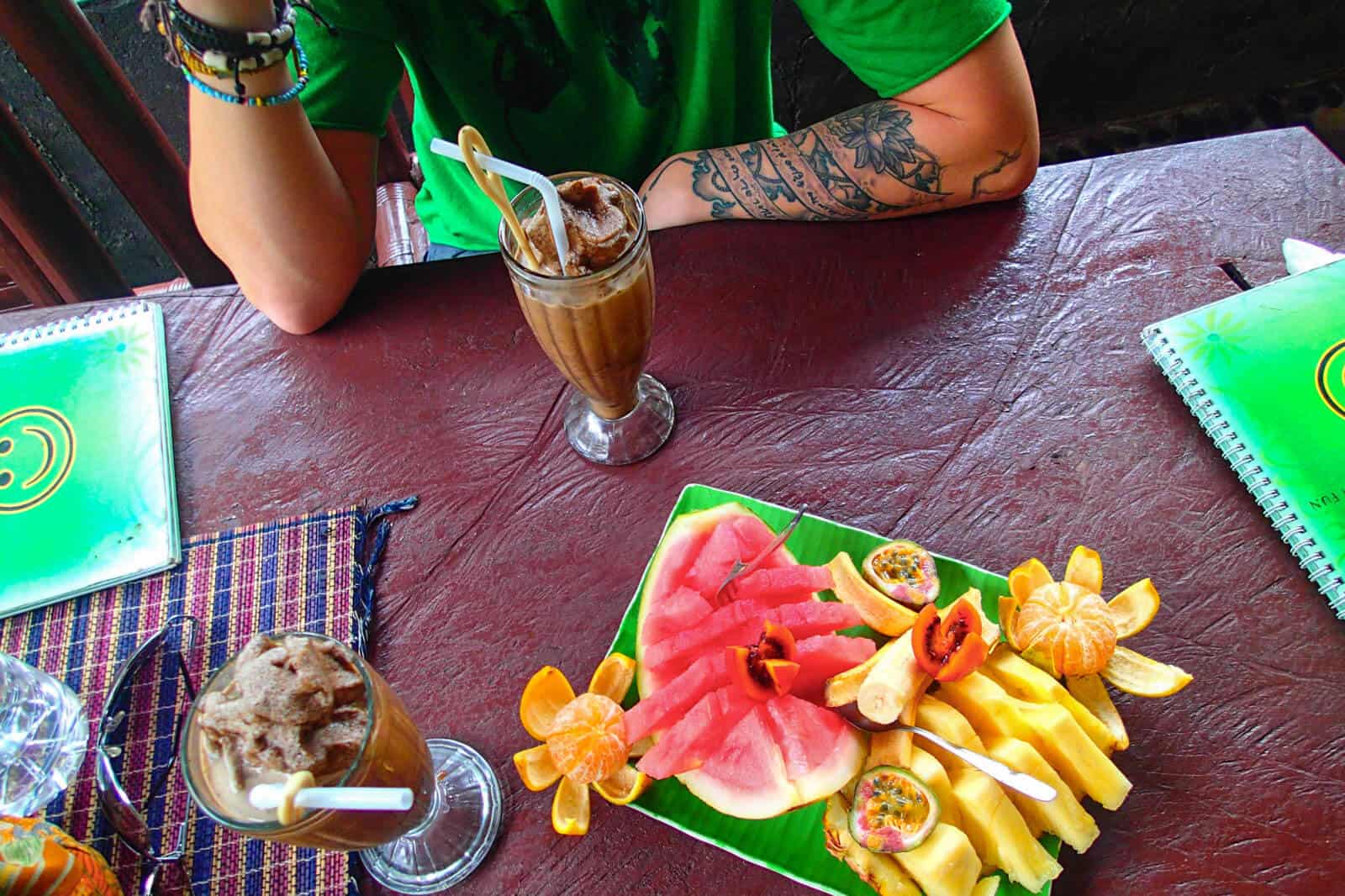 Thomas' Retreat Bukit Lawang
The picture perfect building of Thomas' Retreat features some guest rooms, each of which comes with its own balcony, seating area, and private bathroom, while some even have beautiful mountain views.
Enjoy a variety of local dishes in the on-site restaurant or hire a bike and explore the vibrant surroundings.
Hotel Orangutan
For a truly unique trip, Hotel Orangutan offers boutique jungle accommodation built on the side of a cliff, sitting opposite a rainforest teeming with exotic wildlife.
The hotel has been custom designed to incorporate a range of local elements, and as a not-for-profit startup, it has a focus on improving the lives of local villagers, habitats and wildlife.
Ecolodge Bukit Lawang
Set in the green heart of North Sumatra, a stay in the Ecolodge Bukit Lawang provides an unprecedented opportunity to immerse yourself in a rainforest environment, while also supporting sustainable tourism.
Proceeds are donated to the Sumatran Orangutan Conservation Programme, and all rooms offer terraces with garden views and a private bathroom.
There's also a stunning communal area, complete with beanbags, where you can fully enjoy the wonder of your surroundings.
Visiting Lake Toba
---
Lake Toba is arguably one of the most amazing natural wonders in the world. This crater lake is the largest in Southeast Asia and is one of the deepest in the world. In its center, it has an island which is almost the size of Singapore!
People come from all over the world to relax and enjoy the stunning scenery, take in the mountain views, see the sights and take part in the many lakefront activities.
Most people prefer to stay on Samosir Island, as it's the heart of Toba Batak culture.
As soon as you step off the ferry, you'll be greeted by small stalls selling an array of Batak handicrafts, or you can shop until you drop at Tomok Market.
You'll likely stay around the village of Tuk Tuk, best loved for its stunning, sandy banks and lush surroundings. A great beach is Pasir Putih Parbaba Beach, with cooling calm waters and fun-filled beach volleyball tournaments.
Things to Do in Lake Toba
There is a huge range of activities on the island. One of the best hikes is up Holbung Hill, for breath-taking views of the lake and island. On your way to the top, stop off at the natural pool which has crystal clear water, surrounded by an abundance of tropical flowers.
Alternatively, explore the area on flatter ground by renting a motorbike which can be used to find the best hidden spots. For the more adventurous, you could try paragliding from Martahan Janji Village, or visit one of the many waterfalls.
The Sipiso-Piso, Hadabuan Naisogop, and Batu Sawan waterfalls are particular must sees, with cascading waters falling into beautiful natural pools below.
For a little history, visit the famous tomb of King Sidabutar, believed to be the first person to visit the island, or see the Stone Chair of King Siallagan.
Low on time? Grab this Lake Toba tour and see the highlights without having to figure out all the details!
Where to Stay in Samosir
Want to stay on Samosir Island? It's where most people end up staying when they visit. Here are the best accommodations in Tuk Tuk, the bustling village of Samosir.
Leokap Homestay
Wake up to a gorgeous lake view every morning at Leokap Homestay. Private bungalows are dotted around a tropical garden setting, where you can sit on your patio and enjoy the tranquillity.
The property has direct access to Lake Toba, or if you want to go further afield, your hosts will organise motorbike hire. They also offer massage services and private tours of the island.
Zoe's Waterfront Hotel
Picture a traditional white and red building fronted by a cooling, blue pool, lake views and surrounded by towering mountains. The hotel also offers a sun terrace to soak up the rays, and the on-site restaurant serves a wide range of European and Asian cuisine.
Each of the guest rooms come with a seating area and flat-screen TV and are a comfortable place to rest your head at night.
Samosir Cottages
Located directly on the banks of Lake Toba, Samosir Cottages is a beautiful place to stay. With stunning lake views, the hotel allows you to embrace your surroundings fully.
Relax on the sun loungers located on the waterfront and at the pool, rent a bike and cycle along the shores or take a boat ride out onto the lake, there's a massive range of things to do nearby.
This is where I stayed, and they have updated it quite a bit since I was last there. Waking up to those lake views is priceless.
Tuk Tuk Timbul Bungalows
Tuk Tuk Timbal is a little piece of paradise for those that like a little bit of peace and quiet away from the hustle and bustle.
Located on the edge of Lake Toba, between the peninsula of Tuk Tuk Siadong, it's in easy reach to the village of Ambaita. All but one bungalow is completely freestanding, with a king-sized bed and direct lake view.
Guests can choose between either a wooden bungalow or from four traditional Batak style houses.
How to Get Out of Medan
And trust me, you'll likely want to not spend any more time than necessary in Medan. It's a rough city. There's not much to do or see, and really, you're only using this city to get to Bukit Lawang and Lake Toba. Get out.
Unfortunately, you'll need to pretty much get all the way to Medan to travel between these two spots, and there's no other way to get there.
Mastering the art of getting out of Medan was not the easiest feat, and this is where a Bukit Lawang and Lake Toba tour may come in handy for those not too experienced with traveling.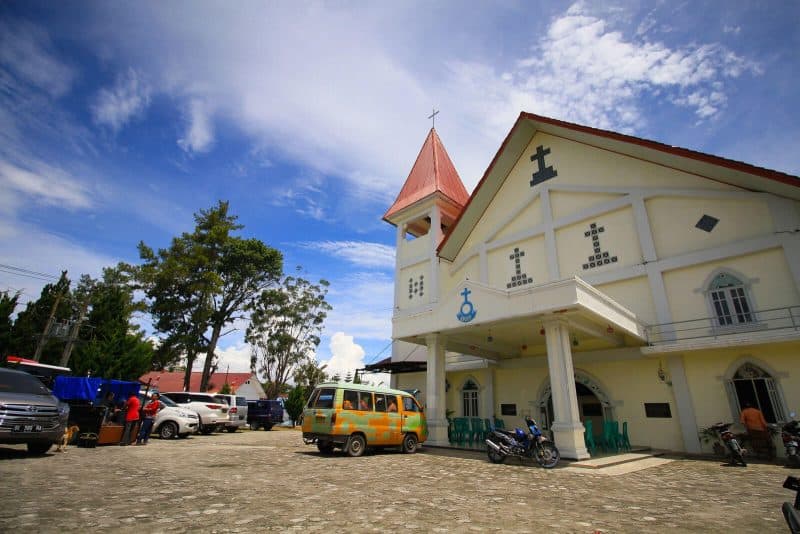 The shared buses and public transport are also a bit brutal, as there's no a/c, broken windows that may or may not roll up/down, smog to breath in for the first few hours while you get out of Medan, torn seats, touts, and hours of butt punching bumps along the way…
Considering I'm an experienced traveler, this type of stuff doesn't faze me, and I'm used to it. Take a tour or private taxi if this type of transportation bothers you.
How to Get to Bukit Lawang
You can hop off your plane and directly catch a bus to Binjai. From Binjai, you'll then take another bus all the way to Bukit Lawang.
You'll be immediately "greeted" by "guides" wanting to take you through the jungle.
I'm not saying there's anything wrong with these people, they could be very well nice and maybe even official but as someone who just got off a bus and is trying to find their accommodation, I'd suggest nicely telling them you have everything booked, and goodbye.
They will leave you alone if you explain this as it's not worth their time to pursue. This leaves you with the time to settle in and get your bags dropped off before hopping into "let's find a guide" mode.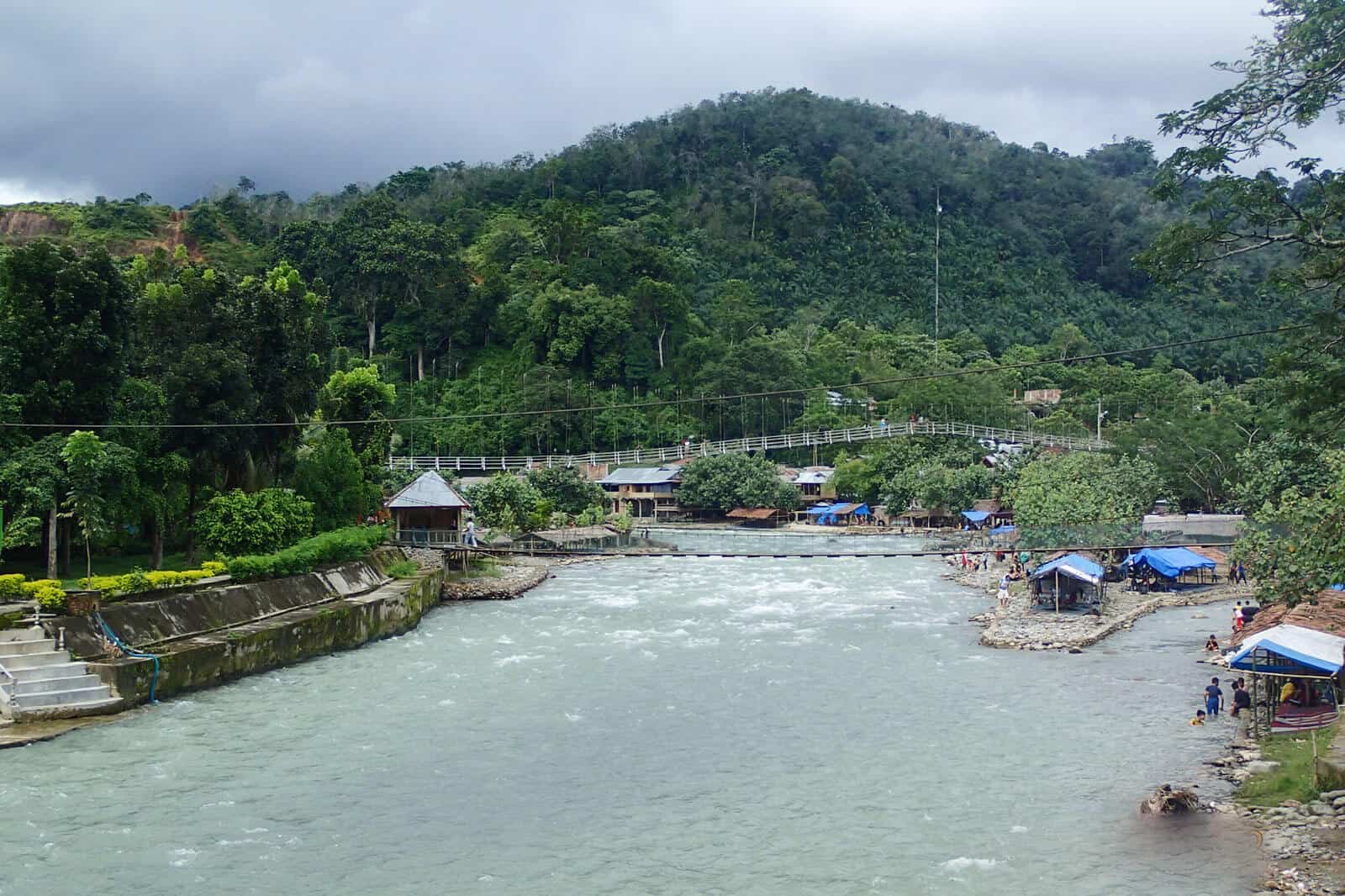 If you entertain them and continuing speaking to them, they will literally follow you to your accommodation, wait for you to come back out of your room, and sit there as you eat your lunch until you either tell them you'll book a tour through them or say, I have a tour booked already.
This is me telling you from experience… I couldn't chew my food without this "guide" sitting there staring at me waiting for me to book a tour with him. I was too nice.
How to Get to Lake Toba
Lake Toba is located around 176km from Medan and can be reached in 6 hours by public bus. The bus has two routes, either Medan-Parapat or via Medan-Berastagi.
Once you arrive in Parapat, you can hop on the ferry to Samosir island, which leaves every hour and a half either to the village of Tomok or Tuk Tuk. You'll probably want to go to Tuk Tuk!
If you arrive at night, there may not be a ferry going. If you catch a boat out there and are not sure when to get off, speak to someone or watch yourself on the map. Depending on which boat you grab, and at what hour.
The boat makes a lot of little stops, and you may very well miss your opportunity to hop off the boat.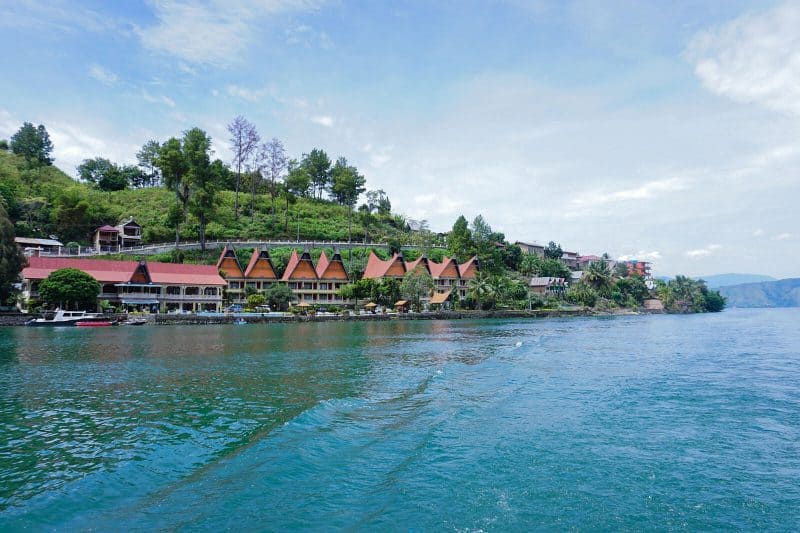 This happened to me, I had no idea when to get off, but luckily everything always works out, and I didn't technically have the place booked before, so finding a new spot was fine.
I hope this was helpful for anyone visiting Sumatra soon! Are you exploring on your own or taking a Bukit Lawang and Lake Toba tour?
Where will you go after Indonesia?
Laos | Malaysia | Singapore | Philippines | Thailand | Cambodia | Vietnam
Which part of Sumatra are you most excited for? Let us know in the comments!
---
---
>>> EVEN MORE ABOUT INDONESIA <<<
How to Get to Pacitan, Java Indonesia: A Hidden Surfer's Beach Paradise
How to See Borobudur and Prambanan in Yogyakarta, Indonesia (Java)
Why and How to Visit Ambon and Saparua, Indonesia Before Everyone Else Does
Kawah Ijen Without a Tour: Everything You Need to Know (Indonesia)
---
---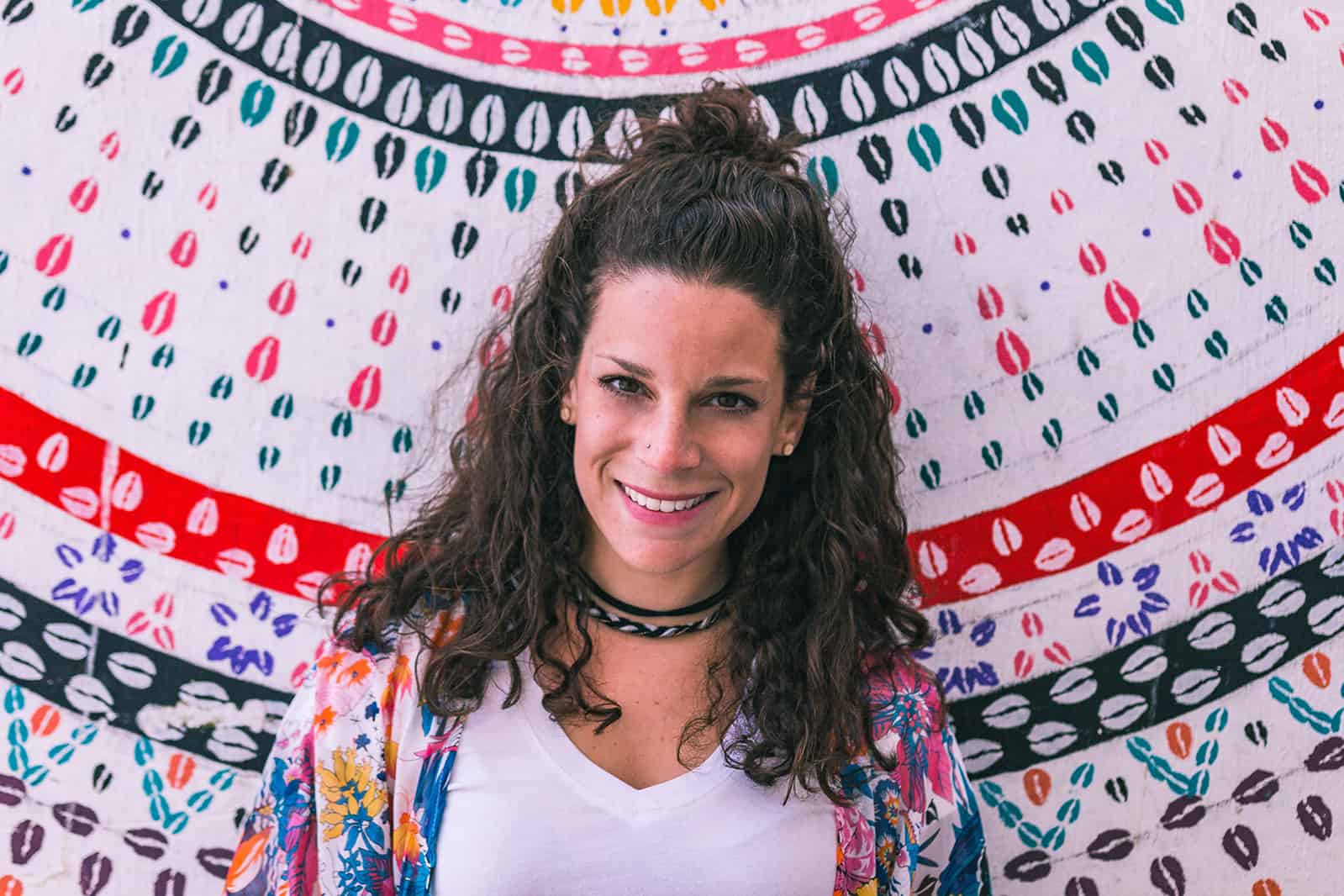 Nina Ragusa is an adventurer, messy bun master, breakfast fan, and full-time travel blogger. She's been abroad since 2011 and blogging on Where in the World is Nina? for nearly as long. Nina helps people like you move around the world while making money. She loves talking about how to work abroad and online to travel longer!