As a professional beach bum, I know a nice beach when I see one… And I found yet another in the Philippines.
In case you haven't heard, the Philippines has been consistently ranked in the top twenty for having some of the most breathtaking, gorgeous, and paradisiacal beaches in the world.
So this new find is no surprise to me at all!
Here's a guide to Kalanggaman Island which has everything you need to know.
A Guide to Kalanggaman Island, Leyte, Philippines
---
This is one of the main tourist spots in Leyte and one of the best things to do in Leyte. It's getting more popular but for the most part, still pretty under the radar!
What to Do on Kalanggaman Island:
You mean besides admiring the beauty and just chilling on the sand? Because that's pretty much all I did. I just wanted to soak in everything around me, my day started at like 5 am and was exhausted, but there are other activities available should you want to be active.
Kayaking, stand-up paddleboarding, snorkeling, and even diving are available.
To organize any of these activities, you'll need to make arrangements at Palompon first so you can get the equipment on the boat. If you're up for snorkeling, bring your own!
They are still working on getting equipment and making this a more tourist-friendly place, so get everything sorted on the mainland as the island is quite bare, which is not a bad thing! You can speak to someone at the Habagat office about renting the gear, it's next to the tourism office.
If you're wanting to check out the mecca for all things diving, then diving in Coron should be your next stop!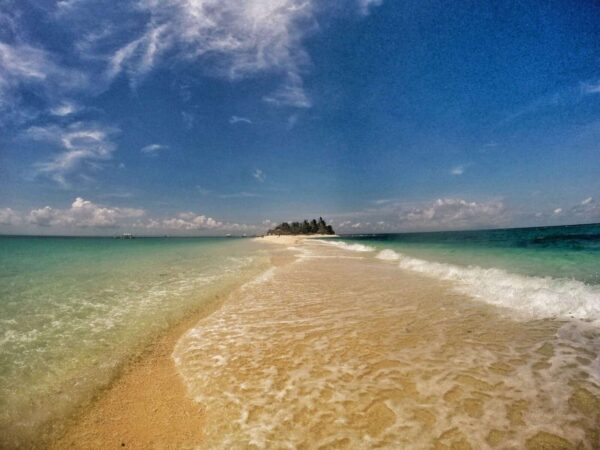 Talking a walk along the sandbar, one of the best in the Philippines is exciting on its own.
It's really beautiful to look back at the island from the end. How far can you walk down? It was high tide when I was there but I was still able to walk along until it started to get just below my knees!
The current is really strong at the sandbar area, so if you're dying to jump in and go for a swim, go further down the island away from the sandbar and go for a swim. Pay attention to the signs, getting caught in a rip current is scary AF, speaking from experience, guys!
The sand is white, the water is as clear as can be, and you get the sense that you're stranded on a small island but are happily getting lost in that moment with no desire to be saved.
How to Get to Kalanggaman Island, Leyte
Just to give you an idea of where that is… It's a spec between the island of Leyte and Cebu. Kalanggaman Island is a three-hour bus ride from Tacloban City and then a one-hour ferry ride from Palompon.
TIP: 12go.asia is the best way to book ferries, buses, and trains ahead of time in the Philippines!
Alternatively, if you stay in Palompon, you can just catch a boat ride over.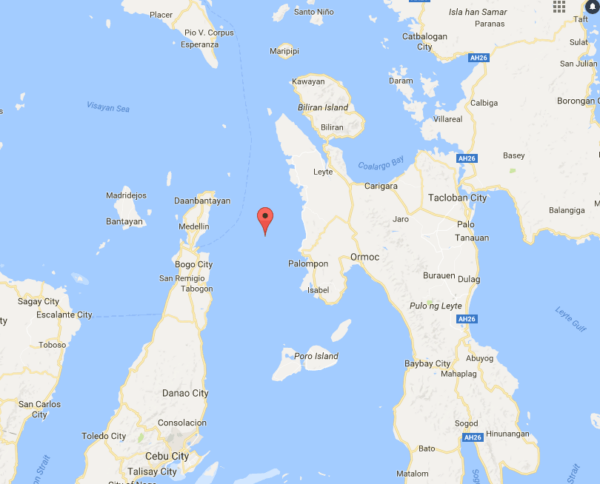 Getting to Kalanggaman Island Coming From Tacloban
This trip requires a three-hour van ride. You can book a van at many places in Tacloban city, choose the one near your hotel if you'd like, (Grandtours and Havens are two well-known ones). Y
ou can also choose to take the bus from the bus station but it's slightly less convenient. It might be cheaper but you'd be killing time dropping off and picking people. For about P300 round trip you can just get a van, not that much at all and well worth it.
Kalanggaman Island tour – You'll need to make a reservation with the Eco-Tourism office. They monitor the number of people going in and out of the island and take proper documentation to ensure the safety of individuals going over. So be sure to book at least a day or two ahead of time especially in high season (March to May-ish).
Taking a Kalanggaman Island tour is a must to get over here unless you have your own boat. If you don't want to worry about how to go to Kalanggaman Island, organizing a tour from Tacloban City would be your easiest choice.
Getting to Kalanggaman Island Coming From Cebu
It's a LONG trek to get here from Cebu but many people do it as people don't regularly visit Leyte. They are visiting Cebu and prefer to do a day trip to the other islands around them.
It is possible to get here from Cebu in one day but it's a looong day and the easiest way to do it is to just book a tour.
If you don't book a tour and attempt to do it yourself, you won't be able to do it in a day and you'll eventually need to book the boat tour anyway from Palompon. Mine as well have your entire day taken care with a day tour!
Click here to book your tour to Kalanggaman Island from Cebu
Where to Stay on Kalanggaman Island?
There's no accommodation on the island unless you camp out (more on that below). Here's where to stay around Leyte so you can day trip Kalanggaman Island.
Tacloban City
XYZ Hotel – This hotel is ace! A bit flashpackery in terms of budget, but it includes breakfast and a rooftop pool! Check out the prices for your dates here.
Z Pad residence is a bit cheaper.
Palompon
Palompon Sugar's Inn – You can also choose to stay in Palompon. This is a local's recommendation, you can check the reviews and prices here.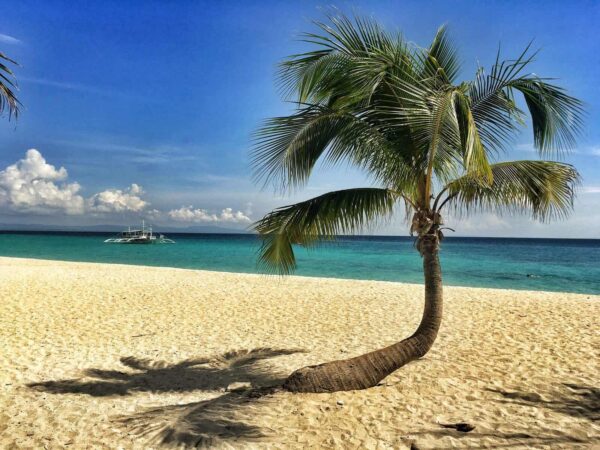 Is Kalanggaman Island, Leyte Going to Get Ruined by Tourism and Is It Really Crowded?
Totally valid questions my friends! I was thinking the same thing!
Like many places that get noticed for its beauty and then blow up, it better to visit sooner rather than later. But there is good news about Kalaggaman Island! It hasn't really blown up yet. It's not super popular YET.
Currently, they only allow up to 500 people to visit per day. Sounds like a lot, because it is a lot for how small it is… but it doesn't mean 500 people actually visit every day, especially not at the same time. When I was there, there was only about 3-5 boats docked at any given time and plenty of open space to play, relax, and get pictures without 300 people in them.
They are also building a bit of infrastructure, which wouldn't be too bad considering there are only two toilets on the whole island. It would be a bit more comfortable with some infrastructure, but let's hope they don't go overboard.
They are quite good about offering trash bags to organize your rubbish. One is biodegradable and one is for regular rubbish. All the trash came back on the boat with us which I was VERY happy about. Kalanggaman Island seems to be kept quite clean which is refreshing to see them take this initiative.
Should you visit? I think it's a YES. It's beautiful and you're actually helping the local community. The tourism in this area was nothing before super typhoon Yolanda came through. They are using tourism as a way to bring money into this area that needs it.
The future… I hope it will remain pristine and tourism kept to a manageable number.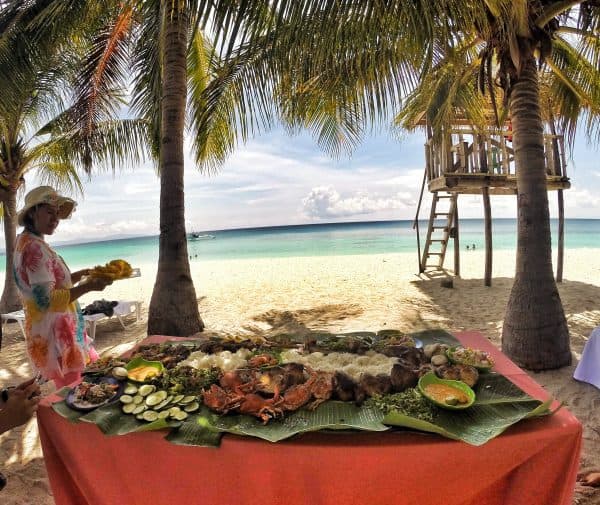 How Much Is It to Visit Kalanggaman Island, Leyte?
A guide to Kalanggaman Island, or any place for that matter, wouldn't be complete without a price list. Make the most of it and stay the whole day, or even the whole night! It will be well worth it.
Boat fee:
P3,000 for a max of 15 people.
(Of course, you split the cost, try to get 15 people on that boat! There should be people to split it with as it's rare for a group of 15 to rock up, so no worries. Just ask the tourism office to share the ride.)
Day trip fee:
International Tourists – P500
Non-Palompon Tourists – P150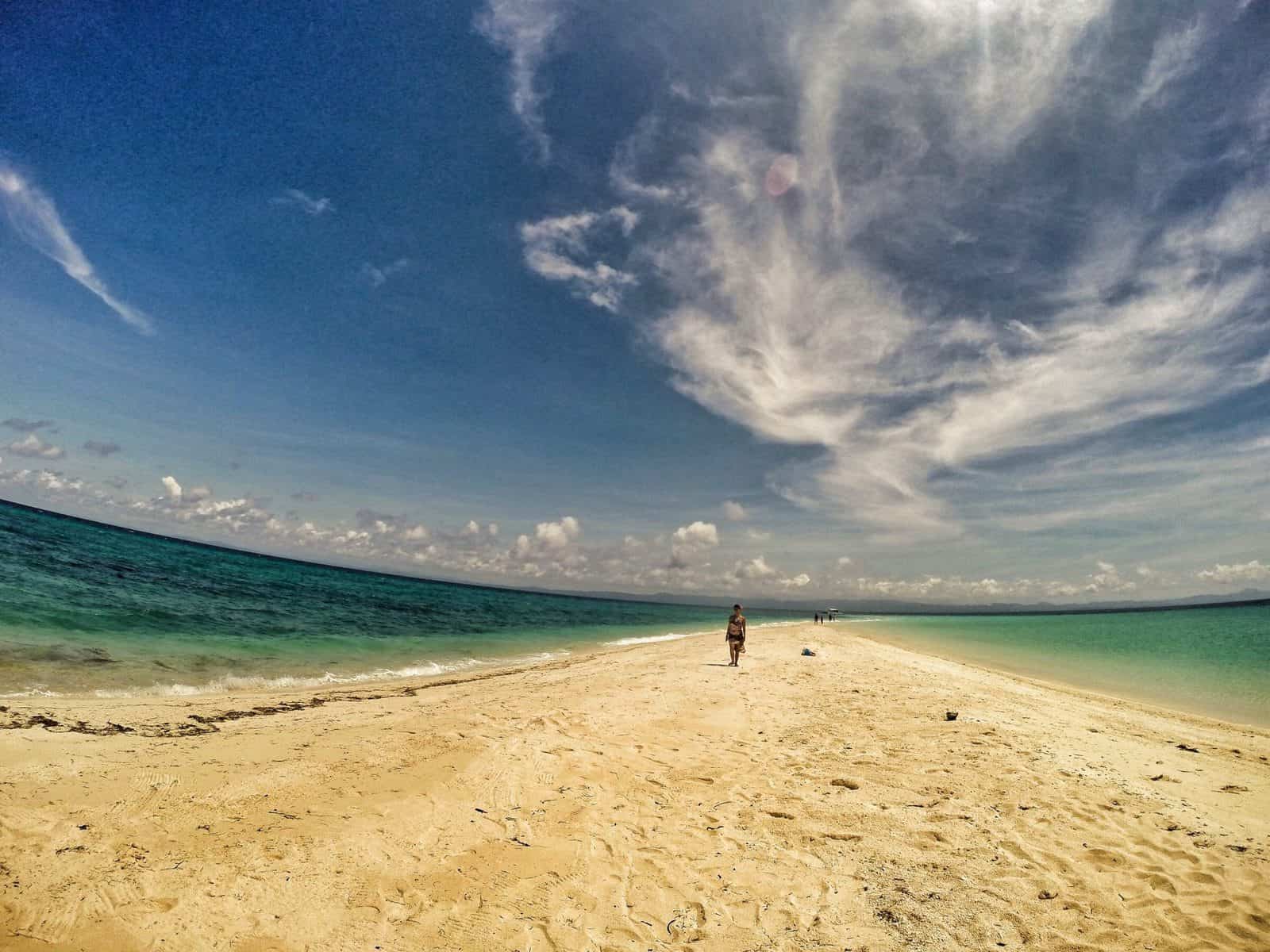 Camping overnight fee:
International Tourists – P750
Non-Palompon Tourists – P225
Should you want to stay overnight, you'll need to rent the gear from Habagat which is near the tourism office. Costs depend on what you're looking to rent out. P250 gets you a tiny two-person tent.
Food and water:
You'll need to bring your own! The boats should bring some water for you, but I would bring an extra bottle just in case.
While you're totally able to book everything on your own, should you want a guide or assistance, Leyte Gulf Travel and Tour have an awesome staff ready and willing to assist you with anything during your time in Leyte, not just at Kalanggaman Island!
OR
You can just book a tour, pay one fee, and be done with it!
Click here to book your tour to Kalanggaman Island from Cebu.
More Around The Philippines
Where will you go after Philippines?
Laos | Malaysia | Singapore | Indonesia | Thailand | Cambodia | Vietnam
So who is up for visiting Kalanggaman Island?
---
---
>>> EVEN MORE ABOUT THE PHILIPPINES <<<
Guide to Backpacking Philippines
How to Get to El Nido From Puerto Princesa (Palawan, Philippines)
Where to Stay in El Nido: Hostels, Hotels and Resorts
Things to Do in El Nido: A Guide to 3-5 Days in the Philippine Paradise
13+ Day Trips and Tours to Take in Manila, Philippines
Your Intro to Palawan, Philippines: 9 Things to Do in Puerto Princesa
Years After a Super Typhoon: What Traveling Leyte and Samar Are Like Now (Philippines)
2-Day Sagada Itinerary in a Blissful Sleepy Town in the Mountains of the Philippines
Exploring the Rice Terraces of Banaue and Batad
Siquijor Island: Crazy Bike Rides and a Witch Hunt
A One Day Bohol Itinerary – Jungle Huts, Tiny Monkeys, and Chocolate Hills
Cebu City- Boo / Neverland Manila Festival- Yay!
Welcome to the Philippines! Not
---
---
Pin this beauty!
---
Thank you TPB Philippines for this wonderful trip to Kalanggaman. To everyone else, all opinion are MY OWN and will always be that way. So no worries on biases or BS, you won't find that here. I keep this real. Thanks for the support!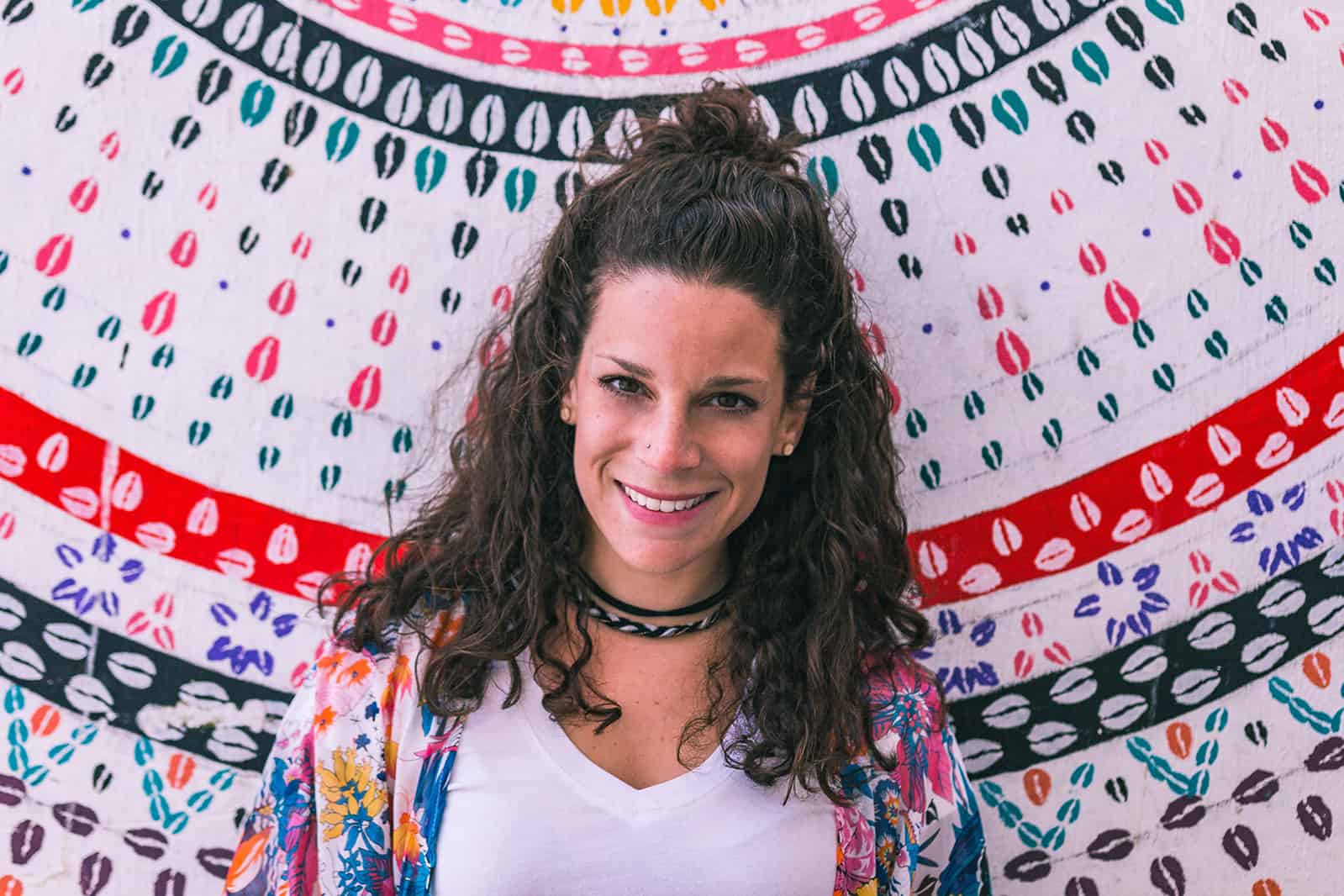 Nina Ragusa is an adventurer, messy bun master, breakfast fan, and full-time travel blogger. She's been abroad since 2011 and blogging on Where in the World is Nina? for nearly as long. Nina helps people like you move around the world while making money. She loves talking about how to work abroad and online to travel longer!