I took my seat on stage with about ten other teachers, traditional Thai music playing in the background, and about 1,000 pairs of eyes glued to me.
One second later the entire room erupted in gasps and screams. Students held their hands to their mouth, teachers had their arms flailing in the air, and others were half covering their eyes as if they were watching a horror movie!
The teacher sat next to me push my leg down and the ceremony continued.
What. Just. Happened?! I had no idea.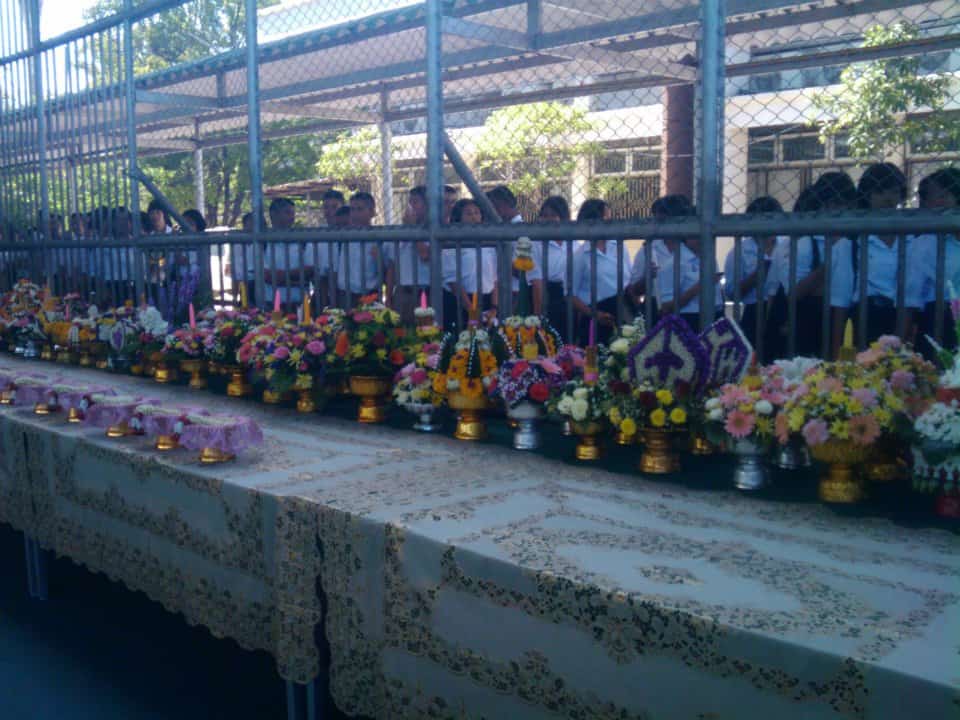 Today was Teacher's Day. The students did a bit of a ceremonial honoring in front of each teacher with the extraordinary flower arrangements they spent the whole week making. They handed each teacher a flower arrangement and did their wai at the end out of respect.
But why the gaps and screams when I sat down? I still didn't understand.
As my group of teachers left the stage, the teacher who pushed my leg down, a teacher who I adored, told me what I had done wrong – I had crossed my legs.
Coming from the US, crossing your legs is a ladylike thing to do, especially when in a skirt. However, in Thailand, while on stage no less, it's a huge no-no! Despite reading cultural etiquette in Thailand prior to coming over, I was hardly into my first month of teaching and didn't understand the extent of feet being an unholy part of the body and not to point it at anyone.
I didn't categorize crossing my legs while in a skirt as a no-no as I didn't see it as pointing my foot!
Luckily, nobody was actually offended. Everyone laughed it off telling me, "OK OK, no problem. You foreigner." "Mai ben rai!" (no worries) Still, I felt compelled to apologize to every teacher I ran into for the next week. Students giggled at me as I walked passed them for the next couple of days, which is actually pretty normal, but I was paranoid thinking I had essentially told the school off with my offensive "foot pointing!"
For the record, you're supposed to cross your ankles and tuck your feet under your chair. Your feet will be facing back and your knees are kept parallel to each other, not one on top of the other.
This is a story I look back on and feel embarrassed about, but can't help but laugh. My school in Ayutthaya, Thailand took me in as a teacher and gave me memories to last the rest of my life, yes, the embarrassing ones too.
I took the plunge to teach abroad in May 2011, and it's what started off my life of perpetual travel that I'm still living today. I'm forever grateful for my experience teaching English, and urge anyone seriously thinking about it – to do it.
Not sure what it takes?
Not sure if it's for you?
Not sure what to expect?
Each school will have different requirements and each individual will have their own experiences, but hopefully, I can help out a bit…
What does it take to be an English teacher abroad?
Basic requirements for teaching nearly anywhere in the world:
Native English speaker

Bachelor's degree in anything under the sun

TEFL/TESOL certification (You can get 50% off the course using my code:

Nina50

)

A drive to help people learn

A personality that meshes well with others

Open mind

To be understanding and to have a 'go with the flow' attitude.

A person who is flexible. Physical flexibility is not a requirement unless you're teaching the youngsters, that is… I'm talking about personality wise.
What happens if you don't meet these requirements:
Well, the degree and being a native English speaker "rule" can be somewhat bent. I've definitely met teachers who weren't native speakers, didn't have a degree, and some weren't certified. HOWEVER, finding a job and finding a job that actually pays will be a bit harder. It all depends on where you teach! Some countries might even require you to have an actual English degree and years of experience.
Is teaching English abroad really for me?
If you're not open-minded, flexible, and understanding of the different ways and approach that might be taken, teaching English abroad might not be for you. It's probably not going to be run like a school back home. Just know that each place will their own rules and ways and it would be best to come ready to take on whatever is thrown at you.
So where can I actually obtain a job teaching English abroad?
Pretty much any country in the world that doesn't speak English as their native language! Pretty cool, huh? That opens up a lot of doors! Asia is a super popular place for people to get teaching jobs abroad because many of them either pay well or are very cheap to live in. For me, it was the latter. I didn't make much teaching English in Thailand, only about $1000 USD a month but I often didn't spend over $500 a month.
How do I teach English abroad?
It will certainly depend on the school but some will provide you with curriculum and some will expect you to make it up. Some will leave everything totally up to you! For me, I had total free reign which was awesome and challenging at the same time. Long story short, making up fun English games it what worked best for me and my students. You can read more about my experience teaching English in Thailand to see what it was like.
So do you think teaching English abroad is something you'd like to try?
Where would you consider teaching English?
Feel free to ask questions below!
---
---
>>> Read More! <<<
How to Teach English Abroad in Thailand – Live and Work in Thailand!
Teaching English in China: How to Get ESL Jobs in China
How to Teach Abroad – The Guide to English Teaching Anywhere
How to Teach Online and Make Money From Anywhere
---
---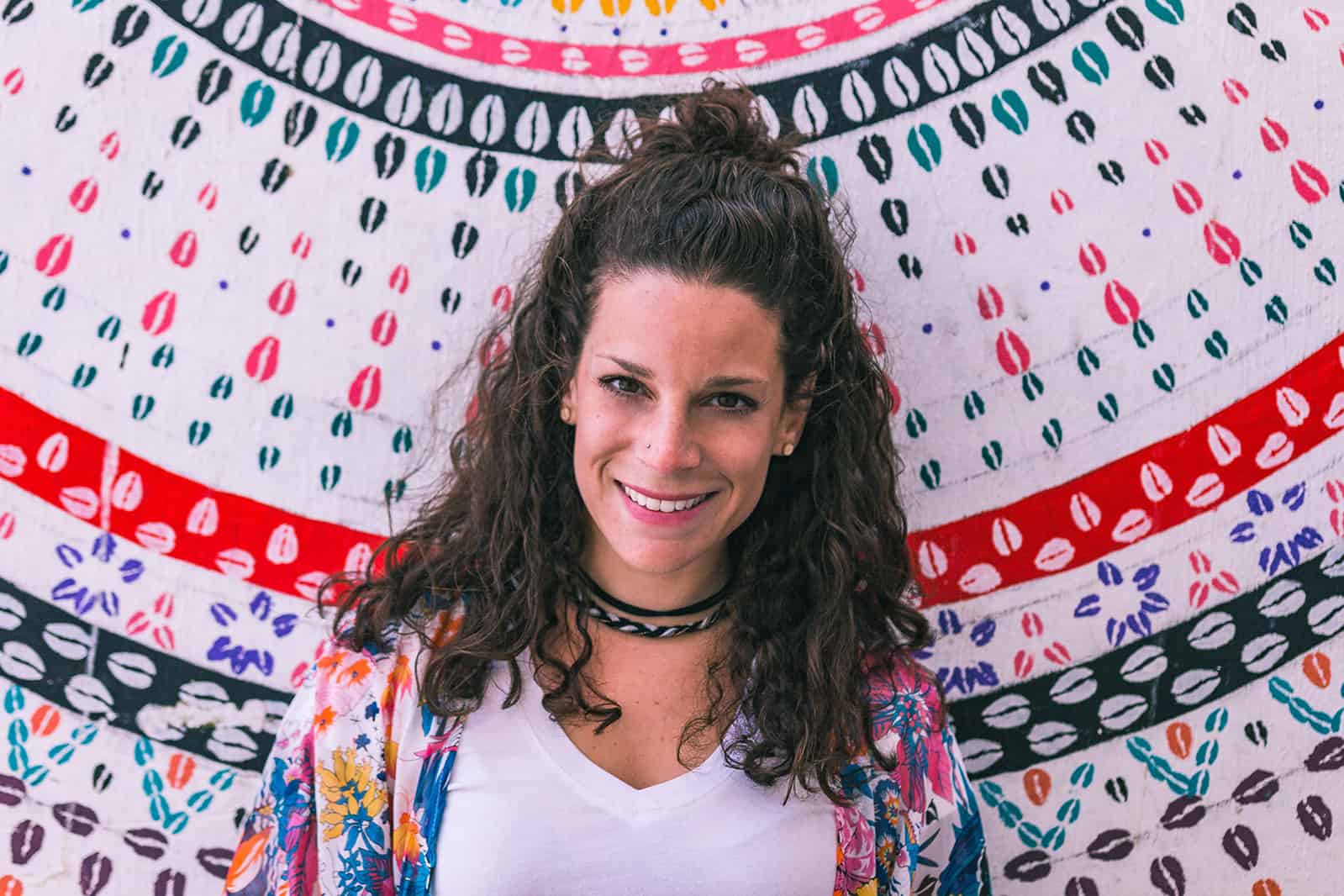 Nina Ragusa is an adventurer, messy bun master, breakfast fan, and full-time travel blogger. She's been abroad since 2011 and blogging on Where in the World is Nina? for nearly as long. Nina helps people like you move around the world while making money. She loves talking about how to work abroad and online to travel longer!