Complete with gorgeous rice fields as far as the eye can see, trails for a beautiful morning trek, and overall impressive landscapes that will take your breath away… Laos is certainly Southeast Asia's most underrated country.
Most people who visit Laos either are on a visa run to get back into Thailand or are flocking to the infamous Vang Vieng or ravishing Luang Prabang. However, I encourage you to visit more of Laos. Perhaps Northern Laos interests you?
My travels here landed me right in the middle of the rainy season, so many outdoor activities such as hiking weren't number one on my list. While that was unfortunate, I made the best of it and turned this trip into one of my most memorable! Which is why I've curated a master list that will walk you through things to do around Luang Namtha.
→ Psst! Here's entire guide to Laos that you can check out! Complete with a badass itinerary, what to budget, tips, and more.
What To Do In Luang Namtha & Muang Sing
1. Nam Dee Waterfall
A great first stop to visit when you arrive in Laos is at the beautiful waterfalls of Nam Dee. While they might be small, they're a refreshing sight to behold. If you're wondering what to do in Luang Namtha when you first arrive, this is it.
After a short trek through the jungle, it's a great opportunity to get fresh air and stretch your legs after a long day of travel.
If you visit on a moody day, don't be upset, you'll most likely be the only person there, enjoy it while it lasts!
Price: 10,000 Kip + 2,000 Kip motorbike parking
2. Chedi On The Hill
Chedi on the hill is a beautiful sight to behold, especially when looking for unique cultural things to do around Luang Namtha. If you're lucky and visit during the rainy season, you might even see a rainbow.
Price: 5,000 Kip "donation." (they call it a donation but it seems more like a fee as it's mandatory – granny will stand there with her hand out waiting, just go with it!)
3. Luang Namtha River
If you're not afraid of a little mud, walking down to the river is a must. Along the path, you'll most likely come across some friendly locals and families fishing for dinner. Since I know some Thai, I was able to communicate with a lovely woman attempting to catch some dinner when I was down here. (Laotian and Thai are very similar)
4. Villages Of Luang Namtha
One of the best things to do in Luang Namtha is get lost in the villages.
They will surely catch your eye with their bareboned wooden structures strewn on a hillside, loose chickens, and children playing in swampy watering holes.
There might not be anything, in particular, to stop for in the villages, but you'll catch glimpses of them throughout your journey in this area as you head to landmarks and waterfalls. It's a great insight into the everyday life here in Laos.
These villages are the homes of people going about their normal day, if you stop to look, be polite and say hello, but don't just stand there and gawk unless you find yourself in a pleasant conversation.
5. The "Sea of Rice"
The Sea of Rice is one of the most beautiful and unique sights to behold when figuring out what to do in Luang Namtha. Just like the villages, you'll most likely see a Sea of Rice in your travels from location to location but there's actually a place referred to as the Sea of Rice here in Luang Namtha and yes, it's exactly what you think.
Prepare your camera and get snapping, because the lush green of the seemingly never-ending rice fields will mesmerize you.
When trying to figure out things to do around Luang Namtha, there are so many beautiful sites as simple as rice fields surrounding you wherever you go, it's best to drive out with zero plans and just enjoy. We ended up doing this exact thing and stumbled upon a little restaurant amongst the green fields and rolling hills and grabbed a beer.
We semi-communicated with a small party of locals at the table next to us in my broken Thai and their broken English and it made for a great serendipitous day.
Things To Do In Muang Sing
Muang Sing is about 2-3 hours by motorbike north of Luang Namtha and is only a few kilometers from the border of China! It's worth it to take a ride up as the ride is gorgeous and Muang Sing is even smaller, more authentic, and less trekked than Luang Namtha. A true insight into local life in Laos! Here's what to do in Muang Sing, Northen Laos.
6. Villages Of Muang Sing
Another unique series of locations that have to be mentioned are the villages of Muang Sing. While you shouldn't sit and stare at people's homes, it was quite interesting to see how people go about their lives. In many of the Muang Sing villages, they will also have spirit houses, some of which have sacrificial animals dangling above them.
There are literally dead animals nailed down to rickety wooden structures that are at the entrances of villages. Quite a scene!
7. The Gorgeous Gold Buddha
A random sight I came across when trying to find a local restaurant was this massive golden, Buddha! It was a marvelous sight that was quite the cool find.
We stumbled upon it by accident as we were leaving Muang Sing but couldn't help but stop. It located on a small hill to the right when you leave the village of Muang Sing.
8. Try All Of The Delicious Food
Things To Do Around Luang Namtha For Food:
Night Market – The perfect place to find a nice selection of local food. Especially if you're craving something fresh, such as soup and som tum.
Bamboo Lounge – A local lounge that aims to help locals find a job to elevate their future. This local favorite offers a safe place where staff can earn a paycheck and learn English. This cool and comfy atmosphere has amazing food and a great staff. (They also have WiFi!)
Zuela Guesthouse & Restaurant – There is so much love at this local spot. From regional food to western favorites, they even offer bakery items fresh each day and interesting cocktails. The staff and owner, Sai, were extremely nice, definitely a place I vouch for.
Things To Do Around Muang Sing For Food:
Adima Guesthouse – The food here at the attached restaurant was fairly good. There weren't many options in Muang Sing, so this place was a blessing and cheap!
Night Market – This might be the smallest market I've ever seen but I always love to eat street food because it's delicious and cheap!
Laos Food You Have To Try:
Baguettes (Khao Jee) – After years of living in Thailand, AKA "subpar bread land," the good bread here was totally a novelty! This is listed more for me than for you.. I love a good baguette!
Laab- I LOVE Laab. It's minced meat (usually pork or chicken) or tofu with spices and herbs. Eat it with sticky rice. One of my favorite dishes in the world is tofu laab! (Ask for the tofu to be extra crispy, you're welcome!)
Jeaw – There are many different kinds but it's essentially like a dip/sauce eaten with rice or a side of raw veg to dip.
Beer Laos – Probably the best beer in Southeast Asia.
9. Just Enjoy The Ride
To get to any of the things to do around Luang Namtha and Muang Sing, you'll need a motorbike. The views around both Muang Sing and Luang Namtha are stunning, so it shouldn't be something that you dread!
Laos's landscape will have you stopping every five minutes. While there are many things to do around Luang Namtha and Muang Sing, taking a moment to enjoy what nature has to offer is probably the most memorable and you'll get plenty of it here.
Need more of a visual? Check out Garrett's video:
How To Get From Huay Xai To Luang Namtha?
Transportation Tip for Thailand:

While you can simply book at the pier, bus or train station, you may want to book ahead for certain legs of your journey to guarantee that you get a seat on the day you need to travel. 12go.asia is the best way to do this. Book your next trip ahead of time so you have one less thing to worry about.
Huay Xai to Luang Namtha should be 60,000 Kip.
Buses are usually at 9 am and 12:30 pm, however, when we were there, there happened to be one at 4 that wasn't really advertised but available.
From the Luang Namtha bus station to town, They wanted 50,000 Kip but we thought that was steep, so we started walking. Less then 10 minutes later, a minibus driver brought us to town for 20,000 Kip. From Luang Namtha town back to the bus station it was 30,000 Kip for two people using the "Tuk Tuk & Bus Service" place next to Zuela Guesthouse.
If you're hanging around Huay Xai or passing through to go to Thailand, you should check out the Gibbon Experience first!
Luang Namtha Accommodation:
Vieng Kham 3 Guesthouse
It was decent enough for a one night stay because it's just across from the bus station. It's outside of town and should only be booked if you get in too late to get to town.
Thoulasith Guest House
Our next night was here and it was pretty nice. We honestly only moved because the wifi wasn't working. (Hey! I need it to work! Don't roll your eyes at me.)
Zuela Guesthouse
Bar far the best spot! The wifi was great too! The rooms are a bit rustic and wooden but it's clean and enclosed, not "holey." Not to mention the owner's yummy restaurant is right there on site. Some of the best food I had in Laos was right here.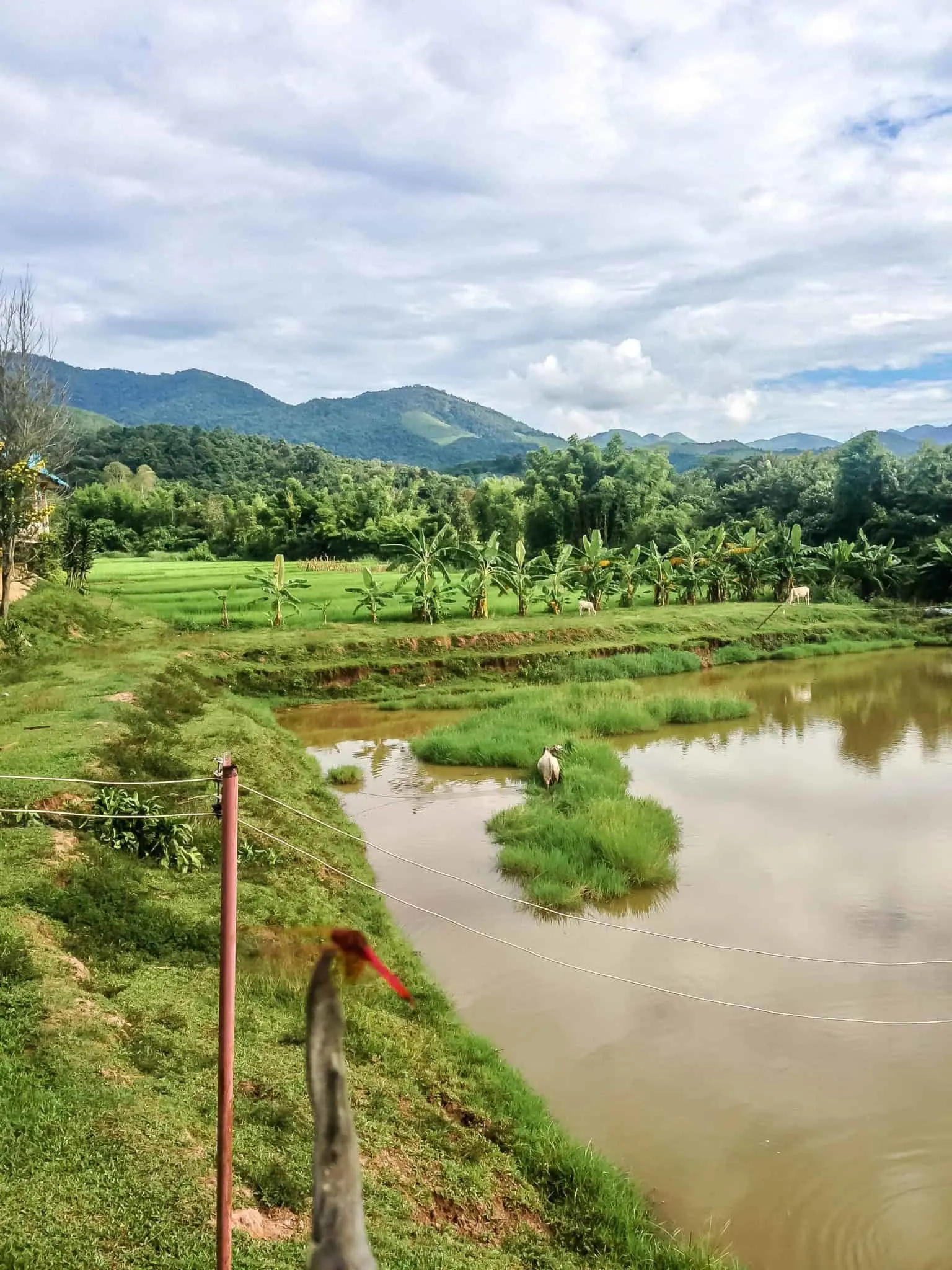 Muang Sing Accommodation:
Phou Iu II Bungalow
These picturesque bungalows are your best bet for accommodation in the small town of Muang Sing. The private cabins are decorated a traditional style with bamboo walls, but with all the mod cons you need for a comfortable stay, including WiFi.
Renting A Motorbike In Luang Namtha:
50,000 Kip
We rented from Zuela's. Be mindful Luang Namtha motorbike rentals are by the day, they are not 24 hours. If you rent at 3 PM, you have to bring it back that night unless you want to pay for an extra day. Otherwise, the rental was pretty standard and since we stayed at this hotel, they were really nice when we accidentally brought it back a tiny bit late.
Where will you go after Laos?
Thailand | Malaysia | Singapore | Indonesia | Philippines | Cambodia | Vietnam
Will you be checking out Luang Namtha and Muang Sing? Let us know in the comments!
Click the picture to PIN it!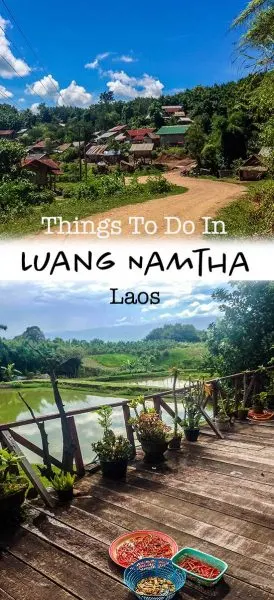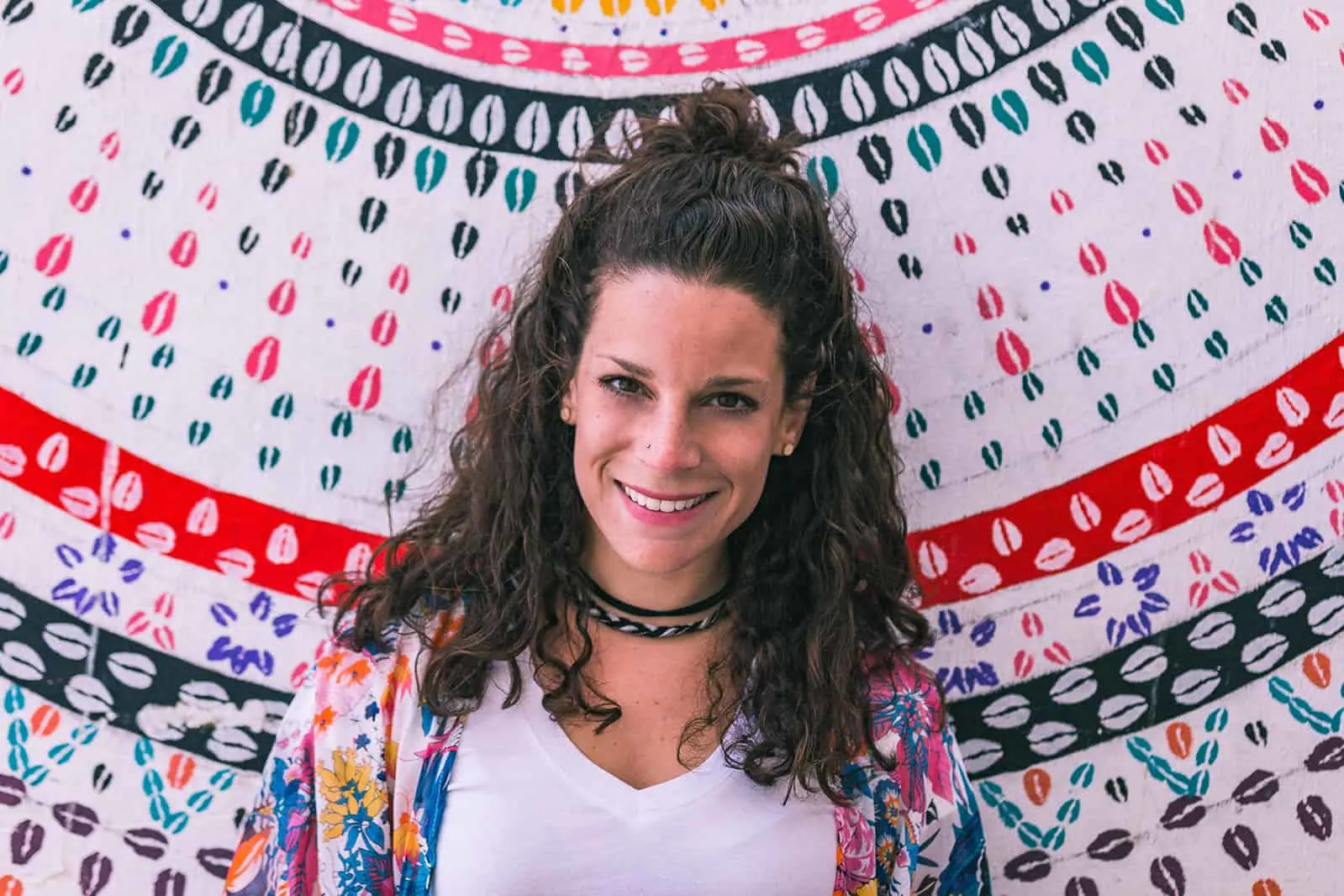 Nina Ragusa is an adventurer, messy bun master, breakfast fan, and full-time travel blogger. She's been abroad since 2011 and blogging on Where in the World is Nina? for nearly as long. Nina helps people like you move around the world while making money. She loves talking about how to work abroad and online to travel longer!