I've heard about you for so long El Nido… I didn't know I would get lost for a week with you, and I'm so glad I did. You are beautiful, El Nido, just beautiful. Thank you for showing me that paradise exists.
Yes, I know, it's the typical spot to go to for tourists in the Philippines. White sand beaches, gorgeous turquoise waters, limestone mountains, and incredible marine life. Everyone wants to be here! Including me (again).
Sure, many long-term travelers, me among them, sometimes prefer to sidestep the tourist hot spots, but honestly, even I have to admit, some places are touristy for a reason.
El Nido is one of those places, possibly because there are just so many things to do in El Nido and because it actually is that beautiful.
The actual beach in El Nido is nothing to get excited about. It's full of boats and a far less-than-fabulous shore. But the town is cool and funky and the islands you can hop to as part of your El Nido itinerary are beyond magnificent.
This part of the Philippines is touted as a paradise for a good reason…
Things to Do in El Nido
---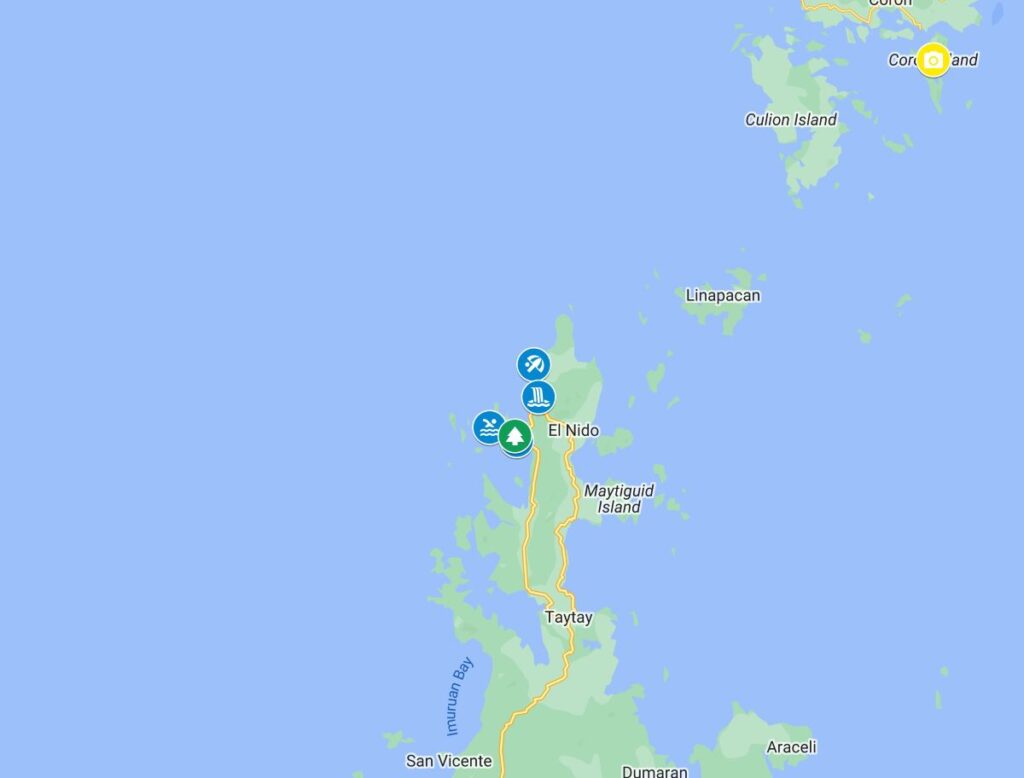 TIP: 12go.asia is the best way to book ferries, buses, and trains ahead of time in the Philippines!
1. Corong Corong Beach
You can zipline, you can party under the full moon, and you can just bum it at the beach.
Yes. Corong Corong is an excellent choice for a beach to chill at that's just a quick ride over from the town of El Nido.
If you're feeling adventurous, you can actually zip line from Las Cabanas Resort. The line goes from the coast to a nearby island (also accessible via a footpath), and back again. After that, you'll really feel like you earned your right to beach bum it.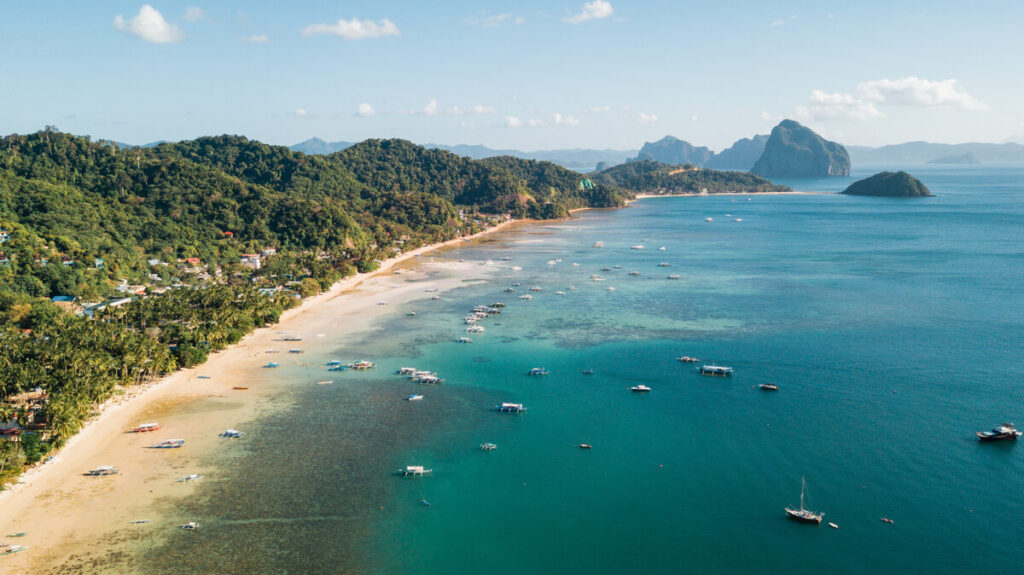 Bonus: if you happen to visit during a full moon, you can catch the full moon party on the beach. Word to the wise and party-retired: it can get pretty wild. I may or may not have got pretty wrecked with my new friends here one night…
And then in my hungover state, bask under the sun.
2. DIY Kayak
Kayaking can be an incredibly physically taxing activity but you won't be noticing (until the next morning) because your mind will be too focused on the beauty that surrounds you.
For those of you up for a great workout, kayaks and glass-bottom boats are available for rental, and you can go on them by yourself or with your friends.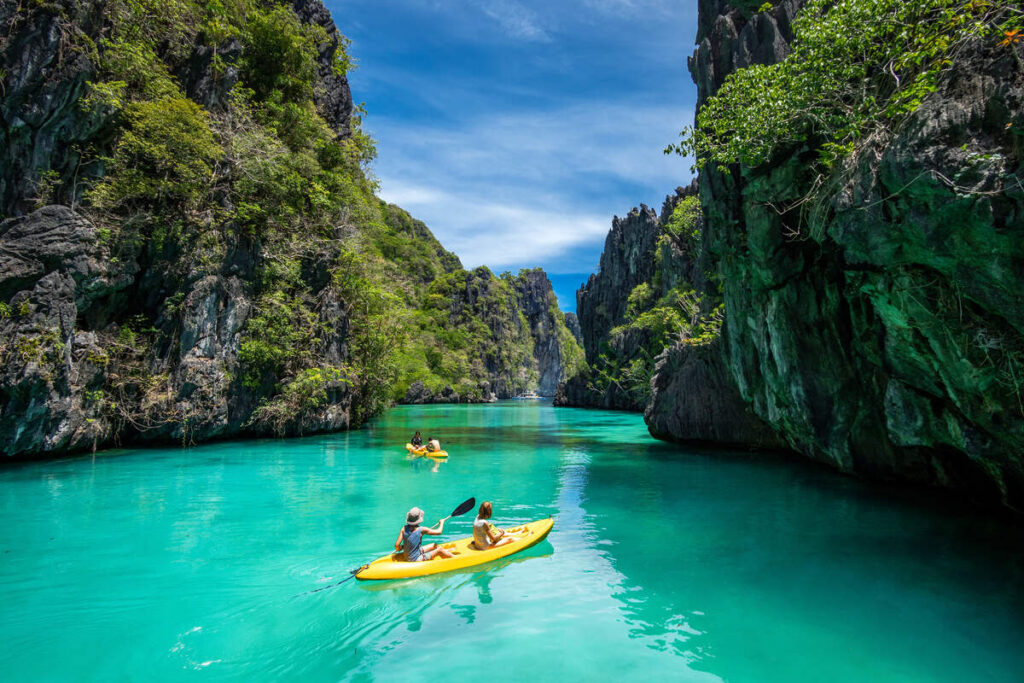 Kayaking is one of the most memorable things to do in El Nido—paddling around the nearby islands in your own private kayak on glittering turquoise waters. Just pay attention to the weather and the tides. Safety first!
3. Dilumacad Tunnel
Swim with the fish! Take a boat out to Helicopter Island (this is separate from the El Nido island hopping tour that will take you out there), and dive down 12 meters to swim through a forty-meter-long underwater tunnel.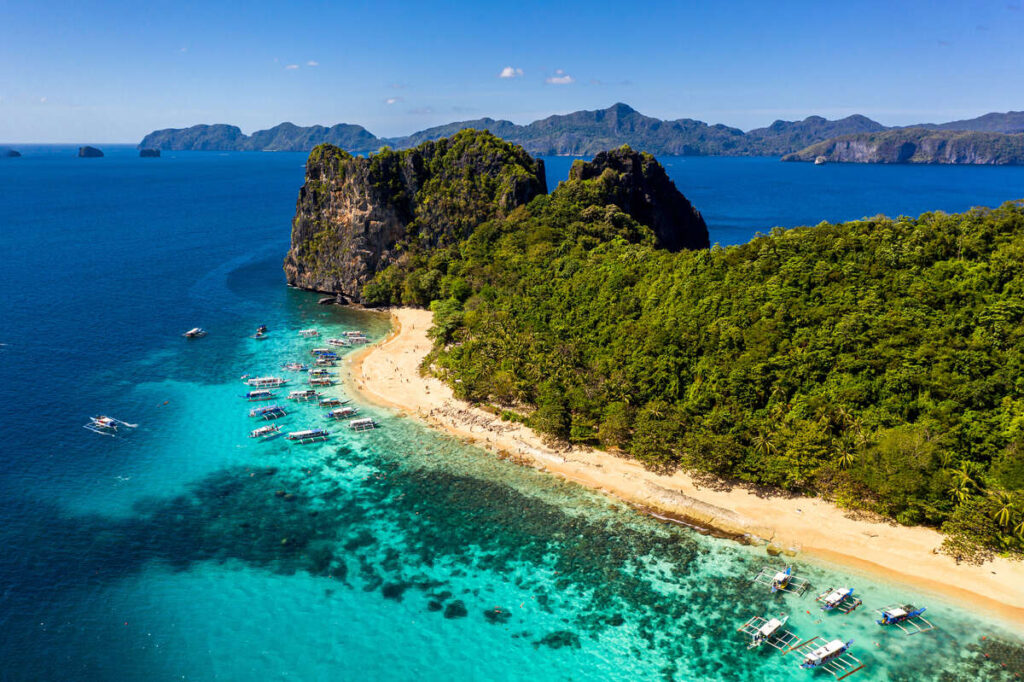 Look up as you swim through to see little openings in the tunnel that break through the land. Wave to the sea life, and count this as the "what to do in El Nido" item to check off your list. If I was diving then, I would have LOVED to do this.
4. Nacpan Viewpoints
Looking for amazing scenery and 360-degree views? Head to Nacpan.
You can hire a driver or rent a motorbike and ride out yourself. It's only an hour away on land and the vistas are breathtaking. The beach is also nothing to frown at.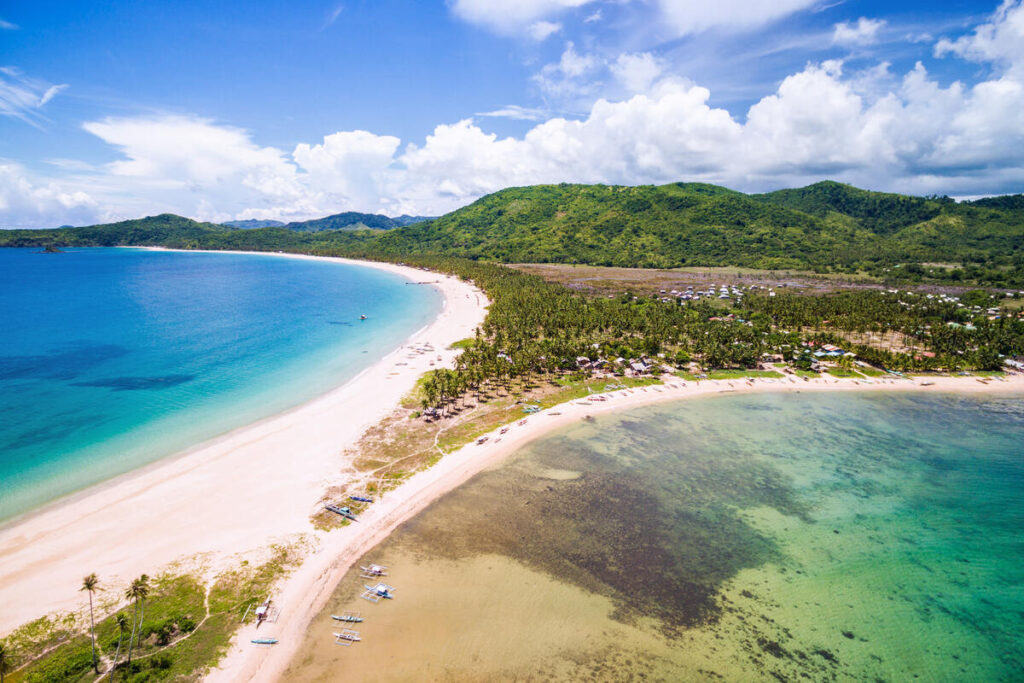 You've got four miles of long, smooth, glittering shoreline to splash in, so bring a blanket and your camera equipment and make a day of it. There are only a few little cafes sprinkling along the coast to refresh and munch at making this a super low-key beach to relax on.
5. Taraw Peak
If you're an outdoorsy fitness-crazed kind of traveler, take this two-hour up-and-back hike.
You rise about 750 feet above sea level on a super steep scale on the side of a mountain hike that allows you to look out over the surrounding islands of Bacuit Bay with a bird's eye view.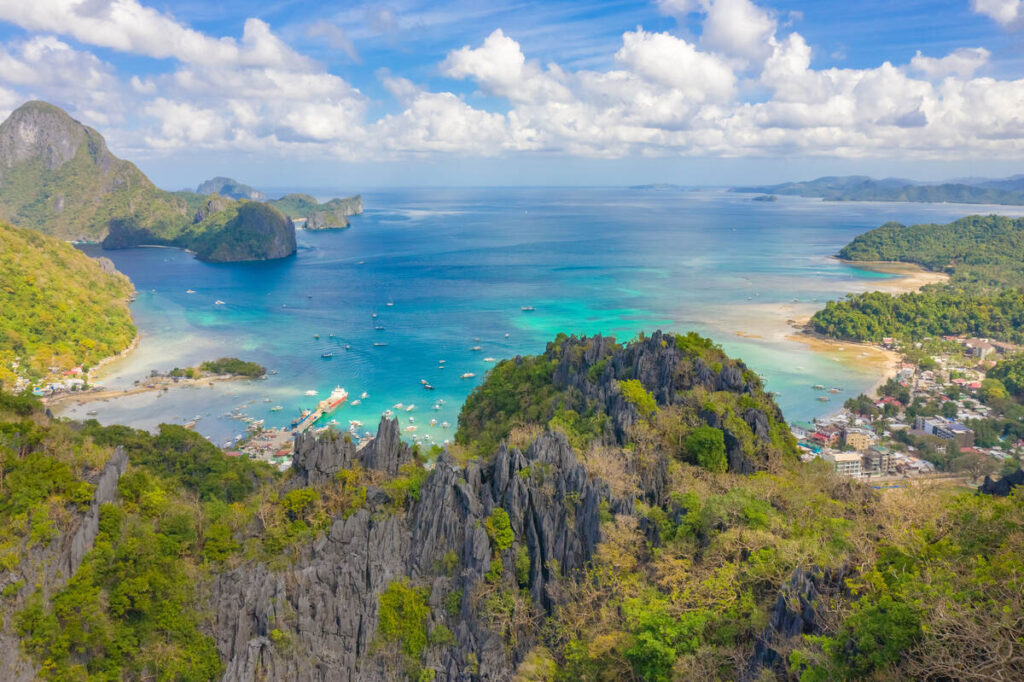 The photos you take alone will make this trip worth the while. You'll also get big-time bragging rights for doing something so daring.
This may be the prettiest workout of your lifetime, and easily one of the most strenuous things to do in El Nido, with a fantastic reward at the top.
6. Nagkalit Kalit Waterfalls
You didn't think I'd leave you without waterfalls to explore, did you? Of course not!
Stop on your way from El Nido proper to visit Nacpan (this is why it's good to just jump on a motorbike; you can stop when you want to), and hike from the road for about a half hour to reach these falls, a big one and a small one.
You can of course just enjoy the relatively easy hike (wear flip-flops; you'll get wet hiking across wet areas), or you can swim in the pool at the bottom of one of the falls. The total hike should take you a couple of hours if you take your time.
7. El Nido Island Hopping (The BEST Thing to Do in El Nido!)
Finally! You had to know this was coming. If you've heard or read anything about El Nido, you've heard about island hopping.
It's actually four different tours you can take that follow the alphabet, A, B, C, and D, all of which will take you to separate islands to experience separate adventures.
They all include some version of thrill, a bit of beach bumming, a little snorkeling or sea life watching, and of course magnificent views. In fact, if you want to know more about the tours, you can check out my entire love letter to island hopping on El Nido.
Or just book your island-hopping tours right now!
BONUS: Hop Over to Coron
There are so many things to do in El Nido but just a few islands over, there's the sister area of Coron. While in El Nido, you'll see TONS of tours and info talking about Coron. If you're looking to extend your El Nido itinerary without going too far, THIS is the place to go.
And what better way to spend your time than island hopping? The one thing you can't get sick of in the area is island hopping… It's THE thing to do and is nothing short of STUNNING. I haven't been to Coron yet but it's been on my radar since I visited El Nido and I fully intend on visiting again.
There are some truly epic tours like this 5 nights, 6 days tour that hits all of the best spots around El Nido and includes two days for exploring Coron!
This excursion offers up the best of Puerto Princesa, El Nido, and Coron. Spend your days snorkeling, eating delicious foods, and exploring the many lagoons and caves while learning about the history and culture of the Philippines.
If you don't have quite as much time on your hands, here are a couple of other great day-tour options:
I'm slightly jealous that you're planning your trip to The Philippines right now but I'm also so happy for you to experience this paradise!
El Nido Itinerary 3 – 5 Days
How long you make your El Nido itinerary is really up to you.
You'll have to fly into Puerto Princesa first. From there, you can take a van, a bus, or a rental car at varying price levels and trip lengths. But DON'T skip over Puerto Princesa!
The shortest amount of time it will take is obviously in a rental car, and that's about 5 hours. So you likely won't be getting into El Nido ready to jump into action. Maybe plan to hit the full moon party in Las Cabanas that night if you're here at the time of the month?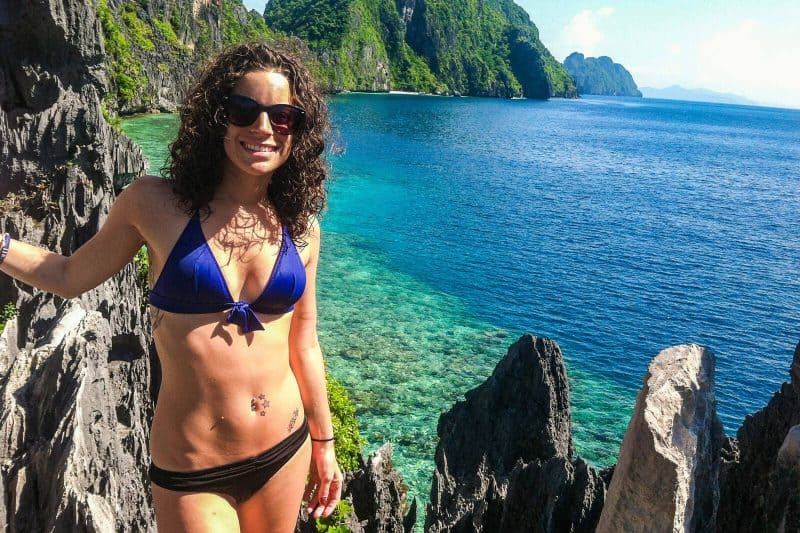 If you plan for a short, 3-day minimum, trip, part of your El Nido itinerary must include at least one island hopping tour.
I took A and C and both of them were SPECTACULAR.
Clearly, I'm recommending two tours, but again, at least take one.
Also, make sure you hit Nacpan beach. The views from Nacpan beach alone are worth the entire trip to El Nido, not to mention the adventure-filled (if you stop for the waterfall hike) ride out and back.
For a longer, 5-day El Nido itinerary, you can add in another beach bum day or simply a day hanging around El Nido itself. Then make sure you book another island hopping tour.
I cannot encourage two tours enough! Honestly, I cannot encourage the lengthier stay enough. There are so many things to do in El Nido that to come all this way for only a few days feels like cheating yourself. I got lost in El Nido for a whole week and I had to pry myself away…
Don't forget, if you have even more time, you can go island hopping around Coron!
What to Do in El Nido for Food
IBR "Fast food" – The spot for pretty cheap local fare that's FRESH. Keyword: Fresh. I've said it before. I'll say it again. The food options for vegetarians are super limited in this country, and the already-prepared food sure isn't veggie friendly.
IBC was not only good, but it also has a few veggie options (veg curry, fried rice, omelet on rice…), and it's open 24 hours (I ate here at 3:30 am once. Food was still fresh.)
V and V – A bagel joint… OMG…bagels. By this point, I had been in Asia far too long without good bread… This was an exciting spot. They also had a pretty sweet veggie burger.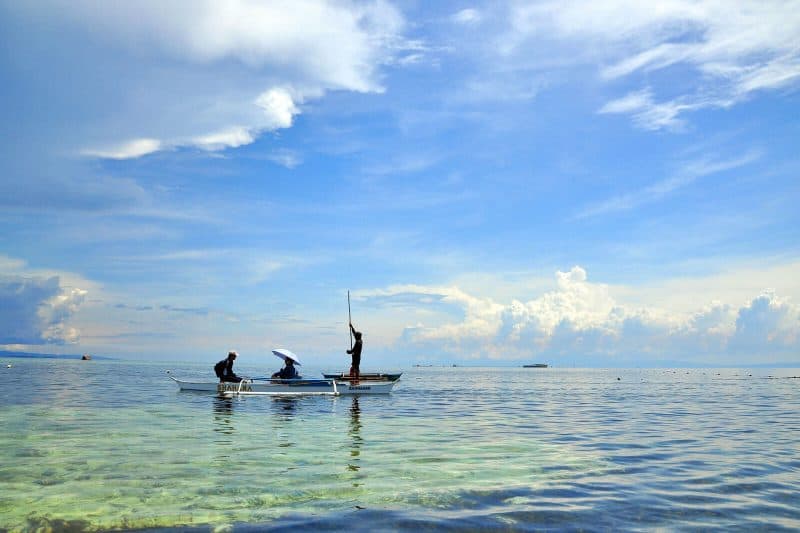 Blue Azul – Another yummy spot. Here you'll get downright decent falafel and hummus.
Trattoria Altrov'e – Amazing wood-fired oven pizza. The perfect place for you if you're from the states and you're missing home.
Happiness Beach Bar – Super fresh, made from scratch, hummus and falafels, breakfast, lunch, and dinner, and you get to swing while you sit at the bar! What more can you ask for? Oh yea! Happy hour 2-for-1 daiquiris or margaritas. Put this on your things-to-do-in-El Nido list.
Where to Stay in El Nido
1. Our Melting Pot
I loved it here. I really did. It was dirt cheap. Like legit dirt cheap, 500 pesos ($10 USD) a night. And it was super small, as in my friend and I were tripping over bags to get to lockers that were blocked by more bags.
But! The social scene was awesome, the staff was outrageously accommodating, and a "breakfast" was included. Okay, so breakfast was basically a banana and some oats and milk, but hey! Beggars can't be choosers.
2. El Nido Viewdeck Cottages
This is one of the best places to stay in El Nido. The rooms are spacious, and the staff is very nice, but what takes the cake is the view which is amazing. However, the climb to this place can be problematic for those who may be out of shape.
3. Orange Beach Resort
For an extra $20 USD you can stay on the beach in a resort that is fully equipped with everything you need. You get your own room, bathroom, internet, and even an ocean view. For the price, this place is worth it.
4. Last Frontier Beach Resort in Corong Corong
Want a nice beach just outside your door? If so, stay outside of the main town of El Nido and try the Last Frontier Beach Resort located on Corong Corong for a bit of a splash-out.
5. Cabanas de Nacpan
Remember I told you how amazing and absolutely must-see Nacpan is? Well, you can go all out and stay in one of their luxury camping cabanas. The sheer beauty of this place is mind-blowing, and worth the extra dollars if you've got them.
For $50 a night, you get a soft bed, a good-sized "room," a great breakfast, and even the use of a motorbike all included.
6. Mad Monkey Hostel Nacpan Beach
This adults-only hostel offers pretty much the best location if you want to be right on the beach – you can practically roll out of your bed to get there. It offers a mix of dorms, tents, and private lofts, and there's a beach bar with nightly events.
MORE ACCOMMODATION OPTIONS IN EL NIDO:
How to Get Around El Nido
Your two best options for getting around in El Nido are going to be tricycles and motorbikes. The tricycles are all around the area and cost about 50-100 PHP for short trips in town (approximately $1-$2 USD, one-way).
There are tons of motorbike/scooter rental places to choose from if you want to explore the island on your own, and they charge a daily rate of 400-600 PHP (about $8-$10 USD/day). Just be aware many charge a bond.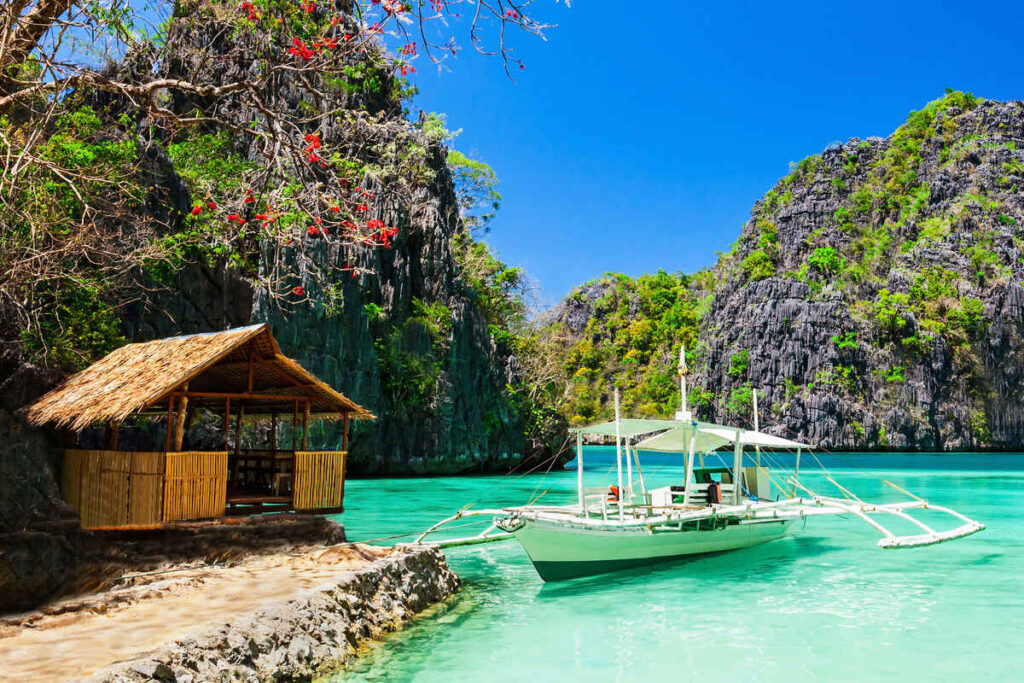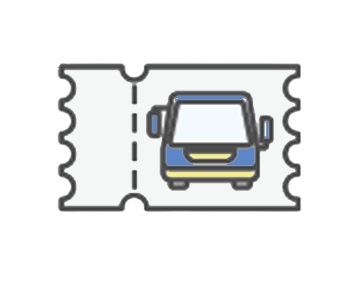 TRANSPORTATION TIP
If you're looking for bus, boat, or train tickets around Asia, you can easily book them online! Check Availability
Tips for Visiting El Nido
Best Time to Visit El Nido
There are basically two seasons in El Nido: wet and dry.
The absolute best months to go are January to April, but you could get away with going as early as October if you're willing to brave some scattered storms here and there. You'll, of course, be with more tourists during those peak months, as well.
But from May-September, you're looking at rain and possible typhoons. This is also the cheapest time to visit, so up to you what kind of experience you're going for.
I hope you loved this guide to the best things to do in El Nido! This area is by far one of the best places to visit in the Philippines!
More Around The Philippines
Where will you go after the Philippines?
Laos | Malaysia | Singapore | Indonesia | Thailand | Cambodia | Vietnam
---
---
>>> EVEN MORE ABOUT THE PHILIPPINES <<<
Guide to Backpacking Philippines
How to Get to El Nido From Puerto Princesa (Palawan, Philippines)
Where to Stay in El Nido: Hostels, Hotels and Resorts
13+ Day Trips and Tours to Take in Manila, Philippines
Your Intro to Palawan, Philippines: 9 Things to Do in Puerto Princesa
Years After a Super Typhoon: What Traveling Leyte and Samar Are Like Now (Philippines)
A Guide to Kalanggaman Island: Basking on One of the Best Sandbars in the Philippines
2-Day Sagada Itinerary in a Blissful Sleepy Town in the Mountains of the Philippines
Exploring the Rice Terraces of Banaue and Batad
Siquijor Island: Crazy Bike Rides and a Witch Hunt
A One Day Bohol Itinerary – Jungle Huts, Tiny Monkeys, and Chocolate Hills
Cebu City- Boo / Neverland Manila Festival- Yay!
Welcome to the Philippines! Not
---
---
Click the picture and pin this for later!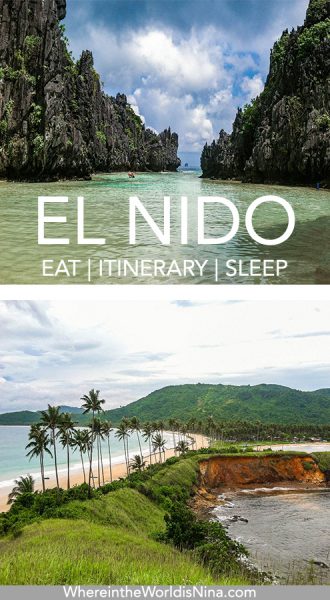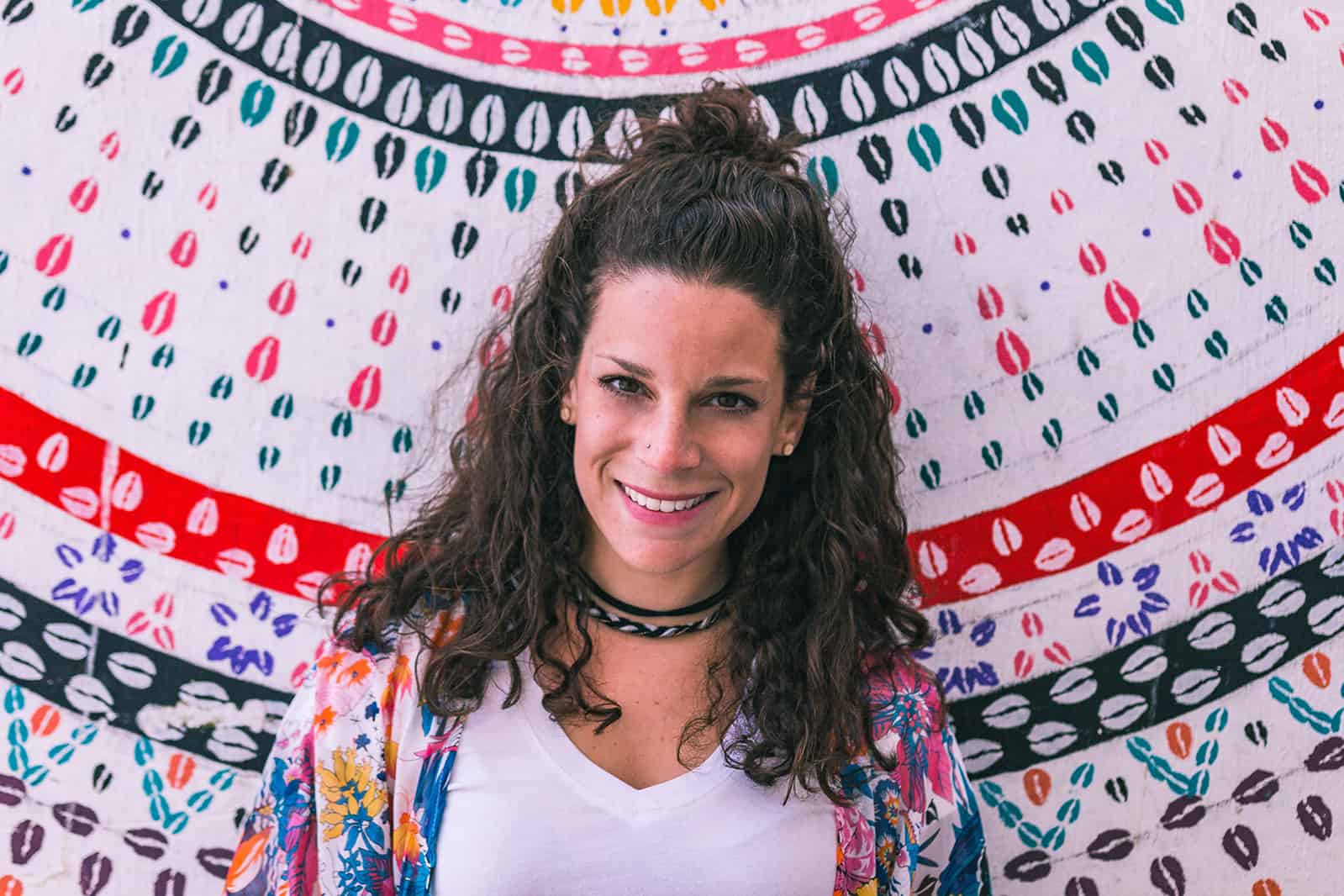 Nina Ragusa is an adventurer, messy bun master, breakfast fan, and full-time travel blogger. She's been abroad since 2011 and blogging on Where in the World is Nina? for nearly as long. Nina helps people like you move around the world while making money. She loves talking about how to work abroad and online to travel longer!