Here he goes again… Talking about Mount Taranaki.
Garrett, my boyfriend, for those that are new here (Oh, hi!), has been going on and on about Mount Taranaki for a while.
Fun Fact: He was living in North Island when we first met. He went on vacation to Thailand, where I was living, we met, and here we are today. Nearly four years later… And he's still talking about Mount Taranaki.
Finally, we get to visit so he can see this beloved mountain of his, something he missed out on his first time around in New Zealand.
I didn't know much; I let him do *most* of the planning, and we had a legendary time!
If you're wanting to experience Mount Taranaki in one of the best ways possible—Which is hiking the Pouakai Circuit and staying in Pouakai Hut—you've come to the right place.
I'm annoyingly detailed, which works out to your benefit. So here we go…
Don't lose this! Click to pin it now.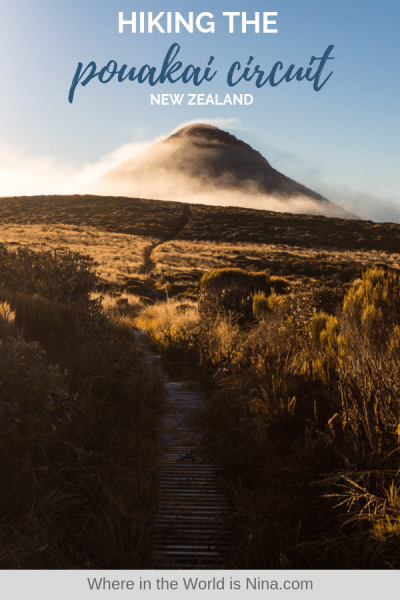 Everything You Need to Know About the Pouakai Circuit & Hut
---
Below you'll find all the info you need to hike the Pouakai Circuit in Egmont National Park which is where Mount Taranaki is. This isn't the hike you do to summit the mountain. Unfortunately, there was enough fresh snow to look pretty but cause some slips, so we missed out on summiting.
The plus side? The best way to see a gorgeous mountain is to hike around it, not be ON TOP of it.
I hiked the Pouakai Circuit at the beginning of April, so all my pictures, experiences, etc. will be relevant for those coming in summer and shoulder season, just after summer.
If you plan on being here in spring or winter, I'd be a bit more careful on the hike as rainfall causes slips in the area very quickly (more on this below!) and winter conditions require you to be a very advanced hiker and to carry special equipment.
NOTE: You should always check with DOC (Department of Conservation) before doing any of the more strenuous hikes or overnight hikes in New Zealand. The weather is always very temperamental and rarely predictable. Things change overnight (again, more on this below) and checking with them before your hike is a smart move, so you're fully prepared.
Resources for Your Trip: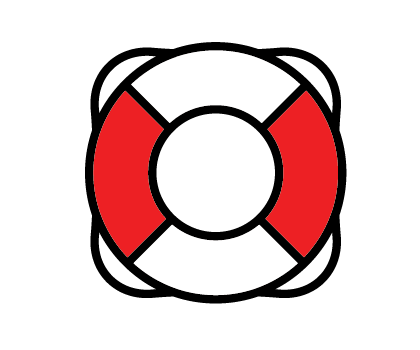 Don't forget insurance!
Get a quote with the best and easiest travelers insurance: Safety Wing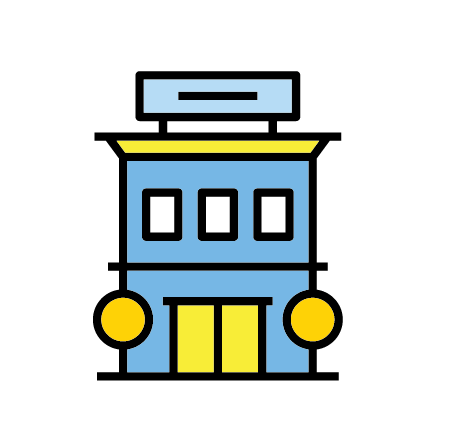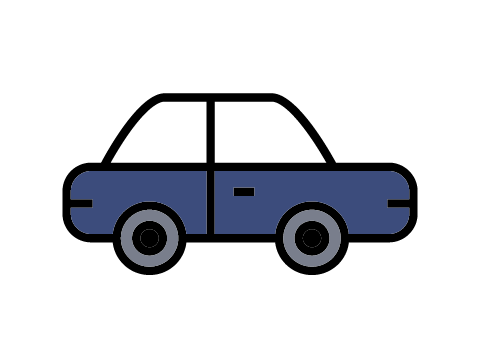 Best Deals on Vehicle Rentals: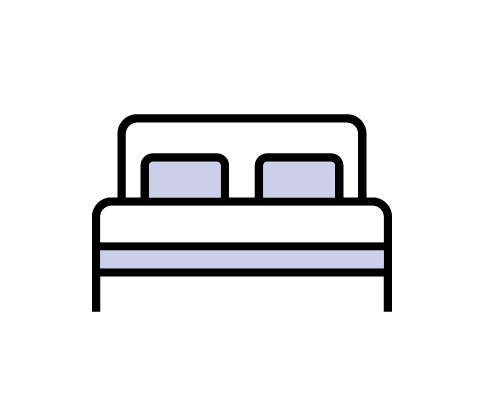 How to Get Free Accommodation Anywhere!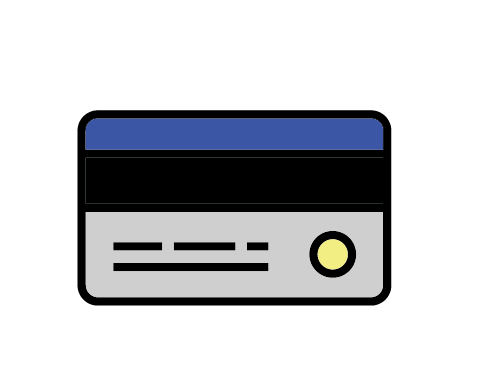 You NEED the Right Travel Cards!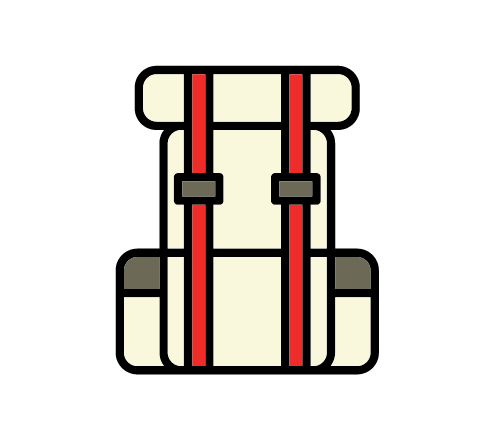 All The Gear You Need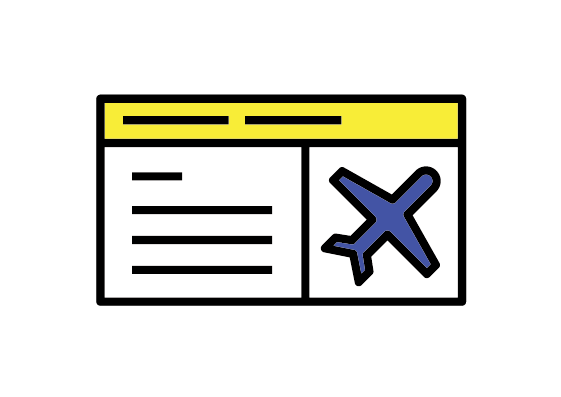 The Pouakai Circuit at Mount Taranaki
The main details of the Pouakai Circuit:
Length: 25 km (15.5 miles)
Difficulty: Hard
Time: About 14 hours total (over two days if you stay at the hut/camp)
Terrain: Dirt, some boardwalks, wooden steps, tree roots, muddy in many sections… It varied but nothing difficult.
Trailhead: North Egmont Visitor Center
Everything below outlines what the Pouakai Circuit hike is like from my experience. I hope it helps you paint a picture on what to expect before you try this hike!
North Egmont National Park Visitor Center to Holly Hut
Believe it or not, I didn't get to do a portion of this hike! Yep, remember above when I said you should always check with DOC before starting a hike? Here's why…
We contacted them and got notified that the Holly Hut track (part of the Pouakai Circuit hike) was closed due to a slip that just happened the day before. Luckily, we could still do the trek, but we'd need to go a bit of a roundabout way adding on a few kilometers to our day.
So the way we went was walking down the road to the Kaiauai Track, which met up with the Kokowai Track which then finally took us up to the true Pouakai Circuit track which was a few kilometers from Holly Hut. The extra mileage wasn't difficult, and the main gist of the trail was a forest walk.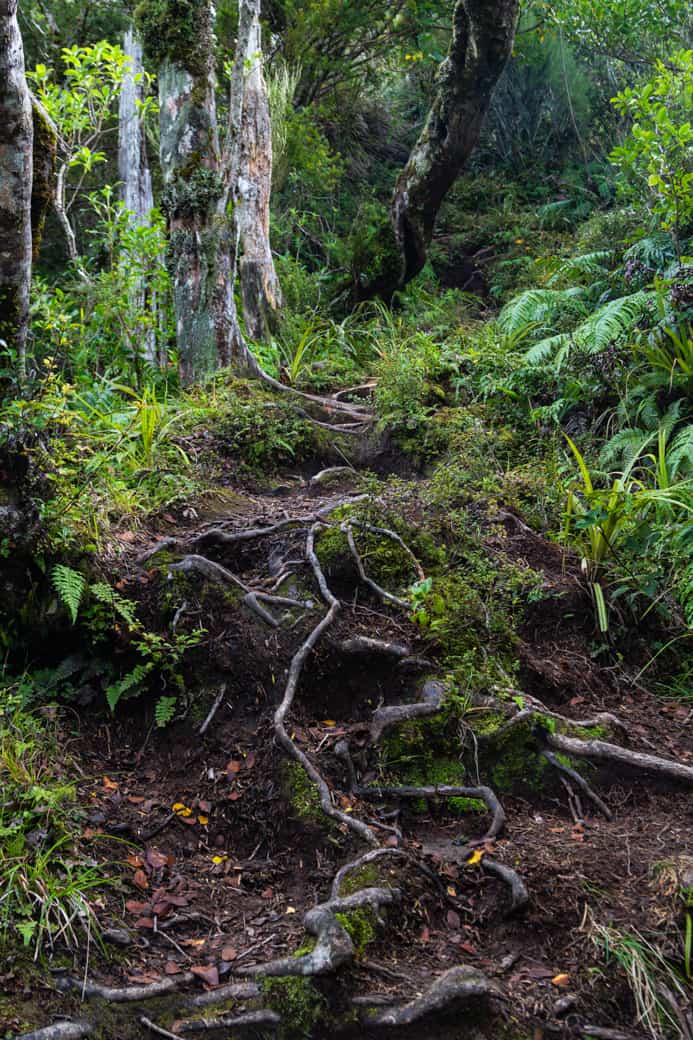 Inclines and declines, but nothing steep. A few moments of forest scrambles up tree roots and lots and lots of mud! Don't think you're coming out of this hike clean—like you ever would with a rough hike like this but still…I hope your hiking shoes are durable and somewhat water resistant!
Since I didn't get to do the "true" beginning of this hike, I can't offer real info on that bit, but after some research and a chat with DOC, it seems they are quite similar, my route was just longer.
NOTE: Minarapa Stream, on the true Pouakai Circuit, is impassable after rainfall and there are a few streams along this hike that could be very dangerous to cross after rain. Again, speak to DOC before taking on this hike.
RELATED: New Zealand Road Trip Itinerary – 2 Weeks to 2 Months + Costs and Tips
OPTIONAL: Holly Hut to Bells Falls
Don't mind adding a few kilometers to your trip? We didn't! Even though we were already going along the long way due to the slip, we decided we had to make this detour, and we are glad we did.
We passed Holly Hut (only about five minutes off the main trail) and continued to Bells Falls (one hour and three kilometers round trip).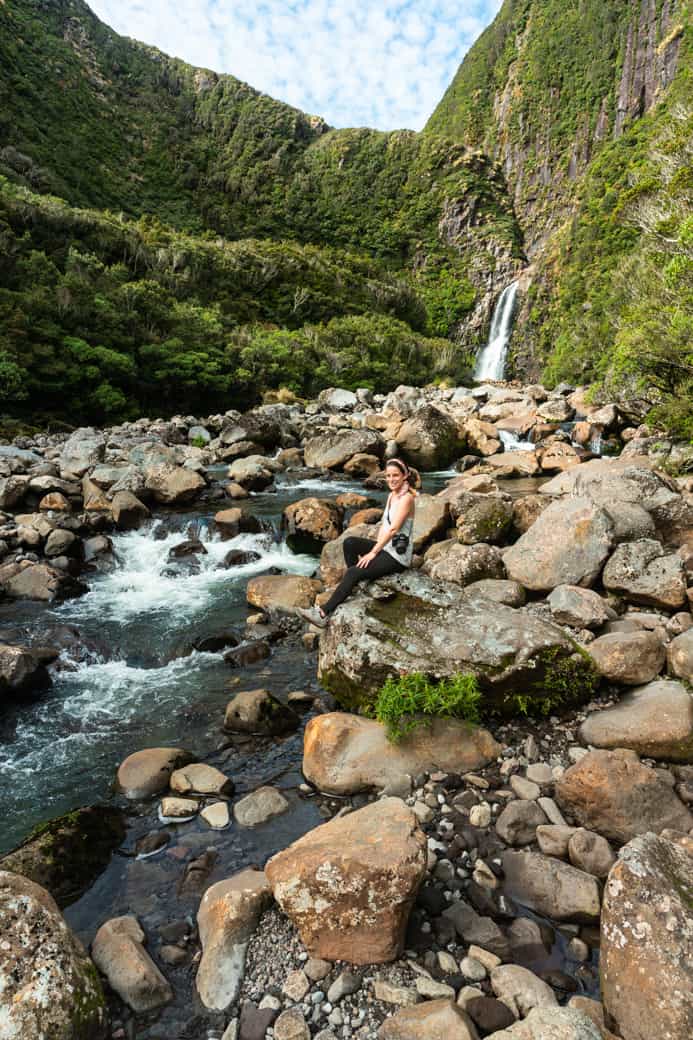 The detour is well worth it, and the waterfalls are stunning. The trail ends downstream, and the falls are raging in the distance. To get closer, you'll need to rock scramble your way there.
The trail to get here was luckily all downhill, but it's one way! So, yep, that's right, it's all uphill on the way back.
Holly Hut to Pouakai Hut
After that detour, you're luckily going to get a break along the Pouakai Circuit. You'll be walking through a relatively flat valley along a wooden boardwalk.
Hopefully, Mount Taranaki has come out to play for you, unlike he did for us… He has so far, been hiding from us, but I'm pretty confident he will come out closer to sunrise as he did the night before as I camped just below at the base of the mountain!
The valley is a welcomed relief as we've mostly been in the forest without much of a view and, hello, it's flat! So enjoy it while you can.
Pouakai Hut to the Famous Pouakai Tarn
At this point, let me suggest you drop your things off at the hut. Firstly, it's been on your back all damn day, get it off! Secondly, you'll want to grab a bed as soon as you can. This hut fills up FAST with only 16 beds available, and if you don't get a bed, you'll be cuddling up on the floor instead.
This will be a ten-minute or so detour; then you'll pop back out to catch the sunset at the tarn, which is really just another name for a pond.
This tarn is uber-famous as it's quite possibly the most perfectly placed tarn in the history of tarns. It's magnificently nestled under Mount Taranaki displaying the most epic, symmetrical, and gorgeous reflection that is every photographer's dream.
Now we all know why Garrett was so obsessed with coming here…
♫ Photog DREAMS are made of THIS! *to the tune of 'Sweet Dreams are Made of This' by the Eurythmics (please tell me you get this reference!?)*
Ehem… Back to that tarn.
This picture is pretty famous, so you won't be here alone, not even an early wake-up call to get here at sunrise will get you some alone time up here. No big deal, though, just don't be a dick, cool?
What to Avoid Doing:
Here are some dick moves to avoid (AKA this is what happen when we were here):
Flying Drones—first it's not allowed, but whatever, the biggest issue was they had zero regards for those trying to photograph the REFLECTION as their drone created ripples through the tarn. Dick move.
Not Taking Turns—Like, can we not share this tarn, people?! There was a couple who brought their wedding outfits or something, and they took nothing less than 931175937906 photos. Hardly giving time for others to get their pics, to the point where people had to say, excuse me, it's my turn — Dick move.
Straying Off the Boardwalk—There were no fewer than ten signs within a kilometer BEGGING people to stay on the boardwalk because the area was fragile and New Zealand being New Zealand, trying their hardest to maintain pristine beauty and keep their nature natural. People still decided to stray off the boardwalk for photos — Dick move.
Being Loud and Obnoxious—Just why? This isn't a bar, this isn't Time Square or some other equally busy and noisy area, nor is this your home… This is a beautiful natural spot where people want to enjoy, and not hear your tipsy cackles, your mate's name being bellowed from a kilometer away nor your wanker shouts reverberating through the hillsides — Dick move.
Unfortunately, some dick people are coming to this spot but hey, we still had a good time! Just don't be a dick yourself, in case you were planning on doing any of the above… DON'T.
Anyway, sunset and sunrise are a must here, and will undoubtedly blow you away. The hut is decent enough and provides views of the coastline but otherwise doesn't have much of a view unlike some of the other huts I've been to. The main star is that reflective tarn.
RELATED: Want to know about the huts I've done? Check out my French Ridge Hut and Mueller Hut posts
NOTE: The tarn is about 20 minutes away from the hut. Make sure to grab your headlamp out of your bag so you can see on the way back after sunset. If you're coming for sunrise and are planning on doing the full Pouakai Circuit, then bring your stuff. The track continues just after the tarn, and it wouldn't make sense to backtrack first thing in the morning.
Pouakai Hut to North Egmont National Park Visitor Center
After catching the sunrise, it's time to head back to the trailhead at the North Egmont National Park Visitor Center.
The hike back is honestly not that bad. You'll start with the hardest bit first, going up Maude and Henry Hill, all uphill and some sections have steep ladders to climb. You'll eventually make it to the last viewpoint you'll have of Mount Taranaki on the Pouakai Circuit. Take it all in.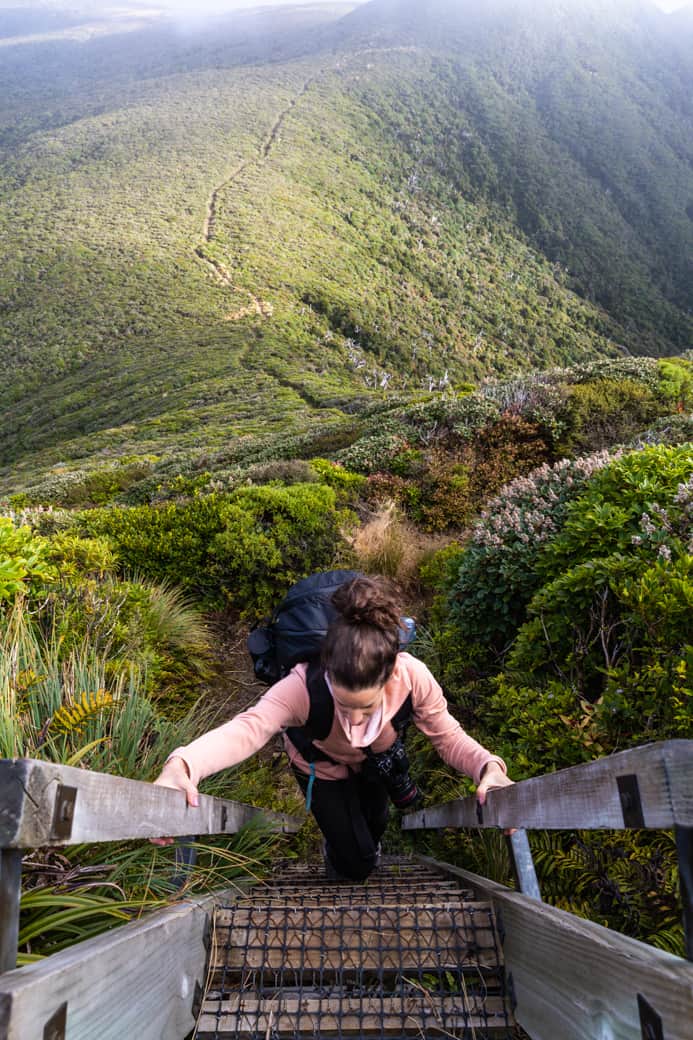 From here, you'll be mostly in the forest, which will provide you with shade, which works out great as it helps not to have the sun beating down on you.
Again, expect some mud in the forest, there were lots of sections that were sloppy, muddy, and downright difficult to maneuver through without getting a layer of dirt on top of my shoes (I'm also clumsy but still).
The walk through the forest is relatively easy, and nothing is too hard, too steep… It's just long. Very long. 13 kilometers long to be exact.
But everything was very well worth it, and you can plop down in your car straight after making it back to the trailhead!
RELATED: 5 Epic Hikes in Mount Cook National Park That Are Totally Worth It
Do I Have to Do the Pouakai Circuit or Is There a Shorter Way?
Nope, there is a shorter way if you don't want to challenge yourself and complete the Pouakai Circuit.
I didn't find out about this shorter track until I was at the hut as I spoke to the others that were there. Come to find out, out of all the people we spoke to at the hut; we were the only ones who made the Pouakai Circuit trail! Everyone else did the shortcut!
So while I didn't do this hike, I'm offering up the info because I know some people either can't complete a circuit like this or don't have enough time. The shortcut can be done in one long day even if you're strapped for time, but that means no sunrise or sunset for you.
It also means you won't be in the area to get to Holly Hut or Bells Falls either.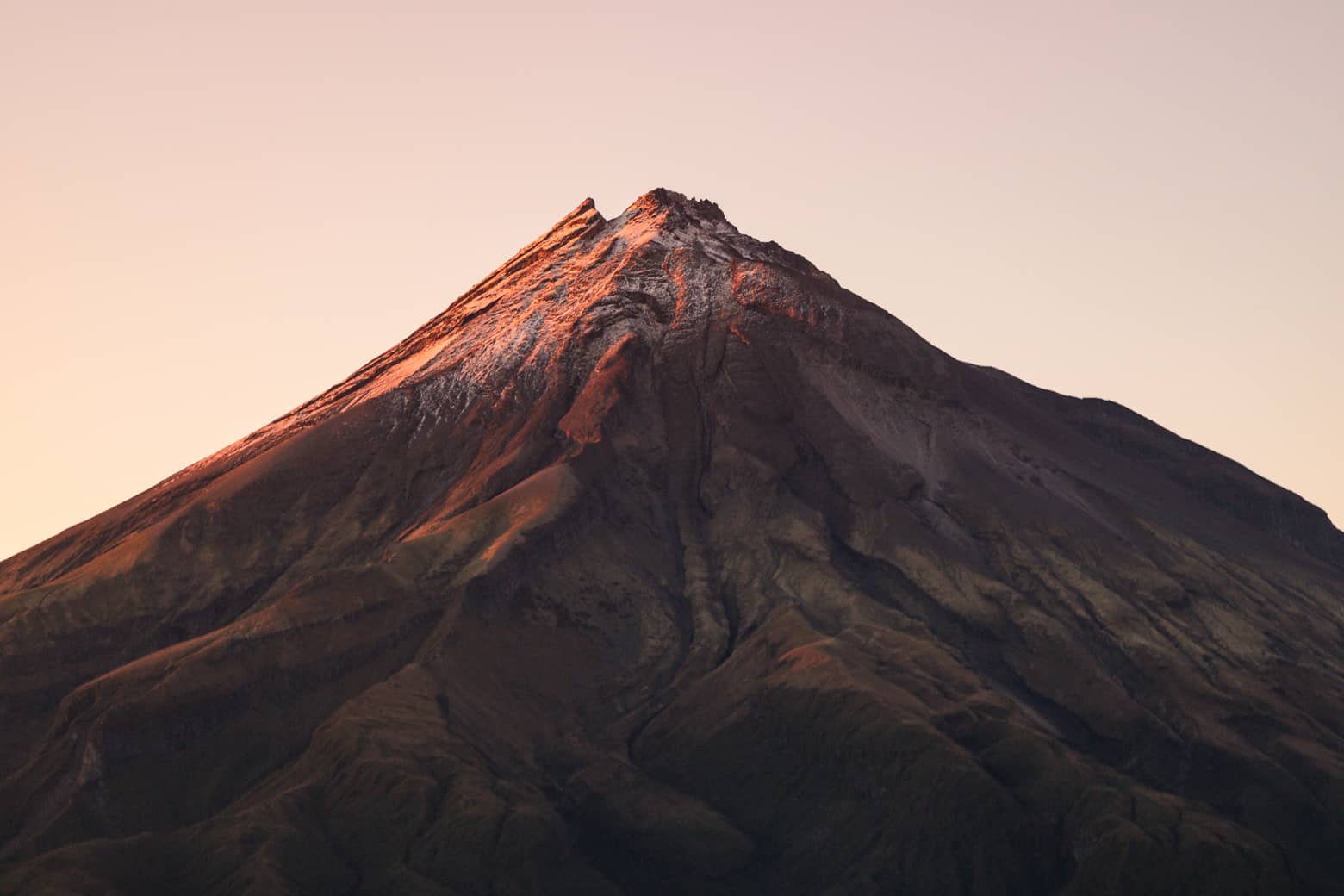 The shortcut is to park at the Mangorei Track Trailhead. From here you can hike to the Pouakai Hut and back in about 4-5 hours with a total of 12 kilometers (7.5 miles) round trip. The trail is relatively easy in that it's impossible to get lost and the terrain isn't too tricky, but it is an uphill track. Obviously. You're going up a mountain after all…
Luckily if it's uphill all on the way there, you better bet it's only downhill on your way back, so not too bad! You'll get to enjoy the hut (fill up on water, have a snack, use the bathroom), see the reflection on the tarn, and make your way back in time for dinner. Sweet!
What's Pouakai Hut Like?
Simple. Like all backcountry huts in New Zealand. This hut only has 16 bunk beds, and they fill up QUICK. Garrett and I were actually about to be pissed because it's well known that some people are dicks (see above) and make the dick move of not paying for a hut.
They make the hike up, don't pay (not all huts have wardens every night) and they take up a bed anyway leaving the paying people to the floor. Luckily Garrett and I snagged the last two beds available! Phew…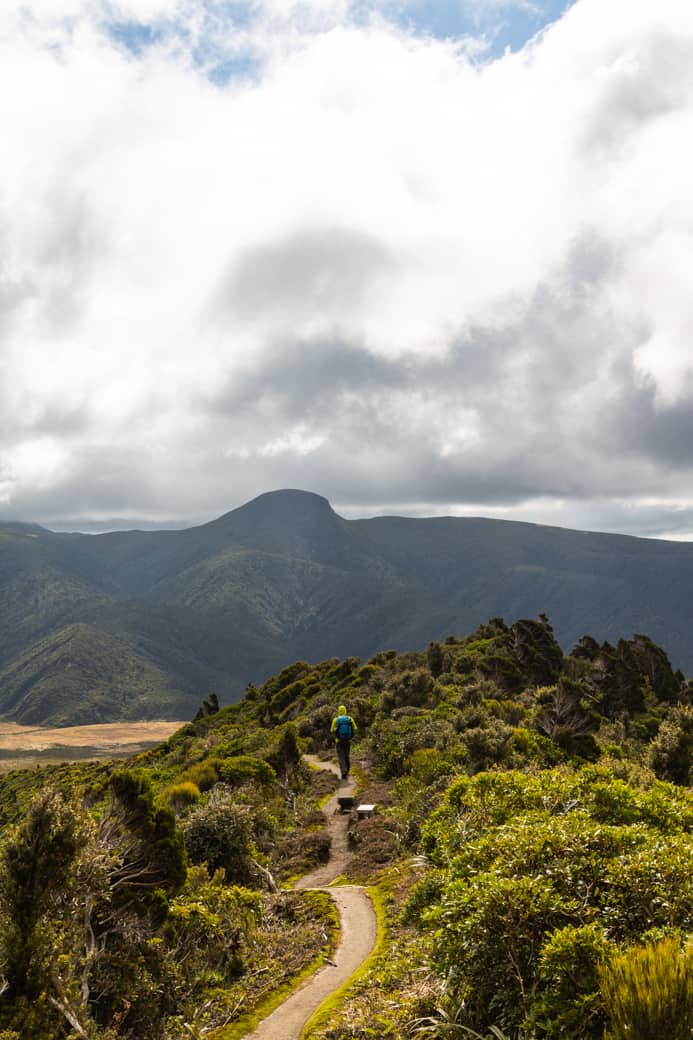 There's a nice wood-burning stove here for warmth (much needed) and then some benches and tables. You'll have to bring your own burner to cook food (or bring food that doesn't require cooking), and the beds have mats. That's about it!
There are two toilets outside, a sink, and a balcony with a coastal view.
The hut is first come first serve—no bookings are required in advance. You need to pay for the hut at the North Egmont Visitor Center.
RELATED: Guide to the Routeburn Track: Should You Do it as a Day Hike?
What to Pack for Hiking to Pouakai Hut
Food – We brought PB&J's because they are just too easy and are very filling. A few cans of tuna, some fruit, trail mix, and a bit of gross powder coffee which we just mixed with cold water because we didn't bring a burner (on purpose-packed light!). It wasn't as bad as we thought it would be!
Sleeping bag – An absolute must, and be sure it's not any old sleeping bag; it needs to be warm enough for the alpine weather here. Do note there are two sections of the hut, only one of them gets the benefit from the woodfire stove.
Hiking bag – My bag was not a hiking bag, but it mine as well be. I don't have the luxury of bag choices for each place I go since I live out of my bag, but it's perfect for electronics, hiking, and being my cabin bag on flights. I'm pretty happy with it! Just know the bag you bring should have hip straps and be comfortable for you to wear for many hours as you hike.
Water – You only need enough water to make it to Holly Hut, where you can refill, and then to Pouakai Hut. From Pouakai Hut to the trailhead the next day, there is nowhere to refill for 13 km. The water is rainwater and is good enough to drink without boiling. A lot of this hike is luckily, in the shade.
Cookware – IF you want to get a bit fancy and cook your meal, do note you'll need to bring a burner, all the utensils, and pots and pans you'll need. And maybe even a way to wash everything because there's only a sink with water, no sponges or soaps.
A trash bag – On all hikes and backcountry huts in New Zealand you MUST carry your trash out, there's no trash can at the hut, and not even at the Egmont National Park Visitor Center!
A tripod – Want epic sunrise, sunset, and night shots? You may need a travel tripod! Don't forget any of your fancy camera gear because this is the place to use it. The reflection tarn has some great photo opportunities.
Hiking shoes – NOT runners. It's, first off, potentially going to be a bit cold, so the hiking shoes will help keep you warmer (wear Merino wool socks for extra warmth and quick-dry capabilities, I'd die without mine), and secondly, because of the muddy spots, you'll want shoes that don't allow mud to seep through easily. Lastly, wear hiking shoes, they will be far more comfortable in this terrain and for this length of a trail.
Quick-dry clothing – Don't need to say much here, there's a chance to get wet, or sweat through your stuff so make sure you are wearing quick-dry items.
Jackets – Yes, plural. You'll need one to keep warm; it was pretty damn cold when I was here in April, and Mount Taranaki had snow getting dumped on it overnight! I lived in this light fleece jacket even during parts of the hike, and then my fav 3-in-1 jacket to keep me warm and to provide me with a shell should it rain. These are alpine conditions, and you need to carry gear and be prepared for worse weather just in case. It's not a suggestion; it's a must!
Overall, the Pouaki Circuit wasn't THAT difficult, it was mostly just long, making your energy levels deplete lower and lower as the hike continues, making you think it's a bit hard! The inclines and declines in the walk weren't anything drastic, or that steep for an extended period, and every time you were sick of going uphill or downhill a flat bit popped up on the hike saving you.
Phew, well that was nearly 3,000 words of info for ya on the Pouakai Circuit and Hut! I hope it helped you prepare for the hike.
More Around the North Island of New Zealand
Are you planning on doing this hike? Let us know in the comments!
---
---
>>> EVEN MORE ABOUT TRAVELING NEW ZEALAND <<<
Work & Travel New Zealand: Get a Working Holiday Visa for New Zealand
Your Guide To the Tongariro Alpine Crossing in New Zealand
A 5-Day Queenstown Itinerary For the Intrepid (New Zealand)
New Zealand Road Trip Itinerary—2 Weeks to 2 Months + Costs and Tips
20+ Day New Zealand South Island Road Trip Itinerary
50+ of the Best Hikes in New Zealand & Hiking Tips
Campervan Sites in New Zealand + Camping and Food Tips
Campervanning New Zealand: Buying, Selling, Renovating, and Tips
New Zealand Travel Tips + A Budget Breakdown
A Guide to Hiking The Kepler Track in Fiordland National Park, New Zealand
5 Epic Hikes in Mount Cook National Park That Are TOTALLY Worth It (New Zealand)
A Guide to Hiking French Ridge Hut in Aspiring National Park (New Zealand)
A Guide to Hiking the Mueller Hut Track & What to Pack (New Zealand)
Hooker Valley Track: The Easiest & Most Beautiful Hike in Mount Cook NP (New Zealand)
Guide to the Routeburn Track: Should You Do It as a Day Hike? (New Zealand)
5 Things to Know about Milford Sound, How to See It and Is It Worth It? (New Zealand)
Hiking Roy's Peak & How to NOT to Wait in Line For A Pic (New Zealand)
An Adventurer's Guide to Exploring Lake Tekapo, New Zealand
4 Easy But Beautiful Walks Around Dunedin, New Zealand
11 Things to Do in The Catlins in 2 Days (New Zealand)
A Guide to Exploring The Cave Stream Scenic Reserve (New Zealand)
---
---
Don't lose this! Click to pin it now.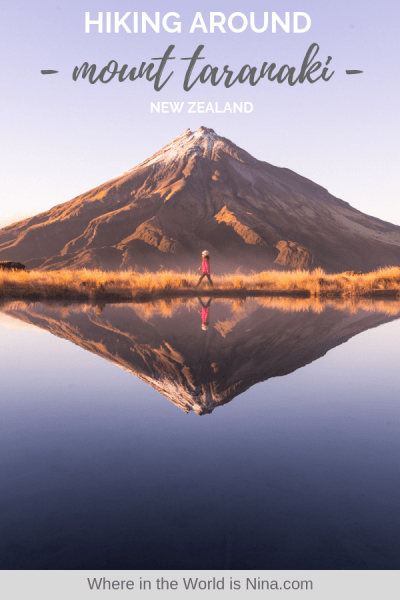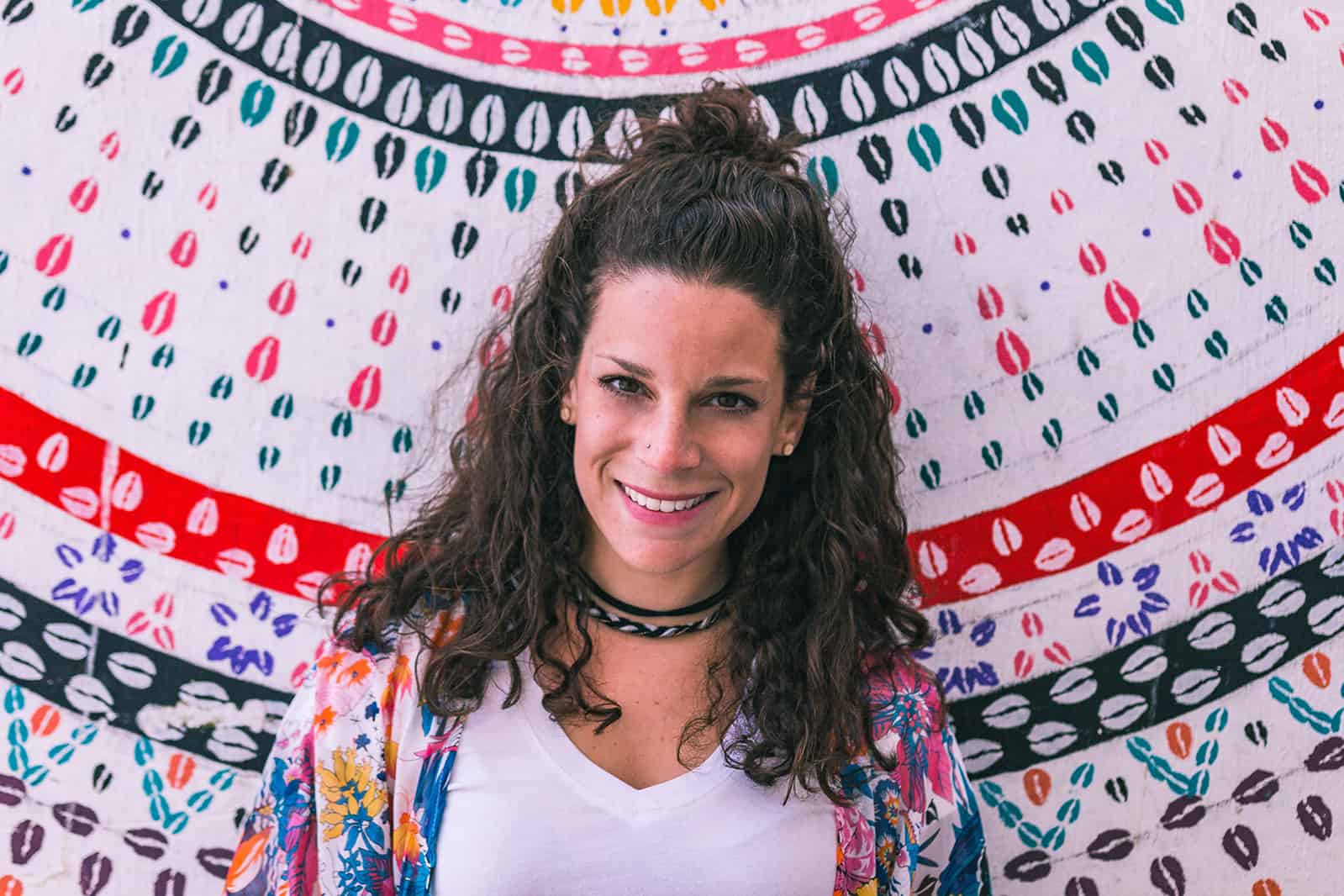 Nina Ragusa is an adventurer, messy bun master, breakfast fan, and full-time travel blogger. She's been abroad since 2011 and blogging on Where in the World is Nina? for nearly as long. Nina helps people like you move around the world while making money. She loves talking about how to work abroad and online to travel longer!