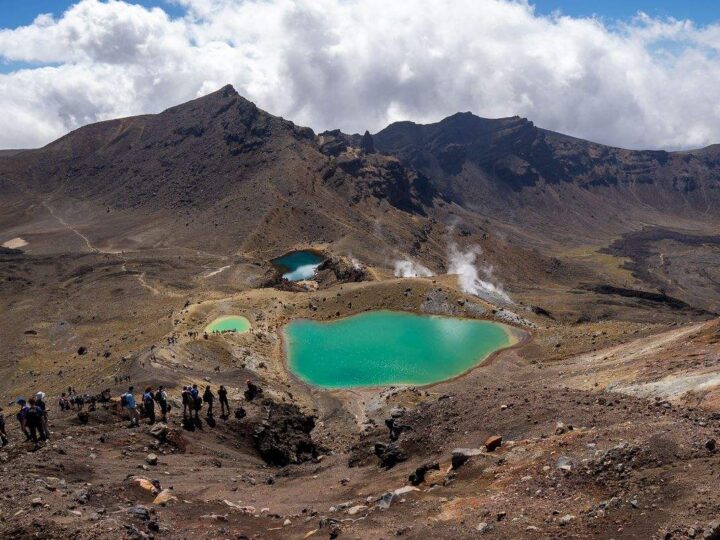 This guide to the Tongariro Alpine Crossing hike is a guest post written by Christine.
Located in the heart of the North Island of New Zealand, Tongariro National Park is home to the incredible Tongariro Alpine Crossing. Hiking the Tongariro Alpine Crossing takes you over a volcano and past its crater before descending on the other side.
If you've ever wanted to know what it feels like to be on another planet, you'll love the Tongariro Alpine Crossing hike. Keep reading for my full Tongariro Crossing guide including everything you want to know before you go and the mistakes you'll want to avoid.
The Tongariro Alpine Crossing Hike
---
A quick rundown of this great hike:
Where is the Tongariro Crossing: In the center of the North Island of New Zealand, 4.5 hours from

Auckland

or just over 2 hours from

Rotorua

.

How do you get there? There is no full-day parking at the beginning of the Tongariro Alpine Crossing hike. You'll need to organize a shuttle bus to pick you up and drop you off at the start of the hike. The bus will then pick you up at the other end. There are some strings attached to the buses which I'll cover below.
The Tongariro Crossing length is 19.4km/12 miles. The distance is one way but don't worry, as mentioned, the Tongariro shuttle buses will take you back to your accommodation
How long does the Tongariro Alpine Crossing take to complete? In general, the Tongariro Alpine Crossing hike takes 6+ hours depending on how fast you go. You'll need to keep an eye on the time because of the bus schedules.
RELATED: 50+ of the Best Hikes in New Zealand & Hiking Tips.
The Tongariro Alpine Crossing Hike: What to Expect
Mangatepopo Car Park To Soda Springs
The bus drops you off at the end of Mangatepopo Road and the trail begins almost immediately. Most hikers begin early morning, around 7.30-8 am which gives you plenty of time to make it to the end before nightfall. It was here that we realized that we were not the only people on the trail. It's actually fairly busy.
As you wander along this fairly flat part of the Tongariro trail you'll see incredibly steep, barren mountains to either side, these were once lava flows and it begins to feel very otherworldly. A 15-minute detour off the main trail will take you to Soda Springs, a small waterfall, and a strange site amongst what appears to be absolute nothingness.
Soda Springs To the South Crater
Rejoining the trail you'll follow along until you see the Devil's Staircase, a very steep ascent of more than 200 meters/650 feet towards the South Crater at the top. It is here that you'll rejoin the crowd as everyone knuckles down and tries to make it to the top.
The truth is that it's not easy to go fast here anyway, it's a single, maybe double-file sort of situation, and although there are always a couple of world-class athletes who power up the outside and overtake everyone, it's easy to relax into a steady pace and follow the line.
There is also enough room if you do need to stop and catch your breath. My advice here is to pace yourself and run your own race or climb your own hill as it were.
It's easy to spend time staring at your feet as you navigate the ascent, but make sure you look up every now and then as the views are spectacular. Once at the top, the Tongariro Alpine Crossing levels out and you'll see the South Crater which is now a beautiful blue lake.
The South Crater To the Red Crater
There is a short reprieve from the climbing as you approach the South Crater, and then as you leave it behind, but the climb begins again as you approach the Red Crater. Part of this climb takes you across an exposed ridge of the Red Crater and it was here that we got in a little trouble!
As a general rule, in flat areas, the crowd thins out but will bunch back together at the harder, steeper parts of the trail and that is exactly what happened as we approached the Red Crater.
As you're watching your feet and taking in the view it becomes natural to follow the people in front of you without much thought, which we did, only to realize that they had veered off track and we were all scrambling over the steepest part of the exposed ridge with a fairly steep drop just below us and absolutely nothing to stop us if we fell. Whoops. They apologized, we laughed, no one fell so all was well.
The Red Crater is an incredible sight and really makes the Tongariro Alpine Crossing worth it. Aside from the incredible volcanic crater, the vibrant colors, and the drama of it all, on a clear day, from that vantage point, you can see far into the distance, across Tongariro National Park, and it feels like you're on top of the world.
Red Crater To Blue Lake
The Red Crater marks the top of the ascent and from here apart from the odd rise, it's pretty much downhill. The steep descent from the Red Crater to the Blue Lake divides the crazy from the cautious as the loose lightweight gravel, known as volcanic scoria, gives way underfoot.
Some people run down flailing their arms and trying to stay upright while others cautiously do a sideways shuffle to the bottom. Either way, it's kind of fun.
When you get to the bottom you'll come across three beautiful and vibrantly colored lakes, the largest being the sacred Blue Lake. It's worth spending a good amount of time here and admiring the unusual beauty of the area.
The Blue Lake To the Ketetahi Shelter
This portion of the Tongariro Alpine Crossing hike consists of a fairly slow, zig-zag down the side of the mountain. The views are fantastic and the land becomes less barren with more shrubs and plants lining the path.
I personally found this part the most physically demanding as my knees began to suffer from the constant downhill pressure. By the time the ground leveled out I was pretty happy to be done with hills.
Ketetahi Shelter to the Ketetahi Car Park and Your Bus
A flat walk through beautiful grassland and a short walk through what appears to be the green forest finish of the Tongariro Alpine Crossing hike. Although it's flat, and easy to wander off track, it's recommended that you stay on the trail as some of the land is privately owned.
RELATED: 2-Week North Island, New Zealand Road Trip Itinerary.
So How Hard Is the Tongariro Alpine Crossing Hike Really?
This was really the first thing that I personally wanted to know when I was researching doing the hike. The truth is that the difficulty is relative to your fitness, however, I can tell you that there are all sorts of people who do the Crossing.
People well into their 60's, some older children, tweens and young teens, people who looked fit, people who didn't… some people struggled and moved slowly, others (not me) seemed to make the climb look like it was nothing.
How hard the Tongariro Alpine Crossing is is really up to you. I would suggest if you have a moderate level of fitness or an active lifestyle you should be fine but the key is to pace yourself and rest as needed.
Tongariro Crossing Guide To Planning Your Trip
Where To Stay For the Tongariro Crossing
In our opinion, you're best to stay as close to the Tongariro Alpine Crossing trail as possible. It is a long day and a long hike and by the end, you're definitely hot, sweaty, and exhausted, in a good way of course. All we wanted was to have a hot shower then sit and put our feet up for a bit.
Shuttle buses to the start of the Tongariro Alpine Crossing hike leave from various places within the Tongariro National Park and from the towns of Turangi, 40km/25 miles away, and Taupo, 90km/56 miles away
Accommodation Options in Tongariro National Park
Tongariro Holiday Park – As we were campervanning around New Zealand we stayed at the Tongariro Holiday Park, a small caravan and campervan park with basic and double rooms available. It provides great access to Tongariro National Park and is only 15 minutes from the start of the Tongariro Crossing.
There are also accommodation options in some of the small towns inside Tongariro National Park, such as Whakapapa and National Park Village.
RELATED: Campervan Sites in New Zealand + Camping and Food Tips.
How to Get to the Start of the Tongariro Alpine Crossing Hike
There is no long-term or all-day parking at the Mangatepopo car park as there simply isn't enough space to accommodate the hundreds of people who do the Tongariro Crossing daily.
In order to get there, you will need to book a Tongariro Shuttle Bus which will pick you up from your designated accommodation. Your chosen shuttle company will also pick you up at the end of the day from the Ketetahi Car Park.
Important Information for the Tongariro Alpine Crossing Shuttle
The shuttle buses leave early in the morning and it's best to get the earliest one you can. This will give you more time to complete the hike

At the end of the day, the buses will pick you up and drop you back at your accommodation, however, they do this on a schedule. Check the schedule for your shuttle company and aim to be back in time for a certain shuttle. If the shuttle leaves every hour, and you arrive a quarter past the hour, you will need to wait 45 minutes for the next one to leave, or longer if there is no one else there yet.

There is a 'final' shuttle bus of the evening and you don't want to miss it. Make sure you check what time the last bus leaves. Some companies say they will not leave anyone behind. That was definitely not the impression we got from our shuttle company which made it clear that if we didn't make the last bus, we'd have to find our own way home.

Although the Tongariro Crossing is always open if the weather is particularly bad, your hike can be 'called off' as the companies will not shuttle you to the start.
When Is the Best Time to Hike the Tongariro Alpine Crossing?
The Tongariro Crossing is open all year round, however, the most popular time (read: busiest time) to hike the trail is during the summer months of December to February as the weather is pretty stable. Spring and autumn are also great times although the weather will be a little unpredictable.
It is possible to hike the Tongariro Alpine Crossing in the winter although you will need special ice and snow equipment so if you're not experienced with these items, you will need to do a guided tour.
The New Zealand Department of Conservation has some great information on the weather and risks of the Tongariro Crossing.
RELATED: Things To Do in Northland, New Zealand.
Weather on the Tongariro Alpine Crossing
The weather along the Tongariro Crossing varies greatly from quite cool and rainy, to hot and dry. If you're doing the trail during the summer months the weather will most likely be pleasant as you hike.
It is cool in the morning so layers of clothes are recommended. You'll warm up quickly as you climb toward the South Crater, however, the wind at the top around the red crater is intense. There can also be quite a bit of cloud cover which makes it feel cooler.
It rains a lot around Mount Tongariro, so be prepared with some wet weather gear, a waterproof jacket will do the trick. The key is to be prepared for everything.
What To Wear to Complete the Tongariro Alpine Crossing Hike
The most important things when doing the Tongariro Crossing are to be comfortable, to have layers, and to be prepared for varied weather conditions.
Most people will wear some sort of hiking gear or activewear.

Thermals are great to put under your clothes.

Make sure you can take layers off if you're warm but that you have enough on to not be cold and to protect yourself from the wind.

As mentioned above, a waterproof windbreaker would be a great lightweight option.

Good shoes are a must, either hiking boots or sneakers. This is not a thong or flipflop sort of hike.

Make sure you take your sunglasses and a hat.
Tongariro Alpine Crossing Essentials
For 6+ hours of physical activity, you'll need to pack a small backpack with some necessary items
Water – be sure to take reusable water bottles with at least two liters of water per person. You may need more if it's a particularly hot or sunny day. There is no water on the Crossing.
Sunscreen – your face is quite exposed out there so cover up with sunscreen and a hat.
Some lunch or easy-to-eat snacks. Some sandwiches, fruit, or high-calorie foods like protein bars or nuts are good snack options.
Toilet paper – There are very limited toilet facilities between Soda Springs and the Devil's Staircase and nothing until the end. You'll need your own toilet paper.
Don't forget your camera.
What Not To Take On the Crossing
Don't take everything you own with you. We saw some people with some really big, full bags and it's unnecessary. Just wear some layers and take some food and water and sunscreen. Keeping it light and basic will save you having to lug everything up the ascent.
So is the Tongariro Crossing hike worth it? Absolutely. It's an incredible experience whether you're in it purely for the views or for the challenge. It's an opportunity to see a landscape that few (except the thousands of tourists who do it with you each year) will see. In the end, you'll be both amazed at what you've witnessed and proud of yourself for making it!
---
---
>>> BIO
Christine Poile is the content creator at Travellers With Time. She and her partner Ben have spent the last few years traveling through New Zealand and then Europe by campervan. You'll find them exploring old cities, hiking through National Parks, and taking unforgettable road trips.
---
---
---
>>> EVEN MORE ABOUT TRAVELING NEW ZEALAND <<<
Work & Travel New Zealand: Get a Working Holiday Visa for New Zealand
A 5-Day Queenstown Itinerary For the Intrepid (New Zealand)
2-Week North Island, New Zealand Road Trip Itinerary
New Zealand Road Trip Itinerary—2 Weeks to 2 Months + Costs and Tips
20+ Day New Zealand South Island Road Trip Itinerary
Campervan Sites in New Zealand + Camping and Food Tips
New Zealand Travel Tips + A Budget Breakdown
Campervanning New Zealand: Buying, Selling, Renovating, and Tips
Piha & Waitakere Ranges Walks, Waterfalls, and Beaches—New Zealand
A Guide to The Pouakai Circuit & Hut at Mount Taranaki (New Zealand)
11 Fab Things to Do in The Coromandel, New Zealand
Epic Things to Do in Rotorua—Hot Pools & Adventures
7 Tips For The Cathedral Cove Walk in The Coromandel, New Zealand
A Guide to Hiking French Ridge Hut in Aspiring National Park (New Zealand)
Hooker Valley Track: The Easiest & Most Beautiful Hike in Mount Cook NP (New Zealand)
5 Things to Know about Milford Sound, How to See It and Is It Worth It? (New Zealand)
An Adventurer's Guide to Exploring Lake Tekapo, New Zealand
4 Easy But Beautiful Walks Around Dunedin, New Zealand
11 Things to Do in The Catlins in 2 Days (New Zealand)
A Guide to Exploring The Cave Stream Scenic Reserve (New Zealand)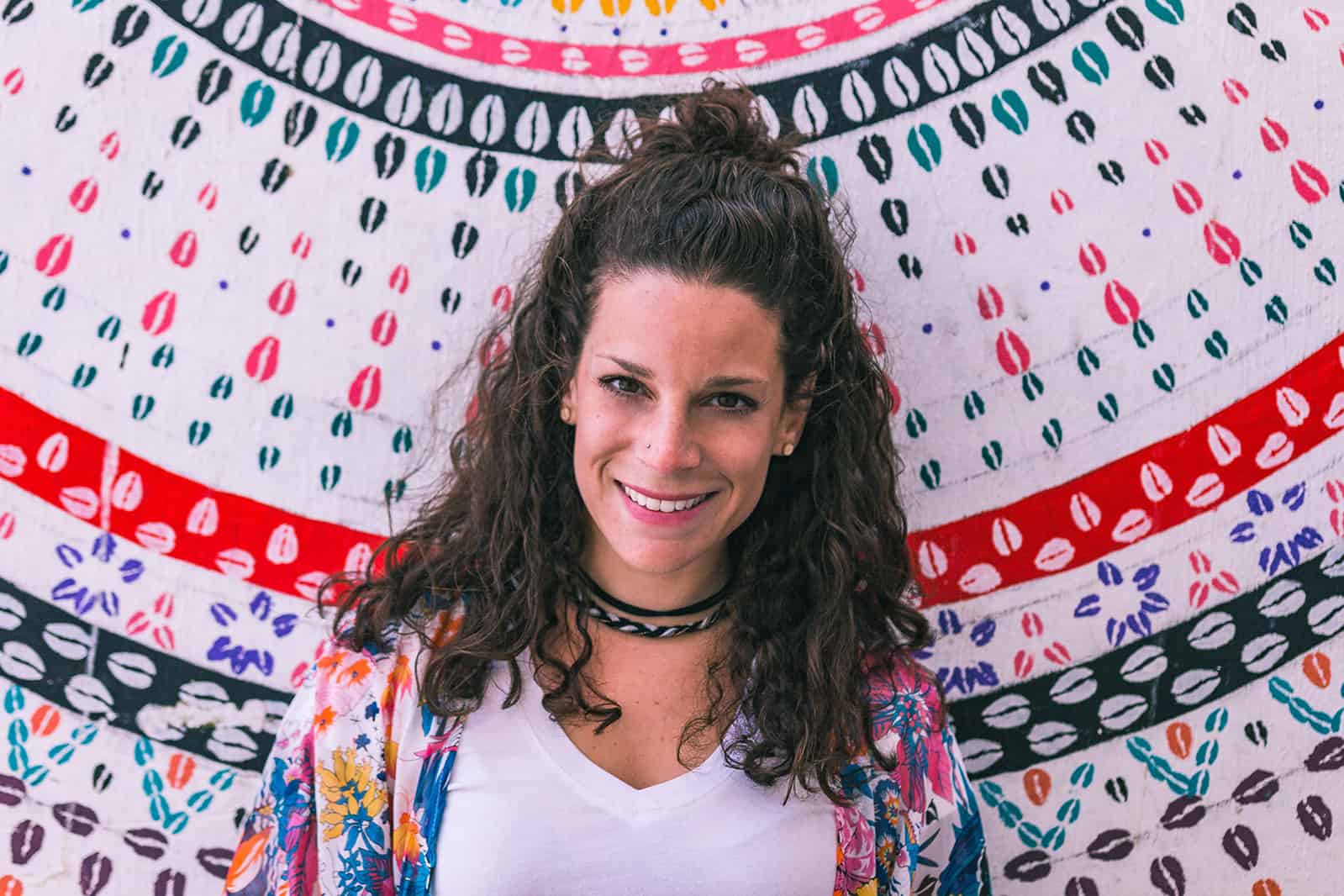 Nina Ragusa is an adventurer, messy bun master, breakfast fan, and full-time travel blogger. She's been abroad since 2011 and blogging on Where in the World is Nina? for nearly as long. Nina helps people like you move around the world while making money. She loves talking about how to work abroad and online to travel longer!