The following post about travel tripods is authored by Garrett, a professional videographer and photographer.
Having the right tripod is incredibly important for getting sick shots. Period.
Traveling? You'll definitely need a travel tripod if you want to get great snaps and take certain pictures while you're abroad.
Bringing along a tripod is an important decision and knowing how to use it is essential for someone who is a travel photographer and videographer, like me. Going beyond that, it's important to those who want to snap great shots while they travel, pro or not.
I wanted to put a post together outlining some of the best, most popular, and cheapest tripods for different situations, budgets, and photographers.
Amature photographer? I got you! Are you a pro and need something badass to travel with? I have just the one for you too. In between or unsure? This post will help!
I have a travel tripod for everyone out there and I hope you can find the right for you and your travels.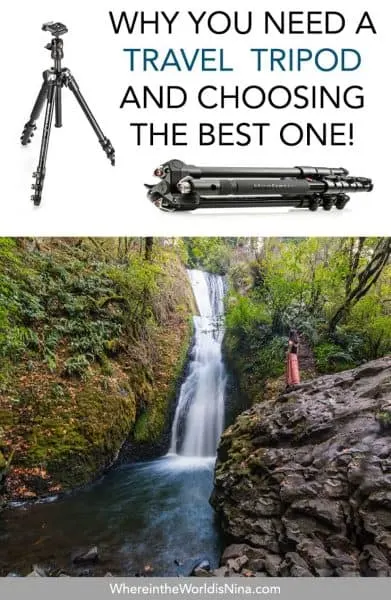 Don't lose this! Click to pin it now.
The Best Travel Tripods For Any Snap Happy Traveler
---
I have one confession about travel tripods. They can be a bitch to carry! There's no way around it.
As a professional, I need one. Literally, NEED one. And a good full sized one too.
So one thing to note here is, if you don't really NEED a tripod, I have some suggestions below as to which would be best for those on a budget and with less space up for grabs in their bags so it's not so cumbersome to bring along. Yet, you'll still get the benefits of having a tripod.

Let's get one thing straight, a tripod is not 100% necessary for getting cool snaps. However, for certain shots, and if you really want to take your photography to the next level, a travel tripod is needed.
Everything here is mostly organized by price and size. So we're starting out with the super pro tripod and working our way down and ending with my personal favorite.
Best Travel Tripod Under $ 350
1. MeFOTO Classic Carbon Fiber Globetrotter Travel Tripod
The MeFOTO Classic Globetrotter is that rare animal – a combination of lightweight, portable and highly functional for outdoor photography in the toughest terrain. You won't have any issues using large DSLRs or other cameras on this travel tripod as it supports 26.4 lbs.
Thanks to its five extendable leg sections, you can adjust the height between 16.1'' and 64.2''.
In addition, the tripod's legs can be inverted and folded back to fit compactly together. It is rugged and tough enough to last years of use in harsh conditions, if well maintained.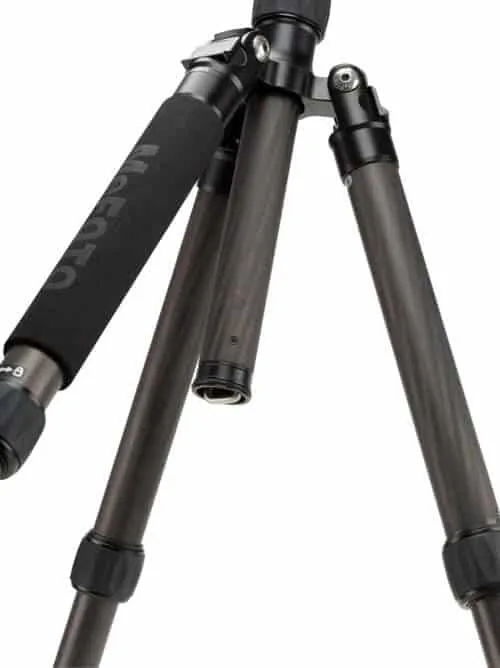 The Globetrotter comes with a 5-year warranty from the manufacturer and a carrying case.
The tripod can also be converted into a full-length monopod. And thanks to the precision ball head, integral bubble level, and 360-degree panning, you have a lot of choices when it comes to taking the perfect shot.
PRO
Reliable, high-quality construction with good height, and can support heavy photography equipment with no problems.
CON
The locking mechanisms do allow sand and other debris to enter, so you will need to clean it periodically if you use it in rough terrain.
RELATED: All the Travel Gear I Use and Love
Best Travel Tripod Under $200
2. Manfrotto MT055XPRO3
If your travel photography takes you off the beaten track, you need to be prepared for anything. The PRO3 from Manfrotto delivers a professional level tripod that will satisfy even the most demanding photographers and can handle all kinds of conditions.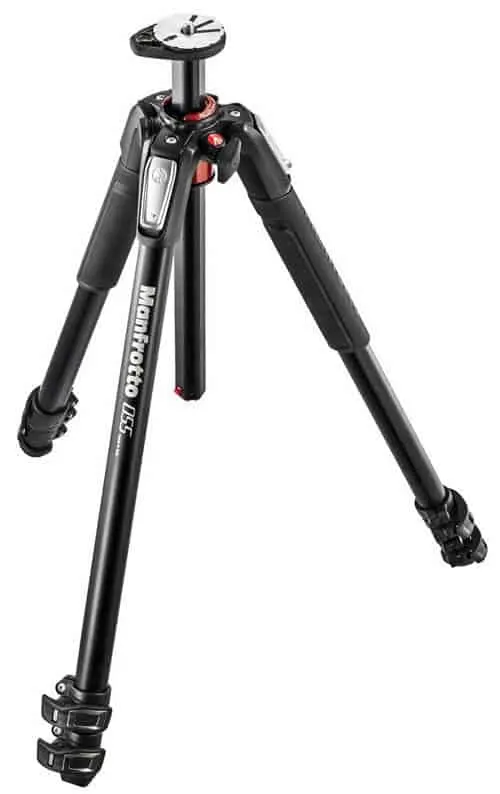 While definitely on the heavier side, this tripod makes up for it by being exceptionally steady and having a ballhead that makes attaching and detaching your camera a breeze.
The tripod is packed with useful features, including a bubble level, a 0-degree column that can be used with the Easy Link attachment to add an LED light or a reflector, and stiff locks on the legs for additional stability.
PRO
Easy to carry due to the padded grips, easy to set up and attach your camera and most of all, very stable and can withstand wind.
CON
The legs have a tendency to get loose or fall off after time.
Best Travel Tripod Under $100
3. K&F Concept 62" DSLR Tripod
There aren't many tripods in the under $ 100 price range that can deliver the same performance and value as the K&F concept.
With features such as twist-to-lock legs, a mounting hook for sandbags, a 360 degrees ball head, a bubble level, and a quick release plate t help detach and attach cameras quickly, this is a solid contender for your next tripod.
One leg has an anti-skid grip, and the tripod comes with a carrying bag.
This model is not recommended as the primary tripod for real professionals, but it can be a good secondary.
PRO
It is heavy enough to be stable during

medium

winds, and the twist-to-lock legs are very quick to adjust and setup.
CON
Telephoto lens and heavier DSLRs will have issues using this tripod.
4. TYCKA 56" Ultra Compact Tripod
There are times when you need to set up your tripod and camera in a hurry at your location to get the perfect shot, without worrying about shakiness or reliability.
For those times, the Tycka Ultra Compact will do just great.
This well-built aluminum tripod is not just a cheaper version of a professional tripod, but you'll find that it can outperform more expensive competitors.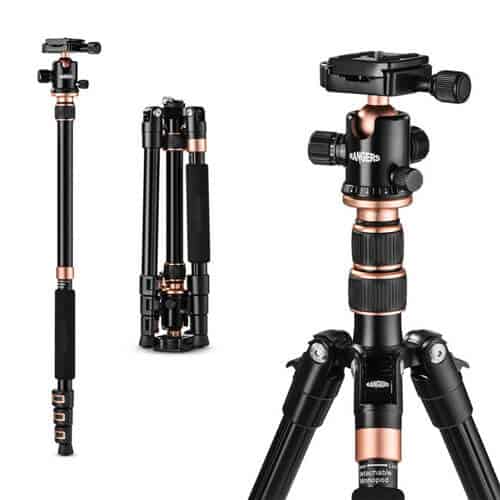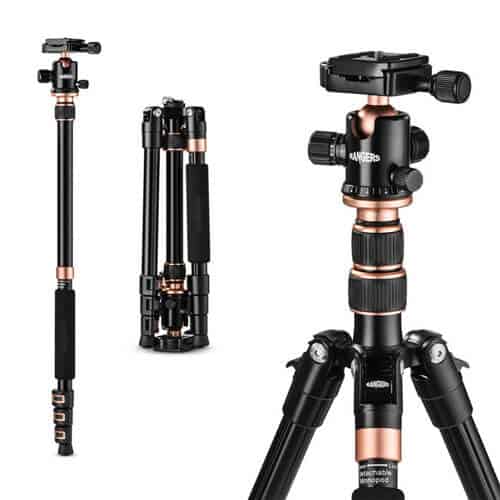 It quickly goes from 14'' to 55'', and one removable leg can be converted to a monopod. It has two built-in bubble levels as well as a panning lock that allows the ball head to rotate sideways.
PRO
This tripod folds up into a smaller size, as the name suggests. The leg locks work great and the legs are very stable, with plenty of

grip

.
CON
The ball head screw mount can come loose and sometimes the ball head doesn't stay locked as it should.
Best Flexible Travel Tripod
5. JOBY GorillaPod 5K Kit
Did you ever see one of those flexible tripods and ask yourself if they're for serious photographers or just hobbyists? Well, the JOBY GorillaPod 5K is a professional grade tripod that can be wrapped around a pole or grip onto any rough terrain.
It can support up to 11 lbs of gear and is more than capable of providing you a stable platform for still photography or videos. It can easily support a DSLR or mirrorless camera with a medium-sized lens, perfect for vloggers.
The joints won't bend unless you want them too, and that makes this a highly reliable flexible tripod that is both versatile and portable.
PRO
This tripod can hold your camera steady just about anywhere, and as low or as high as you want. It also

never

sags with the weight of the gear.
CON
The pod's rubber joints can be spoiled by high heat, so you'll need to be careful not to leave the tripod where it can be exposed to high temperatures for sustained durations. This was the exact fate of my last one however, that was after 3 years of outdoor rugged use. I actually still use it even after part of a leg fell off.
The Smallest and Lightest Travel Tripods
6. Manfrotto MTPIXIEVO
Not all tripods need to be tall and capable of supporting heavy equipment. If you're looking for a lightweight, short and steady tripod for macro or landscape photography, consider the Manfrotto Pixie Evo 2.
It is about 9.25 inches long by 2.5 inches at its widest point and weighs just over half a pound, perfect for carrying it in the pocket of your backpack.
With adjustable legs and leg angles, support for up to 5.5 lbs of equipment and up to 90 degrees of movement, this tripod gives you great freedom in selecting your shots.
The Pixie Evo 2 is compatible with DSLRs, Action Cameras, Smartphones, and compact cameras, so there's no longer any excuse for having a blurry shot from atop a boulder.
PRO
The tripod is small, very stable and versatile. It is recommended for travelers who don't need a full-size tripod or monopod.
CON
The height of this tripod is very limiting but this is also its appeal as it's so small, so make of it what you will.
7. Joby GorillaPod 3k Kit
For the adventurer who likes to go off the beaten path, sometimes a traditional tripod just won't cut it. At those times, the flexible JOBY GorillaPod is just right, as it can not only be used on uneven surfaces but also be wrapped around tree branches, poles, and almost any other solid surface.
The GorillaPod consists of three flexible legs or tentacles, which are adjustable and have rubberized ring and foot grips for additional stability.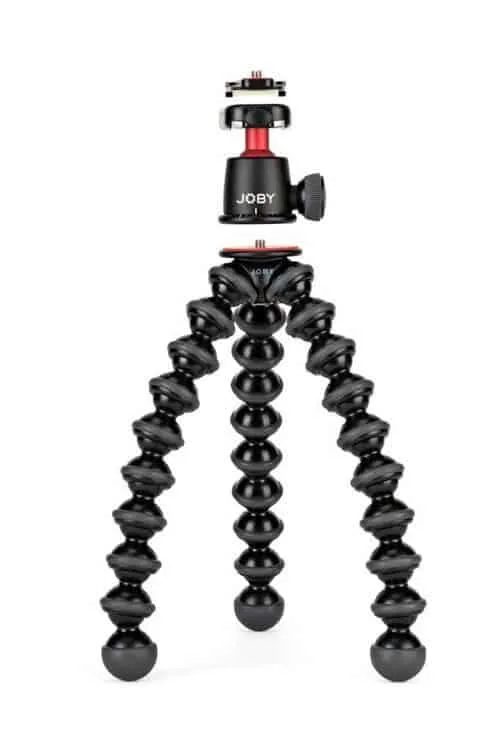 It can be used for handheld photography as well as for landscape or portrait photography from a stable vantage point. The ball head needs to be purchased separately as part of a kit, but it is necessary for attaching a DSLR.
PRO
The main plus point of this tripod is its versatility. It can be used both indoors and outdoors in all types of terrain, giving you unique vantage points for the perfect shot.
CON
As with the other tripod above, the height is limiting but since this one does prop up and "hang on" to object, it's easier to combat.
Best Travel Tripod for GoPro Users
8. Selfie Stick With Tripod
Although I'm not much of a selfie kind of dude I do find instances where a selfie stick is the best way to get a shot. Nothing beats a GoPro for capturing the action, and this selfie stick with an attachable tripod is great for thrill seekers who want to capture each moment. The stick comes with multiple accessories to mount, not just your GoPro, but your smartphone too.
The extendable selfie stick is made from aluminum and features a 360° Ball Head that can be rotated for the ideal shot.
The tripod is made of steel, but the tripod legs are short, so don't expect the stability of a larger tripod. The rubberized grip of the selfie stick helps you to not drop your smartphone or GoPro during a thrilling adventure.
PRO
The stick is solidly constructed and is sturdy. It's also fine to get this one wet, some are made of metal and get rusty quick.
CON
There is no wireless remote built-in so taking selfies can be a problem. The remote needs to be purchased separately. However, if you're using a GoPro you can use your phone as the remote with the GoPro App!
Best Overall Travel Tripod
9. Manfrotto MKBFRA4-BH BeFree
The BeFree tripod is made from high quality, lightweight aluminum, making it ideal for traveling photographers. The maximum height of this tripod is 57 inches and when closed it is only 15.8'' long.
The quick-release adapter is designed to allow the legs to fold tightly together, making the tripod very compact.
The tripod weighs only 5.3 lbs and comes with a padded carrying bag that can be inserted in your luggage.
You will appreciate the ease of operating this tripod, with the aluminum ball head, leg locks and angle selectors making adjustments a breeze.
As a very close alternative, there is a lighter carbon fiber one as well that's the same version of this one but only 2.3 lbs. It's more expensive, of course, but a better travel tripod for those who are worried about weight.
One of the cons for it is that it can become top-heavy with a heavy cam but it has a hook in the center to hang a bag or apply some weight with. Still, it is probably one of the best options for travelers.
PRO
Highly portable and easy to carry around, this tripod stands out for its great design, robust construction, and low weight.
CON
After some time the bottom peg screws can come loose and get lost. Since I work primarily outdoors these pegs got a rougher-than-normal treatment but I figure it was important to disclose and was my only problem with this tripod.
CHECK PRICE:
Accessories For Your Travel Tripod
These are potentially needed depending on the type of photography you're going for.
Intervalometer or wireless shutter remote -Timelapses, getting photos of your self, night photography, you'll need a wireless remote for a few different photography moments.
Quick release plate – Easily release your camera from the tripod or slap it on. The plates sometimes come with the tripod but I also carry an extra one just in case.
Video fluid head – Getting into videography? I couldn't help but mention something that's necessary for great videography shots and pans!
RELATED: 51+ of the Best Travel Accessories for Men and Women
What to Look for in a Travel Tripod?
Most tripods that cost more than $100 come with a few features like bubble levels, quick detach plates, etc. However, every photographer has different needs, so we'll talk about the various tripod accessories and parts that can come in handy.
Leg locks are always found on collapsible tripods, as they secure the tripod legs once extended. Flip locks and twist locks are the two most common types.
Lateral arms or accessory arms can be either part of a tripod or added on to the tripod to allow macro photography, attach accessories and for tabletop photos.
The center column is usually mounted to the chassis and can be slid up and down to adjust the height beyond what the tripod's legs can provide. They usually have a friction collar to keep them in place.
The ball head is used to position the camera in the right orientation atop the tripod. Some ball heads allow for panning, swiveling and tilting in various directions, making this a very popular and easy to use accessory.
Other heads include pistol grip heads, geared heads, and gimbal heads.
Tips For Using Your Travel Tripod
If possible, you should not extend the smallest section of the tripod's legs in order to increase the overall stability of the tripod.
Lightweight tripods are good for portability, but there's a tradeoff in weight against stability and firmness, especially in strong winds. Heavier tripods will be better able to withstand windy weather.
For better shots, don't extend the center column, as it leads to more vibrations and decreases the stability.
Tripods with quick-release heads will save you a lot of time. Get the plates separate if they don't come with the tripod.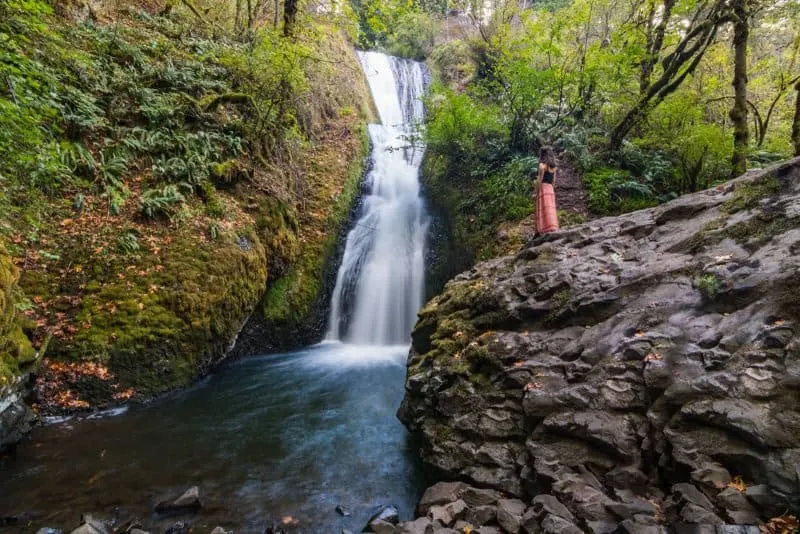 Why You May Need a Travel Tripod
There are various uses for a tripod and if you want some truly epic pictures on your getaway, traveling with a tripod is a must. Here's a quick overview of the main uses of a tripod:
Long exposures – You'll need your shutter open for a certain amount of seconds or even minutes, and the camera can't move, otherwise the picture will come out blurred. Since humans can't stay still enough, a tripod is needed.
Low light – In other words, it's dark out, but you want to have more light in your photo. To do this, you'll need to lower your shutter speed and be still, and as we discussed, humans can't be still enough, so a tripod is needed. This is especially true for night photography.
Timelapse – Time lapses are quite popular and are actually impossible without a tripod (unless you find a perfectly level ledge to set your camera on.) The reason is, you'll need to capture hundreds of photos within a certain time frame to get a nice looking timelapse.
A photo of yourself – Nina uses her tripod for exactly this. Placing her camera on the tripod and then remotely connecting to the camera with her phone, she can frame herself within a shot, click a button on her phone, and take her own photo. It's the best way to get great shots of yourself.
Which of these travel tripods do you think will work out best for you? Let us know in the comments!
---
>>> Bio:
Garrett left his small town in Oregon with a dream and a camera. A few years later he has been to over 30 countries all while producing high-quality cinematic adventure videos and photos of the destinations he visits. Join him as he pursues a life of videography, photography, and expeditions all over the world. You can find him on YouTube at Garrett Galvan and Instagram.
---
---
>>> Read More! <<<
51+ of the Best Travel Accessories for Men and Women
The Best 11 Carry on Backpacks For Every Traveler
All the Travel Gear I Use and Love
Best Anti Theft Backpacks, Bags, and Purses + Tips for Keeping Your Stuff Safe!
Are These the Best Flexible Tripods for Travel?
---
---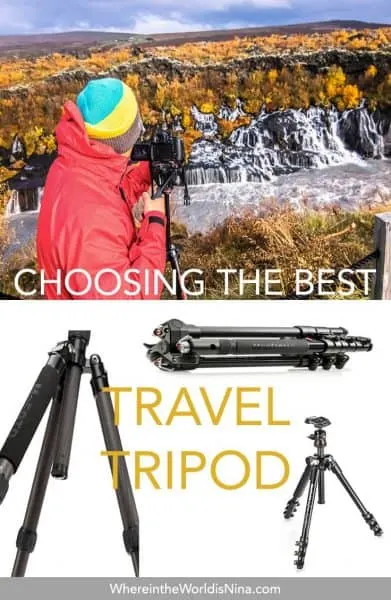 Busy? Click the picture to Pin this for later