There are plenty of things to do in Dunedin, but hiking and walking in nature are more my thing, so I stuck to the outskirts of the city and found some great walking trails just outside!
These Dunedin walks are all quite easy as well which means that if you're low on time, you could do all four of these in a single day. Not too bad, right?
My friend Jub was along for the ride, and we took on these hikes one fine day in February, which is technically high season for New Zealand. Luckily, these Dunedin walks aren't all too popular except for the first one, so no need to worry about getting anywhere too early either.
Hopefully, you enjoy these beautiful walks, and if you want some more options that are close by, you should hop over to The Catlins! There are waterfalls and wildlife, do I need to say anymore?
Don't lose this! Click to pin it now.
4 Easy But Beautiful Dunedin Walks
---
1. Tunnel Beach Track
This is the most popular Dunedin walk on the list, but one that's still very well worth it. If granny and pop pop can get down here, so can you.
A steep decline all the way down is how you start this walk, which means, yep, you'll be going uphill all the way back. All in all, this walk is only about a mile-long round trip and gorgeous, so… get over it. 🙂
You'll see the views from afar, this oddly shaped sea-carved formation. Where's this tunnel, you may wonder?
As you get closer, look to the right to notice a beautifully worn away section of the rock forming an archway. Gorgeous!
Clamber around the sandstone at all of its different points and hills getting different panoramas of a gorgeous beach down below, or the sea crashing on the cliffs…
But where is this tunnel? It took a while to find it although it was right under our nose just to the left. We saw people down the beach wondering how the hell they got there! Until we saw a little outcrop and a three-person line forming just to the left. Ah! There's the tunnel!
The narrow and dark tunnel leads you down to the beach, hence the name, but really, the views are best from above anyway.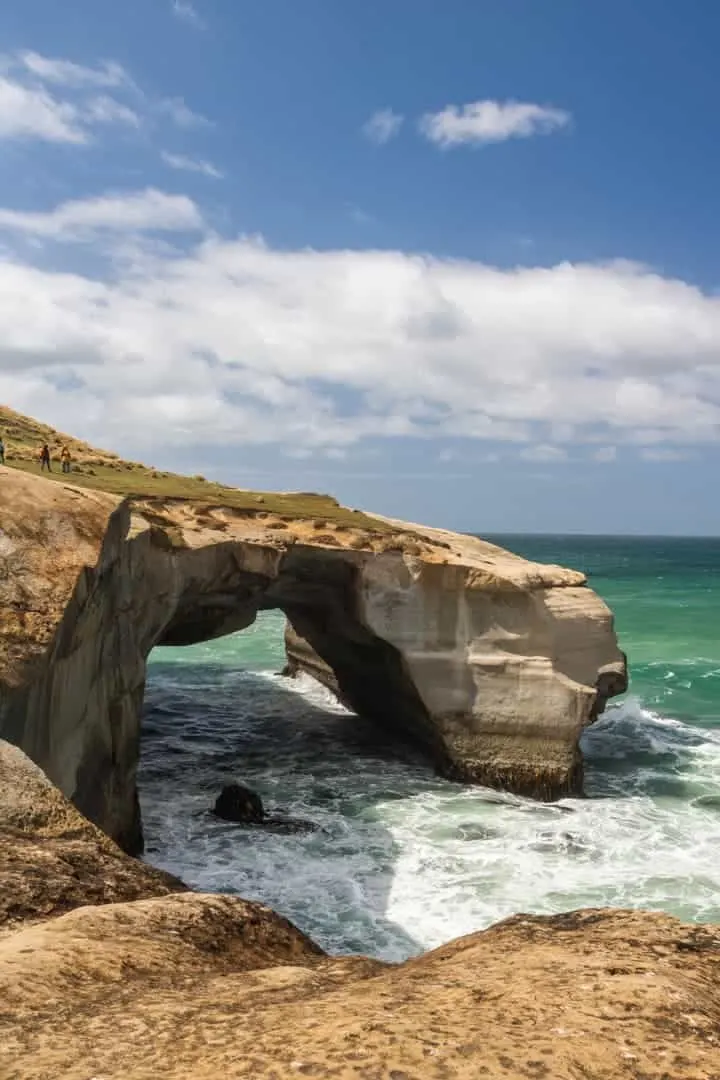 Note: Parking for this walk isn't fun. The area is tiny, and people are parking down the street. Just be aware you may have to park a bit further or even wait for someone to move to get a decent spot depending on when you get here.
2. Sandymount Track
The Otago Peninsula is full of excellent and easy hikes from Dunedin, and this one is only mildly popular.
Starting at the parking lot and looking at the trailheads of this 2-mile loop, I'd advise you to go right first. Firstly, you get great views quick, and secondly, there's less uphill walking. So go right and begin your walk on a sandy but noticeable track (the sign will say towards Lover's Leap).
We found it quite cool and odd how sandy this trail was because we were on a hilly cliffside. The winds must have picked it up and brought it here? I'm not sure, but at some points, my shoes were filling with sand because the trail was so soft!
After some views of Sandfly Bay, (lovely name for a beach, right?), you'll notice Lover Leap, a narrow archway getting battered by the tides.
And soon after you'll be roaming a pasture with sheep!
At one point, the sheep started running towards us, and things got scary quick. They are so adorable until there's a herd of them running at you.
Luckily they stopped, and then just stared curiously. From here you'll get some great views of the Otago Peninsula. When you see the barn house, walk towards it, and your hike is done soon after.
3. Harbour Cone Track
What a great, last minute find. We were in the car, and I spotted the highest peak in sight (still not very tall but this was the tallest in the area) and asked Jub half-jokingly, "Hey! How do we get there?"
And within minutes he was routing us to the base of the peak. Seriously, you can hike anywhere in New Zealand it seems!
Finding the parking spot, or should I say pull off area, is pretty easy but small and on the side of a windy road.
You walk up to a closed-off fence showing this is private land but no worries, just look to the left, and there will be welcoming steps to get you to hop over and start climbing.
A dry plain leads to an increasingly more steep track up the hill. Wave to the sheep and cows as you go by and head up to the top using the yellow markers.
While the trail is a bit steep and there will be some brush and rocks at the top to maneuver through, it's overall effortless.
As you get to the top, you'll be smacked with the best views of the Otago Peninsula. It's striking from up here and considering the little effort it takes to get up, the views are pretty worth it.
There's a full 360 view here reaching from Taiaroa Head to Hoopers Inlet to the charming little villages of Portabello and Port Chalmers.
You'll probably be on this hike alone as well as we saw just one other person, it's not a frequented walk from Dunedin that's for sure.
The entire hike roundtrip should be under 1.5 hours. This is where you park.
4. Nichols Falls and Glow Worms
Here's where these easy Dunedin Walks get not so easy… Well, at least not for us! Since you're reading this, you'll probably have better luck than we did.
We got SO lost trying to find this waterfall that was only supposed to be about a 20 minute in and out hike. Next thing you know… We find it after over an hour of searching for it. We wandered off the trails, through forests, up here and up there.
We almost gave up so many times, but couldn't help ourselves by continuing to look. After a few scrapes, making our way over some trees, following made up paths that our minds were trying to desperately conjure up, and after collecting a pound of tree branches in my hair… We arrived at this godforsaken waterfall.
We tried our best to get directions, and this is my best description of them:
How to Find Nichols Falls:
When you walk towards the trail if you hit a red arrow sign on the right in the tree and another sign pointing to the waterfall and the glow worms, GO BACK. Head back towards the way you came just a bit and go up that trail just BEFORE the signs, on the left. Keep right on the tracks and then follow the sounds of the water and the gully on the right.
That's how we ended up finding it. Don't ask me how we got so lost but when you get here maybe you'll understand? There are TONS of trails in the area, and all maps that provide any amount of info on the waterfall location are incorrect!
So I hope you have an easier time getting there keeping these directions in mind.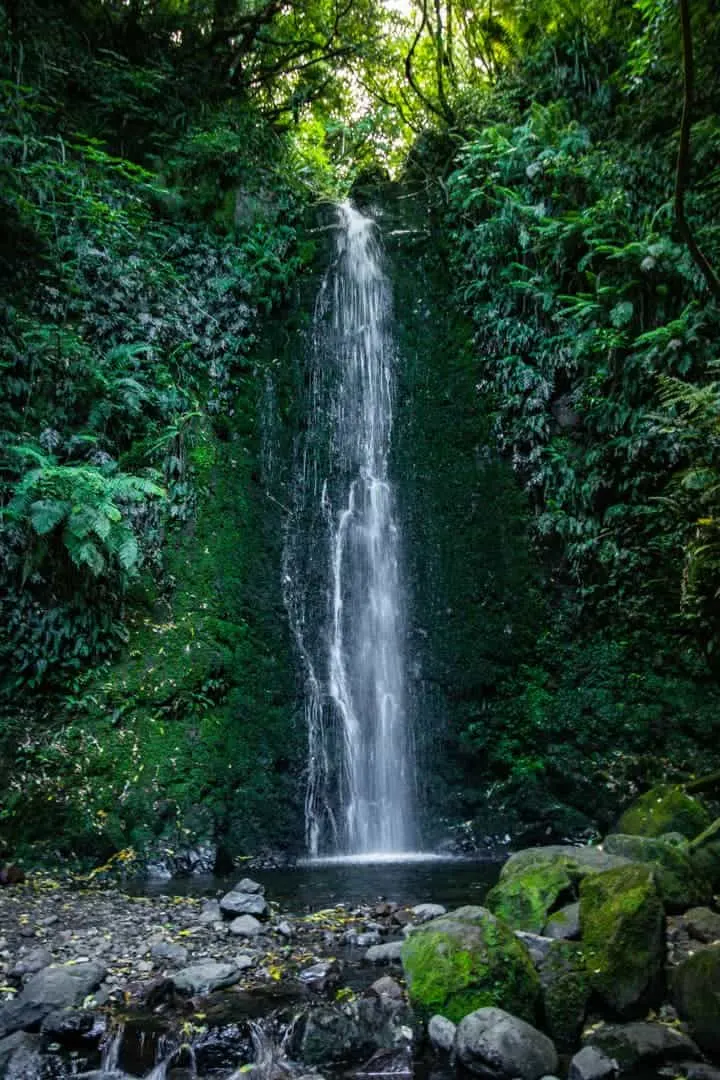 The waterfall is nothing massive, but it sure is gorgeous with its rich surroundings of lush-fern cliffsides and the trickling water into a small pool that picks up size and speed as it rolls downstream. I think the reward for finding this waterfall after getting so lost was more significant for me.
Glow Worms
As far as the glow worms hike goes, they are located on a straightforward trail, follow the sign that I told you to ignore for the waterfall. Unfortunately, we weren't here late enough to catch a glimpse of them. You'll have to come when it gets darker out to spot these elusive, blue, beauties!
Regardless of the time of day, you should still take a little walk down here. It's a vast and lush fern ravine with dribbles of water falling off leaves and into the small stream that the waterfall feeds.
Even minus the glow worms and the annoying detour, I loved this easy Dunedin walk, and I'd do it again. This is also a very off-grid walk with not many people even aware that it's here making it all the better.
Where to Stay Outside of Dunedin
If you're after a hotel, Superior Dunedin Apartments might be the answer. They are more reasonably priced because they are outside of the city but offer pristine apartments which come with a kitchenette.
Treetops B&B is located straight in the heart of the Otago Peninsula, close to Sandymount and Harbour Cone tracks and has cute double rooms with garden views.
Central Backpacker Dunedin is a highly recommend hostel and located in the heart of the city.
For a campervan spot, I used the Warrington Reserve free campsite just north of Dunedin.
And a bit further north from there is the lovely Riverside Haven Lodge. I parked my car here for two nights in a row, and it was incredible to camp near the river and have everything else like showers, a kitchen and laundry right here too. They also offer rooms for those not in a campervan.
Reminders for Your Dunedin Walks:
Bring water, yes, I probably sound like your mom, whatever, just do it.
Sunscreen! I'll be mentioning this in every post for New Zealand, the sun is NO JOKE here. Short walk or not, you'll need it.
Bring a light jacket. Weather changes so quickly here. You could get to the top of the hill and be freezing because some wind comes through.
More Around the South Island of New Zealand
Which of these walks outside of Dunedin are you tackling? Let me know in the comments!
---
---
>>> EVEN MORE ABOUT TRAVELING NEW ZEALAND <<<
Work & Travel New Zealand: Get a Working Holiday Visa for New Zealand
A 5-Day Queenstown Itinerary For the Intrepid (New Zealand)
2-Week North Island, New Zealand Road Trip Itinerary
New Zealand Road Trip Itinerary—2 Weeks to 2 Months + Costs and Tips
50+ of the Best Hikes in New Zealand & Hiking Tips
Campervan Sites in New Zealand + Camping and Food Tips
Campervanning New Zealand: Buying, Selling, Renovating, and Tips
New Zealand Travel Tips + A Budget Breakdown
Piha & Waitakere Ranges Walks, Waterfalls, and Beaches—New Zealand
A Guide to The Pouakai Circuit & Hut at Mount Taranaki (New Zealand)
11 Fab Things to Do in The Coromandel, New Zealand
Epic Things to Do in Rotorua—Hot Pools & Adventures
7 Tips For The Cathedral Cove Walk in The Coromandel, New Zealand
A Guide to Hiking The Kepler Track in Fiordland National Park, New Zealand
5 Epic Hikes in Mount Cook National Park That Are TOTALLY Worth It (New Zealand)
A Guide to Hiking French Ridge Hut in Aspiring National Park (New Zealand)
A Guide to Hiking the Mueller Hut Track & What to Pack (New Zealand)
Hooker Valley Track: The Easiest & Most Beautiful Hike in Mount Cook NP (New Zealand)
Guide to the Routeburn Track: Should You Do It as a Day Hike? (New Zealand)
Hiking Roy's Peak & How to NOT to Wait in Line For A Pic (New Zealand)
A Guide to Exploring The Cave Stream Scenic Reserve (New Zealand)
---
---
Busy? Click the picture to Pin this for later