I had very little expectation of Mount Cook National Park.
I did very little research (as I sometimes do, or don't? when I travel.)
And the quick Google image search revealed gorgeous photos of towering mountains topped with snow, glacial lakes, and a fantasy land of golden valleys…
I figured at least half of these photos had to be #fakenews for "regular" people, and you had to hike for 50 miles to get these views or be a mountaineer. Surely these great views were not available for the average person looking to walk around for a few hours.
I have no mountain skills, no ice ax, nor do I have alpine experience. So I'll probably go, get some mediocre photos and hope for the best. No big deal, right?
Hooker Valley Track was my first hike in Mount Cook National Park… And I was seriously blown away that an easy AF hike could be so drop dead gorgeous!
How lucky can a person get?! Pretty damn luckily apparently… I went on to do several other hikes in the area (all magnificent by the way) but I have to say, in terms of the EASIEST and most BEAUTIFUL, Hooker Valley Track wins.
These views should totally "cost more" in terms of effort and time, but literally, almost anyone can do this hike.
Hurrah!
Don't lose this! Click to pin it now.
Hooker Valley Track: Everything You Need to Know
---
Want to know the beauty of this track? There isn't much to know or prep. Hello, I did just call it the EASIEST!
So rest assured, you won't need too much info for his track but in true Nina form, I will still give you ALL the details I could think of to be sure your visit is that much more amazing and you are fully prepared.
Specifics on the Hooker Valley Track
Distance: 10km/6.2 miles round trip
Difficulty: Easy
Experience needed: None. If you are 12% fit and have shoes, you'll be fine.
Time: 3 hours depending on how many photos stops/breaks
Trailhead: Whitehorse Hill Camp Ground
Hiking Hooker Valley Track
This gorgeous trail starts at the Whitehorse Hill Campsite which is pretty on its own. Glaciers are already in sight, and cliffsides are appearing from every angle.
The trail is well trodden, and it's impossible to get lost. It's mostly gravel or dirt with some rocks poking out here and there. Shrubs and boulders flank the sides of the trail.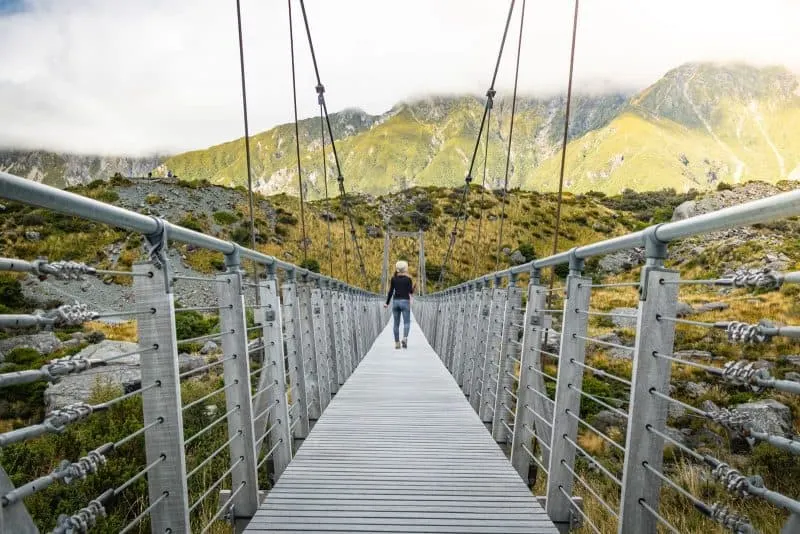 You'll come across a boardwalk through some marshy areas and encounter three long swing bridges that sway to a fro over rushing rivers.
Your ultimate reward at the end of the Hokoer Valley Track is none other than Hooker Lake with Mount Cook in the distance. He is bold, beautiful, and sometimes a bit shy. I hope he'll come out for your trek out here but sometimes he is hidden behind the clouds.
Hooker Lake has a picnic table and maybe even some icebergs floating around the lake for you to swim with.
Wait. What?! Yep, you can hop in, if you're brave enough to even touch the incredible frigid glacial waters of Hooker Lake. Bring a swimsuit and try to swim to one. I wish I did! I didn't realize this was a thing until I got there.
Although I may have chickened out last second, this is literal glacier water we're talking about here! Brrrr.
After you've enjoyed your stunning views of Mount Cook, the glacial waterfalls in even direction, maybe even an avalanche in the distance, and the sound of the rushing river, it's time to head back the same way you came.
Tips for Hiking Hooker Valley Track
1. The Hooker Valey Track gets pretty busy, it's so popular, and it's no surprise everyone wants to walk it. If you can manage, get up and go early! I got on the trail around 9 am, and there were a reasonable amount of people with me. On the way back, there were tons of people walking in.
I wouldn't start any later than 9! If you can, try to catch the sunrise!
2. Water and snacks are a must. You will work up an appetite, and in summer, it's scorching hot, and there's no shade at any point.
3. Afraid of heights and bridges? This hike won't be for you. There's no other way to do the Hooker Valley Track, and you must cross three suspension bridges.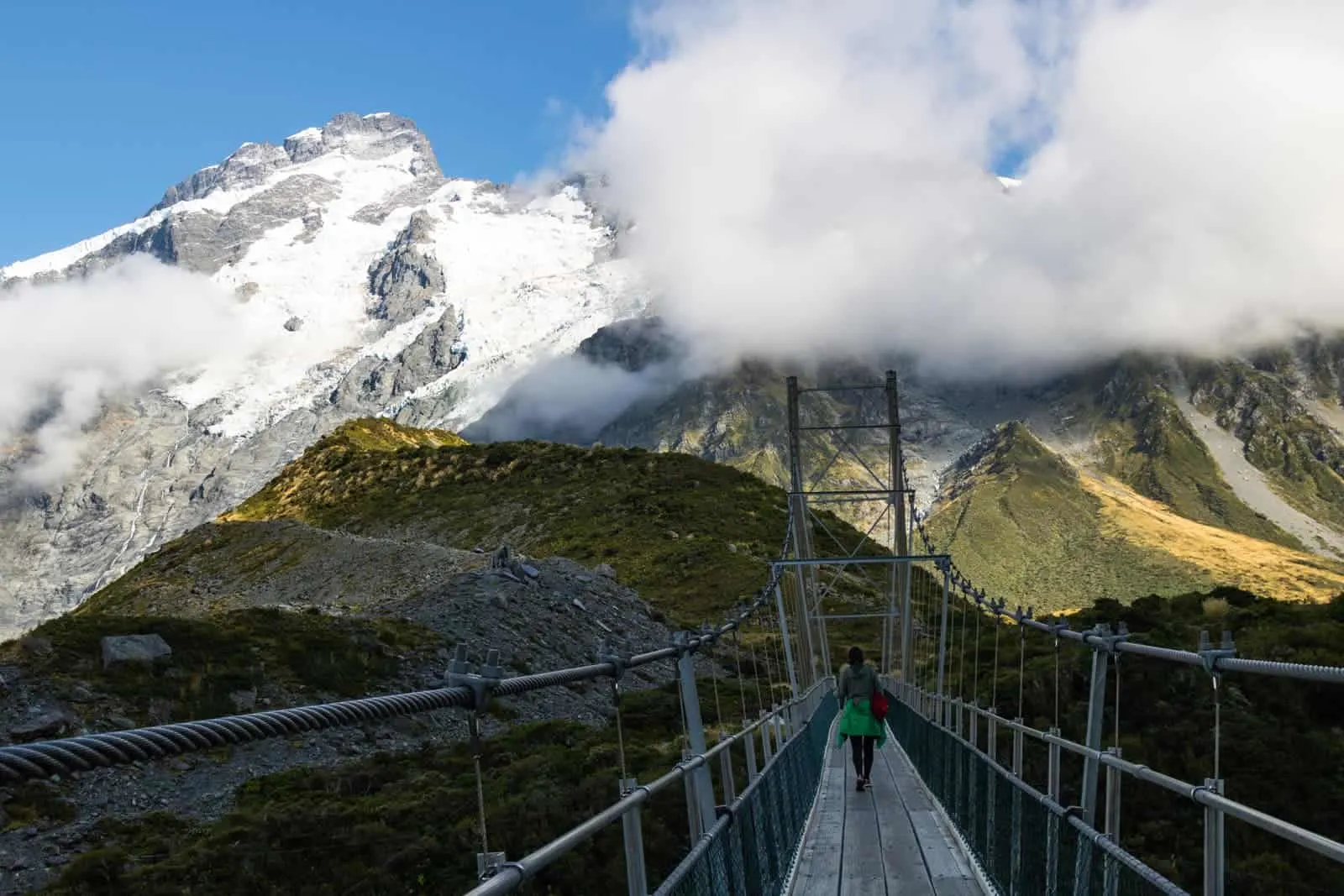 4. Get to the trailhead at a reasonable hour because the carpark gets full quick and people have to park down the road.
5. There is drinking water at the trailhead from the campsite, so if you forget to fill up, you have one last chance to do so.
What to Wear and Pack for the Hooker Valley Track
Sunscreen – Don't just put it on before, you'll need to reapply, particularly in summer. It's hot, totally exposed, and the sun is psycho here! Slather it on.
Shoes – You don't need heavy duty proper hiking boots or anything. Just don't wear flip flops as you could stub a toe on a rock or something. Just regular walking shoes or runners are fine.
Water – and plenty of it. There is nowhere to refill on the trail.
Swimsuit – If you want a dip in with those icebergs!
Hat – Anything for some shade, it's brutal.
Layers – It was actually cold at the start of my hike and it progressively got hotter out. I wore a long sleeve t-shirt which I regretted on my way back to camp.
Daypack – Use a good daypack, this is an easy trail but it's long and you don't want your shoulders to hurt.
How to Get to Mount Cook National Park
Turn on State Highway 80 along the gorgeous Lake Pukaki and you'll be here in no time! It's straightforward, and the drive here is almost just as beautiful as the Hooker Valley Track itself. There iares plenty of pull-offs along this road, and you'll undoubtedly pull over a few times.
If the weather is is right, you'll get a sneak peek at Mount Cook in the distance before you get closer to it at Hooker Lake.
You can park at the Whitehorse Hill Campsite, be sure to park in the car parking area, not the camping park area as camp parking is limited. If you are camping at the Whitehorse Hill Campsite, then get there earlier rather than later, it's a busy place!
Camping at Whitehorse Hill Campsite
This DOC site is one of my favorites just because of its location.
There are SO many trailheads that start from this campsite making life so much easier. Imagine getting to wake up, get your shoes on, and start hiking. No need to drive to the trailheads!
This DOC site costs $13 per person per night or use your DOC card.
It's a simple gravel parking lot with flush toilets, sinks (no soap), a small dishwashing area, and a small shelter for cooking use.
The campsite is usually quite full so be prepared to share the area with day hikers and other campers; there are a lot of trails here, so that's why everyone wants to use these facilities.
Hotels Near Whitehorse Hill Campsite Trailhead
If you don't want to camp at this campsite and need a hotel, there aren't taking many choices but here is what's on offer. These are all in Mount Cook village just a few kilometers from the trailhead.
Since the YHA closed down, there's no longer a budget option in the village. For a mid-range option check out the Aoraki Mount Cook Alpine Lodge, or indulge a little more at the Aoraki Court Motel or Hermitage Hotel.
Do you plan on hiking the Hooker Valley Track? Let us know in the comments!
---
---
>>> EVEN MORE ABOUT TRAVELING NEW ZEALAND <<<
Work & Travel New Zealand: Get a Working Holiday Visa for New Zealand
A 5-Day Queenstown Itinerary For the Intrepid (New Zealand)
2-Week North Island, New Zealand Road Trip Itinerary
New Zealand Road Trip Itinerary—2 Weeks to 2 Months + Costs and Tips
20+ Day New Zealand South Island Road Trip Itinerary
Campervan Sites in New Zealand + Camping and Food Tips
Campervanning New Zealand: Buying, Selling, Renovating, and Tips
New Zealand Travel Tips + A Budget Breakdown
Piha & Waitakere Ranges Walks, Waterfalls, and Beaches—New Zealand
A Guide to The Pouakai Circuit & Hut at Mount Taranaki (New Zealand)
11 Fab Things to Do in The Coromandel, New Zealand
Epic Things to Do in Rotorua—Hot Pools & Adventures
7 Tips For The Cathedral Cove Walk in The Coromandel, New Zealand
A Guide to Hiking French Ridge Hut in Aspiring National Park (New Zealand)
5 Things to Know about Milford Sound, How to See It and Is It Worth It? (New Zealand)
An Adventurer's Guide to Exploring Lake Tekapo, New Zealand
4 Easy But Beautiful Walks Around Dunedin, New Zealand
11 Things to Do in The Catlins in 2 Days (New Zealand)
A Guide to Exploring The Cave Stream Scenic Reserve (New Zealand)
---
---
Busy? Click the picture to Pin this for later