Milford Sound is acclaimed to be the most popular tourist destination in all of New Zealand, unofficially the 8th Wonder of the World, and is rated as one of the world's top travel destinations.
How many places in the world can say that?
Not many, my friends, not many!
Milford Sound is located in the Fiordland National Park and inundated with impassible towering cliffs on either side, the deep blue waters of Milford Sound slice through allowing visitors to glide through on a boat or kayak or hover over it via a helicopter or plane.
The surroundings are lush and consistently wet. In fact, it's considered one of the wettest places in the world, so it's not a surprise to see it perpetually shrouded in clouds with mist or rain blowing in the winds that are so prominent in the area.
Milford Sound is one of those places you KNOW you have to visit when you come to New Zealand, it's the place that your clueless non-traveling friend probably even knows about, and it's on any top 10 list of places to visit in New Zealand.
Milford Sound is THE place to go. And you're keen as (kiwi for enthusiasm for doing something) to visit, like, yesterday!
Or are you? Read on for how to see Milford Sound, things to know, if it's worth it…
Don't lose this! Click to pin it now.
How to See Milford Sound
---
Right, so before we even go into what to know and if it's worth it or not, we should probably discuss the ways to see it. The actual sound can't really be walked or hiked around. That's how crazy some of these mountains are! There are hikes in other areas close by but not in and around the sound.
So here are your choices for seeing Milford…
Cruise Milford Sound
By far the most popular and probably the cheapest way to see Milford Sound is via a cruise. There are tons of different companies to choose from all offering just about the same thing—A cruise around the sound.
Some offer coffee and tea, some offer a close up of the waterfalls, some offer smaller tours, so you have more room on the boat (like the one I went on with Cruise Milford), and some pack them full making your ticket price cheaper but you'll need to shoulder and elbow your way to get a pic.
Some offer one to two-hour cruises, full days, overnights, flights, kayak options, and other "bells and whistles" to add on.
Prices range from $45-$200+ per person for a regular cruise and upwards of $500 for the overnight or including other excursions.
You can see Milford Sound cruise prices here.
Kayak Milford Sound
If you want some more action and are the adventurous type, a kayak trip around Milord Sound might be more your thing.
Granted, this area is known for its constant chill, rain, wind, and overall gloomy weather. So kayak trips are certainly a bit rougher than a cruise and, unfortunately, do get canceled for safety reasons. But if you make it out there, a kayak around the sound will be sure to impress!
Check prices here for kayak trips around Milford Sound
Heli, Fly or Bus From Queenstown to Milford Sound
If you don't have your car and are looking for ANY way to get to Milford Sound, you have choices! A bus, a plane or a helicopter are all choices for you to take from Queenstown to Milford Sound and back again.
The bus journey will be a loooong one, but the cheaper option of the bunch and the plane and heli tours will surely be unforgettable because… Those views from up top must be incredible! I didn't get to see Milford Sound from above, but one can only imagine how epic it would be.
Here are some choices for you…
There are other similar options from within Milford Sound as well if you still want to drive over and not come and go back to Queenstown.
5 Things to Know About Milford Sound
---
Milford Sound will no doubt be beautiful but here are a few things to know before you head out there!
1. Driving There Will Takes Ages
New Zealand isn't a big country. Driving for four to five hours at a time without stopping to enjoy the next spot is rare unless you're on an extreme mission to bop around the country in a hurry.
There's something to see and do around every corner yet many/most people make the four to five-hour drive from Queenstown straight to Milford Sound.
"But Nina, Queenstown and Milford Sound look right next to each other on the map! What are you talking about?!"
I know, it's crazy. Queenstown and Milford look like they are in each other's backyard, but it's not true. There's no road directly connecting the two, and you'll have to drive south turn west and then drive right back up north to get to Milford Sound from Queenstown.
Another side note is that it can take even longer than Google Map's prediction of four hours, there's currently construction on the road out there and a tunnel. The tunnel is pretty cool, but it's one lane only meaning you have to wait for the traffic to pass to get through it.
If you're on a road trip, and you don't have a lot of time, you'll have to spend at least half a day just to get out to Milford Sound so just keep that in mind when planning!
I will say, the drive there is quite nice though (but so are many drives around the country).
When we drove out, we were running late and nearly missed our boat tour! We were supposed to arrive with an entire hour to spare and we made it with barely 10 minutes to spare. Oops!
2. There's Nothing to Do in Milford Sound Except Milford Sound
There's nothing else to do in Milford Sound! I'm not trying to be greedy but spending over four hours to get somewhere and having only one thing to see is something to consider if you have a limited time frame for traveling the area.
There are plenty of ways to see Milford Sound, but most people will probably just choose one, see Milford Sound, and then move along.
Don't get me wrong; there are other things in the area as you head out and away from Milford Sound, but IN Milford Sound, there's just the sound and a little walk around the area with like a couple of buildings selling tours or coffee.
3. You'll Pay Dearly for Everything
Not a surprise here. New Zealand isn't the cheapest place to travel to but going to its most popular tourist attraction? Yeah, you're going to pay!
There's an overpriced cafe, a bunch of tour agencies, and a lonely gas pump that will gauge your pockets so deep you'll consider the risk of breaking down instead…
4. There's Nothing Around for Hours
Te Anu is going to be the closest town around to do anything or get anything, and it's about an hour and a half away.
DON'T ignore the gas signs and fill up here. Again, you'll pay dearly for the gas at Milford Sound (and sometimes the pump is reported as broken, in which case you'll be proper f*cked), fill up in Te Anu, use it wisely, and make it back to fill up again before heading on.
I believe we paid something around $1.90 NZD a liter (diesel) at the time but luckily we just did $10 just to make sure we made it to Te Anu, we weren't desperate for a fill-up and it was more of a precaution.
It's not cheap in Te Anu either, but it's more reasonable than what Milford Sound is offering.
There are definitely more choices for cafes, places to stay, etc. in To Anu but again, you're driving over an hour to get here, so you're probably not driving back to Milford afterward.
5. Milford Sound Is a Day Trip, If That
You may want to spend longer, this is up to you, but if you're going, it may be best to go as a day trip.
Pop in, do your thing around the sound, and then head out. Again, everything around the area is pricey, and the choices are limited anyway.
There's also a single expensive campervan holiday park in Milford, the next closest campsite was about 40 minutes away. Yeah, not really ideal to go back and forth here especially when gas is at a premium.
SO—Is Milford Sound Worth it?
So now I'm asking the important question, is Milford Sound actually worth it?
I'm not here to sway you, at the end of the day, this is all up to YOU!
But you're on my blog, and I have an opinion… So here it goes.
If you're asking me if Milford Sound is worth it, I'm going to say NO.
I didn't find Milford Sound to be that worth it. Sorry, not sorry!
Is it beautiful? No doubt.
But is it worth it to drive out there, over four hours, with not much else out there, to take an expensive cruise to get boated around to waterfalls coming off mountains while having "fun facts" spouted out over a speaker on the boat?
Is it the most beautiful spot in New Zealand/ Is there nothing else like this place?
Is Milford Sound worthy of the title as one of the most beautiful places in New Zealand and worthy of spending your money on getting out here?
For me, the answer to all of these questions is just no.
I've seen other spots just a pretty if not prettier in my few months (and counting) around New Zealand.
I must say, I hope I am not jaded, I'm trying to look at this objectively and create an opinion that's not jaded AF, but after many years, it can be challenging! I looked up some threads on whether or not Milford Sound is worth it or not and it seems I'm not alone!
In addition, I polled my followers on Instagram and I was SHOCKED to see the results were a split 50/50 (with over 100 votes in total)! So I felt solace after seeing that it isn't "just me."
I must also say that I kind of wished it was cloudier on the day we went. We had a perfectly sunny day, but the mystic of Milford was a bit lost with the blinding sun…I know, cry me a river right?
But seriously, I was happy for no rain, but a few clouds would have equaled better photos (clouds even the lighting for those not into photography), and it would have been indicative of what Milford Sound usually looks like.
Am I happy I saw it? Yes. Because I always like making my own judgment, so again, I'm not trying to sway people, just making them think a bit extra on their choices.
It's out of the way and pricey so if you only have a short period in New Zealand, go to Mount Cook National Park, do some hikes around Wanaka and Queenstown/Glenorchy… You'll get tons of beauty in these areas too without having to go out of the way and sell your left arm (the views will be similar!)
There are tons of other areas equally as gorgeous and I was happy to quickly move along with my trip.
Don't Even Listen to Me
Seriously, if it's been a dream to go to Milford, I assume you'll love it no matter what. Maybe it was just me (it wasn't, as mentioned above), maybe Milford was having an off day? Maybe I just didn't "feel" it? I don't know but you don't have to listen to me, I'm just stating my opinion and how I felt when I was there.
I didn't feel any magic, I didn't find it worth it but that's just me…
If this is something you really want to go do, scroll up and check out the choices I mentioned. That's why I mentioned them. I know people will still want to see it.
I Maybe Should Have Done Something Else
I must say, I may also be a bit biased to say it's not worth it because I didn't do anything adventurous (something I usually do and love) like kayak Milford instead and I didn't see it from above, something I'm sure that is crazy beautiful.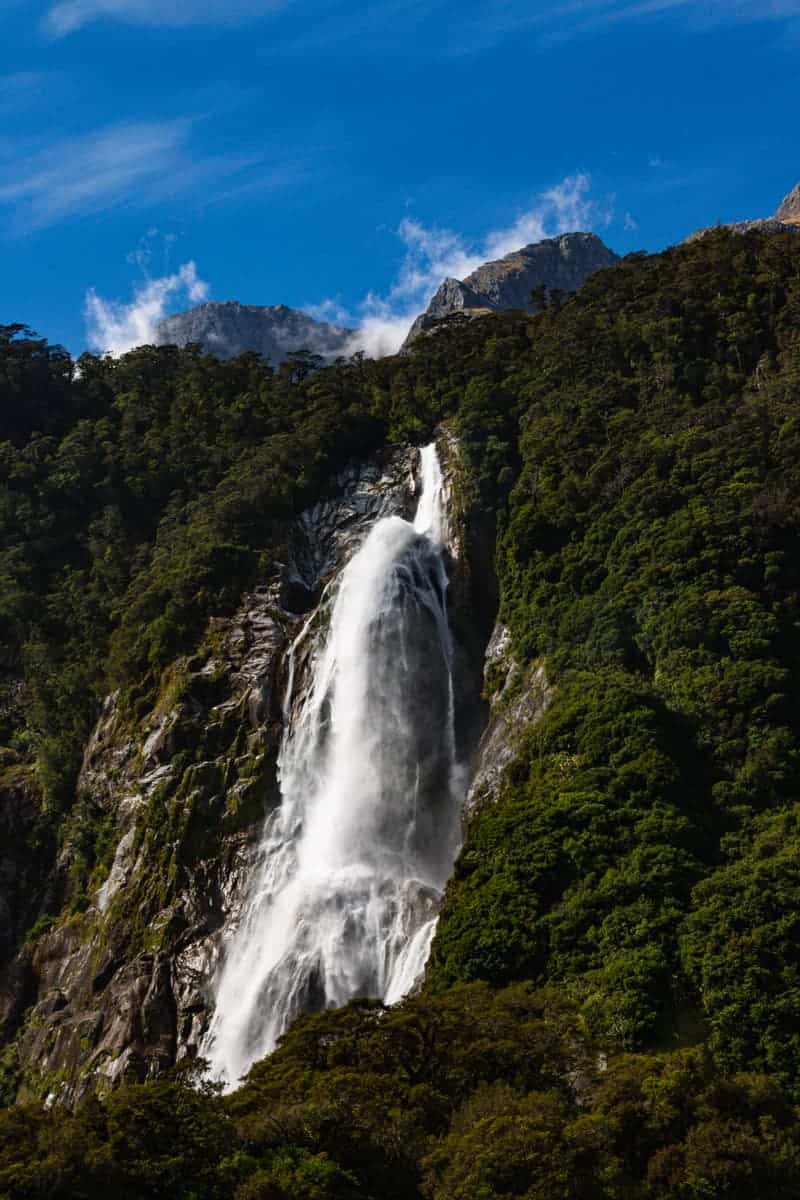 However, MOST people coming here just take the cruise and the flights and heli tours etc are just silly expensive! I wasn't super keen to spend that much on seeing the area that I personally feel looks like other places in NZ and is a bit overhyped…
Is It Milford's Fault?
I think part of the problem with Milford Sound is that the hype is WAY TOO BIG.
How can Milford Sound be worth it when expectations are off the charts? Even if it had rainbows and unicorns flying out of the waterfalls and it rained puppies I think it would be hard to match the hype (OK, actually, raining puppies would have been amazing!)
I think it's too over promoted and its beauty… overexaggerated (will someone put me on a pitchfork for saying this?!) for its own good. So I can't really "blame" Milford Sound for not living up to its expectations.
And just to make everything 10000% clear… I am again, not trying to sway people, make your own choices! And again, there are other things in the vicinity of Milford Sound. The weather turned bad after our cruise and we couldn't hike Gertrude Saddle, a hike I REALLY wanted to do (it's literally a death wish to do the hike in bad weather).
We did do some other hikes in the area, which stay tuned… I have some opinions about as well that are semi-related to this post. Read my opinion on the nearby Routeburn Track.
Keep in mind, I wrote this because I'm hoping this post may help you decide whether or not this spot is for you.
We have over four months to explore New Zealand and weren't too bothered that we didn't care too much for the area. Only having a few weeks for a trip and finding out you wasted a bunch of money and time on a place you didn't like is a lot more devastating so hopefully, you're a bit more informed about the area after reading.
More Around the South Island of New Zealand
Have you been here? Was Milford Sound worth it to you? Are you going to Milford Sound? Let us know in the comments!
---
---
>>> EVEN MORE ABOUT TRAVELING NEW ZEALAND <<<
Work & Travel New Zealand: Get a Working Holiday Visa for New Zealand
A 5-Day Queenstown Itinerary For the Intrepid (New Zealand)
2-Week North Island, New Zealand Road Trip Itinerary
New Zealand Road Trip Itinerary—2 Weeks to 2 Months + Costs and Tips
50+ of the Best Hikes in New Zealand & Hiking Tips
Campervan Sites in New Zealand + Camping and Food Tips
Campervanning New Zealand: Buying, Selling, Renovating, and Tips
New Zealand Travel Tips + A Budget Breakdown
Piha & Waitakere Ranges Walks, Waterfalls, and Beaches—New Zealand
A Guide to The Pouakai Circuit & Hut at Mount Taranaki (New Zealand)
11 Fab Things to Do in The Coromandel, New Zealand
Epic Things to Do in Rotorua—Hot Pools & Adventures
7 Tips For The Cathedral Cove Walk in The Coromandel, New Zealand
A Guide to Hiking The Kepler Track in Fiordland National Park, New Zealand
5 Epic Hikes in Mount Cook National Park That Are TOTALLY Worth It (New Zealand)
A Guide to Hiking French Ridge Hut in Aspiring National Park (New Zealand)
A Guide to Hiking the Mueller Hut Track & What to Pack (New Zealand)
Hooker Valley Track: The Easiest & Most Beautiful Hike in Mount Cook NP (New Zealand)
Guide to the Routeburn Track: Should You Do It as a Day Hike? (New Zealand)
Hiking Roy's Peak & How to NOT to Wait in Line For A Pic (New Zealand)
A Guide to Exploring The Cave Stream Scenic Reserve (New Zealand)
---
---
Busy? Click the picture to Pin this for later