There are several different routes and ways to explore North Island, New Zealand on a road trip and no way is better than the other.
It can be really hard to pare down the places to go and things to see with so many choices at hand. Squeezing everything into two weeks is another feat in itself but still totally doable.
I LOVED my route for my North Island, New Zealand road trip itinerary and I'm sharing it here with you in hopes that you'll love it just as much!
Don't lose this! Click to pin it now.
2-Week North Island, New Zealand Road Trip Itinerary
---
The North Island itinerary below will surely keep you busy, very busy!
The places listed below along with their days needed to explore are squeezing in as much as possible. Driving days, chill days, and days where you want to take it easy are not really factored in here.
I packed this 2-week North Island itinerary FULL for all my travelers out there wanting the most out of their time. I'm someone who hangs back and does things a bit slower and this itinerary took me nearly a month (don't forget, I work AND travel!).
The days I've listed below are the minimum amount of days needed to complete this North Island, New Zealand road trip and the activities, hikes, and sights I've mentioned. Obviously, feel free to add some extra days so you can do other things, like breathe and shower. 🙂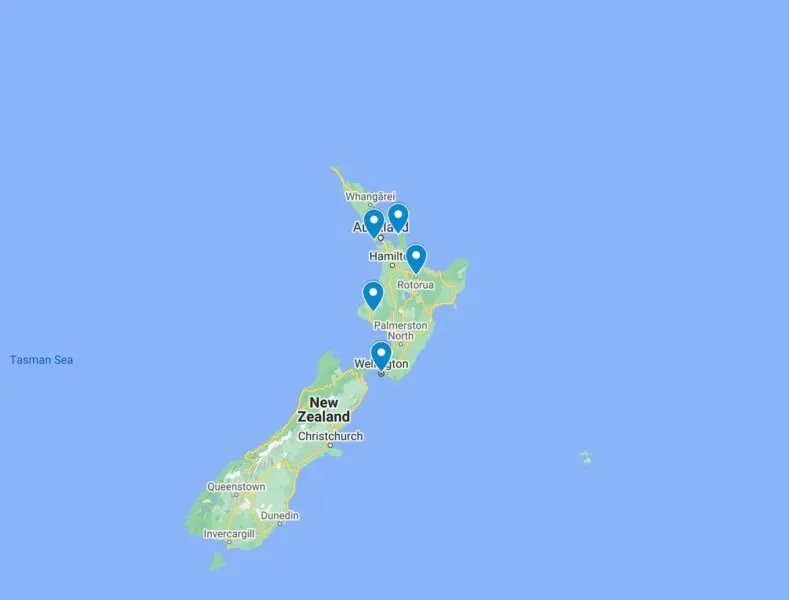 Nearly every section has a post with further information on the area so you can get the best information possible on your time exploring North Island plus get some extra ideas of what to do in the area if you happen to have more time. I also hiked New Zealand A LOT, so you can read that post for hiking inspo (there are over 50 hikes on the list!).
Otherwise, if you want more information on New Zealand in general like tips, cost, choosing/buying a van, etc, I will link all of those posts at the bottom for you.
Don't forget to check out my South Island itinerary as well.
Wellington Itinerary 2-3 Days
Wellington is the beautiful capital of New Zealand, therefore no North Island, New Zealand road trip should be without a visit. There is plenty to do in the capital, so you should aim to spend at least 2-3 days during your North Island, New Zealand itinerary there tasting the many culinary delights and indulging in the craft beer scene.
Start off your journey with a trip to Oriental Bay, a stunning inner-city golden sand beach. Be sure to also make a stop at The Papa Tongarewa Museum, which is New Zealand's national museum, and one of the best interactive museums in the world.
One of the most picturesque Wellington hikes is the Makara Peak Track, or alternatively try the City to Sea walk, where you can experience the beauty of the southern waterfront. Once you've tired of hiking but are still up for seeing some views, another great thing to do in New Zealand's North Island is to ride the cable car, and the whole city will stretch out before you.
A walk along Owhiro Bay will make you think you're nowhere near a big city. Take a stroll and spot some seals that love sunbathing on the rocks.
Taranaki Itinerary 3 Days
The Taranaki region is the ideal place to head if you are an adventure lover, with a wild coastline and a multitude of activities to take part in. It's tucked away on the central west coast of the island and is too often overlooked by travelers on a North Island, New Zealand road trip.
There is also the picture-perfect symmetrical volcano of Mount Taranaki to consider, which is just asking to be photographed. Whether you are a passionate hiker or just want to see some of the dramatic views, it's worth taking the time for a few trails during your New Zealand, North Island itinerary.
For the more advanced, the Pouakai Circuit is the ideal way to witness the rugged beauty of the Egmont National Park. This circuit is arguably the best way to see Mount Taranaki (considering it passes by that famous reflective tarn) and should take around 14 hours in total, so camping or staying the night in Pouakai Hut would be wise.
There are numerous other great hikes in Egmont National Park and if you are low on time, you can still hike through the enchanted forest to reach Dawson Falls and the Wilkie Pools.
The rugged coastline of the area is home to more than 12 world-class surf breaks, and even if you are not a surfer, it is great fun to drive the famous Highway 45 and watch the waves crashing into the shore.
RELATED: A Guide to the Pouakai Circuit & Hut at Mount Taranaki.
Rotorua Itinerary 2-3 days
The Rotorua area of North Island really offers something different, filled with shooting geysers, pools filled with bubbling mud and warm hot springs. It is also the place to head if you are looking to learn more about the traditional Maori culture.
The best place to find out more about this fascinating culture is at the Mitai Maori Village for an experience not like any other, with traditional performances, traditional earth oven meals and more.
Once you've got your culture fix it's time to delve into the natural world of the Wai-o-Tapu thermal valley, which is just as exciting as it sounds. The landscape is made up of geothermal wonders such as volcanic craters, bright silica terraces, steaming fumaroles and the brightly colored 'champagne pool'.
For some more adventurous things to do on North Island, New Zealand, take a raft tour on the Kaituna River, home to the highest commercially raftable waterfall in the world, towering 7m in the air, Tutea Falls is not for the faint of heart. Alternatively, take to the trees with the many canopy tours available in the area if rafting down a waterfall is a bit too intense.
Lastly, if you're wondering why the glowworms of Waitomo isn't on this list and are wondering what kind of crappy North Island road trip post you're reading I can assure you, you can get your glowworm fix here in Rotorua in a bit more of a unique way AND minus the crowds.
You're welcome in advance because this is a great alternative to Waitomo, head to Rotorua and contact Paddleboard Rotorua for an epic SUP tour on the lake at sunset which takes you to some secret caves with glowworms! Lay back on our SUP board, look up, and you'll be transported to another dimension in seconds, it's incredible!
We decided to get our glowworm fix here so we could avoid the detour to Waitomo and are 100% happy with our decision.
RELATED: Epic Things to do in Rotorua—Hot Pools & Adventures.
Coromandel Itinerary 3 Days
Expect beautiful white sand beaches and thick rainforest on your visit to Coromandel during your New Zealand North Island itinerary. It is so stunning that you should plan to spend at least 3 days here exploring what the region has to offer.
Hop on a bike and enjoy the scenery of the Hauraki Rail Trail, which will take you through the Karangahake Gorge to Owharoa Falls and many gold mining sites that the area is known for.
A unique attraction is Hot Water Beach, a place where you can actually dig your own hot pool in the sand thanks to the natural spring that runs below the sand (although I found it so overrated, but you can make your own judgment call!).
Cathedral Cove is another must-see destination, where a cathedral-like tunnel separates two stunning white-sand beaches. You can either hike here or take a boat cruise to see the landmark from a different perspective.
There is a huge range of sea caves, cliffs, blowholes and coves near Cathedral Cove, so some more great things to do on New Zealand's North Island is to take a boat cruise and snorkeling tour to see these natural wonders, such as the Orua Sea Cave.
Another cool hike in the region is The Pinnacles, a jagged, forested range that forms the spine of the Coromandel Peninsula. It's worth waking up early and catching the sunrise from the peak. We tried to do this hike for two days during our visit to the area but were unable to climb it because of the bad weather (something common in New Zealand so plan accordingly!).
Doing this hike along with everything else listed will probably take over the three-days needed for The Coromandel area, so make some extra room on your North Island road trip itinerary and read the following posts for more info.

RELATED:

7 Tips for the Cathedral Cove Walk in the Coromandel
Piha Itinerary 2 Days
Finish off your North Island, New Zealand road trip with a trip to Piha, a laid back seaside village, famed for its black sand and surrounding native forest. The dramatic beach is bordered each side by rugged cliffs and the rough seas make it a popular spot for surfers.
If you fancy having a go yourself, there are plenty of places where you can rent boards, or you could enroll in some surf lessons, as the waves here can get pretty big.
A great hike in the region is the Mercer Bay Track, a cliffside trail that hugs the coast and provides some beautiful scenic overlooks where the water rages below you. You should also be sure to check out Lion Rock, what's left of a volcano that erupted sixteen million years ago—it's the main spectacle on Piha Beach and impossible to miss
By hiking up to the top of this famous peak you'll get some great views of Piha Beach and beyond. By following the Tasman Lookout Trail you'll get even better views of Lion Rock, an easy hike from the south side of the beach.
The Piha area is also famed for its waterfalls, of which there are plenty. Most of the falls can be reached by a short hike, and include the Mokoroa waterfall, Nihotuou Dam track and falls, Karekare falls and Kitekite falls, all of which are beautiful in their own right, nestled in native bush, shrub, and trees.
RELATED: Piha & Waitakere Ranges Walks, Waterfalls, and Beaches—New Zealand.
North Island New Zealand Road Trip Tips
I have an entire post on tips for the country (will link below) but here are just a few things to consider while road tripping North Island…
Should I Skip North Island? It's Probably the Same as South Island, Right?
Hello no, it's beautiful and there are so many great things to do in North Island (hello, read above!). Also, North Island is almost nothing like South Island. There are more beaches to bask on, the cities are more like… cities. (I stayed in Christchurch for a month getting my van sorted, it's the biggest city in South Island and it's barely a city in my eyes.)
The biggest difference I saw was the roads. North Island, particularly around Wellington and Auckland have actual highways, which South Island quite literally doesn't have. There was maybe an overpass or two, otherwise, South Island roads are very quaint two-laned roads.
The second biggest difference was South Island's beauty was impossible to miss, it's everywhere. EVERYWHERE. Towering mountain ranges topped with snow, fields of lupins, rolling hills, thick verdant forests, an incredible coastline… Like the beauty is inescapable (not that you'd want to escape it)
On North Island, you kind of have to "work" for the beauty. there is a lot of vast nothingness for miles and miles on end and the beauty of North Island comes more in "patches." Hence the "pockets" of beautiful places I gave you to explore above.
Both islands are worth visiting in their own right, don't skip North Island if you can make room on your trip.
How's the Camping/Campervan Situation?
It's actually a bit different on North Island than it is on South Island. I found it far easier to find great places to park and camp in the campervan in South Island and while it wasn't harder on North Island, the options weren't as abundant nor were they as nice.
DOC sites were our favorite and they were less frequent in North Island. also, for some crazy reason, Auckland made camping way more confusing than it needed to be. They have a terrible and broken system which requires you to book online for most of their camping spots.
I had to walk into a tourist help center in Piha to book it because it wouldn't work for me! (there are tons of others who commented about this crap system too, it's just what it is.) Luckily, it's only for the areas around Auckland, so you won't have to deal with it often.
The freedom camping is slightly sketchier in North Island as well from what I've heard. There were comments on Campermate App about locals harassing campers who were freedom camping, while this happened around the country, it was way more prominent in North Island. We, thankfully, didn't have any issues during our visit.
Safety on North Island
This is nothing to squirm at, New Zealand is incredibly safe, but there were, again, more reports and incident on North Island than South Island from what I saw when I was there. On the Campermate App we never read about any trouble on South Island but when we reached North Island there were more reports, beyond the freedom camping that made us be on alert more.
Some sights and activities had reported that cars were broken into and looted. We actually saw broken car glass numerous times in parking lots. We had a little scare at a place around the Coromandel where two guys tried getting in our van before realizing Garrett was, in fact, just in the back of the van changing! They ran off when they realized.
There's not much you can do except take the proper precautions for making sure your van is as safe as it can be. I have tips for you in another post I'll link to below.
North Island is Small, I Can Fit More In, Your itinerary Sucks.
Dude, I thought the same thing… But it's a no. Sure, North Island, New Zealand looks smaller and way more doable in a shorter period of time but I'm telling you, it's bigger than you think and places take longer to get to then they seem.
This is VERY true for South Island but North Island too… Trust me, I had grand plans of getting to the northern tip to Cape Reinga but as our days were winding down, I realized it was a hell of a lot further away than it seemed. It's at least six hours away from Auckland one way without stopping, so did I really want to spend my last few days mostly driving? Nah.
Instead, we hung out near Piha and used our last days to chill and explore rather than drive like maniacs. Don't force yourself to drive great lengths unless you have a lot of time.
I really hope this North Island, New Zealand road trip itinerary was exactly what you need to help plan your visit to New Zealand.
Don't leave yet though! Aside from all the helpful related links you should probably scroll back up to read, you can literally plan your entire New Zealand trip from my blog here, I have a crazy amount of helpful posts just for YOU! 🙂
More Around the North Island of New Zealand
What are you most stoked to do on your North Island, New Zealand road trip? Let us know in the comments!
---
---
>>> EVEN MORE ABOUT TRAVELING NEW ZEALAND <<<
Work & Travel New Zealand: Get a Working Holiday Visa for New Zealand
Your Guide To the Tongariro Alpine Crossing in New Zealand
50+ of the Best Hikes in New Zealand & Hiking Tips
A 5-Day Queenstown Itinerary For the Intrepid (New Zealand)
20+ Day New Zealand South Island Road Trip Itinerary
New Zealand Road Trip Itinerary—2 Weeks to 2 Months + Costs and Tips
Campervan Sites in New Zealand + Camping and Food Tips
New Zealand Travel Tips + A Budget Breakdown
Campervanning New Zealand: Buying, Selling, Renovating, and Tips
A Guide to Hiking The Kepler Track in Fiordland National Park, New Zealand
5 Epic Hikes in Mount Cook National Park That Are TOTALLY Worth It (New Zealand)
A Guide to Hiking French Ridge Hut in Aspiring National Park (New Zealand)
A Guide to Hiking the Mueller Hut Track & What to Pack (New Zealand)
Hooker Valley Track: The Easiest & Most Beautiful Hike in Mount Cook NP (New Zealand)
Guide to the Routeburn Track: Should You Do It as a Day Hike? (New Zealand)
5 Things to Know about Milford Sound, How to See It and Is It Worth It? (New Zealand)
Hiking Roy's Peak & How to NOT to Wait in Line For A Pic (New Zealand)
An Adventurer's Guide to Exploring Lake Tekapo, New Zealand
4 Easy But Beautiful Walks Around Dunedin, New Zealand
11 Things to Do in The Catlins in 2 Days (New Zealand)
A Guide to Exploring The Cave Stream Scenic Reserve (New Zealand)
---
---
Don't lose this post! Click the picture and pin it to Pinterest!