We were arriving pretty late. The sun had set hours ago, and we were exhausted.
We, apparently, are masochists because we decided to make it to Rotorua after finishing our insane hike along the Pouakai Circuit. Most people rest after hiking for two days, but instead, we drove for five hours!
We passed a sign that Rotorua was only a few kilometers away. YES!
Then my nose got a big whiff of something… I looked at Garrett, and he looked at me. He knew what I was thinking but seeing that he had been to Rotorua, he quickly said, "It wasn't me! We're in Rotorua! This is what it smells like!"
Yep, I quickly learned Rotorua really does smell like one big fart.
This sulfuric stench permeates throughout the town and the surrounding area, and, after a few days, you kind of don't realize it! Instead, you're mesmerized by the random plumes of smoke you'll see in someone's backyard, on the side of the road while driving, and even coming out of the sewers and seeping out between the trees.
Rotorua is pretty cool, despite the rotten-egg smell!
Busy? Click the picture to Pin this for later
Things to Do in Rotorua
---
There are plenty of things to do in Rotorua—Everything from cultural shows and learning more about the Maori, discovering more about the hydrogen sulfide emissions and seeing more of the bizarre alien landscape up close, epic adventures, magical glow worms, and potentially the best of all—Rotorua's hot pools!
Here are my recommendations on what to do in Rotorua…
Should You Visit Wai-O-Tapu or Te Puia?
This was my conundrum when I was thinking of all the things to do in Rotorua. Both of these spots highlight the incredible landscape of Rotorua complete with geysers, acidic pools, and other active geothermal features—AKA exactly what Rotorua is about!
So does one go to both? Is one better than the other? Only you can decide, but here's what I discovered because I'm awesome and went to both so that I could report back to you with the differences…
Wai-O-Tapu
I love the crazy volcanic landscape at Wai-O-Tapu. You're definitely "in it" while here. It wasn't promising when I saw the very commercialized entrance, but once you get through it, you're immediately immersed in a stinky cloud with gorgeous cool smoking pools and a bit of a nature walk to explore the grounds.
Everything seemed as natural as one could make it when they make this type of attraction open to the public. Just down the road are the bizarre mud pools, which are precisely what they sound like, grey bubbling mud. Nothing super special but weird and worth a swing by.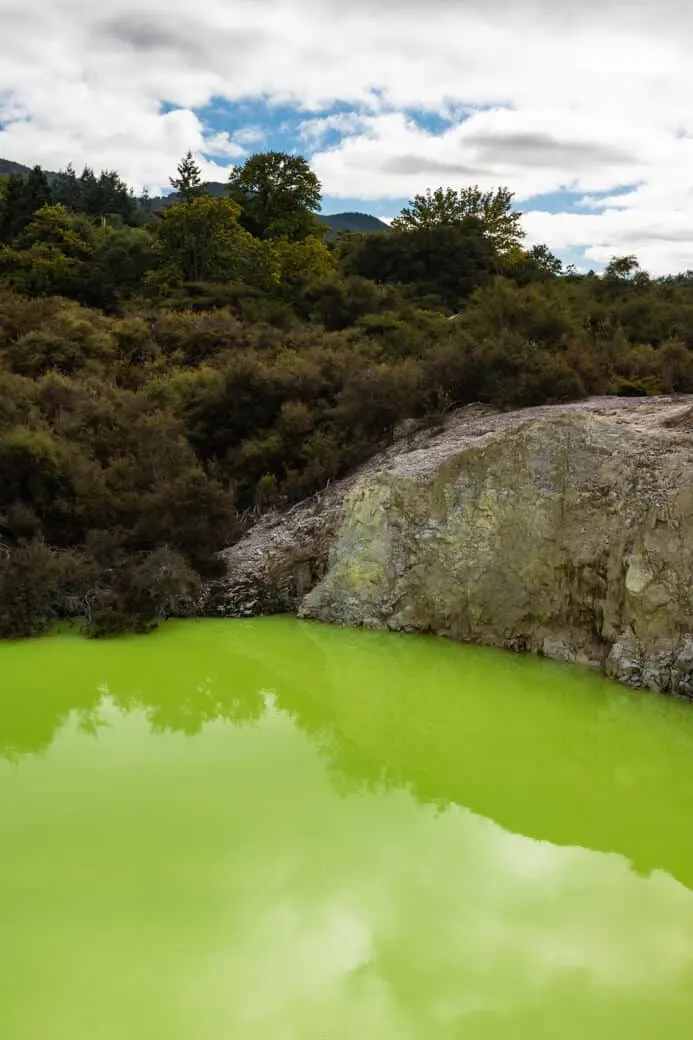 What I liked: The crazy landscape and the different colors of the pools and grounds. Can you see those awesome oranges and lime greens in the picture?! How cool is that?
What I didn't like: The geyser. I didn't even see it. I found out they "make it" explode at the same time every day, at 10:15 am. It looks spectacular in photos and shoots up 10-20 meters in the air but once I found out it was artificially done, it turned me off, and I skipped it.
Book your ticket:
Te Puia
Another beauty! However, this one was far more commercial, and it was quite detached from nature. From the perfect pathways and the fact that I could see the back of a hotel while trying to photograph the geyser, it just didn't feel natural at all.
The geysers here were super and the best part was that they were natural and didn't require you to be a particular place at a specific time. They naturally went off once or twice an hour, and you just needed to be at the right place at the right time to see it.
They have a very cool cultural center here where you can pay a bit extra to witness cultural dances like the Haka, and there's a kiwi bird exhibit which is interesting, as seeing them in the wild is very rare. Mostly because they are nocturnal, which, speaking of, definitely makes it hard to see them even at this center!
They have simulated nighttime so that the birds are active when people are coming through and then they make it day time when its actually night time, which is when they sleep (aka when the tourists leave). Because of this, it's quite challenging to see them, there are just a few red lights on, so seeing the birds requires some squinting and looking hard, and there are no pictures allowed.
Don't worry! They are not held captive for tourists; they are here in a sanctuary. The birds are eventually released in the wild when they mature enough. Otherwise, I wouldn't have even walked on the premises! I don't do zoos.
What I liked: The Haka dance and Maori performances! This isn't something you can witness walking down the street (OK fine maybe you can, idk, but you'd need to be damn lucky haha). So seeing this culturally vibrant part of the Maori people was very cool, even if it was a planned thing for tourists. I also liked that the geyser here was naturally occurring.
What I didn't like: The unnatural feeling of the center. You can tell this place is just off the main highway.
Book your ticket: Te Puia Maori Arts and Crafts Institute
The result? If I had to choose one, I'd say Wai-O-Tapu wins; it's cheaper too! I didn't mind not seeing a geyser. But then again, that cool Haka performance. Hm… Damn, it's a tough one! But yeah, I think I may have to vote Wai-O-Tapu because the landscape here shows more vibrant colors and appears more beautifully bizarre.
Of course, you could just do both if you have time as I did. Both were pretty cool overall.
Rotorua Hot Pools
---
The hot pools in Rotorua are famous! After all, this would just be a stinky town all for nothing. At least that stench has provided incredible healing waters to sit and soak in. These are the hot pools in Rotorua I visited…
Kerosene Creek
This one isn't the most beautiful or the most unique thing to do in Rotorua. However, it was FREE. While you're bound to see a gaggle of tourists flocking here because of that, it's still a refreshing stopover to get yourself soaked in the waters Rotorua is known for.
Be aware the parking lot is known for thieves, unfortunately. I read about it numerous times on the Camper Mate app! I didn't experience it myself.
Kuirau Park
Another place that's not at all novel or very pretty but if you've been hiking recently and are broke as a joke you can come to this park and soak your feet for free in the healing hot water.
Waikite Valley Hot Pools
This place is a goddamn sanctuary—I LOVED it.
OK fine, it may have also been because we had literally just hiked the Pouaki Circut the day before and were almost literally broken after completing 17 miles in two days. We NEEDED this.
We got to use the campervan facilities, which were very small and nothing special but their pools made up for it. I think these hot pools in Rotorua were our favorite.
There are numerous pools overlooking a small steaming stream, which is where the water comes from.
The pools all feature a different temperature, are natural and are all set amongst foliage, making you feel like you're in a little jungle pool. The best part of staying here with our campervan was that we had access to the pools before it opened to the public, which means having the pools almost to yourself!
Polynesian Spa
If you're looking to treat yo' self, this is the spot to do it. This is probably the fanciest hot pools in Rotorua, and I have to say, upgrading to the adult only pool is worth it. The pools that allowed children looked like a damn circus, so when I was checking in, I looked at them, saw the mess that I had no desire to be apart of, and kindly asked for the adults only area.
Here, you're on the opposite side of the circus the family area and you barely hear anything but the water sprinkling out from the pipes. There were numerous pools, again, all featuring a different temperature and two of them were set just in front of Lake Rotorua.
I went at night and saw the moon glisten on the lake as I soaked in the pools here. Magical!
Book your ticket: Polynesian Spa
Rotorua Adventure Tours
---
These are the top two tours I got to enjoy during my time here! I can't recommend them enough, they are both unique, and both incredibly epic!
White Water Rating With Kaitiaki
Did you ever think to go white water rafting down a 7-meter/22-foot waterfall?
Me either. But I did it, and it was undoubtedly an epic thing to do in Rotorua, so if this sounds like your adventure, I can't recommend it enough! Just go for it!
Can't swim? Never rafted before? Terrified? Seriously, we saw all walk of life doing this, so don't worry! The company was excellent in explaining everything, being safe, and gearing you up. Some people couldn't swim on our tour, and they survived–Even after falling out of their raft.
Speaking of which, we fell out of our raft as well coming down the waterfall! Ha! Coming down the waterfall is a massive rush and was a thrilling experience I'd totally do again! I wish it didn't happen so fast. It's the highest commercially rafted waterfall in the world. Sweet as, New Zealand, and thanks for the ride, Kaitiaki!
Book this tour: 3.5-Hour Whitewater Rafting Experience
Glow Worm SUPing
Say what?! Yeah, that's what I said when I heard this was a thing. We decided to skip out on Waitomo, it was a bit out of the way from our route, we were running out of time, and honestly, it just seemed SO predictable to go there for glow worms.
There are other places to see them in New Zealand, so I told myself I wouldn't feel FOMO just as long as I got see glow worms before leaving, it didn't matter where.
Well, I'm happy to report that I probably got one of the most unique experiences out there under my belt and now you're in the know too, you're welcome!
Check out Paddleboard Rotorua; they found an epic spot to take people seeking some adventure and a different way of seeing the famous glowworms.
First, you'll start your night out by sunset SUPing which, in itself, is gorgeous. Nev was our leader for the trip, and he guided us along the lake to two secret spots where there's a magical cave you can just lay down on your SUP board, look up, and be transported to another planet.
Above you is a galaxy of glow worms! We laid here speechless for what felt like an eternity, and I couldn't imagine any other glow worm experience toping this. Yep, I win! So happy I didn't rush to another town to see glow worms, if you're in the same boat, this is your answer, you're welcome!
Book this tour: Twilight Stand-Up Paddleboard Tour and Glow Worm Experience
Day Trip From Rotorua: Tauranga
---
There are plenty of things to do in Rotorua but Tauranga is only an hour drive away. So if you're in the mood to get away for the day or simply are on your way to explore more of New Zealand, stop by a few places in Tauranga.
Kaiate Falls Walk
An easy 20-minute walk takes you down to Kaiate Falls, a very worth it waterfall to visit.
There are two areas where you can see two sets of falls. I was here as it was raining, but it didn't stop me, they were still beautiful and the trail was still easy to hike.
Athenree Pools
We ended up staying here for two nights using their campervan park. This is another great spot for soaking in the epic hot pools around Rotorua, yep Tauranga has them too! These pools aren't quite as impressive as the places I mentioned above but still are worth it.
Like the other hot pools, you have access to them before it's open to the public too and that's where the real value of staying at these campervan parks come in! It was so relaxing to use them each morning.
Combo Tours in Rotorua
Out of time? Barely have a day or two enjoy Rotorua? Luckily there are plenty of combo tours that sweep you through Rotorua's highlights, see if any of these work out better for you:
Other Rotorua Tours
I didn't get to see EVERYTHING in Rotorua so here are a few more choices for you to browse through. Lord of Rings fans to adventure seekers—Here are more things to do in Rotorua…
More Around the North Island of New Zealand
What are you most excited to do in Rotorua? Let us know in the comments!
---
---
>>> EVEN MORE ABOUT TRAVELING NEW ZEALAND <<<
Work & Travel New Zealand: Get a Working Holiday Visa for New Zealand
A 5-Day Queenstown Itinerary For the Intrepid (New Zealand)
New Zealand Road Trip Itinerary—2 Weeks to 2 Months + Costs and Tips
20+ Day New Zealand South Island Road Trip Itinerary
50+ of the Best Hikes in New Zealand & Hiking Tips
Campervan Sites in New Zealand + Camping and Food Tips
Campervanning New Zealand: Buying, Selling, Renovating, and Tips
New Zealand Travel Tips + A Budget Breakdown
A Guide to Hiking The Kepler Track in Fiordland National Park, New Zealand
A Guide to Hiking French Ridge Hut in Aspiring National Park (New Zealand)
A Guide to Hiking the Mueller Hut Track & What to Pack (New Zealand)
Hooker Valley Track: The Easiest & Most Beautiful Hike in Mount Cook NP (New Zealand)
Guide to the Routeburn Track: Should You Do It as a Day Hike? (New Zealand)
5 Things to Know about Milford Sound, How to See It and Is It Worth It? (New Zealand)
Hiking Roy's Peak & How to NOT to Wait in Line For A Pic (New Zealand)
An Adventurer's Guide to Exploring Lake Tekapo, New Zealand
4 Easy But Beautiful Walks Around Dunedin, New Zealand
11 Things to Do in The Catlins in 2 Days (New Zealand)
A Guide to Exploring The Cave Stream Scenic Reserve (New Zealand)
---
---
Don't lose this post! Click the picture and pin it to Pinterest!