The Cathedral Cove walk in The Coromandel is quite possibly the most popular thing to do in the area, and dare I say it…One of the most popular things to do in North Island?!
I mean, it's not hard to see why. The unique cave opening which leads to a beautiful beach is quite the spectacle.
But I was a bit surprised that the Cathedral Cove walk is not as straightforward as you'd think! Visiting is easy, but there are certain things to know before making your way down here…
Don't lose this! Click to pin it now.
7 Tips for the Cathedral Cove Walk in the Coromandel
---
Cathedral Cove is quite a touristy spot, but unlike some places in the world, this attraction is entirely worth it.
With that said, I do have some tips so you can enjoy yourself more while visiting! There are some things I didn't realize before getting here, and I would have liked to know, so hopefully, I can help make your time a bit better by being prepped for a visit…
Cathedral Cove Walk Quick Details:
The actual trail is 3.2 km or 2 miles from the trailhead.
It's an additional one-mile hike to the actual trailhead from the parking lot.
It's rated as an easy walk but it is steep.
Not really excited about the walk? Don't know how to get here? You have other options! Check out these awesome tours:
1. There Are Three Coves—It's Not JUST Cathedral Cove!
Did you know that? I didn't! Cathedral Cove is the star of the show considering its beautiful and unique triangular cove shape, of course, but there are two more beautiful coves before Catherdral which you will pass on the way to walking to Cathedral Cove anyway.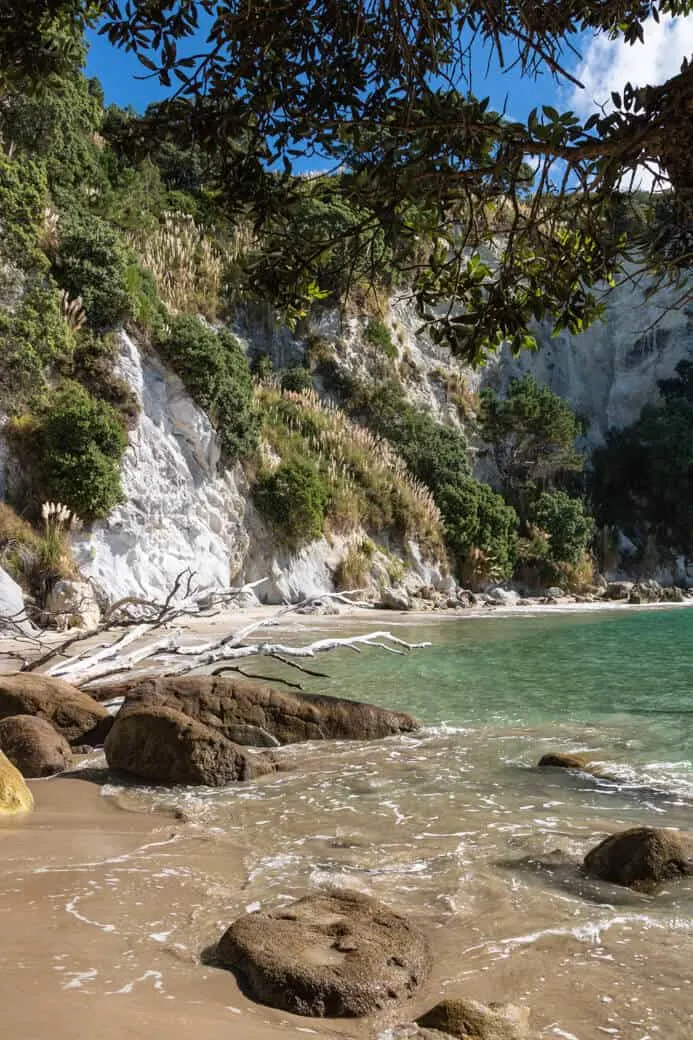 Are they worth stopping at? Totally! Make sure to visit Stingray Bay and Gemstone Bay before or after heading to Cathedral Cove. They are easy detours off the main trail.
RELATED: 2-Week North Island, New Zealand Road Trip Itinerary.
2. Bring Your Snorkel
Gemstone Bay and Stingray Bay are PERFECT for snorkeling. Why didn't anyone tell me this?! Damn. I wish I had my snorkel so bad but, alas, I did not and had to forgo the excellent opportunity. The tide was high, and the shore was more like a bed of rocks but who cared?
You'd be jumping in and getting to swim with the fish anyway. Hardly anyone was here and on a sunny day the water would have been tolerable during summer/just out of summer to hop in and go for a dip.
Guess what you have a chance of seeing at Stingray Bay? Yeah… I was so bummed! It would have been amazing and not to mention tons of other marine life bustlings above just beneath you.
TIP: If you love snorkeling and plan to do so a few times in New Zealand, it may be worth it to buy one before going!

You can find decent snorkels like this one for under $25 USD. Otherwise, you'll be paying around $25 NZD just for a one-time rental. There are shops along Hahei Road to rent from on the way to the Cathedral Cove entrance.
3. The Cathedral Cove Walk is Steep
Yeah, the walk is pretty steep, so if you were looking for a stroll in the park, this isn't the place to go. Elderly family or kids with you? Yeah, they may have some problems too.
Don't get me wrong, the hike is quite easy, but there are some pretty steep parts, especially if you're a bit of a cheapskate and park at the free spot. You'll have to walk up a steep road to get to the entrance and then a bit more of a steep walk to Cathedral Cove.
Overall, you can be at any fitness level to do the Cathedral Cove walk but for those a bit out of shape or a bit older, it's good to know that you'll need some extra water (there's nowhere to fill up), decent shoes and be mentally prepared to take a steep walk.
RELATED: 50+ of the Best Hikes in New Zealand & Hiking Tips.
4. The Free Parking Spot Is Not at the Cathedral Cove Entrance
There is free parking here. You CAN'T park at the entrance of Cathedral Cove, it's closed off, and you can only drop off people here.
So if you do have some family members or children who can't make the walk to the entrance, and again, it's steep and is one-mile long, then you can drop them off and take the one-mile walk yourself if that's easier for everyone.
There are other random parking spots that are closer but they will cost money. Even local residents have found a way to make a few extra bucks and good for them. You'll see some signs on driveways for parking for $10 or so as you take the hike towards the trailhead.
5. It's a Mile to the Cathedral Cove Trailhead or Take a Bus or Boat
Right, to be clear, it's one mile JUST to the entrance of the Cathedral Cove walk!
However, there is a bus option. If you park at the free parking as mentioned above, then there is a bus option. It's $5 a person, $3 for children, or $10 for a family of two adults and two kids. The bus departs every twenty minutes however it only runs during peak season so make sure it's running before you rely on it.
Note that the bus only takes you to the Cathedral Cove entrance, you'll still have to walk to Cathedral Cove which is two miles from the trailhead. There is no other option for getting there unless…
You take a boat! There are boat tours that you can take here, which means you may miss out on the other coves, and you will have limited time here, but this may be the best option for some! Not to mention tours end up taking you to other cool spots, which means you get shown around a bit more in less time than it would take for you to do independently.
Here's a boat tour that has good ratings.
RELATED: 11 Fab Things To Do in the Coromandel, New Zealand.
6. Do the Tides Matter?
Meh, not really. Funny enough, when Garrett and I were getting ready to go, we wanted to go at low tide as we thought you couldn't get around it if it was high tide.
Unfortunately, when I was Googling, Google was an asshole and brought up Cathedral CAVE not cove, which I visited during my time walking around Dunedin, a beautiful spot! But doesn't have the same tide schedule as Cathedral COVE.
Next thing you know as we are walking to Cathedral Cove, passing Stingray Bay, I look at Garrett and say, "the tide is super high, it's impossible for it to get any higher, right?!" I looked at my browser history on my phone and noticed my error. Here is the correct tide schedule.
Oops… Oh well, we were literally 5 minutes away from Cathedral Cove, too late now. Luckily when we got there at high tide, we noticed it wasn't a big deal at all. Sure the waves came up high into the cave, but you were still able to walk through to the other side.
You'd need to roll up your pants or strip down to your swimsuit, but it wasn't high enough to have to swim across or battle anything extreme to get over to the other side. So if you're worried about what time of day to come, don't be, know that you may get wet IF you want to get to the other side of Cathedral Cove but if you don't want to it's not necessary to see the feature.
Cathedral Cove is still visible and accessible no matter the tides.
7. There's a Large Beach at Cathedral Cove
So Cathedral Cove is the star, we get it, trust me, it's hard to miss. There's a gaggle of tourists in the cave at any given moment unless you get up early and go but did you know there's a vast beach area too?
Everyone is fascinated with the cave; yep, it's beautiful! Got it! But turn in either direction of the cave and there's a HUGE beach. Like, you can come down here and enjoy a day at the beach with hardly anyone around you because everyone is gathering at the cave, getting their pictures and then leaving…
Stingray Bay has a beach too but during high tide, it's more like a sliver however since nobody is here, you'll probably find a spot!
It's crazy, and I almost feel a bit silly, but I didn't realize any of these things before making it to Cathedral Cove and would probably have planned my time here much differently if I would have known.
RELATED: Piha & Waitakere Ranges Walks, Waterfalls, and Beaches – New Zealand.
What I Would Have Done Differently:
I would have brought my snorkel and snorkeled at Gemstone Bay.
I would have basked on the beach at Cathedral Cove and Stingray Cove.
I would have made it here MUCH earlier instead of waiting for the non-existent tide issue I thought I had to avoid.
Funny enough, we were at a campsite (Hahei Holiday Resort campsite) within WALKING DISTANCE of the Cathedral Cove walk starting point but we checked out of the campground and did other things waiting for the "tide to go down" -—again, my mistake wasn't realized until we were already there.
So don't be a doofus like me, take these tips, and have fun!
I loved this spot, but I would have loved it more if I knew some of these things before going! Have a fun trip and read up on some more of the things to do in the Coromandel here.
Running low on time and thinking of doing a tour instead? Here are some tours to consider in the area:
Where to Stay Near Cathedral Cove
Resources for Your Trip:
More Around the North Island of New Zealand
Are you doing this Cathedral Cove walk? Did you do it already and have another tip to share with us? Let us know in the comments!
---
---
>>> EVEN MORE ABOUT TRAVELING NEW ZEALAND <<<
Work & Travel New Zealand: Get a Working Holiday Visa for New Zealand
A 5-Day Queenstown Itinerary For the Intrepid (New Zealand)
New Zealand Road Trip Itinerary—2 Weeks to 2 Months + Costs and Tips
20+ Day New Zealand South Island Road Trip Itinerary
50+ of the Best Hikes in New Zealand & Hiking Tips
Campervan Sites in New Zealand + Camping and Food Tips
Campervanning New Zealand: Buying, Selling, Renovating, and Tips
New Zealand Travel Tips + A Budget Breakdown
A Guide to Hiking The Kepler Track in Fiordland National Park, New Zealand
5 Epic Hikes in Mount Cook National Park That Are TOTALLY Worth It (New Zealand)
A Guide to Hiking French Ridge Hut in Aspiring National Park (New Zealand)
A Guide to Hiking the Mueller Hut Track & What to Pack (New Zealand)
Hooker Valley Track: The Easiest & Most Beautiful Hike in Mount Cook NP (New Zealand)
Guide to the Routeburn Track: Should You Do It as a Day Hike? (New Zealand)
5 Things to Know about Milford Sound, How to See It and Is It Worth It? (New Zealand)
Hiking Roy's Peak & How to NOT to Wait in Line For A Pic (New Zealand)
An Adventurer's Guide to Exploring Lake Tekapo, New Zealand
4 Easy But Beautiful Walks Around Dunedin, New Zealand
11 Things to Do in The Catlins in 2 Days (New Zealand)
A Guide to Exploring The Cave Stream Scenic Reserve (New Zealand)
---
---
Busy? Click the picture to Pin this for later