What a badass little corner of New Zealand! The Coromandel is a pocket of gorgeous waterfalls, stunning beaches, vistas for days, epic hikes, and more…
You could spend weeks hanging out in the area, but most of us don't have that long!
If you're in need of a great list of things to do in The Coromandel and only have a few days, you're in the right place.
Below are 12 fab things to do with tips to help you along on your trip. We spent a week hanging out in this lovely corner of our earth, but you can probably squeeze most of this list in a few days!
Things to Do in The Coromandel
---
1. Kayak to Donut Island/Whenuakura (My Fav Thing to Do in The Coromandel)
This is seriously one of the top things to do in Coromandel, and it's epic!
Along the pristine Whangamata Beach, you'll see surfers, kayakers, and SUP boarders taking on the crashing waves. At first, I was unsure if we would make it out as the water and winds were a bit hectic, but we decided to take it on and head out to Donut Island.
We battled the wind and tides, making it to the entrance, then paddled through a narrow cave entrance with the waves "breathing" in and out of the inlet, crashing up on the sides.
Make sure to use your paddles to get out of there quickly and steer away from the edges, so you don't bang up the kayak on the rocks.
Once you make it through, you'll understand why this gorgeous place is called Donut Island. You're now in a lagoon that's completely encircled by jagged rocks that make up a donut shape.
From here you can kayak to the nearby Hauturu Island where you can chill on a beach without another soul around you except the odd kayaker on the same journey as you are.
Funny side story for you, Garrett dropped his phone on the beach here! Thankfully, a local found it and contacted us (I guess Garrett's weird habit of using the back of his phone case as a wallet was beneficial) however the phone had already died a terrible salty death, but at least we knew what had happened to it.
Please note, that Donut Island, or Whenuakura, is a wildlife sanctuary and they don't want you to get out of your kayak while exploring the lagoon to protect any native wildlife in the area.
Donut Island Info:
There are a few stands sprinkled in the area for renting kayaks, but we found Peddle and Paddle to be the cheapest. They didn't have a stand at the beach but you can ring them up, and someone will meet you down there.
We paid $60 for a double kayak for two hours. It only took us about an hour and 20 minutes to get to the island, the other beach and back.
For a tour to donut island, you can book one here.
2. Wentworth Valley Waterfall Hike
I didn't think much of this hike, but I happen to be here as it's located at a great DOC campsite in which Garrett and I spent a few night camping, so I decided I should probably do it.
I was happily surprised; this easy hike was worth it!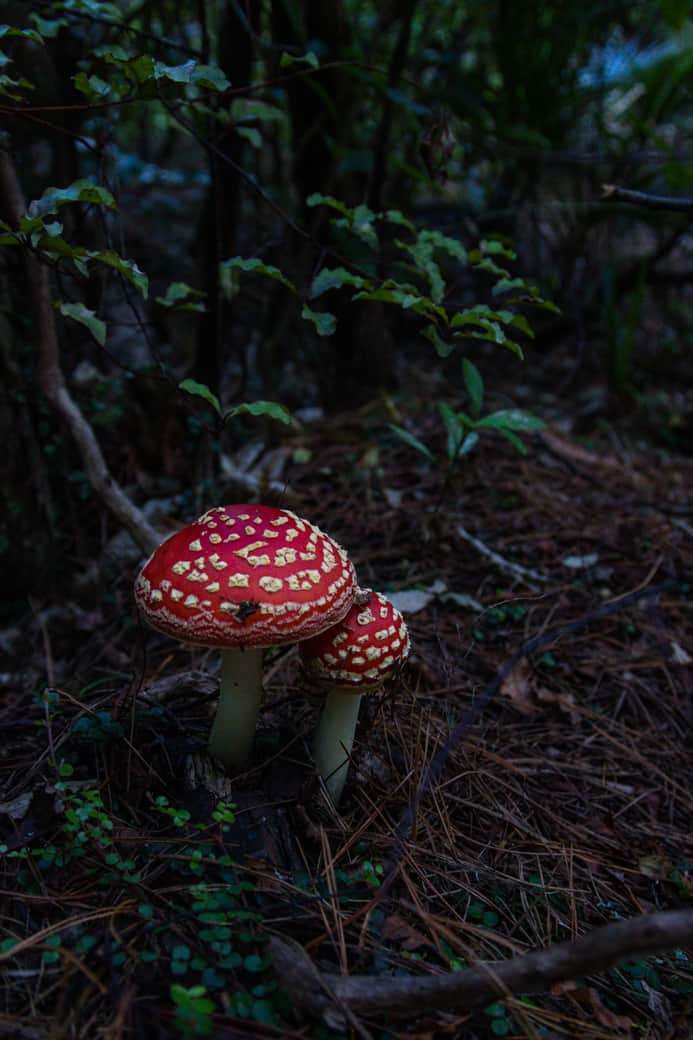 I walked through the lush jungle, passing some mushrooms reminiscent of Super Mario while listening to the creek below flow on, and the birds chirping, I ended up at a viewing platform for the two-tier Wentworth Falls that was gushing.
The platform bummed me out a bit as I love seeing things completely natural, but after a bit of investigating, I saw a pathway that led to the base of the waterfalls. You lose sight of a tier by doing this as you're too close, but it was worth the slightly hectic climb down over tree branches and slippery rocks.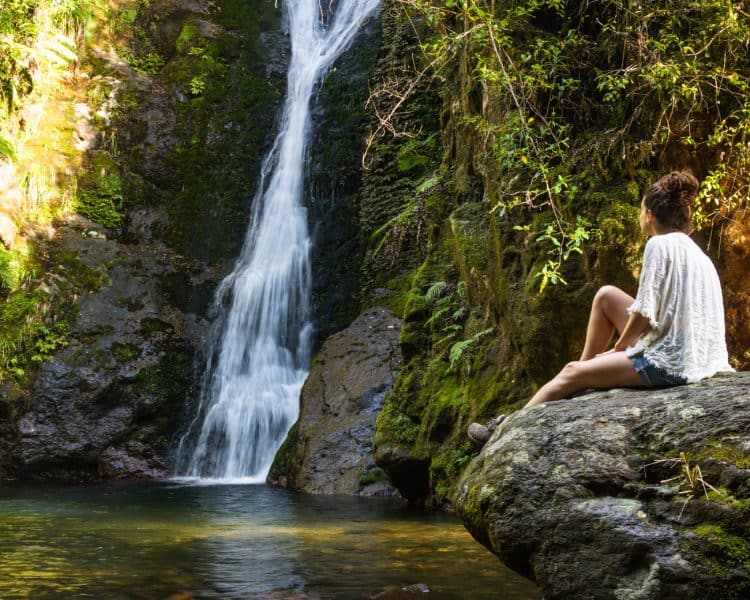 I was alone down there as everyone stops at the viewing platform. I got to chill on a rock at the base of the waterfall for a while just taking everything in.
The hike takes maybe an hour and a half or so and is 3 km long. Do note that there's a 7km long unpaved road to get here!
3. Hike Up Mount Paku
This cute cone-shaped hill has a quick and easy trail that leads to the top.
You'll roam through native tree-lined paths and soon enough you'll reach the top to get a great vista of Tairua and Pauanui, The Coromandel ranges, and if you're lucky, even some fantails will come out to play.
4. Sunsets and Surf at Whangamata Beach (Popular Thing to Do in The Coromandel)
We hated ourselves for missing out on surfing. We watched them two nights in a row while the sun epically set behind them and we didn't get to go. For one, we were pretty exhausted, this was towards the end of our trip and we had to get ready to sell the car.
And unfortunately, the nights we were here, the water was a bit messy which would have made for a difficult surf.
Another day! Perhaps you can catch some surf here, though? I'd definitely recommend it.
Here are some classes in case you want to learn how to surf while in The Coromandel:
At the least, this beach is perfect for soaking in those sunset vibes and watching the surfers glide across the water. We grabbed a beer out of the car and watched the sun go down. It did not disappoint!
5. Cooks Beach
Set on Mercury Bay and known for being where Captian Cook anchored back in 1769 with Purangi Estuary to the east and Shakespeare Cliff to the west, Cooks Beach is nestled pretty in between glinting in the sun and lapsing its chilly beautiful blue water on a sandy shore.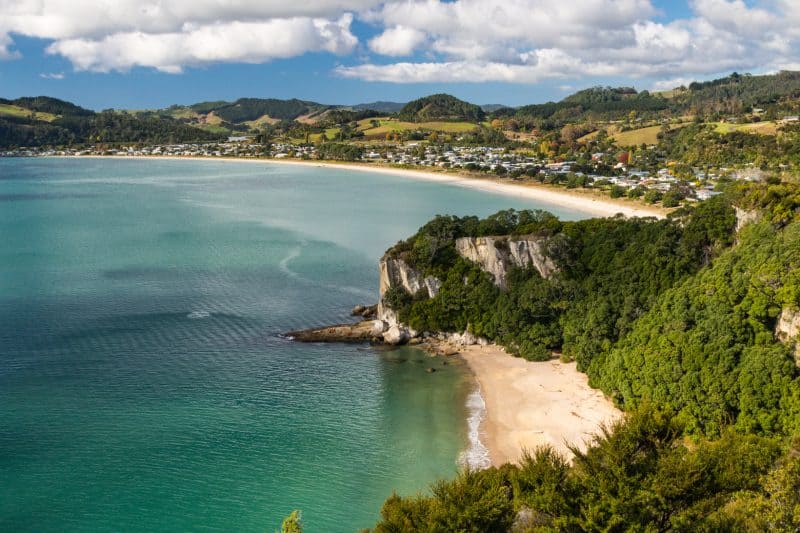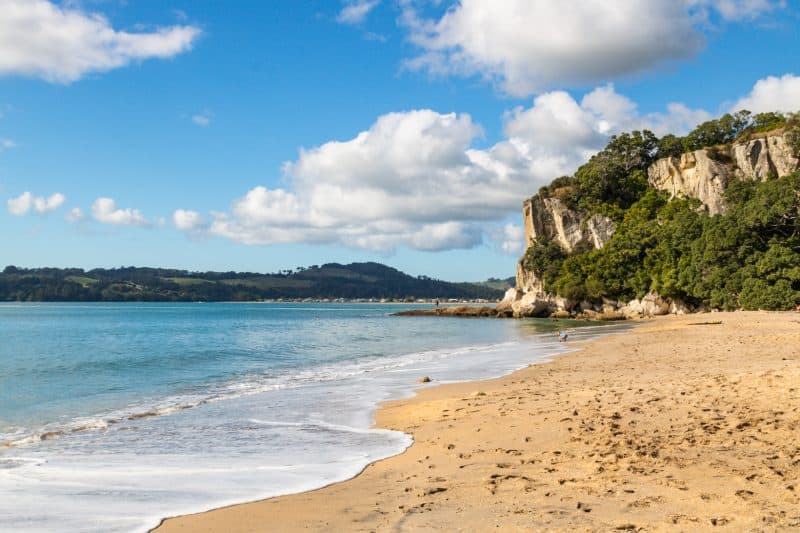 Hanging out on the beach and doing nothing all day is acceptable but the views from the quick and easy Shakespeare Cliff walk to get that bird's eye view is certainly worth it as well.
6. Cathedral Cove (Most Famous Thing to Do in The Coromandel)
This is probably the most popular thing to do in The Coromandel! Everyone knows this picture, everyone wants to visit, and it's the gem of the area.
And unlike Hot Water Beach (wait for it), I found this popular attraction worth it…
However, there are a few things to know before heading out here. I would have done my visit differently if I had the info I learned before getting there. I hope I can help you enjoy your time at Cathedral Cove a bit more with some tips to know before going.
So I wrote a mini guide to Cathedral Cove so you can be better prepared. The nearby Hahei Beach is a great place to chill and watch a sunset too.
Low on time? There are some great tours to Cathedral Cove, including a boat tour which is easier than the hike!
7. Onemana Beach
Oh, here we go! I LOVED stumbling on this random hidden find and here's my gift to you. This gorgeous beach takes you through a weird hike that's mostly between a cliff's edge and someone's farm.
The hike is nothing to write home about, there are hardly any views, and I questioned if the beach was even going to be worth it.
Spoiler alert: It was!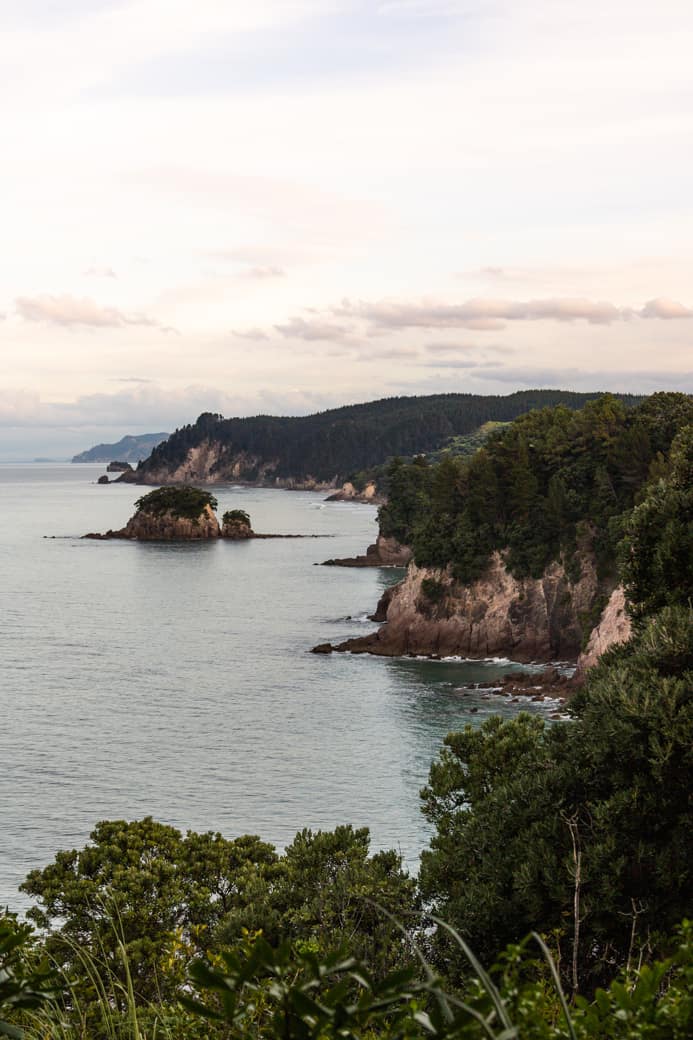 Down below was a secluded little cove with pretty much nobody at it. Rocky outcrops and gentle waves lapping on the shore and that's about it. You can chill here for a while and probably see more birds than people. You're welcome.
8. Victoria Battery
I love me some weird, and Victoria Battery was precisely that! Here's an old gold mine facility that was used for crushing the gold-bearing quarts along with some abandoned arsenic barrels. It's a quick stopover as it's right off the road.
At the least, it's a cool way to stretch those legs for a second while reading some of the info boards in the area. Watch out for the bikers! It's a popular bike trail, and do be careful of your car.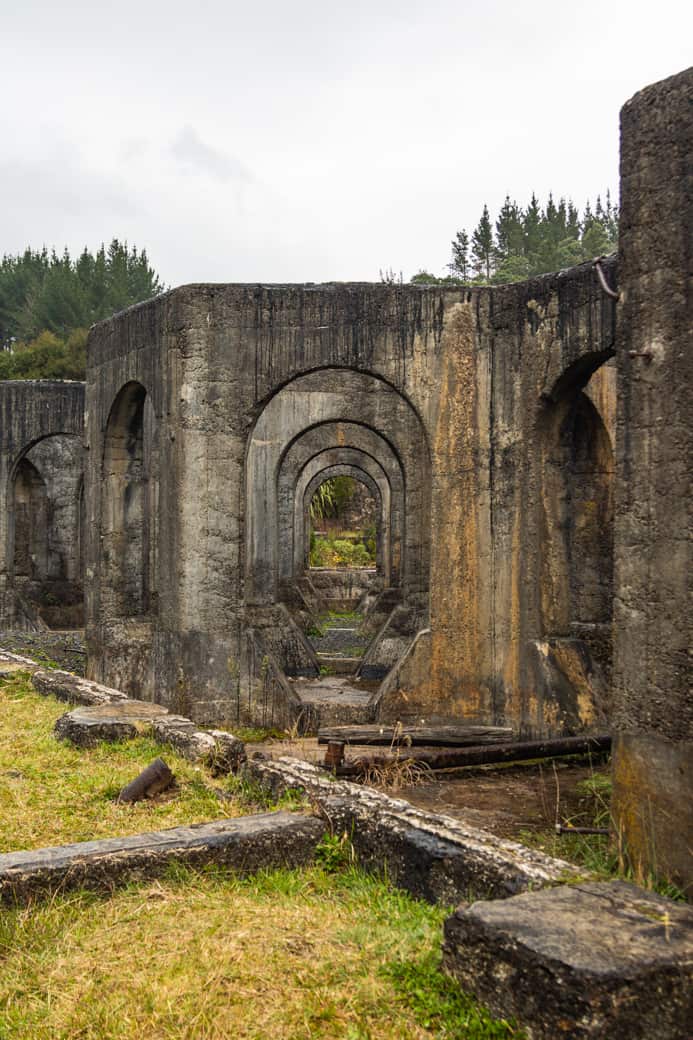 It was raining but I wanted to check it out, Garrett isn't a crazy person so he stayed in the car and reported some super sketchy individuals who rode up on our car, not knowing he was in it and started peeking inside! Creepy.
9. Owharoa Falls (Another Fav Thing to Do in The Coromandel!)
Two minutes from the road, you'd be crazy to miss this spot!
Just take a peek, even in the rain as I did, and you'll be happy you did. It's a gorgeous "dribbling" waterfall, as I like to call it, look at the picture and put it on your list, k?
10. Karangahake Gorge Historic Walkway
From the parking lot right here, you have access to a few cool walks like the Talisman Battery, The Windows, Crown Tramway Track, and a few viewpoints along the way… Bring a headlamp if you want to do the entire walk as it enters old gold mining tunnels.
Some of the openings are a bit further apart so the light at the other end doesn't reach and it gets dark QUICK.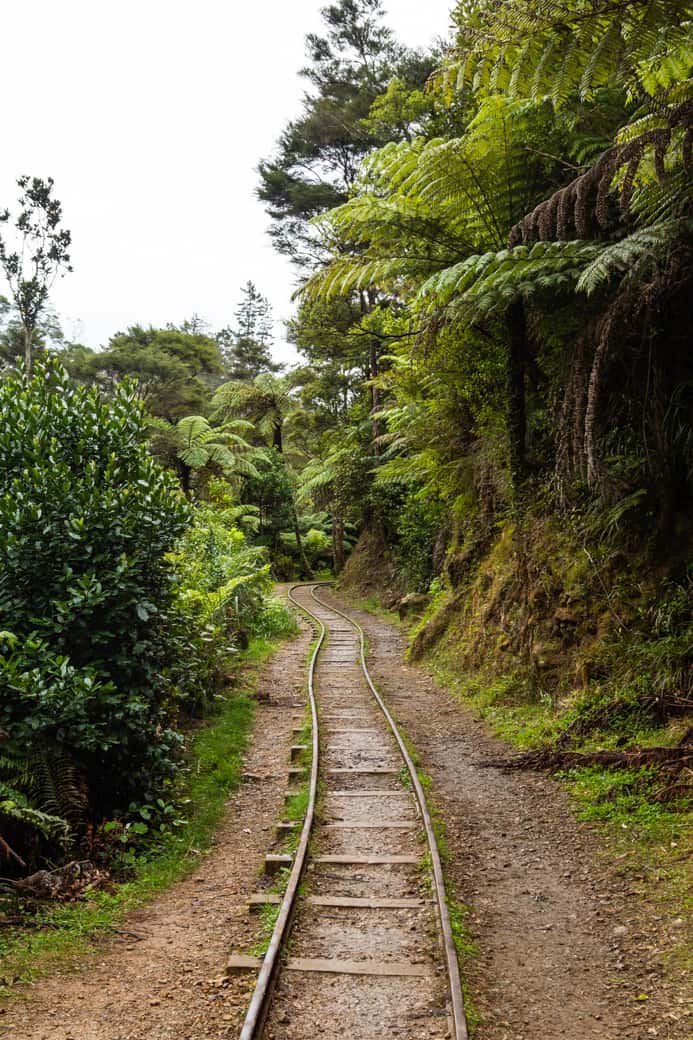 From The Windows hike, you can get a view over the Gorge which is quite nice, and you'll see some remnants of the tracks and machinery. While in the tunnel look closely, you may be able to spot a few glowworms!
Depending on the hikes you do in the area you can spend an hour or two or half a day here.
RELATED: Things To Do in Northland, New Zealand.
11. Hot Water Beach
I think I'd be in some hot water if I didn't mention this spot, right? It's an obligation to do so, but can I be real with you guys (ha, sorry, you have no choice, I'm always real!)?
I didn't even really go. I was passing by, and I saw it from down the way… but I didn't want to make a further effort to get on the beach.
Hot Water Beach promises a cool experience where you can dig a little hole in the beach and make your own hot water pool right there! They even rent shovels on the beach to assist you in digging.
So what's the deal with it? Womp womp… It's overrun by tourists and is more of a sorry-ass circus than anything.
Garrett had been before and some other fellow travelers confirmed this. It's not in my character to sign up for something like this. Especially since I just visited all the amazing hot water pools in Rotorua!
Unfortunately, to make the circus worse, there are a few spots you have to find and dig there to get it to "work", otherwise you're sitting in a sandy hole with cold ocean water, which you can do without spending $10 NZD on a shovel and breaking your back digging…
But go if you want! I'm won't deter you, I'm just here to tell you that everyone builds this spot up to be a unique paradise when in reality it's more of a puddle in the ground with gaggles of people around you.
Side note: You can only dig up the holes at low tide (or just before/after)! Which makes the window for this activity very slim and even busier.
12. The Pinnacles
Something we desperately tried to do while in The Coromandel was hike The Pinnacles. Unfortunately, there are A LOT of rocks to get to the actual pinnacles, and it wouldn't stop raining.
The rocks would have been too slippery to attempt the hike, and we also didn't have time to get to the tippy top or the west coast of The Coromandel peninsula. Everything on this list is on the east and the south.
BUT… should you actually be lucky enough to do this trek, I'll tell you why we were keen on it.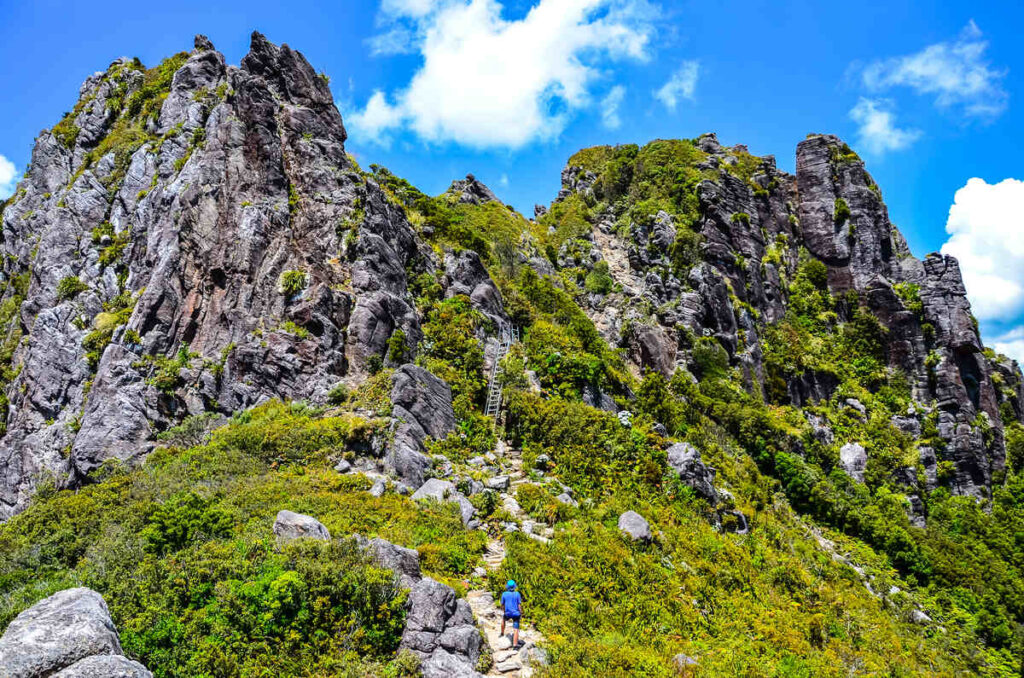 A two-hour drive from Auckland, The Pinnacles hike takes around 8 hours. You'll begin on flat gravel until you reach steps that have been carved into the rocks by 1920s Kauri tree loggers. You'll definitely get a workout climbing up these!
You can take a rest at the DOC hut with either a quick stop or stay overnight with accommodations available for up to 80 people (but you must pre-book!). The benefit of this is if you want to see an incredible sunrise at the top. Just note everything is BYO, from bedding to cooking utensils.
The final stretch to the summit involves plenty of stairs, and metal ladders hooked into the rocks. You'll be rewarded with 360-degree views of the Coromandel Peninsula and a great sense of achievement.
Low on time? Try one of the day tours in the area so you can squeeze in as much as you can! If you don't have a car, you'll likely need a tour…
More Around the North Island of New Zealand
What would you add to my list of things to do in The Coromandel? What are you most looking forward to seeing? Let us know in the comments!
---
---
>>> EVEN MORE ABOUT TRAVELING NEW ZEALAND <<<
Work & Travel New Zealand: Get a Working Holiday Visa for New Zealand
A 5-Day Queenstown Itinerary For the Intrepid (New Zealand)
New Zealand Road Trip Itinerary—2 Weeks to 2 Months + Costs and Tips
20+ Day New Zealand South Island Road Trip Itinerary
50+ of the Best Hikes in New Zealand & Hiking Tips
Campervan Sites in New Zealand + Camping and Food Tips
Campervanning New Zealand: Buying, Selling, Renovating, and Tips
New Zealand Travel Tips + A Budget Breakdown
A Guide to Hiking The Kepler Track in Fiordland National Park, New Zealand
5 Epic Hikes in Mount Cook National Park That Are TOTALLY Worth It (New Zealand)
A Guide to Hiking French Ridge Hut in Aspiring National Park (New Zealand)
A Guide to Hiking the Mueller Hut Track & What to Pack (New Zealand)
Hooker Valley Track: The Easiest & Most Beautiful Hike in Mount Cook NP (New Zealand)
Guide to the Routeburn Track: Should You Do It as a Day Hike? (New Zealand)
5 Things to Know about Milford Sound, How to See It and Is It Worth It? (New Zealand)
Hiking Roy's Peak & How to NOT to Wait in Line For A Pic (New Zealand)
An Adventurer's Guide to Exploring Lake Tekapo, New Zealand
4 Easy But Beautiful Walks Around Dunedin, New Zealand
11 Things to Do in The Catlins in 2 Days (New Zealand)
A Guide to Exploring The Cave Stream Scenic Reserve (New Zealand)
---
---
Busy? Click the picture to Pin this for later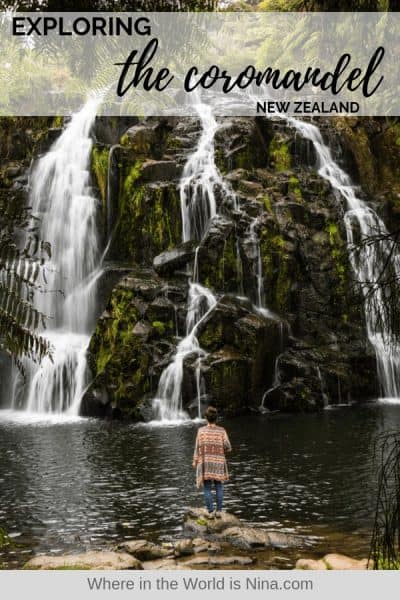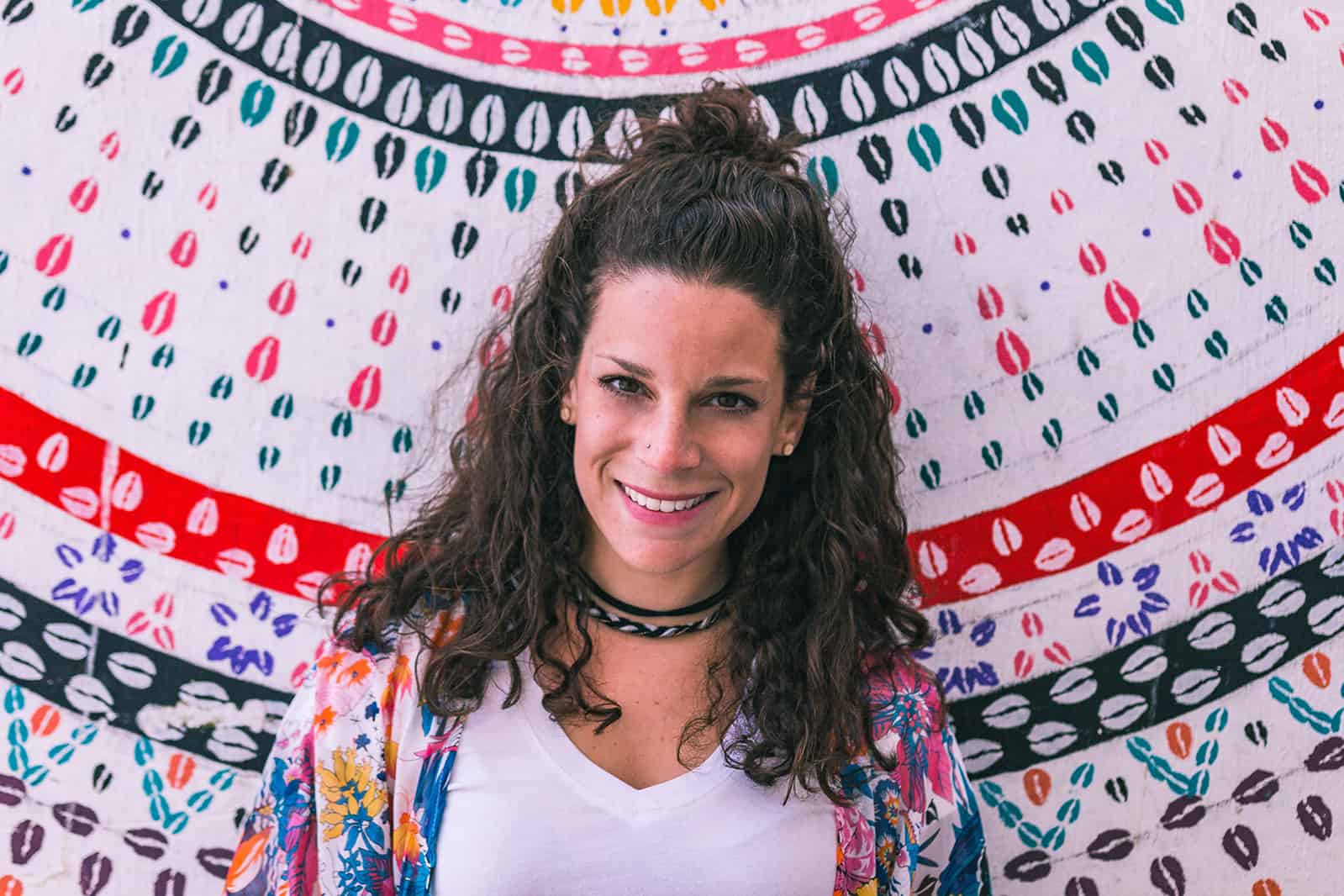 Nina Ragusa is an adventurer, messy bun master, breakfast fan, and full-time travel blogger. She's been abroad since 2011 and blogging on Where in the World is Nina? for nearly as long. Nina helps people like you move around the world while making money. She loves talking about how to work abroad and online to travel longer!