Often overlooked by those wandering around Dunedin or heading around Invercargill, The Catlins sits pretty at the southern tip of South Island, New Zealand just waiting for people to pass through.
Or not.
I'm kind of surprised I didn't see many people here as it's an easy area to explore, there are waterfalls (hello!), and you can wander through and see most of the spots in less than two days!
So what are the things to do in the Catlins? Yay! Glad you asked. My friend Jub and I road tripped through here for two days and here's what we got up to.
HINT: You're about to discover lots of Catlin waterfalls…
Don't lose this! Click to pin it now.
Things to Do in The Catlins in Two Days
---
1. Waipohatu Trail
I'm still in shock that this trail isn't super popular and overrun with tourists although, I'm thrilled that it isn't. I'm almost unsure if I should post about it…?
Let's keep it between you and me, this waterfall in the Catlins is worth it! And perhaps the best thing to do in the Catlins according to me.
Your hike will start quite muddy, particularly if it's been raining. You won't come out too clean, so don't wear anything you don't mind getting a bit muddy. There are some logs to help you stay out of the mud but no guarantees!
We did the in and out trail as opposed to the loop as it would have added extra time, but there wasn't much to see on that side. Were here for the waterfall! Or should I say… waterfallS.
We were expecting one waterfall, but instead, we got TWO!
I have to recommend that you turn left at the fork first, and visit the first waterfall there. Then come back and turn right. You'll know why once you get there!
I'm hesitating on putting up both pictures of this waterfall. I think I'm ruining the surprise element by posting both pictures so I'll just say that both pics are in this post and you're about to see the second one right now… 😉
The hike will take a little over an hour round trip but add in another hour or so to play and take pictures.
2. Slope Point
The view here is OK, it's a short walk, and it messed up my hair.
Why on earth would I tell you to go here then?
Because of the wind! Seriously, it's the only reason it's on this list of things to do in the Catlins, and I'd go back to experience the feeling of literally being almost blown away.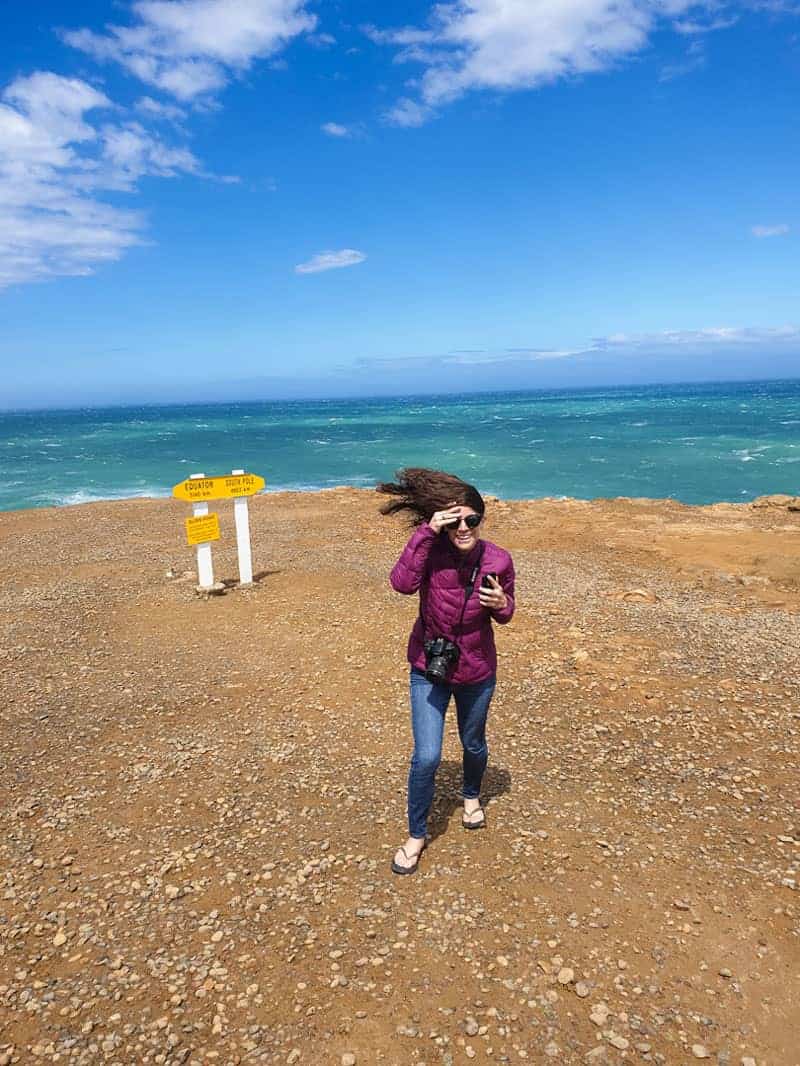 The wind here is the strongest I've ever felt, even worse than Iceland, which is pretty damn windy.
I really felt like I was going to lift off the ground and get tossed through the air! There are cliffs here, so be really careful, I can't tell you how windy it is, it's pretty crazy! I couldn't even hear Jub at some points and we were yelling at each other.
This is the most southerly point in South Island too. So while you won't get blown away by the views (although they are pretty nice), you'll definitely get blown away, literally.
3. Curio Bay
Skip this spot! UNLESS…
You come during sunrise or sunset or at the perfect season. We came mid-day in February, and while the cliffs and petrified forest were lovely, we went for the animals and didn't get to see any! Boo.
While this is a popular thing to do in the Catlins, you have to come at the right time and have a little patience. Those who do come will be rewarded with adorable but super shy yellow-eyed penguins, some playful seals, and friendly dolphins!
The penguins particularly are only out at certain times; I think we just got unlucky. I've spoken to people who saw the penguins roaming everywhere, even the parking lot during midday! Cruise through and see what's happening, it's mostly on the way anyway.
4. Koropuku Falls
An epic little surprise! I literally slammed on my breaks when I passed the small sign and immediately put my shoes on.
After a bit of mud, we started to hear the trickling of a waterfall, and it was quite a nice one too! We didn't have high hopes for this Catlin waterfall because it was a total surprise and usually nicer falls are popular.
Another total surprise was me falling in… Oops.
The glorious evidence of the fall for your amusement: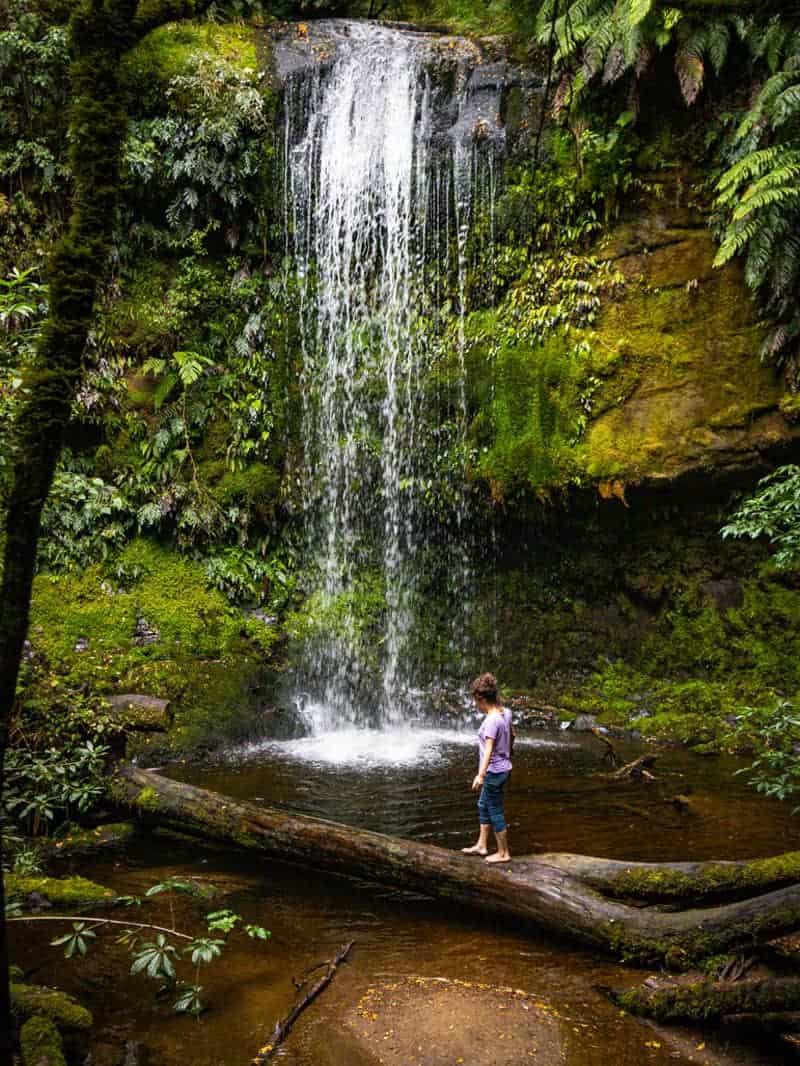 Well, I am clumsy so perhaps not a total surprise but I was convinced I was going to make it, and I did! Until I didn't… I slipped right off that slick tree trunk and into the icy water. While wearing jeans. And with my phone in my pocket (thankfully in a Lifeproof case).
The hike out here is worth it as it's only about 20 or so minute round trip not including the hang out time.
5. McLean Falls
This is one of the most popular of the Catlins waterfalls and for a good reason. It's very beautiful, tall and best of all, effortless to get to!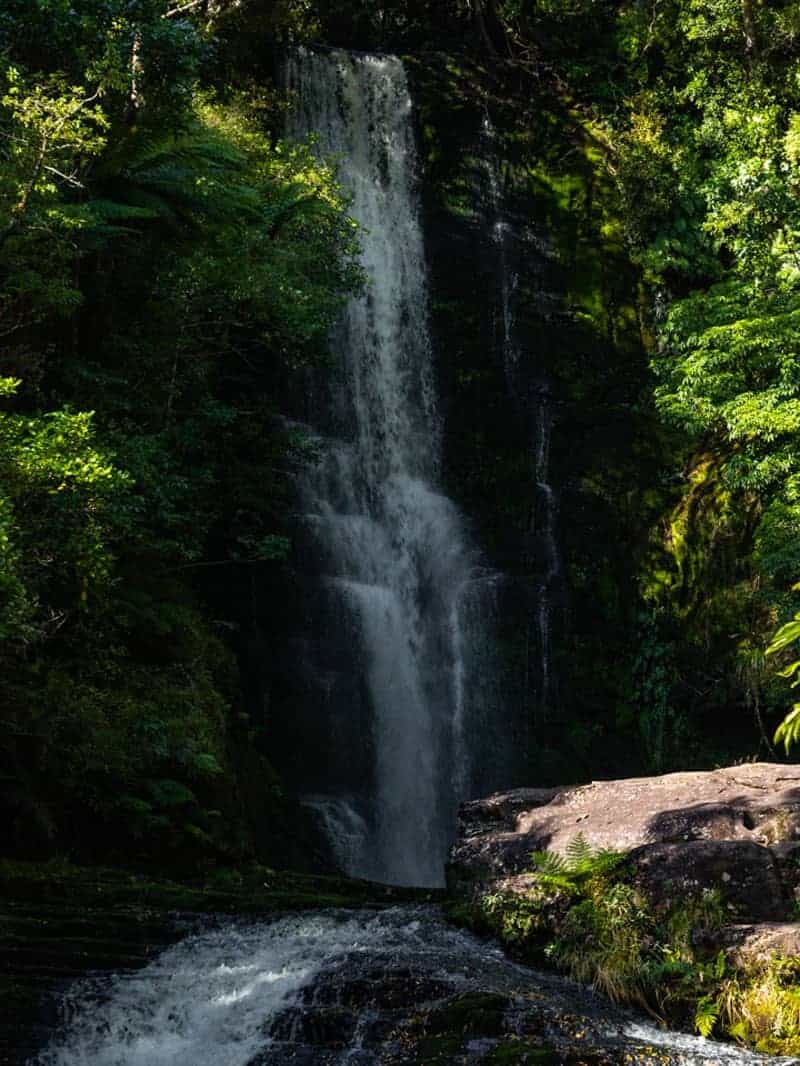 Luckily we came later in the day, so there was hardly anyone here, which was a pleasant surprise.
The hike is only about 20 minutes round trip not including the time you spend at the falls. You'll pass The Chute, a smaller waterfall just before you get to this one.
6. Cathedral Caves
This is one incredible ocean cave open to exploring! It's pretty epic and quite exclusive considering you can only access it during one small window of time a day—during low tide.
When you get here, you'll hike down a path for about 20 minutes and then walk along the beach to the cave. Enter the first small cave you see and then come out the other end to be astonished at the massive gaping cathedral before you.
It's pretty darn cool to see something so large that's been pummeled into this massive sea cave by the water and wind.
Do note this place is a favorite thing to do in the Catlins. Considering you can only get here at low tide (seriously, don't try coming any other time, it's hazardous!) everyone is visiting around the same time.
My best advice is to come at the very beginning of low tide; you can check the tides here.
This is what we did, and when we were leaving, there was a line to park! Early bird gets the cave…
7. Lost Gypsy Van
What an adorable and funky spot! I'm all about the weird and bizarre stuff and this ticked the box.
This lost gypsy van is full of crazy nick nacks, random memorabilia, microchips on the ceiling, little disco balls in the corner, outside benches with socks and hiking boots, random experiments by the owner, a "swimming metal shark" and a "biking skeleton" … yeah, it's weird, and I loved it.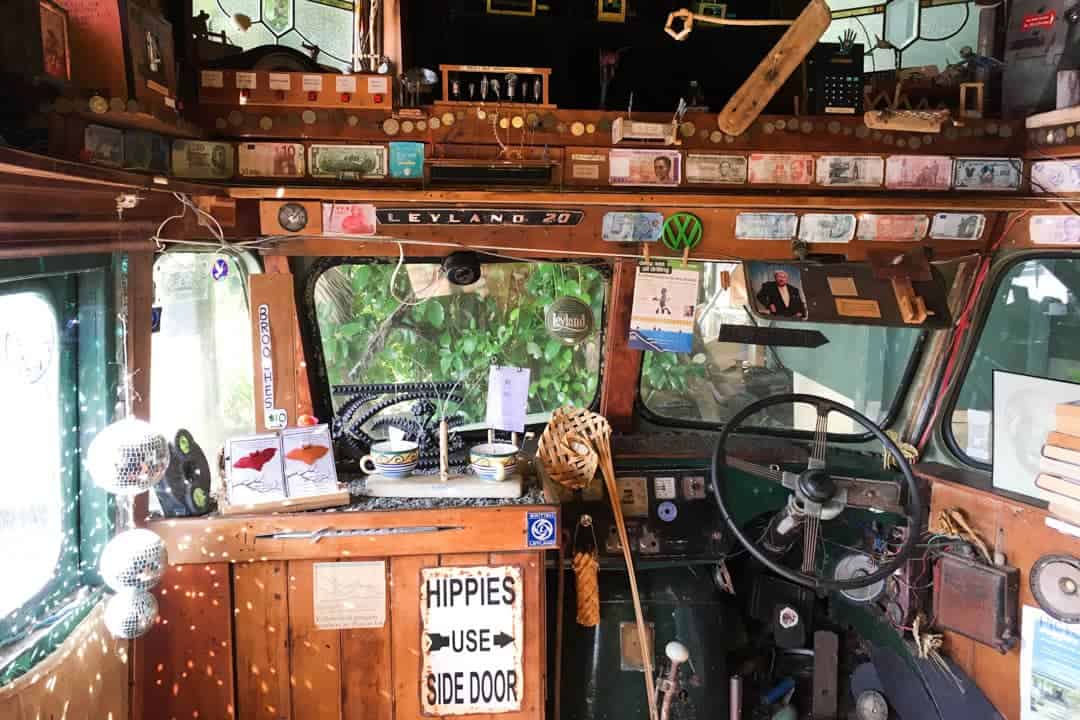 There's also a little food cart and coffee hut here!
In Owaka, we also paid a little visit to Teapot Land, so for those who are lovers of the weird and wonderful, here are two cool places in the Catlins to get your fix.
8. Matai Falls
This was a nice waterfall until they ruined it with a viewing platform. I much rather scramble all over rocks to get to my waterfalls and be able to view without obstructions. It's a bit more popular, so they had to make it I guess?
There's another smaller waterfall at the top of this one to visit but this one is the better looking one. It's a super easy walk and should only be about 20 minutes round trip.
9. Purakaunui Falls
Another super easy waterfall in the Catlins to reach, it's almost too easy… Unfortunately, Purakaunui is the most popular Catlins waterfall, and there were tons of cars and tourists buses at this one.
Also, another viewing deck! So it kind of ruined the vibe but that's ok! I had my private waterfall fixes already so I guess I can share this one… 🙂
The waterfalls here will also be nicer if it has been raining lately so keep that in mind! They might be a bit dribbly rather than full and gushing.
10. Barrs Falls or Fish and Chips?
Speaking of rain and gushing… Barr Falls would have been awesome in those conditions! But fortunately, we didn't get much rain when we were here… So that left Barr Falls a bit dry. So if it's been raining, this is a lonely waterfall in the Catlins that many don't visit, so definitely pop over after a rainy week.
Since there wasn't much to see when we got here, we went for fish and chips in Owaka, as one does when a waterfall is dry. Apparently.
11. Nugget Point
Surely you've seen pictures of Nugget Point on the many places to see in the Catlins lists, no? I'm sure you have, and yes, it's as pretty "as advertised," and I do recommend coming here. While sunrise is supposed to be the best time to visit, I really couldn't be bothered to peel myself out of bed that early and drive the windy road up.
Maybe you're a better traveler than me? If so, definitely go for sunrise!
Otherwise, the rest of us who love their sleep will still get some sick views any other time of the day. Surprisingly, even though it was a bit later in the day, it wasn't that busy. This is one of the most popular things to do in the Catlins so hopefully you get as lucky as I did.
Walk up a short trail and you'll be at the lighthouse overlooking those cute little budgets AKA large massive rocks that are getting pummeled by the tides coming in and out every day.
Although this is the viewpoint, I think the better angle is before you hike up the lighthouse so you can capture a nice picture of the lighthouse AND the nuggets together! (I have no idea why but I find the use of the word nugget here so endearing and I chuckle every time.)
What NOT to visit: Niagra falls. Seriously, guy, don't go. I know this is on the list of Catlin waterfalls to go to but it's not a funny joke. It's so lame and a waste of time. It's a literal river with a ripple in it. It was supposed to be ironic, but I didn't find too funny… I'm a grouch. I know.
So when you see the signs, save those precious moments and continue driving.
Where to Stay in the Catlins
For those with a campervan, a free campsite just the start of the Catlins if you're coming from Invercargill, is Fortrose Campsite. It's just a simple bathroom to use and a parking spot on the coast. This is where I parked my first night.
Catlins Newhaven Holiday Park offers affordable private bungalows, each with a balcony and kitchenette. You'll be just a 5-minute walk from the shores of Surat Bay and the resident Hooker's sea lions.
The Whistling Frog Resort is perfectly located nearly in the middle of this list of things to do in The Catlins so you could stay here both nights. Even better is that they offer reasonably priced rooms AND campervan sites. I parked my van here for a night. It was great to do laundry, use a kitchen that's not in a van, and of course, get a coveted hot shower.
Hill View Campsite is a bit towards the end of the above Catlin itinerary and would be a great base to jet off to Nugget Point first thing for sunset. They have budget options for singles and double room bunk beds AND are a campervan site. There's a small kitchen and showers you can use for a few extra coins. I parked my campervan here for a night.
For another option near Nugget Point, Surat Bay Lodge and Backpackers offers dorms to sea view rooms.
Tips for Exploring the Catlins
You have to download Maps.Me to make sure you have a map for any of the trails and waterfalls listed here. While they are all decently trodden and noticeable, it's a good thing to have.
Don't forget a tripod if you want long exposures of waterfalls! Here's the tripod I travel with to get pictures of the waterfalls looking all beautiful and silky.
Be prepared to drive on some gravel roads. Regular cars are fine to get through it but just be aware.
The waterfalls all get pretty muddy after it rains, wear good shoes!
More Around the South Island of New Zealand
Are you off to chase waterfalls in the Catlins? Let us know all about it in the comments!
---
---
>>> EVEN MORE ABOUT TRAVELING NEW ZEALAND <<<
Work & Travel New Zealand: Get a Working Holiday Visa for New Zealand
A 5-Day Queenstown Itinerary For the Intrepid (New Zealand)
2-Week North Island, New Zealand Road Trip Itinerary
New Zealand Road Trip Itinerary—2 Weeks to 2 Months + Costs and Tips
50+ of the Best Hikes in New Zealand & Hiking Tips
Campervan Sites in New Zealand + Camping and Food Tips
Campervanning New Zealand: Buying, Selling, Renovating, and Tips
New Zealand Travel Tips + A Budget Breakdown
Piha & Waitakere Ranges Walks, Waterfalls, and Beaches—New Zealand
A Guide to The Pouakai Circuit & Hut at Mount Taranaki (New Zealand)
11 Fab Things to Do in The Coromandel, New Zealand
Epic Things to Do in Rotorua—Hot Pools & Adventures
7 Tips For The Cathedral Cove Walk in The Coromandel, New Zealand
A Guide to Hiking The Kepler Track in Fiordland National Park, New Zealand
5 Epic Hikes in Mount Cook National Park That Are TOTALLY Worth It (New Zealand)
A Guide to Hiking French Ridge Hut in Aspiring National Park (New Zealand)
A Guide to Hiking the Mueller Hut Track & What to Pack (New Zealand)
Hooker Valley Track: The Easiest & Most Beautiful Hike in Mount Cook NP (New Zealand)
Guide to the Routeburn Track: Should You Do It as a Day Hike? (New Zealand)
Hiking Roy's Peak & How to NOT to Wait in Line For A Pic (New Zealand)
A Guide to Exploring The Cave Stream Scenic Reserve (New Zealand)
---
---
Busy? Click the picture to Pin this for later