If you're over the city life, the Waitakere Ranges and Piha Beach are almost literally in your backyard. Around an hours drive to the northwest of Auckland, New Zealand you'll be immersed in thick native forest, surrounded by surf, and have rushing waterfalls to explore.
I LOVED this little pocket of New Zealand's North Island and with just a couple days you can see everything on this list.
Don't lose this! Click to pin it now.
Waitakere Ranges Walks
---
There are plenty of beautiful Waitakere Range walks and they are just outside the city. The best part is everything on the list here is something free you can do from Auckland. I did everything on this list in about two days.
Mercer Bay Track
Distance: 2.7 km | 1.7 mi
This is a beautiful cliffside trail featuring ocean views for days and little outcrop viewpoints to peep below at the raging ocean. I did a short sunrise hike here, and it was beautiful!
If you're in a campervan, you can comfortably camp at the parking lot here and hike in the morning. (Check the Camper Mate app for more details on camping here)
Lion Rock
Distance: 0.5 km | 0.3 mi
Sixteen million years ago, a volcano erupted, and this is what's left!
This hike is super easy but steep and due to rock falls, you can't access the very top, but the views from just below the peak are still worth the trek up. You get views of either side of Piha Beach after hiking up this famous peak.
Tasman Lookout
Distance: 1.1 km | 0.7 mi
If you fell in love with Lion Rock from seeing it from Piha Beach, you can get an even better look at it from the Tasman Lookout trail. The best part of seeing a pretty peak is to NOT be on top of it, right?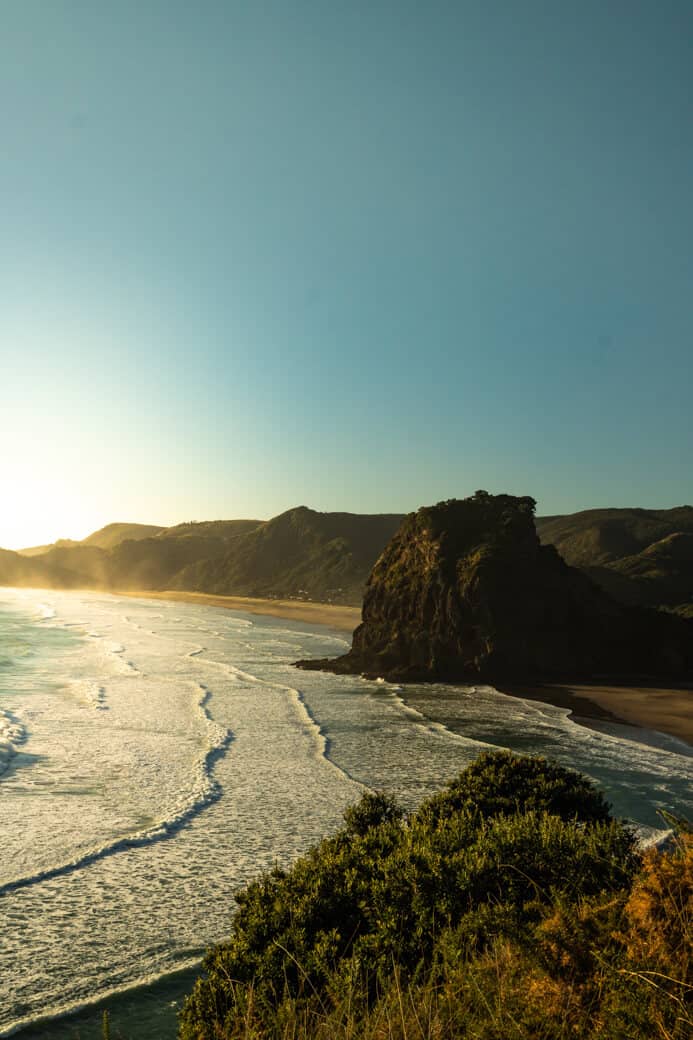 So trek up the easy path and get a glimpse at Lion Rock from the south end of Piha Beach. Continuing along you'll get some more views of the crazy rocks getting smashed by the waves. This was my favorite Waitakere Range walk!
Waitakere Range Walks with Waterfalls
---
Mokoroa Waterfall
Distance: 6.0 km | 3.7 mi
This is a cool Waitakere Ranges walk IF it's been raining. The walk itself is relaxed and takes you through New Zealand's native scrub and trees and leads you to a platform just above the two falls.
They both fall into the same pool below, which is quite impressive; however, these falls are best visited after some rain; otherwise, they are a bit more of a trickle. You can tell my visit was a bit dry.
Nihotupu Dam Track and Falls
Distance: 2.5 km | 1.6 mi
Here's a quick and easy walk in the Waitakere Ranges featuring two waterfalls, a lake, and a dam. Stroll through native bush, scramble down some rock to get a closer look at one of the waterfalls and peer over the edge of the dam.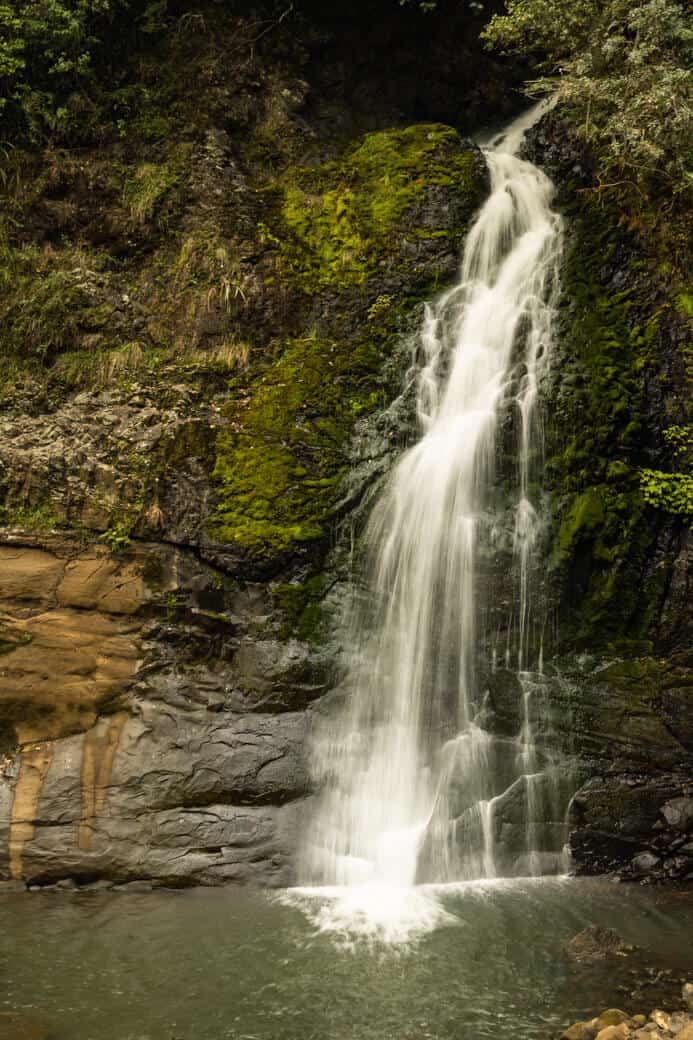 It's an excellent place for a picnic if you bring some sandwich with a cute picnic spot at the base of the dam. You'll have the rushing of the water just behind you and some old train tracks too.
Karekare Falls
Distance: 0.8 km | 0.5 mi
Don't you love when you get rewarded for barely any efforts?
That's the case with Karekare Falls. Dropping 30 meters from a cliff, Karekare Falls is certainly worth the five-minute walk from the Karekare beach carpark.
Kitekite Falls
Distance: 3.5 km | 2.2 mi
This waterfall is relatively easy to reach as well and provides an even better reward to those who visit. It's a multitiered waterfall that at first, peeks through the bushes after about a 40-minute hike.
Take a few more minutes to hike to the base, and you'll feel the power of the water rushing down. This waterfall near Piha Beach is probably the most beautiful in the area! If you're brave enough to swim at Kitekite, you can continue hiking to the top for a dunk in the top pool.
RELATED: Things To Do in Northland, New Zealand.
Whatipu and Piha Beach
---
If you're in need of some beach life without getting too far out of Auckland, these are two great choices!
Whatipu Beach
You'll need to work for this spot. After driving down a lonely 5km gravel road you'll eventually come to a dead end with a small lodge and a campground.
Take in the seclusion as it's hard to find beautiful places like this just outside a big city! We arrived at night to a starlit sky and slept soundly at the campground only to wake up and be greeted with lush hilltops and the sounds of waves crashing on the black sand.
The campgrounds are simple, a small hut for cooking and compost toilets. But take a 10-minute stroll, and you'll have a massive beach all to yourself. There's black rock jutting out from the ocean and charcoal sand beneath your feet. The beach is gorgeous and hardly visited due to the trek out here.
Near the campground, there are also a few caves to explore which were used for shelter by travelers and timber-mill workers in the twentieth century.
Piha Beach
Damn this is one hell of a beach! Lion Rock sits pretty right in the middle; the Tasman Lookout hike is just to the south of the beach and surfers flock to the water for the opportunity to ride a wave back in.
This is one of the most popular places to surf in the country and being that it's so close to Auckland, it's easy to see why. The beach is massive, which provides plenty of space for people to sprawl out with a picnic or to rest after a wicked surf.
You can rent boards from numerous spots on the beach or sign up for a lesson here.
Is There More to See in the Waitakere Ranges?
YES! But whether or not it's open is another question.
Unfortunately, there's something called Kauri dieback disease which is a fungus that spreads very easily amongst the plant life here.
You'll notice on many of the trails that there's a cleaning station. You're required to clean your shoes before and after entering the trails to prevent this fungus from spreading in other areas of New Zealand and the Waitakere Ranges.
There are plenty of other things I wanted to do around Piha's beaches and the Waitakere Ranges but unfortunately, they were closed at the time I was there. You can find out more information on the Kauri dieback and which trails are open or not here. The closures and opening of the trails are constantly changing.
Before taking on my recommendation above it would be worth checking to make sure that nothing has changed and the trails are still open.
More Around the North Island of New Zealand
Are you going to check out the Waitakere Ranges walks and Piha Beach? Let us know in the comments!
---
---
>>> EVEN MORE ABOUT TRAVELING NEW ZEALAND <<<
Work & Travel New Zealand: Get a Working Holiday Visa for New Zealand
A 5-Day Queenstown Itinerary For the Intrepid (New Zealand)
New Zealand Road Trip Itinerary—2 Weeks to 2 Months + Costs and Tips
20+ Day New Zealand South Island Road Trip Itinerary
50+ of the Best Hikes in New Zealand & Hiking Tips
Campervan Sites in New Zealand + Camping and Food Tips
Campervanning New Zealand: Buying, Selling, Renovating, and Tips
New Zealand Travel Tips + A Budget Breakdown
A Guide to Hiking The Kepler Track in Fiordland National Park, New Zealand
5 Epic Hikes in Mount Cook National Park That Are TOTALLY Worth It (New Zealand)
A Guide to Hiking French Ridge Hut in Aspiring National Park (New Zealand)
A Guide to Hiking the Mueller Hut Track & What to Pack (New Zealand)
Hooker Valley Track: The Easiest & Most Beautiful Hike in Mount Cook NP (New Zealand)
Guide to the Routeburn Track: Should You Do It as a Day Hike? (New Zealand)
5 Things to Know about Milford Sound, How to See It and Is It Worth It? (New Zealand)
Hiking Roy's Peak & How to NOT to Wait in Line For A Pic (New Zealand)
An Adventurer's Guide to Exploring Lake Tekapo, New Zealand
4 Easy But Beautiful Walks Around Dunedin, New Zealand
11 Things to Do in The Catlins in 2 Days (New Zealand)
A Guide to Exploring The Cave Stream Scenic Reserve (New Zealand)
---
---
Busy? Click the picture to Pin this for later