Mount Cook (Aoraki) National Park is quite possibly one of the most beautiful places I've ever seen.
And the best part about it is its accessibility. You're stunned by the astounding scenery before you even make it within the boundaries of the National Park.
The drive alongside the milky blue Lake Pukaki with the towering mountains, including Mount Cook, just ahead of you will have you picking up your jaw from the floor the entire time.
Mount Cook National Park boasts an atmosphere one expects to work really hard for. Surely seeing this beauty doesn't come easy, right?
Wrong!
Want to see Mount Cook, the country's tallest mountain? No problem, it's literally right there! Want to get great views? You barely have the leave the campsite. Don't want to walk far? There's a track that's less than two miles featuring stunning views of Mount Cook and Mueller Lake. Don't have a lot of time? You can at least do two of these hikes in a day!
Aoraki / Mount Cook National Park's scenery shows off some of New Zealand's most epic landscapes and it's not to be missed. Here are five very worth it hikes to make the most of your visit.
(PS- Aoraki is the Māori name of Mount Cook in case you see that name and get confused!)
→ Obviously you love hiking! Here are 50+ hikes in New Zealand for you check out!
Don't lose this! Click to pin it now.
5 Epic Mount Cook National Park Hikes
---
Below are actually over five trails you can hike in the area. Some have add-on options to make your hike longer (and thus, more epic.) All of the distances are round trip and the difficulty is relative but I used a combo of Alltrails.com/my experience on these trails to at least help you decide if the hike is right for your fitness level.
Please note my tips below! Mount Cook National Park is GORGEOUS but it comes with its dangers. Be prepared, be safe, and have an epic time. 🙂
Kea Point Hike
Distance: 2 miles
Trailhead: White Horse Hill Campsite
Difficulty: Easy
A short and sweet way to dip your toes into the magical land of Mount Cook National Park. If you're getting in a bit later, need an easy day, or just a morning perk, this is the hike for you.
It's only around a two-mile round trip, and there are scenic views the whole way.
You'll see far away waterfalls streaming down from the glaciers and feeding Mueller Lake down below, which then flows through the stunning and flat Hooker Valley that you saw as you drove in.
The gravel track will take you down to the end and back in, getting you stoked for the rest of the hikes in the area. If this easy Mount Cook hike is this stunning, just wait for the rest!
Red Tarns Hike / Continue to Mount Sebastopol
Distance: 1.5 miles / 2.5 miles**
Trailhead: Mount Cook Village Public Shelter
Difficulty: Easy / Moderate**
This just may have well been the favorite of all of the hikes! The Red Tarns Hike is a decently well-trodden pathway that is mostly stairs up to, well, the Red Tarns!
A few "red" pools are before you (due to a weed that grows in them), but really, your eyes are drifting up at the spectacular mountains, including the peak of Mount Cook, that's right before you.
The loop at the top, which is along a wooden plank walkway, brings you back to the stairs and back down again.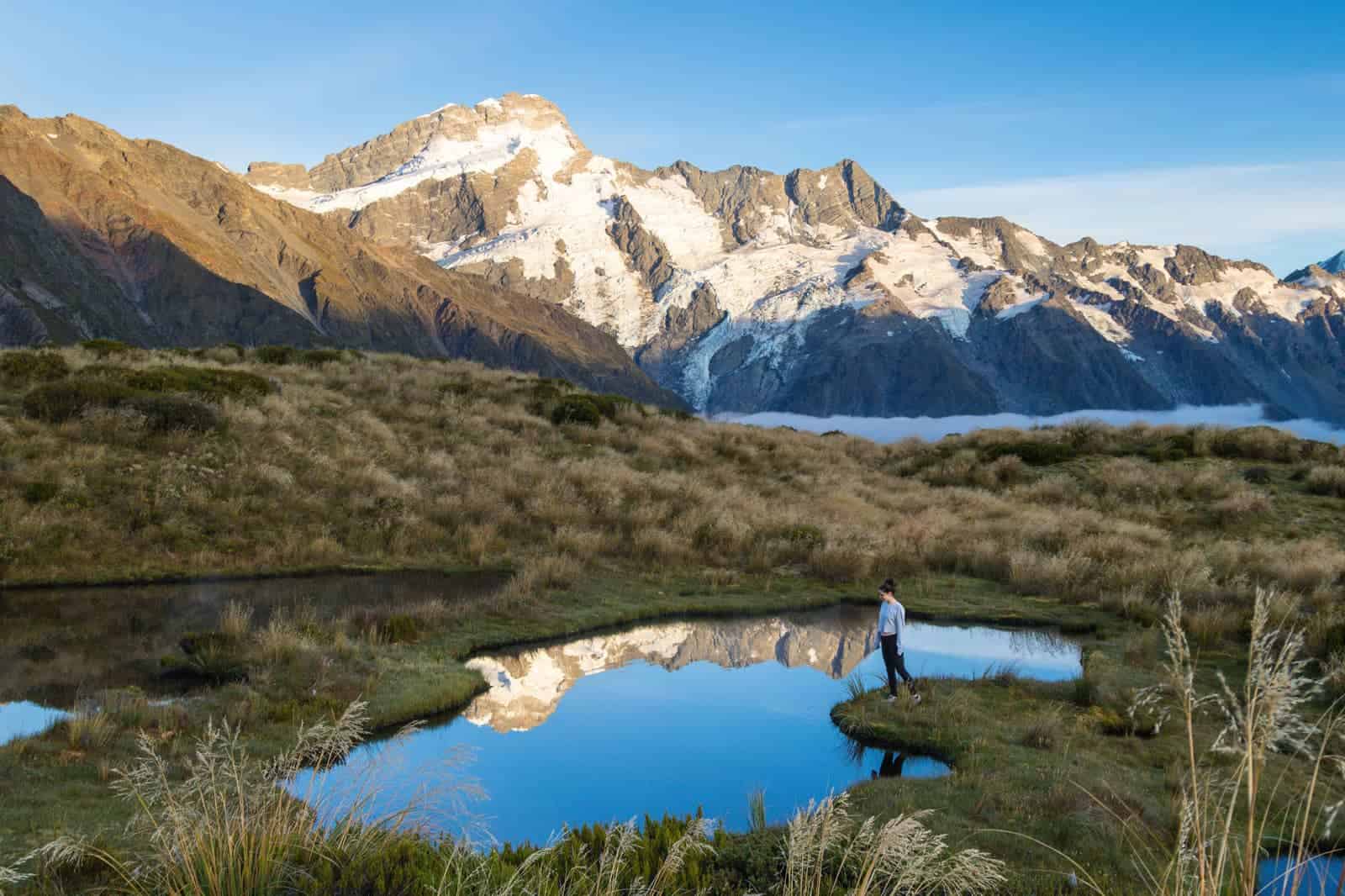 Now to get to Mount Sebastopol, you'll have to clamber up some rocks, through bushes and go up on the mountain a bit more. Instead of following the wooden plank loop at the top, go left before the wooden platform starts and head up. It's only a few more minutes to the top, and you'll get the incredible views you had at the Red Tarns spot, with an added striking view of Hooker Valley, and an even better vantage point of Mount Cook.
I happen to do this entire hike in the dark and was at the top for sunrise. I'll let the pictures do the talking to convince you to start early (the feature image of this post was also taken walking down from the Red Tarns—it was an accident shot and is my fav photo of my trip here)! However, this hike is excellent either way. It's hard to see anything terrible at Mount Cook National Park.
While everything is uphill and a bit steep at times, if you have a decent level of fitness, and if you start at any time before the high heat comes in (if you're here in summer) then you can do this hike.
The most incredible thing about going up during sunrise is the opportunity to hike with a flock of Keas. These Alpine parrots are adorable, cheeky, and curious about you.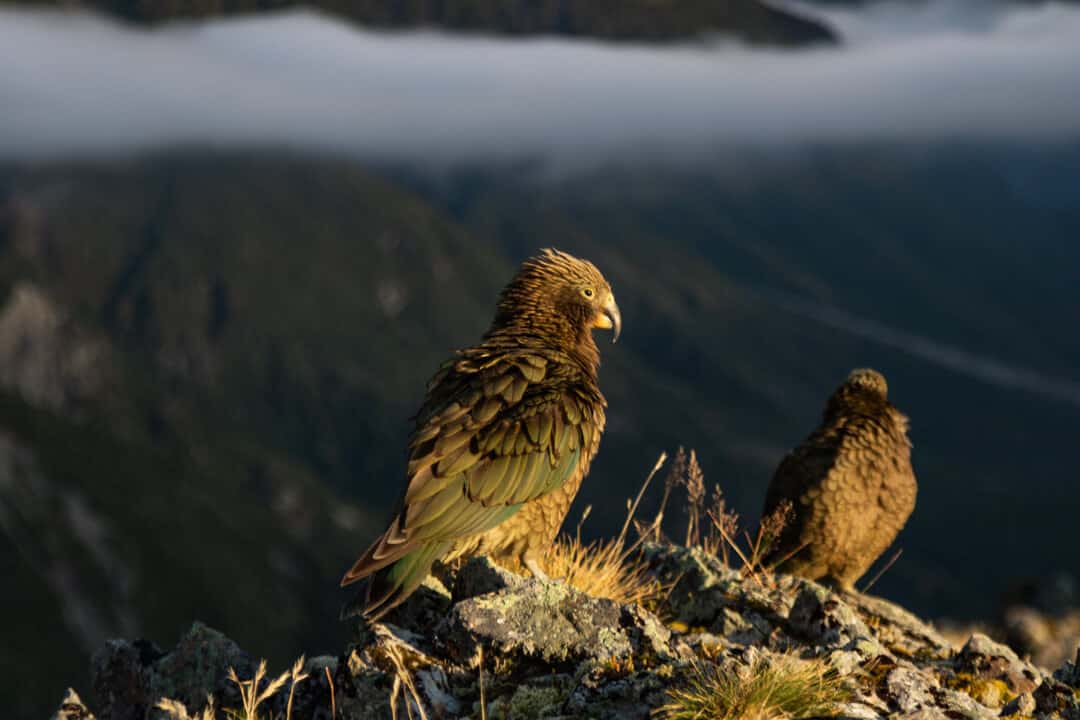 We had them coming up close a few times, enough for me to get some decent close-up shots! They will go through your stuff though, so keep your stuff close.
**NOTE: The Red Tarns Trail is marked and measurable, hiking the rest of the way to Mount Sebastopol isn't (well, it is, I'm just terrible and didn't remember to record the distance, let me know if you do this hike and you measure it!). I'd estimate at least another half-mile or so up to the summit and then a bit more for prancing around. Then another half-mile or so to come back down. Considering the Red Tarns hike is all stairs, it's easy but hiking to Sebastopol would make this more of a moderate hike.

You will be going through some brush (so pants would be wise) and a bit of scree but it's not overly difficult and if you're doing it at sunrise, it's that much easier since you're not roasting in the sun.
Tips:
Don't forget a headlamp if you're coming for sunrise; it's dark.
Don't forget to look up if you're up before sunrise, it's f*cking magical how incredible the sky is in this park at dark. In fact, I urge you to get up in the middle of the night and just stare at the sky.
Wear layers. If you're going towards sunrise or sunset, or even if it's overcast, you'll want layers when hiking. It gets cold quick, yes even in summer when I was here. In fact, I didn't bring gloves and my hands were frozen at the top.
When you get to the loop at the top and see the tarns, there's a boardwalk that begins here. DON'T walk on this boardwalk, immediately go left and up to get to Sebastopol. Then come back down the same way and continue on the boardwalk.
Hooker Valley Track
Distance: 6.5 miles
Trailhead: White Horse Hill Campsite
Difficulty: Moderate
This is the classic hike to do in Mount Cook National park. Everyone who comes here does this hike. While it's technically rated as a moderate hike, this hike is quite easy, and really the only reason it's moderate is because it's a 10km/6.5-mile fully exposed hike.
Sounds intimidating in length, but I can assure you, every step is worth it.
The trail is well maintained, obvious and brings you to the sparkling Hooker Lake framing Mount Cook in the distance perfectly.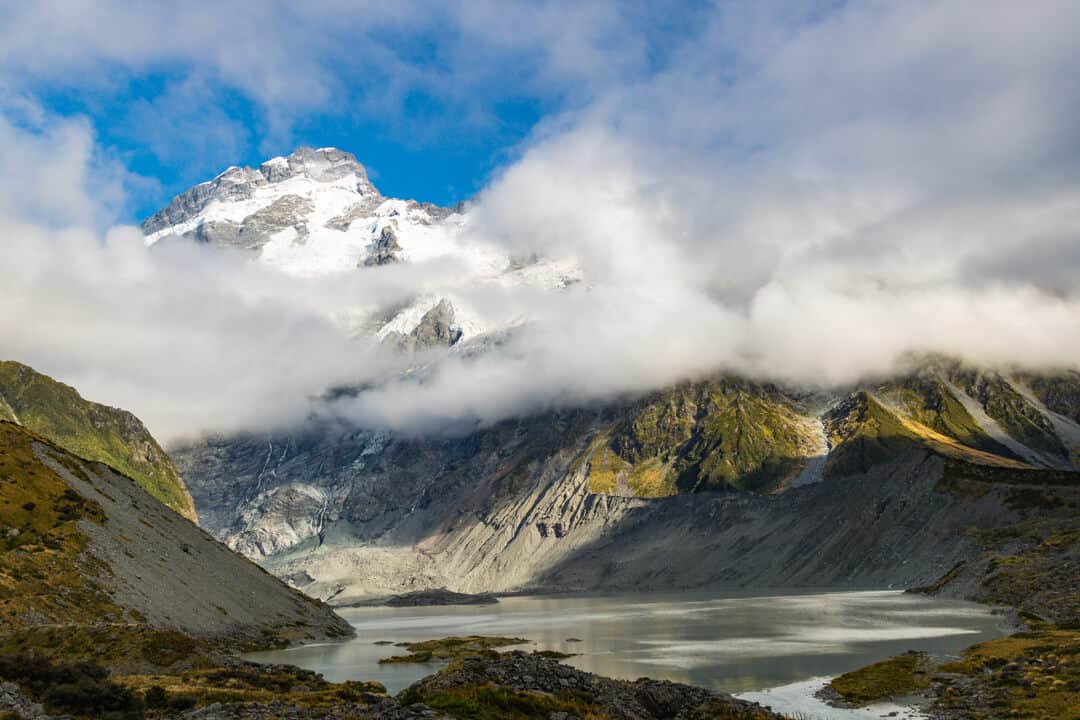 Depending on when you're here and what activity has been happening in the mountains, you may have some icebergs floating around the lake, some hop in for a swim!
If you're low on time, you could always do just part of this hike; every inch is picturesque. You're hiking in the valleys of the Southern Alps of New Zealand, and you're heading for the tallest, Mount Cook.
On the way, you'll cross three suspension bridges and be surrounded among glaciated beasts.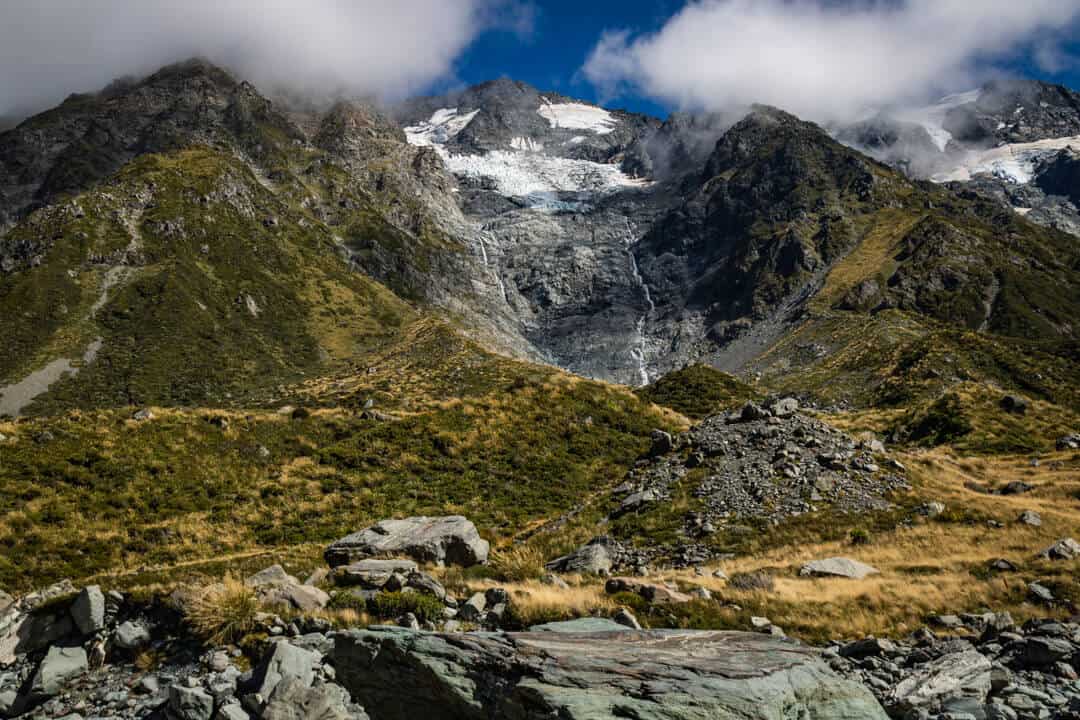 Tips:
Start earlier rather than later… unless you want to go much later. You should try to do sunrise or sunset, or at the least, start before 9 to avoid the crowds. I was here in high season, and I started at 9:15 am. There were other people but it was reasonable. It was getting a bit mad while I was going back and people were just headed in. I'm happy I didn't start a minute later.
Bring water and sunscreen; it's hot in the summer and the area is fully exposed.
BUT you should still bring layers. I was cold in the morning, but by the time I was walking back, I was sweating.
Read more about hiking the Hooker Valley Track.
Tasman Lake & Blue Pools Hike
Distance: 1.8 miles
Trailhead: Tasman Glacier Car Park
Difficulty: Easy
It's called Mount Cook National Park for a reason; you see him/her (?) everywhere you go, just from a different and often equally as incredible angle. You'll notice Mount Cook to the left of you now as a backdrop to the ever-changing Tasman Lake.
I was here during calving of the ice—it was splitting off and floating down towards the bottom of a lake for a crazy iceberg spectacle. There were so many getting pushed down with the winds away from the glacier; it halted the tour boats and it plunged in the water creating waves and breaking the jetty!
You can't help but feel sad and wonder about the ice breaking, but I also must say, it was quite beautiful too! You can quickly get to the Tasman Lake by the parking lot with just a few minutes trekking in. Then you can take a further loop around to the Blue Pools which are not very blue but still nice!
There are three to visit along a well-trodden path along an easy loop.
Sealy Tarns Hike / Continue to Mueller Hut
Distance: 2.8 miles / 4.9 miles
Trailhead: White Horse Hill Campsite
Difficulty: Moderate / Hard
Quite possibly my favorite on the list but I may be a bit biased because I stayed in Mueller Hut for a night, making the hike all that more magical. The hike to Sealy Tarns is gorgeous; there's no doubt. You have views of the valley and, if it's not hiding, Mount Cook too.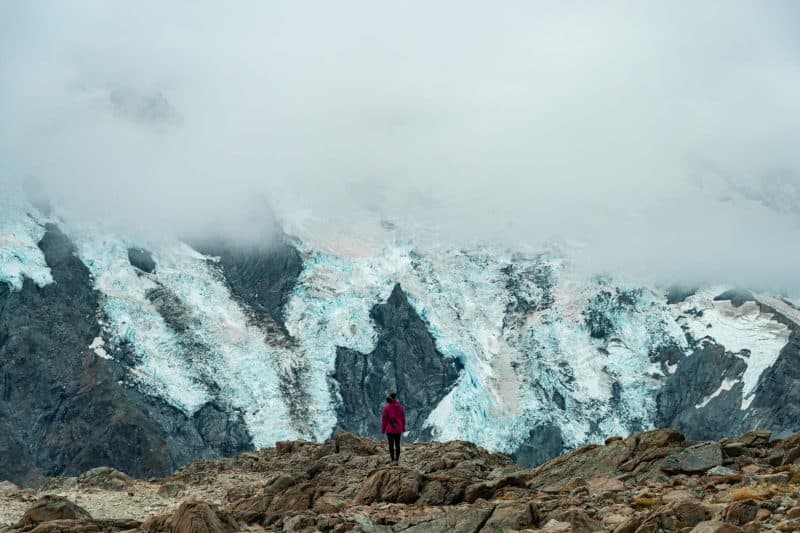 However, the hike feels a bit unfinished. There's no summit here and the hike sort of ends on a ledge after a series of 2000 something grueling steps. Most will stay here, picnic, and then head down, but those who are up for a further challenge, will continue to the summit and make it to Mueller Hut.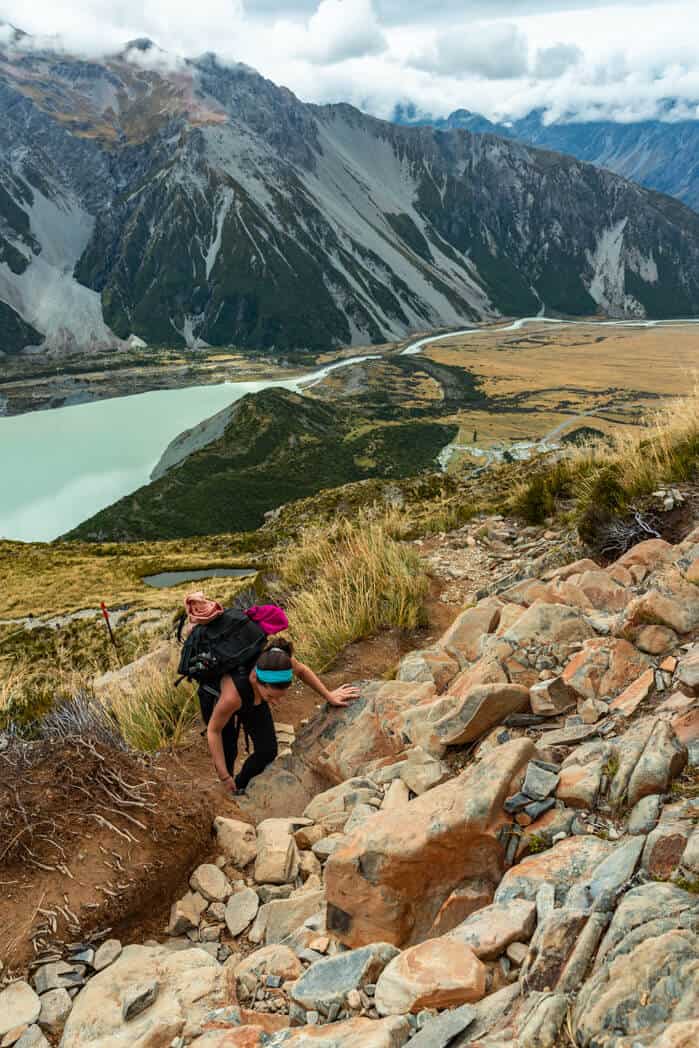 Getting to Mueller Hut and back down in a day is possible and people do it all the time. It's going to be a long day, but it's doable. You'll need to be a pro rock scrambler as the stairs you just took are long gone, and it's just you and some massive boulders for a few hours until you get to the hut.
If you're up for staying at the hut, which I do recommend, then you'll have the opportunity to see sunset and sunrise here, which is nothing short of spectacular.
If you're curious about hiking and staying in Mueller Hut just read my post! There's A LOT to know before going.
RELATED: 50+ Epic Hikes in New Zealand + Tips
Why Should You Do These Mount Cook Hikes?
Three of these hikes share a trailhead, and the other two are easily reachable, making these hikes easy to get to for those without much time on their hands.
Except for getting to Mueller Hut, the hikes are relatively easy-moderate.
All of these hikes can be done in a day, yes, technically Mueller Hut too!
It would be impossible for this area to get any prettier; they are all worth it.
Tips for Hiking in Mount Cook National Park
Always bring layers because even in summer I got cold. Sometimes it was just a matter of being in the shade… Wear/bring layers all the time.
You're in alpine climate. Continuing on the last note, alpine climates can change in a blink of an eye and you need to be prepared. Bring the gear that's required, bring a rain jacket so you're not stuck on a mountain in the cold and soaking (yes, even if it's sunny when you leave), bring a few extra snacks and ration your water just in case. The weather gets seriously crazy here.
Water refill isn't a thing while on these hikes so always bring enough. You can fill up at the White Horse Hill Campsite. The only exception is you can get water at Mueller Hut.
The sun here is no joke, like, wtf. I'm Floridian, and I thought the sun was bananas here. The missing ozone layer is a real thing, and the sun will cook you in under 5 minute some days (not exaggerating). Wear sunscreen, and reapply. Especially on hikes. I even wore a hat on some days and I NEVER wear hats.
Wear shoes. I LOVE hiking in my flip flops. I have done so for years, and even here in New Zealand. But I'm going to tell you all of these hikes should be done with appropriate shoes. The Blue Lakes and Kea Point could be done in flip flops or sandals in summer, but still, I wore regular shoes. It's a bit annoying to kick the rocks out anyway as many trails are gravel and oh, yeah, the terrain and weather are a bit extreme here so let's just stick to shoes. Cool? This is what I wore for all my hikes in New Zealand and they were perfect.
Always check the weather and if the conditions are right. Mount Cook National Park is a magical place full of great ways to get adventurous BUT there is still risk involved in doing these hikes. Always check the weather and be extra careful in winter as avalanches are more common. The DOC usually has info on closures and calling them is always super helpful for up to the minute advice.
Get food. There is pretty much no food once you get into Mount Cook National Park. There's a little pub, some restaurants, snack shops… But no proper grocery store. Also, everything you buy here will be more expensive.
Are There More Things to Do in Mount Cook National Park?
A TON of things but I can't lie, New Zealand does come with a price. Considering I was here for months, I had to choose my activities very carefully. I hiked the entire area, for pretty much free (you have to pay for staying at Mueller Hut and campsites) and I decided to save my cash for my other adventures in the country.
If you have an extra few bucks to burn, don't have a lot of time, or want to experience some other epic journeys, there are some pretty cool things to do in the Mount Cook area that you could do quicker with a tour.
The most epic involve helicopters or small planes! Which, let's face it, if you're willing to pay, this would be the most incredible way to experience the mountains. No hike can give you those types of views.
I also know some people simply can't afford the time to get out there and figure everything out for themselves, so there are plenty of tours that take you in for a day tour or even drop you off in the next town so you can get on with your New Zealand trip! Here are some great tours I've compiled for you to marinate on and see if it better fits your travel style…
Recommended Mount Cook tours:
Where to Stay in Mount Cook National Park
Aoraki Court Motel is a good option for those who need all of the comforts in their hotel room, particularly after nice long hikes. This is about as luxury as you can get around Mount Cook National Park.
For a step below without giving up much on the amenities, you may want to try the Hermitage Hotel which provides spacious rooms with views of the mountains from seemingly every direction.
If you're on a budget, the Mount Cook Lodge and Motel is about as budget as you can get offering hostels and rooms.
And for those in a campervan, there is almost no other choice than White Horse Hill Campsite. It's the only campervan parking lot in Mount Cook National Park and where I stayed in my campervan. However, it's also the best! It has exactly what you need, a toilet, a sink, drinking water, and a communal area. But the best part is, almost all the trailheads start here. It couldn't get any better.
Hiking around Mount Cook National Park was a highlight for my adventures in New Zealand. I hope you enjoy your time!
Will you be visiting Mount Cook National Park? Let us know in the comments!
---
---
>>> EVEN MORE ABOUT TRAVELING NEW ZEALAND <<<
Work & Travel New Zealand: Get a Working Holiday Visa for New Zealand
A 5-Day Queenstown Itinerary For the Intrepid (New Zealand)
2-Week North Island, New Zealand Road Trip Itinerary
New Zealand Road Trip Itinerary—2 Weeks to 2 Months + Costs and Tips
20+ Day New Zealand South Island Road Trip Itinerary
Campervan Sites in New Zealand + Camping and Food Tips
Campervanning New Zealand: Buying, Selling, Renovating, and Tips
New Zealand Travel Tips + A Budget Breakdown
Piha & Waitakere Ranges Walks, Waterfalls, and Beaches—New Zealand
A Guide to The Pouakai Circuit & Hut at Mount Taranaki (New Zealand)
11 Fab Things to Do in The Coromandel, New Zealand
Epic Things to Do in Rotorua—Hot Pools & Adventures
7 Tips For The Cathedral Cove Walk in The Coromandel, New Zealand
A Guide to Hiking French Ridge Hut in Aspiring National Park (New Zealand)
Hooker Valley Track: The Easiest & Most Beautiful Hike in Mount Cook NP (New Zealand)
5 Things to Know about Milford Sound, How to See It and Is It Worth It? (New Zealand)
An Adventurer's Guide to Exploring Lake Tekapo, New Zealand
4 Easy But Beautiful Walks Around Dunedin, New Zealand
11 Things to Do in The Catlins in 2 Days (New Zealand)
A Guide to Exploring The Cave Stream Scenic Reserve (New Zealand)
---
---
Busy? Click the picture to Pin this for later