If you're thinking of popping into Lake Tekapo for a day and heading off, I'm hoping this post will change your plans…
There are plenty more things to do in Lake Tekapo than a simple snapshot of the milky blue waters and then moving on to the next spot.
I ended up adventuring around Lake Tekapo for three days and had my hair whipping outside of a 4×4 Defender through private valleys tucked into the Southern Alps, SUPing across the lake, staying up until the wee hours of the night, and staring at faraway galaxies, and having morning hikes to start my day!
There's some adventure to be had here, and I hope you get some inspo below and stay in the area a bit longer…
Don't lose this! Click to pin it now.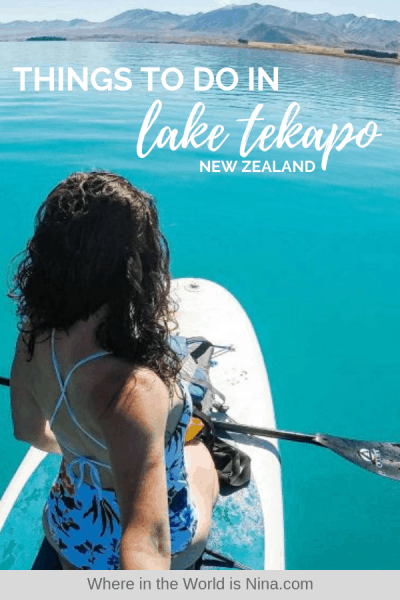 Exploring the Best Things to Do in Lake Tekapo
---
1. Hop in a 4WD to Private Scenic Views
A ride in a 4×4 is fun in its own but a 4×4 in an area where few get to go because it's private property and oh, right, you need your own 4×4 do actually do it as well? That's wicked!
Christina and Ben run Tekapo Adventures and offer scenic 4WD driving tours out and around Lake Tekapo and Lake Pukaki and the views.are.epic.
While you won't get to drive the 4WD yourself (I SOO wanted to), you'll get to hang your head out the window with your jaw on the floor at the scenery. You'll make little pitstops at old huts that were used (and still are) as winter shelters, stops at incredible viewpoints, and visit farm animals and give them pats on the head.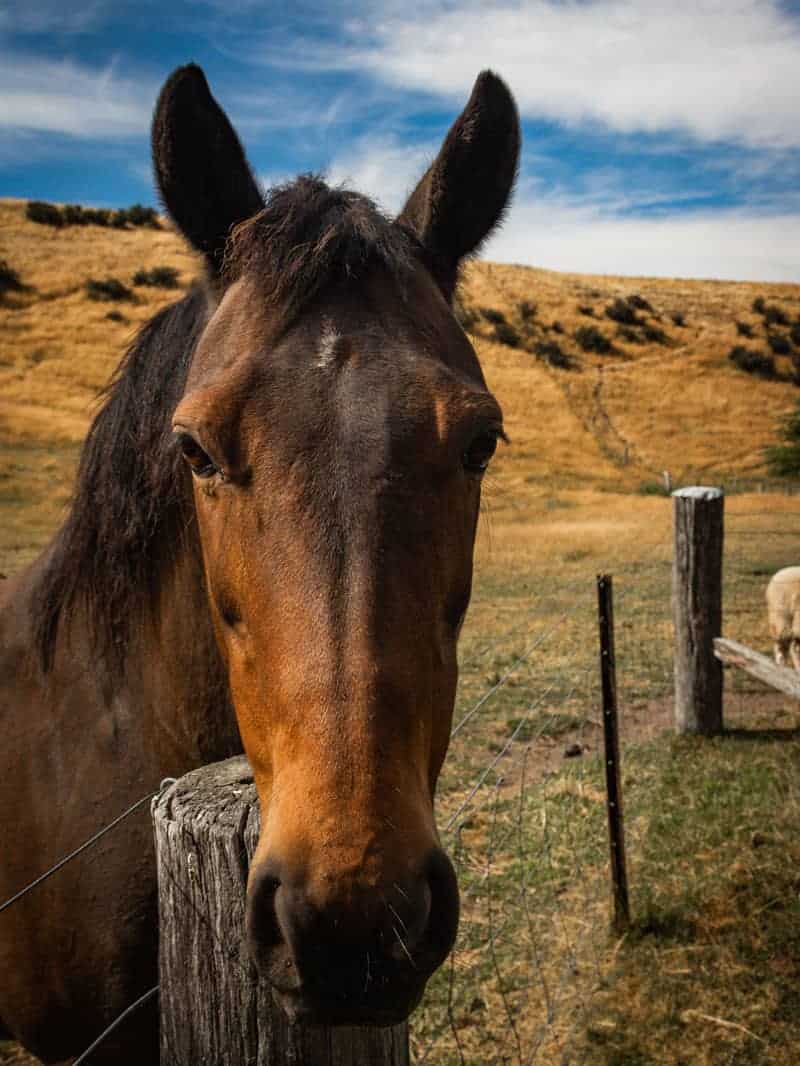 WARNING: There will be adorable sheep, horses, a friendly goat, and even a deer that thinks it's a bison potentially involved. The animal cuteness overload is a real danger here!
They offer three tours, and I had the pleasure of trying two of them.
The Braemar Station tour is pretty classic. You'll hop over to Lake Pukaki and immediately get astonishing views over the clear light blue lake all the way to Mount Cook, the country's highest mountain, completely glaciated and glinting in the sun.
Lots of animal loving (think goats, sheep, and horses), an opportunity to dip a toe (or more) in the water (if you're brave enough) and snow-capped mountains in the distance.
The Cass Valley ride is a bit more adventurous, takes you through multiple river crossings, and has you peeking out of the window over a cliff as the 4WD stealthily maneuvers over green and rocky knolls.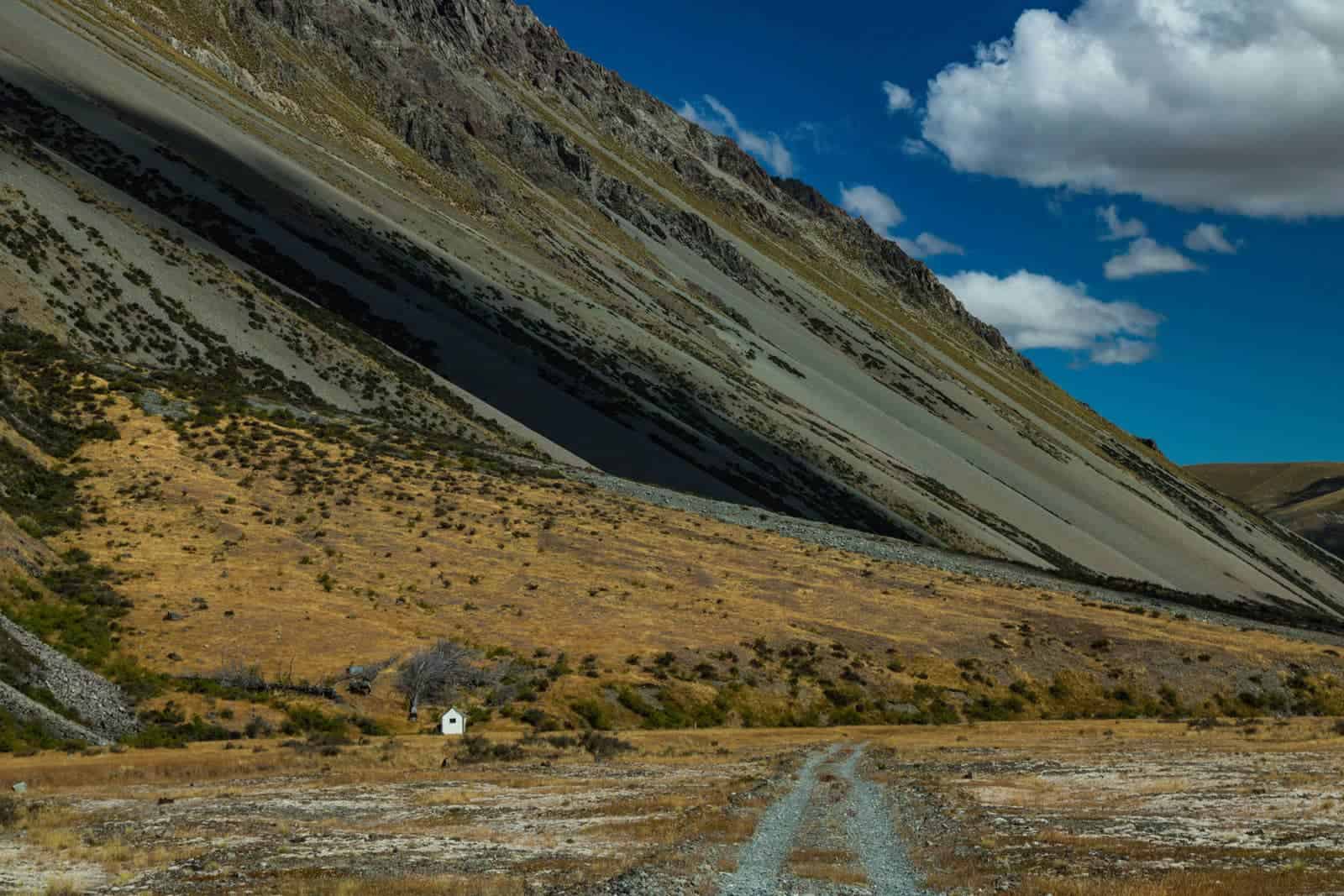 The views here are just as stunning as the Braemar tour, BUT it's like you're in another country. Ben compares it to something that you would maybe see in the Middle East. This is backcountry New Zealand, a landscape you wouldn't picture here.
The scene is a bit barren and desert-like. The mountains are shrouded in shrubs and gray sand, and there's barely a glacier in sight. Comparing this to the other tour, you're in a different country but in reality, just a few miles away.
Which would you choose to ride through?
Bonus points to Ben, who has a wealth of knowledge of South Island. He has some awesome recommendations for the rest of your travels and other suggestions on things to do in Lake Tekapo!
2. SUP and Kayak Lake Tekapo (One of the Most Popular Things to Do in Lake Tekapo!)
You've been staring at this lake for ages, shouldn't you like, ya know, go out there? The answer is yes, in case it wasn't obvious! There's a single lonely little truck on the beach with SUPs and kayaks, that's the guy to go to.
Choose your fun floaty device and paddle away onto the milky blue lake that seemingly never ends once you're on it. There are a few pebble beaches along the way to stop at for a break or a snack.
3. Stargazing (Some of The Best in the WORLD!)
Light pollution is so prominent in our lives, but you'd never know it until you stepped outside the city. You never really have a clue how much of the night sky you're missing out on until you're in a place in the world where light pollution doesn't exist.
Lake Tekapo is one of those places, and it's no surprise it's one of the best areas for stargazing.
Silver River is an excellent choice for a few reasons. First, they are probably the most affordable stargazing tour in the area. And second, their groups are small, and you're in the middle of nowhere creating an even darker environment and free from gaggles of tour groups.
Get ready to break your neck, because you're about to be looking up for over an hour at the fantastic sky you've only seen in pictures. While the stars and the Milky Way shine bright, nothing compares to getting a snapshot of them. Only our cameras can absorb the extra light that our eyes can't, creating an even more magical scene.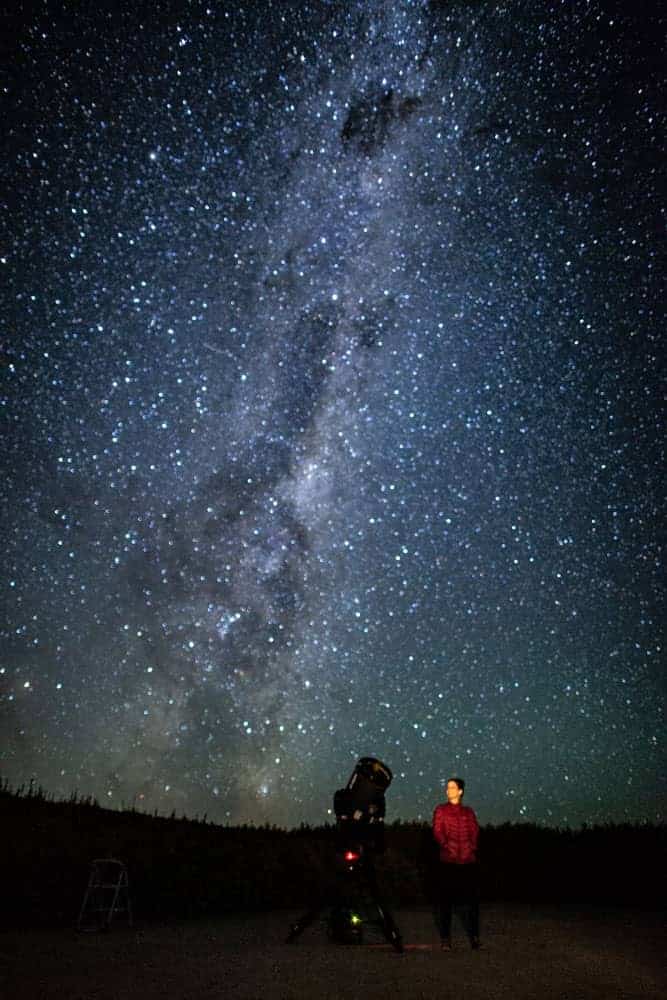 They have a massive and powerful telescope for you to peer even closer into the star clusters, constellations, and nebulas above our heads.
They are also coming out with an astrophotography tour, which is super exciting.I got a little sneak peek, and I'd encourage anyone interested in photography to try that tour out once it's available.
There's also stargazing tours at the Mount John Observatory which are supposed to be equally as great, with a few extra perks, but it is a bit more expensive.
Stargazing is one of the best things to do in Lake Tekapo! This is one of a few places in the world where the considerations are PERFECT.
Notes About Lake Tekapo Stargazing:
Stargazing tours start LATE! So drink some coffee if you're anything like me so you don't miss it. My tour was at 12:45 am and there's another one starting after 2 am. These are the best times to stargaze so just keep this in mind when booking.
Check the moon schedule! No, I haven't gone full hippy on you guys, this is a legitimate thing to check before coming to Lake Tekapo for stargazing. The less moon out the better. The moon creates light, so a full moon is almost as bad as having the sun out. Plan accordingly.
4. Check Out The Church of Good Shepard (Most Iconic Thing to Do in Lake Tekapo)
The Church of the Good Shepherd is a famous spot for photographers. Framed by the stunning Lake Tekapo and sometimes Mount Cook on clear days, it's an absolute gem! The catch? It's no secret – tourists love it too. To dodge the crowds, aim for early mornings or late evenings, and if you can, catch the sunrise, sunset, or even the night's mystique.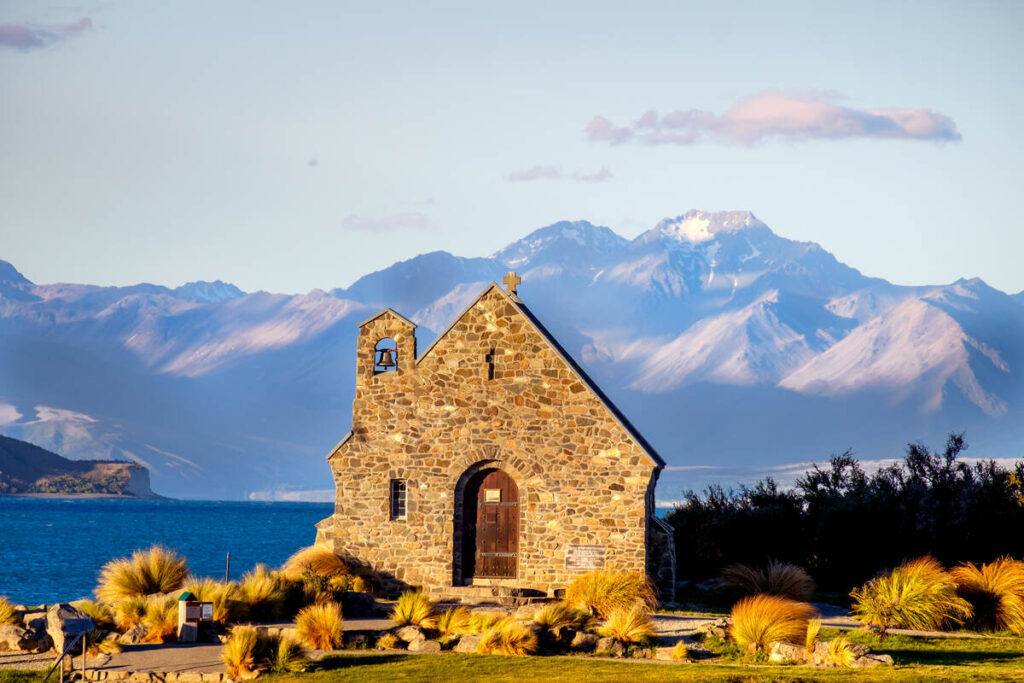 Inside the church, no snapshots are allowed, but you're welcome to visit day or night and photograph from the outside. And out of respect for its sacred purpose, let's keep it reverent. If the weather plays nice, it's a top-notch spot for stargazing (have we noticed a theme here yet?)!
Things to Do in Lake Tekapo: Best Hikes!
This article on the best things to do in Lake Tekapo is for adventurers, so you know we have to talk about hiking! Some of the coolest hikes in New Zealand are right here along this lake.
5. Peninsula Walkway
This easy trail was an excellent way to wake up! I slogged out of bed, and on my way into town, I stopped off to do this 3-mile hike promising great views. While this isn't a popular thing to do in Lake Tekapo, I think that's more of a reason to go.
It's a relatively flat walk most of the way and offers you some lake scenery from the middle (everything else is located at the bottom of the lake) and gives you a closer look at Motuariki Island.
I saw a total of two people on the trail, and during the right season, you may get to walk through a field of beautiful blooming lupins, this is usually between November and January.
6. Mt John Trail
This is probably the most popular thing to do in Lake Tekapo, and nobody should miss out on this hike. This is likely the best way to get a sweeping view of the lake from up top as well, so if you want to really see that milky blue lake in all of its glory, this is the hike in Tekapo to do it!
It starts from the parking area at Tekapo Springs. DON'T be tempted to go to the trail on the right when looking at Tekapo Springs, start hiking to the left. When you hike starting from the left, you'll be walking uphill through a forest, it's a bit steep, but nothing crazy.
The reason you want to go this way is that you want most of your uphill walking to be in the shade. Your hike is about to get fully exposed, so take advantage of the shade while you can.
As you break through the forest, you'll walk up some steps, and then go right on the trail. This is where the views start!
Take a good look at everyone above you at the Observatory while you're at it, and give them a wave. They just took a tourist bus, or drove themselves and paid a toll to essentially get the same view, just a few feet higher. You're getting it for free, getting a bit of a workout in, and dealing with fewer people around you.
I'd say you're winning!
From here, the hike is relatively easy, and you'll be walking with Lake Tekapo the whole way down. You may notice others walking in the other direction and that's because they went the way I told you not to go.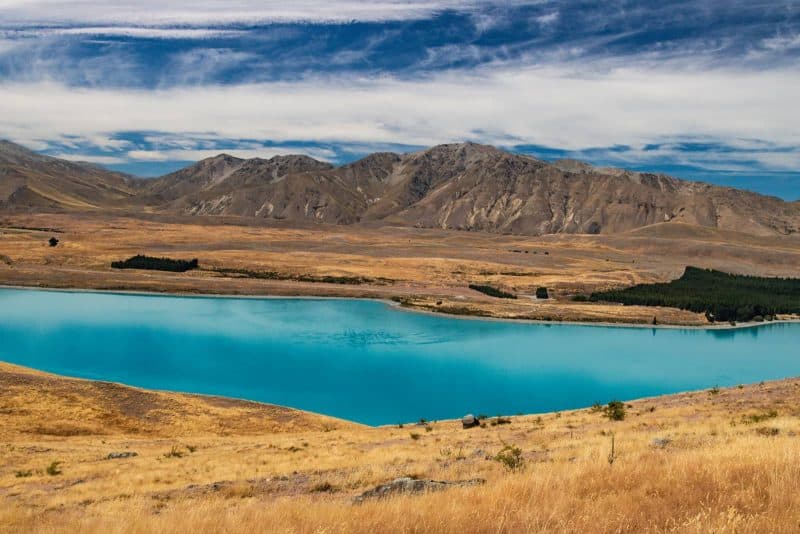 They will be way sweatier than you, huffing and puffing, and maybe even puking!? Yep, saw a girl who turned lobster, was puking and had to take a break… And she wasn't halfway yet.
This hike is worth it! So get those hiking shoes on. While it's rated as a moderate hike, it's more on the easy-moderate side. It's an 8 km / 5 miles long loop that's almost fully exposed (read: wear sunscreen!).
7. Cowans Hill Walkway
This is a quick and easy 1-2 hour hike in town that offers up some great views straight down Lake Tekapo. It's an out-and-back hike but with small trail detours as options along the way.
It's only about four miles long and is relatively flat! You'll start from the lake and head up to get some great views from the top.
Other Things to Do Around Lake Tekapo
Wait! There's more! Lake Tekapo has more things to do just around the outskirts, here are some favorites…
8. Wander Through Lupins
I just missed them! Those lucky enough to arrive between November and January will get the chance to see fields of lupins blooming—those wonderfully long and fluffy-looking purple plants.
Just swing by this place for a free viewing just off the road, it's a quick easy stop while you're discovering some adventures the area.
9. Ski and Snowboard
I was here in summer, so I did not have the pleasure of seeing snow, although that sounds like it would be a magical time to be here (but at the same time, I got to wear a swimsuit on the lake, so did I REALLY miss out?)
Practice your snow skills around Lake Tekapo at two surroundings:
10. Tekapo Springs (The Most Relaxing Thing to Do in Lake Tekapo!)
This may not be adventurous, but after hiking, paddle boarding, and staying up all night watching stars, you may want to relax a bit in hot and cold pools with a view. Tekapo Springs has both of those, a steam and sauna room, and even spa packages.
For those in a campervan, you can treat yourself a bit here like I did and swim just a few yards away from Lake Tekapo and the sun-drenched and arid mountaintops just before you.
The access to the pools is quite reasonably priced, and I was able to use the shower there before I took off (a massive perk for us living in a van).
For those who need to use their time wisely and do two things at once, you can actually swim in these pools at night and go stargazing at the same time! Whaaaaat. Seriously!
This was such a cool thing to do in Lake Tekapo, and I was so relaxed… I didn't even take a picture while I was here! Oops!
11. Visit Lake Pukaki
Head 45 minutes out from Lake Tekapo, and you'll discover the captivating Lake Pukaki.
It's a haven for photographers, boasting crystal-clear Gatorade-blue waters. Unlike Tekapo, this spot lacks town amenities but offers serene lakeside exploration. On clear days, the distant Mount Cook graces the view, and during lupin season, the lake's edge is adorned with thousands of vibrant flowers.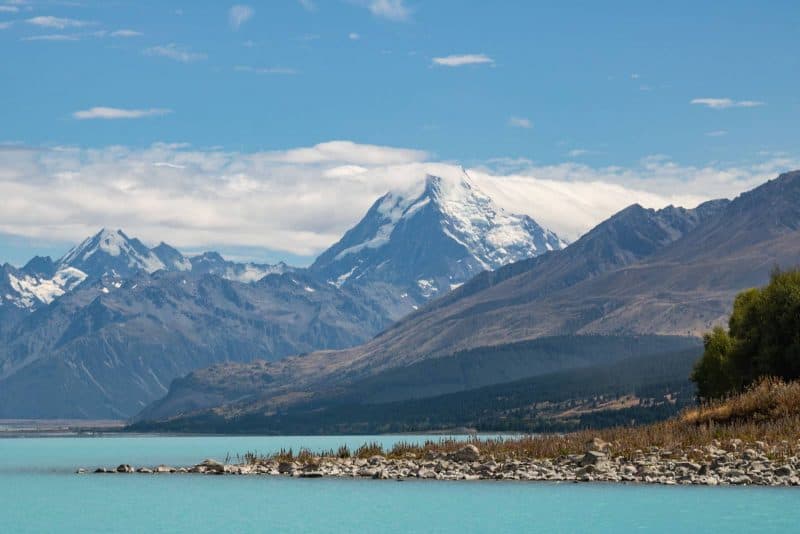 For a stretch, follow the Lake Pukaki Shoreline Walk, leading to a viewpoint showcasing the lake and Mount Cook. The area features freedom camping for self-contained campervans, first-come-first-serve.
Lake Pukaki's brilliance is unrivaled, flaunting a vivid blue hue even brighter than Lake Tekapo's—yes—For real! While you can swim, remember it's icy cold due to glacier origins, making it more of a bracing experience.
Where to Stay in Lake Tekapo
For any backpackers and individuals on a budget, some of the cheapest beds you can find are at Lake Front Lodge Backpackers. It's conveniently located on the lake, which is close to the SUP and kayak stand, some of the hikes, and Tekapo Springs too.
Just next door to that is Lake Tekapo Motel and Holiday Park which is where I parked my van for the night. The location couldn't be any better and it had all the amenities a campervanner would want. A kitchen, drinking water, laundry, and hot showers! They do have cabins and rooms as well.
Another property also located right on Lake Tekapo is Pepper Bluewater Resort. For anyone wanting to treat themselves a bit or in need of a proper hotel room, this is a great spot to get exactly that! It's located on the lake and near everything else in town too.
For campers, there's a low-cost campsite only 15 minutes from Lake Tekapo called Lake McGregor Campsite. It's $10 per person to park here with simple bathrooms and sinks. Good for a cheap one night stay. I parked here one night as well. (Bring exact change!)
Tips for Exploring Lake Tekapo:
Don't forget your sunscreen. I turned lobster because I didn't reapply, imagine if I didn't put any on?
Bring your jackets and layers to go stargazing! It gets very cold at night, even in summer.
Rooms and even campervan sites book out here in high season. You may want to book a room a few weeks or even months in advance and for campervanners, I'd suggest arriving a bit early to campsites. I took one of the last spots at the holiday park and I was there around noon! (You can go in and buy the spot, then explore for the day as I did!)
For a more budget-friendly area or if things are booked out, the nearby town of Fairlie isn't too far, check there for places to stay.
Keep an eye out for school holidays and other holidays. If it books out sometimes on a regular weekend, it's definitely going to book out during those holidays too.
More Around the South Island of New Zealand
Which of these things to do in Lake Tekapo are you adding to your itinerary? Let us know in the comments!
---
---
>>> EVEN MORE ABOUT TRAVELING NEW ZEALAND <<<
Work & Travel New Zealand: Get a Working Holiday Visa for New Zealand
A 5-Day Queenstown Itinerary For the Intrepid (New Zealand)
2-Week North Island, New Zealand Road Trip Itinerary
New Zealand Road Trip Itinerary—2 Weeks to 2 Months + Costs and Tips
50+ of the Best Hikes in New Zealand & Hiking Tips
Campervan Sites in New Zealand + Camping and Food Tips
Campervanning New Zealand: Buying, Selling, Renovating, and Tips
New Zealand Travel Tips + A Budget Breakdown
Piha & Waitakere Ranges Walks, Waterfalls, and Beaches—New Zealand
A Guide to The Pouakai Circuit & Hut at Mount Taranaki (New Zealand)
11 Fab Things to Do in The Coromandel, New Zealand
Epic Things to Do in Rotorua—Hot Pools & Adventures
7 Tips For The Cathedral Cove Walk in The Coromandel, New Zealand
A Guide to Hiking The Kepler Track in Fiordland National Park, New Zealand
5 Epic Hikes in Mount Cook National Park That Are TOTALLY Worth It (New Zealand)
A Guide to Hiking French Ridge Hut in Aspiring National Park (New Zealand)
A Guide to Hiking the Mueller Hut Track & What to Pack (New Zealand)
Hooker Valley Track: The Easiest & Most Beautiful Hike in Mount Cook NP (New Zealand)
Guide to the Routeburn Track: Should You Do It as a Day Hike? (New Zealand)
Hiking Roy's Peak & How to NOT to Wait in Line For A Pic (New Zealand)
A Guide to Exploring The Cave Stream Scenic Reserve (New Zealand)
---
---
Busy? Click the picture to Pin this for later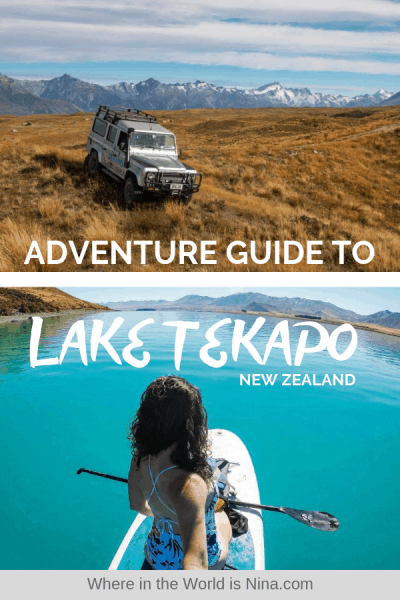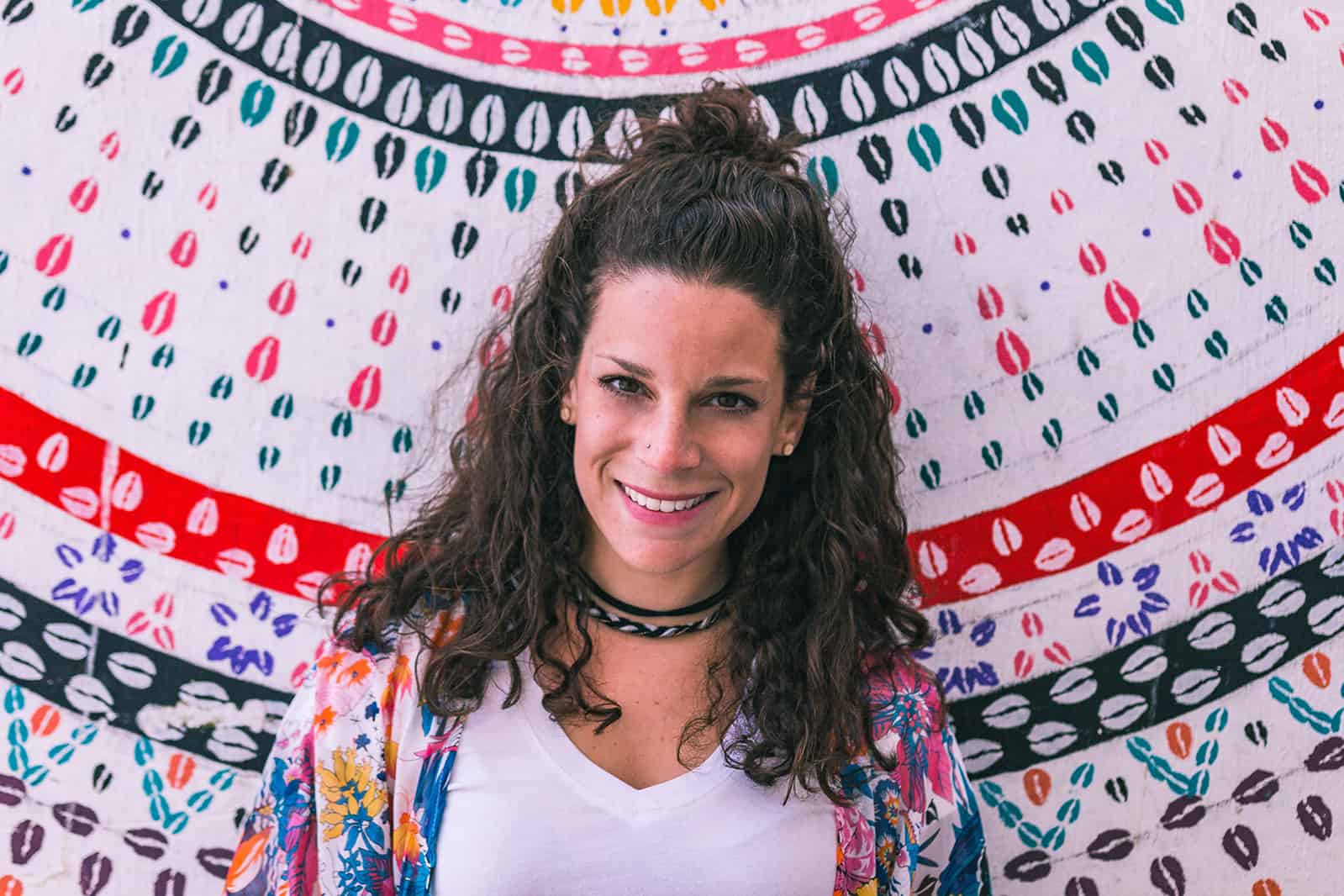 Nina Ragusa is an adventurer, messy bun master, breakfast fan, and full-time travel blogger. She's been abroad since 2011 and blogging on Where in the World is Nina? for nearly as long. Nina helps people like you move around the world while making money. She loves talking about how to work abroad and online to travel longer!