Your South Island, New Zealand road trip itinerary will be nothing short of magical.
Just in case you weren't sure… I'm telling you right now, it will be (especially with my help)!
New Zealand's landscape, with its sweeping views over impossibly blue glacial lakes and snowy mountain peaks, transport you to your own real-life fairytale land where you can explore at your leisure.
And since you're doing a South Island road trip, you'll get to call the shots and be the boss of where and when you go to all the magical places on offer. Now if only we could have an unlimited amount of time here…
No worries, even with only a few weeks, there's plenty of beauty that you can squeeze in, I hope I can help you make the best South Island, New Zealand itinerary.
Busy? Click the picture to Pin this for later
New Zealand South Island Itinerary Road Trip
---
As much as I'd love to tell you that 20 days it's a perfect amount of time to road trip South Island, New Zealand, I'd be lying. I think two months isn't even enough! I spent just over two months exploring (and working online) South Island alone and I still left feeling incomplete.
Every time I thought I'd be satisfied seeing this one last thing… I wanted more. South Island made me want more and more of New Zealand and I'm sorry to report, but this South Island itinerary may be a bit of a tease!
But better to be teased than totally left out, right? So we're going to do the best we can with our 20-days in New Zealand and I'm going to pack your days full of adventure, promise!
Speaking of packed full, these days are INSANE and you will be exhausted after this trip. I did NOT integrate rest days because rest days are for the weak and the losers… JK, but seriously, you can sleep when you're dead, right?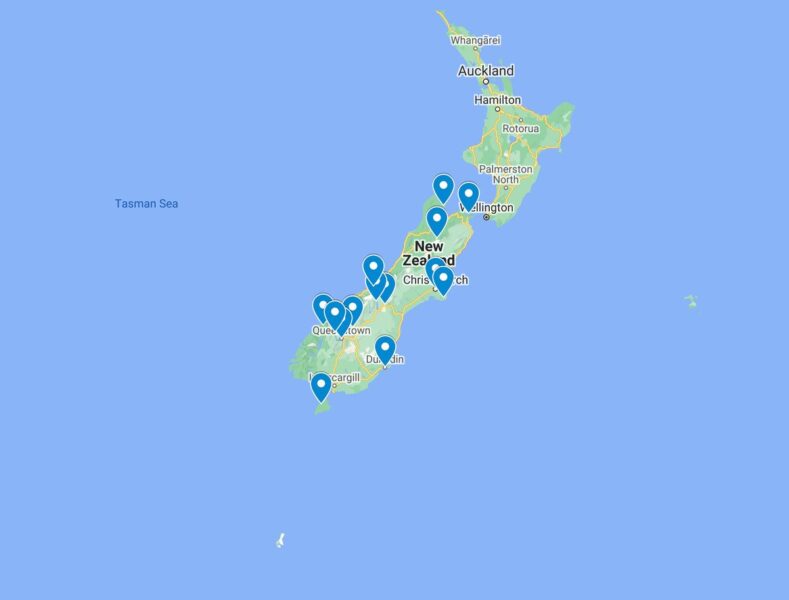 If you're going to take your time driving, need some rest days in between and don't want to get a speeding ticket, I'd definitely recommend skipping a thing or two or adding on some extra days. The reason I'm giving you such a full-on psycho South Island itinerary is that I know there is some adventure slayers out there who are totally ready to tackle as much as they can with their limited time.
The days I listed below for each spot is the minimum you'd need to do the activities I mention and I've even added some other choices that you'd have to choose from. I'm sorry, I know, I'm the worst, but I don't want to choose for you!
Sooo plan accordingly, sleep from now until your trip, get some coffee in you and let's get this show on the road…
Don't forget to check out my North Island itinerary.
Christchurch and Akaroa 2-3 Days
Christchurch is the largest city in South Island and is a bustling, urban city (by New Zealand's terms at least). With incredible street art, traditional heritage, beautiful architecture and plenty of shops and places to eat, it is no wonder that so many people choose to start their New Zealand South Island road trip here (like we did!).
There are plenty of ways to see all that the city has to offer, be it by foot, double-decker bus, bicycle, tram or even Edwardian punt.
Just 75km away from Christchurch is the Akaroa area, a historic French and British settlement located in the heart of a volcano. The village is great fun to explore, full of galleries, craft stores, and galleries.
Once you're done exploring the town, head out to the outer bay area where you can go on a sea kayaking safari to the outer coast of Pohatu Marine Reserve, with towering cliffs, reefs, and deep-sea caves.
It is also a great spot for wildlife viewing, with white flippered penguins calling the Pohatu-Flea Bay their home, while seals and dolphins take to the waters. If you have the time, you could also take a wine tour, going on a mini road trip around the inner harbor of Akaroa.
If that's not our thing, try some hikes in the area. Onawe is that incredible island you'll notice that seemingly floats in Akaroa Harbor. You can bask on the beach or hike around the sacred isle. For some fun with waterfalls, head to the loop trail of Hinewai Reserve.
Tekapo 2 Days
Visually stunning both day and night, the Tekapo area is well worth a visit on any New Zealand South Island itinerary. It is part of a UNESCO Dark Sky Reserve, meaning that when night falls, it is an incredible spot for stargazing, with the skies alive with lights.
Silver River is likely to be one of the most affordable stargazing tours in the area, plus they offer tours in smaller groups and you can witness the night's sky through their huge, powerful telescope. In addition to the night skies, this part of the country is full of things to do.
For a start, Tekapo Springs is located at the base of Mount John, overlooking Lake Tekapo. Heated alpine pools make a great spot to relax after a long day of exploring. Of course, hiking is a must when in the area, with the varied landscape of the Mackenzie High Country stretching out before you, and snow-capped peaks as your backdrop.
The Lake Tekapo Walkway is a short, easy hike where you can stop for a drink at one of the nice cafes around the lake and for a more challenging hike, take the Mount John Summit Track.
Starting just before the hot pools, it should take you a little over an hour to reach the summit where you'll be rewarded with insane views of Lake Tekapo.
There is a lonely truck on Lake Tekapo beach, and you should head here to rent kayaks or SUPs so you can take a dip in that impossible blue glacier water you've been staring at this whole time.
Mount Cook 2-3 Days
At least 2-3 days of your New Zealand South Island road trip should be spent in the Mount Cook area, home to the highest mountain of New Zealand. The Aoraki Mount Cook National Park, in general, is home to some of the highest mountains and longest glaciers, so you are sure to get a real sense of mountain adventure here.
With an awe-inspiring mountain landscape, stunning blue lakes and snow-covered, jagged peaks, you'll need a little time just to take it all in. Hikers really will be spoilt for choice thanks to the number of trails on offer, ranging from short scenic walks to challenging expeditions.
Giant glaciers cover the landscape here, including New Zealand's biggest, the Tasman Glacier. A great thing to do on South Island is to take one of the many glacier experiences to get up close to these mountains of ice and learn more about them.
There are a few particularly good hikes in this area which include Hooker Valley, Tasman Glacier Lookout, Sealy Tarns, Mueller Hut, and Kea Point, all of which range in length and difficulty. One of the easier hikes is Kea Point and is a short and sweet way to sample the incredible landscape of Mount Cook National Park as it is only 2 miles long.
The Hooker Valley Track is a little longer, covering 6.5 miles, it is a classic thing to do in the park, and one of the most popular in the country. For those wanting an epic experience and camp overnight in a hut, Mueller Hut is a MUST.
RELATED: 5 Epic Hikes in Mount Cook National Park That Are Totally Worth It
Wanaka 2 Days
The Wanaka area can't be missed on your South Island road trip. Both the town and lake, under the same name, are worth a visit, with a picture-perfect setting and easy access to the great outdoors.
The town has a real alpine buzz about it and provides the perfect base for exploring its incredible natural surroundings. The area is an outdoor lovers dream, with kayaking, canyoning, climbing, fishing, mountaineering, lake cruising, and jet boating all possible.
There are literally hundreds of miles of tracks suitable for hiking and biking that offer views of the landscape, plus there are even arranged flights that can take you around all the glaciers.
If you are completing your New Zealand South Island road trip in the colder months, Wanaka transforms into a winter wonderland, and there are 4 ski areas just a short drive away from town.
The best hikes I did in the area were hiking and staying in French Ridge Hut (epic but EXHAUSTING) and doing the uber-famous Roy's Peak, which yes, does live up to the hype! Both of these hikes would eat up your time in Wanaka though so plan accordingly.
Queenstown 2-3 Days
The beautiful area of Queenstown has a lot to offer you on your New Zealand South Island itinerary, such as braving the world's first and arguably the most famous bungy jump or taking a jet boat ride through the incredible white waters of the Shotover River.
Queenstown sits on the banks of the beautiful Lake Wakatipu, surrounded by some stunning mountain ranges, and with so many outdoor activities, it is the place to head to tick off an adventure bucket list and complete some of the best things to do on South Island.
Once you're done with all the adventure, be sure to save a little time to explore the town itself, with around 150 restaurants, bars, and cafes, it's worth tasting some of the culinary delights on offer.
The Catlins and Dunedin 2-3 Days
Despite the fact that the Catlins is a little out the way, they need at least 2-3 days on your South Island road trip. The Catlins is a remote coastal forest on the southern tip of the island, and after the rush of Queenstown, it will likely be a welcome change of pace.
Start with the trail to McLean Falls which is a pleasant 40-minute walk through the forest to some pretty falls. Another great waterfall hike in the area is the Waipohatu Trail, which can be pretty muddy at times but ends with two spectacular waterfalls.
All along the coast are some incredible viewpoints, such as the windy Slope Point and the impressive Cathedral Caves. The town of Dunedin can be reached by following the Southern Scenic Route, and is a hip little town with a great live music scene.
One of the most picturesque beaches in this area is Long Beach, which also offers some cool rock climbing opportunities. On a rainy day, of which there are many, it is worth a stop in the quaint town of Oamaru, full of quirky art galleries, markets, and book stores.
Abel Tasman 2 Days
Abel Tasman may be the smallest national park in New Zealand, but it is still well worth a visit. Here you'll find plenty of sandy beaches to enjoy, with huge granite cliffs and a coastal track that is famous all over the world.
For those short on time, the coastal track is a good way to see a lot of which the park has to offer, from the golden beaches and beautiful inlets to Cleopatra's Pool, a stunning natural pool, covered with moss and even a natural waterslide. The trail will also take you to a 47m suspension bridge and there is a good chance you'll be able to spot some fur seals.
There are a couple of places you can mountain bike in the park, which can be great fun for thrill-seekers, while kayaking in Abel Tasman and canoeing allow you to access the secluded coves that are inaccessible from the tracks.
During my stay, I went to different areas off the Abel Tasman Track and did two days of hiking in the area without staying in the uber-expensive huts.
South Island Itinerary Add Ons:
For those with only 20 days or less for their South Island itinerary, I'm sorry, don't hate me, but there's so much more! Maybe stop reading so you're not tempted? (or just extend your visit, no?) For those with more time, you'll love these additions to your South Island road trip…
Milford Sound 2 Days
No New Zealand South Island road trip would be complete without a visit to the Milford Sound area. Located on the west coast of the island, it can be woven into your trip in a few different ways.
During the ice age, the area was carved by glaciers, leaving behind some incredible natural landscapes that have to be seen to be believed. The cliffs of the various fiords rise dramatically up over the waters, while mountain peaks and cascading waterfalls are all around.
One of the best (and cheapest) ways to see the area is via a boat cruise, as you can sit back and relax while taking in the views from the more unique perspective of on the water. Other ways to see Milford Sound are by kayaking, diving or flightseeing.
If you're low on time, you can see Milford very easily without making the four to five-hour drive from Queenstown because there are flights from Queenstown to Milford making the trip much shorter. Here are some choices:
Now, with all this said, Milford is GORGEOUS but I definitely had some opinions on the place. You can read all about it here…
RELATED: 5 Things to Know About Milford Sound, How to See It and Is It Worth It?
Glenorchy/Routeburn 2 Days
You should plan to spend at least 2 days in the Glenorchy/Routeburn area as part of your South Island road trip, as it really is a beautiful part of the country. Glenorchy is a small town sitting on the shores of Lake Wakatipu and is your gateway to the magic of 'Middle-Earth', ideal for Lord of the Rings fans.
The lake and the Dart River offer kayaking and jet boat opportunities, plus some of the area's best hiking trails start nearby. Because of the incredible landscape, it has become a prime filming location, with many scenes from both Lord of the Rings and Narnia filmed here, and you'll soon see why.
One of the most famous hikes in this area is along the Routeburn Track, offering some of the biggest scenery of peaks, valleys, waterfalls, and lakes. If you don't have much time (or money) I show you how you can do the best bits of the trail in a day and for FREE…
RELATED: Guide to the Routeburn Track: Should You Do It as a Day Hike?
Marlborough Sound 2 Days
Another two days could be spent at Marlborough Sound, covering 150km of the New Zealand coastline. On this beautiful stretch of coast, you'll find sunken river valleys, forested hills, sheltered inlets, and sandy bays, all waiting to be explored.
One of the best ways to see the sights is on the water itself, so grab a kayak and paddle around the headlands, with new views around every corner.
Single or multi-day hikes can be enjoyed via the popular Queen Charlotte Track, 70km in length, it is a great way to witness the undisturbed native forest with views of the beautiful Queen Charlotte Sound.
Nelson Lakes 2 Days
The Nelson Lakes National Park is a great addition to any New Zealand South Island road trip, made up of towering peaks and glacial lakes.
There is hiking here for all abilities, whether you are just looking for a short stroll around the lakeshore or a more challenging alpine hike, you'll find it all, plus everything in between. The key features of the park are the lakes themselves, with Rotoroa and Rotoiti at the heart, framed by native honeydew beech forest.
The park was sculptured by some huge glaciers during the ice age, with many glacial landscapes remaining today. For a truly unbelievable sight, check out Blue Lake, where the transparency of the water reaches down 80 meters, giving the lake some stunning green and blue tones.
With great lakes comes great water activities, with boat cruises, kayaking, and fishing all very popular things to do on South Island.
This is one thing I wish I did while I was exploring South Island. I researched it heavily but weather and time weren't on our side while we were passing through and we had to skip it. Tell me how awesome it was if you visit!
Fox and Franz Glacier 2 Days
Two days could easily be spent exploring the Fox and Franz Glacier, both of which are the most easily accessible glaciers in the country. Here, the ice age still seems well underway, as they flow almost to sea level.
The combining factors of the low altitude and temperate climate mean they are among the most convenient to visit in the world, as you can stand very close to their feet and admire the sheer size of them. There are many easy walks near the glaciers, or professional guides will lead journeys onto the ice.
If you fancy seeing these natural wonders from above, consider using a helicopter or take a helicopter and hike combo tour. Many organized tours will also include a visit to the Glacier Hot Pools which are fed from the glaciers themselves and is a great way to relax after a hike before continuing on your New Zealand South Island road trip.
Another misadventure for us was our time visiting Fox and Franz Glacier. We literally almost got swept away in a HUGE storm in the area. The bridge we drove over was completely washed away less than 24 hours after crossing it. It rained so hard, our van leaked! We had to leave the area after two days of getting smashed by a storm and cut our losses.
Go down to Stewart Island 2-3 Days
If you have the time on your road trip, go down to Steward Island, home to the Rakiura National Park, which covers 85% of the island. You can reach the island either by boat or by air, both of which is an adventure in itself.
Marvel at the dramatic seascapes, kayak, watch the varied wildlife, take a boat out or just relax, there is plenty to keep you entertained. One of the biggest draws to this part of the country are the birds, and there are lots of them.
Even if you are not a bird watcher, it is fascinating to see some of these native birds flourish in a predator-free environment. The kiwi bird is often the most sighted, outnumbering the number of humans with an estimated 20,000 calling the island their home.
We wish we had time to make it down here but sadly we didn't!
A New Zealand, South Island road trip will bring you to some of the most beautiful places you've ever seen. I hope this itinerary helped you plan for your visit! Don't leave yet though, I have TONS more New Zealand resources, you could literally plan your entire trip right here. 🙂
More Around the South Island of New Zealand