If you're thinking about campervanning New Zealand, I'm so happy for you! It's the best way to see the country and it will be an adventure of a lifetime!
After getting your van sorted, the next thing you'll need to figure out is what it's like camping in New Zealand.
Campervan sites in New Zealand range from bare-boned to having hot springs and large kitchens… It all depends on what you're looking for.
Here is a list of my favorite campervan sites and holiday parks in New Zealand, tips on choosing your site, info on food and cooking, and the costs of camping in New Zealand.
Busy? Click the picture to Pin this for later
What's Camping in New Zealand Like?
---
There are a few things to know about campervanning and camping around New Zealand. You may want a DOC pass, you may want to freedom camp, or you may need to stay in holiday parks. Here's everything to know…
What Are the Rules for Camping in New Zealand?
Overall:
Park in the designated area for camping. (Look out for an info post or a sign somewhere)
Pay the fee if applicable.
Clean up after your self.
Don't be an ass.
Of course, each campsite will have different rules and things they ask of you but generally speaking, it's so easy, and everything is often in black and white. The Campermate app also has all the rules and things to know laid out on the app so you know before you even get to the campsite.
What's Freedom Camping in New Zealand and How Do I Do It?
Freedom Camping in New Zeland is great and super easy. But it comes with its issues too.
It's free, so what's the issue?
Well, the locals don't always like it. Some locals are opposed to freedom camping because, unfortunately, people can be assholes and take advantage or ruin things for everyone else.
Freedom campers are "known to be" rowdy, dirty, messy, and overall have no respect for the land they are a guest on, and this puts a bad taste in the mouth of locals, understandably. Not all freedom campers are bad but they all get lumped into it.
So some of the freedom camping spots can have locals loitering around looking for trouble. We didn't run into this too much, but we also didn't freedom camp too often.
Don't be that awful person ruining it for others! Use a proper toilet, clean after yourself, don't litter, etc.
This was more of an issue at the freedom camping spots around North Island from some reason. Don't let it put you off, it's just something to be aware of. There are usually no issues.
Freedom camping is essentially parking anywhere for the night for free. There are designated areas and you can't do this anywhere. Use the Campermate app to see where the freedom camping spots are.
Freedom camping spots usually don't have much of anything, sometimes not even a toilet, so you have to be self-contained at pretty any freedom camping spot you stay at.
How Are the DOC Campsites in New Zealand?
There are over 200 DOC campsites (government ran conservation camps) in New Zealand. They are usually sub-par, and at best, decent enough.
They are provided by the government, and I'm quite grateful for them.
You will see on the Campermate app they get hated on and plenty of people detest them. It's usually because the facilities are nothing more than a toilet, and a stinky vault one at that. There may be a sink, picnic tables, and potentially even a water spout with water that's best boiled before use.
If you're lucky, a few of them have cold showers and an office to ask about the nearby hikes.
It's a campsite with what you need… So can you complain much?
I didn't complain at all about the DOC sites and here's why…
Do You Suggest Getting the DOC Pass?
YES. You can purchase a DOC camping pass that makes everything MUCH more worth it!
Why? In short, the DOC sites aren't really worth what's charged, that's pretty much what people hate about it. The "crappy" DOC sites cost $8 or $13, and a few nicer ones are $15 per person, per night (DOC passes usually don't work at the $15/night sites).
$13 NZD (per person!) for a stinky drop toilet and a patch of grass to park on? Yeah, I'd be a bit annoyed too.
But I had the pass, so I had zero complaints. Pay a one time fee for the DOC pass, and park at almost any DOC site for free. Easy! This pass paid itself off in the first few weeks of use.
Somethings to keep in mind about the DOC pass:
You can get one through your campervan rental company, BUT it doesn't include all DOC site, so be careful!
You can get one through NZCMA at a discount! (Recommended)
You will have to pay at some campsites that are nicer so pay attention to which ones DON'T accept the pass, so you don't get a ticket.
In short, if you want to save a few bucks while camping in New Zealand, and you aren't picky, getting a DOC pass to camp at the DOC campsites will be very worth it.
What's a Holiday Park?
A holiday park is a fancy campervan site in New Zealand. They charge more ($15-20 per person per night +).
You have more amenities here like showers, a block with toilets, a kitchen, laundry facilities, maybe a hangout room, etc.
We only stayed at these once or twice a week when we needed showers and to do laundry, otherwise, we often stayed at a DOC site to keep costs down.
Best Camping Sites in New Zealand
Below I've listed the top campsites that I enjoyed.
There are going to be plenty of campsites on this list that you'll ask yourself, "why on earth am I taking advice from this chick…" Some of the campsites below are total crap. But bear with me, they are on this list for one reason or another!
What I wrote in terms of the campsite being free or having a certain amenity was right at the time of the writing.
Always double check Campermate, this is the only app I used on my trip (although there are others like Wikicamps). When I mention the "app", I'm referring to Campermate app.
I stayed at way more campsites than I mention below, but these all stuck out in my mind the most.
I'm a simple person, and I didn't want to spend tons of money on holiday parks every night. If you're fancy, this list isn't for you.
Seriously… just run away now if you need a shower every day and hotel-like facilities…
My list is borderline ridiculous as there are a lot of "crappy sites" on the list, haha, but trust me, there's a reason! You'll see…
Camping in New Zealand: North Island's Best Campsites
---
Waikite Valley Hot Pools Campsite – Rotorua
Tiny facilities for the number of people they allow to park here, however, getting to use their hot pools made up for it all.
If you stay here as a camper, you get to use their heated pools freely, and you get early access before the public, which was the real value of this spot! Rotorua's hot pools are a highlight, definitely try one at least once.
North Egmont Carpark – Taranaki
Literally, nothing was special except that view! We used this to camp the day before our Pouakai Circuit hike.
Getting to look up at Mount Taranaki from the parking lot was the best motivation before a walk I could ask for. Plus the desk here was manned every day and the ranger was helpful in telling us info about our hike.
Athenree Pools – Tauranga
Another decent holiday park with access to hot pools.
These aren't as pretty as Waikite Valley above, but are still great, especially during those early access hours!
Wentworth Valley Campground in North Island- The Coromandel
A pretty relaxed DOC campsite that's tucked away down a five-kilometer dirt road and into the forest.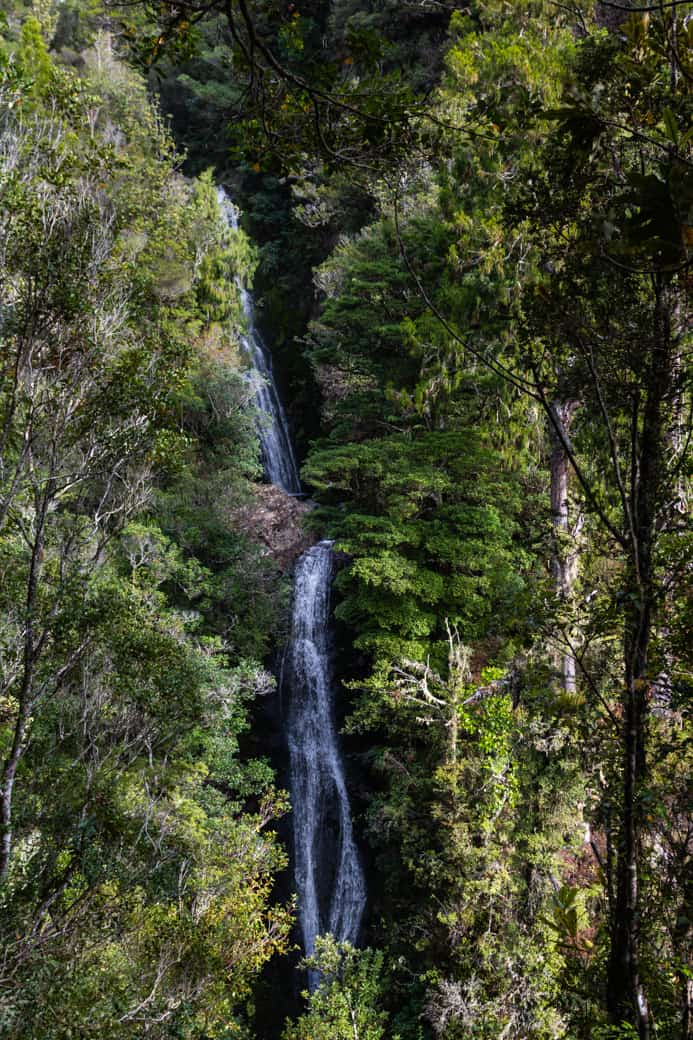 The facilities were OK but I just like the seclusion in the forest and the pretty waterfall hike that started from here.
Hahei Holiday Resort – The Coromandel
Excellent facilities and pretty much the best place to sleep if you're looking at hiking to Cathedral Cove the next day. Read that guide if you're going, and learn from my mistakes!
There's also access to Hahei Beach from the campsite which is a perfect spot for a beer and sunset sit down in the sand.
Whatipu Campgrounds – Piha & Waitakere Ranges
Out in the middle of nowhere and a bit stinky, that's how I like my campervan site in New Zealand apparently?!
In the southern tip of the Waikitere Ranges is Whatipu Beach and campgrounds. There's a beautiful black sand beach that's pretty much empty and hills surrounding you. The campsite has a compost toilet, a tiny kitchen hut, and some grassy patches to park at.
Camping in New Zealand: South Island's Best Campsites
---
The Secret Spot – Abel Tasman
Tiny unassuming, bare-boned, but also exceptionally unique and cool. There are a tipi and an outside shower… Enough said! That spot was a nice break away from the typical campervan sites.
There's a compost toilet, a small sink, and cooking area, and that's it.
You must contact them ahead of time through the app! No map location for this one, after all, they are called The Secret Spot so don't just show up.
Totaranui Campgrounds – Abel Tasman
This place is HUGE and can accommodate hundreds of campervans. I'm shocked how vast this place is but the facilities are great. There are little parking "coves" creating a semi-private camping experience with amenities in the cove so overcrowding didn't occur at a "main" facility. And it's set just a few feet away from the beach!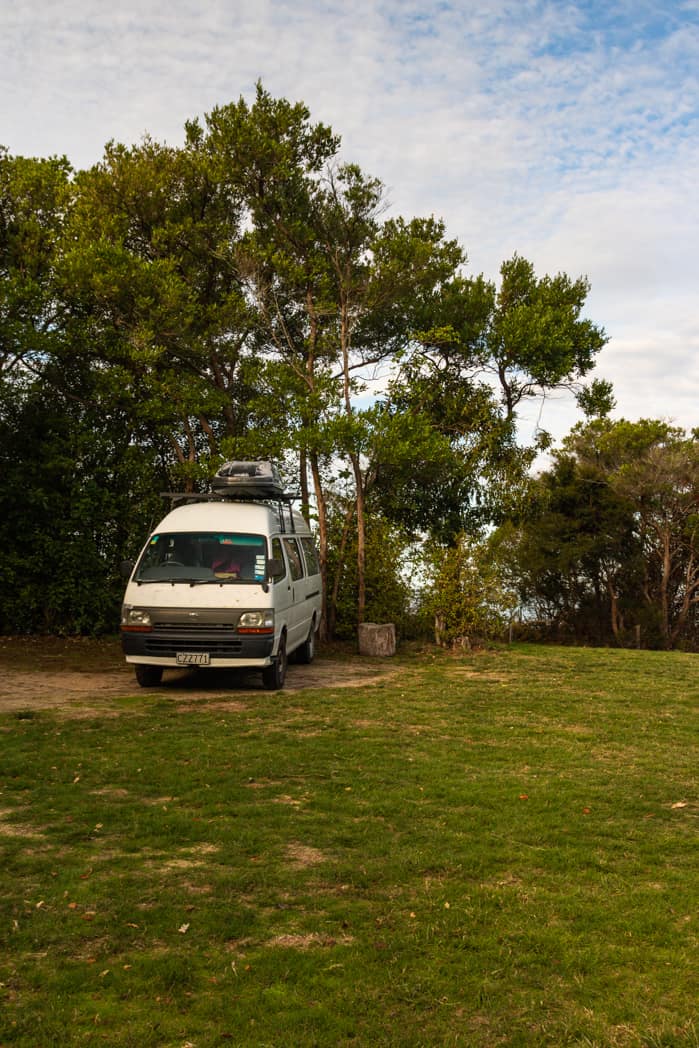 There are some prime hiking trails through here, including part of the Abel Tasman Great Walk.
Lake Pukakai Reserve – Mount Cook
A super shit campsite because it's not the flattest parking facility and the bathrooms are small and stinky. There are also tons of parking space a bit up the hill, and there's only one restroom on site, which is down the hill.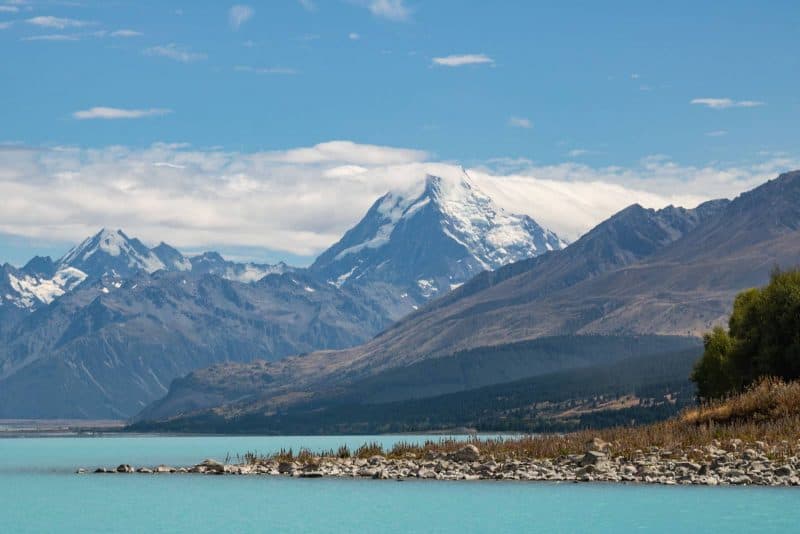 Why am I putting this on the list? The view is EPIC. You're right on Lake Pukakai, one of the most gorgeous lakes in the area. The campsite is worth it for this alone.
White Horse Hill Campground – Mount Cook
This is a pretty basic campsite with toilets and sinks and a facility with some tables if you want to try and fight for a seat in this crowded campsite.
It's the only campground around, and the access to all the incredible hiking trails in Mount Cook couldn't get any more convenient. This campsite is at the trailhead that stems off to almost every hike in the parks! This is why it's one of my favorite camping in New Zealand spots!
That and oh, right, you're mostly sleeping under towering mountains and glaciers! If you're exploring Mount Cook (which I highly suggest you do) you'll be staying at this campsite.
Glendhu Bay Motor Camp – Wanaka
This one is just outside of Wanaka and is pretty decent value for the money. The facilities are everything you'd need and expect from camping in New Zealand, although some bathrooms could use freshening up.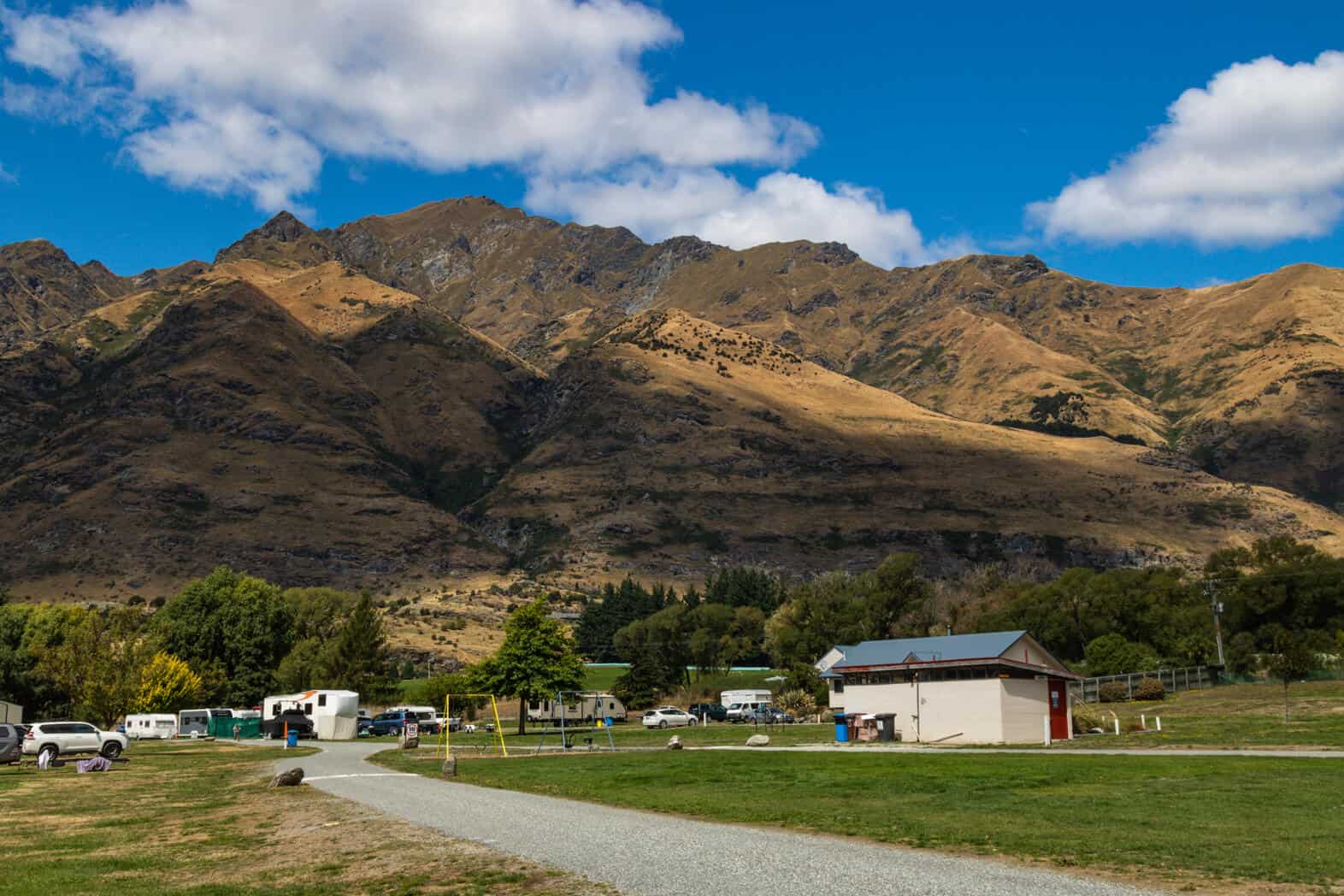 The main star here is the lakeside location and closeness to the city and some hikes in the area. You're down the road from Roy's Peak.
Boundary Creek – Wanaka
There's no cell service here. There, the bad news is out of the way, the good news? The location is stunning. Set on the northern tip of Lake Wanaka sits you, some vans, and a small toilet facility.
It's simple but man, is it beautiful!
Kingston Campsite – Queenstown
The shittest of shit campsites in New Zealand. Like, you couldn't get anymore bareboned… There are portapotties ONLY. That's it. And at one point, a few of those were fallen on their sides leaving only two toilets for a lot of campers.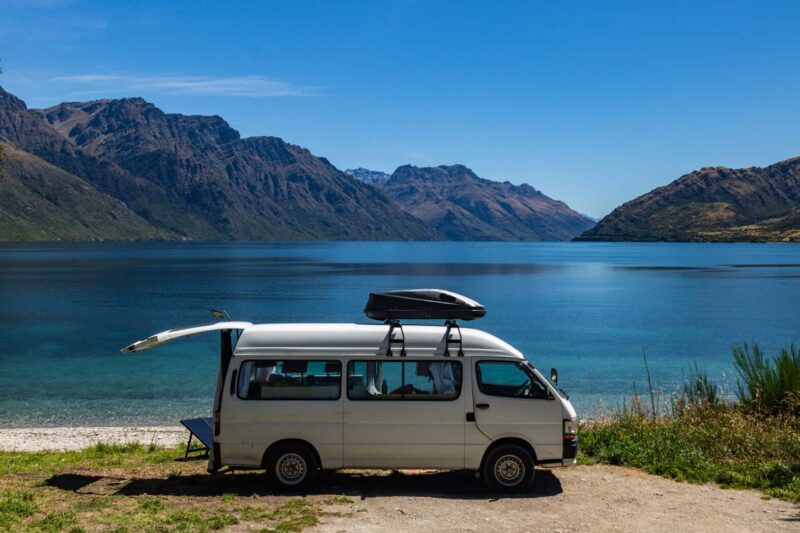 Why the hell is this one on the list? LOCATION… Can you tell I prefer views over anything else? Even my… sanitation needs? Ew. Sorry, TMI?
Listen, look a the view… It's a FREE campsite on a serene lake with gorgeous towering mountains and Queenstown 30 minutes north. What more do you need?! This was our favorite campsite in New Zealand, hands down. We stayed here, in total (on and off), for over a week.
And yes, you can go swimming in the lake, it's incredibly clear but also arctic even in summer.
Kinlock Campsite – Glenorchy
Damn the sandflies… There's no escaping them on this side of the country but if you can get over that, and uhm… the single nasty toilet as your facility, then you're in luck!
This is another perfectly located campsite in New Zealand on another gorgeous lake and within 20-minutes driving distance to the famous Routeburn Track.
HINT HINT: The Routeburn from this end is more beautiful than from the Milford Sound side if you ask me! 🙂 Read more about the Routeburn as a day hike.
Ms. Woolley Campground – Glenorchy
Just skipping over to the actual town of Glenorchy, you'll find some relief from my grungy ass list of sites for camping in New Zealand (and solace from sandflies).
This is a holiday park, rejoice in the fact that I'm finally mentioning the use of showers (promise I showered more than it seems) and a large kitchen facility… Alas, there's not much of a view at this one though. Make up for it by wandering into their adorable country store.
Caitlin's Whistling Frog – The Catlin's
Another holiday park and a great middle base for exploring the Catlins.
They have a restaurant on-site and all the amenities a holiday park should have including a little hang out room which I promptly turned into my office on a rainy day.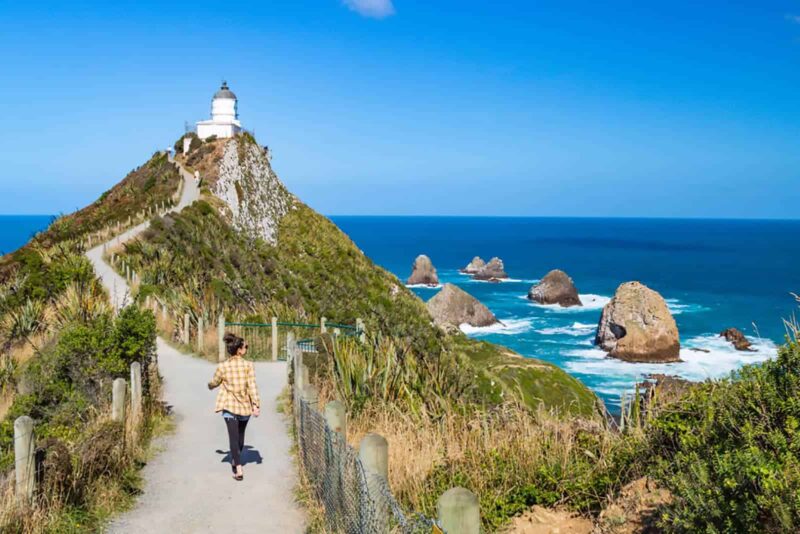 Riverside Haven – Dunedin
This was the first spot I went when I started my solo trip, and I love it. It's not really in the most exciting area, I was driving up from Dunedin up towards Lake Tekapo, and this was a cool spot to relax and gather my thoughts on what I wanted to do.
Set on a river, good amenities, and friendly owners. Plus some farm animals… I'd camp here again.
What Does Camping in New Zealand Cost?
Anything from $0-$60 NZD+ ($40+USD)
Obviously the more you pay the more amenities you get. You'll have to decide what you actually need and what you don't when choosing your campsite. Keep in mind prices are usually PER PERSON as well, not vehicle.
How We Justified Where We Camped in New Zealand
For us, we didn't NEED a shower every day. Holiday Parks were the main spots for showers, but they are also the most expensive. So we opted to only use Holiday Parks when we actually needed to shower AND to do laundry.
We didn't like the laundromats because:
A. Lots of people complain about theft and you're supposed to stay there and watch it.
B. If you do laundry at a holiday park you'll already be right there and not wasting time sitting in a laundromat, you can shower, clean the van etc in the meantime.
Speaking of which… We made sure to take full advantage of holiday parks. You're literally paying for it, so use it!
We always showered, sometimes twice—once in the evening we checked in and in the morning too, just because we could and to prolong that freshness. (Side note, we used biodegradable baby wipes on the days we didn't shower)
We did our laundry there as explained and we also cleaned out our car here, because we could shower after getting all dirty. Plus there were proper sinks, trash cans etc that we could use.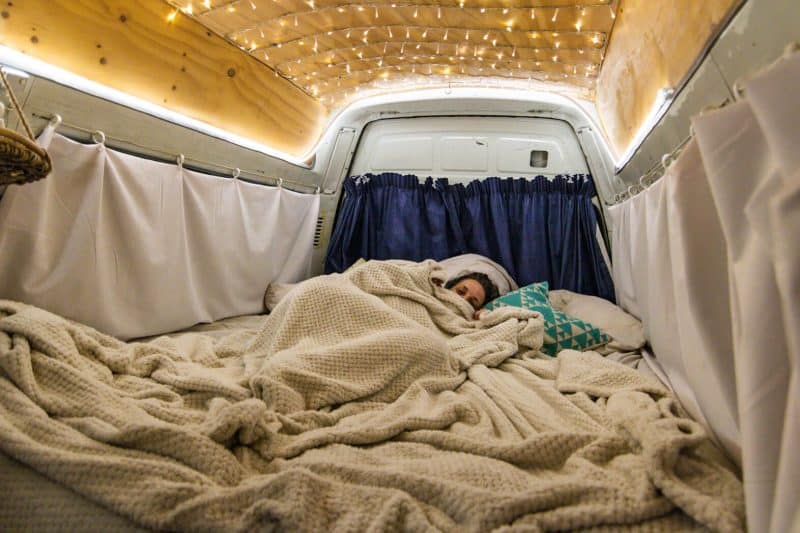 We also thoroughly washed our dishes here. Not that we were dirty and didn't wash our dishes but there's a difference in how clean you can get a plate in a mini sink with a water pumping faucet compared to a nice big regular one.
We also cooked our "treat" meals at a holiday park. Again, dishes are a pain the in the ass, cleaning and even cooking in the van is a bit more complicated.
We took full advantage of the cooking facility, the extra appliances (like a toaster — oohhh! how luxurious!), and anything we could use. This is also where you should top up all your water jugs!
What Do You Eat When Camping in New Zealand?
We ate pretty healthy and spent the extra dollar on getting things organic or the brand with the least questionable ingredients. With that said, it's hard to be diverse when living in a van! So we ate the same things A LOT.
Also, dishes. Ain't nobody wants to clean up an excessive mess because you decided to make something fancy. So everything we did, we also kept in mind the cleanup time, which would preferably be as close to zero minutes as possible.
Our equipment consisted of a pot, a pan, a triple burner, and that's pretty much it.
We also had a Dometic Cooler (or chilly bin as they call in New Zealand.) This was a GREAT cooler and worth spending the extra money on. It kept ice as ice for around 3 days instead of a day like the other cheaper brands.
Here are the most popular things, we'd make…
Breakfast
We love our eggs and toast, so that's pretty much what we did every morning.
We'd fry our eggs because scrambled makes a bigger mess. For flavor, we'd sprinkle some za'atar (we actually used za'atar on EVERYTHING, it's so good.)
We'd toast our bread with a bit of oil in the pan, because, no, having a toaster wasn't really possible in our van. We'd serve it with tomatoes, fresh basil from our plant (yes, we had a basil plant) and maybe some avocado before the prices hiked up to $6 NZD PER AVOCADO.
Lunch
Lunches were often more like a snack of sorts (we lost some weight on this trip for sure!)
Our favorite was our cutting board filled with assorted goodness like cheese and crackers, raw veg, fruit, and my rough hummus, a "camping charcuterie" if you will.
My rough hummus was literally fork-smashed chickpeas from a can, za'atar, and some olive oil. Very good and healthy!
On the not as healthy spectrum, we'd sometimes take a can of chili beans, add some cheese to the top and eat it like a dip with tortilla chips.
Other times, our lunch would be really simple like bread, olive oil, and za'atar or just some fruit.
Dinner
Soups. It's the easiest and cheapest thing.
Hansell's brand, I think, is the soup we'd get, they come in a pouch and have the best list of ingredients as opposed to the store brand soups.
Sometimes we'd make our own Odon noodles, and by we I mean Garrett. He does Asian dishes pretty well and Odon is pretty easy, the noodles are sold with flavor packets sometimes and you just need to add some veg.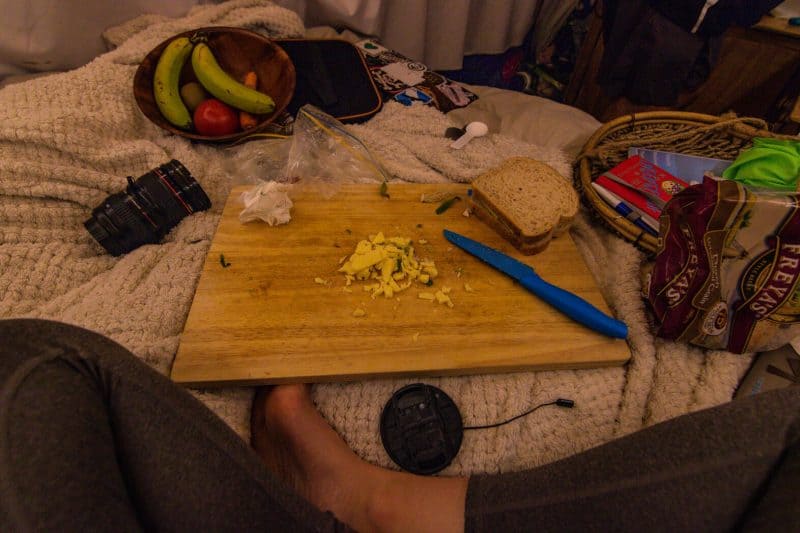 We made curry a few times but we'd only make this messier dish when staying at a holiday park so we could use their kitchen and sink to clean up.
When we went shopping, we'd often buy a meal or two of the premade salads. They took up a lot of room in the cooler and didn't last long so we'd eat them really quickly after purchasing them.
Tips for Camping in New Zealand
Choose the right campsite – As in, make sure you are a self-contained vehicle before parking and camping at a self-contained vehicle only campsite, for example. You can get a ticket if you break the rules! Also, choose the right site for YOU, otherwise, you'll be miserable.
Don't start a fire – Many places have fire bans, especially in the drier season, don't end up burning a forest down because you're a sucky human who doesn't pay attention to the rules.
Pack it out – A lot of places don't have trash cans, and you must pack out all of your trash. Don't leave trash ANYWHERE!
Proper disposal of chemicals – If you use anything with chemicals, you must properly dispose of it at a dumpsite, don't just chuck it in the woods. Don't bathe in the rivers with soaps, don't clean dishes in the creeks, and don't pour dish soap in the grass…
Don't be loud – Look, people are living in CARS. Not their four-walled and insulated homes. People want to actually sleep. Keep being loud for the bars only.
Pay when it's due – Don't ruin this for the rest of us! Pay for your camp if it's required. Trying to skimp out hurts the next campers after you as they may have to close the campground or up the fee because they have to put a guard at the post. Not all campsite have a caretaker 24/7 so bring cash and put it in the honesty box.
Eat at off times – If you're trying to use the facilities like the kitchen at your holiday park, make sure to eat at off times, otherwise, you'll be cooking with half the campsite and may have to even wait in line to wash dishes.
Bring water – Always fill up when you have a chance, if you're unsure if a campsite has drinkable water, make sure to pick some up just in case. If worse comes to worst, make sure you have something to boil the water before drinking. Luckily, the tap in New Zealand is safe to drink from, but in some areas, it's a free spout, and you'll need to boil before drinking. The BEST thing you can do so you always have safe water is to get a water bottle with a filter!
More New Zealand Travel Tips
Hope this helped you with tips and ideas for choosing your campervan sites in New Zealand!
---
---
>>> EVEN MORE ABOUT TRAVELING NEW ZEALAND <<<
50+ of the Best Hikes in New Zealand & Hiking Tips
A 5-Day Queenstown Itinerary For the Intrepid (New Zealand)
2-Week North Island, New Zealand Road Trip Itinerary
20+ Day New Zealand South Island Road Trip Itinerary
Piha & Waitakere Ranges Walks, Waterfalls, and Beaches—New Zealand
A Guide to The Pouakai Circuit & Hut at Mount Taranaki (New Zealand)
11 Fab Things to Do in The Coromandel, New Zealand
Epic Things to Do in Rotorua—Hot Pools & Adventures
7 Tips For The Cathedral Cove Walk in The Coromandel, New Zealand
A Guide to Hiking The Kepler Track in Fiordland National Park, New Zealand
5 Epic Hikes in Mount Cook National Park That Are TOTALLY Worth It (New Zealand)
A Guide to Hiking French Ridge Hut in Aspiring National Park (New Zealand)
A Guide to Hiking the Mueller Hut Track & What to Pack (New Zealand)
Hooker Valley Track: The Easiest & Most Beautiful Hike in Mount Cook NP (New Zealand)
Guide to the Routeburn Track: Should You Do It as a Day Hike? (New Zealand)
5 Things to Know about Milford Sound, How to See It and Is It Worth It? (New Zealand)
Hiking Roy's Peak & How to NOT to Wait in Line For A Pic (New Zealand)
An Adventurer's Guide to Exploring Lake Tekapo, New Zealand
4 Easy But Beautiful Walks Around Dunedin, New Zealand
11 Things to Do in The Catlins in 2 Days (New Zealand)
A Guide to Exploring The Cave Stream Scenic Reserve (New Zealand)
---
---
Don't lose this post! Click the picture and pin it to Pinterest!