What can I say, I guess hiking is just my life now?
I'm not sure when it happened, but I'm pretty sure it's all New Zealand's fault.
The best thing to do in New Zealand is take in its gorgeous natural beauty which I understood as, see all the pretty sights, go to all the waterfalls, and gaze at all the views.
And since the best way to do all those things is to go hiking, I've kinda made it my mission.
And now I went ahead and accidentally hiked up Roy's Peak. The exact hike I said I wasn't going to do!
But I drove past it thinking to myself, should I just do it?
Next thing you know, I turned Birdie around (the van), laced up and was heading up the mountain.
WHO does that?
Roy's Peak is a ten-mile round trip path… Up a mountain. It's not exactly easy.
Who stops in the middle of the road, turns around and starts to hike a mountain?
Apparently, I do this…?
Why I Stopped to Hike Roy's Peak
I camped just down the road and when I had passed it the pervious day, I thought, "Damn I'm happy I"m not hiking that!"
The parking lot was overflowing, it was scorching outside, and I had heard how incredibly full it gets! There's a literal line for a famous photo up there!? People have referred to it as the "Instagram line."
I thought to myself, the entire time I've been in New Zealand, that this is the hike I WON'T do. I'm ignoring it because there are so many other hikes, how can this one be that worth it?
The idea of hiking it sounded quite miserable to me, rubbing shoulders with others as you hike ten miles just to wait in line for a single photo?
Nah. So I got to my beautiful campsite on the lake and forgot all about Roy's Peak. The sun quickly disappeared and it was stormy out for the rest of the evening.
New Zealand, you so crazy! Scorching, to raining, to cold all within 24 hours.
The next morning I passed Roy's Peak again on my way out. It was still overcast out; it had even rained this morning! The weather was supposed to get a bit better, at least not raining, but it would remain cloudy.
I thought to myself, people will maybe skip Roy's Peak today? I'm sure it's a really nice hike, just annoying with too many people. Maybe I should hike this thing right now? It would be a good work out, apparently, I'm like, an avid hiker now because that's all I've been doing since I've got here, so this was me thinking, "at least I'll tone my butt more."
I was on my way to my next lakeside camping spot for the night to get some work done, but ya know, since I'm my own boss and all, maybe I should postpone work and do this?
The parking lot was only half full, and those clouds were going nowhere. I pulled over, got my hiking shoes on and just went for it.
A 10.Mile.Hike.
On a whim. Again, what is my life? What have you done to me New Zealand?!
So Was It Worth It?
I'll answer this now.
Yes… BUT only because of a few reasons! If these perfect and specific occurrences didn't happen, I would have been swayed to say no because who really wants to hike 10 miles in a perpetual crowd? Not I.
So if you're on the fence like I was, try to align these random occurrences…
The Specifics on Roy's Peak
Difficulty: Hard
Elevation: 4,100 feet / 1,250 meters
Distance: 10 miles /15.6 km
Time: 5-6 hours per the sign at the trailhead
Route Type: Out and Back
The reason Roy's Peak is rated hard is because of the distance and steepness of it. There's nothing technical to know about this hike.
It's a straightforward, fully exposed, wide and graveled track going up the side of a mountain through a series of calve-aching switchbacks.
Roy's Peak promises stunning views over Lake Wanaka, and nearly 360 views of the surrounding area with glaciers glinting in the distance, the tranquil lake down below, and a ridge line of towering mountains—close in height to what you've just climbed, a sure feat!
Note: Hiking Roy's Peak is closed October 1 – November 10. This is New Zealand's lambing season, and many hikes are closed because of it.
How I Didn't Wait in Line for a Pic at Roy's Peak
---
The real reason, in case it wasn't obvious enough, was that the thought of an Instagram line made me roll my eyes. At this point, I've been hiking for over a month in this country and all has been so beautiful, and not that crowded, so why would I hike a place that was?
I told myself I wasn't waiting in that stupid fucking Instagram line and I'll just hike it, like a normal person and see what happens. Well… here's what I found out about hiking Roy's Peak…
I Found Out People Don't Actually Summit?!
How disappointing is THAT? I was pretty shocked to learn the viewpoint, AKA the Instagram shot everyone wants, is one mile below the summit.
And I'd say at least half of the people didn't go all the way up.
How are you going to get so far and not even finish the summit! And yet still say you climbed Roy's Peak. Many snapped their picture and left.
Which worked out very well for me!
I Skipped the View Point—At First
When I got to the viewpoint, there were people forming a line. Surprisingly, it wasn't as bad as I thought. It was about 15 people at the summit and around four waiting in a line.
Not entirely terrible but it did feel a little crowded, and I wasn't having it anyway.
I already noticed that the summit wasn't this photo spot anyway, so I kept on going, and it proved to be a good choice.
When I made it back down, there was one couple taking their photo which worked out perfectly for me. I could now get this shot without waiting and they can help me take the shot.
The wind is so crazy up here; setting up my tripod and taking the picture remotely as I usually do could have been a disaster waiting to happen. (AKA my camera blowing off a cliff)
We helped take each other photos, and all was good.
The main reason to skip ahead is that you're likely going to be in a "group." Even when you don't mean to, you'll start around the same time as a few people, and some will be ahead or behind, but you will all generally be around each other during the hike and therefore, reaching the top around the same time.
Everyone is going to stop at the viewpoint first, and you now know not many even go to the summit! But you're smart, so you're going to keep on going till the top, and see even fewer people.
By the time you're making it down, everyone else at that viewpoint is gone, either up to the summit or much more likely, back down.
You win!
This was key in hiking Roy's Peak and avoiding the crowds.
I Reveled in the Overcast Weather
Pretty much most of the reasoning for hiking Roy's Peak was that the weather wasn't the best and people weren't going to come. I was totally right.
The parking lot never got as crazy full as it was the day before when I saw it. It was cloudy, and I saw rain in the distance the entire way up!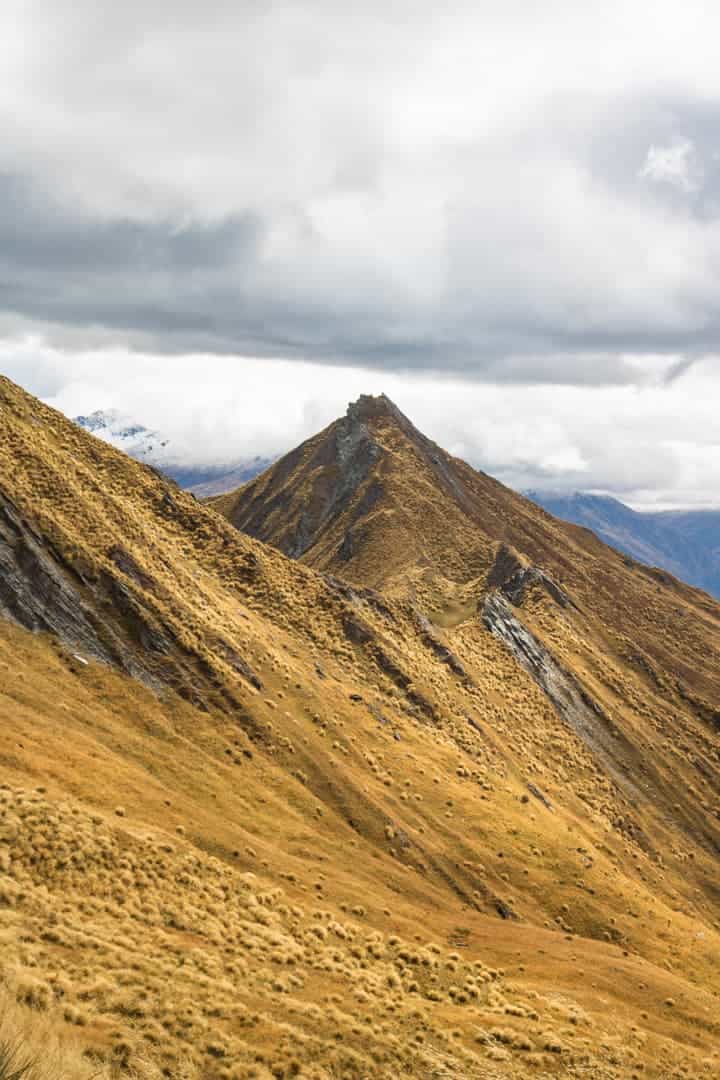 Another massive benefit, mainly because I was here in high season, is that it was overcast on this extremely exposed hike. This equaled and much much easier time getting up there.
It would have been a tough slog up there if the sun was beating me down the entire five or so miles up the top. I knew I was taking a risk, but the weather predicted it was going only going to be overcast today, not raining anymore.
I didn't want it to rain on me. I did risk it a bit because the peak could have been engulfed in a cloud and I'd get no views.
But the weather moves fast here; I was sure I'd get a view during the cloud breaks.
It all worked out perfectly and exactly how I thought it would. Getting here during overcast but not adverse weather is a huge benefit.
I Opened My Eyes
I'll admit, the viewpoint at Roy's Peak is really nice! But I seriously wouldn't wait in line for it. Particularly because there are so many other beautiful angles without waiting in line!
With tons of photographic opportunities, just take a look around, definitely summit, and find inspiration in the other gorgeous areas at Roy's Peak. Look at all the other shots I got while I was here in this post!
The Weather at Roy's Peak
So as you know, it was cloudy when I went, which equaled a very very good thing!
Fewer people, less sun, easier hike. Got it.
But being that I've been here a couple of months already, I know New Zealand's weather gets crazy. You can get multiple seasons in a day, which is precisely what happened to me on this hike, luckily I was prepared!
During my hike, it went from pretty hot, to hotter as I was going uphill. As I started to get to the top, I started getting colder.
When I got to the summit of the mountain, it was freezing and there were legit snow flurries! It immediately turned to water when it hit you, but I was so surprised and amazed! I'm from Florida, don't forget, so these little things are fun! I had snow flurries flying around me, in summer, in New Zeland, while I was on this mountain. Kinda cool and psycho all at the same time.
But this all means you need to be prepared for ANYTHING when hiking Roy's Peak…
What to Wear and Bring to Summit Roy's Peak
So what to bring and what to wear to Roy's Peak is seriously essential. My hands were frozen, I actually wouldn't have minded gloves. My ears were cold, I should have brought my beanie.
Luckily those were the only two things I didn't bring and I was otherwise all good. Here's everything you need to hike Roy's Peak:
Proper shoes. This is what I wore.
A rain jacket/hard shell. This is my favorite jacket ever, I was wearing the outer shell at the summit, I didn't need the puffy jacket for this hike.
A light jacket. This is what I wore and this was worn over my tank top. I actually wore it the whole time because I didn't want to expose my shoulder. Even those it was overcast, the sun is something fierce here. It was actually a little bit cold without it on the way up but too hot for the shell.
Beanie. I could have used mine.
Gloves, just light ones for the summit. My hands froze.
Hat. I actually wore a HAT. I never do. I wore it because I didn't want the sun in my face. Again, it's super strong!
Water, of course! I needed a lot less water than if it would have been hot out. But I probably should have drank more!
Snacks. You'll work up an appetite.
Sunscreen. I've already told you why. And I'm serious!
Other than that, I wore a tank top and jeggings, because it was the most comfortable. My bottoms would have been a drag if it rained, but otherwise, I would have been covered!
Make sure you use a good day backpack or your life will be extra miserable. This is my day bag that I used. It has space for my camera stuff and the shell jacket when I didn't need it. Water, snacks, and my charger for my phone.
Note: I was here in summer, February. Do make sure you look the weather up before going and bringing anything extra you may need!
My Overall Experience
I actually really enjoyed the hike, surprisingly. Because it's not easy. You're going up a steep hill for about five miles… It burns!
But because the weather was on my side, I hustled up there using a steady pace and controlled breathing. It took me two and half hours get to the viewpoint and just under three to the summit. In total, it took five and half hours and that's with lots of stopping for photos.
I only had a handful of people around me, much less than usual.
The track is easy, as in, it's impossible to get lost, and it's wide and paved.
The views are something else. It really is gorgeous up there. The peaks in the distance, the glaciers all to the left, the lake to the right, the views are crazy beautiful and if you can avoid the crowds, then do it!
UPDATE: Hiking Isthmus
The Isthmus hike is supposed to be just like Roy's Peak but less busy. It's the same distance, the same difficulty and offers up some of the same views. I did this hike as well and can confirm, it's gorgeous! The views are a bit similar but I have to say, Roy's Peak still wins.
The crowds are a lot less on Isthmus though, so go there if Roy's is too busy.
Would you hike Roy's Peak? Have you? Would you wait in an Instagram line? Let us know in the comments!
---
---
>>> EVEN MORE ABOUT TRAVELING NEW ZEALAND <<<
Work & Travel New Zealand: Get a Working Holiday Visa for New Zealand
A 5-Day Queenstown Itinerary For the Intrepid (New Zealand)
2-Week North Island, New Zealand Road Trip Itinerary
New Zealand Road Trip Itinerary—2 Weeks to 2 Months + Costs and Tips
20+ Day New Zealand South Island Road Trip Itinerary
Campervan Sites in New Zealand + Camping and Food Tips
Campervanning New Zealand: Buying, Selling, Renovating, and Tips
New Zealand Travel Tips + A Budget Breakdown
Piha & Waitakere Ranges Walks, Waterfalls, and Beaches—New Zealand
A Guide to The Pouakai Circuit & Hut at Mount Taranaki (New Zealand)
11 Fab Things to Do in The Coromandel, New Zealand
Epic Things to Do in Rotorua—Hot Pools & Adventures
7 Tips For The Cathedral Cove Walk in The Coromandel, New Zealand
A Guide to Hiking French Ridge Hut in Aspiring National Park (New Zealand)
Hooker Valley Track: The Easiest & Most Beautiful Hike in Mount Cook NP (New Zealand)
5 Things to Know about Milford Sound, How to See It and Is It Worth It? (New Zealand)
An Adventurer's Guide to Exploring Lake Tekapo, New Zealand
4 Easy But Beautiful Walks Around Dunedin, New Zealand
11 Things to Do in The Catlins in 2 Days (New Zealand)
A Guide to Exploring The Cave Stream Scenic Reserve (New Zealand)
---
---