This guide to the most underrated places to visit in South Island is authored by Jennifer.
There is no doubt that New Zealand has many stunning destinations. From Auckland, the largest city, to Rotorua, the cultural capital, to Queenstown, an absolute adventure seekers mecca, New Zealand really does have something for everyone.
The South Island, also known as the Mainland, is perhaps the most visited island. But, I implore you to see the underrated places this beautiful country has to offer. These include incredible landscapes, not yet discovered by Instagram, places that are rarely covered by blogs just ticking off the highlights.
I love places where you feel like you have stumbled on something unknown, and there can be very few people visiting, so if this sounds like a little bit of you, you will love these unique places to visit in the South Island.
Underrated Places to Visit in South Island, New Zealand
---
Ashburton Lakes
The Ashburton Lakes region has to be one of the most unknown places to visit in the South Island and one that I return to time and time again. Most tourists will head south from Christchurch towards Lake Tekapo, without a stop along the way. If you really want to see what real New Zealand is like, how people used to holiday before the big resorts or tourist attractions came to town, then this trip to high country Canterbury will show this off like no other.
The Ashburton Lakes is a stunning collection of high country lakes, about ninety minutes inland from Ashburton (1 hour, 15 minutes south of Christchurch) Lake Heron, the largest lake, is the most picturesque of them all. If you are lucky enough to visit during the winter, you will find snow-capped mountains reflected in the lake, and even some snow itself.
It is the epitome of winter wonderlands, and you are likely to have it to yourself, making it one of my favorite places to visit in the South Island. There is also a small one hour walk here to Lake Hill for further views of the lakeside.
Mount Sunday
Mount Sunday is another great destination, heading further inland. If Mount Sunday sounds familiar to you, it is a Lord of the Rings film location. It is completely free to visit and walk this 60-90 minute return hike, but unfortunately, there is nothing left of the set.
Mount Sunday was the site of Edoras, the capital of Rohan in the Lord of the Rings films. LOTR enthusiasts will recognize the large rock where the castle was situated. The 360-degree views from here are just breathtaking. Even if you are not a fan, the easy walk is definitely worth the effort.
Lake Clearwater
Lake Clearwater is the "main center" of the Ashburton Lakes area and there are a number of baches (holiday homes) here. They are old fashioned getaways without power and just the classic kiwi holiday like it used to be. There is a campground here at Lake Clearwater and you can freedom camp if you are self-contained at Lake Camp, just two minutes across the road.
These lakes are great for water sports, or if you are up for a challenging climb, then head up Mount Guy. It's a tough, steep climb but the views from up here are some of the best in the region. Hiking is one of the most beautiful things to do in the South Island, so I highly recommend going for the views.
How to get there: 2 hours 45 minutes south of Christchurch
How long to spend here: 2 days
Top tip: There is extremely limited mobile phone coverage here so screenshot the maps and info you need before you leave the last town of Mount Somers.
RELATED: 20+ Day New Zealand South Island Road Trip Itinerary
Hanmer Springs: Canterbury's Little Adventure Town
Hanmer Springs is a small resort-style town about 90 minutes inland from Christchurch. Often an overlooked place to visit in the South Island, often for the coastal Kaikoura route heading north, Hanmer Springs is great for those looking to adventure, or merely relax. It is a popular destination for Christchurch based locals for the weekend, but definitely has more than a few days of offerings.
Hanmer is most well known for the Hanmer Springs Thermal Resort and Spa. Not only are the mineral pools great for your skin, but there are also some awesome hydro slides, including the new Conical Thrill double raft ride. With beauty treatments and massages on offer, relaxing here is very easy.
While many head straight to Queenstown for their big thrills, Hanmer Springs has all the best adventure activities, mere minutes from town (and far cheaper too). You can bungy jump over the beautiful Waiau River, take a family rafting adventure, take a 4×4 quad bike for a spin through the country or burn down the gorge on a jet boat.
Hanmer Springs is also a haven for mountain bikers. With trails starting at a beginner level for preschoolers, ranging to expert level downhills that will make you cringe in fear, the Hanmer Forest is an awesome wilderness to explore. Bring your own bikes or hire them from a number of stores on the main street.
How to get here: Drive 1.5 hours north of Christchurch
How long to spend here: 3 days
Top Tip: Hanmer Holiday Homes often offer free nights in the weekdays if you stay for a certain length of time, so check them out!
Marlborough Sounds: the Most Underrated Place to Visit in the South Island
The Marlborough Sounds is a stunning coastal destination full of secret beaches, coves, bush walks and relaxation. Many will head straight to the Abel Tasman National Park in Nelson for the "Great Walk," driving past the hidden Queen Charlotte Track.
The Queen Charlotte Track: One of the Best Things to Do in the South Island
The Queen Charlotte Track is a 4-5 day walk from Ship Cove to Anakiwa. You can take a tour and a guided walk, or you can walk this on your own, self-guided. It is a tougher walk than the Abel Tasman Track, however, there are many things that make this walk a little different or not as tough as it seems.
Unlike the Abel Tasman Track, you don't have to tent or sleep in a hut the majority of the way. There is a range of accommodation on offer, including luxury stays with meals. I know a comfy bed will make walking the track much easier the next day. This walk is one of the most beautiful things to do in South Island and you really won't be disappointed with its beauty and tranquility.
For creature comforts, you can also have your gear transferred by water taxi to your next accommodation/camping spot, meaning you only need a day bag. You can also have supermarket supplies shipped to you via a water taxi. If the track gets too tough, or you want to skip the "difficult day", then you can just get a drop off to the next stop too.
Other Things to Do in Marlborough
If you are an avid mountain biker, you can also cycle the track. It's a great option for adventurous friends and there's nothing like a swim in the sea after a hot ride. If you aren't up for a long walk, you can still enjoy other active adventures in the Marlborough Sounds.
Hire a kayak, join a life-changing Outward Bound course, or take a scenic cruise around the Sounds. You may even spot dolphins, penguins, and seals along the way as they love swimming in these sheltered waters. If a scenic drive is more your thing, then drive up to the Kenepuru Sound, find some boutique accommodation and relax by the water.
How to get here: Drive 4 hours north of Christchurch, 1 hour from Nelson or take the Cook Strait ferry across from Wellington
How long to spend here: 5-6 days with the walk, or 3 days for relaxed exploring
Top tip: You can have your supermarket order shipped in via water taxi from Fresh Choice Picton, meaning you can have fresh food every day of your walk.
The Catlins
The Catlins is at the southernmost point of the South Island. In fact, Slope Point itself has a special sign signifying this exact fact. The Catlins area is quite rugged and untouched, and reminds me a little of the West Coast region of the South Island, without the big tourist attractions like the glaciers. Possibly overlooked since it is so far south, you can be there in 1.5-2 hours from Dunedin.
The Best South Island Waterfalls
One of the big pulls for this region is the beautiful waterfalls. Purakaunui Falls is my favorite of the Catlins waterfalls. These cascade falls are over 20m high and are so easy to access from the road. Photographers will love the beautiful long exposures they can create in this sheltered forest area.
If you are up for a waterfall with a wee bit of a walk, head to McLean Falls near Papatowai. It is a 40-minute return walk to McLean Falls, which can get a little wet and slippery, but totally doable, even with children.
These waterfalls, surrounded by mossy rocks, make you feel transported to a different world. There is something about the sound of the water crashing behind you and listening to the birds sing that just make it feel so magical.
Other waterfalls to check out in this area include Matai Falls and Horseshoe Falls.
Cathedral Caves: Tunnel and Cave System
Cathedral Caves is another highlight of the Catlins region. Don't be confused by the North Island's Cathedral Cove, Cathedral Cave is an amazing cave system that is only accessible at low tide.
There are over 200m of tunnels down here that can be as high as 30m. These caves are huge. They are named Cathedral Caves as the acoustics make it sound like a cathedral inside. Have a try and sing while you are exploring.
Nugget Point: the Most Picturesque Lighthouse in the South Island
Nugget Point, a photographer's dream, is likely to be the most photographed destination in the Catlins. Nugget Point Lighthouse is a picturesque spot and watching the sunrise here will be on the highlights of your South Island holiday.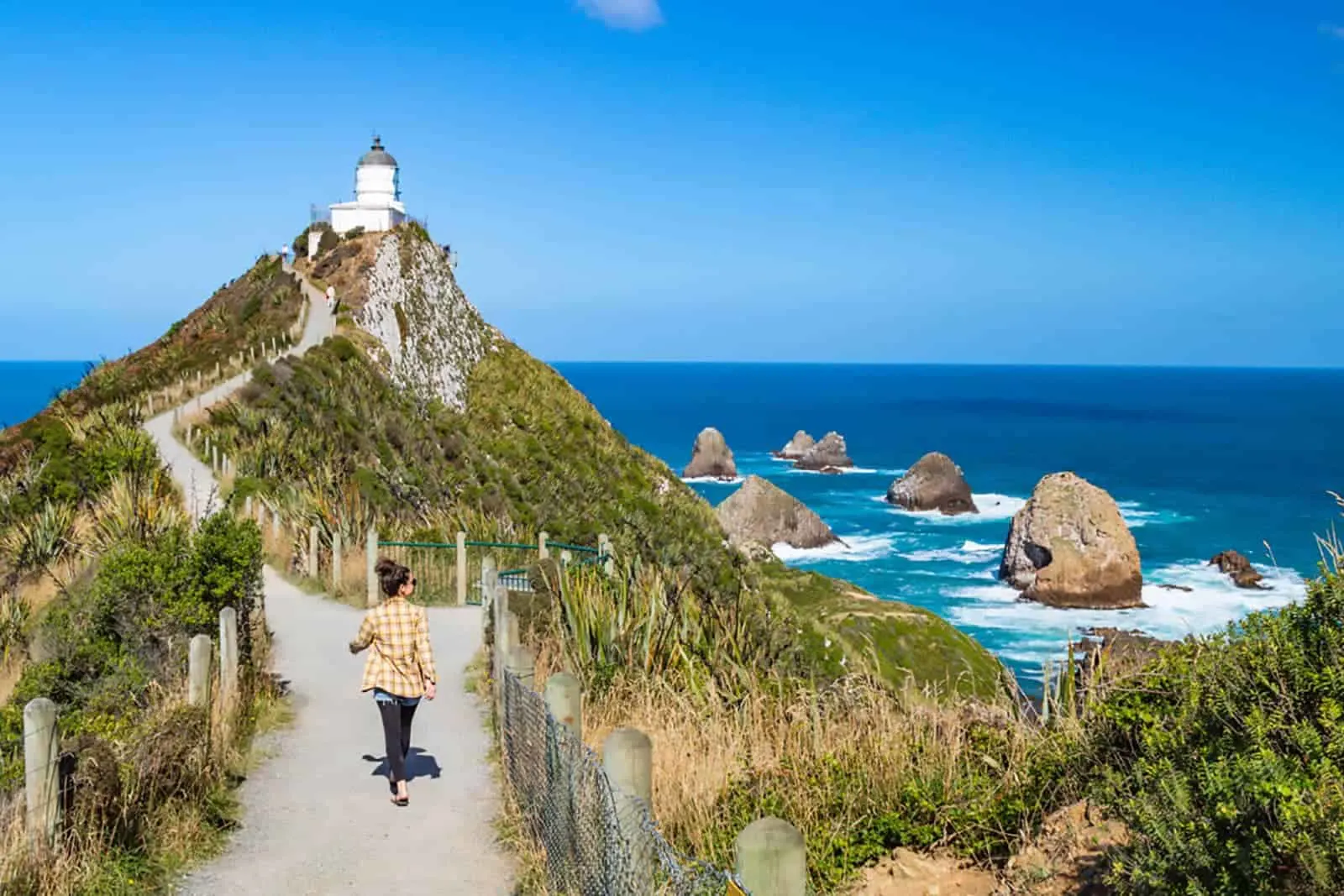 It is serene and photographers will love the many angles they can take of the lighthouse. Lovers of wildlife will also enjoy Nugget Point as there is a resident seal colony here and elephant seals love this spot over the summer months. Birdlife here is also abundant.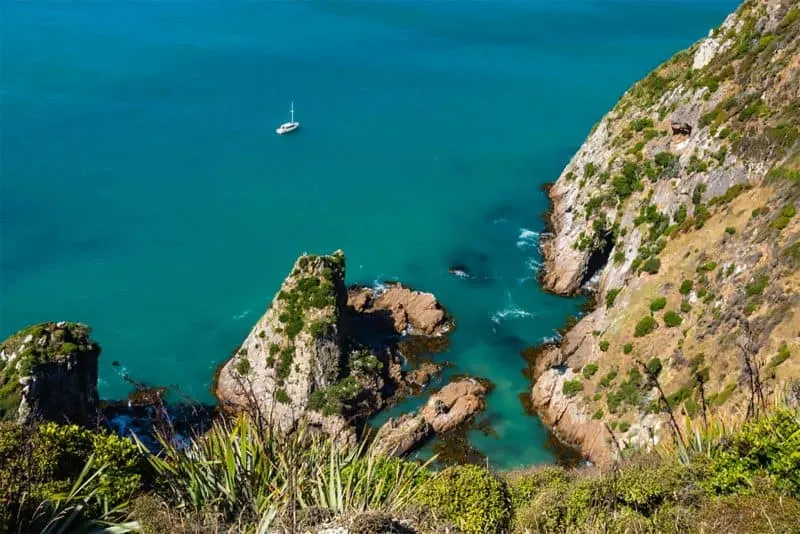 These are but a few of the amazing things to do in the South Island while you are in New Zealand. If you have already ticked off the "South Island highlights" or you want to get a greater sense of real New Zealand and experience places not riddled in touring buses, then these beautiful spots are for you.
How to get here: 90 mins drive south of Dunedin
How long to spend here: 3 days
Top tip: It can be quite cold here, even in summer so bring your jackets and plenty of layers.
---
Editor's Additions:
Other Underrated Places to Visit in South Island
I couldn't help myself, Jennifer gave some amazing option but when you love a country and you've traveled it extensively, it's kind of hard to shut up about it, so here I am. Continuing to gush about New Zealand. So sue me… 🙂
I have so many other posts on New Zealand so please click through this post to get even more specific guides on the things to do on South Island, New Zealand.
Lake Tekapo – While the lake itself isn't underrated, as many visit it, that's about all they visit! Don't swing by and just snap a pic of the lake and the famous church. There are tons of hikes around the lake, incredible stargazing opportunities, and cool campsites to set up at so you can stay longer.
And if you're tired and are in need of some R&R, there are some amazing hot springs here too.
French Ridge Hut – This amazing hike is right next to the uber-famous and trekked out Rob Roy Glacier… Yet very few hike the French Ridge Hut trail! I'm not sure if they have no time to, don't know about it, are intimidated by the distance, or a combo, but if you're after underrated places to visit in South Island, this hike was my favorite (and probably one of the most challenging hikes I've ever done.)
Akaroa – Just outside of Christchurch is a beautiful peninsula with cool waterfall hikes, gorgeous views of the Akaroa Harbour, and opportunities for marine animal spotting.
Dunedin – Another underrated area with really cool animals to spot like seals and penguins and some really rewarding but easy hikes.
Routeburn – OK, so this is an actually a popular hike, it's one of the Great Walks in New Zealand, but if you read my guide, you'll see my methods for hiking this awesome track are pretty out there and will result in you not spending a dime!
More Around the South Island of New Zealand
I hope this guide to the most underrated places in South Island helped you with planning your trip to New Zealand. Let us know in the comments what you're most looking forward to on the South Island!
---
>>> Bio
Jennifer is a kiwi girl, born and bred, and lives in the South Island of New Zealand with her husband and three young children. While they have traveled extensively throughout the world, they still love the diversity of New Zealand and really believe it is one of the best destinations in the world. Their website, Backyard Travel Family, has detailed guides specifically for families traveling around New Zealand and is perfect for first timer visitors and those looking for hidden gems.
---
---
>>> Even More Around New Zealand<<<
New Zealand Road Trip Itinerary—2 Weeks to 2 Months + Costs and Tips
New Zealand Travel Tips and a Budget Break Down
Campervanning New Zealand: Buying, Selling, Renovating and Tips
Campervan Sites in New Zealand + Camping and Food Tips
A Guide to Hiking the Kepler Track in Fiordland National Park, New Zealand
5 Epic Hikes in Mount Cook National Park That Are Totally Worth It (New Zealand)
A Guide to Hiking the Mueller Hut Track & What to Pack (New Zealand)
Hooker Valley Track: The Easiest & Most Beautiful Hike in Mount Cook NP (New Zealand)
Hiking Roy's Peak & How to Not to Wait in Line for a Pic (New Zealand)
9 Skydiving Zones in New Zealand – Which one is Right for you?
50+ of the Best Hikes in New Zealand & Hiking Tips
A 5-Day Queenstown Itinerary For the Intrepid (New Zealand)
20+ Day New Zealand South Island Road Trip Itinerary
2-Week North Island, New Zealand Road Trip Itinerary
Piha & Waitakere Ranges Walks, Waterfalls, and Beaches—New Zealand
A Guide to The Pouakai Circuit & Hut at Mount Taranaki (New Zealand)
11 Fab Things to Do in The Coromandel, New Zealand
Epic Things to Do in Rotorua—Hot Pools & Adventures
7 Tips For The Cathedral Cove Walk in The Coromandel, New Zealand
A Guide to Hiking French Ridge Hut in Aspiring National Park (New Zealand)
Guide to the Routeburn Track: Should You Do It as a Day Hike? (New Zealand)
5 Things to Know about Milford Sound, How to See It and Is It Worth It? (New Zealand)
An Adventurer's Guide to Exploring Lake Tekapo, New Zealand
4 Easy But Beautiful Walks Around Dunedin, New Zealand
11 Things to Do in The Catlins in 2 Days (New Zealand)
A Guide to Exploring The Cave Stream Scenic Reserve (New Zealand)
---
---