I have truly come a long way when it comes to travel jackets…
It wasn't long ago that I literally didn't own a real jacket. At all. The closest thing I owned was a pleather jacket or maybe one of those cheap jackets with no liners that are just for looks. That's all I needed to survive in Florida with our nonexistent winter!
And then, I started to travel to places like Iceland, Oregon, and New Zealand…
I finally learned what proper layering was, what those zippers under the armpits of my jacket were for, and what a shell was. I even learned about what certain materials do for you in the cold.
Yes, these were all new things. After all, I didn't even see snow for the first time until I was 30 years old! Not joking, guys… (Hey, don't laugh, I know some people out there didn't see a beach until they were older, so… yeah!)
So let's get down to business, shall we? I now know the importance of a good jacket and one that's great (or shitty) for traveling. If you ask me, finding the right travel jacket is even harder because who has room to bring multiple? Nobody!
Here you'll not only find some of the best travel jackets for women out there right now but tips on how to choose the best one for your trip, because it DOES matter where you're going and what you're doing.
7 Great Travel Jackets for Women—For Any Trip!
---
Here's a quick look at some excellent travel jackets to choose from. Feel free to check prices using the links and keep reading for a better breakdown of these travel jackets and things to think about before purchasing one.
Best Women's Travel Jacket on a Budget
Best Rain Travel Jacket for Women
Best Winter Jacket for Women
Best Women's Travel Jacket for Hikers
Best Lightweight Insulated Jacket for Women
Best Travel Jacket for Women with Hidden Pockets
Best 3-in-1 Women's Travel Jacket
Things to Consider When Buying a Women's Travel Jacket:
---
Choosing the best travel jacket for your specific trip is where things get tricky. Only you know where you're going and what the weather will be like! Be sure you're not bringing a winter parka when, in reality, all you need is a light rain jacket.
Keeping a few of these points in mind when shopping for your travel jacket will help you choose the best one…
Breathability
Different types of material will offer different levels of breathability. You want your travel jacket to be as breathable as possible, especially if you are going to be taking part in hiking or other strenuous activities when wearing it.
Waterproof jackets tend to be less breathable, so try looking for 'the most breathable' waterproof jacket if you can, as chances are it won't always be raining when you want to wear it.
The breathability of a jacket measures how quickly moisture vapor generates from your body and passes through the fabric of your jacket. Any jacket that is not breathable will result in the moisture that can't escape condensing, making you feel either hot and sweaty or freezing.
The higher the intensity of the activity you are planning to do in the jacket, the more breathable it should ideally be. Fabrics such as Hydrosheel Air and Gore-Tex Active are particularly useful options for very strenuous activities.
The most common way to measurable the breathability of a jacket is by using a Moisture Vapour Transmission Rate. This measures the amount of water vapor that travels, in 24 hours, through a square meter of fabric, with 30,000g or over giving you the best level of breathability. Another way to measure this factor is through Evaporative Heat Loss, also known as RET, where the lower the number, the more breathable the material.
Other things to look for in the best travel jacket for women to help with breathability are things like pit zips, vents on the chest, shoulders, and back and pocket vents.
Waterproofness—An Important Feature For Your Travel Jacket
When you are out exploring the great outdoors, the chances are it is going to rain at some point, so having a waterproof jacket is always a good idea. Some jackets come with a waterproof membrane, a very sophisticated material that has microscopic holes all across its surface.
These holes are so tiny that water can't get through, yet vapor can still get out. Another type of waterproof jacket are those that have a 'coating,' primarily just covering the jacket in a material that seals the jacket. These types of waterproof jackets tend to be cheaper than those with the waterproof membrane.
One of the best types of waterproof material is Gore-Tex, and it is the choice of material for many brands, while others may opt to develop their membranes.
Materials
Gore-Tex and eVent: These are the two most prominent waterproof materials or technologies used on some of the best travel jackets. They work by using microporous membranes underneath the top layer of the coat, meaning that they help keep the rain out, are entirely windproof, and yet still have great breathability. eVent has a slightly simpler structure, making it arguably more breathable.
Own Brand: Most of the leading outdoor brands have their waterproof technology. For example, Jack Wolfskin has developed TEXAPORE, and The North Face has developed HyVent. A coated fabric is used here within a layered system, using a similar principle as Gore-Tex. These materials are very waterproof; however, they don't tend to have the same breathability as Gore-Tex.
Coated Fabrics: The cheapest option is to go for a jacket that doesn't even have a membrane, but instead will use a coating, such as Polyurethane or Durable Water Repellent over the material. They don't offer the same performance of own brand or other membrane technologies but are great for a lightweight jacket.
Other Factors When Choosing a Good Travel Jacket's Material:
Adjustable cuffs: Having an adjustable cuff is a bonus when it comes to warmth as it traps in the heat. Bonded cuffs usually can withstand more wear and tear than basic shell jackets.
Hem Drawcord: A hem drawcord has a couple of benefits as not only will it trap in the heat, but it will also stop your jacket from riding up, which can be especially annoying when you are wearing a backpack.
Zips: A factor you may not think about when choosing a waterproof jacket is the zips. Zips can stop a jacket from being completely waterproof, so many use a hydro-seal zip, a mechanism that binds shut when it closes. A storm baffle zipper is another option, it is bulkier as the material has to fold over the zip, but it does tend to be more durable.
The hood: The hood of a jacket is another factor that should be considered carefully when it comes to the best travel jacket. A good hood can ward off even the biggest rainstorm and protect for the wind, and there are various designs you can choose from. Large hoods should be selected if you are going to be partaking in an activity that requires a helmet, such as climbing or cycling.
Some jackets are specifically designed to accommodate a helmet. A wire peak hood is another option, and it lets you customize the shape and the fit of the hood to prevent any rain from getting in. A good quality drawcord at the head should also help to keep water out effectively.
Pit Zips: High excursion activities such as mountain climbing and running are high exertion, so the more breathable your jacket, the better. Zipped vents under the arms give you just that little bit of additional breathability, then can be closed when not needed.
These are also essential when you're in a hot country where it rains a lot. Without those vents, you'll be a sweaty hot mess under your jacket.
Types of Jackets:
Lightweight: These types of travel jackets are aimed at those that travel more casually; therefore, they are not going to go climbing mountains in it. They tend to be cheaper, lighter, and pretty simple and can be packed up small when not in use. This type of jacket can be used for light running, wearing around the town, and general day hiking.
Mountain Waterproof: When it comes to activities such as climbing and mountaineering, your number one priority should be durability. Mountain waterproofs are set apart from other jackets as they are made from tough, high-performance fabrics. These harsh environments will mean constant abrasion on the jacket, so you are going to need something highly durable for it to last longer than a few weeks.
These jackets will generally have more features but will be more expensive than similar, lighter garments. They may have stiffened hood visors, cheek flaps, or volume adjusters so that the hood can be tailored to your requirements. Some may also have chin guards to protect part of your face.
Insulated: This type of jacket is ideal if you know you are going somewhere chilly, and all you want from a jacket is maximum warmth. There are many types of insulated jackets out there to meet the needs of all lovers of the great outdoors. Options include a down or synthetic jacket, or even a gilet depending on the level of insulation you are after.
Softshell Jacket: This type of jacket combines the elements of a mid-layer and outer layer in one. Although they are not entirely waterproof or windproof, there are very resistant to these elements, and they are pretty versatile.
This is ideal if you want a lightweight jacket that will keep out the chill and also protect you from light rain showers. As they are relatively smart, they can also look good when it comes to casual wear.
Snow Jacket: A snow jacket is different from other types of jackets as it's designed for one thing—snow. Skiing jackets tend to be closer-fitting to those that have been designed for other winter sports to keep them streamlined.
There are a few features to look out for in this category, such as pass pockets, powder skirts to keep out the snow, and articulated elbows to give you more freedom when it comes to movement.
3-in-1 jacket: This is the classic jacket that is ideal for year-round use. It essentially covers the best of all worlds, with a fleece inner for warmth and then a waterproof shell outer to keep out the rain. You can take both elements apart and use separately or together, depending on the elements. When worn together, warmth is trapped between the layers but moisture can still escape, keeping you warm and dry.
SPOILER ALERT: This is my favorite style out of all the travel jackets for women and the one I used the MOST!
Choosing the Right Fit
How a jacket fits depends largely on your preferences and the type of activity that you plan on doing. If you are planning on doing some climbing, you should check that the pockets are high enough to not get in the way of your harness, and if you're running, then is it a good enough fit your body to reduce drag on the body?
You should also consider that you are likely to be wearing the jacket in a range of different situations and temperatures, so you may even be wearing several layers underneath the jacket.
Again, this is all on you decide as you know where you're going, what you're doing, and what's comfortable for your body.
The Best Travel Jackets for Women
---
So let's break everything down a bit further and get into some of the best women's travel jackets out there, why they are great, their features, and more!
1. Best Women's Travel Jacket on a Budget – Ultra Light Down Compact Jacket
This is the best option for you if you're looking for an ultra-lightweight jacket that will keep you warm on chilly autumn days, but not for extreme winter weather. The nylon shell looks great, and the down-filled jacket will keep you snug, without taking up much space in your carry-on or bags.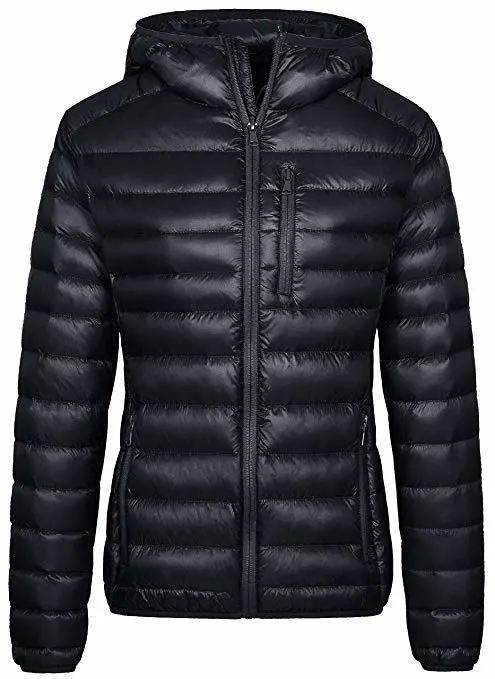 The jacket is also durable and water-resistant, ensuring that you'll be dry during all but the most torrential rain. The best part? This women's travel jacket won't break the bank and will keep you comfortable and warm for a very reasonable price.
This is a Great Women's Travel Jacket For…
Those on a budget who want to keep warm! It's a simple piece that's great for mild weather and some chill. It's not something I'd wear if you expect more extreme weather, rain or wind!
2. Best Rain Travel Jacket for Women – Marmot Minimalist Jacket
Marmot is renowned for its high quality, thoughtfully designed clothing; due to this, they've become the first choice for many adventurers. Their minimalist jacket is made from Gore-Tex Paclite material, which is lightweight, waterproof, and windproof. The jacket is both packable and designed for giving the wearer full mobility.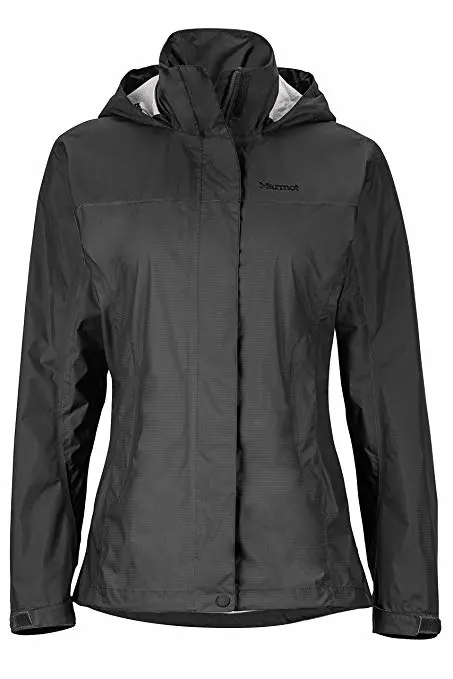 The jacket features underarm vents for increased ventilation, helping you stay comfortable while hiking or walking. The adjustable hood keeps the rain and winds out of your face, while the drawcord does the same for your clothes.
I have this rain jacket and use it as my thin shell layer when I'm visiting a place that's only a bit chilly but likely to rain. It smooshes up pretty well and doesn't take up too much space. The vents are extremely helpful when I wear it in warmer places, so I don't roast inside of it!
This is a Great Women's Travel Jacket For…
Those who plan on getting wet and going to windy places! This will keep you dry and without a chill. It's something that can go over a puffer jacket as well if you need the extra warmth! But also if you want this AND a puffer for your trip, wait for the last jacket on this list!
3. Best Winter Jacket for Women – Kuhl Spyfire Parka
The best winter jackets have to be warm, comfortable, versatile, and, most importantly, comfortable. This Winter Parka delivers that, and more. You'll be safe from the wet thanks to the durable Tufflex finish, while the sustainably sourced goose-down filling provides insulation without bulk.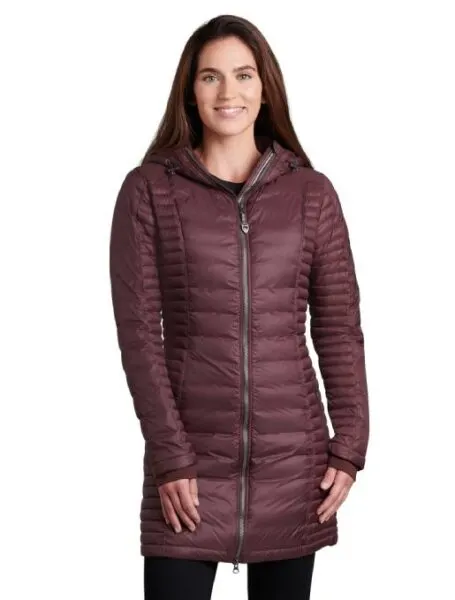 The unique articulated design provides freedom of movement with smaller panels around the sides and arms, with larger panels on the body for core warmth. Internal knit cuffs and elastic around the hood stop the wind from getting in. With reinforced shoulders, you can carry your backpack without damaging the jacket.
This is a Great Women's Travel Jacket For…
Those who want their butt warm too! I love the length of this jacket and it's perfect for frigid places where, yes, even your butt is freezing!
4. Best Women's Travel Jacket for Hikers – ARC'TERYX Cerium LT Jacket
The Cerium LT jacket is one of the few women's travel jackets that are perfect for hiking or adventuring in colder regions. Lightweight and warm, this jacket is designed for comfortably venturing outdoors in moderately cold conditions.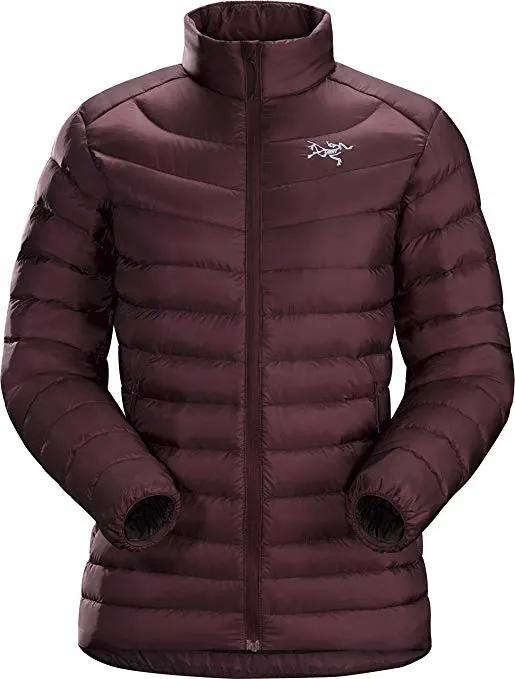 It will double as both a mid-layer jacket in more extreme weather or as an outer shell for less severe conditions. The insulated hood protects against wind and rain, while the CoreLoft synthetic insulation and premium 850 fill down to keep the chill out.
This is a Great Women's Travel Jacket For…
Those getting in the great outdoors! It's going to keep you warm but also let you breathe while you make it up that mountain!
5. Best Lightweight Insulated Jacket for Women – The North Face ThermoBall Jacket
The North Face Thermoball jacket should be in every traveler's closet, so you can grab it when leaving for a trip to a cold area. Durable, breathable, and packable, you can't go wrong with this one.
With internal zipped chest pockets and external hand pockets, elastic cuffs, a hem cinch-cord, and a bottleneck quilted slim-fit design, you will be safe from the wet and wind. The Thermoball synthetic insulation performs excellent when wet, making it even better than goose down, which is only warm when dry. You can choose from classic, matte, and print fabric options, so you feel comfy and look good too!
This is a Great Women's Travel Jacket For…
Those who want to grab and go and be a bit more stylish. This is a great, light, city-wearing, puffer.
Clothing companies have started catering to the varying needs of travelers, including the need to carry a load of personal items while flying or on the move. Instead of carrying a backpack or purse, consider multi-pocket jackets like the ScotteVest Windbreaker for keeping essentials secure.
This protective jacket has 19 pockets (14 of them interior), including two for smartphones, an RFID blocking pocket, and one to fit your passport. The integrated weight management system ensures that your electronics or other belongings can stay on your person without looking bulky or causing neck and back pain.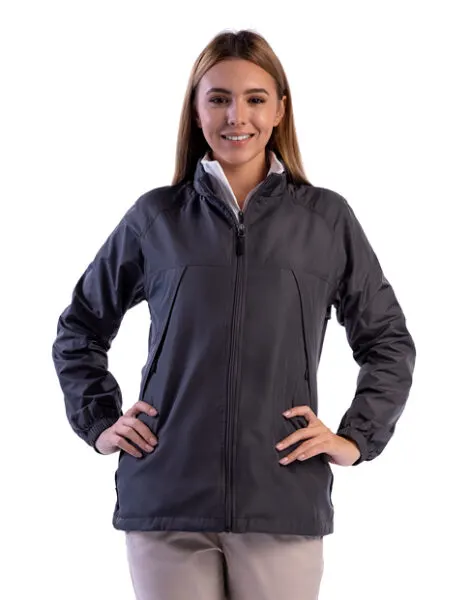 It's both water and stain resistant, but can be still be machine washed which makes it very easy to care for. The ScottEVest Windbreaker is designed for temperate weather, so layering is recommended for colder climates. When you're not wearing it, the whole thing packs away into its own hood.
This travel jacket for women is super cool and I traveled with a friend who has one. I was pretty jealous, and I'll likely get one for a future trip (at the end of the day, a girl who travels can only have so many jackets.) She was like a genie in this thing! She didn't have to wear a purse, and everything was extremely inconspicuous, which is perfect for traveling.
This is a Great Women's Travel Jacket For…
Those who refuse to wear a purse, want to keep their important items close, or simply want to be a multifunctional queen! You get ALLLL the pockets with this one!
7. Best 3-in-1 Women's Travel Jacket – Columbia Women's Whirlibird™ Interchange Jacket
If you're on the lookout for a 3-in-1 travel jacket for women that can not only keep you comfortable in extreme conditions but also takes pretty much anything you throw at it, look no further. The Columbia Women's Whirlibird is a snow jacket that has a breathable outer shell and an insulated reflective inner layer. It is essentially two jackets that, when combined, are both waterproof and very warm.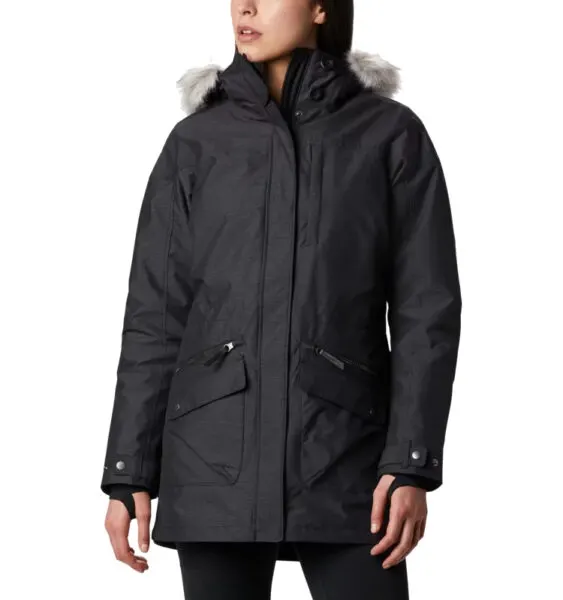 If you need a ski or snowboarding jacket, combine both layers. Or use the inner one for cold weather, knowing you'll be comfortable and warm. The jacket comes with a range of easy-access pockets, adjustable hem, hood, and cuffs, as well as underarm venting. This is one jacket you'll be using for a long time.
This is the travel jacket I find works best for me as I'm getting 3-in-1 and I can mix and match depending on the weather. It's incredibly convenient not to have to layer an extra jacket as well since they interlock. This means when I need to take my jacket off, I'm only shedding once, not two jackets.
I've used mine for over three years now and if I'm going someplace rainy and cold… This is the jacket that's in my bag.
This is a Great Women's Travel Jacket For…
Those who are like me! Someone who wants it all. I love the versatility, the dual colors, and getting one thing and actually having three! I live out of my bag so I often need a puffer AND a shell jacket to travel with.
Hopefully, this helped you decide on the best travel jacket for your next trip! If you're not sure about any of these listed, at the least you have a better idea of what to look for in terms of material, features, and packability.
So which travel jacket will you be taking on your next trip? Do you have a favorite jacket that you'd list here? Let us know in the comments!
---
>>> READ MORE! <<<
Your Carry-On Essentials Packing List
---