Pro beach bum, sand expert, ocean lover, and professional sunlounger, here to be of service!
I'm a Floridian, a person who saw snow for the first time at the age of 30, and someone who gets anxiety when they are far from the ocean for an extended period.
No joke, I'm the epitome of a beach lover, and it's my mission to stick my toes in the sand in every country that has some… I love the beach (if we didn't notice that yet).
So I'm quite surprised I don't have a beach packing list by now on the blog, I'm just the worst, but better late than never?
When deciding what to bring to the beach and what you should pack for a beach vacation, I hope this list can make that decision a bit easier. Since I travel, quite literally all the time and live abroad, it would be impossible for me to bring everything on this list with me.
However, considering I'm a pro-beach-goer, I've included literally everything I could think of because I know some of you are road tripping and have more room to bring things or are simply packing for a ten-day beach vacation, so you can bring whatever you want…
I have to bring along swimsuits AND puffy jackets in the same bag, so I'm forced to be a bit picker with my beach items. Here's everything you need (plus some) for your beach vacation packing list.
Don't lose this! Click to pin it now.
What to Bring to the Beach: The Essential List
---
My 4 Beach Essentials
Don't care where I am, where I'm going, who I'm seeing, or how long I'm traveling… These four beach essentials are with me, all the time!
Dry Bag
I've been using one for over seven years now, and legit can't live my life without one. It's the perfect beach bag because it's waterproof (hello, tides and wet butt, your wetness is not welcomed in my bag!).
Aside from that, it can be worn cross body. Am I the only one who doesn't understand shoulder beach bags?
They gape wide open, spilling contents out and straps constantly fall off your shoulder. Why are you doing this to yourself?! Considering I'm a traveler, this bag also comes in handy for extra items you buy while traveling and a rainy day purse.
Sarong
Ditch the towel for something you'll use in many different ways. A sarong is not only your beach towel, it's your beach cover-up, a scarf, a headwrap… I could keep going?
It's also a blanket on a cold bus or a towel when your hotel doesn't provide you with one. My beach packing list ALWAYS has a sarong on it as does my travel checklist — another item I never leave the house without.
RELATED: The Ultimate Europe Packing List, What Not to Bring & the Best Bags to Use
Water Bottle
Stay hydrated while you're having all that fun in the sun but don't contribute another plastic bottle to the environment. We don't want to swim in plastic so why bring a wasteful piece to the beach?
Buy a reusable one. Hydroflasks are great if you want to stick some ice cubes in them, as they will keep cold for the whole day!
Otherwise, a water bottle with a filter is a good choice too if you want to filter out any of the funk that comes from the tap depending on where you are.
Check Prices: Hydroflask | Filter Bottle
Sunglasses
Don't forget to protect your eyes! If I had a dollar for every time I forget to bring my sunglasses to the beach…
Luckily most beaches have sunglasses for purchases somewhere in the vicinity, the only problem is, they usually jack up the price. So hopefully this beach packing list reminds you to bring yours!
I always get inexpensive sunglasses because I lose mine too often and break them easily. Bringing your cheap (but still protective) pair to the beach would be wise as the sand can scratch them, or the sea can take them away.
Beach Vacation Packing List: Toiletries
---
Almost as important as your swimsuit, don't dare forget to bring your essential beach toiletries.
Aloe Vera and Coconut Oil
Aftersuncare is super important particularly for those who are not used to the sun! Nobody wants to age faster or get health problems along the way from not taking care of their skin after being in the sun all day.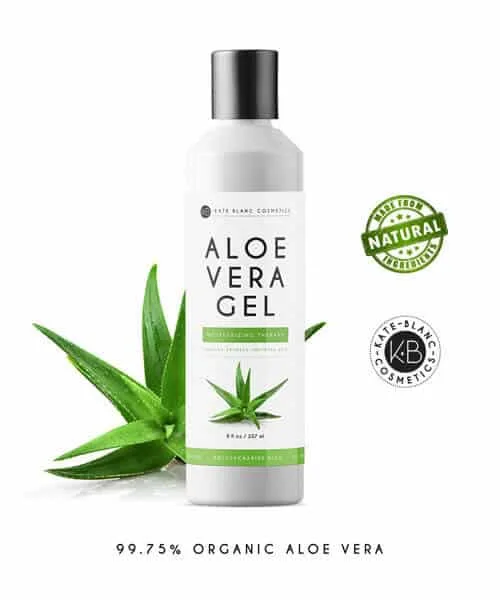 Aloe vera and coconut oil are two of my favorites as they are all natural and the best things for the beach bum that may have tanned a little too much (usually me). Also, I've been using coconut oil in my hair for years, it really helps add a bit of moister back to that dried and frazzled beach hair.
Check Prices: Aloe Vera | Coconut Oil
Deodorant
Every beach packing list needs to have deodorant on it. Period. And yes, bring it with you because you never know if you may stay out longer than you thought or go out after, don't smell like a tanning monkey or a burnt fish…
Lip Balm
Bring this organic lip balm to the beach to keep those lips from looking chapped and for aftercare. While you're at the beach, you may want to bring this one for a bit of SPF for your lips.
I really like this lip balm, it's super nourishing, natural, and even a bit glossy!
Natural Sunscreen
Organic and dermatologist-recommended SPF protection, this is a beach essential for those not wanting to ruin the coral, kill fish, or harm their skin.
I didn't know that sunscreen was so harmful to the ocean until a few years ago!
It's terrible, but if we all start making some smarter decisions and try using sunscreen that doesn't harm marine life, it's a small step in the right direction.
Disposable Wipes
Disposable, because we aren't trying to add more waste in this world! Wipes, because everyone needs to wipe that beach funk off of them.
They come in handy, so you don't get your car smelly or can continue your day without the fear of smelling like a literal beach bum.
RELATED: Your Road Trip Essentials Packing List and Tips (+Printable Checklist!)
Insect Repellant
Mosquitos and sandflies sure know how to kill the party, right? Usually, a beach, particularly during the day, will be free of mosquitos but if you stay for sunset, you could get eaten alive so get a repellent!
For sandflies, you never know when these buggers are lurking in the golden seashores, double check what the internet says about the beach or just bring some repellant in case.
Eye Drops
If you wear contacts, this is a must.
When I wore contacts (past tense, yay for getting LASEK), I would get anxiety at the beach if I forgot my eyedrops.
The ocean water and sand can irritate my eyes and contacts, so the drops were a sweet relief. Even without contacts, if you swim a lot, eyedrops are a great way to flush everything out.
Electronics to Bring to the Beach
---
As long as you have that dry bag, your electronics will be safe!
I doubt you would have left them at home anyway… Here's what to bring to the beach electronics wise.
Solar Power Charger
I recommend this charger for all my traveling friends for on-the-go charging whether you're at the bach or not; it's perfect for charging phones, GoPros, or anything that uses a USB cord.
And to make this item an even better thing to bring along on your beach packing list, it solar charges itself! So no worries if you forgot to charge it the night before, bring it anyway and let it "tan" with you.
Speaker
Bring the party with you wherever your beach adventure takes you! I travel with a mini speaker, beach or not, and I've always found a use for it.
Not to mention, if you don't bring one, you never know who might… you may want to drown out your neighbor's music if it's not your thing, at the least.
GoPro and Selfie Stick
The best beach essentials for those wanting pictures is a GoPro, along with a selfie stick that's waterproof—this is a must! If you get your average stick, you'll soon be lugging around a rusty mess around that's going to get stuck and worse, break off just as a wave comes in… Taking your GoPro along with it.
If you want underwater memories, there's nothing else but a GoPro.
Check Prices: GoPro | Selfie Stick
Lifeproof Case
If you don't know what to bring to the beach to protect your phone, try this phone case that protects it from, well, everything!
I use this case day in and day out if there's water nearby or not. If you drop it in the sand, sea, toilet, concrete, off your bed… wherever, there's no need to worry.
And trust me, I drop my phone on the daily.
Kindle
Bring your library with you to the beach without the extra weight, Kindles are the best for the beach and a must to bring along for anyone who is a bookworm.
Freaked you'll ruin your Kindle? Just grab a waterproof sleeve for it and you'll be just fine.
Float Strap
This float strap is perfect for any electronics like your phone or GoPro that you may want to go swimming with.
Not only does it keep your item safely on your wrist, but it also floats it in case a wave tackles it off of you!
Fun (And Potentially Ludicrous) Beach Essentials
---
Some of us have a perfectly good beach a short drive away and don't need to take a vacation to relax near the waves (this was my life in Florida!). Or there are some of you who are comfortable being that 'extra' and would bring some of these things along anyway… (I've personally seen it with my own two eyes)
Either way, it wouldn't be a beach packing list without some obnoxious beach items, right?
Blow Up Beach Raft
Big enough to fit you and your bestie (or boyfriend)… Or hog the thing to yourself.
Beach rafts are so much fun and really, who cares if you look ridiculous in your swan or unicorn? You can float away from those people. You don't need that negativity in your life anyway.
Beach Chair
If you're not a "towel in the sand" kind of person you should grab yourself a beach chair for your sandy adventures.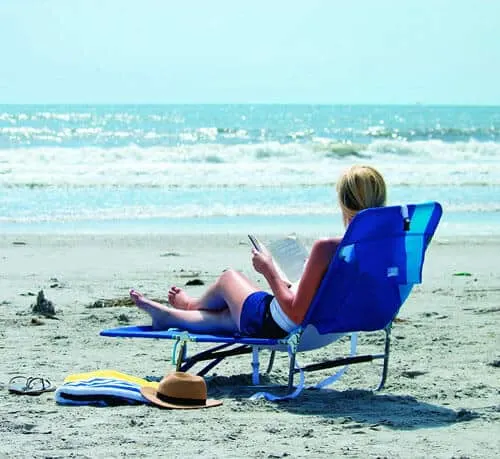 A regular pull out and open beach chair would do you well but there are also blow up beach chairs if space is of a concern in the vehicle (…or suitcase?).
Check Prices: Regular Chair | Inflatable Chair
Beach Tent
A lightweight alternative to a beach cabana and you don't need to pay a million dollars for a "usage fee" to use it, it's yours!
Beach tents are perfect especially if you don't want to stay in the sun too much or have a cooler that would be better off in the shade.
In fact, these are also perfect for a windier day as they anchor much better than an umbrella, although…
Umbrella
Umbrellas are a beach packing list classic however some may find them cumbersome to bring and set up, particularly if it's windy.
Although, this one comes with sand anchors to stay put in for those extra windy days, so if a tent is too much for you, this umbrella is a great alternative!
Big Sand-Free Towel
Extremely durable, this towel comes with a carry bag and anchors, so it's ready to take to the beach and spread out under the sun.
Sand is inevitable at the beach, but sand on your towel doesn't have to be your reality. No more sandy bums when you're trying to tan or if you have a dog that loves to trot all over your towel as soon as you shook the sand off of it… Yes, looking at you Rover!
With this massive towel blanket, it brushes off easily instead of getting stuck like it would on a regular towel.
Massive Beach Mat
A massive mat that fits four people because beach parties are the best parties!
Also, nobody wants to sit in the sand and you the know a few of the guys will probably forget to bring a towel anyway, so bring a family-sized mat for everyone to use!
Sand Coasters
Keeps your hands and your drinks sand-free all day long.
These little things are GENIUS. How many times have you spilled your drink or had your drink ruined by sand getting on the mouth area? Gross. Keep your drinks in these coasters.
RELATED: Iceland Packing List: What to Wear and What to Bring No Matter the Season
Hands-Free Portable Cooler
Keeps your snacks and melty things fresh and cool which, when you're at the beach, is a real treat. It's the little things, right? When you grab a drink that's not scalding hot or your sandwich that's not smelly due to being packed up and in the heat, you'll be happy you brought this cooler.
The best thing about it is that unlike most coolers, this one is like a dry bag, so you can sling it over your shoulder rather than attempt to roll is through the sand or carry a massive box around. When it's not in use, roll it up and store it.
Snorkel and Mask
There are few things worse than going to a beach with great snorkeling, renting a mask and snorkel, and finding out it sucks. Water keeps gushing in your mask; water is entering from a mysterious hole in your pipe, it doesn't fit…
Just bring your own if you're planning on snorkeling a few times, it justifies the effort and price even if you only use it a few times. I had my own in Thailand and it was totally worth it.
Clothing for Your Beach Vacation Packing List
---
Oh yeah, clothes! While you won't be wearing much, what you are wearing will be quite important…
Swimsuits
Well, this is a no-brainer, why would I even bother adding this to the list?
Because I know, I KNOW, there has to be other people like me who forget swimsuits when they are packing for a trip, right… Please tell me I'm not alone?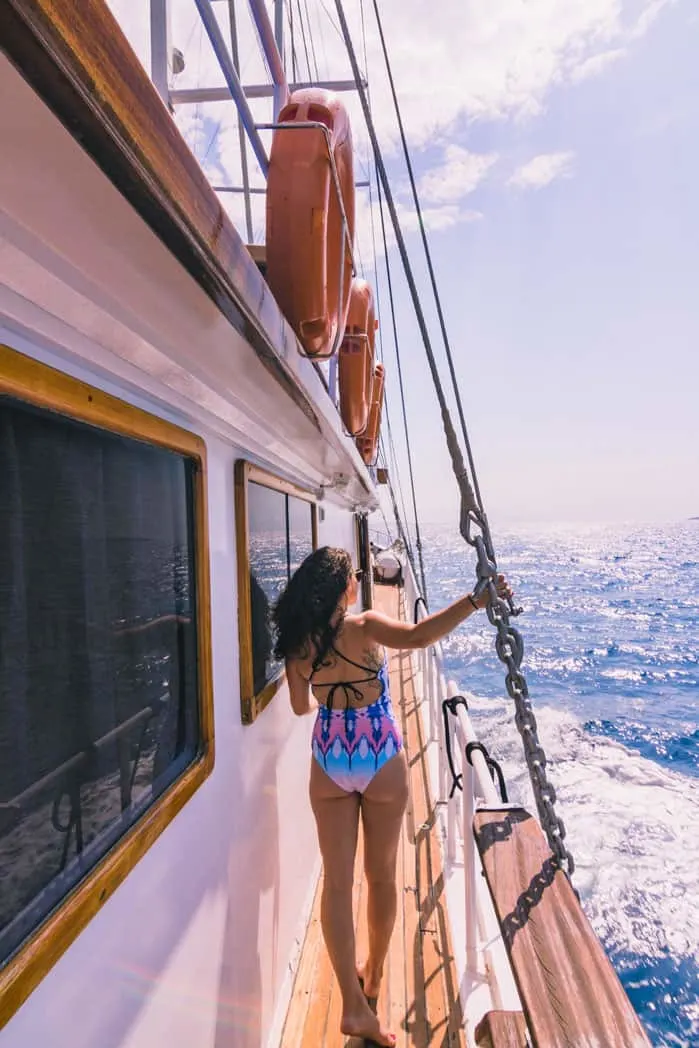 Luckily a pair of shorts and a sports bra work just as fine, however, for the rest of you people who have their life together, let's discuss WHICH swimsuit(s) to bring, shall we?
For colder locations, bring a one piece, because tan lines won't matter!
And one will do you just fine. My one piece in Iceland was used twice. (But then again, I doubt you're going to a cold place if you're reading this beach packing list!)
For hot locations, bikinis or one piece are both fine, but I'd be careful with the style of swimsuits. (PS the two swimsuits in the pictures above have links if you like mine, they are SO cheap and actually, somehow, comfortable)
People who are traveling and are vacationing tend to enjoy themselves a bit too much (as they should) and forget their intricate swimwear will leave them looking like a zebra.
Super stripey or crazy designs make for a good photo, but be sure you're bringing along the "plainer" swimsuits too so you don't get a ridiculous tan line.
Because you'll need cute pictures in your backless dress…or crop tops… or something else semi-revealing that will likely have the exact places your crazy swimsuit has scarred, you exposed.
TIP: Mix and match your bikinis so you have numerous swimsuit combos! I love this because I get tired of my swimsuits but when I mix and match, it takes me way longer to get over them. Also—a better variety of pictures.
Dresses
Because dresses always win. Dresses are the perfect thing to wear to the beach, at the beach, and after the beach.
They are a one piece, so not matching required, they are flowy, and of course, if you've burnt yourself, they are the least restrictive and rubbing of all clothing.
Flip-flops
Sturdy and cute for the beach or the busy boardwalk, you don't want flip-flops that are going to bake in the sun and be too hot to wear nor do you want ones that will break on you when they "stick" in wet sand.
I always travel and wear these flip flops no matter where I'm going.
Kimono Cover-up
Comfortable and lightweight, this is a perfect beach accessory to any bathing suit and the world's easiest cover-up.
I pack these and pair them with tanks and shorts or throw them over my bikini. They are so light, they weigh nothing and float with the sea breeze.
Rash Gaurd
Depending on where you're beaching it, a rash guard may be a beach essential. Not only will it shade your shoulders and arm out of the sun it may be the safest thing to wear in the ocean when you go for a swim if there's a lot of coral.
Water Shoes
Some beaches are best visited with water shoes; you never know what's lurking down below. I was once in the Philippines, and there was a spiky fish that buried itself in the sand.
If you stepped on it, the infection to your foot could get so bad; they would need to amputate! I proudly walked around in my water shoes all day.
Beach Vacation Packing List:
---
So, we want a straight-up list of things to bring, huh? Gotcha! Here's what I would pack if I was going on a 7-10 day or so beach vacation.
Clothing:
Accessories:
Light scarf (for the plane or a chilly night)
Pouch wallet (anti-theft and a great mini purse to use if you're a minimalist)
1 cute crossbody small purse for going out
1-2 kimonos
Toiletries:
Shampoo and conditioner (sun treatment)
Bar of soap
Razor
Facewash (I love using this exfoliating one)
Moisturizer
Coconut oil (for hair or body)
Makeup bag with your favorites—bring just the basics! You'll be rocking a tan, so less makeup will be needed.
Brush
Bobby pins and or clips
Hair ties
Dry shampoo
Tips for Your Beach Vacation:
1. Take your stuff for a swim. If you don't feel safe leaving your valuables on shore when you go for a swim, put them in your dry bag and take it all for a swim. No joke, you can do that! (told you it was awesome)
2. Bring extra clothes. You never know what's going to get wet or stay dry and you never know if you'll go out after with a gangle of cute guys who invited you over to their beach condo.
3. Bring a few bag plastic bags (preferably biodegradable bags) with you. You can use it for the trash you make at the beach (don't leave a thing behind!), if you're awesome, you'll even bring a few extra pieces of trash you find back with you, and lastly, they can be used for wet items.
4. Use coconut oil as lotion, it's my absolute favorite thing to use after being in the sun and after I've shaved as well. Put it in your hair if it's really dry too.
5. Don't wash your hair and use dry shampoo for a beachy, crazy, wispy hair look… Unless your hair is seriously gross, then wash it. Not everyone can pull this off.
6. Shave or nah? If you're going to be beaching it nearly every day, it may very well be worth getting a wax before you go so you don't have to worry about shaving at all.
7. Go light on what you pack; you'll be in a swimsuit most of the time anyway.
8. Bring more flowy things. First, beachy and breezy is the look to go for, and second, if you're a bit crispy, you'll hate anything tight fitting.
9. Educate yourself on the beach you're going to! This will sound silly, but I can't encourage you enough to ask locals or even just skim online for any warnings about the beaches your visiting. Beaches aren't all sand and sun, rainbows and cocktails. Are these beaches prone to rip tides and do you know what to do when you're caught in one? What about stingray season? Is it safe to swim at the beach alone? There are many questions and cautions to take, ask and research.
10. Get the pic you want. Not a tip for a beach packing list but something to keep in mind… Pictures are better during golden hour, either just after sunrise or just before sunset. So enjoy yourself during the day and get your photos either early or later in the day. Anything in between will cast harsh shadows and will have uneven lighting. UNLESS it's overcast, if it's overcast, the lighting will be relatively even and in that case, go wild anytime.
So where are you going? What's on your beach packing list? Let us know in the comments!
---
---
>>> Read More! <<<
51+ of the Best Travel Accessories for Men and Women
The Best 11 Carry on Backpacks For Every Traveler
Iceland Packing List: What to Wear and What to Bring No Matter the Season
What to Wear in Morocco Packing List: All Your Must-Have Items
---
---
Click the picture to save this pin for later!