Honestly, I'm not sure what's better than free rent AND puppies and kitties…
Is there anything? If you're wondering how you can get this magical combo in your life, you're in the right place. Because there's literally a website that helps you get exactly this.
Aside from this being a dream for most people, I'd say remote workers would be EXTRA enthused to find out about this opportunity, I know I was! A free place to stay, and work, that comes with furry friends… pinch me!
So let's get into this TrustedHousesitters review because I know you're curious! What is it, how do you get into it, and how do you get this free rent that involves puppies and kitties?! I got you!
PS—If you already know about TrustedHousesitters and know you'll love it, simply paw at this link here to get a purrfect discount and start finding your next house and pet sit!
My TrustedHousesitters Review
---
SPOILER ALERT: My TrustedHousesitters review is that it's awesome!
Particularly if you're a remote worker (it's literally the best).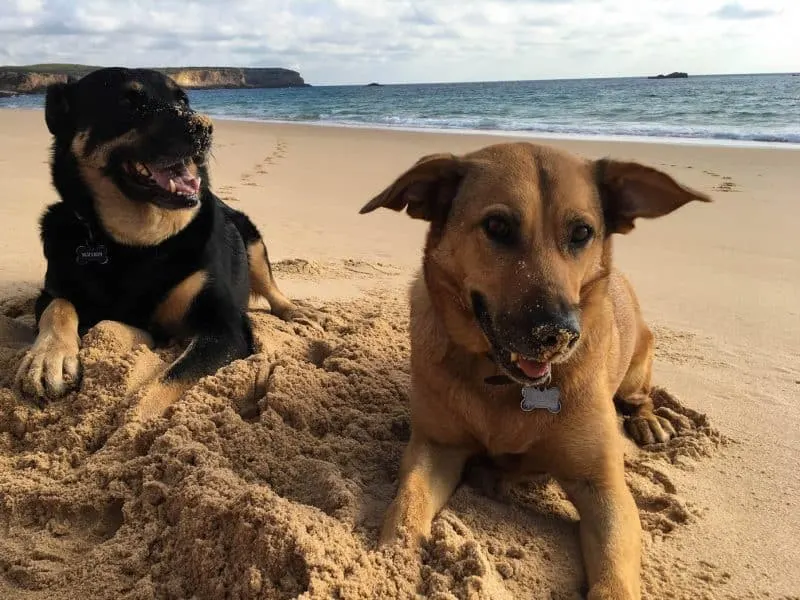 I LOVED my pet and house sits that I've done so far and I can't wait to do more! And through my experience, I have some tips, tricks, and other things to say to make sure you know what you're getting into so you can best decide if TrustedHousesitters is for you.
Because while this might be the cutest opportunity to travel, it's also a serious undertaking. Let's start at the beginning…
Wait, What Exactly is TrustedHousesitters?
Part pet sitting and part house sitting, TrustedHousesitters is a platform that allows you to travel the world without actually having to pay for your accommodation and in return, you watch someone's pet. Sounds too good to be true, right?
TrustedHousesitters has made this possible, creating a stress-free way to make this simple concept work for all involved. The platform was designed to allow people to go on vacation safely, knowing that their pets will be looked after while they are gone, along with their house.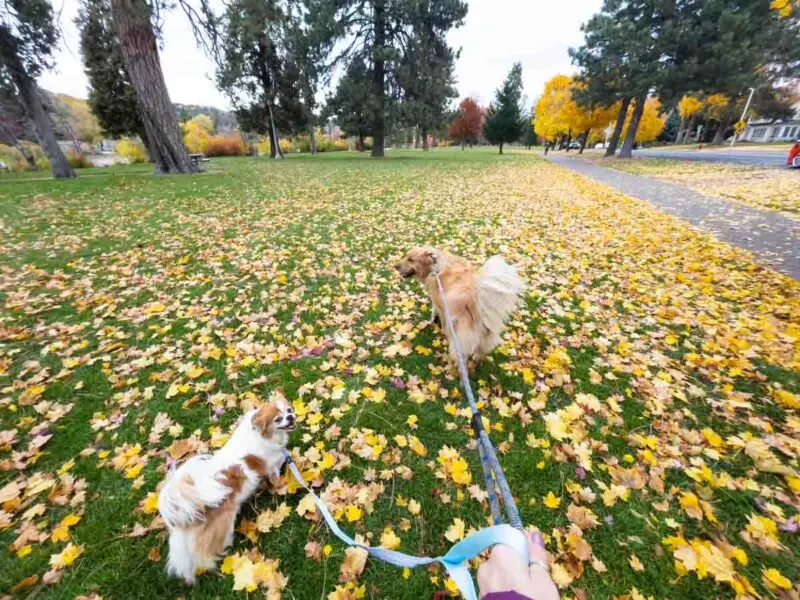 As a 'sitter,' you look after the host's house and their pet(s) while they are away, and in return, you get to stay rent-free in their home. It is a win-win-win for all involved.
You get a free place to stay (BONUS: dog/cat cuddles are also included for free).
The pet owner rests assured that their pet is comfortable and safe in their familiar surroundings and saves a TON on animal boarding fees.
The pet gets unlimited pets, love, and excellent care practically forgetting about their owners being absent!
The whole platform is built on trust and honesty. Real people trust you with their home and pets, while you trust them to be truthful in their needs from you. Don't worry, this TrustedHousesitters review will explain more… I'm sure you still have tons of questions!
RELATED: 11 Ways to Get Free Accommodation While Traveling The World!
How to Use TrustedHousesitters?
If you feel like TrustedHousesitters is for you and are eager to get started—here are the next steps.
1. Purchase your subscription
Before you do anything else, you will need to purchase your annual subscription. There are three membership tiers to choose from as a sitter or an owner. Basic, Standard, or Premium. Each comes with another price point and different benefits, so pick the one you feel you will get the most out of it.
You can totally get away with the basic to start. In fact, you can even browse the opportunities for free just to be sure you get the full understanding of what this platform is about.
Simply sign up for free here, and if you find that TrustedHousesitters is for you, you'll have a juicy discounted rate *sitting like a good doggo* for you at checkout whenever you're ready!
2. Create a profile
As someone looking for a house to sit, you will have to create a profile. Essentially, you are selling yourself to the homeowners, so you have to make yourself seem appealing.
The 'about me' section is arguably the most crucial section of the profile, first impressions count! Here, you can explain why you want to house sit and why you think you will be good at it.
You can sell yourself here and include any skills you have that might be relevant and experiences you have of house sitting or pet sitting.
Why do you love pets? What animals do you have experience with? Pictures of you with animals… all that stuff.
3. References
The next step is to add any bonus extras that may convince a homeowner to 'hire' you over other people. This could be referenced from house sitting jobs that you have done before. Even if you have house sat for a friend before, get them to give you a reference, as this could set you apart from someone else.
There's a link you can send them where they can post an external review to get your profile started.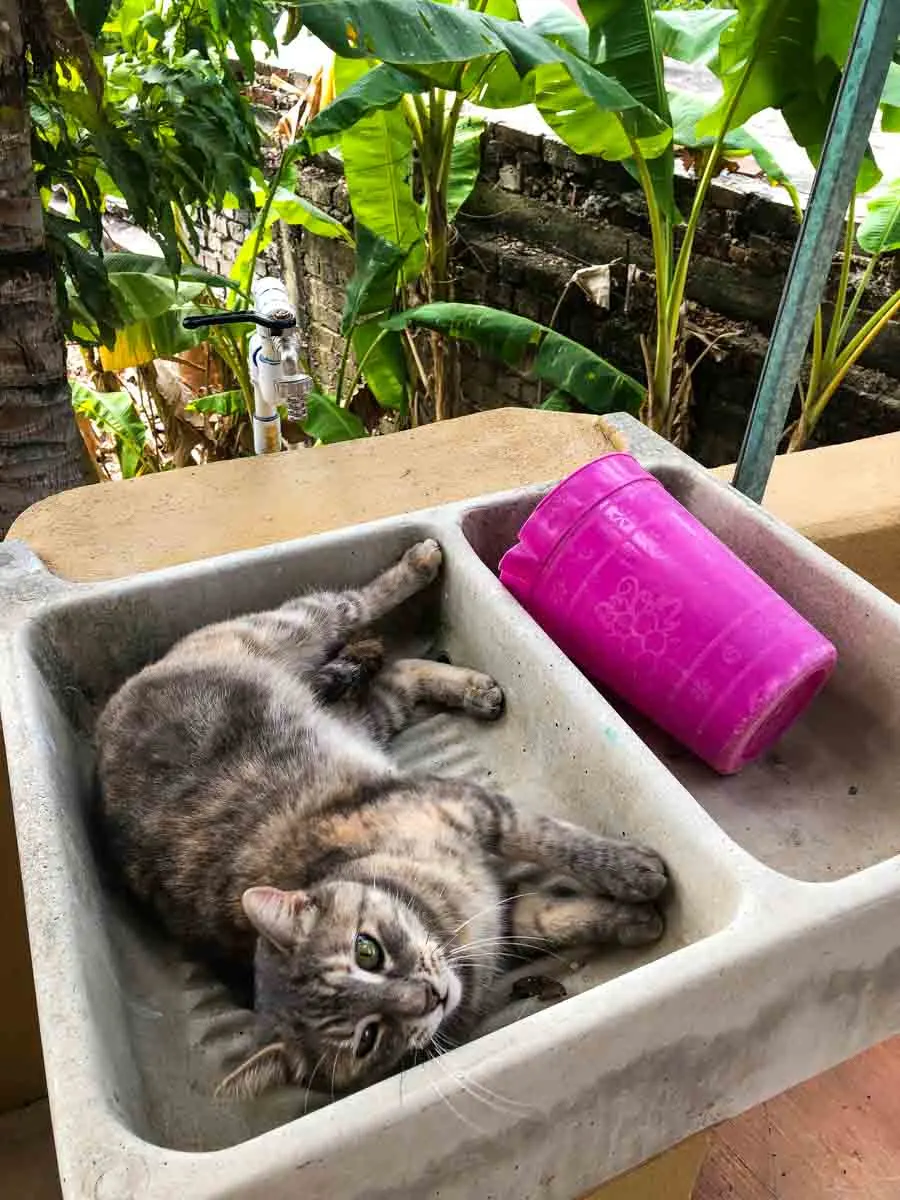 4. Apply for positions
Once your profile looks the best it can be, it is time to start applying. Browse through the listings, search for destinations on your bucket list and use the handy filters to find your ideal sitting jobs. Once you have found a job that fits your needs and experience, you can apply to be a sitter!
Make your letter to the host REALLY good but not a novel. Keep it to the point, reference their name and the pet name, point out something they mentioned in their request for a pet sitter so they know you read their listing… make it good!
Why use TrustedHousesitters?
This service is a win-win for travelers and homeowners. Although there is a membership fee initially, you will then be able to stay in your chosen location in comfortable accommodation for FREE. You can do as many sits as you want, there's no limit!
Another added benefit is that you will have a furry companion to keep you company during your stay—major bonus points!
If you like seeing the world but are on a bit of a budget, this could be an ideal solution. The company has gone above and beyond to make the platform safe and secure.
You will be covered in case of accidents while in the house, with vet advice and other admin included, so all you have to worry about is enjoying your stay.
There are houses in locations all around the world, so you really will be able to explore places you have never been before. Some of the houses are dreamy so you can stay in really nice places too!
TrustedHousesitters Review – My Experiences
As I'm sure we've gathered by now, my TrustedHousesitters review is positive and I've been grateful for the opportunity! I've even used them in a pinch when I've been in between places while in Oregon. I got to stay and petsit two dogs and a cat for just under two weeks and got a free place stay in exchange!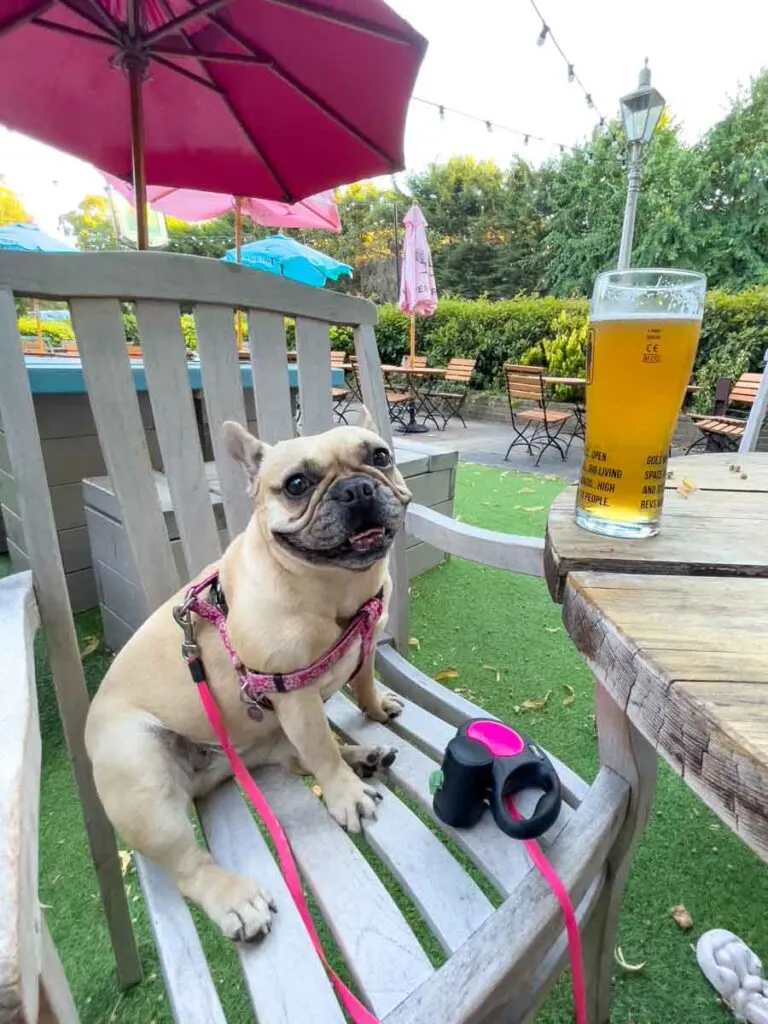 I recently visited London in summer which is usually crazy expensive but I didn't spend a dime on hotels. Instead, I got to chill out with Lola the Frenchie in her cute London flat which was perfectly located a 5-minute walk from a Tesco and a train stop. I got to explore the city and Lola and we even did a day trip together (she loves the train!)
My TrustedHousesitters experience in Berlin was equally as close to a store and train station and I shared the space with a sweet Golden Retriever, Cheddar. She loved showing me her favorite parks around her happening neighborhood of Prenzlauer Berg. The apartment I got here was massive, a four-story townhouse with a rooftop!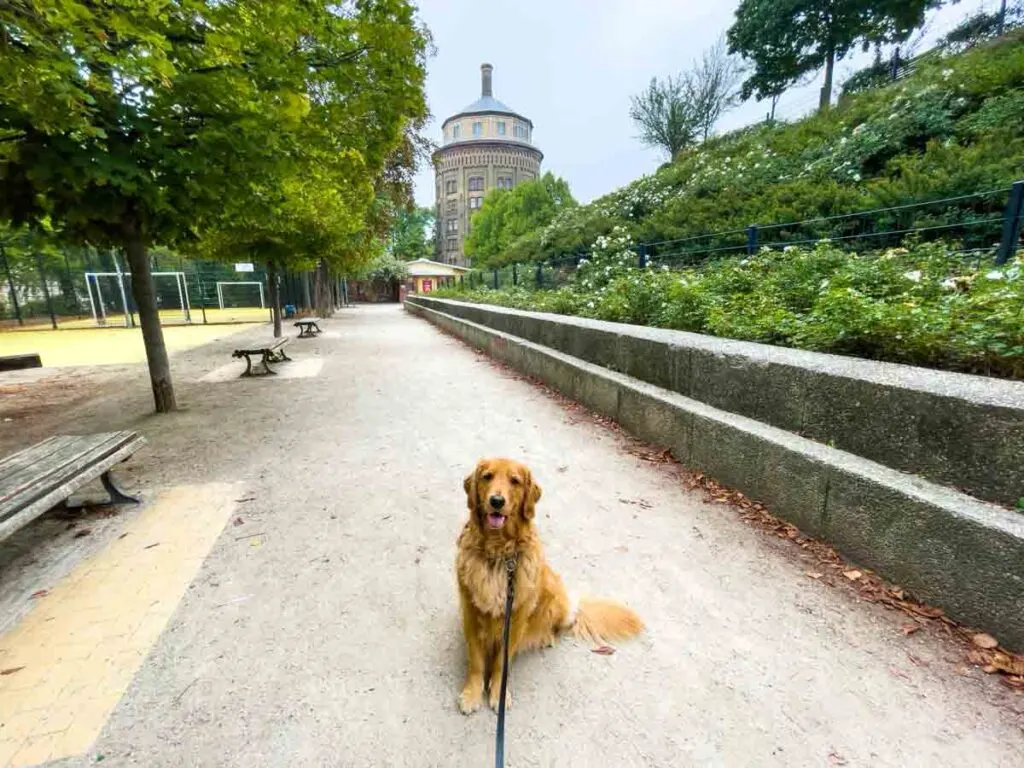 I met up with both owners beforehand and each of them let me stay the night at their place the day before they actually left which was very sweet. I got so many tips and recommendations from them too so I hit the pavement with the best places to go right away.
I couldn't have had more positive experiences so that's why my TrustedHousesitters review is glowing—truly! I had such a great time exploring cities I was interested in visiting anyway, but for a much cheaper price tag and a built-in furry friend.
But it's not only perfect if you love pets and a free spot, I was also able to get a ton of work done…
TrustedHousesitters Review as a Remote Worker
This service is also ideal for those who do much of their work from laptops. It gives you a solid base while working remotely, with all the home comforts that a hotel or hostel often lacks.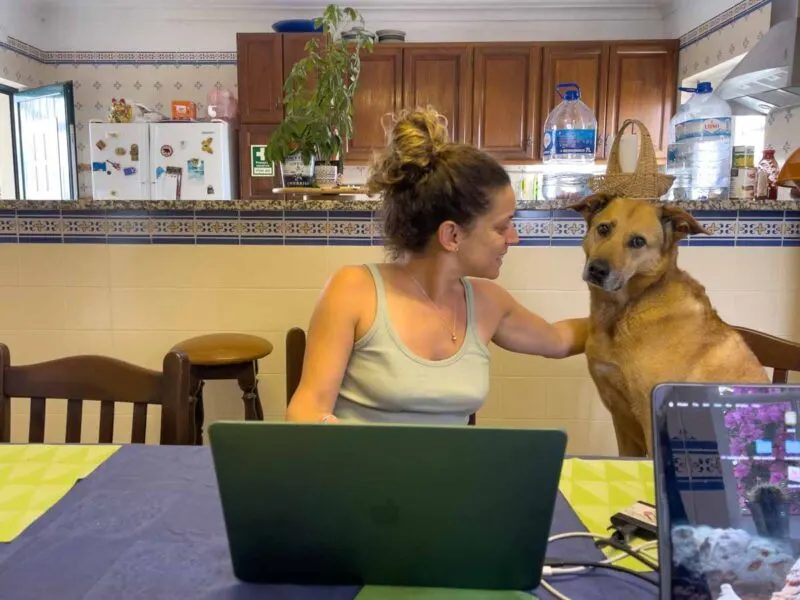 As a perpetual traveler, I'm always trying to find a place I can call home and a hotel rarely provides that. But with TrustedHousesitters, I literally get to stay in a REAL home or apartment!
This means there's going to be wifi, a table or desk to work from, a comfortable living area and bed, and then, as you well know, a FURRY FLOOF to keep me company.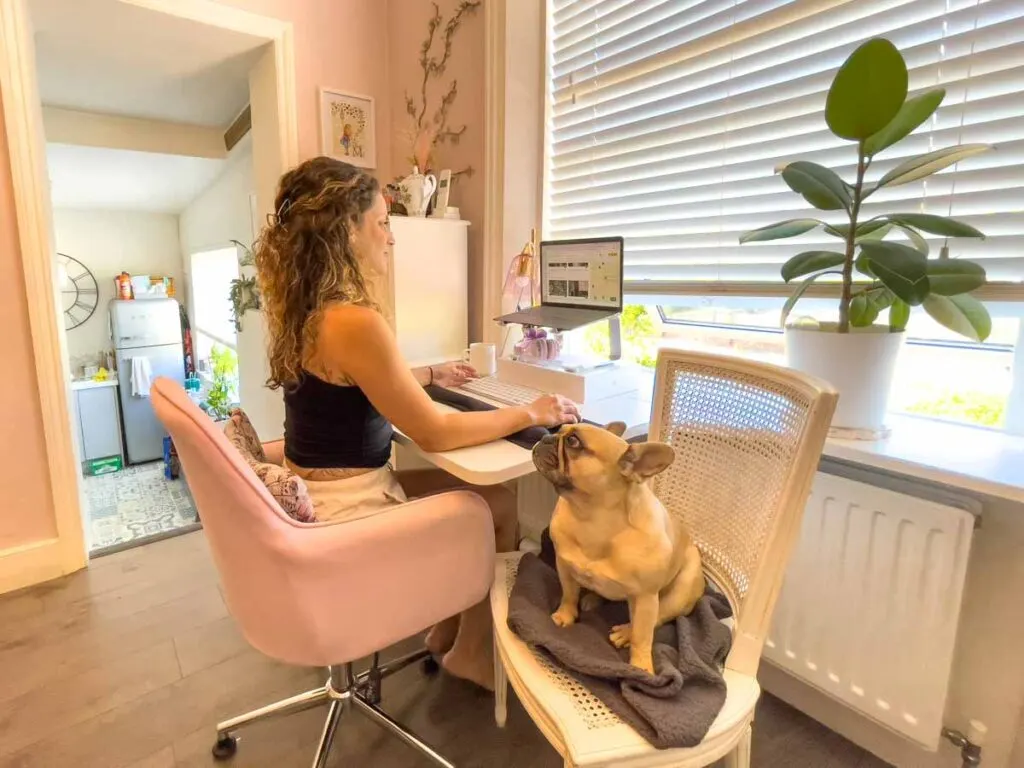 I also use the filter on TrustedHousesitters to be sure I'm looking at sits that are 1-4 weeks + long since staying longer in places is usually the goal for me. This gives me enough time to explore here and there and get my work done.
Most places will even have explicit tags showing if they have wifi, or high-speed wifi available in their home (most hotels still can't even do this for us).
Another huge perk, for me at least, is that it literally forces you to leave your laptop and stretch those legs. I'm sometimes terrible at taking proper breaks, no less breaks that involve movement (I'm the worst) so during my sits, I might be more excited for walkies than the dogs are.
How can you ask for anything else?! Not having a pet is my biggest complaint about my lifestyle—no joke. So TrustedHousesitters has fixed this issue for me and the cherry on top is I get free rent. Because yes, while the free rent is awesome, I'm honestly in this for the pup and kitty cuddles!
DON'T FORGET YOUR DISCOUNT! I know you're *drooling* over this fun opportunity but you don't need to pay full price for it! Sign up to TrustedHousesitters here!
TrustedHousesitters Review: Pros and Cons
As promised, this is going to be an HONEST TrustedHousesitters review so while we have tons of pros, we do have some cons too. BUT there are many more pros than cons when using the platform in my opinion.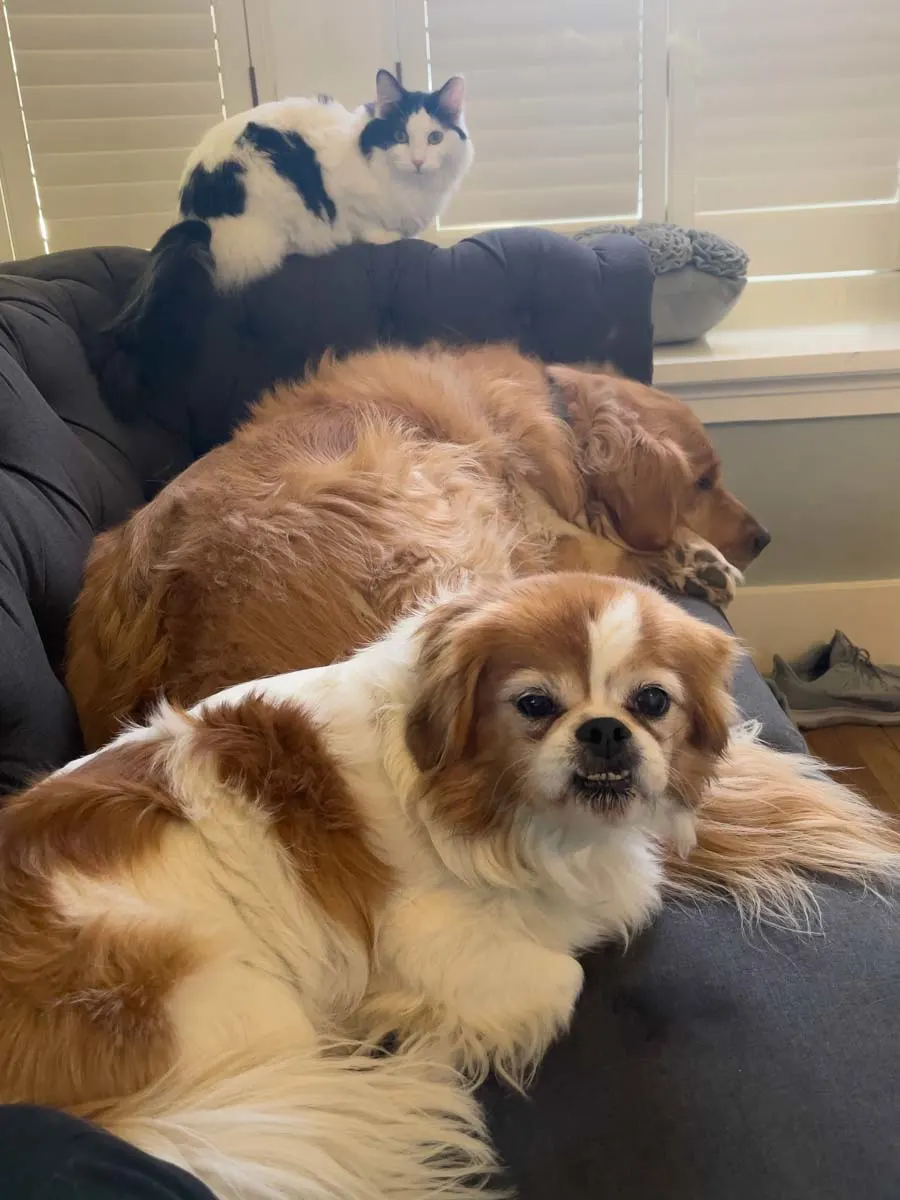 TrustedHousesitters Review: PROS
TrustedHousesitters is an expansive platform, meaning it has tons of choices when it comes to homes to sit. New homes are added almost daily, so if you can't find a suitable option one day, check back again the following day to see what you can find. You have a better chance of finding your ideal house sitting job than on many similar sites, simply down to the sheer number of sits available all over the world.
Remote workers are the perfect candidate! Many hosts explicitly state they would prefer a remote worker to be their sitter because they know you'll be home a lot caring for their pet. This is a huge score for you as it makes you stand out against the rest.
The website is incredibly easy to use. You don't have to spend hours working out how to use it. You are ready to go as soon as you have paid your membership fee and set up your profile. There is a handy map option, so you can see where the home is located as well.
Welcome guides are a convenient part of TrustedHousesitters, as the homeowner has an easy way to provide you with all the information you may need to look after their house and pets and maybe even tips for enjoying their neighborhood too.
The filters when searching through available listings make browsing a lot less of a hassle. You can use the filters to browse specific countries, dates, what animal you want to look after, the wifi situation, and more.
There's an app! This may not seem like such a huge revelation, but it comes in handy to be able to search for new destinations to stay in on the go. The app has many functions, similar to the website, but its most significant selling point is that you can set up alerts for every time a new listing comes up for your chosen destination, date, or both.
The customer service is great, so if you have any issues or need some advice, the team behind TrustedHousesitters will be more than happy to help.
You get to stay somewhere completely new… for FREE. It sounds too good to be true, but there are perks for both sides of the exchange, and it just works. It is a platform based on trust, but if you do your research, you could be staying in a bucket list destination without having to fork out for expensive accommodation.
There is a cancellation policy in place. You can cancel if you have not used the platform within 21 days. We doubt you'll need to use it but it's there.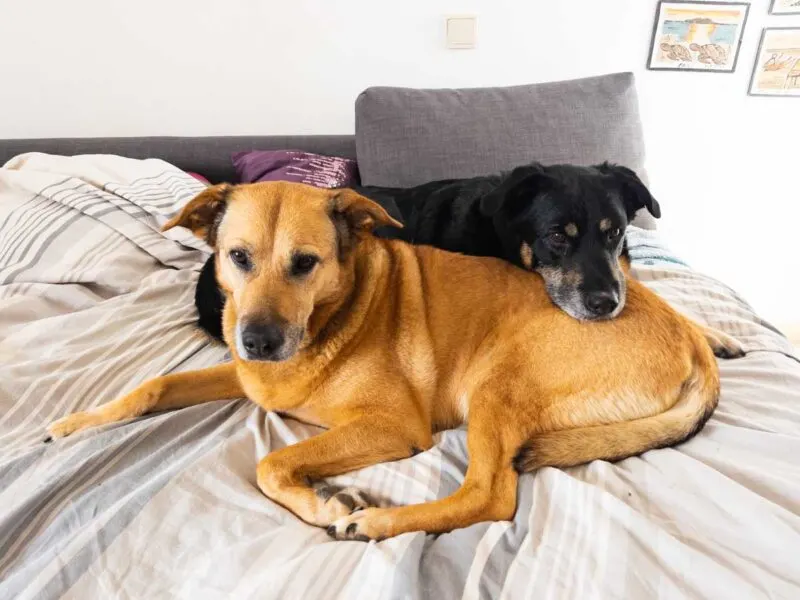 TrustedHousesitters Review: CONS
There is a membership fee to use TrustedHousesitters, and in fact, it is one of the most expensive fees for this sort of platform (but also has the most opportunity – a PRO). However, this fee is minimal compared to renting a property every time you travel. House owners also have to pay a membership fee, so at least you are sure they are serious about the process. There are many services that the fee covers, such as a vet advice line if something were to happen to a pet during your stay. Even if you only do one TrustedHousesitters a year, the fee is more than worth it! Also, you won't be paying full price with this link.
Because the platform is so big, there is also a lot of competition in addition to lots of potential jobs. The easy way around this is to be better than your competitors. Think of why a homeowner would instead pick you over someone else, and add it to your profile. You also need to be pretty quick off the mark when new listings appear, as they tend to be snapped up quickly and respond to hosts fast. The alerts on the app are a great way to be the first to know about new listings so that you can act quickly.
Most opportunities are in North America, Europe, and Australia so you, unfortunately, won't find many opportunities in Africa, Asia, or Central and South America.
RELATED: Worldpackers Review: Doing a Work Exchange For Free Rent!
Things to Know Before Using TrustedHousesitters
Some of these are MEGA obvious, but you'll want to be aware of a few things…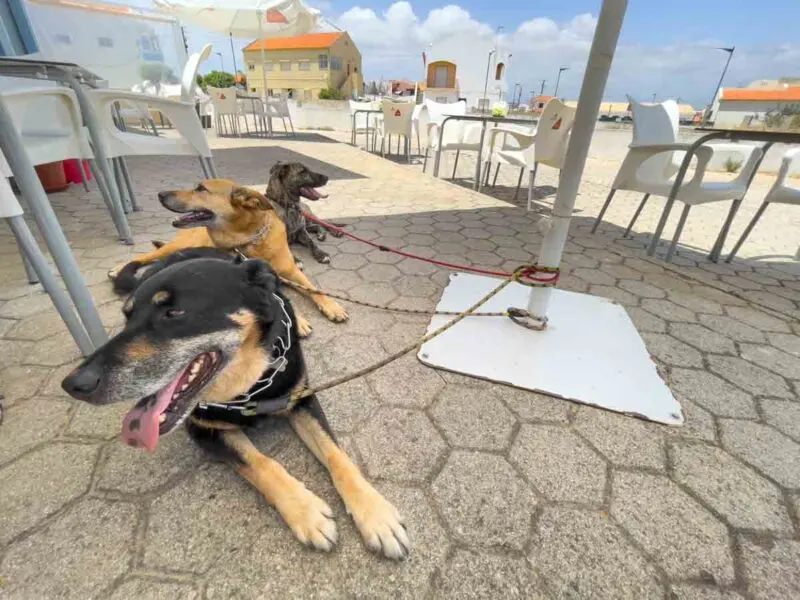 The pets come first. Not your work, not your travel plans, not meeting up with your friends in town. The pets. You're in someone's home, and you're only responsibility is to be sure the pet is cared for! Don't be inconsiderate and just use this platform as a way to get free rent and not care about the animals or the home you're in.
You only get free rent. Again, a bit obvious, but your food, your transportation to the home, anything else you need, you pay for. The deal is – you get to stay in the house for free because you're helping take care of the pet. That's it.
Be sure about your abilities. Don't say you can take care of a special needs elderly dog if you don't think you can. Don't apply to the housesit that's requesting care for farm animals if you've never done so… Don't lie about what you can offer, it's not going to be good for anyone involved.
Just do the job. If they request watering of their plants, do it. If they need certain dates, don't change your mind later on about your availability after you've confirmed. If they requested the dog goes out at a certain time to keep the routine the same, just do it or don't apply to that position. The owners have this stated before you even apply so think twice before clicking apply so nobody wastes their time or has to leave a bad review.
RELATED: How Traveling The World is Cheaper Than Existing in the US
Tips for Using TrustedHousesitters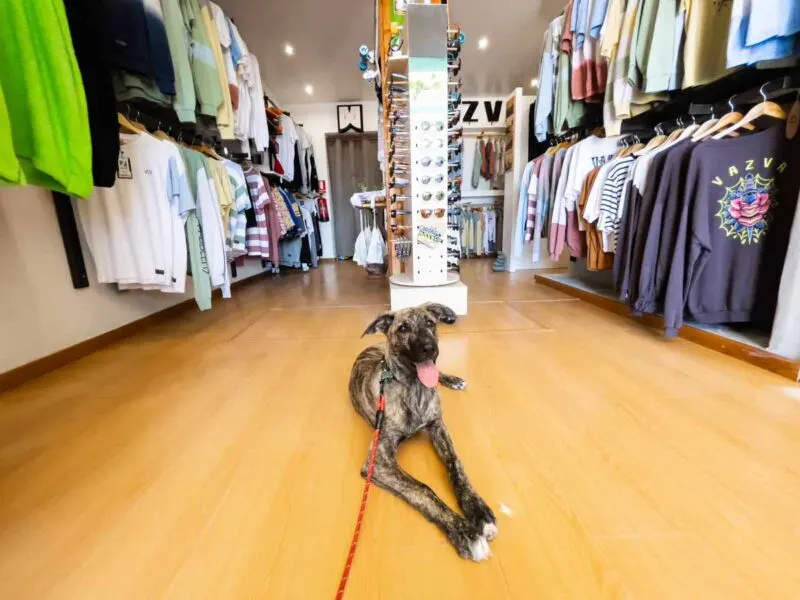 You need to make your profile look really good, remember, pet and house sitting is your dream job. Spend time perfecting your about me section, including experience and knowledge relevant to house sitting. Sure, you might have a masters in maths or have climbed Mt Everest, but that's not super relevant. Don't be afraid to show a little personality here but keep it applicable.
References are gold in the house sitting industry, so if you have them, use them. At this point, you may have to think a little out of the box if this is the first time you are using the service. If you have ever house or pet sat for a friend, they could write an external reference for you. Alternatively, if you have reviews from other rental services like Airbnb, you can add these great examples of how you have been respectful in someone else's home.
Be flexible. Although it may be nice to find a house for the exact dates you want to travel, it is not always realistic.
Include photos that mean something in your profile. If you have pictures with pets, why not include them in your profile to show just how much of an animal lover you are? You should also try to look friendly and have your face shown.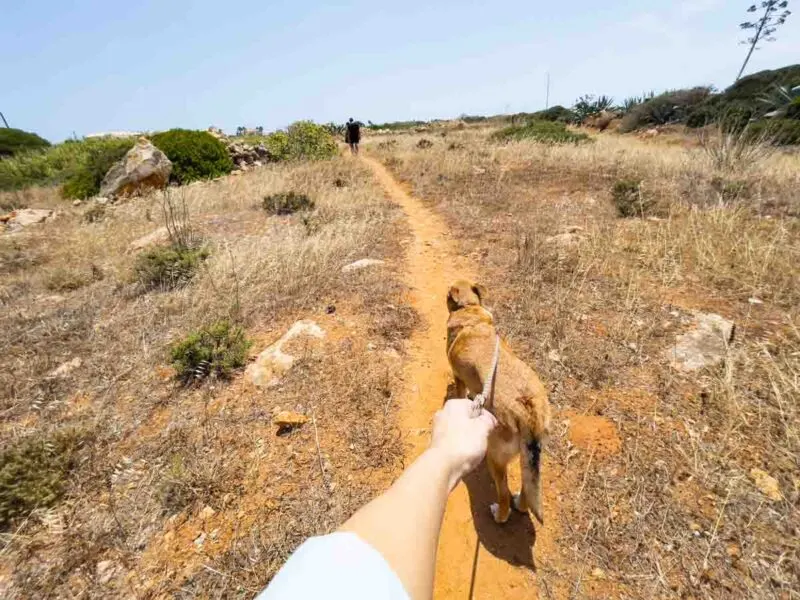 Make use of the app notifications. This is one of the handiest features of the platform, as you can apply to jobs minutes after they have been posted.
Communication is key. Before agreeing to house sit for someone, ensure you know exactly what you are getting yourself into. Messaging is great, but more often than not, it is beneficial to have a conversation with the host, so you can ask them all the questions you want to know and vice versa.
Do the background check. You can do this for free directly through the site, which includes a National Criminal Records check and various other checks. It will not take very long and makes a lot of difference to potential hosts.
Ensure you read the listing and reference specific parts in your application before applying. For example, something as simple as mentioning the pets' names shows that you have taken the time to read the listing and have paid attention. You should also let them know that you are happy to chat at some point to get to know each other better.
Worried about not having any reviews? Do a house sit where you are RIGHT NOW. This way you can tell the person, "Hey, I'm here right now. Let's meet up, I'm available!" You'll be way more likely to get this job over everyone else and bam – you'll get your first review and you didn't need to leave your current town.
Worried this is kinda creepy and weird? I know, it can be a bit weird that you're a stranger, going to a stranger's house, and looking after their stranger animals… But is it really? You chat and meet beforehand. There are background checks done and IDs submitted to TrustedHousesitters… It's fine. If it makes you feel better, just aim for the hosts that already have reviews!
So Do I Recommend TrustedHousesitters?
Well, this is awkward… I thought I made it pretty clear but just in case I haven't – ABSOLUTELY YES.
Let's review, shall we?
A free place to stay
With puppy and kitty cuddles
A place to get some serious work done if you're a remote worker
That's mega comfortable
In a cool town around the world that you wanted to visit anyway
So when and where is your first pet sit?! Get to sniffing around and don't forget your discount! Sign up to TrustedHousesitters RIGHT MEOW!!
Honestly, I think it's one of the best ways to travel longer, save money, and get free serotonin from pet cuddles. It's a win-win-win for everyone and if you're a traveler, a pet lover, AND a remote worker—there's literally no question—this opportunity is for YOU!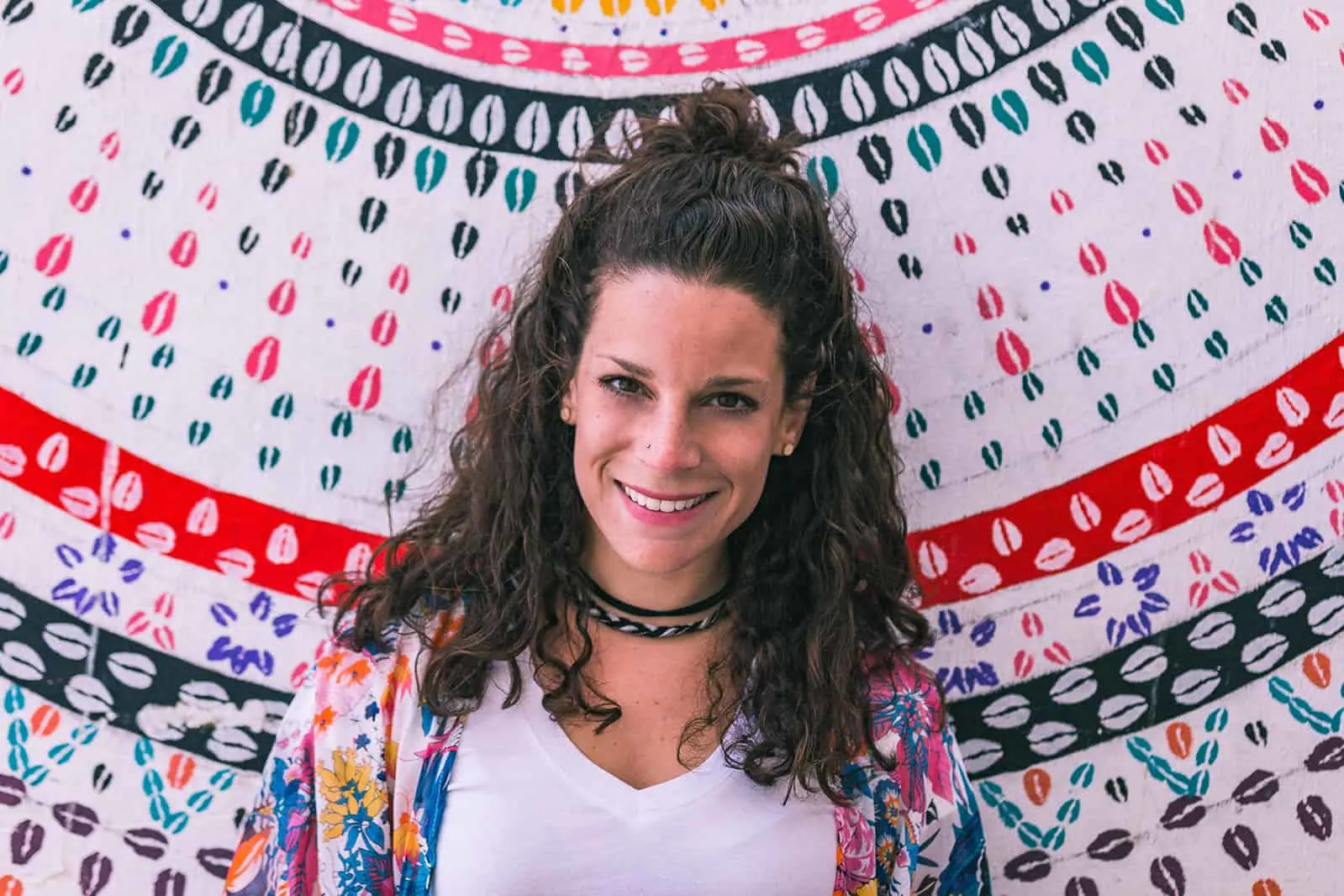 Nina Ragusa is an adventurer, messy bun master, breakfast fan, and full-time travel blogger. She's been abroad since 2011 and blogging on Where in the World is Nina? for nearly as long. Nina helps people like you move around the world while making money. She loves talking about how to work abroad and online to travel longer!