There are tons of ways to make sure you're keeping in contact with your loved one back home when traveling. Whether you use Facebook Messenger, grab yourself a great international SIM card, send smoke signals or send snail mail… You have options!
While the two latter options might take a while to reach back home, I have plenty of other tips and ways you may find just slightly more convenient. 😉
Let's go over all of the different ways you can stay in contact and have data when traveling!
Best International SIM Cards
---
Impatient? Here's a quick list of all the best international SIM cards.
One of the most obvious choices is getting the right international SIM card to insert into your phone so you can have data and a working number. But not all SIM cards are equal and honestly, there's not one that's a catch-all or "best."
It kind of depends on you and your needs. So here are the best out there for you to choose from plus I'll go over what works for me in case we're in similar boats! Plus I'll give you some bonus food for thought down below too!
Just a little PS before we start, when I first started traveling I didn't even have data on my phone! I just used my phone on Wi-Fi networks when I could connect to one. So yeah, we've come a long way with international SIM cards, that's for sure!
Could you imagine not having data and navigating new countries by foot?! I honestly don't know how I did it! I feel like that's ancient history now!
Anyway, let's get on with it…
1. OneSimCard—Budget International SIM Card
OneSimCard offers users a variety of plans that work in over 200 countries for calls, texts, and mobile data use. There are plans for both physical SIM cards and eSIMs.

What does it offer?
What makes OneSimCard the best international SIM card? Well, for starters, it's one of the cheapest choices. It's also one of the more reliable globals SIM cards with various versatile plan options.
They've been around for years and have earned their reputation as a dependable brand. There are four different plans catering to travelers' specific needs.
Universal SIM – $29.95
Physical SIM card
2 phone numbers (1 European number + 1 U.S., U.K., Canadian, or Australian number)
Free incoming calls on EU numbers in 120+ countries
Outgoing calls start at 25c/minute
Free incoming texts everywhere
Mobile data available in 50+ countries starting at 1c/MB. Daily, weekly, and monthly packages are also available
Free $10 credit for talk, text, and data
Expedition SIM – $34.95
Physical SIM card
2 phone numbers (1 European number + 1 U.S., U.K., Canadian, or Australian number)
Free incoming calls on EU numbers in 130+ countries
Mobile data available in 170+ countries starting at 2c/MB. Bi-weekly and monthly packages are also available
Free $10 credit for talk, text, and data
eSIM World – $9.95
Electronic SIM card
Coverage in 150+ countries
Free incoming calls on EU number
1 phone number (European)
Mobile data available from 1c/MB. Bi-weekly and monthly discount packages are also available
Pay as you go
eSIM Asia – $9.95
Electronic SIM card
Coverage in 35 countries
1 phone number (European)
Mobile data available from 1c/MB
Talk only available through OneSim VoIP App
Pay as you go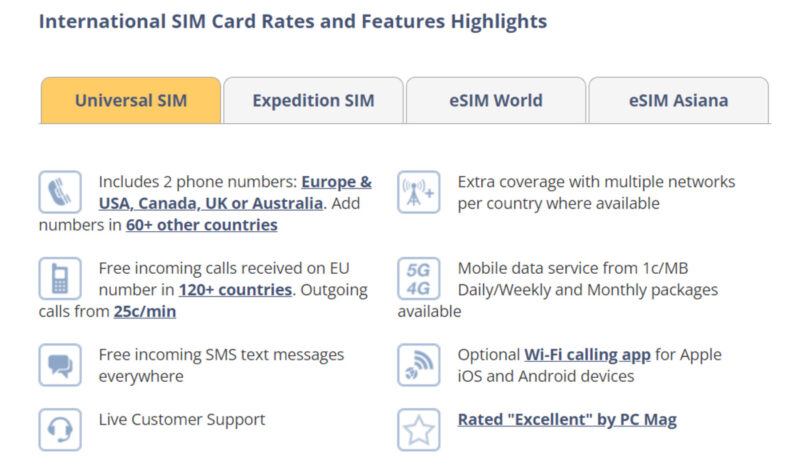 Should you get it?
OneSimCard is widely considered one of the best budget global SIM cards because it has a wide range of plans available. This allows travelers to tailor their plans to their specific needs without paying for unnecessary extras.
OneSimCard is one of the few remaining global SIM card providers that actually supply users with a phone number, enabling them to call and text. While their plans are great for talk and text, their data packages are pretty spendy compared to some of the other international SIM cards on our list.
2. Nomad App International SIM Card
Nomad App provides users with eSIMs (electronic SIMs) and then helps facilitate a package through Truphone – a global connectivity provider.
It's one of the easiest and fastest options for international SIM cards – simply download the app, buy a data plan, install the eSIM using a QR code, and activate your plan!

What does it offer?
The Nomad App's main offering is a prepaid data plan, available in over 100 counties. Rates vary by country, but the company tries to stay true to the local data prices.
Before purchasing a plan, you will need to make sure your phone is compatible with eSIMs (most new models are). Plans are available at weekly and monthly rates, and more data can be added if you run out.
This is an excellent option for travelers and backpackers who often move around and never know where their next destination may be. Another perk to the Nomad App is that you can buy your plan before you go or when you touch down – just make sure you'll have Wi-Fi to download your eSIM and plan.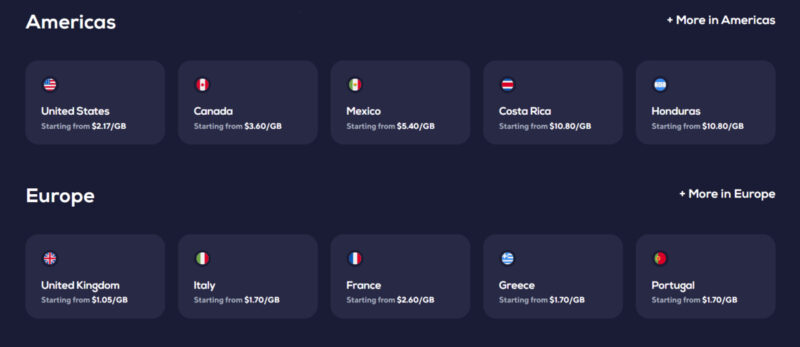 Should you get it?
The Nomad App global SIM cards work great for data, but they are probably not the best option if you are hoping to use talk and text as they do NOT provide you with a local phone number.
Even if you plan on calling and texting a lot while abroad, this isn't a total deal-breaker as you can always use apps like WhatsApp and Messenger to chat with family and friends.
Get a $3 credit with code: NOMADNINA3
READ MORE: Nomad eSIM Review: Is It a Good Travel eSIM?
3. Airalo—Convenient International SIM Card
Airalo is similar to Nomad App in that it provides eSIMs to travelers in a variety of countries worldwide. You can purchase plans through their app ahead of time or when you arrive if you have Wi-Fi.
The eSIM will be available immediately. Download the app, choose your package and destination, and then install and activate the eSIM.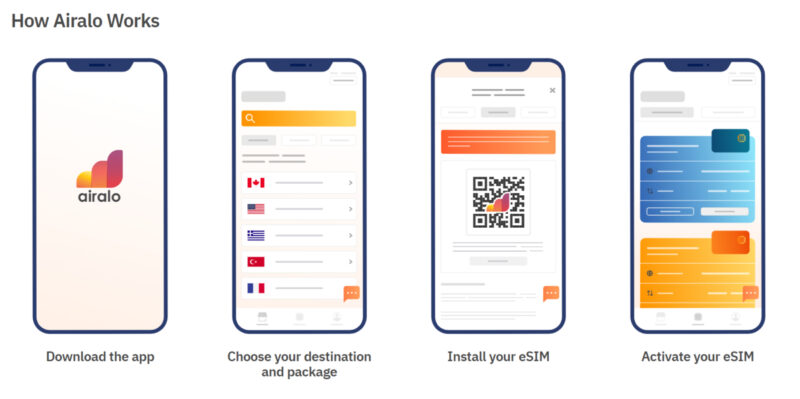 What does it offer?
Airalo is unique in that you can choose a plan for a specific country (190+) or buy a regional or global plan.
Local eSIM
At least 1 data option for 7 days, many offer a 30-day option as well
Pairs you with a local data provider to keep costs low
Regional eSIM
Available for Africa (27 countries), Asia (12 countries), Caribbean Islands (23 countries), and Europe (39 countries)
Weekly, monthly, and unlimited plans are available depending on the region
Global eSIM
Coverage in 87 countries
Weekly, bi-weekly, monthly, bi-monthly, and 6-month plans are available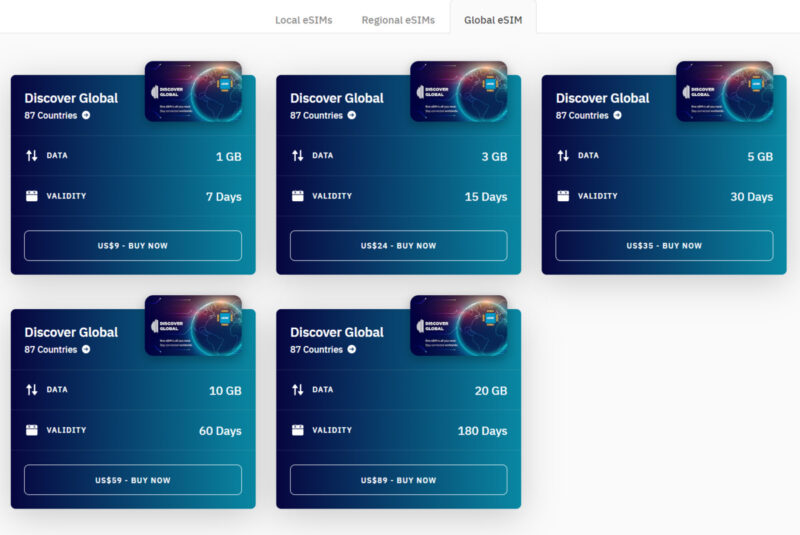 Should you get it?
This is one of the most convenient international SIM cards, and the variety of plans makes it easy for travelers of all types and regions to find a suitable plan.
If you intend on visiting a wide variety of countries, the regional and global plans make it easy to stay connected across borders without switching plans regularly.
The downside is that you will not have a local phone number, so you will have to rely on apps like Messenger and WhatsApp to call and text. Some find that the Airalo App is a bit janky (for lack of a better word), and some troubleshooting may be required initially.
Still, if your phone is eSIM compatible, this is a much better option than hunting down a local service provider, and the prices are comparable too!
RELATED: The Best Travel Cards (For Any Traveler) That Save and Earn You Money!
4. Skyroam Solis Hotspot—Best Option When With Friends
Skyroam Solis is a portable hotspot that works around the globe to keep travelers connected no matter where they go.
What does it offer?
Unlike a SIM card, this "smartspot" is the first of its kind that you can take with you anywhere you go. The Skyroam Solis provides a Wi-Fi hotspot wherever global 4G LGE is available (around 130 countries).
This provides travelers with unlimited data for up to 16 hours. It's incredibly easy to use with just the press of a button, and up to 10 devices can connect to the smartspot at one time.
In addition, you can charge your devices on the built-in power bank, but know that this will drain the battery of the hotspot, and it takes a while to get your phone back to 100%.
Plans are flexible and can be purchased for a day, month, or GB.

Should you get it?
If you plan on traveling a lot and don't want the hassle of purchasing new plans everywhere you go, the Solis Hotspot can be a great option. It's lightweight, easy to use, and provides coverage in most countries.
That being said, you will have to pay for this convenience. The Solis X goes for $179.99, and the Solis Lite is priced at $119.99. On top of that, you'll have to pay for your plan, which can range from $6 to $99, depending on how much data you want.
This is NOT a SIM card, so you won't receive a phone number for calling and texting. Don't fret. There are plenty of apps that will allow you to call and text over Wi-Fi.
This is a good option if you're going on a group trip as you can split one of these with friends, and all connect to the same hot spot. The price is probably better when broken down between people and with this one, you don't all have to get a new SIM card.
5. GoogleFi—The Best International SIM Card For Me!
GoogleFi is one of the best international SIM cards for those who want both data and regular cell phone capabilities like call and text. It's cheap, easy to use, and provides coverage in 200+ countries and territories.
This is what I've been using for the last few years and it works for me. I know people have issues with it when they are abroad for too long but since I've made it a point to visit the US a few times throughout the year, I've never once had an issue.
For me, this is the easiest and most convenient choice for my style of traveling.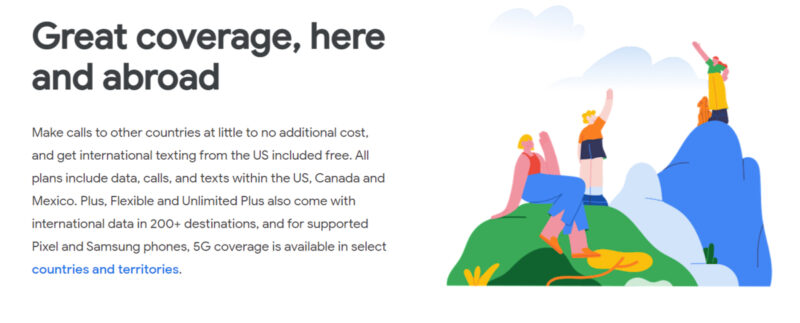 What does it offer?
There are two international plans to choose from with GoogleFi.
Unlimited Plus – $65
Free texts and 20c/minute calls outside of the U.S., Canada, and Mexico
Free unlimited data in over 200 destinations
Flexible – $20 + $10/GB
Free texts and 20c/minute calls outside of the U.S., Canada, and Mexico
Data available in over 200 destinations at $10/GB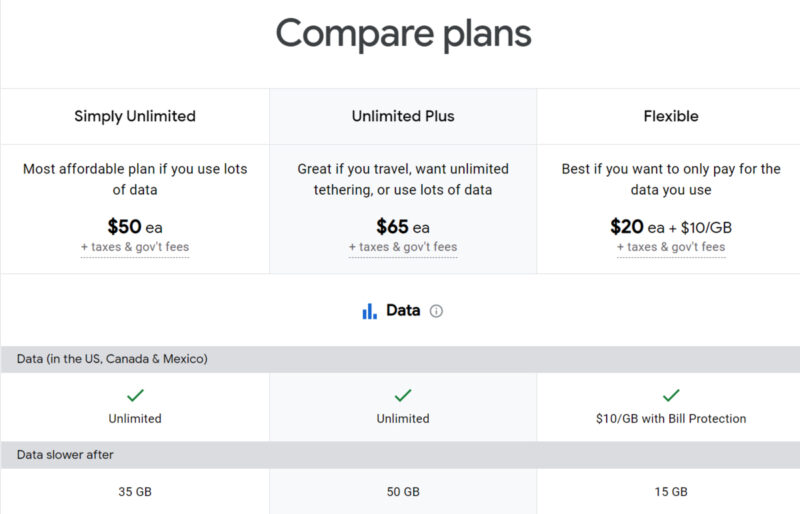 Should you get it?
This is a great global SIM card for those who don't want to figure out the logistics of switching SIM cards when they travel. With GoogleFi, the SIM you use at home is the same one you'll use for travel, and you can switch your plan at any time to fit your, well, plans.
You can also pause your service for up to three months without fees. Users should note that phone plans with GoogleFi are mainly for full-time U.S. residents.
If you only plan on traveling for short periods, this shouldn't be an issue. However, if you are spending more extended spells abroad, this may not be the best option.
One of the greatest downfalls of GoogleFi is that it's not built for iPhones. While the service technically works for any phone, it was made for its own kind, and there will be some noticeable drawbacks if you have an iPhone. For example, you can't hotspot while abroad.
GoogleFi also receives low marks for its international cell service, but you shouldn't have any problems if you're primarily focused on data. It works well for me everywhere I've been and it is much faster than other US carriers like T-Mobile.
6. Keepgo Prepaid International SIM Card
Keepgo is a pre-paid SIM card that provides travelers with mobile data plans that work in over 100 countries. Depending on your phone and preferences, you can choose between an eSIM and a physical SIM card.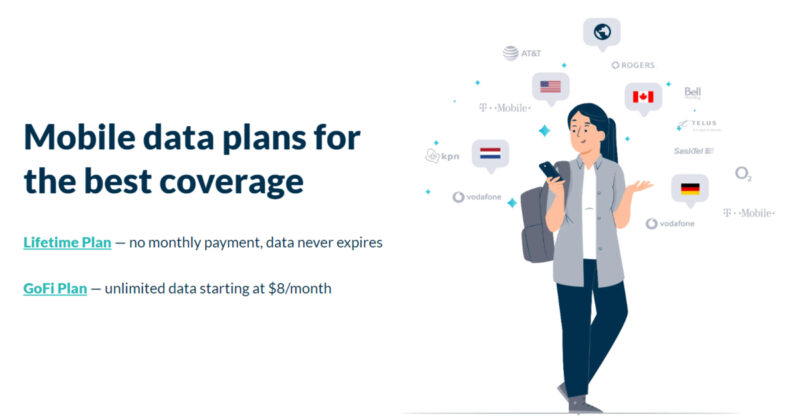 What does it offer?
This is a data-only SIM card, though there are tons of apps like Messenger and WhatsApp that you can use to make free calls and texts while traveling.
Lifetime Plan – price varies
Choose between World SIM or Europe SIM
No monthly payment
Data never expires
GoFi Plan – $8/month for 1GB plus $8/additional GB
Unlimited data after you spend $64 in one month
Only works in U.S. and Europe
Should you get it?
This is one of the best international SIM cards for budget travelers, and the coverage is reliable in most countries where 4G is available.
If you are planning trips for far-flung destinations, this may not be the best option, and Africa is mostly absent from Keepgo's covered areas. However, if you plan on sticking to Europe, this is one of the best options for price and coverage.
7. GigSky Data-Only International SIM Card
GigSky provides data-only international SIM cards to travelers. The SIM card costs $9.99, and you can choose between an eSIM or a physical SIM card, depending on your phone and preference.
After you purchase your global SIM card, you will need to download the GigSky app to configure and activate your SIM and buy your data plan.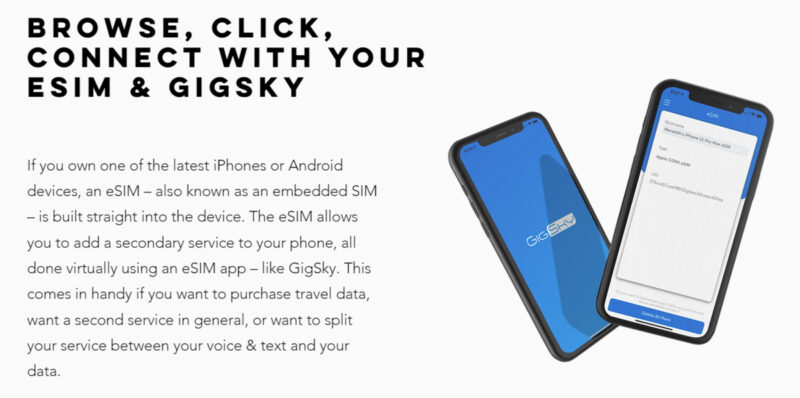 What does it offer?
GigSky offers two types of data plans: regional and non-regional. Regional plans cover large areas like Europe, Asia, North America, etc., while non-regional plans are for individual countries. Plans are valid from 1 to 30 days, and data ranges from 300MB to 5GB.
There is also a World Plan that includes 5GB for $59.99 and is valid for 30 days.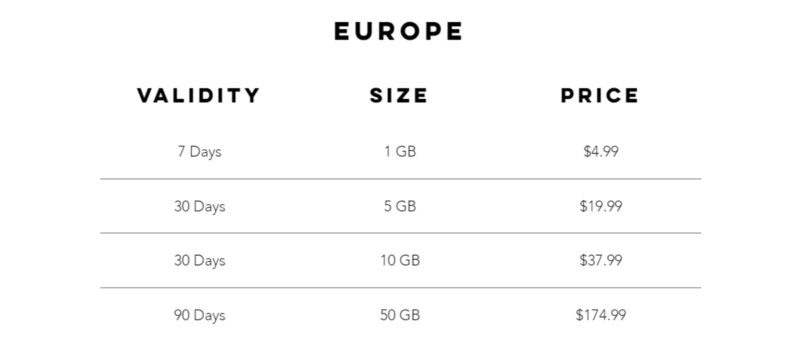 Should you get it?
GigSky is great for budget travelers, and the variety of plans allows you to tailor your specific needs to your plan and avoid unnecessary extras. GigSky does NOT provide users with a phone number, so you'll need to use an app like Messenger or WhatsApp to chat and text with friends while abroad.
So Is That It? These Are The Best International SIM Cards?
Honestly, yeah, that's it! These are some of the best and most convenient international SIM cards you can get out there right now. With one small exception.
The only way you can get an even better international SIM card is if you purchase SIM cards for each country you're visiting.
Yes, that's right, you can get the best deals and best SIM cards once you land in a country, and just buy their local SIM card!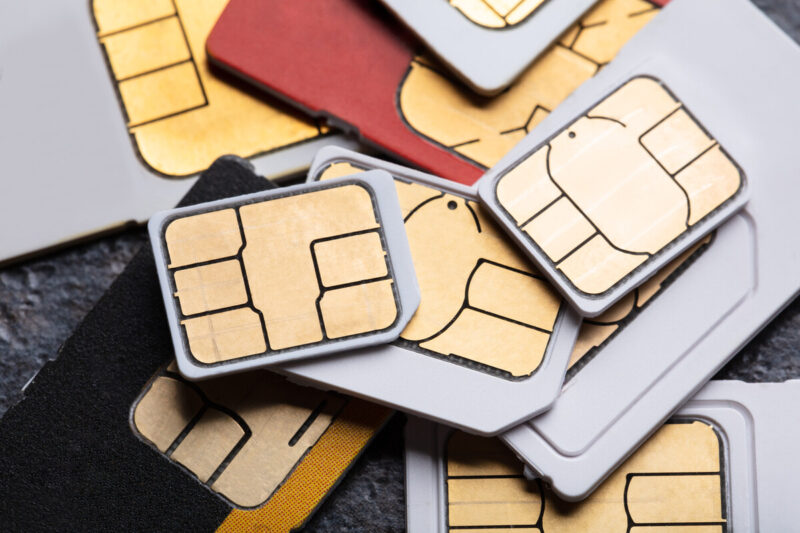 This will be the cheapest and best option BUT there's a big drawback. Actually, a few…
You have a local number attached to your SIM and this can get annoying for texts you need with your phone back home.
It's a bit annoying to purchase a SIM every time you land.
You have to do research and see which SIM is the best for each country and learn how to best top up your data.
This isn't a terrible choice, I did this for my first few years abroad, and it was fine. The most annoying was not having a US number for those banking texts, and when I went home, I had to get a temporary number.
There are ways around it now, like Google Voice, but there's nothing quite like just having a single SIM to worry about.
RELATED: 17 Tips to Help You Travel Longer
Other Ways to Stay Connected Abroad
So aside from getting an international SIM card, there are other ways to stay connected or to use in tandem with your SIM card.
As you may have noticed, pretty much all of the options don't include calls, some include texts, and some will charge you extra for using those.
Here's the thing, nobody really needs to call anyone anymore using their phone number!
You can simply call people by using Facebook Messenger, which is free.
Most of the world uses WhatsApp – so convince your loved one back home to hop on board and download it so they can call and text you for free.
Google Voice is another option to have a US number without a plan, and many people use this as a way to "keep a US number."
Even Skype is great in emergencies because it's much cheaper to call long-distance via Skype than it is with some of the other plans above (even GoogleFi gets pricey, and I'll use Skype if I know I'll be on hold while calling back home for something!)
I contact my family via Facebook Messenger most of the time and it's simple and free over Wi-Fi.
Lastly, T-Mobile was another option I've used and offers a decent international option, but again, they don't want you abroad for too long, it's not the greatest coverage in the US, and the throttling abroad really bothered me.
There are many options to stay connected while you're traveling! I hope this helped you narrow it down and choose what's best for you!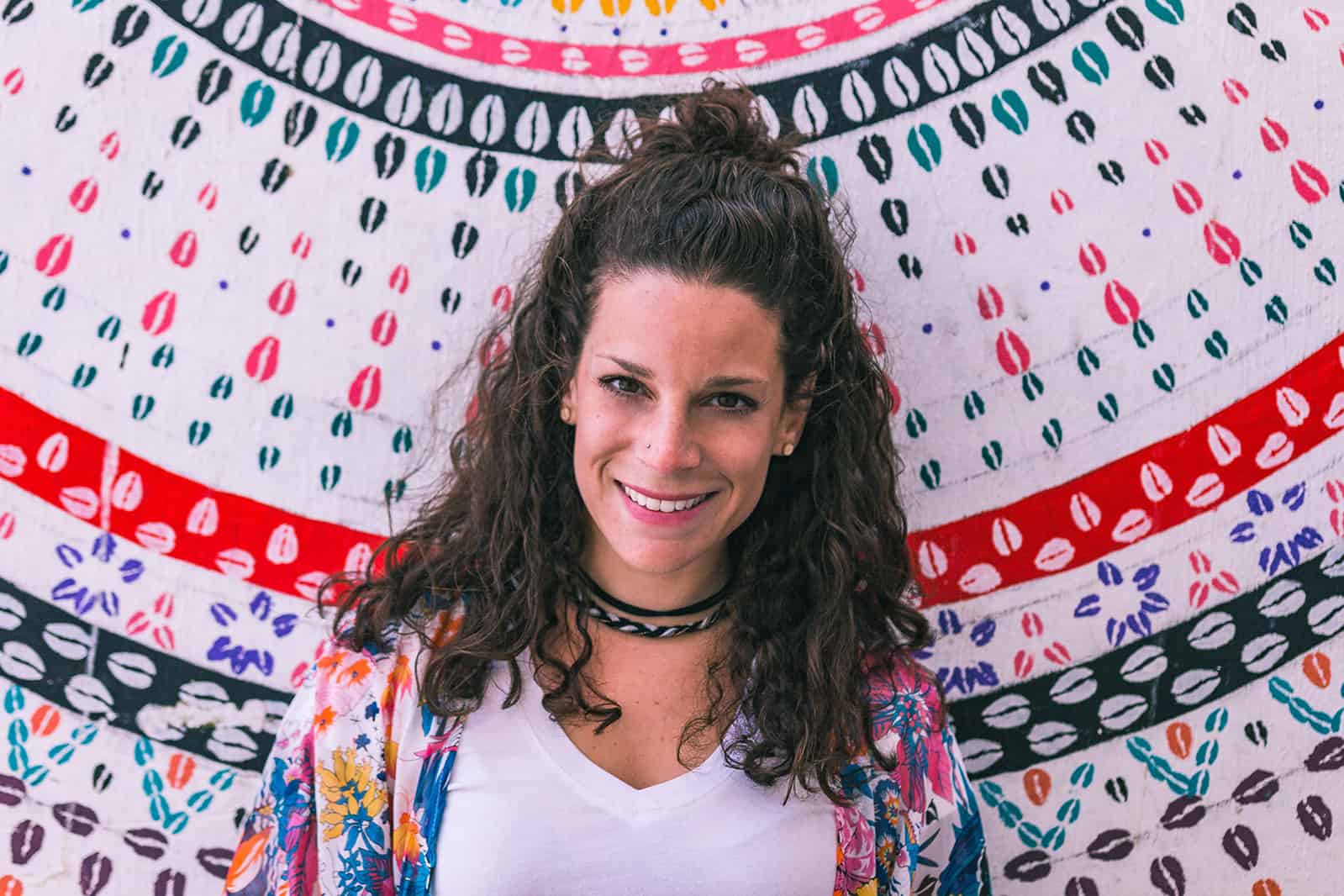 Nina Ragusa is an adventurer, messy bun master, breakfast fan, and full-time travel blogger. She's been abroad since 2011 and blogging on Where in the World is Nina? for nearly as long. Nina helps people like you move around the world while making money. She loves talking about how to work abroad and online to travel longer!