I LOVE road trips but sometimes planning a road trip can get a bit stressful and daunting.
Where to go? What vehicle? Where do you park? Where do you pee? How much should you budget?
If you're planning a road trip and thinking about campervanning, this guide should help you sort out everything you need to know.
I've conquered a few road trips in my day, and it's now become a yearly thing! I have quite a few tips, some cost estimates for you to budget better, some dos and don'ts, and all the other details about how to plan a road trip.
Here's everything I know about planning a road trip—I hope this helps anyone who's ready for an adventure out on the open road.
Planning a Road Trip—Step-by-Step!
---
Planning a road trip without overplanning—that's the goal!
There's a fine line to walk while planning a road trip. How much do you plan? Do you plan at all? What are some important things to keep in mind? What should I bring on my road trip?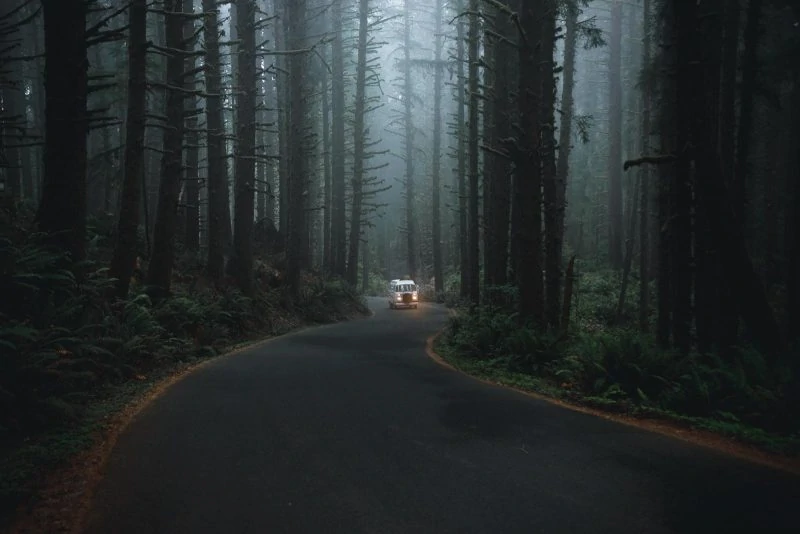 There's so much to say here, and my post on the mistakes to avoid when planning a road trip will definitely help you, but I'll be breaking it down with the six most important steps for planning a road trip.
1. How To Get Around on Your Road Trip
So how do you get around on your road trip? There are two main options here – either by car or campervan. There are pros and cons to both, it all depends on how you prefer to travel.
Cars are usually cheaper to rent (if you need to), and if you're thinking about road tripping, they're also usually more fuel efficient than campervans—saving you some serious gas money along the way.
But if you ask me, there's really no comparison. Campervanning is the way to go for me! Why?
It's your accommodation
It's your transportation
It's more fun!
OK, one of those things is an opinion, but seriously, I couldn't imagine road tripping in anything but a campervan.
I've done numerous big road trips, and they were all with a campervan. Campervanning can also be cheaper and more convenient than a regular car in some ways. Let's break it down…
Cost Comparison
Let's talk about cost-efficiency for a quick moment. When you look at the base price of a campervan, you might be a bit scared. It can cost quite a bit more than a regular car!
Campervan cost – $60-$300+
Car rental – $20-$70+
These are just estimates, and neither includes insurance or other costs like mileage, etc. Of course, things like the time of the year, the length of the rental, and the type of vehicle all come into play, but generally speaking, campervans are definitely more expensive than regular cars.
However, the extra cost when you rent a vehicle comes when you need to book a hotel room.
Add that to your vehicle cost, and you'd come out to almost the same total as your campervan rental IF you stumble upon a bargain every night. I can assure you, that would be quite difficult.
Campervan = Convenience
However, it's more than the cost you need to worry about when campervanning. You need to think about convenience. Your campervan is your home that you can take with you. This means finding a safe parking spot at night is literally your only responsibility.
Rent a regular car, and you'll need to hope to find a hotel with availability, OR you'll need to make your reservations further in advance, which means you need to end your road trip at a certain place each night, leaving little room for spontaneity.
And if you ask me, being able to be spontaneous trumps everything else, particularly on a road trip.
There's nothing worse than cutting your day short because you got to your hotel early in the day and you paid for it already… or worse, forcing yourself to drive deep into the night to make it to a hotel because you *shock horror* spent too much time at a waterfall. Shame on you for being adventurous!
Should I Road Trip by Car?
Don't get me wrong! Planning a road trip with a car instead of a campervan is great too. I love road trips. Period. And have taken plenty with just a regular car as well.
I do love the flexibility a campervan offers but having a regular car offers its perks as well. A smaller vehicle is always nice, you can stay in a tent too so your "home" can move, and it can offer you more freedom over a larger RV type of vehicle too.
I also have good luck here with my rental cars if you are visiting somewhere and don't have your own!
So Which Vehicle Are You Planning a Road Trip With?
I think you've made your mind up by now – Rent a Car or Campervan? Which suits you and your trip best?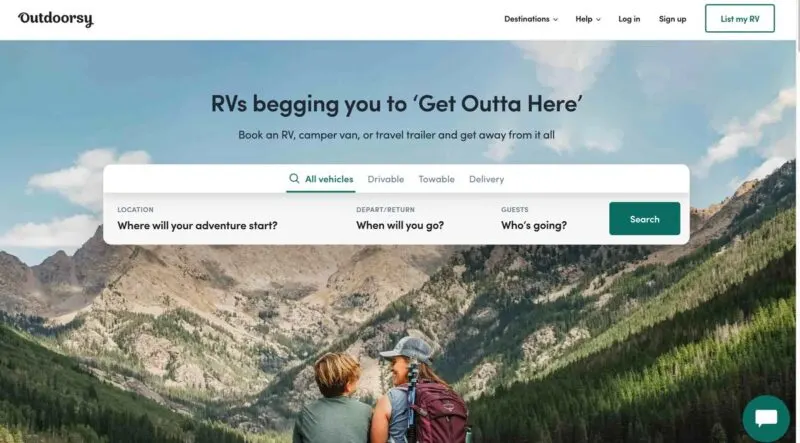 If you use a site like Outdoorsy for a US road trip, you can literally choose a campervan or RV that best suits you and your family, your group of friends, or just you!
They have TONS of availability and types of vehicles to choose from; you'd be hard-pressed not to find a vehicle that fits you and your trip.
Old school Airstreams, decked out fancy Sprinter vans, RV trailers, converted mom vans… There's a vehicle for everyone so you're comfortable on your trip. Depending on where you're going and what country you're in, there are different options…
FAQ for Campervanning
OK, so you're campervanning! You want flexibility, you like being a bit more spontaneous, you want to wake up with nature at your front door, and you've said goodbye to the idea of getting a random hotel room long ago!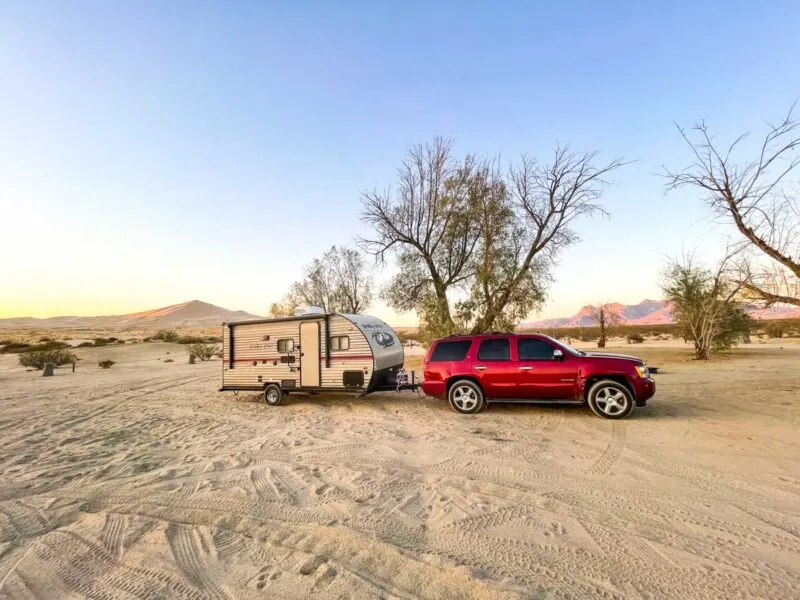 Excellent… Now to answer your burning questions…
Where Do You Go to the Bathroom When You Campervan?
Well, let's just address the awkward toilet situation already, shall we? I know you're wondering!
The good news: You can actually pee anywhere. Nature's toilet is great! Obviously, this is only out in the bush. At the end of the day, the saying is… "When nature calls," right?
Also, let's address the toilet paper situation. If you NEED it, dispose of it in a bag and throw it away later OR just drip dry, ladies! There's NO option C where you just throw the paper in nature. This is 100% a big no-no.
If #2 calls, get to a gas station or literally anywhere with a toilet. IF you don't have another choice, make sure you dig a hole and don't do it near a water source.
Of course, these situations aren't going to be too common as you'll be passing gas stations, trails often have toilets at them, and the campgrounds are likely to have them as well.
Now, depending on which campervan you get, you might have a toilet on board! And in that case, amazing! But don't forget, you'll definitely need to deal with dumping your dirty water at proper dumping locations so even though you have this option, I often still try to use public toilets so you don't need to dump your black water often.
SO there's that… Which actually begs the next question…
Where Do You Shower When Campervanning?
While planning a road trip with a campervan, "where do you shower and where do you go to the bathroom" were my top questions. And that's totally understandable. Glad to know you all are clean! Me… well…
Let's just be honest here, I showered a total of 5 times in 17 days on my Vancouver to San Fran trip. And I think only 3 times per week during my New Zealand road trip.
I was totally fine with it. While in Iceland, I showered only a few times in two weeks, so we can all see now that chasing waterfalls is far more important than personal hygiene to me. Glad I got that off my chest. With that said, nowadays, I usually stay at campsites that often have showers to use.
But seriously, where does one shower?
Here Are a Few Ideas of Where You Can Shower While Campervanning…
Some of these are US-specific, but the others are for anywhere!
YMCAs – Genius, huh? Some charge a minimal amount, and some are free.
Truck Stops – Truck stops usually have really nice shower facilities, but they are pricey AF, around $12 per person in the US, although each location is priced differently.
Parks – Many parks (state, national, and county) around the USA have shower facilities! For example, I took a 3-minute and 30-second shower at Lassen National Park for $1.75. (There's a timer, I've never lathered so quickly in my life). Some campsites give you a whole minute for only $.25. If you pay to camp overnight at many state parks, using the shower is free.
Public Pools – If you're road tripping in the summer, many public pools in the US and Europe have showers. Pay the small entrance fee, and you've got yourself a shower AND a nice pool to cool off in.
RV and Camper Campgrounds – There are plenty of these around. Stop in and see how much they cost for just the shower usage. They are often cheap.
Bring your own – If you're desperate for a shower every night, I'd recommend buying one of these portable showers because it will be annoying to take time out of your day to find a shower, and in the end, it may even cost you the same! Be VERY careful using soaps. Try to gather the water and properly dump it or use the right soaps, so you aren't polluting.
Use what came with your campervan – Some campervans come with a shower and all! So, in that case, you're lucky. You get to bathe every day. But don't forget, you will need to properly dump that water at a dumping station.
Just remember, on the days you don't get a shower, you can easily clean the important bits with baby wipes. It's good enough (says me, the dirty hippy). You may want to shower more often if you're campervanning in the summer.
2. Where To Stay—Planning a Road Trip
This is my biggest worry when planning a road trip! How do I know where to park for the night, and is it safe? I have you covered…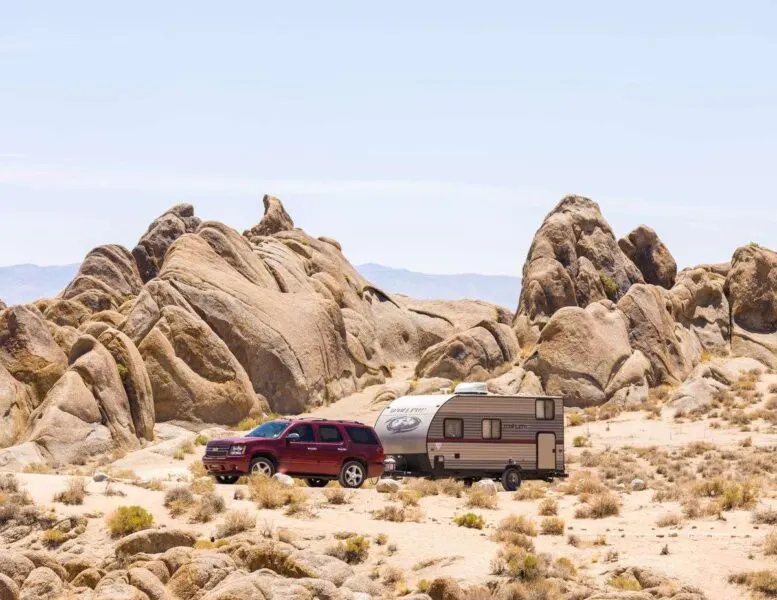 Potential Parking Locations for Campervanning or Tent Camping in The US:
State Parks, National Parks, National Forest etc.. – Many offer camping, some need to be booked, some are free, some cost less than $10, and some are first-come-first-serve… This varies greatly, and you'll need to check each park for each park/take a chance. There's usually a sign with rules at the beginning of the entrance. I've paid $10 at Valley of Fire in Nevada on a previous trip, and I found an awesome $10 spot in the middle of a forest in Oregon. I LOVE staying at state parks in the US because they usually have all the amenities, a great parking spot, shower, toilet, etc. They usually cost $20-$30/night on average but vary depending on where you are. See the official website for the parks you're going to for their camping info.
The side of the road – I have found a safe patch of dirt far enough off the road and parked here before when there was no other choice. Sometimes creepy and super dark, but it worked.
Truck and rest stops – Pretty much any trucker stop has overnight parking.
Walmart – Did you know you can spend the night in many Walmarts around the US and in Canada for FREE? They are well-lit, have bathrooms, and are safe. If there was a Walmart nearby, we slept at it! Check which Walmarts you can/can't sleep at.
Potential Parking Locations for Campervanning Anywhere Else:
WikiCamps – Great app for Australia, New Zealand, UK, and US
ACSI – App for camping around Europe with 9,500 camping spots!
iOverlander – Camping around the world
Potential Accommodation Options for Road Tripping With a Car:
AirBnBs/hotels/hostels – If you don't mind forking out a bit more cash while road tripping (or if you just want to indulge for a night or two here and there), AirBnB, Booking.com, and HostelWorld can be great tools for finding accommodation along your route. While you may save money by booking further in advance, you'll likely be able to find options available last minute as well.
Camping – Tenting is a great option for those who are planning a road trip with their car rather than a campervan. Camping is usually the cheapest option (besides getting your beauty sleep in a Walmart parking lot, of course). In some countries (hello Scandinavia!), camping is actually allowed most places for free thanks to the "freedom to roam" laws. Be sure to look into this before you pitch your tent in someone's backyard, though! And download the apps I've mentioned too.
Park it – If you don't mind sleeping in your car, or if it's an emergency and you can't find any accommodation along your route, you can simply park your car. Just make sure to do it in a safe spot.
3. Where Are You Going On Your Road Trip?
Now that you've decided how to get around and know where to stay while road tripping, it's time to figure out where the heck you're going.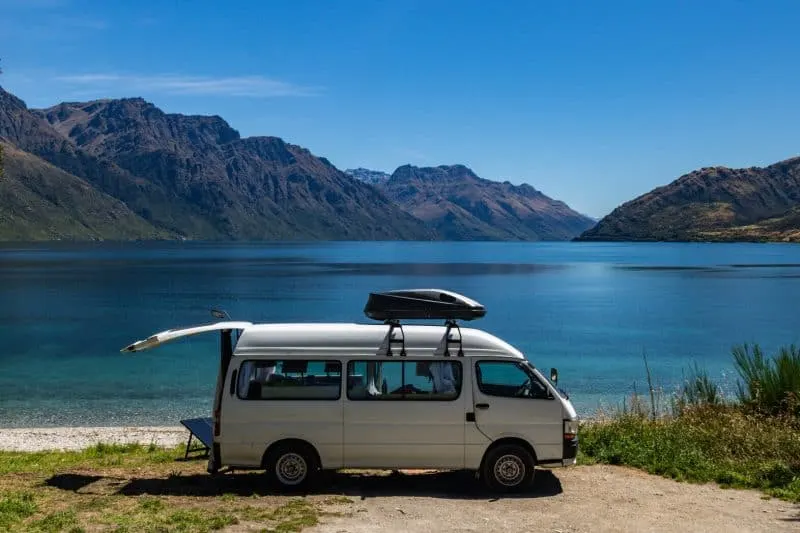 A general route – Are you going along the Oregon coast? Taking a scenic road trip around Germany? Checking off all the national parks in a specific state/region? Campervanning Iceland? Get a bit of a route nailed down!
A bit of a "theme" – This isn't a total must, but I think it keeps you on track a bit more. There's only THAT much you can see while road tripping, so what's most important to you? You'll be left scrambling all over the place if you want everything. I usually choose to focus on nature, taking hikes to work out those legs from sitting in a car, and I often want to see tons of wonderful lakes and waterfalls. This usually meant no city stops for me. This keeps me more focused while on the trip, and it allows me to prioritize better.
Where to stay – I talk about this above, but it's a good idea to have a few options and have some places marked (more on this in a second), as it's really important you have a good and safe place to call it a night.
A list of places – Having a list of places makes your day more organized. If you're too loose, you'll be wasting daylight figuring out what to do. Make your list longer rather than shorter. I have some tips on making a list for you below!
Take an Example From a Road Trip I Did From Vancouver to San Francisco…
I researched things to do along my route.
I made notes on all the cool hikes that were feasible.
I found hikes with views, lakes, and pretty waterfalls.
I made a list of cool state and national parks I wanted to see.
I listed WAY more things to do than I knew I could fit in our time so it gave us options. Maybe it would be overcast one day, so what would be the point in hiking to a viewpoint? Instead, I'd hike to the nearby waterfall instead… Both were on the list and in the same area, but I knew I couldn't fit everything; I'll choose the best for me on that day.
I marked all these spots on Google maps, I checked it, and planned my road trip in a bit more detail the night before. So each night, or every other night I'd discuss with my friend what to do the next day depending on what we felt like and what weather was in store.
Keeping it easy and flexible was a great choice. There was a day when we accidentally drove through Mount Rainer National Park, it ended up being gorgeous, but it wasn't our plan.
The next day, the road we needed was closed, and we had to miss out on 2-3 of the waterfall hikes we wanted to see. So instead, we did a big driving day on a crappy road that ran parallel to the one we wanted that had nothing to see. Oh, well, it happens.
When Planning a Road Trip, This Is How I Find Places to Go:
I get asked HOW I find all the cool places I get to see when I travel. This takes some work!
While this is how I plan my road trips, I actually do this for most of my travels. This is particularly important while road tripping, as you can't just wander around aimlessly as easily. You need SOME kind of goal destination(s) each day.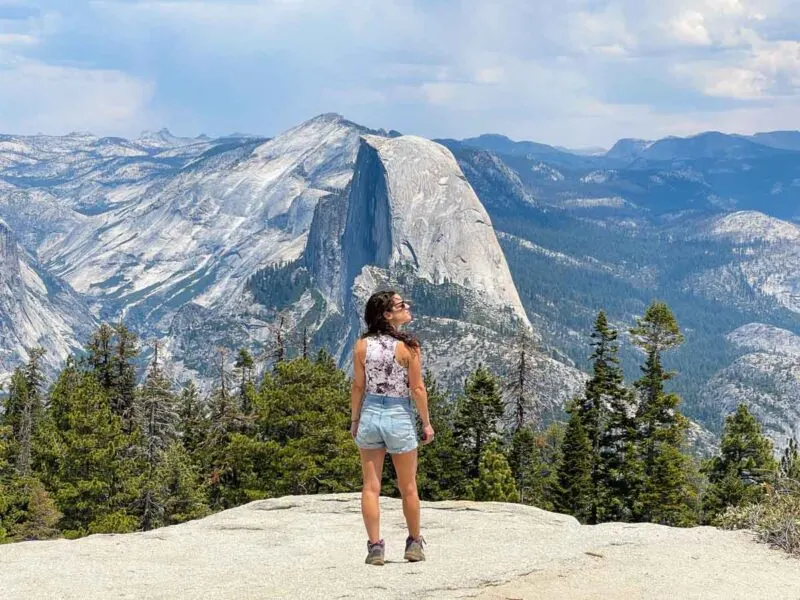 As I mentioned above, I make a list of places of things to do and places to see, and I make it very full so I can have options. This is how I make this list…
Step 1:
I Google "things to do in X" / "hikes to do in X" / "waterfalls in X"… (X=the state, the national park, the town… however specific I need to get.) I cross-check the info with Google maps to make sure the place is actually on my route before I get too excited about it. If it's a 50 miles detour, I might need to rethink adding it on the route!
Step 2:
I also Google "things to do in X" in Google maps. This will sometimes bring up extra things not included in a top 10 list, and I also get to visualize what's along my route.
When I find places I like—I "star" them in Google Maps. You'll see a "Save" icon under the cool thing you're trying to star.
How I Make a List in Google Maps
Call me a nerd but I love a good list! And you don't need anything fancy to do it.
My favorite way to keep a nice list of what I want to see is just by simply starring things on Google Maps! There are a few icons they offer and this is what those icons represent when I'm planning my road trip.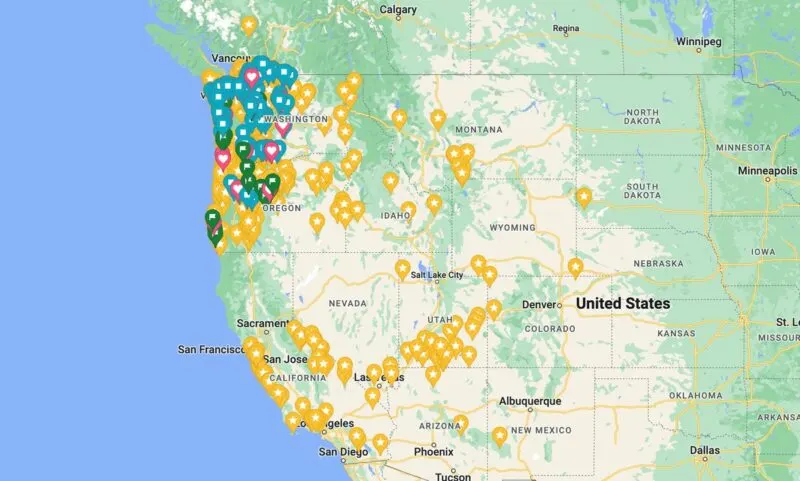 Stars – These are the places I want to go. I have TONS of stars on my maps!
Green flag – This is usually a place to eat.
Hearts – I heart things like where I'm staying for the night or something important.
Teal tag – There's a "bonus" icon you can make in Google Maps if you click "make a new list" and I use this icon to pin potential places to stay. This is a good tactic I use to mark numerous places when I road trip because oftentimes I'm not making reservations, so having a few campsites to choose from in case one is full serves me well.
Blue flag – If you "label" something it comes out as a blue flag icon and I use these to make a note on something that wasn't on maps. For example, I'll pin a blue flag for a turn down a dirt road that wasn't on Google so I know where that turn was when I look back.
Another cool thing you can do with Google Map pins is add notes to your pins for further info and reminders to yourself. I also like to make a note in my Notes app on my phone with links etc.
BONUS:
Map everything out by doing directions from place 1 to place 2, and 3, and so on. By having everything mapped out in Google Maps, you can save the link, click it on the road trip, organize the exact places you want to see, and BAM! You have your route set on your phone to GPS you around. This saves so much time! (Also helpful if you don't have good service).
Step 3:
I also made some notes depending on the activity. Since we were doing hikes, I had notes and the Alltrails app downloaded to double-check hiking times and difficulty levels. You don't want to pack in survival mode for a 0.5-mile hike and then try to take on a 7-mile moderately difficult hike without the proper amount of water at 4 pm.
Researching this type of stuff on the road can get time-consuming, and you don't want to plan a road trip while on a road trip! Get this stuff done beforehand.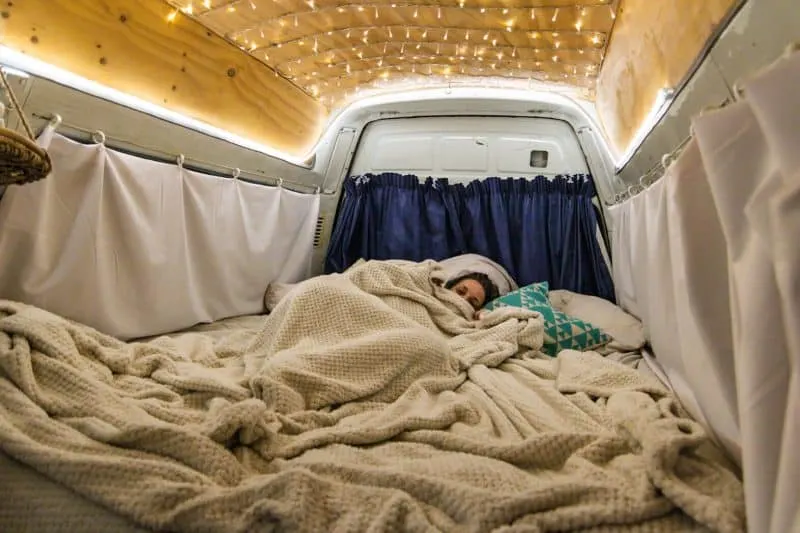 This is my method to my madness. Some may think this is too much planning, but I thought it was the right amount. We wasted very little time while on the trip and had notes ahead of time to organize our days better.
Everything was still a bit spontaneous as well because I had mapped everything out beyond what we could do. I knew the route well. So depending on how I felt, how far along I was in the trip, the weather etc… I could have a set of activities to do.
4. Budgeting for Your Road Trip
I won't give you any prices for the vehicle as it will depend on what vehicle you choose, what time of year you're going, and the number of days.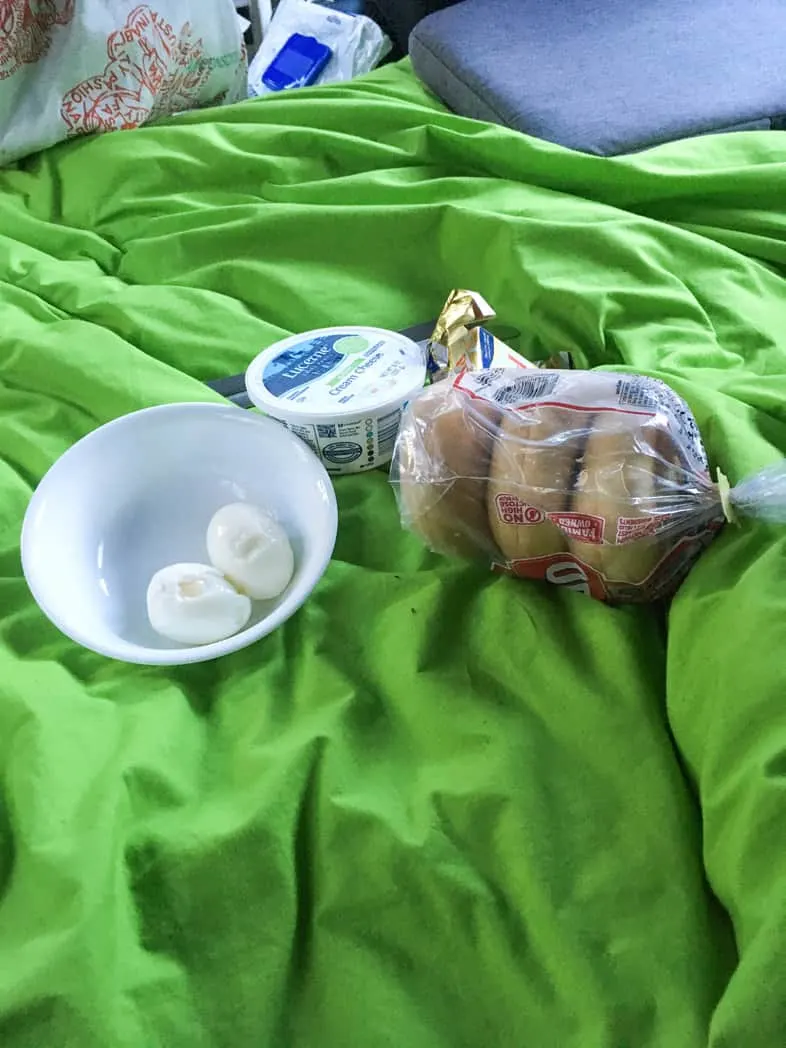 But for everything else, on my 17-day road trip from Vancouver to San Fran my friend and I spent:
Gas – $430 (2,300 miles)
Food/Drink – $330 (cooked mostly every night and made our own coffee etc)
Camping – Found free places the majority of the time
On another trip I recently did, I went all around Oregon and Washington for 7 weeks and spent around $5,000 in total for two people. We stayed at nicer state parks and ate out decently often too.
Here's what Iceland cost me. Australia, New Zealand, and Morocco, to name a few more.
And lastly, don't forget to budget for travel insurance!
This is not a choice. Read up on why travel insurance is important and then get a quote from World Nomads and Safety Wing. You can also check with your credit card as they sometimes insure vehicles as well. Do note that most don't insure recreation vehicles, though!
5. Reminders and Mistakes To Avoid When Planning a Road Trip
Any kind of planning a trip, whether it's a weekend away, a cross-country trek, or an international round-the-world jaunt. But for a road trip, here are the most practical tips to take away:
Fill up – Waiting for gas can be risky, fill up when you can.
Cash is king – While we all love using cards, sometimes you might be caught in a tiny town with no ATM, and nobody takes a card! Always have some cash on hand.
Music – Don't forget to download playlists.
Timing – It's great to be motivated to see all the things but get realistic with your time. Driving times are often more than what's predicted.
Sleep – Sleep when you're dead. JK! But seriously, get the most out of your road trip and get up early and go to sleep early!
Water – Fill up your water almost as often as your gas!
Maps – Download your maps before taking off.
Meals – Get realistic with your meals, don't plan anything fancy, and don't forget you're cooking out of a vehicle! Keep it simple.
Organize – Everything should have a home when you're road tripping. You won't lose anything if you always put it back where it lives.
Planning – Planning your trip is fun but don't plan too little or too much! Don't plan so little that you're researching on the road but don't plan too much that you're on a strict not-so-fun schedule.
Night time – Driving at night is often not advised. Be careful of night critters too!
Company – Choose your company wisely, road tripping can get stressful, and it only gets worse if you're not compatible with your friend.
Take it easy – I can guarantee that something will go wrong on your road trip! NO trip is 100% smooth, so roll with it and rebound. Don't dwell on the negative.
Seasons – Don't forget to check the weather for the time of year you're visiting so you can plan your trip accordingly as well as know what to pack.
Check this for more road trip tips and mistakes to avoid.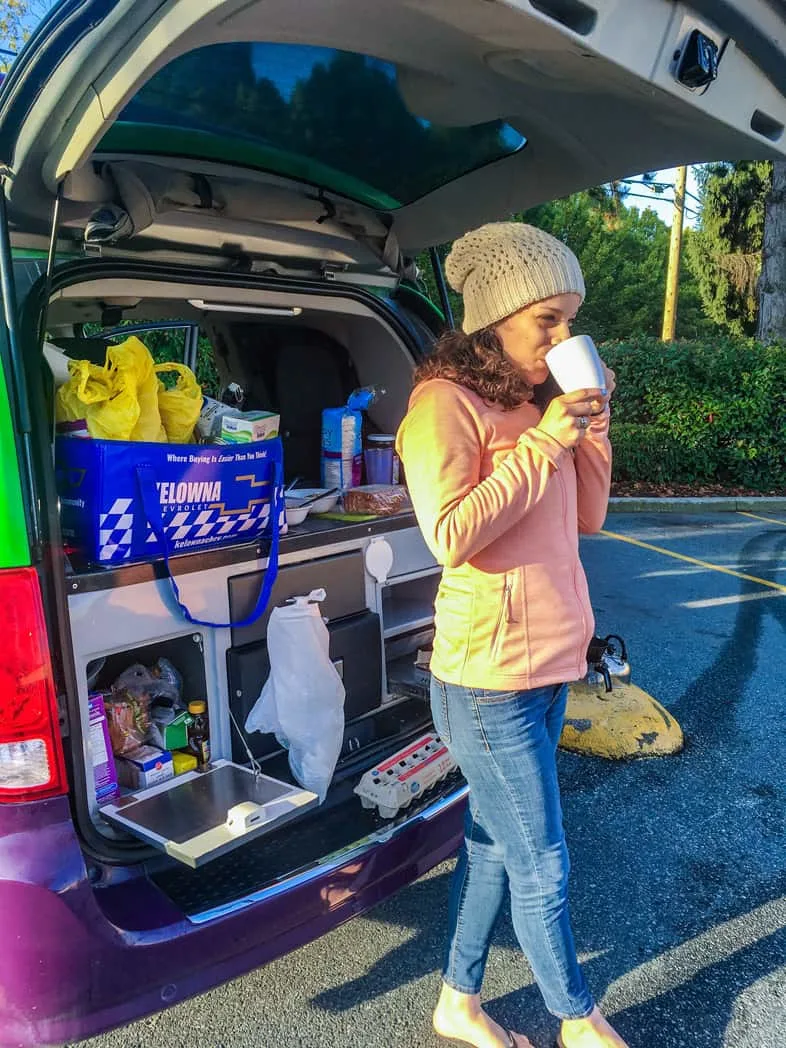 Resources and Apps
Google Maps – Duh, BUT make sure you download the map for offline usage! Click your profile pic, click "online maps," click "select map," then hover over the area and download. Done!
Maps.Me – Download this offline map as a back up too.
Alltrails – Obsessed with this app for hikes, it's a must.
Camping App – Check out recreation.gov for info on US camping sites.
Gas App – Gas Buddy and Gasby can help you find the cheapest prices in your area.
Skyroam – Make sure you have internet when you need it. Use Nina77 for a 10% discount.
Travel Cards – You don't need to travel overseas to earn points. This is the one I use for ATMs and this is my credit card. Earn money while you road trip!
RELATED: How To Plan a Trip: 13 Step-by-Step Instructions
6. What to Pack for Your Road Trip
This list could go on and on, but I have some of my favorite items below. Be sure to read my road trip packing list so you can make sure you're planning your road trip with everything you need!
Car Care
Emergency Car Kit – Flares, jumper cables, screwdrivers, ice scraper, and more things you might need in an emergency.
Empty Gas Can – This could mean the difference between making it to that next gas station and running empty!
Sunshade – Not only keeps your vehicle cooler but also adds privacy if you're camping in your car.
Personal Care
Clothes and Accessories
Flip Flops – Great for summer but also for public showers. They're quick to dry and comfortable.
Sarong – One of my must-haves as it's so versatile. Use it as a cover-up, blanket, scarf, or towel.
Jacket – Invest in a good jacket, and it will last you years. Choose one like this that works for both rain and cold.
Dry Bag – Whether you're kayaking, chasing waterfalls, or just out in the rain, a dry bag is a must.
Tech
Make Life Easier
Water Bottle – A water bottle with a filter means you always have fresh water without the waste.
Ice Box – Keep your own snacks and drinks cool and you'll be less tempted to buy things on the way.
Swiss Army Knife – The original road trip essential, even if you only use it to open beers.
I hope this helped you plan a road trip and offered some extra tips for your future trips too.
Happy travels out on the open road!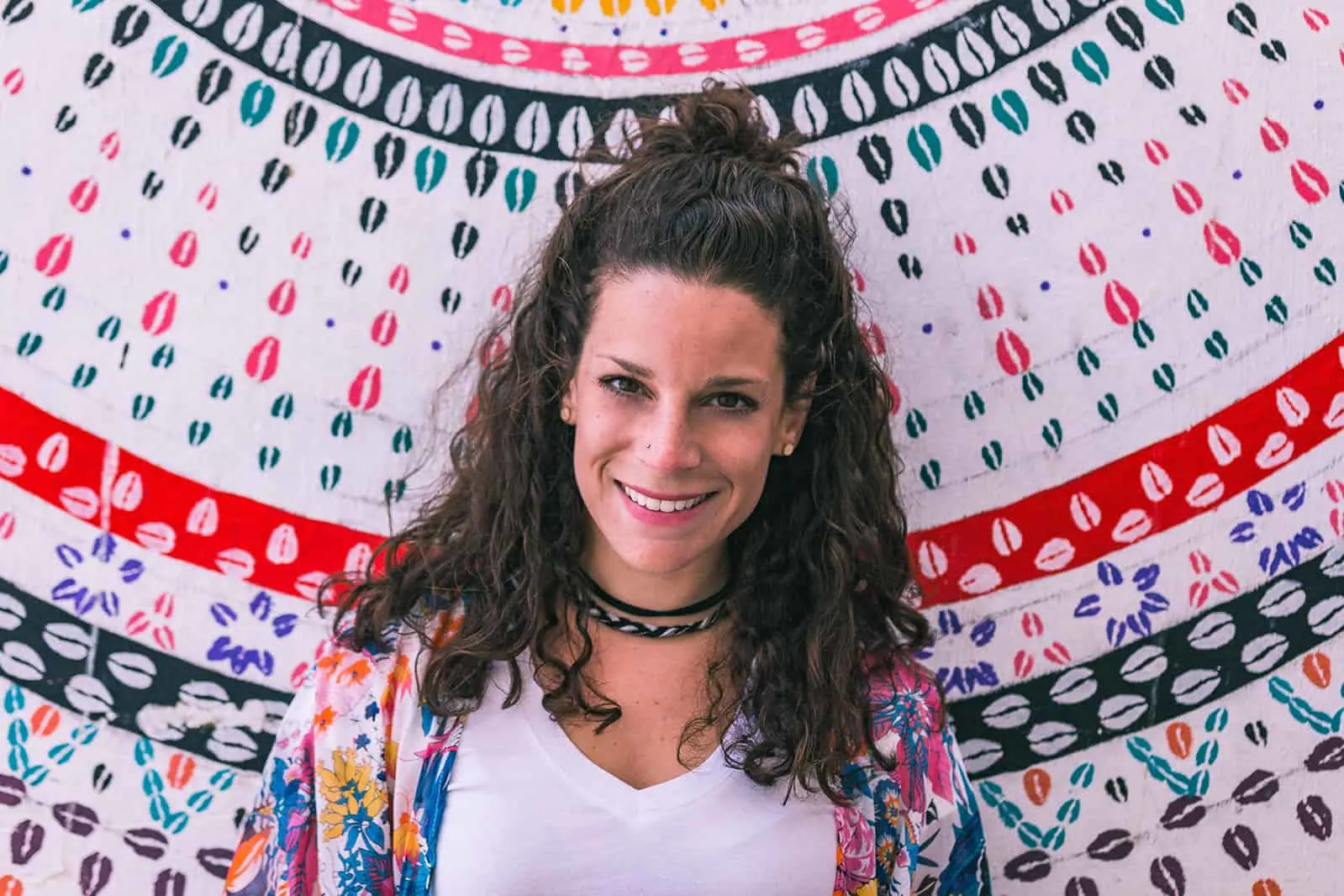 Nina Ragusa is an adventurer, messy bun master, breakfast fan, and full-time travel blogger. She's been abroad since 2011 and blogging on Where in the World is Nina? for nearly as long. Nina helps people like you move around the world while making money. She loves talking about how to work abroad and online to travel longer!