After being in and out of the country for years, I think I know something about what to pack for Mexico! While there are plenty of things that should be on your Mexico packing list, some things are better left at home.
We will go over everything one would need to bring to Mexico, no matter the season or what you're doing there. Mexico is a relatively easy country to pack for and most things are available on the ground as well if you happen to forget something!
Your Mexico Packing List
---
While you're on the right track with looking into what should be on your Mexico packing list, how about "packing" some Mexico tips and must-visit destinations? Here are all my in-depth guides to traveling Mexico:
Mexico City:
Sayulita:
Around Mexico:
Waterfall adventures:
Clothing to Pack for Mexico
Electronics to Pack for Mexico
Accessories and Toiletries to Pack for Mexico
Your Mexico Packing List Travel Essentials
Which Bags to Use for Your Mexico Packing List
Suitcase or Backpack?
When thinking about what to pack for Mexico, you need to decide which bag is best for you. Packing everything in a suitcase or a backpack? I've done both on my many trips to Mexico, and it really depends on the trip. If I'm moving quickly, using cheap modes of transport, lots of buses, etc.—I'm choosing a backpack.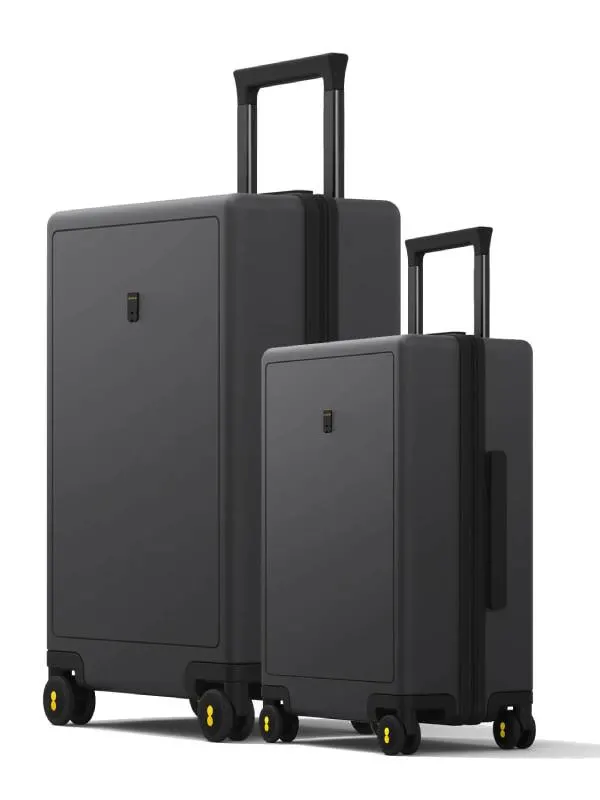 If I'm going to chill and live in Mexico for a bit, travel slower, and perhaps use other forms of transport that are a bit more comfortable, then I'll grab my hard-shell suitcase and shove everything in there. It's totally up to you, but these are my recommendations for both situations:
Hardcase (DISCOUNT CODE: LEVEL8NINA10) | Backpack
What To Pack for Mexico Depending on The Seasons
When people head to Mexico, they most often think of summertime, bikinis, and hot weather, and if that's exactly what your visit to Mexico is going to be about then, great! But if you're exploring beyond the shores (and even then weather can vary) then you'll need to keep some of these tips in mind when thinking about what to pack for Mexico!
Below you'll find the overall weather patterns for Mexico but it's a good idea to double-check the area you're going to and see what it's like there.
Rainy Season
The rainy months are typically around May through October.
Hurricane season is often around June to November.
While this is technically the rainy season for Mexico, don't think that's downpouring all day every day. And part of the countries can certainly still be dry! Many places will be lush and verdant but the rainfall often comes around a bit later in the afternoon.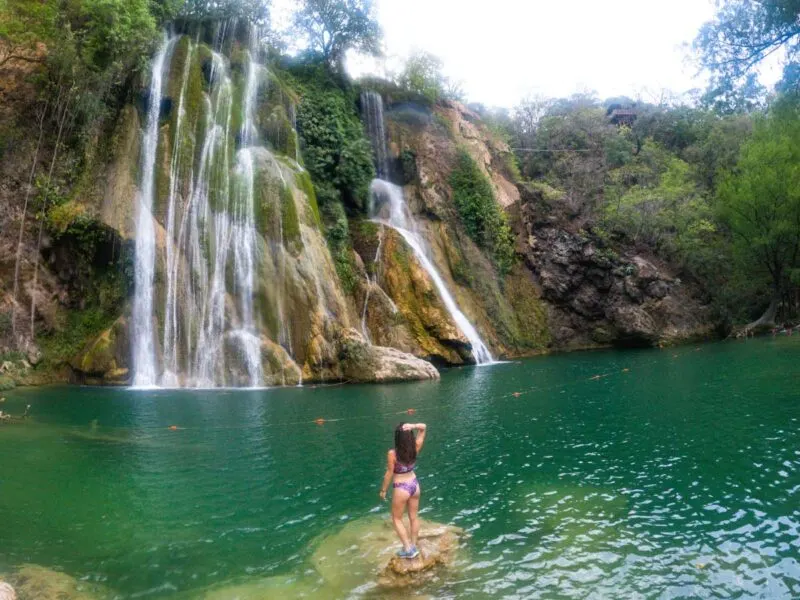 You'll definitely want a breathable rain jacket to keep yourself dry but not humid and sweaty.
This is certainly going to be the warmer months of Mexico, and you can expect temperatures to be around 70-85°F (21°C-29°C), but some areas may get into the high 90's (32°C).
Dry Season
The drier months in Mexico are from October to April.
You'll get hot; you'll need sun protection and to make sure you're staying hydrated. There are some pretty dry plains covering Mexico, but this doesn't mean there aren't any occasional rain showers. They are shorter and don't come through dramatically, drenching the land.
You can expect temperatures anywhere from 48-80°F (9-26°C)
Again, it's essential to check the specific areas you're going to answer what to pack for Mexico. Depending on the regions and times you're visiting, you may be bringing bikinis, gloves, and a rain jacket all in one bag!
What Should NOT Be on Your Mexico Packing List
❌ Lots of cash
Just don't! There's no need to carry a large amount of cash on you; you can freely use ATMs. Check up on the best cards to use for travel to learn how you can avoid ATMs fees and get better deals when using your credit cards abroad. Carrying large amounts of cash is just screaming for theft!
❌ Jewelry
Honestly, leave it all at home. Wear something easy, simple, and something you wouldn't care to lose. There's no need to flash that stuff around anyway; it makes you a shiny target.
❌ Everyday items
There are TONS of stores around Mexico; make sure you're not packing everyday items that they have. They even have Walmarts here! So make sure you're only packing the items you know they won't have/particular items you're picky about.
Of course, this is if you're trying to save some space. If you want to bring these items, feel free to but just know you can pick things up easily if you forget.
❌ Valuables
Like jewelry, yes, but unnecessary electronics or anything else fancy. Again, you don't want to stick out, and if you lose it or it gets taken, it will bring you down on your trip when you could have just left it at home!
On a similar note, if you need to bring anything of value, make sure it's hidden in your hotel room and always in your carry-on. Don't check in your valuables in your big bag at the airport OR when you're on buses that store things underneath.
❌ Fancy bags and off the shoulder bags
I mentioned this already, but it begs repeating. No fancy expensive bags and no bags that simply drape over your shoulder for your day bag. It's an easy target for theft. If it's also an "open style" type of bag, it's screaming, "take whatever you want from me." Make sure it zips up!
❌ Mega touristy stuff
Massive sombreros, Hawaiian t-shirts, and neon clothing SCREAM "hey, I'm a tourist!" and honestly, it's just nothing you want to do. You will likely stick out anyway, don't make a spectacle of yourself and make yourself any more of a target.
The Best Apps for Your Trip to Mexico
Google Translate – Download this app, then download the Spanish language to use it offline. Don't forget the handy camera feature if you're trying to read a sign or a menu in Spanish too!
Uber – Major cities use Uber, too, so have this ready so that you can use it instead of haggling with taxis.
Maps.Me – I always have this downloaded for access to offline maps anywhere in the world! This offline map is better for showing more walking paths.
Google Maps – I always have two versions of maps because each one offers different info. You can download sections of Google Maps to use offline too! Google Maps is better for driving and recommendations.
Other Tips To "Pack" For Mexico
Will They Speak English?
It depends on where you're going, but plenty of people speak English in Mexico. In the tourist areas, you'll find people at your hotel and at restaurants that can speak English, and you'll be able to book tours that are in English as well.
Of course, like anywhere else in the world, you should certainly learn some words in the local language. Learning a few words in Spanish is pretty easy, and it makes locals happy to see you're at least trying.
If you're a bit further out from the tourist areas, it's less likely you'll encounter anyone who speaks English, so keep this in mind. However, in all of my experiences in Mexico and worldwide, people are always willing to help!
What Currency Should I Bring?
I'd say to bring a few bucks in USD to hide in random places amongst your bags, and that's it. Don't bring anything else. Instead, simply hit up an ATM at the airport and grab your pesos there once you land. I never use currency exchanges either; they charge you fees and can be rife with scams.
Is Mexico Safe?
This is a general question that can't be answered in its entirety—about anywhere. Relatively speaking, a good chunk of Mexico is safe. Of course, there are some areas you should avoid. No matter where you are, I'd recommend avoiding going out at night.
As we've discussed, you'll minimize your chances of being targeted if you're not flaunting anything expensive and aren't being an obnoxious tourist. Usually, the main tourist spots, where you'll likely be going, are pretty safe.
Use your common sense, don't stray from the main hubs, don't be out alone at night, and just do a bit of Googling on the particular areas you're heading to, and you'll be fine.
READ MORE: Travel Safety Tips—No Matter Where In The World You're Going
What About the Water?
Drinking the water is a no-no, and you'll be stuck buying water bottles. Sometimes hotels will provide some water fountains that are drinkable or sometimes just a couple of water bottles that won't last you more than half a day.
So that's why I loved traveling with my filter water bottle, which makes pretty much any water safe to drink. It's free and reduces plastic waste!
How Do I Get Around Mexico?
Mexico is well connected and is pretty easy to get around. You can take domestic flights easily from almost anywhere.
The bus system is pretty damn good too! ETN, ACN, ADO… There are tons of buses to choose from, ranging from luxury to simple. Even if you get a midrange bus, you'll probably get a comfortable seat that reclines, a personal TV, and even some snacks!
Taxis are a bit of a pain if you have to haggle, but just get the price before heading out, and you'll be fine. Uber is used in the major cities in Mexico, making the haggling part of taxi usage a bit easier.
Do double check before booking a bus if a flight would be easier, cheaper, and faster! Mexico is bigger than you may think, and with reasonable flights, you could be paying similar prices but arriving in less than half the time.
I hope this list helped you with what to pack for Mexico!