I'm not a carry on only traveler, at all!
I do envy those carry-on only people sometimes as it's nice to pack less, carry less, and overall be lighter, but after spending a few years abroad and spending around a year away from a home base every time I jet off, it's kind of hard to do that!
And depending on where I'm going and for how long, I think using the best hard shell luggage is perfect for me.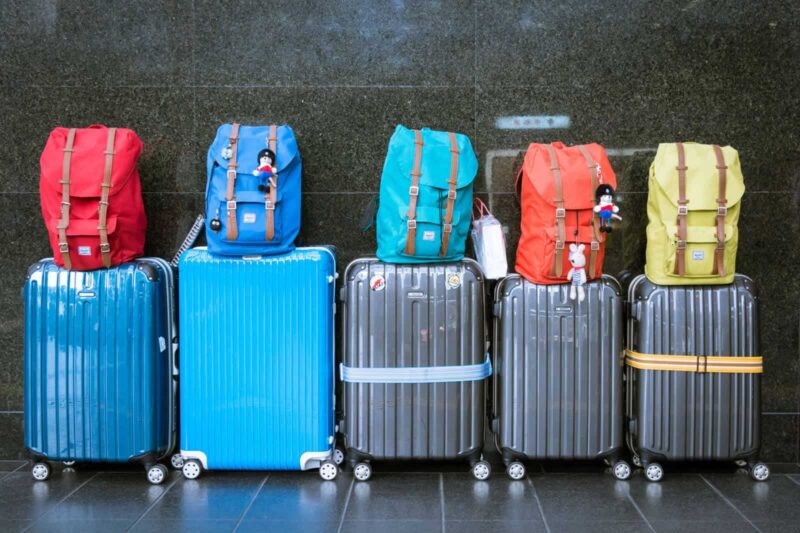 I sometimes travel with a backpack when the country depends on it (read: crazy roads, cracked streets, crowded places etc) but sometimes when I'm going to more chill places, places for extended periods of time, and to a location that requires more equipment space, hard shell luggage is what I use!
So here's a bit of a guide of some of the best hard shell luggage I've found out there and what's important when choosing your luggage.
Don't lose this! Click to pin it now.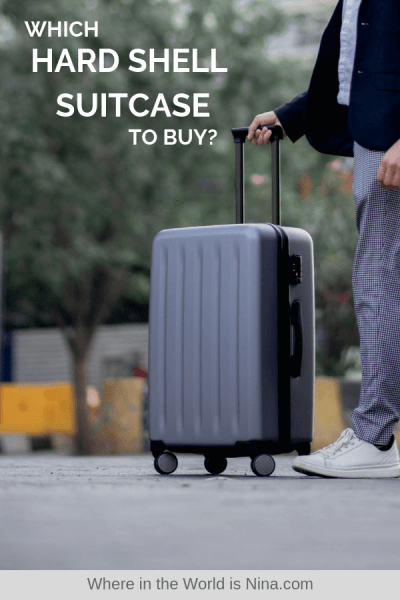 Choosing the Best Hard Shell Luggage
Choosing the right luggage for your travels can be a tricky business, and surprisingly there is a lot to consider. One of the first decisions you should make is if you would prefer a hard or soft sided case. Although there are benefits to both, a large hard shell suitcase is your best bet for protection of your items, from both humans and the elements.
Another benefit of a hard shell suitcase is they can't stain, which should definitely be taken into consideration if you are an avid traveler. The four 360 degree wheels also allow for easy maneuvering.
If you have decided that a hard shell suitcase is for you, you then have to choose the best hard shell luggage. Here are a few things to consider:
Material
The two most common materials used for hard shell luggage are Polycarbonate and ABS. Polycarbonate is more flexible and has a stronger impact resistance, but the downside is they come at a higher cost. Generally, Polycarbonate makes the best hard shell luggage.
This is what I currently have and on my very first trip with it, the airline mishandled my bag so badly it came back to me with a dent! Dents are probably the biggest con with hard shell luggage as fabric ones don't have this issue but a tear is far worse than a dent.
Expandability
Many people believe you can fit less in a hard shell suitcase, but this is not the case at all. Advanced design means there are many cases with built-in extra panels for more space.
Many suitcases nowadays have an expandable feature which allows you to "unzip" more space in a snap.
Compartment
For ultimate convenience, the best hard shell luggage comes with lots of internal compartments. These smaller pockets are sure to come in handy when packing items such as gadgets and accessories and can be especially helpful when you want to grab certain items when you are on the move.
Security
Many large hard side suitcases come with built-in locks, so you won't have to worry about people getting into your case during transit. In addition, you'll want to make sure you purchase hard shell luggage that is equipt with quality zippers so there are no exploded suitcases coming out of the carousel!
Best Hard Shell Suitcases
---
Through tons of research, here's a list of some of the best hard shell suitcase I could find out there! Yes, I've done all the hard work for you. The very last suitcase is my current personal hard shell suitcase but really, with so many choices, it really depends on what type of traveler you are!
So which of these hard shell suitcase best fits you? Here's a quick glance…
Expandable Hard Shell Luggage
---
1. Maxlite Expandable Hardside
If you are one of those people that come back from vacation with your suitcase much more full than when you went away, then the Maxlite Hardside Spinner may be the best option for you. This durable and lightweight large hard side suitcase comes with the option of expanding an extra 2", so if you need that little bit of extra room, it won't be a problem.
The shell is made from 100% polycarbonate, meaning it is flexible while still being extremely lightweight. The molded corner guards act as built in bumpers, while the textured surface helps to protect against bumps and scuffs. Not only is it effective, it also looks sleek, and comes in a range of colors.
2. Timberland Hardside Expandable Spinner Suitcase
The Timberland Hardside Expandable Suitcase is a great large hard shell suitcase for many reasons, but primarily its expansion capabilities. The case is able to expand to allow for up to 2" of extra storage, meaning you won't have to worry about picking up a few extra souvenirs while on your travels.
This large hard shell suitcase also looks sleek and professional, with its unique design coming in a range of colors. The eight wheel spinner systems means that it is always easy to control no matter how heavy the case is packed, with the push button locking trolley handle adding to the overall maneuverability.
Fashionable Hard Shell Luggage
---
3. Betsey Johnson
If you are looking for something a little more fashionable while not losing out on durability and functionality, then look no further than the Betsey Johnson Expandable Hardside Checked Spinner Luggage as an option for the best large hard shell luggage.
This suitcase comes in a range of designs, from floral to covered in tigers, so you are sure to find one to match your personality. As well as being aesthetically pleasing, the Betsey Johnson has a lot going for it. The option to expand up to 2" is handy when you want to pack that little bit extra, while the top and side grab handle and dual spinner wheels allow for easy maneuverability.
4. Heys America Unisex Portoro Marble
Sometimes you may want a piece of luggage that stands out from the crowd, and the Heys America Unisex Portoro Marble certainly does just that. You will have no trouble spotting this unique suitcase as it travels around the carousel at your final destination. The case is made out of Polycarbonate, complete with a print that reflects the latest runway trends.
As well as looking cool, the case has a lot of other great benefits, such as a zip expansion system, giving you an extra 20% storage, mounted TSA lock, four interior mesh pockets for ultimate organisation and four 360 degree spinner wheels, so you can effortlessly wind your way through the airport, all of which help to make it one of the best hard luggage out there.
Hard Shell Luggage With Extra Storage
---
5. TUMI Tegra Lite
For the ultimate ease when packing, one of the best hard shell luggage options is the TUMI Tegra Lite, which offers multiple storage options. A spacious U-shaped compartment will come in handy for all your items that you may need to grab quickly, and when open, the interior of the case contains a main compartment as well as two interior zipped pockets to keep smaller items in the right place.
Interior compression straps can also be used to help keep all your clothes and belongings in place even on the bumpiest of flights. The retractable X-Brace handle system has been effectively designed to reduce the strain on your arm when you are using it, so you can be sure to travel in comfort.
6. Samsonite Luggage Winfield 2 Fashion HS Spinner 20
The Samsonite Luggage Winfield 2 Fashion HS Spinner 20 makes organization easy thanks to the full zip divider and organizational pockets inside. When you reach your final destination, you will have no trouble finding your individual items.
Additional features of this large hard shell suitcase include a TSA compatible combination lock to ensure that all your belongings arrive safely in your destination, 360 degree spinner wheels, a pushbutton handle with comfortable grip and a 100% polycarbonate construction that eliminates dents and a brushed pattern to hide any potential scuffs or scratches.
Lightweight Hard Shell Luggage
---
7. Ben Sherman Nottingham
For a lightweight option, the Ben Sherman Nottingham has been created with a dent resistant pap exterior, with molded corners that offer reinforcement and impact resistance. This lightweight construction means you can pack more without having to worry so much about how much your bag is going to weigh.
No matter how much you put in the bag, maneuvering it will be a breeze thanks to the 4 wheel spinners that allow for a smooth 360 degree rotation. The case has a number of interior pockets which allows for an easier packing experience, and the padded handle and locking, retractable trolley handle system provides easy lifting and movement, all of which help to make it one of the best hard shell luggage options out there.
8. Samsonite Freeform Handside Spinner
The Samsonite Freeform's main selling point it just how light it is, however remains ultra-strong in order to withstand day to day travel. The lightweight option means that you won't have to worry so much when packing, and the recessed TSA combination lock will give you peace of mind that your belongings will remain safe and secure throughout your journey.
The case also looks modern and trendy, with the range of colors available meaning you will always be able to spot which one is yours when on the carousel. Four multidirectional double spinner wheels allow for 360 degree upright rolling, so there is no weight on your arm or shoulder, and the cross ribbon and divider can be used for easy packing and organization.
9. Unitravel Luggage Rolling Suitcase Lightweight Carry on Trunk With Spinner Wheels
It can be a pain to pay an extra charge if your luggage weighs more than it should, that is why lightweight luggage is becoming an increasable popular option.
Although super lightweight, the material used to make the Unitravel lightweight suitcase can resist scratches, light impacts and general wear and tear, meaning it is likely to last you for many years. Instead of a zip, the case is surrounded by a strong aluminum frame, and the 360-degree dual mute wheels are effective on a huge range of terrains.
The handlebars have been designed to fit into the frame itself, allowing for more storage space, with the rest of frame effectively built to give you as much room as possible for your gear. Other benefits include coming with TSA approved locks and multifunctional mesh pockets that segregate the interior.
Budget-Friendly Hard Shell Luggage
---
10. DUKAP Rodez Lightweight Hardside Spinner Luggage
The DUKAP Rodez is another best hard shell luggage option that will set you back less than $100, and you certainly get a lot for your money. The PC/ABS engineered material with hard flex construction offers maximum strength and durability, with the added benefit of being water and scratch resistant.
Not only that, but the suitcase expands if you need a little extra space, and the 360 degree silent wheels means moving the case is practically effortless. The interior is fabric lined and comes with zippered compartments and snap on straps, allowing for easy packing.
11. iFLY
Just because you are shopping on a budget doesn't mean you want to compromise on quality, and with the iFLY Luggage Carbon Racing checked luggage, you don't have to. This is one of the best hard luggage options on a budget, and comes with 4 durable spinners that will allow you to roll effortlessly to your destination, putting less pressure on your arms.
The ABS/PC construction helps to provide durability and it even expands to give you an additional 2 inches of packing space, which always comes in handy.
So is hard shell luggage the right thing for your next trip? Which one will you get?
---
---
>>> Read More! <<<
10 of Best Travel Daypacks—DON'T Just Choose Any Old Bag!
9 of The Best Travel Tripods For Any Snap Happy Traveler (Pro or Not!)
51+ of the Best Travel Accessories for Men and Women
The Best 11 Carry on Backpacks For Every Traveler
---
---
Busy? Click the picture to Pin this for later