The following article on how to travel Europe for cheap is authored by Gigi Griffis
When I tell people I've been traveling full-time for 7ish years, mostly in Europe, I get a lot of shocked looks.
Isn't that expensive? People ask.
After all, their one-week passionate jaunt across Europe by train cost them a pretty penny that one time…so doesn't it follow that Europe's always a pricey destination?
But with almost seven years over here—two of those years living in Switzerland, the priciest of the pricy—my answer is no. No, Europe isn't always a luxury-priced destination.
No, you don't have to be rich to be a digital nomad who spends most of her time in France. And no, Europe on a budget isn't an impossible concept.
I know because my budget isn't a huge one. My goal as I travel across the continent is to spend $2,000 per month or less. And I'm proud to say that I often come in way less, like $1,200 or $1,500.
Here's how…
Don't lose this! Click to pin it now.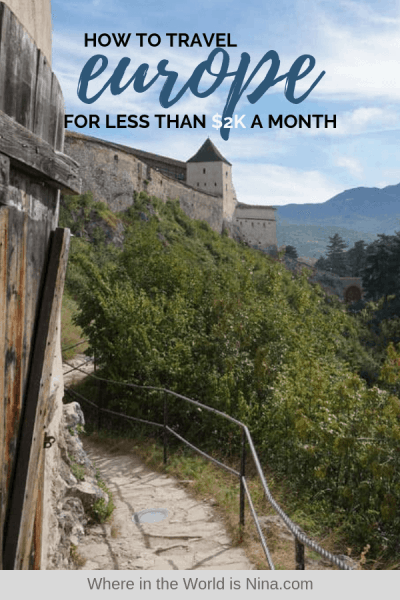 How to Travel Europe for Cheap (Under $2k a Month)
---
There are so many ways to cut down costs but here are the five main ways to travel Europe on a budget with some additional knowledge on the "two sides" of Europe and how I even manage my low budget with a dog in tow.
1. The Savings of Traveling Slow Around Europe
The first thing to know about how to travel Europe cheaply is this: the slower you go, the cheaper it is.
Spend two days in a place, and that $500 plane ticket is budgeted across just two days ($250 per day). Spend two weeks and the transit cost per day drops drastically (about $36 per day). Spend two months, and it drops hard and fast yet again (about $8 per day).
The slower you travel, the farther those one-time big-ticket items like transit fall.
And they're not the only way slow travel saves you big. Most guesthouses, hostels, and apartment rentals have nightly, weekly, and monthly rates. The latter two are discounted, with bigger and bigger discounts available the longer you stay.
Longer Stays= Lower Costs
For example, I'm currently in Split, Croatia, for two months soaking up the sunshine, exploring islands, and getting some high-quality, affordable dental care stuff taken care of (more on that later).
My partner and I have rented a sunny one-bedroom apartment via Airbnb. Our total monthly cost for the place is about $1100 per month, including fees (less than $600 per person). This same apartment lists for $58 per night if you book weekly and $68 per night if you book for nightly. By contrast, we're paying about $37 per night.
That's not to mention that slow travel means your must-sees are spread out over a longer period, which saves you money yet again. If, for example, you're off to Paris and you must see the Louvre and the Eiffel Tower and Frenchie Bar a Vins (my favorite restaurant; yes, it should be on your list).
If you do all those things in a single day, you're racking up quite the bill for a one-day stay. If, however, you're spreading them over a week with lots of cheap or free activities in between (like picnic lunches in Paris' cool parks or afternoons spent wandering in interesting neighborhoods like Le Marais), your total activities costs get spread out just like your transportation costs.
Does this always mean you have to travel slow to do Europe on a budget? No. But it does mean that it's one pretty surefire way to keep costs down.
2. Keeping Transit Costs Low Across Europe
Now, whether I'm slow-traveling or fast-traveling, transit costs are always a factor in keeping to my under-$2,000 budget. There are a few ways I keep these as low as I can.
The first is that I walk and cycle everywhere.
If something is less than an hour's walking distance, I'm going on foot. Not only because it saves me a buck or two on bus fares, but also because I feel fitter and healthier, and I see more of the places I'm visiting.
Giving myself extra time and strolling across town means finding little bakeries, shops, gardens, and alleyways I would never have otherwise found. It means cool photo opportunities and yummy snacks and a feeling that I am really getting to know the place I'm in.
If walking or cycling isn't viable, try some of these other transportation options.
Trains Around Europe
Now, trains are a better option when walking is impractical/too far/not a good plan, especially when you're loaded down with your bags, so I have a couple of tricks up my sleeve for keeping those costs low.
First, I check multiple ways, and a great site for this is Omio, where you can search flights, trains, and buses for great deals. Another killer site is Eurail—how does Eurail pass work? In short, it offers a lot of flexibility and can sometimes be cheaper than buying single tickets all over the place.
I check things like what if I left a day early or a day late? Would the transportation savings be more significant than what I'd lose in accommodation costs?
Second, I check multiple routes from and to varying destinations. And if I'm staying longer in one place, are there any train or tram discount cards I can take advantage of?
During our summer in Prague, my partner and I both bought monthly tram passes. All it took was ten rides per month before they paid for themselves, and with a lot of things outside my walking distance sphere, it saved me about 50% of what I would have spent.
When I lived in Switzerland, I bought a half-fare travel pass. The pass costs about $175 and lasts a whole year, getting you nearly 50% off on most train rides in the country. For a few-week stay, it's probably not financially worth it. But for a few months or a whole year? Those are big savings.
Flights Across Europe
Everything above also applies to flights. I check different airports, different days, and different routes. When my partner needed to get from Switzerland to Romania, flights were hundreds cheaper out of nearby Italy, even once we'd factored in train tickets.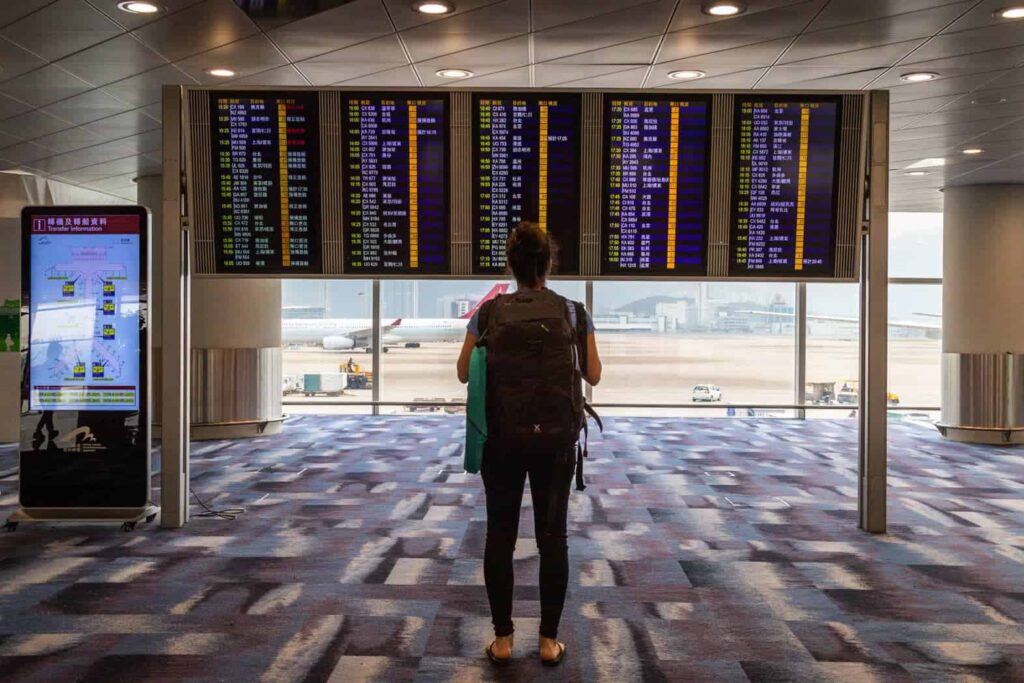 You can check Omio, but Skyscanner is a great flight search option as they have the option to search 'everywhere' so you can find the cheapest place to fly to, from your place of origin. They include all the budget airlines in Europe, including Ryanair, a go-to for quick country hopping in Europe on the cheap.
Buses in Europe
Along with Omio, you have a few other options for bus transportation which include Flixbus and BlaBla Car. Buses will obviously take a bit longer to get where you want to go, so they're a good alternative if you don't have any pressing plans and want to sleep off that hangover after Oktoberfest.
With one-way and roundtrip offerings, you can plan your trip with their route map and travel to 35 countries with over 3,000 destination points. And if you're able to work remotely from your laptop, you won't lose a full day on the bus because they have free Wi-Fi, plugs, and bathrooms on board!
Buses allow you to see a lot of beautiful scenery you wouldn't otherwise get to witness via plane. Your carbon footprint will also be considerably lower as FlixBus utilizes solar and wind power energy to operate their trains and buses. You can fully offset your trip with a small fee when you purchase your ticket.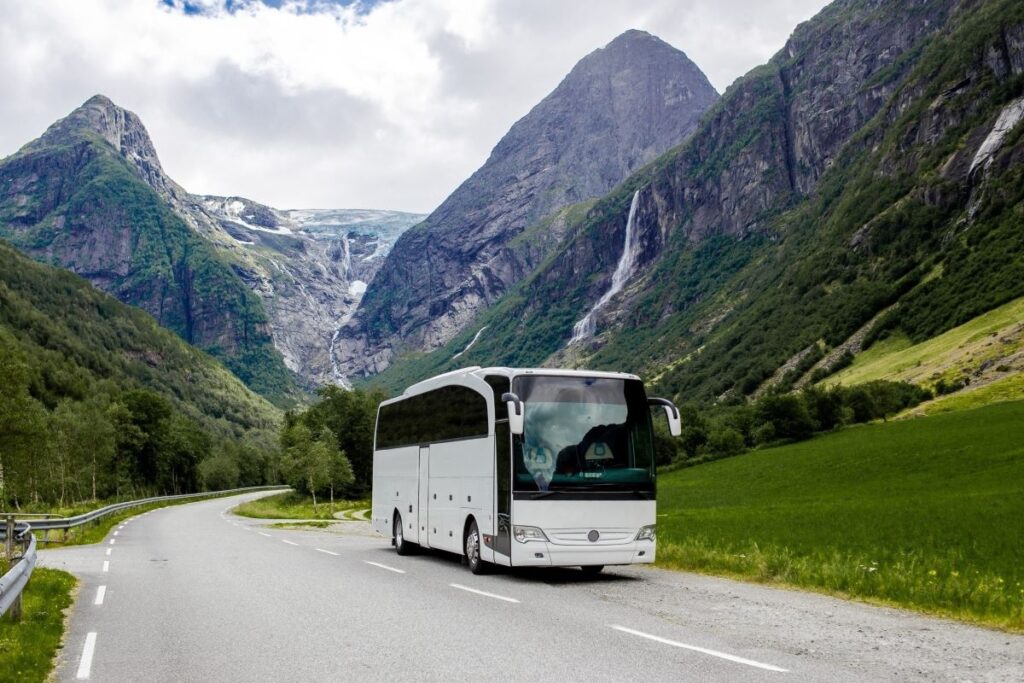 You can find deals as low at 5 euros on-way, and the earlier you book, the lower the price tag! You can also cancel or change your ticket right up to 15 minutes before departing for the cost of 1 euro.
Then we have BlaBla Car which is both a bus and carpool service. Available in 22 countries (including Turkey, India, Mexico, and Brazil), you'll have no problem finding cheap bus routes here.
The downside of these buses is that they don't offer Wi-Fi. First-world problems, sure, but a very real issue for 13+ hour-long journeys if you don't have unlimited data.
Carpooling Around Europe
Carpooling with BlaBla Car is safe because they do ID checks, and there is a review/profile system in place so you can vet out any weirdos. But the biggest perk of this type of transportation is that if you're a non-planner, most people post their carpooling offer 1-3 days before they head off.
Just pitch in for gas, and you'll be on your way! While carpooling also doesn't come with Wi-Fi, it's unlikely you'll spend a long journey in complete silence with other travelers in such close proximity.
Car Rentals in Europe
While this is not likely to be the cheapest way to travel Europe, it does offer you more flexibility and freedom to leave locations when you want, pull over to take in the views, and jam out to your own music on full blast.
But heed my warning: rental cars come with a mound of hidden costs that negate the cheap advertised price: if you're under a certain age, if you've only had your license a certain amount of time, if you only want to book one way, if you want to add GPS, if you want to cross country lines… ALL an additional cost.
My biggest advice is to search on a price comparison style website like Expedia, but always make sure to click into the rental and do a thorough overview of those sneaky hidden costs. A lot of times, they'll hit you with a large up-front bond, as well.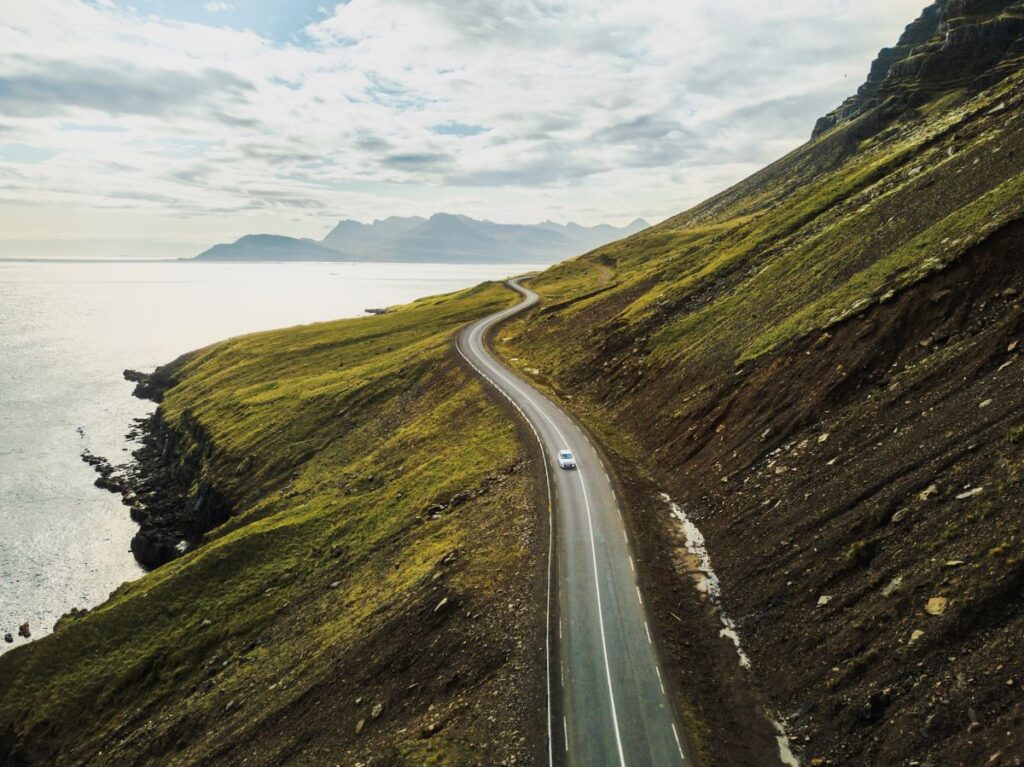 Another recommendation is to search for campervan companies that need people to drive their vans back to their original locations (from those who just take one-way journeys). These sometimes also come with a bond and cost per mile/km, but there are some that have unlimited mileage included.
Movacar is a good example of this where the cost to rent can be 1 euro, and you have anywhere between 24 hours to 1 week to get the van from point A to point B. Definitely an unconventional rental solution.
3. Accommodations on the Cheap in Europe
Transit costs might seem like a big-ticket item, but the biggest factor in my budgets across Europe has been accommodations.
On months when I am staying longer and settled comfortably into an apartment, I spend significantly less than on months when I travel quickly and stay in hotels, B&Bs, or nightly apartment rentals.
If you're traveling quickly and enjoy company, options like Couchsurfing or Warmshowers (for cyclists), where you can crash someone's couch for the night and make a new friend, are great.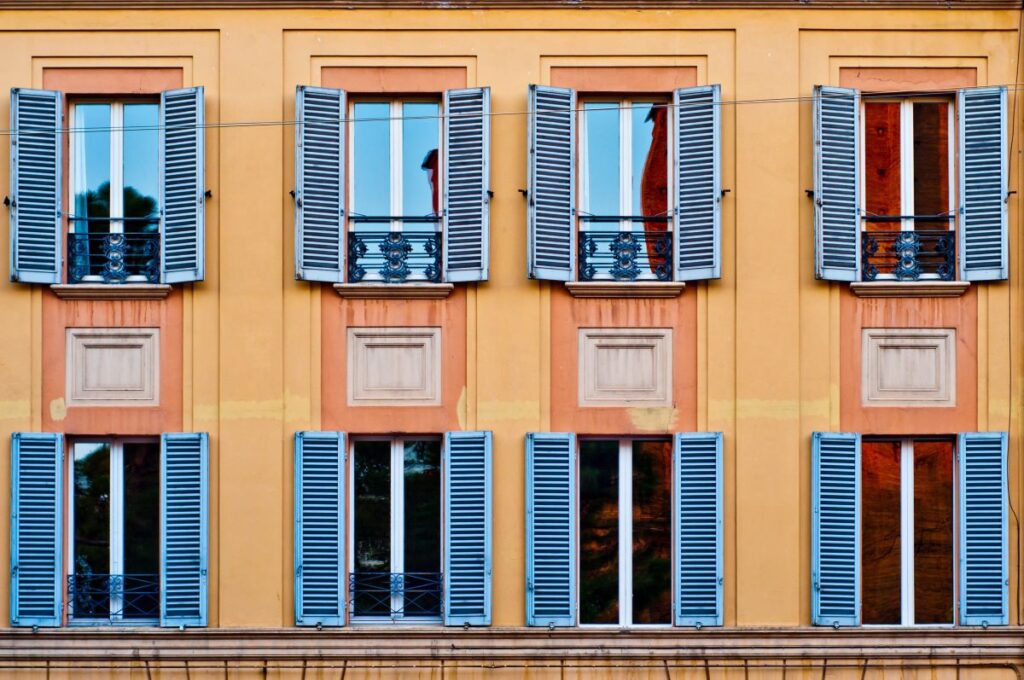 If you're traveling slow, apartments/rooms in apartments are almost always the cheapest options (with guesthouses with shared kitchens occasionally coming in a little cheaper).
But if you're looking to give back to the communities you travel to, we suggest something a bit more unconventional. Some of the greatest experiences you might ever have while traveling will come in the form of work exchanges, where you provide your time and skills for free room and board.
Worldpackers
One of the best businesses to go through is Worldpackers, a global platform that has an app through which you can create a profile and search through hundreds of volunteer opportunities with various filters, like whether you're traveling solo vs. with friends, if you want meals included, what types of work, etc.
They have annual subscription options for solo and couple/friend travelers ranging from $49-$119 USD. Ever wanted to teach English in Poland? How about learning how to make wine in Italy? Or maybe you want to help with social media and videography for a hostel in Amsterdam? Do it all!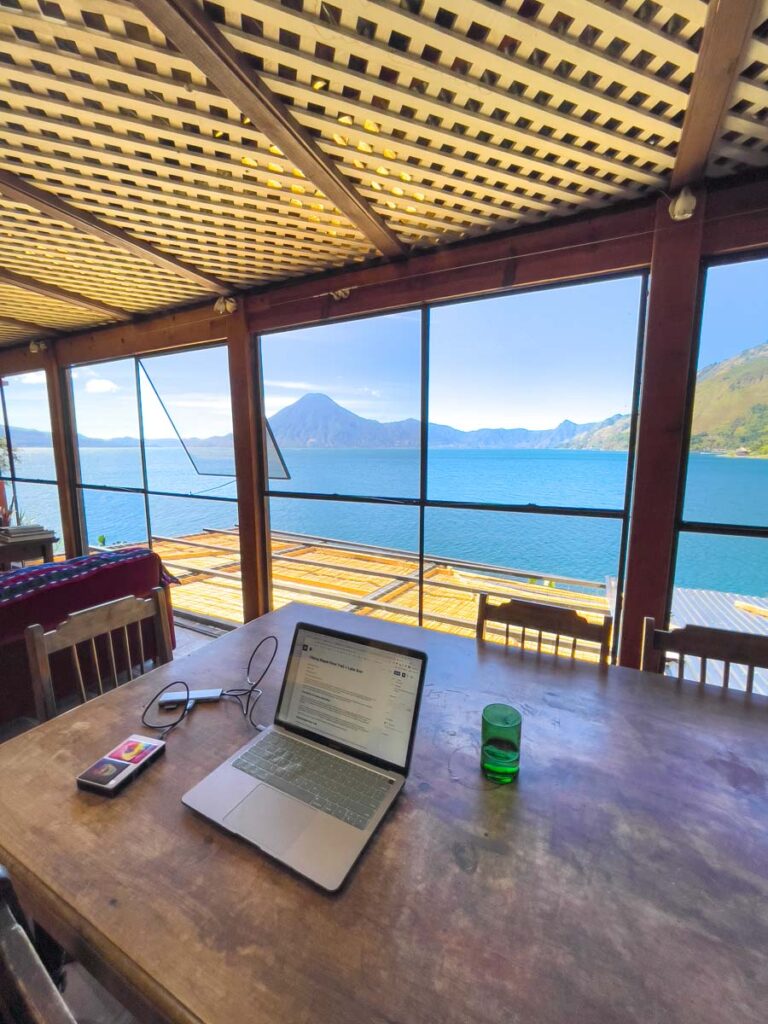 Accommodations can range from a tent or van to hostel rooms or a private guest house, so be sure to look through the profile of the host, check out their previous reviews, apply, have a quick interview, and potentially be packing your bags to incredible destinations, living rent free!
Trusted Housesitters
Another smart way to save on accommodations is by house and pet sitting. Trusted Housesitters is the most widely used and known global platform where people who need someone to look after their homes or pets create a profile and offer a free stay in exchange for your service.
Because their headquarters are based in the UK, Europe has the most house-sitting options compared to anywhere else in the world. Stays can be as short as 1 night and as long as a year or more (though 3-6 months sits are more realistic for those just escaping European winters).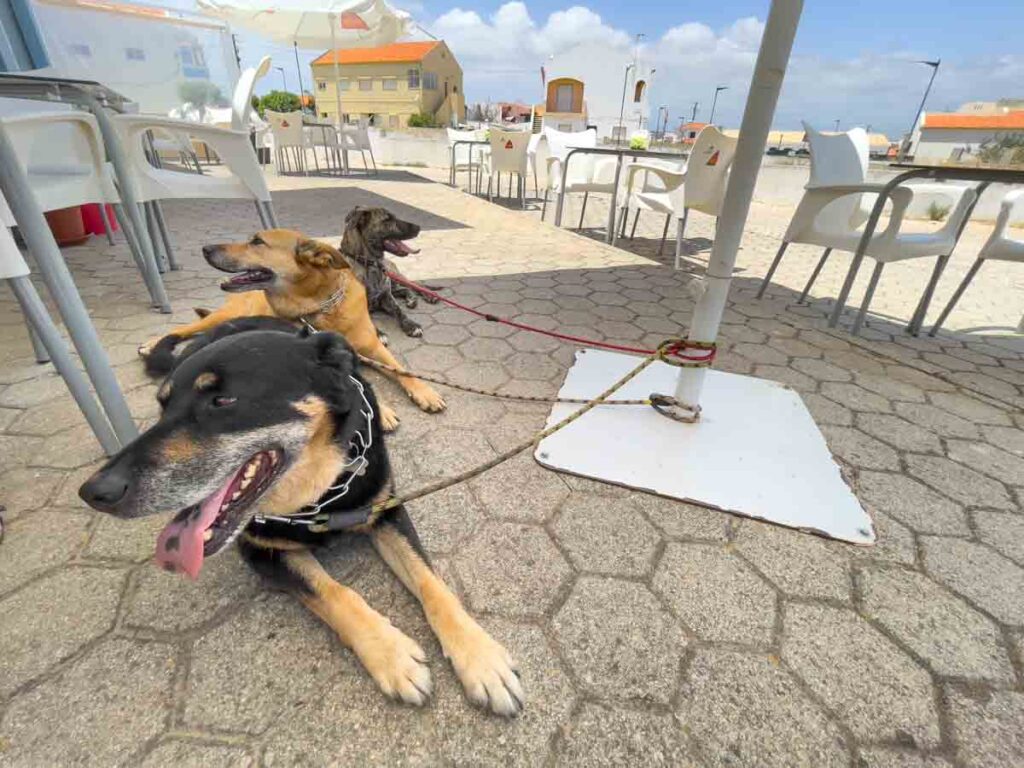 This can be an incredibly cost-effective way to see local life in towns you might not have otherwise adventured to. It's an annual subscription service, but for $120-$155 USD, it pays for itself in one night at a sit considering the cost of traditional hotels run around that much.
Oh yea… not to mention you get to look after ridiculously cute animals! People do this as a lifestyle, full-time and travel the entire world this way, so if that's you're dream and goal, start here.
My only warning is that house sitting can be viewed by customs agents as a form of monetary exchange (though there's no actual money involved). You didn't hear it from me, but I'd suggest saying you're staying with friends, not living rent-free somewhere looking after animals.
Looking for ways to travel for practically free? If you love the idea of Couchsurfing, you'd love these ideas for working in exchange for room and board!
4. Health on the Road
If you're from the US, there's more good news ahead: Part of the reason traveling Europe full-time for nearly seven years has been so affordable for me is that healthcare costs are so much more reasonable here.
My insurance (through GeoBlue) costs $165 per month and covers me everywhere in the world except the US. But even the times that I've had to pay out-of-pocket on the road, the costs have been stunningly low.
When I was hospitalized in Malta twice in one week, my bill, including a ride in an ambulance, a bag of hydration fluids, multiple doctor consults, and hours in a hospital bed, cost about $150.
My dental x-rays here in Croatia cost about $30, and I'm having a filling replaced tomorrow for $60.
Even in Switzerland, the most expensive country for healthcare in Europe, my birth control pills were approximately 1/5 of what they cost me in the US pre-Obamacare.
Editor note: I totally agree! I've had medical needs taken care of abroad for a fraction of the price. I even got laser eye surgery done in South Korea.
5. Solo vs. With a Partner
For the first three years of my full-time travel journey, I was doing Europe on a budget solo. Then I met my partner and the last three+ years have been a joint venture.
My budget hasn't changed, but my lifestyle has. I could pretty easily travel Europe for $2,000 or less while I was on my own, but I had more roommate situations and rented more studio apartments.
I couldn't be quite as picky about my apartment choices, either, because $1,000 a month is a relatively low budget for some of the cities I was traveling in (like Paris or Amsterdam).
I made it work, but there were trade-offs in the accommodations department.
Now, with each of us chipping in half the rent, we can afford to look at apartments that are a little more expensive and have a little more space, light, and location flexibility.
Our typical rental these days averages between $1,200 and $1,600, which means $600 to $800 each—a significant saving on an individual level and a step up in quality on the joint level.
(This is also a pretty good argument for traveling with a friend or partner. Your other costs will stay relatively stable, but accommodation costs get chopped right in half.)
Europe on a Budget: Eastern Europe for Under $2k/Month
The cheapest way to travel Europe, as you might have guessed, is to stick to the east. Traveling to cheaper European countries just makes sense to keep yourself on a budget!
Countries like Romania, Bulgaria, and even Croatia are still developing, which means more annoying infrastructure snafus (for instance, no one in Bosnia and Herzegovina seems to know whether dogs are allowed on buses or not) but also significant cost savings.
Where a month in the most expensive cities in western Europe (e.g. Amsterdam or London) will likely run you over $2k even if you're pulling out all your budget tricks, a month in Mostar, Bosnia, and Herzegovina, in a lovely two-bedroom apartment on the edge of old town cost me less than $1,300.
My personal cheapest month in Europe was in Konjic, Bosnia, and Herzegovina, where I spent $1,157 for a month. And my most expensive stay in the east? A month in popular Dubrovnik for the not-actually-that-pricey cost of $1,443.
Europe on a Budget: Western Europe for Under $2k/Month
If you think of doing Europe on a budget, chances are you're thinking of the East. But the truth is that it's also very possible to stay within budget in Western Europe.
My cheapest month in a Western European country (in Taormina, Sicily, Italy, for $1,364) was actually cheaper than my most expensive month in an Eastern country (across the Adriatic in Dubrovnik, Croatia, for $1,443).
In both cases, I had apartments with beautiful views, took myself out to eat reasonably often, and lived more or less the same lifestyle.
Now, that said, western Europe does tend to run more expensive than the East. Expect to live a little more of a budget lifestyle if you're traveling under $2k in places like Germany and Austria and a lot more of a budget lifestyle if you're traveling in places like Amsterdam or Switzerland.
The most affordable countries in Western Europe, in my experience, are Slovenia, Spain, Italy, and Belgium.
A solo month in Toledo, Spain, in a sunny, quiet apartment in the city center cost me just $1,388. In Kobarid, Slovenia (a nature lover's paradise), I spent $1,422. And a month in Italy's Umbrian hill country (again, solo and footing my entire apartment bill myself) was $1,882.
I haven't been yet, but I've also heard that Greece and Portugal are very reasonably priced European destinations.
Which Countries Might Cost You the Most in Europe?
By contrast, my most expensive months in Western Europe have been in Switzerland (no surprise there), the UK, the Netherlands, and France. And of the countries on that list, the only two where I felt my budget significantly hindered my quality of life were the UK and Amsterdam.
I haven't been, but I've heard the Scandinavian countries are even less likely to make any Europe-on-a-budget lists. So probably don't extrapolate these budgets onto your Norway–Sweden trip.
The good news is that even in expensive destinations, my spending hasn't gotten as crazy as you'd think. My most costly month in Europe was a vacation spent cycling across France on the Eurovelo 6 from the Swiss border to the Atlantic Ocean.
I spent $3,091, mostly because even though I wasn't incurring any transportation costs (except the couple bills for bike fixes along the way), I was staying in budget hotels most nights—and as I said above, those nightly costs add up fast.
Unsurprisingly, I also went over budget in Paris ($2,118), glitzy Biarritz, France ($2,029), and Amsterdam ($1,008 for two weeks). But, as you can see, each of those budget overages was actually relatively small.
If I'd skipped a couple of meals out in Biarritz or rented a room instead of a solo studio in Paris, I could have probably come in under budget.
And if you're curious about these budget numbers, you can find a full list of all my monthly budgets with detailed breakdowns of my spending here.
How to Travel Europe for Cheap, Even With a Dog
Did I mention that these seven years of traveling Europe on a budget have been done with my pint-sized pooch in tow?
Her name is Luna, and she's an almost-10-year-old Schnauzer-Yorkie mix with therapy training (which I highly recommend if you want a super well-behaved travel companion). And, of course, traveling with her is a factor in my budget.
But here's the good news for American travelers: European vet care is almost always cheaper than the US equivalent.
When Luna had pancreatitis in Croatia, her full vet bills for multiple tests, x-rays, blood tests, sedation, and pills came in about $150. By contrast, just a blood test (to check on her pancreas later) in Colorado was upwards of $200.
The other big cost to consider if traveling with a small dog is your jam is transportation fees. Most airlines that allow small dogs charge $50 to $100 for an in-cabin dog on flights within Europe. International flights go up from there. The good news is that most trains charge a small fee or even no fee if the dog is in a carrier. So if you're traveling by train, those costs are rarer and more manageable.
When to Travel to Europe
We all have fantasies about backpacking through Europe during the summer months (or is that just me?). But hear me out: if traveling Europe on the cheap is your goal, you might want to change your expectations around a summer excursion.
Of course, Europe is incredibly beautiful during the peak season, which is essentially from June to August. Walking the Seine River in Paris on a warm summer night, drinking wine overlooking a vineyard in Italy, or taking epic dress photos in Mykonos all make up the perfect European summer vision.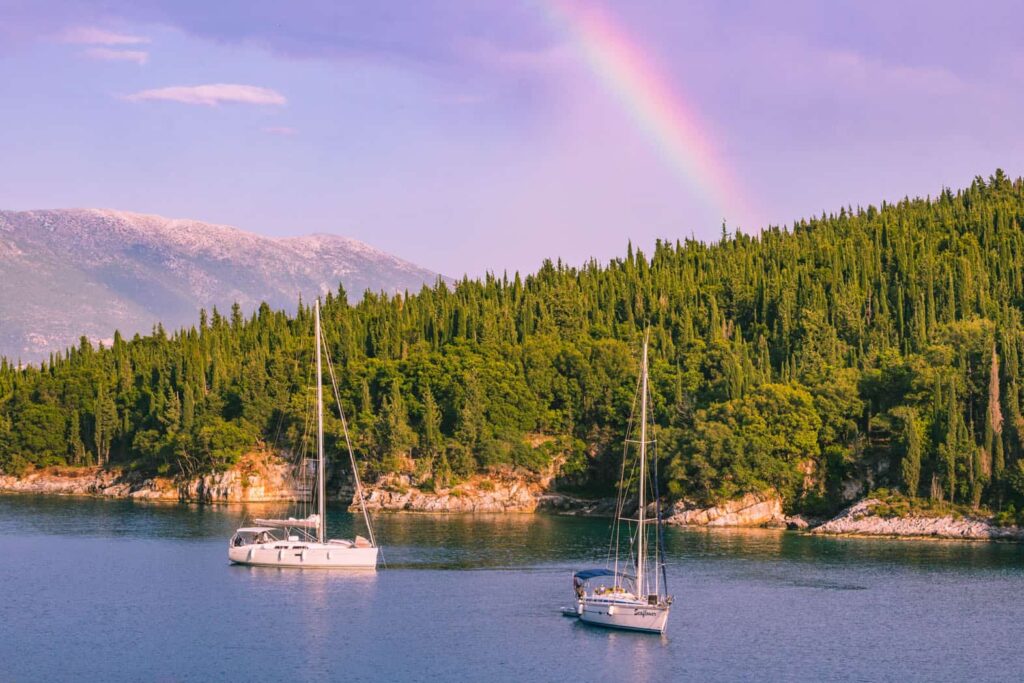 But I'm sure I don't have to tell you that everyone under the sun (and their dog) are trying to get those perfect shots and experience summer just like you. Thus creating an influx of tourists that take away from the authenticity of a location and experience.
If that doesn't bother you too much, then something else to consider is the price hikes. From flights and hotels to tours and dining, summer is the time to make money off tourists, and you'll often be paying three times as much as you would in the shoulder season or winter months.
So when is the best time to travel?
Europe's Shoulder Seasons
If you want cheaper prices, fewer tourists, and the ability to take public transport without suffocating from humidity or frigidly cold temperatures, I suggest traveling to Europe August-October or March-May (basically before and after summer).
Definitely try to wait until at least mid-August to travel, as a majority of Europe takes their annual vacation at this time, and EVERYTHING shuts down (especially in France).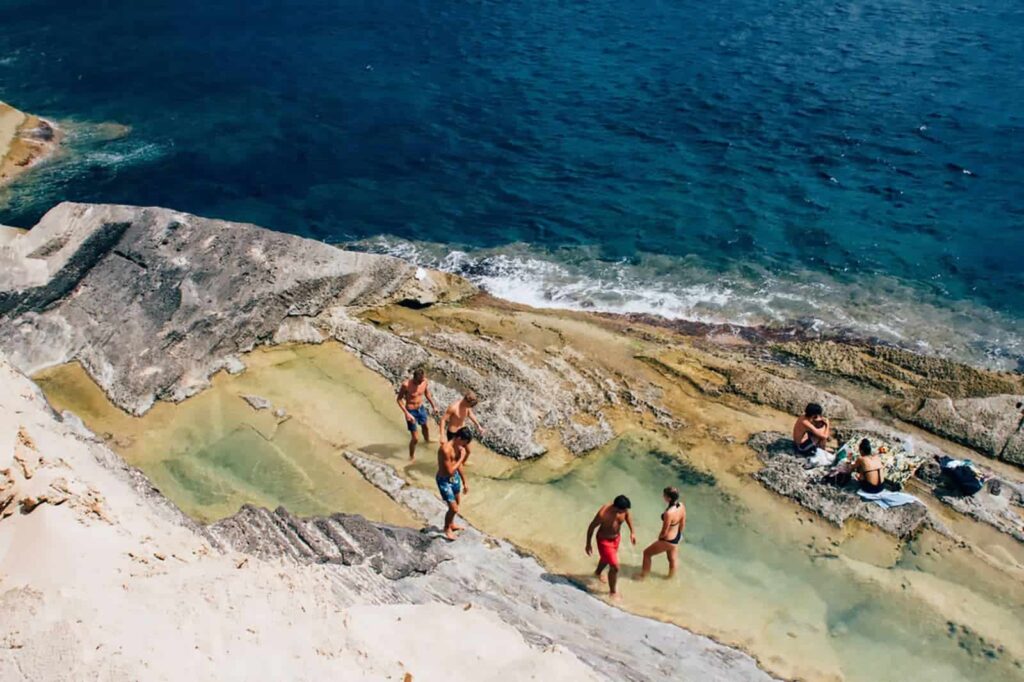 The winter months are sometimes harsh, but if you're vibing a cozier getaway, not wanting to see any of the main attractions or attend famous summer festivals, then by all means, Europe is a winter wonderland with plenty of snow-based activities. These will also be the cheapest months to travel (except holidays).
So You Want to Visit Europe on a Budget…
After about seven years of traveling mostly on this continent, my top tips are these:
Travel slow and take advantage of the cost savings (and relaxation) that comes with exploring one city or region in a more profound way.
When booking transportation, look at multiple dates and multiple routes to find the one that best fits both your budget and travel style.
Book apartments when you can, both for the cost savings of the apartment itself and for the cost savings of having a kitchen and preparing your meals.
Travel with a friend or partner if you can, but don't fret if you can't. With solo travel, you might have to book an Airbnb room instead of a full apartment, but you can still travel within a budget.
For the absolute cheapest way to travel Europe, stick with the countries in the east. But don't discount Italy or Spain as high-value, low-budget places to visit, especially outside the main tourist areas.
So do you think you can manage to travel Europe on a budget? Let us know your thoughts in the comments!
---
>>> Bio
Gigi Griffis is a world-traveling entrepreneur and writer with a special love for all things European food and adventure. She's been traveling full-time in Europe since 2012 with her pint-sized pooch and oversized appetite.
You can find her at Gigi Griffis | Facebook | Twitter
---
Busy? Click the picture to Pin this for later