There's nothing quite like the breeze in your in your hair, your favorite tunes blaring through the speakers, and the open road welcoming you to a day of adventure…
Road trips are so badass.
They are possibly my favorite way to get around anywhere in the world. There's something about taking a road trip that's just so liberating and classic.
Nothing spells freedom like a road trip, you're in total control of your time, pace, and destinations. This epic adventure is totally up to you, so strap in and ride into the sunset…
But… A road trip can go totally south if you're not prepared. From things you need for yourself to must-bring items for the car, don't forget anything on your road trip packing list or it could turn into a disaster.
Good thing pretty much every single thing you could need is right here, and if not, in just a few clicks you can purchase it and have it at your door just in time for your trip!
Here's what to pack for a road trip to make sure you have the best and the safest time.

Don't lose this! Click to pin it now.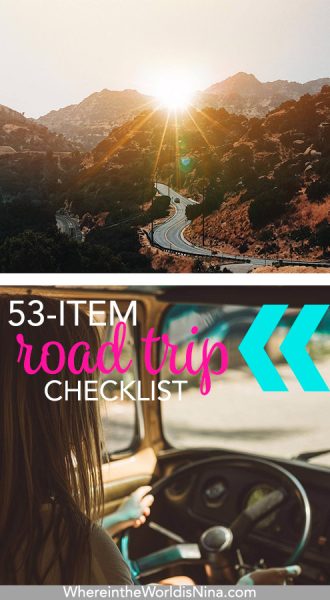 Road Trip Packing List — Car Care
It's a road trip. You're gonna want to make sure you have all the handy dandy stuff you need to keep your car in top running shape. Some of these things are obvious but still need to be listed, others are not so obvious, but essential nonetheless. You can thank me later.
1. Spare Tire + Know How
Not only do you want need to make sure your road trip packing list includes a spare tire, in good working condition (double check!), but you also want to make sure you know how to change a flat tire.
AAA is not available in every single remote location across the globe. Oh, make sure you've got the jack and tire iron you'll need to change your tire too. You may want to save this video on how to change a tire just in case!
2. Emergency Car Kit
This should have things like flares, jumper cables, gloves, rope, you name it. You can grab this cool kit that contains all the road trip essentials you need.
3. License, Registration, and Insurance
Wherever you are, definitely don't drive until you check these three things off your road trip checklist.
4. Owner's Manual
You've probably never even opened this bad boy back home, but the owner's manual to your car can save you hours of frustration when you're wondering what a specific indicator light means or how to access your fuse box. if you're renting a car, make sure this is available! You've never used this car, you just may need it!
5. Roadside Assistance
This one is a necessity if you're in an area that offers it, like the US. But if you're driving a rented car across Africa or South America, maybe not so much. What's their equivalent? At the least, make sure you ask for all the helpful phone numbers from the rental shop before taking off.
6. Fluids!
Yea, it's not just you that needs to stay hydrated. Keep a gallon of water for your car (in case it overheats) extra transmission fluid, wiper washer fluid, and brake fluid, and yes, oil.
7. Empty Gas Can
For the one fluid you won't carry with you, a small gas can is a road trip essential in case you need to hoof it that last mile to the gas station.
8. Car AirFreshener
Because a car traveling across the country, or even a state, in cold weather with the windows rolled up can start to smell like feet and flatulence quick. Be prepared. This is a must for your road trip packing list… Unless you enjoy smelling like a boiled egg sandwich.
9. Tire Chains
Speaking of cold weather, have some chains if there's a chance you'll be driving through snow. You do not want to have to turn around and head back home because you can't make it over the snowy mountains.
10. Portable Car Garbage Can
Lots of travel sites will tell you what to pack for a road trip, things like extra plastic bags for garbage, and you should totally have them.
But it's nice to have a little car garbage can, so you don't just have a random bag of trash floating around your car. I like this one and this one because they stay fixed in place.
Check Price: Back seat bag | Garbage bin
11. Snow Kit
If you do hit those snowy mountains and head into a diner for a bit, you may come out and find a frozen-over car. A scraper and scrub brush are road trip essentials if you're getting an early start on a frosty morning.
12. Sunshade
Every time you get out of your car to check out the scenery, take a dip in the river, or venture out for a day hike, you are potentially leaving your car to sit and bake in the sun.
Keep a sunshade handy so you can keep it a bit cooler and at the very least keep your seats from burning your legs when you get back in the car. if you're camping out in the car they also double as privacy shades!
Road Trip Packing List—Self Care
Now you've taken care of your car, you must take care of yourself. We are living in the time of self-care so don't skimp on yourself. Your road trip packing list will be worth so much more to you if you feel clean, comfortable, and a little spoiled.
13. Baby Wipes
Is it weird that this is first on the list? I don't care. You need baby wipes in your life. They can wipe hands, faces, even leave you feeling like you got a quick shower in. Bonus: you can use them as toilet paper and tissues if you run out.
14. Toilet Paper and Tissues
That's right. It had to be next. The worst thing would be to stop at a roadside gas station that's out of TP. Even worse? Having to go behind a tree with no TP. And tissues are just super handy to have for runny noses and sweaty brows. (Don't throw them away in nature! Bring that plastic bag with you!)
RELATED: Speaking of coasts, where are you road tripping? Check out this badass

West Coast road trip

for some adventures and waterfalls!
15. Hand Sanitizer
For the same reason you need toilet paper. If your gas station stop runs out of soap, you want to be able to clean your hands after you go—a clear road trip essential. There will be countless other times you'll need to use it too.
16. Sunscreen
I don't care who you are, young or old, no melanin in your skin or a lot, you need to take care of your skin, especially on the road with all that exposure. Dermatologists recommend an SPF over 30. Trust them.
17. Flip Flops
If you're from Florida, like me, or another sunny state on a coast, you may not need to be reminded of this. Flip flops are a road trip essential. You can rest your feet, shower in public showers, and just look cute in a sundress. I ALWAYS wear Rainbow flip flops. They are the sturdiest and won't bust on you.
18. Towel
Yes, you'll definitely want to put your own personal towel on your road trip packing list. Getting stuck in a hostel with no towel or having to air dry after a dip in the river is a huge pain. If you have limited space, just grab your sarong instead (#23).
19. Deodorant
This is air freshener for your body. Again, care for the car, care for yourself. And your travel companions. BO while stuck in a car is all bad. Keep a baby travel one in the console for emergency use.
20. Feminine Hygiene
You'd be astonished how many women get surprised by that time of the month in the middle of a road trip. This is an absolute in the world of what to pack for a road trip. Be kind of earth and try switching to the cup and trying Thinx.
21. Gum
Gum? Yes. Gum, especially if you're traveling up into high mountain ranges. The higher you go, the more likely your ears will get plugged up, and sometimes gum is the only thing that will unpop them. It's also nice to have when you can't brush your teeth right away. You're welcome.
22. Day Bag
In the event you want to take a day hike or overnight camp somewhere, you don't want to have to haul your suitcase everywhere you go. A day bag or pack is great for throwing in a change of clothes and a few essentials. Oh, also, it's great for rainy days and for keeping things dry, as the name suggests.
Road Trip Packing List — Seasonal Care
Whether the weather is super sunny or super snowy, you're gonna want to be prepared. For those of you who are from a sunny state like Florida, you may not be aware of the road trip checklist for snow. And likewise for those of you who hail from white winters. I've got you covered, literally.
23. Cover Up / Sarong
I already reminded you of your towel needs. A sarong is a summer road trip essential. It's handy to have for a day on the boardwalk or a trip down to a river. Just throw on your bathing suit, flip flops, a towel, and a cover up and you're good for a day in the water. A bit chilly? It can be used as a blanket or a scarf too. Sarongs take up almost zero space.
24. Hat or Beanie
You could go with a big floppy hat or a classic baseball cap, or anything in between. Pick your style and cover your head and face if you're headed to the sun. Your skin will thank you. Cold out? Don't forget that beanie.
25. Sunglasses
It's not just your skin that needs protection; it's your eyes too. And the visibility on the road, even in bright white snow, will be much better with some UVA/UVB sunglasses.
26. Mosquito Spray/Balm
Yeah, you found a nice little spot by a lake or river, the place even has a free campsite for the night, so you can chill. And then you get attacked by mosquitos at sundown. Not cool. Put this one at the top of your road trip packing list.
27. Parka or Sweater
Do not underestimate how freaking cold it can get in the snow. Heck, do not underestimate how cold it can get on a summer night. You may think it's no big deal if you've never been, and you may not need a snowsuit, but at least have a big ass jacket, or light sweater, depending on where you're headed.
28. Raincoat, Goloshes or Poncho
Essentially any and all rain gear you may need. You never know when it's going to downpour and you may not want to soak your only boots or have to the change a tire in the rain.
29. Warm Gloves
Even if you only plan on getting out of your car for gas, have some warm gloves just in case. And if you need to install snow chains or change a tire, in the middle of the snow, you'll definitely want these.
30. Warm Blanket or Sleeping Bag
I always recommend this for anyone on a road trip anyway. Bag or blanket, It is a road trip essential to have your own bag or blanket, but I especially urge it for anyone headed towards snow. The more layers the better.
Road Trip Packing List — Tech
Welcome to the new age. Even when we have no WiFi, our phones still serve a million essential purposes, or so it would seem. So it only makes sense that for a road trip checklist, your smartphone is going to have its own section.
31. Phone Charger with USB Cable
Many smartphones and many cars are now capable of utilizing a single charger/USB cable, but many aren't. If yours is not, make sure you have both. You want to charge your battery and listen to your playlist through your car speakers.
32. Playlist
Yeah, you probably knew this was coming next. Sure, you could make a playlist and download it onto a FlashDrive or (gasp) an actual compact disc. Or you could step into the twenty-first century and just make a playlist on Spotify or some other music app.
33. Music App
Now you need to make sure you have a music app. iHeart Radio, Spotify, Tidal. Pick your pleasure(s) and make your playlists when you have access to WiFi.
34. Maps App
While it is crucial to have a paper map, another road trip essential is to be sure you have a map app that fits in your handheld device that will function while you're offline. Maps.me is the classic go to for most travelers, yours truly included.
35. Traffic App
Download an app for your drive like Waze that will help you avoid car accidents and road construction, so you don't get stuck behind a bunch of other drivers waiting for the road to clear when you could be cruising around up and down the backroads or alternate highways.
36. Camping App
Looking to camp along Route 66? Hoping to sleep out under the stars instead of inside a hotel room? Download the recreation.gov app before you head out. You can search for camping sites for everything from RVs to tent only, from walk-up sites to drive-up sites across the US.
37. Hotel App
On the other hand, maybe you'd rather die than sleep on the ground. In that case, download your own hotel finder app, Hotel Tonight. You'll get all the details you need for hotels in your area, price, rating, amenities, and more.
38. Gas App
Download Gas Buddy and find the cheapest gas in your region to save some dough. Gaspy is another great app. Double-check the app works in your area before heading out.
39. Portable Battery Charger
When and if you do head away from your car for the day or even overnight, you'll want to have a backup battery charger fully charged for when your phone dies.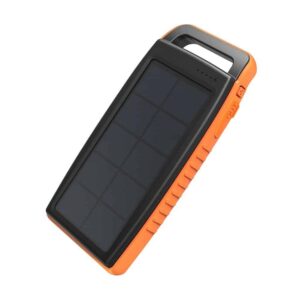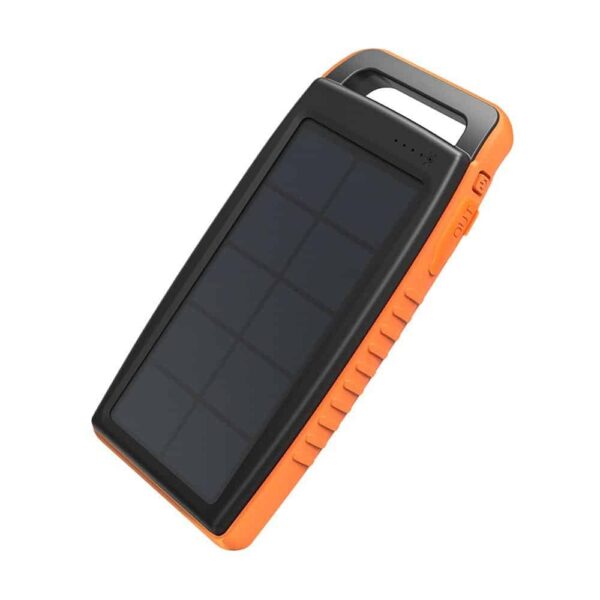 Simply snapping pictures all day will drain your battery quick. Also, this is my fav portable charger because there's a built-in flashlight AND it can solar charge!
40. Bluetooth Headphones
You'll want these if and when you want to rock out to something your driver does not want to hear and when and if you want to make a phone call and your phone call won't play through your car speakers.
41. Hands Free Phone Mount
For when you take a call in the car or when you want to check something on your map.me, it is far easier to do if your phone is simply mounted on your dash and ready for your fingers.
42. Mini Speaker
If you're camping overnight or want to rock out in your hotel or hostel room a bit, it is crucial to have one of these mini speakers, so you can jam to your playlist a little bit louder than your phone's highest volume.
43. Lifeproof Phone Case
Some people can't help but drop their phone over and over again, never learning (me!). If this is you even a little bit, get yourself a strong, sturdy, durable phone case.
Road Trip Packing List — Others
These are some extra items that will make sure you have that extra care you need on the road. They are not necessarily specific to your car or your personal use, but you want to have them nonetheless.
44. Swiss Army Knife
In the event you do take a day hike or an overnight trip away from your car, a Swiss Army Knife is a handy tool to have in your bag that can get you out of pretty much any small jam. (Also, beer and wine may require the use of this at the least…)
45. Ice Box
Because snacks. Do I really need to say more? Who doesn't love snacks? And some snacks need to be kept cool, like cheese sticks and sparkling water. Yes, you can enjoy a nice sparkling water on your road trip. It makes all the difference. (or a cold beer after your drive is done for that matter!)
46. Travel Pillow
You may want a nap in the car, or you may need a pillow for your hostel. It's just nice to have your own personal pillow on hand. Value your sleep and put this on your road trip checklist.
47. Travel Mug
Because you don't want your mini car garbage can filling up with paper coffee cups. Be kind to the earth, get a travel mug!
48. Water Bottle
Same goes here. You can fill up at all your stops and not litter the earth with plastic water bottles. Try using a filter straw or a water bottle you can fill up.
Check Price: Water Bottle | Filter Straw
49. Painkiller
You don't want to be stuck on a mountain or a long stretch of beautiful desert road with a migraine. Have a small bottle of this road trip essential in the glove box.
50. Benadryl
Even worse than a headache? An allergic reaction. You don't want to be in the middle of nowhere the first time you get stung by a bee, unaware that you are allergic. It happens.
51. First Aid Kit
I don't have to explain this one right? No road trip packing list would be complete without it. There are some great kits that have everything you could possibly think of in a super small pack.
52. Flashlight or Headlamp
Changing a tire in the middle of the night? You're gonna need some light. Copping a squat behind a tree after midnight? That flashlight will come in handy. Grab a flashlight or a head torch or both. Just in case.
Check price: Flashlight | Headlamp
53. Paper Maps
I know, I know. But forgetting to charge your phone and battery charger sucks and that's where old-school maps will save you. You never know. You could have also forgotten to download that map offline and you now have zero bars and are in the middle of nowhere. Oops.
DON'T FORGET!
You NEED travel insurance—this is an actual road trip essential. Especially when renting a car, you don't want to get caught without. Any damage to the vehicle could cost you a fortune.
Your car rental could be covered by your credit card but keep in mind there's always some crazy fine print, so read it! Credit cards rarely include RVs or campervans and are usually only for regular cars.
The vehicle rental company likely offers insurance but it doesn't hurt to shop around to see if your travel insurance or credit card offers you the same coverage for less.
In addition to making sure your car is covered, you'll need to make sure YOU are covered too. Allianz and World Nomads are often what I use, depending on where I am in the world.
***BOTH of these also have options to add rental car coverage! Grab a quick quote now and see how much it is to cover you and your rental vehicle…
Quick quote: Allianz | World Nomad
Which Vehicle to Take on a Road Trip?
While this is totally dependant on you and your trip, here are some things to think about…
Campervan
I LOVE traveling by campervan as it offers so much more freedom. Who cares where you end your day? Your bed is always with you. Don't feel like backtracking back to a hotel? No need to, you have a hotel on wheels.
Trying to save cash? While renting a campervan will be more money, you do need to consider that it's your transportation AND accommodation. And more often than not, those two things separately cost more than the rental of the van. Not to mention all the time you'll save by not backtracking to a hotel each night or the flexibility of being able to sleep almost literally anywhere.
Campervanning is by far my favorite choice for road tripping.
Read all about campervanning New Zealand, Iceland or my campervan trip on the West Coast USA.
Car
Of course, a campervan isn't always an option and I totally get those who are not OK with sleeping in a vehicle. Some countries aren't campervan-friendly yet either and it simply may not be a choice.
So, of course, a car is the only other choice. I usually find my car deals on Holiday Autos, but I always double-check on independent sites too like Hertz and Sixt.
Random Last-Minute Road Trip Tips
Be green! Grab yourself reusable utensils so you're not using one-use plastic ones.
Get a large water jug to save on water and fill up at drinkable water stations. Also, less plastic!
Chat with your friendly convenience store attendants. They may have a fun tip, offer some advice on the road, or at the least confirm you're going in the right direction.
Grab a few rolls of change for any tolls that could pop up and for laundry needs.
Check your tire tread before heading on the road and make it a habit to check the tire pressure every few days.
Before heading out, make sure to download all apps and music while you're on wifi.
A week or two before your trip, give your car a tune-up and an overall check to make sure it's tip top for an epic trip.
What's up with your cell service? If you have a chance of being internet-less and you'd prefer not to be, try a mobile hotspot like Skyroam. You can use Nina77 for a 10% discount too.
Phew, OK, that was a lot of stuff for your road trip packing list but ya know what? You're totally ready for a badass time now. And I'm super stoked for you because road trips are the BEST.
Did I miss something? Is there anything else you think should be on this road trip essentials list? Where are you headed? Let me know in the comments!
---
---
>>> Read More! <<<
All of My Road Trip Related Posts
19 Mistakes to Avoid When on A Road Trip in the USA
How to Plan a USA Road Trip & Choosing a Vehicle
---
---
Don't lose this list! Click the pic and pin it for later!