Imagine searching for flights and finding the following:
> A one-way flight to your goal destination.
> A few flights with a few weeks of adventures in between while still taking you to your destination and not costing a dime extra.
Which journey would you opt for?
I know it would depend on quite a few things and the latter wouldn't fit every traveler, but…
There's a bit of a different way to travel for those who are a bit more spontaneous, adventurous and flexible.
The basic concept is using what I call "one way to everywhere." It's not necessarily a novel idea, but it's not widely used by many either. The concept can take any ordinary vacation and make it an extreme adventure for spontaneous souls who want to get more than just a one punch destination.
This way of booking cheap flights is for thrill seekers, road warriors, people who want to get more for less, and for those ready for epic journeys that span multiple destinations.
Using Skyscanner, I make awesome itineraries for cheaper or the same price of a direct ticket! I like to work it in certain ways that I'll share here with you along with my tips and advice.
Let's Fly Anywhere on Cheap Flights for More Adventurous Traveling
As I (begin) writing this post on a leg from Phuket, Thailand to Cologne, Germany, I can't help but think we've been traveling in one mindset when we really have way more options.
Everyone is under the impression that one-way flights are expensive and round trips are the way to go. They're not necessarily wrong, but the problem is we need to answer what type of traveler you are and where you want to go first before we can say what type of flight is best for you.
What Type of Traveler Are You?
Are you a family looking to travel from A to B and directly back to A again? A round trip will likely be in your best interest and it's probably going to be a hell of a lot cheaper too. Book that round trip, baby!
But what if that's not your route?
What if you're looking at going on an intrepid adventure spanning multiple countries, continents, languages, and currencies, and cuisines?
You want to eat schnitzel, then a kebab, a pad thai, and a heaping bowl of kimchi after that.
Maybe you want to go from Dong to Kip, to Shekels to Euros to Canadian dollars.
Multiple continents in a span of a few weeks or months sound like a wicked time and you're packing your bags already…
If that's sounding more like your style, then you need to…
STEP AWAY From the Round Trip Button Immediately.
Let's wash away those round-trip ticket myths and instead….
Let's Go Everywhere
The concept is all thanks to Skyscanner. This is a flight search engine that I've been using for nearly six years. I kind of accidentally stumbled upon this idea years ago, but it's known amongst intrepid travelers, especially nowadays! But anyone can use and benefit from this concept.
You enter your starting city, then instead of choosing a destination, you choose "everywhere."
You leave your faith within Skyscanner's flight searching unicorns that work their magic behind your screen and they will pop up with a list of almost literally every country on earth that flies from that destination.
I Got Addicted to This Feature. It Started Small but I'm a Full-Fledged Addict Now. I Go "One Way to Everywhere" All the Time…
And I'm the worst for never explaining this concept on the blog yet! UH! Better now than never…
Living in Thailand required me to leave the country every few months to renew my visa. Sometimes I'd just take a bus to the nearest country, wander about, then go back to Thailand. Sometimes I'd go a bit further and take myself on a trip that required a flight, and that's where Skyscanner came in. I'd just click "everywhere" and it would show me the cheapest country to hop over to.
I knew I would end going back to Thailand, but why backtrack to the same airport? Maybe I'd be closer to another airport? Or maybe I'd just travel back by land? I don't like being tied down by too many future plans, so I sometimes wouldn't book anything until a few days out or even the day of!
The Most Important Point for This to Work Is:
FLEXIBILITY
Any experienced traveler will tell you that no matter where you're going.
Flexibility is KEY. Not only does the "everywhere" feature get you a cheap destination, the month view option will get you the cheapest date to fly there.
How awesome is that?!
You can conveniently look at the month view and see the price each day of the month. Choose the cheapest or the most convenient, your choice.
It goes beyond being flexible with timing, though, you have to be flexible with where you go as well. There's no telling where those Skyscanner unicorns will tell you to go! Maybe you'll end up in Egypt? Maybe Estonia? Perhaps Las Vegas? You don't really know what will pop up as the first few cheap destinations from where you're flying from!
This will make more sense after you understand the process, so let's see how we search for these cheap one way to everywhere flights…
Here's the Guide to Cheap Flights by Going One Way to Everywhere!
Let's use my most recent flights purchased as an example. My upcoming adventure with Skyscanner goes from the USA, to Europe to Asia! After meeting a rep in Manila last year, she loved my Skyscanner itinerary that I randomly brought with me. So we decided to collaborate on a trip this year!
While you don't really have to set a goal destination, I'm willing to bet there's going to be one. I usually need to get SOMEWHERE but I don't care HOW I actually get there.
Let's check out the itinerary Garrett and I are doing in just a few days time while I explain the process.
5 Easy Steps for Getting Cheap Flights for Going One Way to Everywhere:
STEP 1:
Using Skyscanner.com, type in your origin city and select "everywhere" for your destination
STEP 2:
Choose the month option so you can see the cheapest days to fly. You can even select "cheapest month" for even cheaper options if you're mega flexible!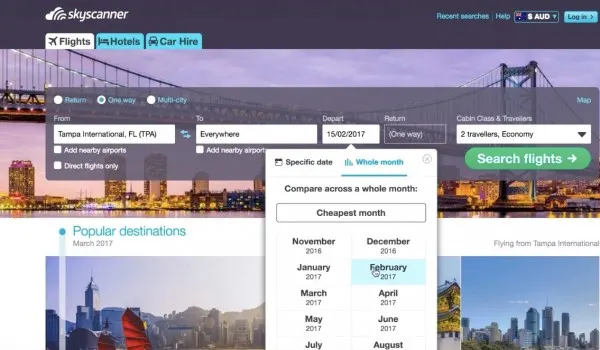 STEP 3:
Now you can see a list of possible destinations in order from cheapest to most expensive. Where to? For me, I usually choose the cheapest destination that brings me closer to my final destination. For this itinerary, I wanted to end up in South Korea.
Flights out of New York will probably be the best and cheapest option as it's bringing me closer and flights out of New York to really anywhere are much cheaper than from Tampa. (I also have a friend there who I want to visit, so yeah… New York was an easy choice!)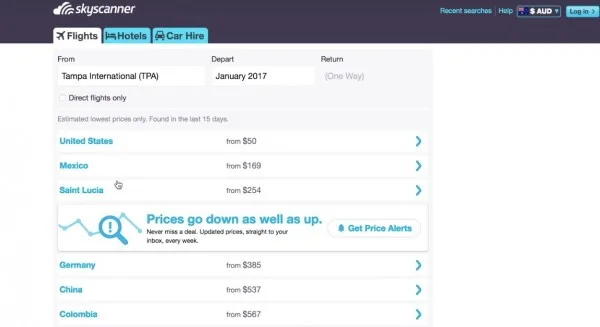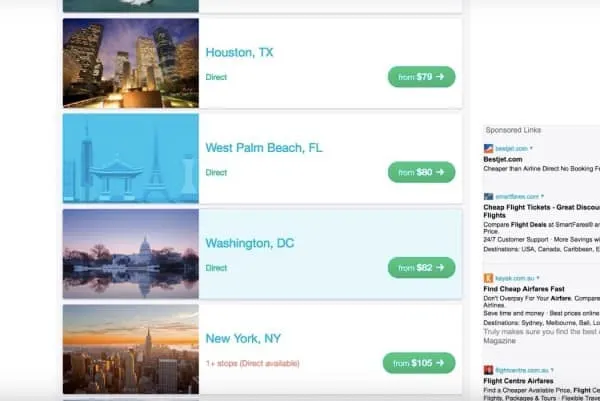 STEP 4:
The next step is to choose the best and cheapest date for you.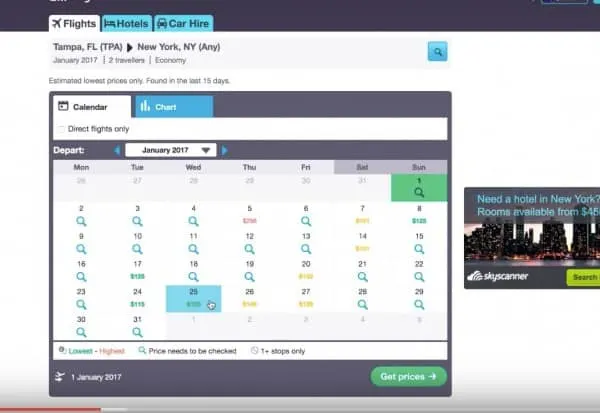 STEP 5:
REPEAT! You can repeat these steps as many times as you like to create your itinerary. So for this example, I now open a new tab, put New York as my origin city, and select "everywhere" and the month option again.
I continued these steps until I found five flights that eventually plopped me down in South Korea for CHEAPER than it would have been for a one-way direct flight.
It's actually easy to find cheap flights to anywhere when you're flexible while planning a trip, willing to be a bit spontaneous, and make shorter jaunts towards your end destination.
Just to give you an idea of what my one-way direct would have cost me: $1100 AUD! ($820 USD with no baggage added)

The breakdown of all the flights booked:
(costs in AUD and per person. This is with all extras and baggage fees added)
Tampa > NYC – $173
NYC > Copenhagen – $209
Copenhagen > Budapest – $43
Budapest > Beijing – $367
Beijing > Jeju – $229
TOTAL: $1021 AUD ($721 USD)
My Main Goals While Booking These Cheap Flights to Fly Anywhere
Cheaper Than A Single Flight
To make these flights really work in my favor in terms of how much money I'm spending is to compare what the price is from A to E direct and A to E with the other one way destinations added in. While the concept of going one way to everywhere would work no matter what as long as you really are choosing the cheapest flights, it's further justified when you add everything up and it's the same price as the direct flight would have been! Just like my example above. Why fly Tampa to Jeju direct when my flight cost is the exact same with all five of the destinations. (Of course, time is a factor for some people, but it's not an issue for everyone, like me)
Moving Towards The Direction You Intend To Go
The other way to make sure this method of flying is really working for you is making sure you're heading in the direction you want. For my itinerary above, our goal was to make it into Asia. More specifically, Jeju. We didn't really mind what countries were in between, but we made it a point select the flight with the cheapest price and the most "progress" towards our end goal – Jeju.
RELATED: Flight hacks that don't involve mastering airline miles!
Things to Consider, Tips, and Overall Random Things You Should Probably Know…
Make Your One Way to Everywhere a Round Trip
Huh? Didn't I just talk about "one way to everywhere" and NO round trips for the past ten minutes?! Yes, but those one ways can actually become a round trip. Just not the traditional round trip we're used to taking.
Just book your one ways as I've explained with your starting point being your end point. So IF my goal was to go back to Tampa (my starting point), I could, for example, continue my trip from Jeju, to San Fransico to Tampa. A round trip without booking a round trip.
Comfort VS Cash
The more "uncomfortable" your flight is, the cheaper it gets. I recently flew a 12 hour flight with no flight entertainment (first world probs, I know, but still) and I had to bring my food since every meal was extra. It saved me some cash. I got some work done, I read, I took a few naps, and I met a nice German college student who sat next to me and gave me tips for future travels to Germany. So really… did I suffer that much? Nah, and I saved cash! Yeah, I'd say I won that one.
Red eyes? Yep, that's going to be cheaper, hands down. BUT they are actually great if you think of it this way…
You aren't spending money on accommodation for the night.
You aren't wasting a day on a plane. You can wake up from your flight and start your day.
I don't mind red-eye flights and I always opt for them, especially if they are the cheaper option.
Those Pesky Baggage Fees…
Unfortunately, the price you first see will doubtfully be the price you actually pay. It will be more. Seat choice, possible website fees, baggage fees, and other extras … keep this in mind when forming your itinerary and having a specific budget in mind. (PS- Skyscanner itself doesn't charge fees! Awesome, right?)
Order! I Must Have Order!
How disastrous would it be if you got some dates mixed up and ended up booking flights that were a few days off and you happen to be in the wrong country….!??! Ahhh! Doing this one way to everywhere itinerary builder can be a bit tricky. Keep things in order when you come down to finally ordering your flights. Careful!
On that note…
How I Keep Everything in Order:
I open multiple Skyscanner tabs and search as explained above keeping all the tabs open of my itinerary so I can reference the date of the last flight on the previous tab. If I don't like a result, I immediately close out that tab. I constantly check that my itinerary makes sense and I have the correct tabs open. I write things down (prices, dates, city names), I open new windows for research to avoid messing up my Skyscanner window and those tabs, and I just quadruple check EVERYTHING before booking. Keep it clean, peeps!
Visas, Vaccines, and Validity
I try to avoid countries that require me to get a visa while doing these trips if I don't plan on staying in that country for a while.
For example, Want to go to India? Ehhh wrong. I mean, you could. But do you really want to go to India for three days when you have to pay $60 for a visa and wait a few weeks for that approval? Probably not. If you plan and have enough time, then go for it!
Sometimes roundtrips and long-haul flights might have you going through a country on a long layover. Be careful where those are! If you have to collect your baggage and go through immigration and security, you may be expected to have a visa. This is NOT the kind of surprise you want!
And what about vaccines? I had never heard of this one, I hope it's an old practice, but I once had an awful pre-flight experience and I needed a vaccine before boarding! Rediculous!
We're going to China, but are staying less than 72 hours in the country, which means we qualify for the 72-hour visa-free entry. If we were to stay one day over, we would be in big trouble! Double check to see if the country you want to go to offers something like this to scoot around the visa requirement.
Check to see if your passport is valid for the country you're flying to – Do you have enough pages? Is your passport expiring within the next year or six months? Some countries won't allow you to fly if so!
Always do your homework before booking.
Not Sure Where to Go? Let Skyscanner Choose!
The best thing about this feature is you don't really know what the cheapest place is going to be so this is already an adventure before your adventure! Figuring out what country you'll go to next is all up to Skyscanner and their little magical unicorns working behind your screen to flick through their huge list of awesome places to present to you.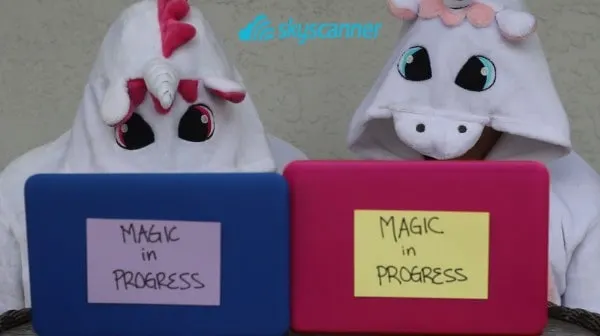 Who Should Use This Idea?

It could be a fun way back home after your holiday,
A perfect way for gap year students to make their way back home or to fill up their entire year going around the world!
Nomads looking for a way to spice up their travel plans while saving in flight costs.
People with a sense of adventure and a few weeks or more to roam the world.
Uhm, yeah… Like anyone really. 🙂
This is by far my favorite flight hack for saving some cash while still having an epic time.
Check out Skyscanner.com or download Skyscanner as an app on your phone to see what one way to everywhere you can come up with!
So what do you think? Would you use Skyscanner to fly anywhere like this? Have you done something like this before? Share your itinerary with us!
Pinning is winning!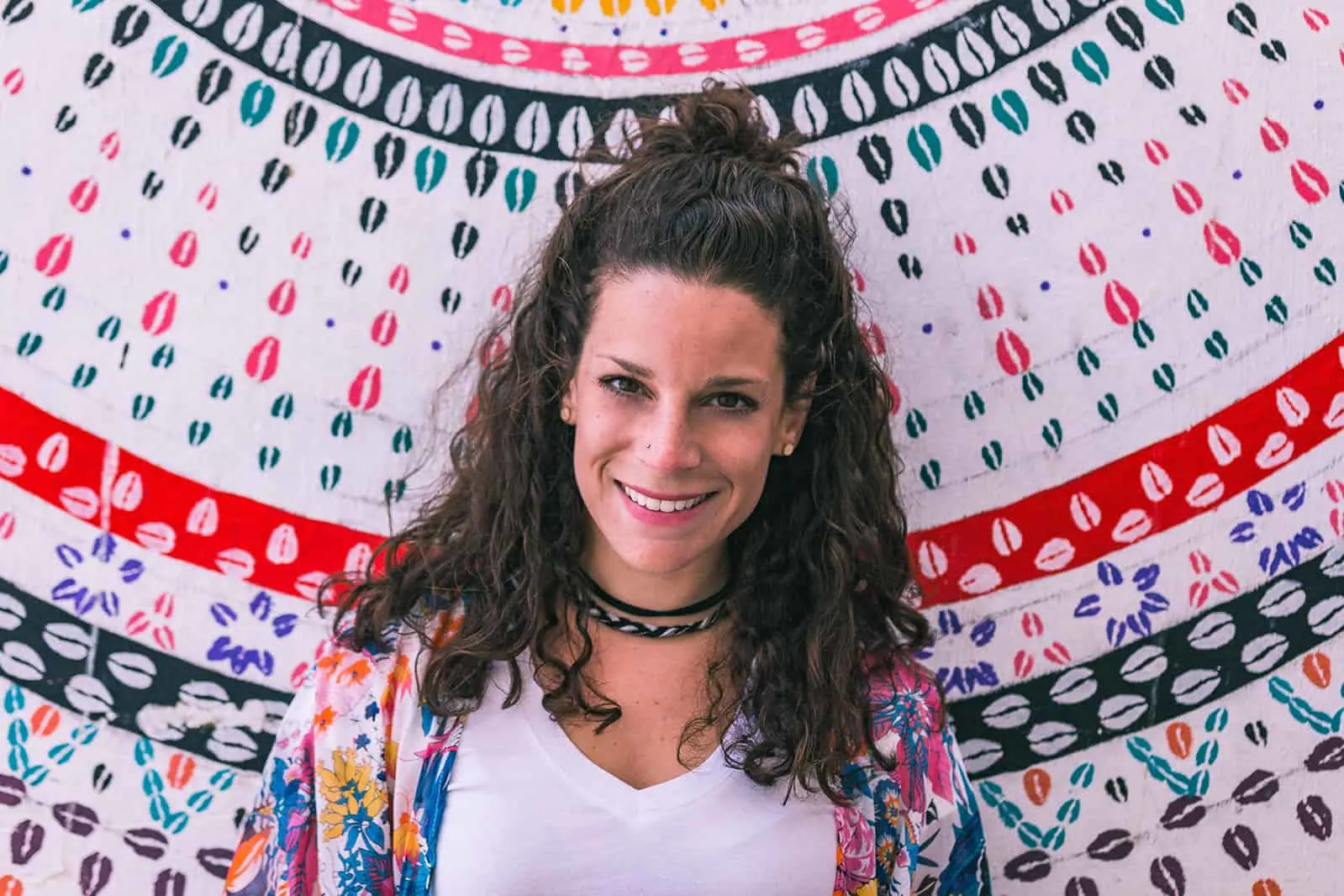 Nina Ragusa is an adventurer, messy bun master, breakfast fan, and full-time travel blogger. She's been abroad since 2011 and blogging on Where in the World is Nina? for nearly as long. Nina helps people like you move around the world while making money. She loves talking about how to work abroad and online to travel longer!