Water is essential for our survival. We need it every day but often take clean water sources for granted. But for hardy travelers who love skipping across the globe, you must remain conscious.
Sadly, not all countries are blessed with an ample clean water supply, and a travel water filter is necessary. If you're an intrepid traveler who loves exotic locations, there are several reasons to make this investment.
Many countries have untreated tap water that's filled with bacteria and microorganisms foreign to your body. Drinking straight from the tap while you're in developing countries can lead to a nasty case of traveler's diarrhea, or worse.
Even if the tap water is declared drinkable, you should still be mindful of the pipes the water passes through. Tap water could contain heavy metals that can cause long-term damage to our bodies.
But what if you're hiking in the wilderness far from civilization? Despite how pristine some rivers, streams, and lakes appear, you must take precautions. These bodies of water may contain viruses, protozoans, bacteria, or environmental pollutants.
Drinking from a seemingly harmless body of water could expose you to harmful substances like E. Coli, Giardia, Hepatitis A, and more.
Two possible solutions come to mind to solve this clean water issue, a travel water filter and bottled water. However, bottled water is an environmental catastrophe, and humanity continues to bury itself in single-use plastic bottles.
That's why an effective travel water filter should be on any traveler's packing list. You'll have better access to clean drinking water and reduce your environmental footprint.
The 7 Best Travel Water Filters
The Best Water Filter Bottles for Traveling
When you're constantly on the go, you need a travel water filter that's easy to carry and survives the elements. You shouldn't fear that one drop while hiking or rock climbing renders your bottle useless.
And don't even think about buying a crappy filter to save a buck. This is your health on the road we're talking about, and clean water should be a top priority.
You want the best water filter bottle while traveling the world to eliminate the stress of drinking from unsavory sources. If you're searching for the top travel water bottles on the market, these seven are winners for me.
So which is best for your adventure and needs? That's totally up to you. #7 is my pick though!
1. LifeStraw Flex Advanced Gravity Travel Water Filter
If you want to store water on your journey, LifeStraw has your travel water filter needs covered. The Flex water filter uses a versatile system to save one plastic bottle with each refill.
It can function as a personal straw filter, with the gravity bag, connect to hydration packs, and attach to water bottles. The BPA-free pouch uses a durable membrane microfilter and activated carbon + ion exchange to remove contaminants.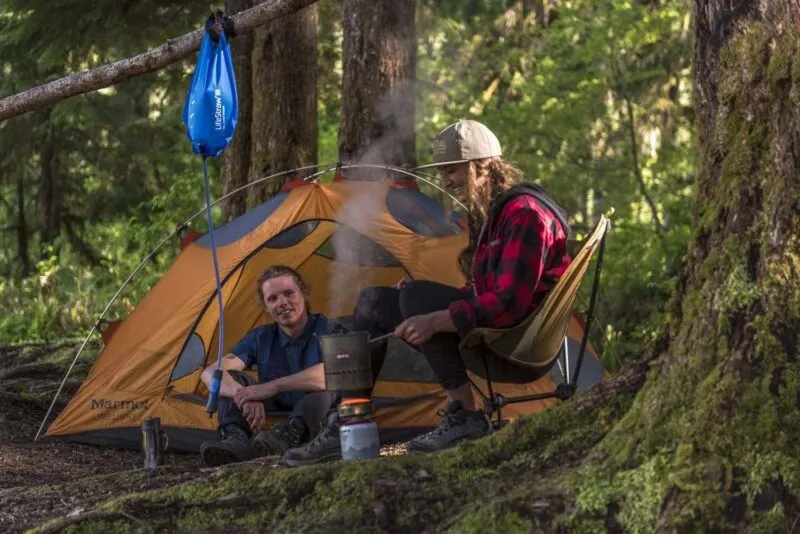 The microfilter has an impressive lifespan of 500 gallons, whereas the carbon + ion exchange lasts 26 gallons. It removes 99.999+% of bacteria, parasites, and microplastics, while also reducing heavy metals, chemicals, chlorine, and bad odors. That makes the Flex water filter one of the best travel water filters for a crisp taste in the wilderness.
The filter exceeds the EPA and NSF standards for removing bacteria, parasites, and heavy metals. And its ultralight gravy water filtration system can filter a gallon in under 10 minutes when you're on the move. Hang it from a branch or your campsite for accessible drinking water until it's time to refill.
Pros & Cons
Pros:
Removes odors for crisp taste
Versatile water filtration system
Large storage capacity
Great for groups
Cons:
Doesn't remove viruses and PFAs
Bulky to pack
Short lifespan for carbon + ion exchange capsule
RELATED: All the Travel Gear I Use and Love.
2. Steripen Adventurer Opti UV Water Purifier
For lightweight travelers, the Steripen Adventurer Opti uses UV technology to sterilize water from sketchy sources. Relying on an optical sensor to detect water, the Steripen uses LED indicators to signal when your water is drinkable.
Steripen doesn't utilize mechanical, chemical, or electric methods to purify your drinking source. That makes it among the best travel water filters for backpackers trying to lighten their pack.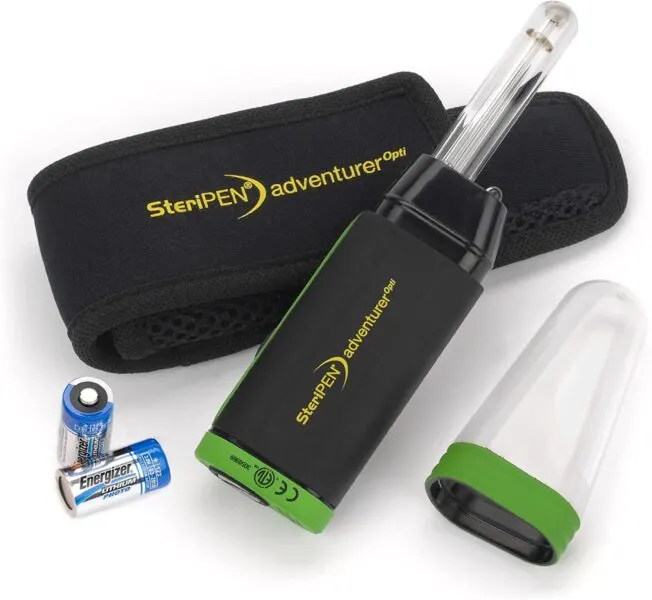 The portable travel water filter has garnered several accolades for its innovation and purification efficiency. It even earned recognition as one of TIME Magazine's "Top 100 All-Time Gadgets."
The filter passed tests from U.S. laboratories with flying colors and exceeds EPA standards. To add to this gadget's usefulness, it doubles as a LED flashlight when you're in the dark.
Steripen's UV technology uses two CR123 batteries to give you a long lifespan in harsh conditions. Slip the 3.8-ounce purifier into your pocket for easy access wherever you travel. The proper water treatment size is a half-liter or 1-liter bottle, but ensure your container has a mouth greater than a 1.75-inch diameter.
To use the Steripen, fill your bottle, dip the purifier into the water, click the button, and stir it around. The treatment time ranges from 48-90 seconds, and the UV lamp lasts for 8,000 activations.
But ensure you use clear water since the UV lamp isn't as effective in muddy water. The treatment removes 99.9+% of all bacteria, protozoans, and viruses from your drinking water.
Pros & Cons
Pros:
Lightweight
Easy to use
UV lamp can survive falls on hard surfaces
Works in cold environments
Long lifespan
Cons:
Extra bottle required to purify water
Must purchase and pack extra batteries
Doesn't remove chemicals and heavy metals
UV technology doesn't freshen water taste
3. Sawyer MINI Travel Water Filter
Weighing only 2 ounces, the Sawyer MINI fits into your palm and makes an uber-light water filtration system. The 0.1-micron pore size eliminates 99.99999% of all bacteria and 99.9999% of all protozoa. Fit the lightweight model into your pocket and use it whenever you're on the move.
The Sawyer MINI comes with a drinking pouch to attach to the filtration system. But its versatility lets you drink directly from a water source, with a hydration pack tubing, or from a regular bottle.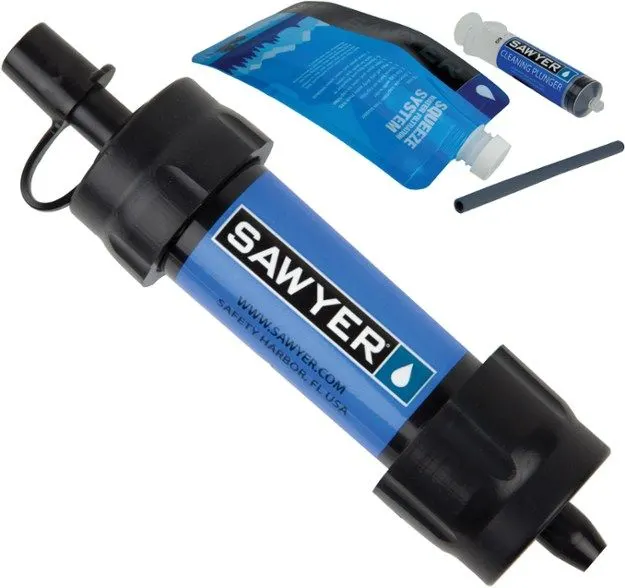 The filtration system contains many 'U' shaped hollow fiber micro-tubes to catch contaminants. With its high flow rate and 0.1-micron filtration, harmful substances in the wilderness don't stand a chance to pass through the filter.
Like other Sawyer filters, the MINI passes or exceeds the EPA's recommended contaminant removal rates. In addition to minuscule size, the Sawyer MINI has a lengthy lifespan that allows you to filtrate 100,000 gallons.
Before releasing each model from the production facility, Sawyer air tests them three times to certify 100% effectiveness. This ensures pathogens like E. coli, cholera, salmonella, leptospirosis, and Giardia cannot pass through the filter fibers.
There's no need to carry replacement cartridges, but it's recommended to backwash the filter after each use.
While the Sawyer MINI is highly effective against bacteria and protozoans, it doesn't filter chemicals, viruses, or heavy metals. If you're somewhere that contains those contaminants, then the Sawyer MINI won't be the right product.
But if you're on a wilderness trek where bacteria and protozoans are the only concern, it's a versatile, lightweight travel water filter.
Pros & Cons
Pros:
Cost-Effective
Doesn't require replacement cartridges
Lightweight
Versatile
Long lifespan with proper care
Cons:
Requires frequent backwashing
Doesn't remove all contaminants (viruses, chemicals, heavy metals)
Prone to damage in extremely cold weather
4. Epic Nalgene OG Ultimate Travel Water Bottle Filter
The 32-oz, USA-made Epic Nalgene OG bottle uses ION exchange and activated carbon to filter pathogens and provide fresh-tasting water. With its advanced design that filters 2,000% more than a standard filter, the Epic Nalgene removes every pathogen imaginable.
The ion exchange permanently binds pathogens as the water passes through your filter. The filter removes nasty substances like viruses, bacteria, cysts, lead, chlorine, fluoride, microplastics, and heavy metals.
Tested against NSF standards, the Epic Nalgene removes 99.9999% of pollutants and 99.99% of biological pathogens. You won't need to worry about getting water from a stream, muddy puddle, or freshwater lake.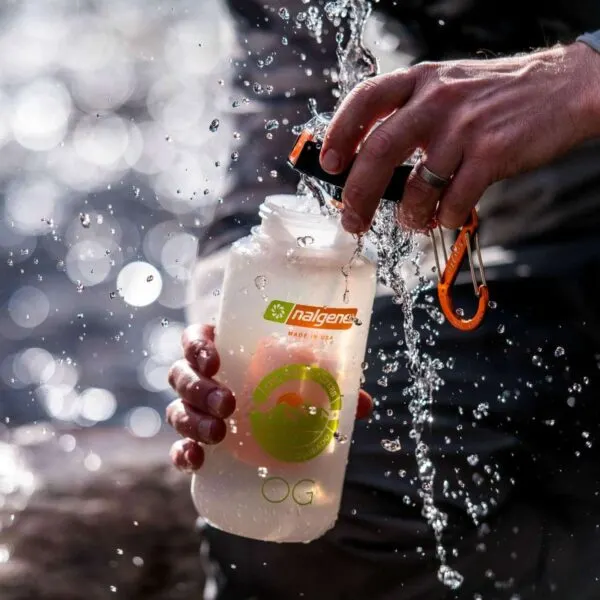 The filter has a lifespan of 100 gallons, and the bottle consists of BPA-free plastic. And with its wide mouth design and sipping straw, the Epic Nalgene is easy to drink on the move.
To install the filter, simply attach the filter to the bottom of the straw for easy drinking. If you're trekking into the wilderness, use the outdoor adventure filter to remove all pathogens you may encounter.
The large bottle benefits those who may need to share water with a hiking buddy. However, for you lightweight travelers, the Epic Nalgene may not be your preference.
Pros & Cons
Pros:
Durable
Easy to hold & drink
Large holding capacity
Removes 99.99+% of all contaminants
Cons:
Heavier than other water bottles
Short lifespan
RELATED: 7 Travel Jackets + Choosing the Best Travel Jacket For Your Trip.
5. Water-to-Go Travel Filter Bottle
The Water-to-Go Filter Bottle was developed in direct response to the single-use plastic bottle pandemic inflicting the world. Water-to-Go's creators made their product to bring communities across the globe clean, affordable water to eliminate the plastic scourge.
The reusable bottle fills in seconds and eliminates 99.9999% of all water contaminants. And its advanced filter replaces 400 single-use plastic bottles in the process.
Their patented 3-in-1 filter uses three technologies to remove harmful substances, activated carbon, electro-adhesion, and mechanical filtration. The filter operates as a series of nets to catch viruses, bacteria, protozoans, chemicals, particulates, and heavy metals.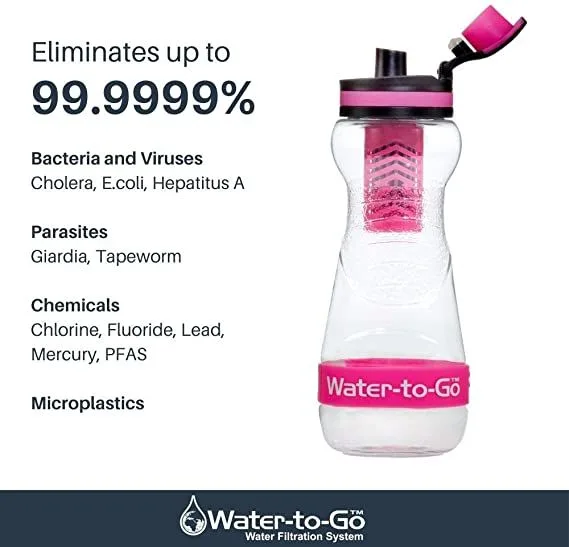 Independently tested in laboratories in the UK, USA, India, and China, the thumb-size filter earns high marks. Adventurers and extreme travelers have relied on the Water-to-Go bottle to survive some of the harshest environments.
In addition to the original water bottle, they have another bottle that's a water filter bottle made from carbon-sequestering sugarcane, replacing 400 single-use plastic bottles. Water-to-Go can be your safeguard for outdoor, travel, and emergency water needs.
When you first receive the bottle, it's important to activate your filter before use. Activate the electrostatic charge by filling the bottle, screw on the filter & lid, and flip upside down for 15 minutes.
After 200 liters, the bottle stops filtering odors and tastes to signal the filter's lifespan. However, the bottle lacks a clear indicator that you've reached this threshold. Once it's time to replace the filter, you can purchase replacement filters online.
Pros & Cons
Pros:
Cost-Effective
Doesn't require chemicals or batteries
Large capacity
Multiple bottle designs
Cons:
Short filter lifespan
Ineffective filter replacement indicator
Not suited for minimalist travelers
Lower flow rate
6. LifeStraw Personal Travel Water Filter
For extreme minimalist travelers, the LifeStraw Personal Water Filter is the solution to your travel water filter problems. At a tiny 46 grams (0.1 lbs.), you won't notice this literal straw in your pocket.
It's super easy to pack, and you dip the straw into any tiny water source you can find. The filter's revolutionary design has provided drinking water to impoverished nations and relief from natural disasters.
LifeStraw's award-winning design uses a membrane microfilter that lasts upwards of 1,000 gallons of water. The straw helps you weather the elements by removing 99.999999% of bacteria and 99.999% of parasites, particulates, and microplastics. However, the travel water filter won't remove viruses, chemicals, PFAs, and heavy metals.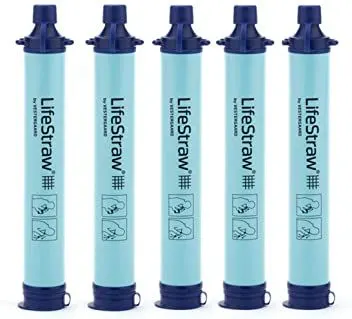 If you're deep in the wilderness and water is scarce, the straw lets you sip from any shallow source. Backpackers can rejoice knowing they won't have difficulty sipping from puddles, trickling streams, and small pools. But make sure you clean the LifeStraw after each slurp to ensure it lasts the entire lifespan.
Another benefit of choosing LifeStraw is supporting their global program that has provided clean drinking water to over 4 million children.
Pros & Cons
Pros:
Lightweight
Doesn't require chemicals or batteries
Long filter lifespan
Cost-Effective
Can drink water from tricky places
Cons:
Doesn't remove viruses, chemicals, PFAs, and heavy metals
Only meant for one person
Can't store water
7. GRAYL Ultralight Travel Water Filter Bottle * My Choice
GRAYL is my favorite thing in the world, so it's my top choice for the best travel water filter. The portable water purifier filters particulates, chemicals, heavy metals and improves taste in an easy 1-2-3 process. Its award-winning OnePress design helps you fill the bottle from any suspicious water source while you're on the go.
The Ultralight model consists of two vessels, a replaceable filter cartridge, and a screw-on cap to filter nasty substances. To use the purifier, fill the outer vessel with dirty water and press the inner vessel through the water on a low surface. The water gets forced through the purifier cartridge and fills the inner vessel with purified water to drink.
The cartridge uses an electroabsorption media to capture pathogens and inorganic contaminants like a magnet. When dirty water plunges through the purifier, ion exchange binds nasty substances like bacteria, viruses, and protozoa.
And with the use of activated carbon, the purifier absorbs heavy metals and chemicals. In addition to removing pathogens, the high-tech process gets rid of aftertastes for a refreshing drink.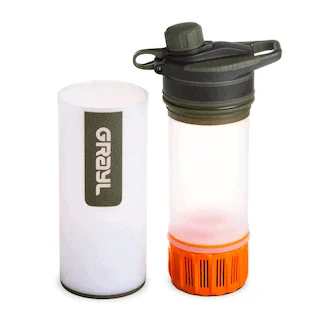 After firmly pressing the water through the purifier, you'll rid the water of 99.9999% of viruses, bacteria, and protozoa. That includes nasty contaminants such as rotavirus, norovirus, Hepatitis A, E. coli, salmonella, dysentery, giardia, and amoebae.
Independent labs tested the purifier to ensure it meets the EPA's Guide Standard and Protocol for testing microbiological water purifiers.
One press takes about 8 seconds to fill the bottle, and the cartridge should get around 300-350 uses. When you reach this number of presses, you should replace the cartridge filter.
Avoid freezing the filter and watch out for a decreased water flow rate as an indicator to replace it. And the GRAYL Ultralight model is durable to survive all of your rigorous outdoor adventures.
Pros & Cons
Pros:
Easy to use
Replaceable cartridge filter
No extra components like pumps, batteries, and hoses
Durable
Cons:
Short lifespan
Less cost-effective
Heavier than other water purifiers
Low water capacity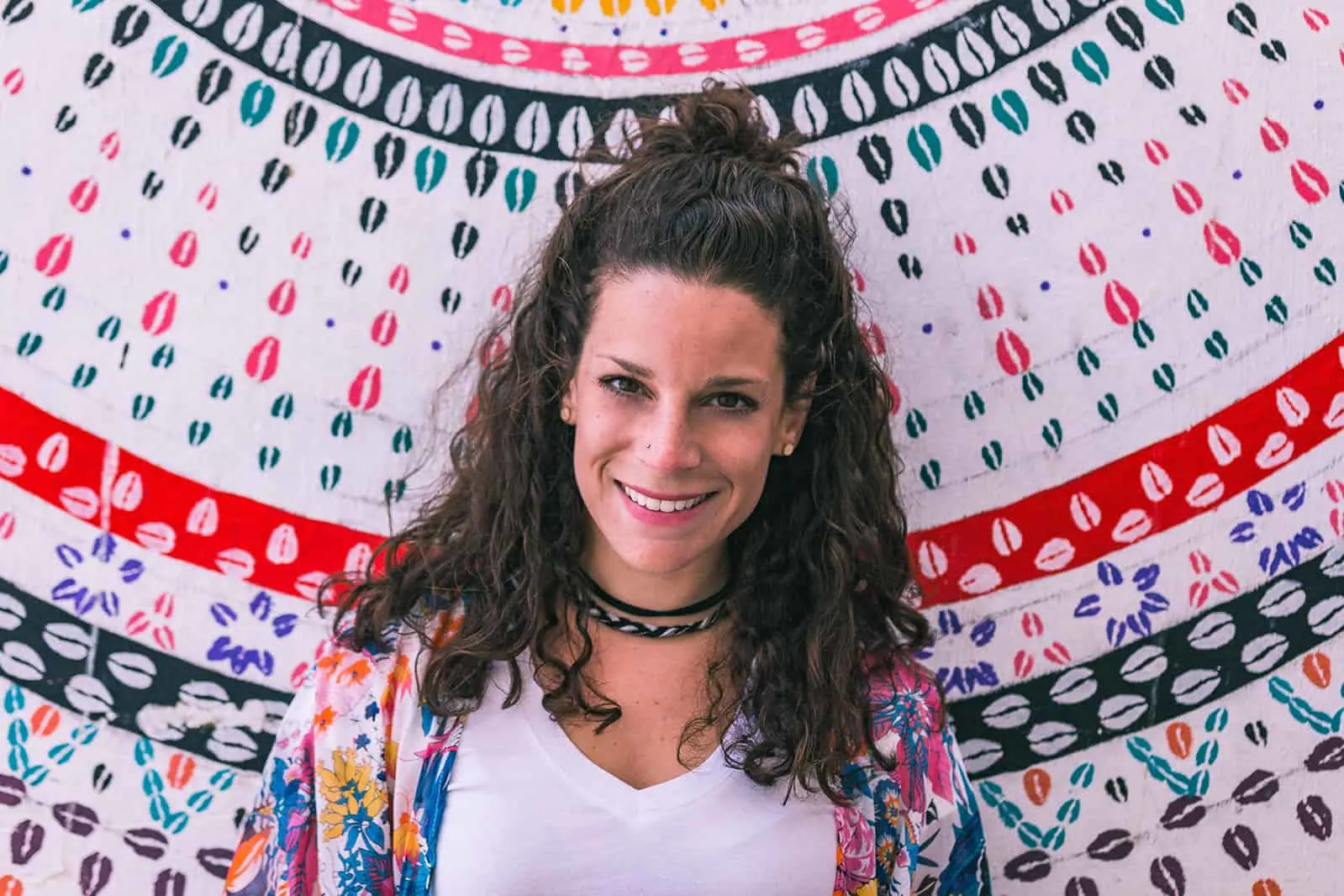 Nina Ragusa is an adventurer, messy bun master, breakfast fan, and full-time travel blogger. She's been abroad since 2011 and blogging on Where in the World is Nina? for nearly as long. Nina helps people like you move around the world while making money. She loves talking about how to work abroad and online to travel longer!